Niagara is famously regarded as the "queen of falls." But most of us don't know that it is also home to many amazing vineyards that produce fine, award-winning wines. A trip to this place is a must if you are a wine lover.
It can be an amazing getaway where you can enjoy yourself, explore the different Niagara wine tours, and sample fine-quality wines while learning about the town's culture and winemaking process.
All Niagara wine tours are fun and adventurous and give a fulfilling experience for the wine lover inside you. The best part is that these Niagara wine tours are designed to suit the region's weather and terroir. So, let's explore them today.
8 Vintage Niagara Wine Tours For You
Here is a list of eight unmissable Niagara wine tours and other packages for wine lovers worldwide.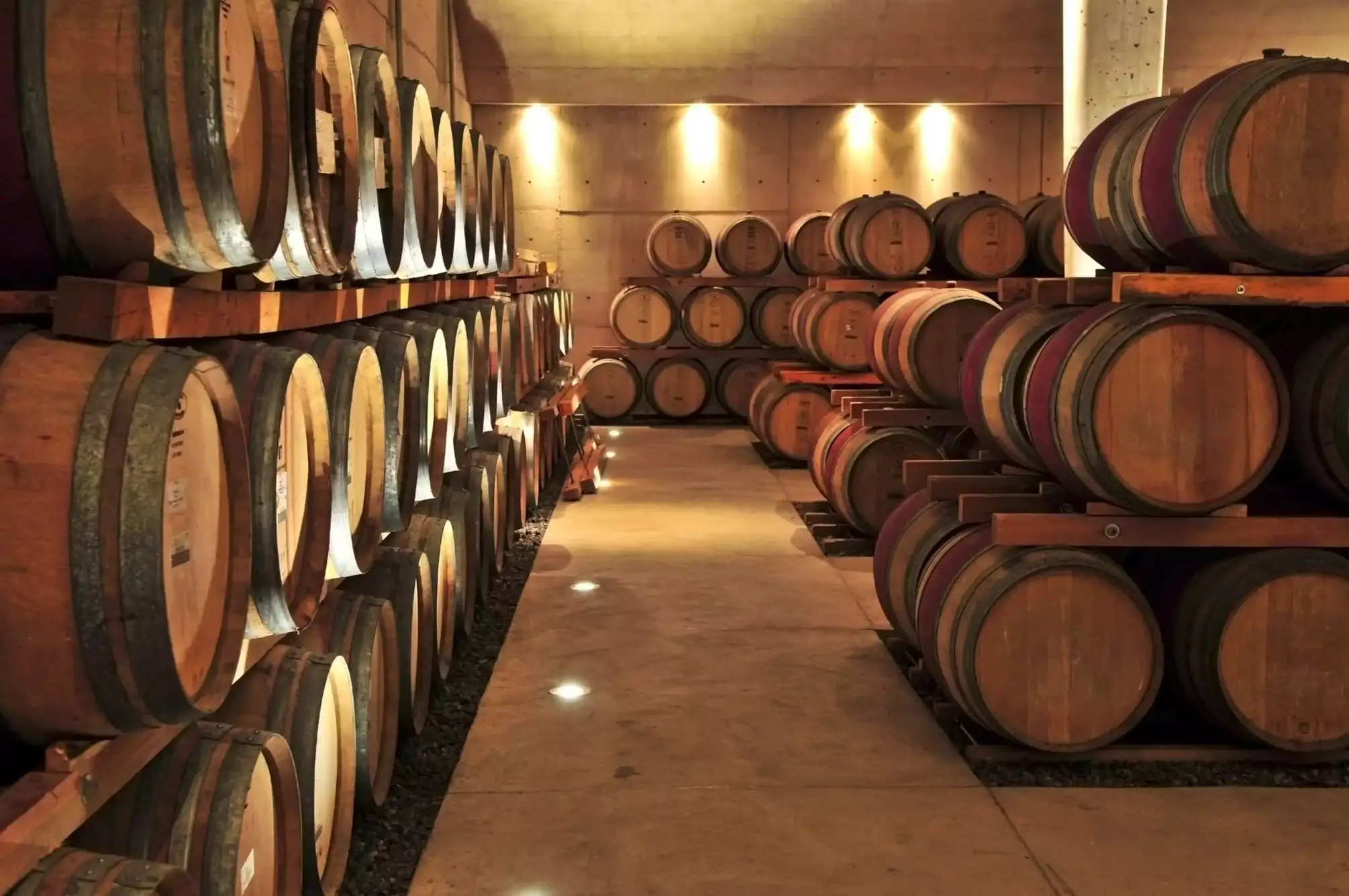 1. Niagara-On-The-Lake Wine Tour
This tour is considered one of the classic Niagara wine brewery tours and is unmissable for tourists staying near Niagara Falls.
The Niagara On The Lake Wine Tours (NOTL) is a small group tour where visitors can explore the old town. The full-day tour takes you to four award-winning wineries and samples a wide range of wines, including the famous Ontario ice wine.
One more prime reason this tour is unique from other Niagara wine tours is that they also offer cheese pairings and wine. Also, one can learn more about why this region is the best for growing grapes on this amazing wine tour. Also, you will discover how grapes grow by taking one of our Niagara winery tour packages.
However, there is a limit on the number of people for the great group tour; only 15 participants are allowed. So, make sure you register beforehand.
2. Konzelmann Estate Winery Tour And Tasting
One popular Vintage Niagara wine country tour includes the Konzelmann Estate Winery Tour and Tasting.
Located on the shores of Lake Ontario, Konzelmann Winery is Niagara falls only lakefront winery. Konzelmann Winery was originally founded when young Frederick Konzelmann left his job to learn more about the process of winemaking.
He and his family moved to Canada and established the successful Konzelmann Estate Winery. This 45-minute guided tour of this winery takes us throughout the winery and offers us an opportunity to learn about the winemaking process's intriguing details.
Towards the end of the tour, the visitors also sample several varieties of grape wine, such as merlot and pinot noir. This is also one of Niagara's vintage wine tours where you can see some breathtaking scenery.
In addition to this, this beautiful place also serves as an amazing destination for weddings, birthday parties, meetings, and private events.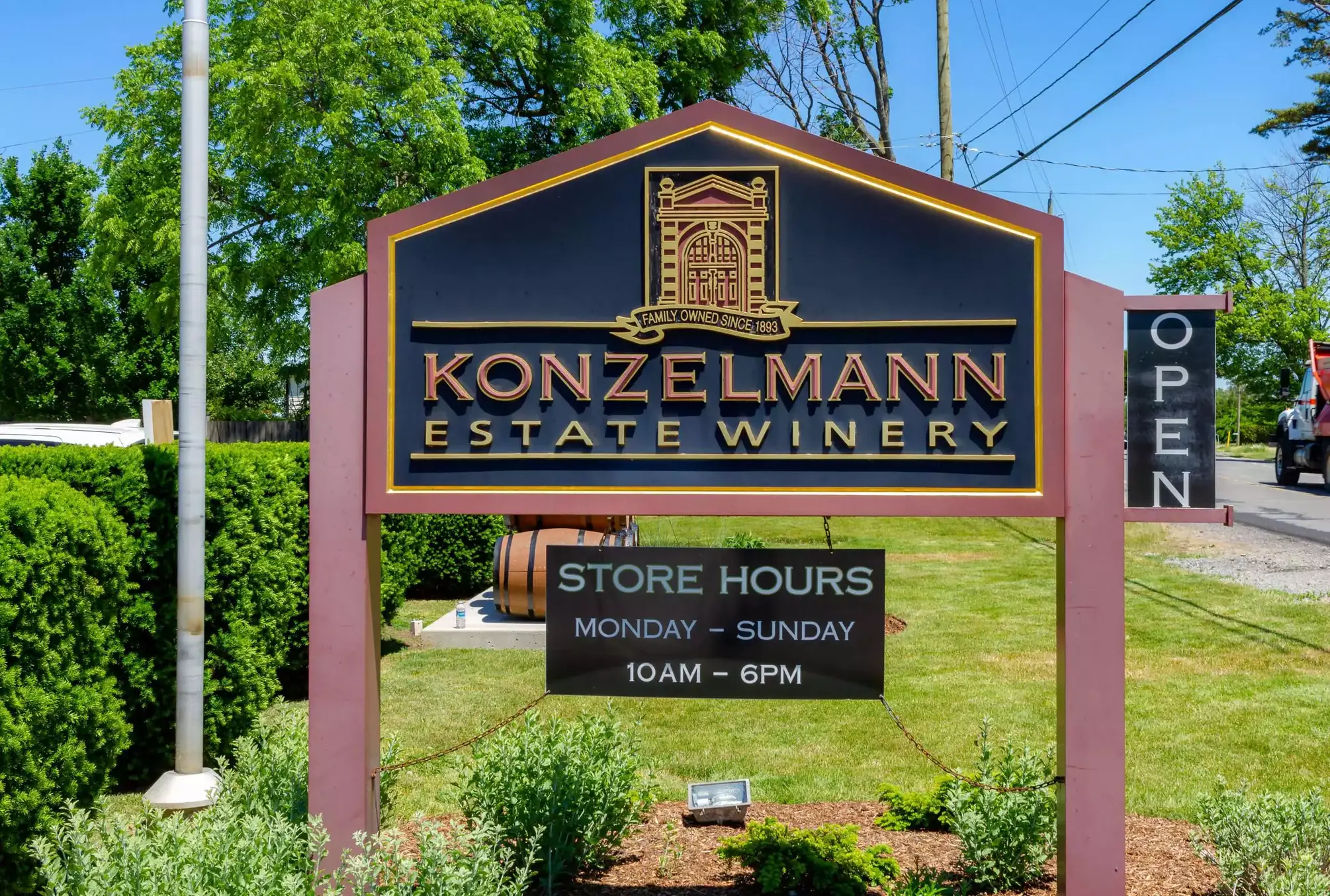 3. Inniskillin Wines
Inniskilling Wines, originally named after an Irish Army regiment, is considered one of Canada's original estate wineries, and they have been crafting wines for about 40 years.
Over the years, Inniskillin has accumulated numerous awards and has created a name for itself.
Inniskilling Wines owns two winery estates, one in Niagara-On-The-Lake and the other in the Okanagan Valley in British Columbia.
Like the other wineries, they also offer a wide range of tours for visitors. These tours are led by an experienced guide who explains the history of Inniskillin wines and their winemaking methods and processes.
Unlike the other Niagara wine tours, the content of these tours is mostly seasonal and often reflects the cycle of vineyards and their winemaking process.
Toward the end of the tour, one can enjoy two Inniskillin premium table wines. For more details about Inniskilling Wines, click here.
4. Peller Estates Winery And Restaurant
Next on the list of vintage Niagara winery tours is Peller Estates Winery and Restaurant.
It was in the year 1927 that Peller Estates Winery first got into winemaking. Over the years, they became a signature brand and also went on to accumulate more awards for their exclusive varieties of chardonnays, ice wines, and Rieslings.
The most prestigious award, "Best Niagara vintage wine tours of the Year" by London's International Wine and Spirit Competition, was also won by Peller Estates Winery.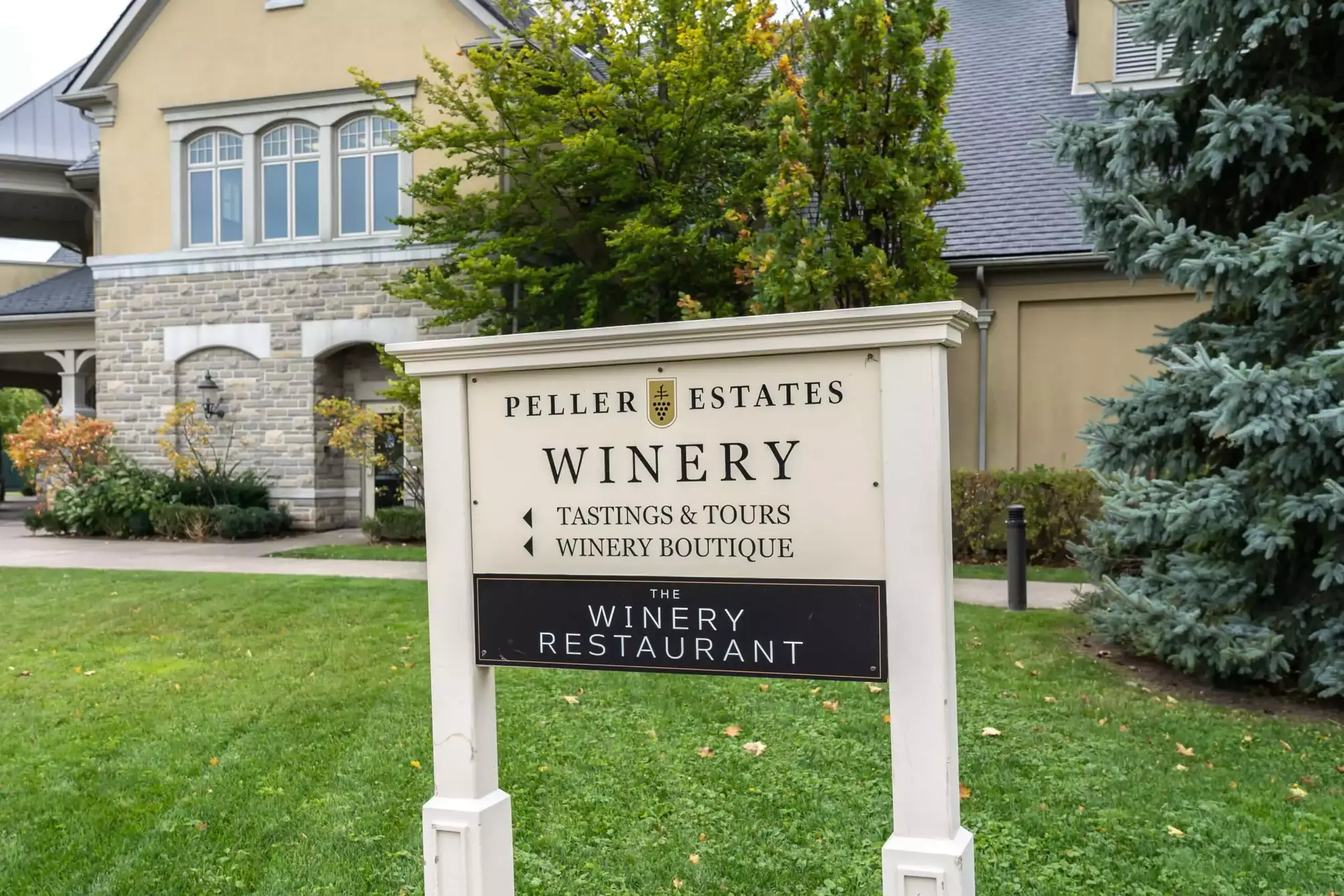 The vintage winery offers a tour that will take you to the vineyard and the 10 Below ice wine lounge, constructed exclusively from 607 kilos of ice and kept at 10 degrees below zero.
The tour also includes experienced tour guides, who will teach visitors about winemaking. Visitors can also taste some of the premia, fine-quality wines the Niagara region offers.
For more details about Peller Estates Winery and Restaurant, click here.
5. Trius Winery And Restaurant
Visitors to the Trius winery can choose from various tour experiences, from tasting wines to learning about the art of blending. There is something for everyone.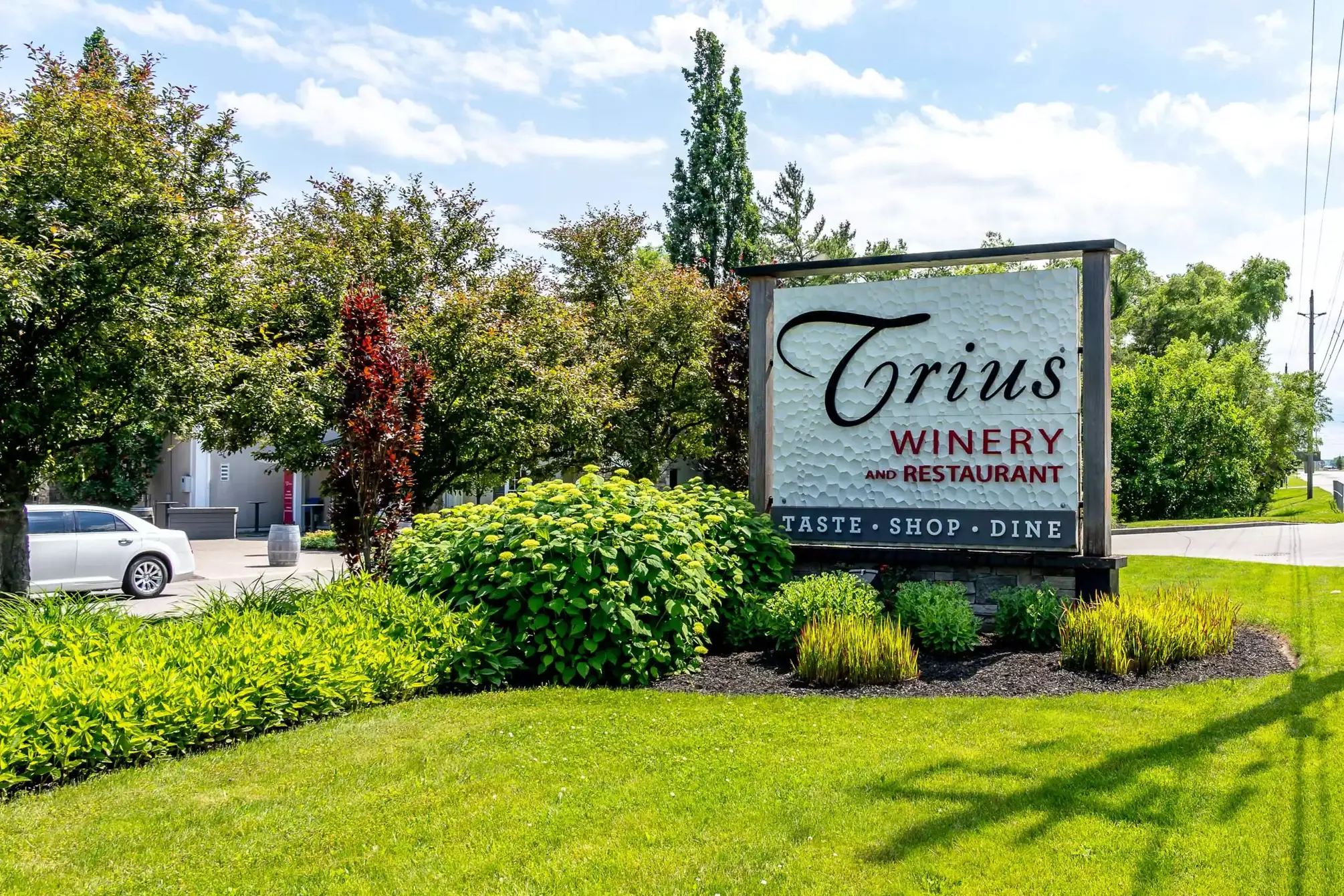 The Trius restaurant, a part of the winery, provides all kinds of luxury services associated with fine dining.  The restaurant's menu is also designed to emphasize the use of locally sourced ingredients, and the best part is that Trius will offer you wine pairings based on your preferences.
Like the other Niagara wineries, Trius Winery offers the "Into the Vault Experience" tour of the vineyard and winery.
This is also one of the Niagara wine private tours that offer a 45-minute wine-tasting experience where one can taste some of the best wines, including Trius Red, Trius Sauvignon Blanc, and Trius Off-Dry Riesling, and Trius Cabernet Franc.
For more details about Trius Winery and Restaurant, click here.
6. Pillitteri Estates Winery
The Pillitteri Estates Winery also features on the list of popular vintage Niagara tours.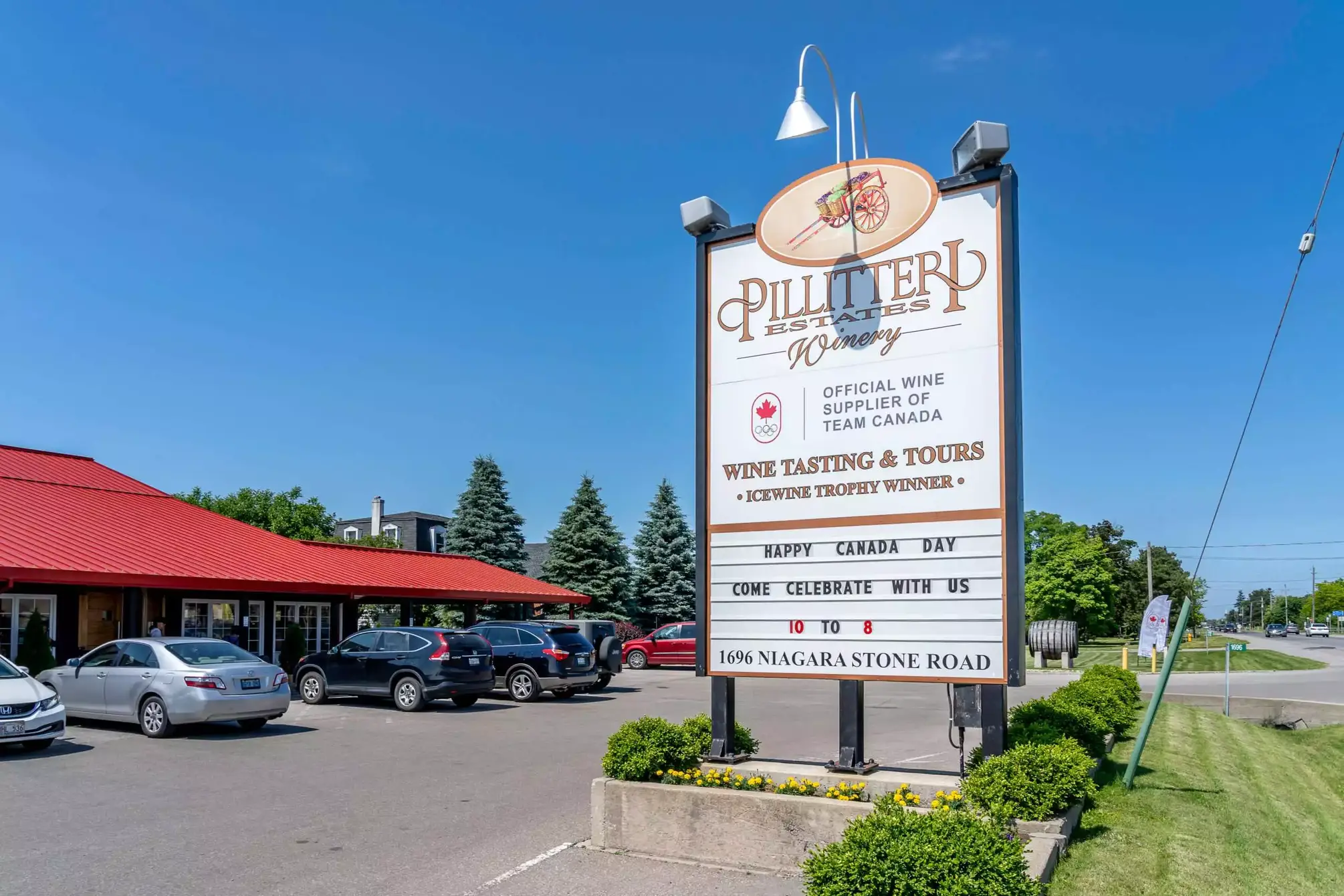 The Pillitteri family traces its origins back to 1948 and has been making premium-quality wines ever since.
It all started when Gary Pillitteri entered a wine competition in 1988, and his Vidal ice wine went on to win the gold medal. There has been no stopping since then.
Over the years, more than 800 important honors from national and international contests have been given to Pillitteri Estates.
Pillitteri Estates Winery offers a public afternoon wine tour daily at 12 PM, 2 PM, and 3 PM. The guided tour offers an opportunity to learn more about the extensive estate, wine production facilities, and barrel cellar.
7. Vine And Dine Bicycle Wine Tour
This is one of the Niagara wine tours, which is different from the others as this one is more about cycling and driving throughout the tour.
Also, unlike the other Niagara wine tours, one can enjoy the fresh air and witness the town's beautiful landscape.
The unique tour includes visiting award-winning wineries and different tastings of wines, including white, red, and the famous Niagara ice wine; a picnic-style lunch follows by that to fuel you for the rest of the tour.
The second part of the tour is more of an educational tour where one learns about the history of the Niagara wines, the different techniques adopted in making the wine, and the culture of the old town.
The 5-hour tour begins from Niagara-on-the-lake and goes through award-winning wineries, including Riverview Cellars Estate Winery, Joesphs Estate Winery, Reif Estate Winery, and the Marynissen Estate Winery.
This is one of the Niagara wine tours which explores something different through cycling rather than the usual touring activities.
 8. Great Escape Wine Tours
Great Escape is a family-owned business offering wine tours for the past 14 years. Great Escape Wine Tours, located near Niagara Falls, is home to around 35 wineries.
Their staff comprises experienced and knowledgeable people in wine and winemaking.
Great Escape Wine Tours also offers bike tours, morning tours, gourmet dinners, lunches, and much more. They even provide bike rentals so you can enjoy the streets of the old town and explore its beauty.
Throughout the year, Great Escape Wine Tours hosts' passport events' of various themes. The passport gives guests access to the showcased wines and even the food or dessert that comes with the wines sometimes.
Great Escape Wine Tours was named the number one wine tour company and for the Niagara Wine Festival, which industry-certified wine professionals spearhead, received a certificate of excellence in 2019.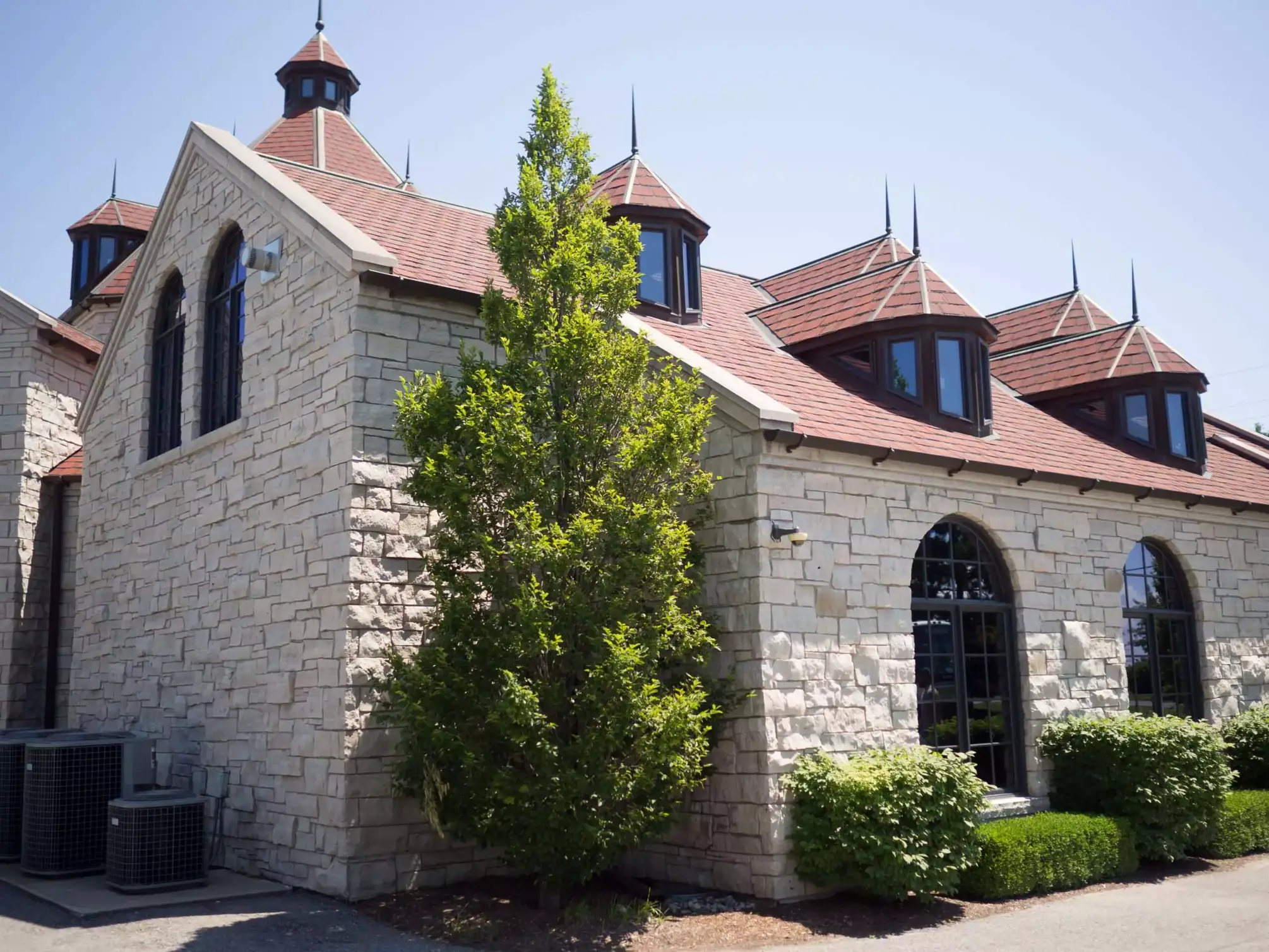 Closing Thoughts
Every winery has a unique personality of its own, as winemaking depends on the wine region and standard and premium wines available to the wineries to make their fine wines.
Wherever the wine is produced, whether it is a family-run winery or boutique establishment, every wine is produced with so much love and care, and the best about them is the wine tours offered by them to the visitors where they get to taste some of their premium fine quality wines in their exquisitely designed tasting rooms.
Particularly recommended for one's first wine tour experience, this winery restaurant and private tour on Niagara on the lake offer some of the best wine tour experiences. So, if you are looking for an authentic wine-tasting expedition,  visit these Niagara wine region like Beamsville bench wine regions
Make sure you don't miss out on these amazing Niagara wine tours on your next visit. Contact their appointed tour guide office if you are interested in taking daily tours.
Frequently Asked Questions
1. How long do Niagara Wine Tours usually last?
A: Niagara Wine Tours can range in length from a few hours to a full day, depending on the tour operator and the specific tour package.
2. What types of wines can you expect to taste on a Niagara Wine Tour?
A: Niagara is known for producing a variety of wines, including Chardonnay, Riesling, Pinot Noir, Cabernet Franc, and Icewine. The specific types of wines you'll taste will depend on the wineries included in the tour.
3. Are Niagara Wine Tours suitable for all ages?
A: Most Niagara Wine Tours are geared towards adults, as they involve tasting alcoholic beverages. However, some tour operators may offer family-friendly tours that include non-alcoholic beverages and activities for children.
4. Do you need to have previous knowledge of wine to enjoy a Niagara Wine Tour?
A: No, you don't need to be a wine expert to enjoy a Niagara Wine Tour. The tour guides will provide information about the wineries and the wine-making process, so you can learn as you taste.
5. Can you purchase wine on a Niagara Wine Tour?
A: Yes, most wineries included in the tour will have a gift shop or retail store where you can purchase wine to take home.
Q: How should you dress for a Niagara Wine Tour?
A: It's recommended to wear comfortable, casual clothing and footwear, as you may be walking or standing for long periods of time. Depending on the season, you may also want to bring a jacket or other weather-appropriate clothing.
Q: How can you book a Niagara Wine Tour?
A: Niagara Wine Tours can be booked through various tour operators and travel agencies. It's recommended to book in advance, especially during peak season, to ensure availability.
Other tours you can enjoy are; the random Tuesday wine tour, cheese wine tour, and adult wine tours which are one of the most romantic wine tours. if you are in an groups seeking wine tours visit these Niagara's wine country today.
Suggested Reads:
Its
As an Amazon Associate, Icy Canada earns from qualifying purchases.
Auto Amazon Links: No products found.
Auto Amazon Links: No products found.