Whirlpool Jet Boat Tour Niagara Falls is here for you to have an unforgettable and adventurous experience of a lifetime on various dates and time slots.
If you're a person who's an adventure fanatic, then here's another opportunity for you to witness once in a lifetime experience with the Whirlpool Jet Boat Tour and then explore the Devil's Hole Rapids near the mighty Niagara Falls!
What does this tour offer, you may ask?
Well, get into a jet boat with an equally excited group of people and make the most out of this opportunity to get to know different facts about Niagara Falls and the Devil's Hole, all while getting completely soaked.
1. What Is the Whirlpool Jet Boat Tour in Niagara Falls? 
If you're a lover of jet boats, you might've already understood the assignment. If not, worry not for we got your back!
It is a jet boat tour with a group of people, all equipped and set to dive into this exciting adventure to explore the famous Devil's Hole near Niagara Falls.
Also, don't miss out on the appealing surroundings, breathtaking sceneries, and a lot of learning about the fascinating things of Niagara River from your captain, you absolutely shouldn't!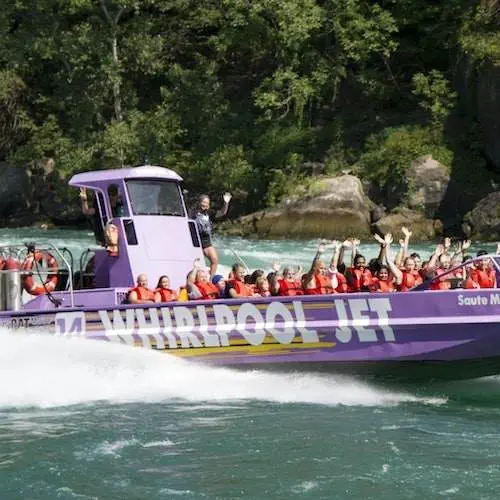 All the tourists on board are provided with life jackets and ponchos for securing themselves and that's all. Get yourself drenched and sometimes you may find yourself sitting in knee-deep water!
Sounds interesting, right? Oh, are you someone who prefers not getting drenched and still enjoys the jet boat ride? Well, simply opt for the Freedom Jet Seating option and you're all good to go!
2. Date and Time
This jet boat tour is available on various dates and the tour has got 8 time slots all throughout the day from 10 am to 5 pm and you may choose your time slot accordingly.
However, if you're opting for the Freedom Jet Seating option then, remember that this offer is exclusively available to tourists from 2 p.m. to 4:30 p.m. 
3. Duration 
Choose your time slots while booking your tickets according to your convenience and the duration for each slot is 45 minutes.
Yes, you read that right! Within 45 minutes, not only will you have a fair idea about the history and geography of Niagara Falls but will also have explored the world-famous Devil's Hole. Alluring enough?
4. Age Restriction and Other Additional Information
All tourists should be above the age of 13 at least and everyone who is a part of this tour must carry a change of clothes just in case they get all drenched and soaked, which they most certainly will.
5. Tickets 
Tickets for this tour are available on FEVER. So, what are you waiting for?
Go, grab this opportunity, and enjoy this once-in-a-lifetime experience ride, full of adrenaline rush moments and splashes while being in Niagara Falls. 
6. Book Your Tickets Today and Enjoy a Niagara Falls Tour with Whirlpool Jet Boat
What –  Whirlpool Jet Boat Tour Niagara Falls.
When –

On varied dates.

Where –

Niagara Falls.

Time –

There are 8 time slots available, choose your time slots according to your convenience while booking your tickets. 

Tickets – On FEVER.