You may be among the many tourists surprised by the regulations regarding the famous Moraine Lake in Banff National Park. They say personal vehicles can not access this glacial lake from 2023 onward. One must find alternative modes of transportation to explore this gem. Luckily, one can drive in their vehicle to visit Lake Louise. To answer the general query about how to get to Moraine Lake from Lake Louise? Rest assured, there are many great ways to get there without a personal vehicle.  
1. Planning a Trip to Moraine Lake and Lake Louise
Whether you drive along Trans Canada Highway or Bow Valley Parkway towards Moraine Lake Road, it is worth it. Do not forget to take the Banff National Park entry ticket. The moment you are at both Moraine Lake and its surroundings, you will find them gorgeous. Situated in the valley of the Ten Peaks, it is a highly sought-after tourist spot in Canada. When arranging a trip from Lake Louise to Moraine Lake, a few often-asked questions are: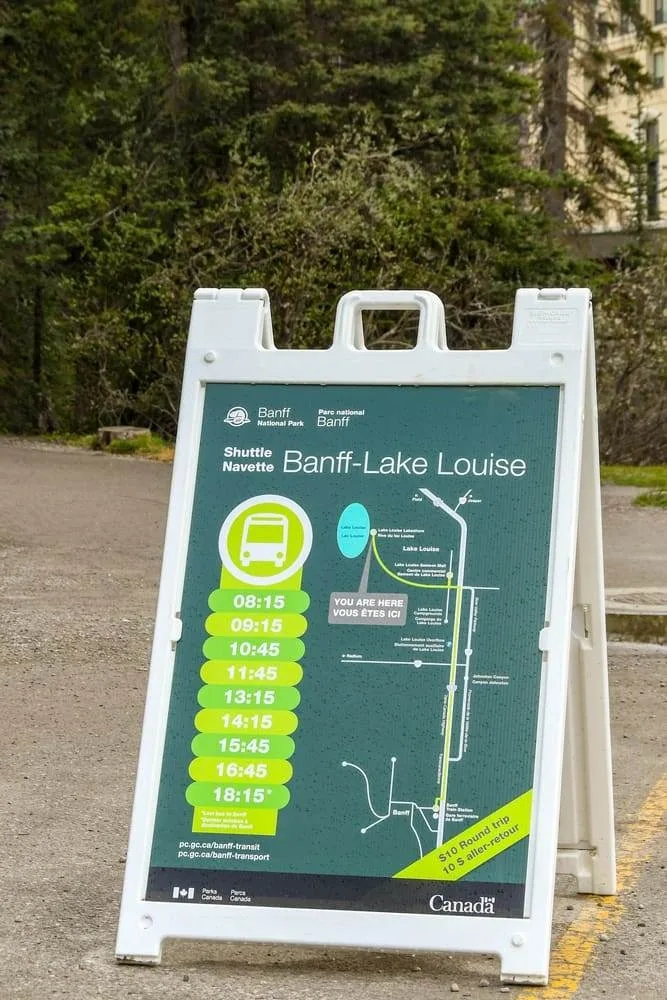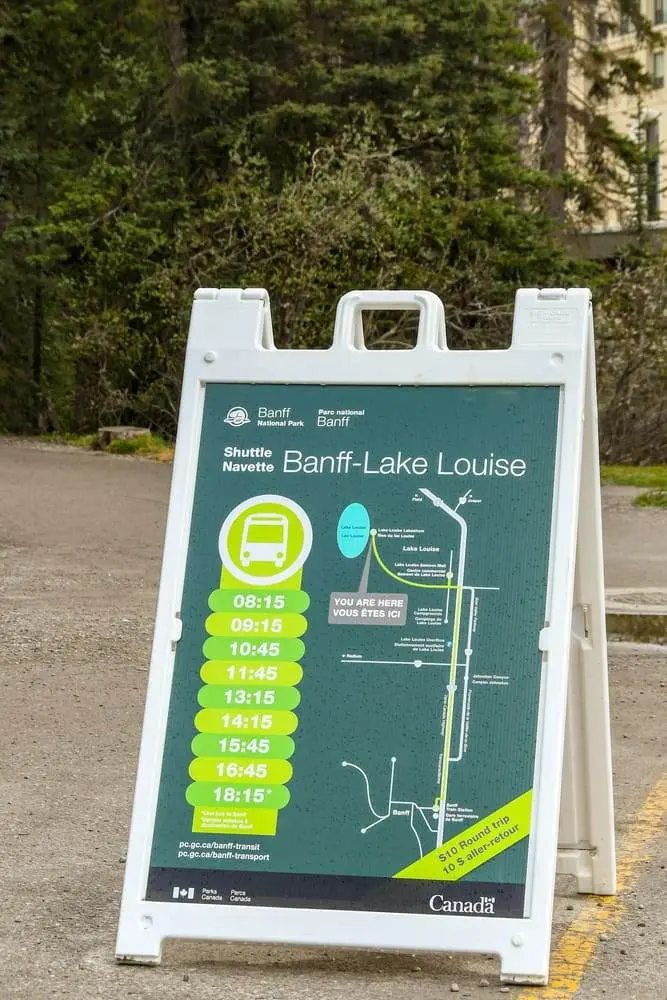 1.1. Can You Tour Lake Louise and Moraine Lake on the Same Day?
It is possible to tour both lakes in a single day. Firstly, schedule a Moraine Lake Shuttle reservation from the Parks Canada Shuttle Reservations Service. Upon reservation, you will also get Parks Canada Lake Connector Shuttle to the Lake Louise Park and Ride area. 
One can board shuttles from the Lake Louise Ski Resort parking lot. Moreover, private parking will be available at Lake Louise Lakeshore in 2023. If you avail of a private shuttle, you must pay about $25 for every individual returning from Moraine Lake. You will reach Moraine Lake in 20-25 minutes from Lake Louise Park and the ride area. It is because there is no stopping anywhere along the way in the Canadian Rockies.
1.2  The Road to Moraine Lake Opens and Closes at What Times?
In June 2023,  Moraine Lake Road opened, giving access to shuttles to start operating. Typically, its closing date is around mid-October. During this period, the traffic and crowds increase abundantly on the roads.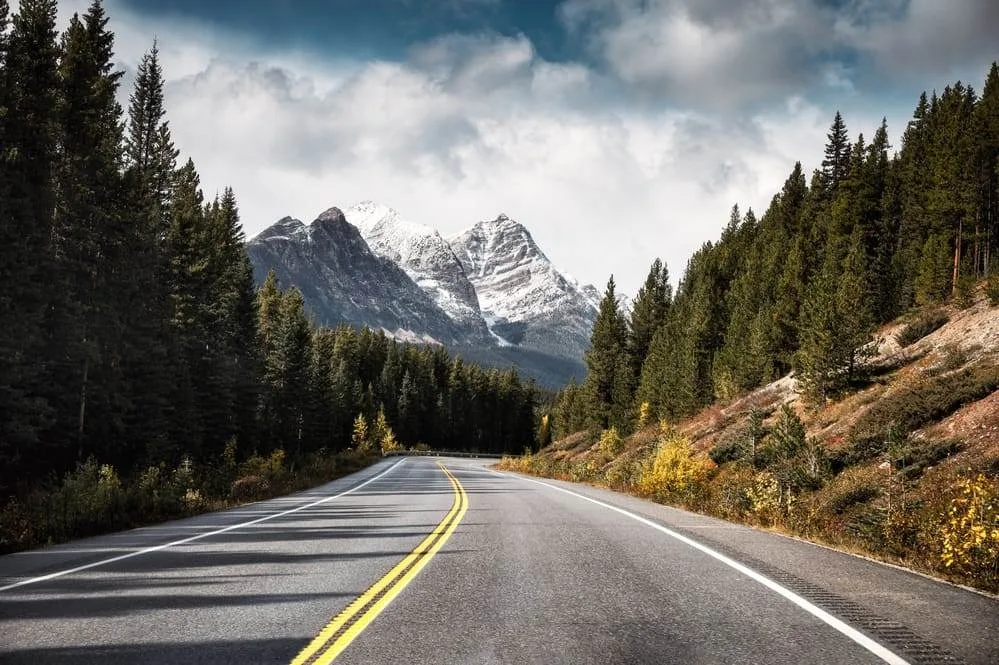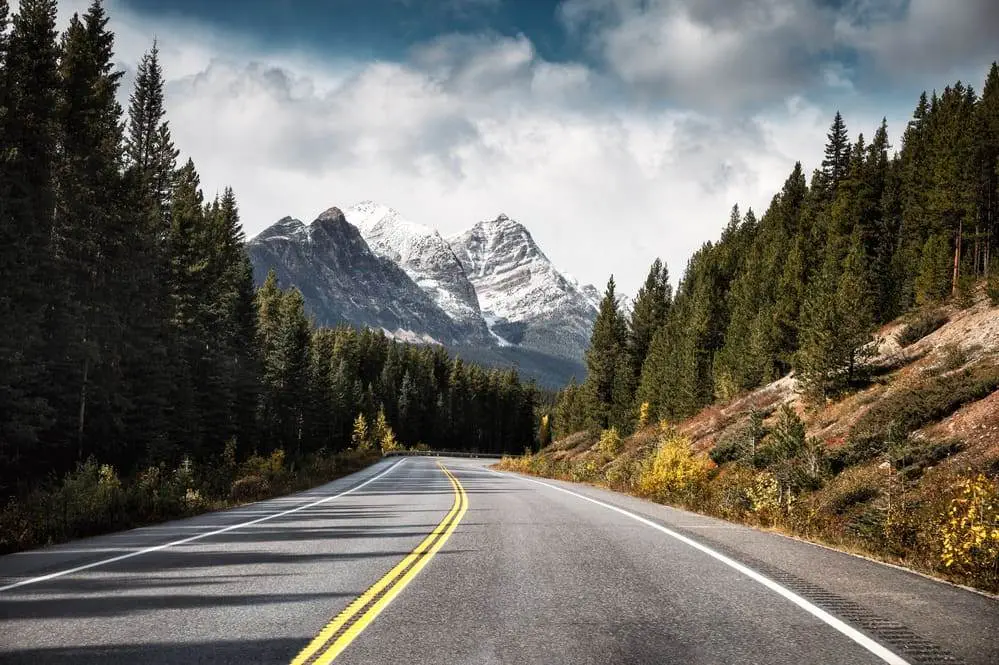 2. How to Get to Lake Moraine from Lake Louise?
The million-dollar question is about the possible ways to get to this breathtaking lake. Fortunately, it is possible to reach this famous lake by choosing multiple ways.
2.1.Parks Canada Shuttle Reservation
Firstly, the easiest way to reach Moraine Lake is through the Lake Louise Shuttle service given by the Parks Canada Shuttle buses. Additionally, it facilitates easy exploration of Banff National Park with enough space for watercraft like inflatable kayaks.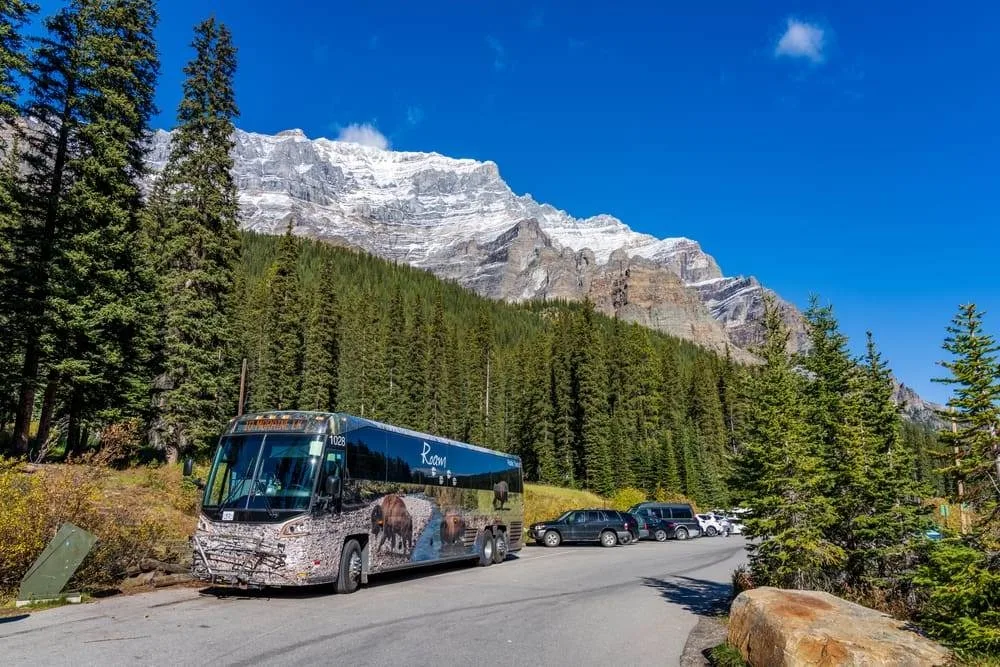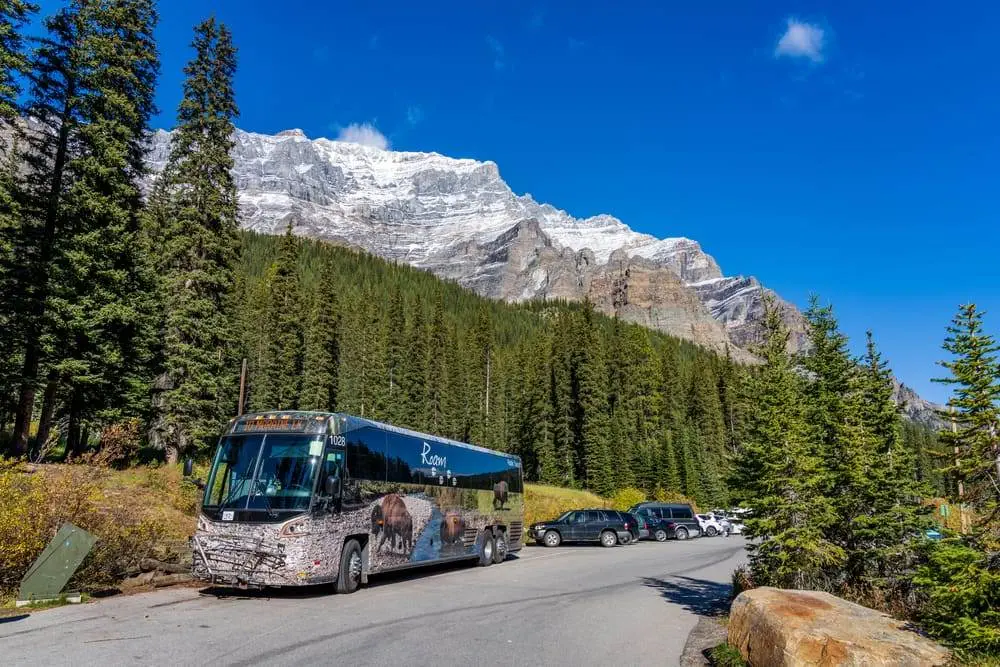 For shuttle tickets, visit the Parks Canada Shuttles reservation website. Every day, Parks Canada operates at 6:30 a.m. from Banff Town to Moraine Lake crossing roughly 71.4 kilometers. The Shuttle's final departure from Moraine Lake to Banff Town is at 7:30 p.m.
2.2.Roam Public Transit
Secondly, Roam Public Transit operates with the Roam route, the 8X and 8S. Lake Louise Express Roam Route 8X begins from Canmore or Banff, stopping at the Lake Louise Parks Canada Park and Ride area. Moreover, they provide Roam Transit 'Super Pass' to avail of Parks Canada Connector Shuttle service to Moraine Lake. 
2.3.Commercial Buses
Thirdly, access to the lake is through a private bus service. For instance, Moraine Lake Bus Company takes you to both lakes with all the comfort and safety you deserve.
2.4.Book a Sunrise Shuttle Bus
Fourthly, you have to wake up early for one-on-one exposure to the lake. Specifically, get a reservation on Sunrise Shuttles to Moraine Lake. Auspiciously, these buses operate from Canmore to Moraine Lake 1 hour and 15 minutes early to sunrise. 
2.5. Bike to Moraine Lake Road
Fifthly, mountain biking is an option to visit Moraine Lake. Challengingly, this involves pedalling along a round trip of 25 kilometres.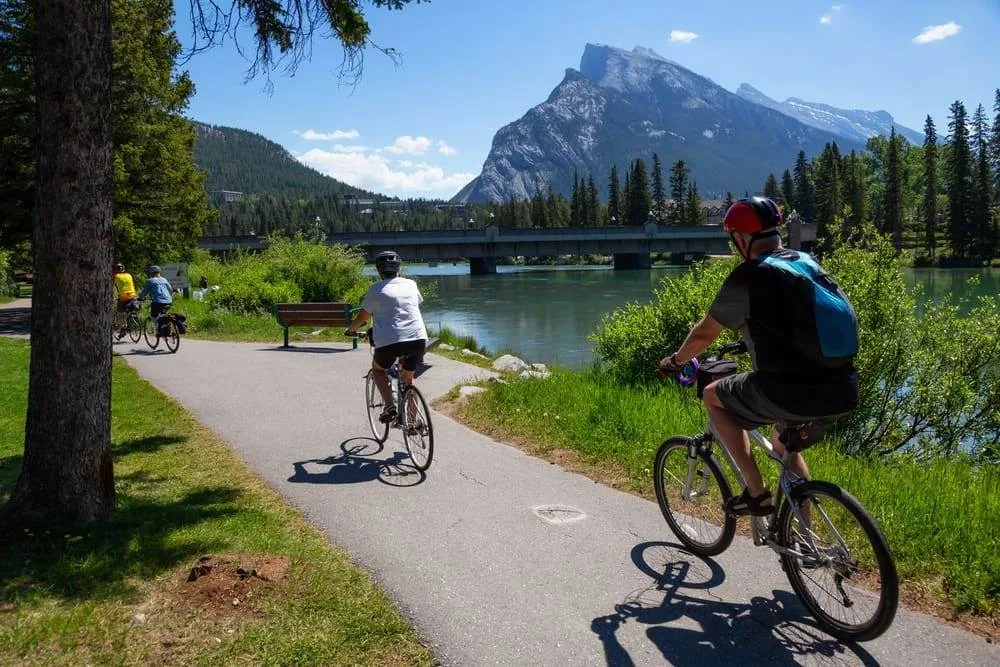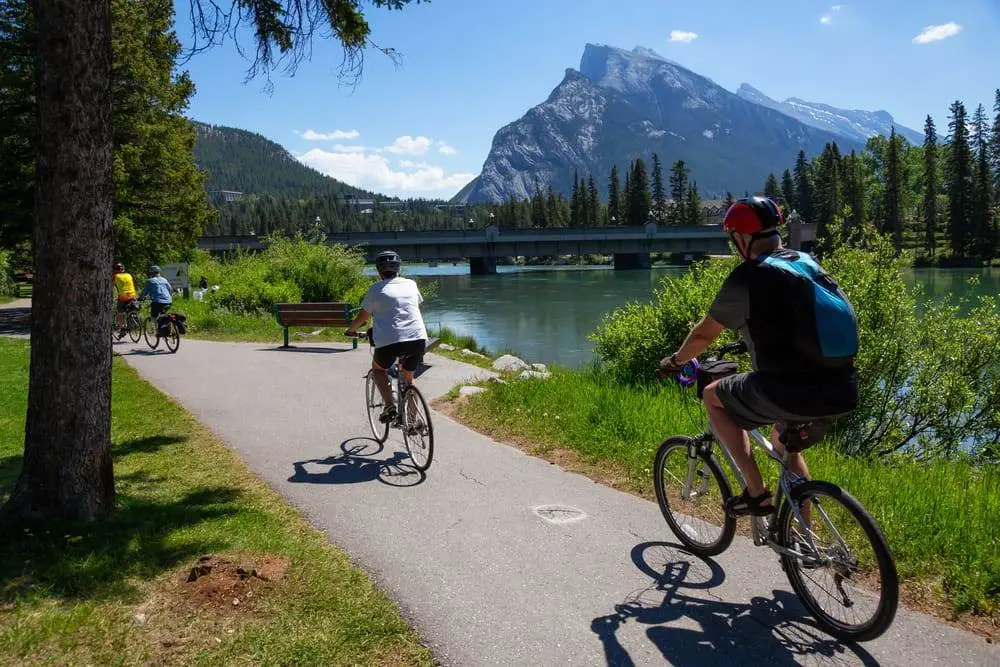 As a result, you must have great expertise and grip to navigate along the road and the traffic. Nevertheless, it is also a fun-packed and thrilling experience.
2.6.Taxi to Moraine Lake
Park your vehicle at the Lake Louise Ski Resort Park and Ride lot, and get a registered taxi to Moraine Lake from Lake Louise Village(Samson Mall) or Lake Louise Lakeshore. It also provides the ease and freedom of owning a personal vehicle while on vacation.
2.7.  Moraine Lake Lodge Reservations
Seventhly, stay at Moraine Lake Lodge. Here, you have access to Lake Moraine compared to Lake Louise Hotel. Therefore, You will watch the lake peacefully in the early morning and late afternoon. That means you almost have Moraine Lake to yourself. 
2.8.Guided Moraine Lake Tour
Similarly, private companies offer Yoho National Park, Banff tours, or guided Moraine Lake tours. For instance, one such company arranges early sunrise tours from Banff, starting at 4 a.m., that will take you to both lakes on the same day. 
2.9. Hop on the Banff Bus
You will also get to both lakes with the Hop on Banff Bus. Besides, it is a way to see other attractions like Johnston Canyon and the Lake Louise Gondola on the way. Additionally, their guide amuses you with helpful and insightful information.
2.10.Hike to Moraine Lake
In addition, hiking up to Moraine Lake through Paradise Valley Trailhead is my favourite. Categorically, it allows me to admire the genuine beauty of Moraine Lake Route. Moraine Lake is a 10-kilometer walk from there.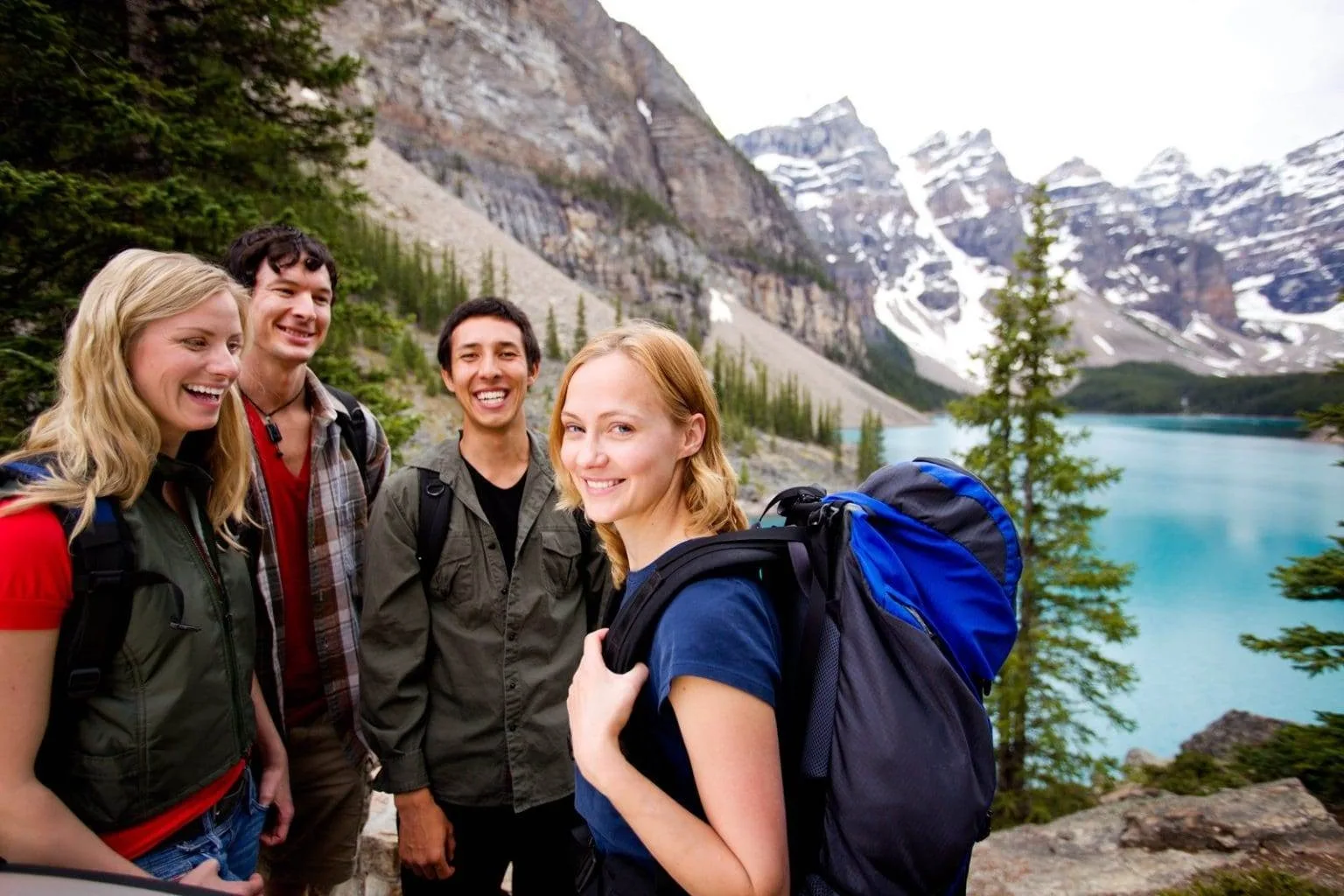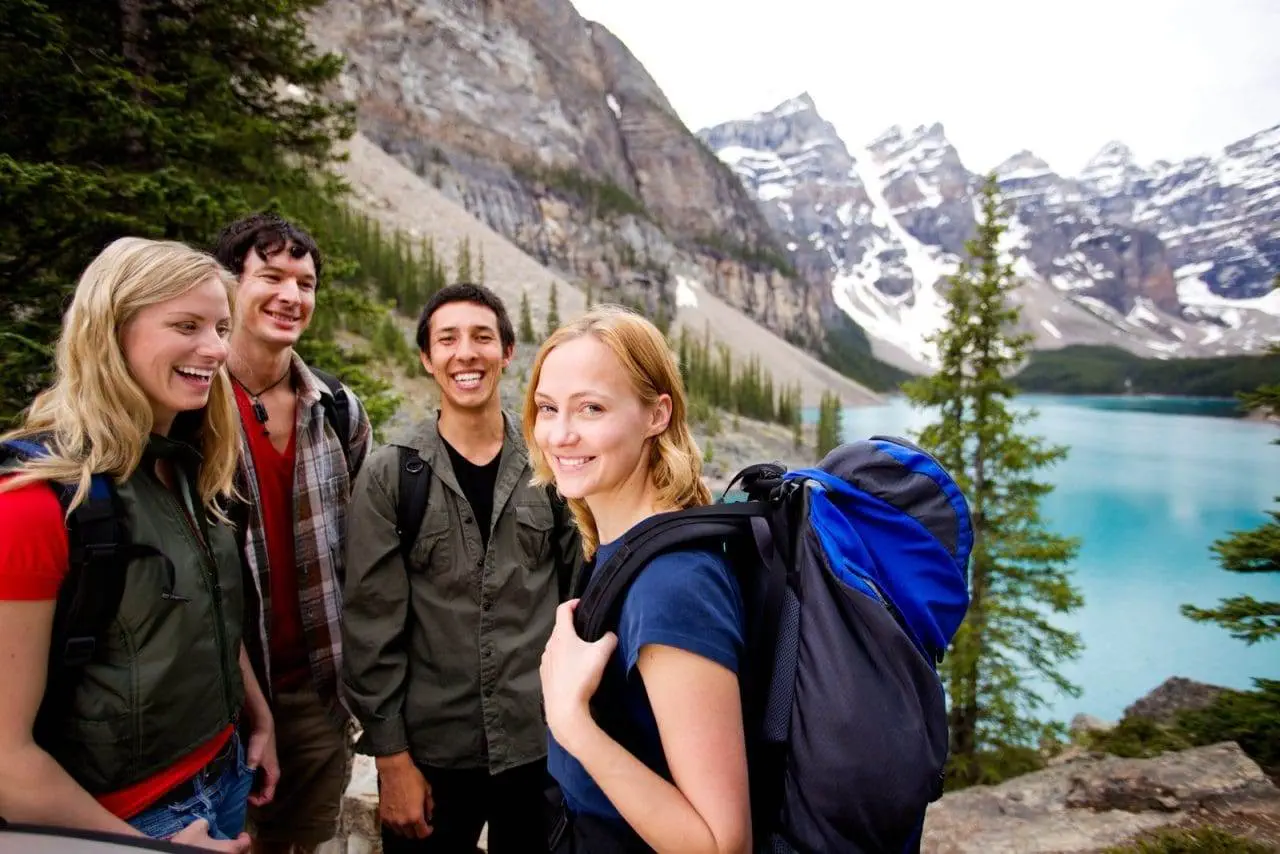 Fortunately, there is always room for a scenic and unique camping site for an unforgettable experience if you visit Lake Louise or Moraine Lake. For instance, you can count on the Lake Louise Campground and Lake Louise Soft-sided Trailer/Tent Campground. Overall, these destinations provide a unique occasion to immerse in canoeing, hiking, and wildlife viewing at the lake.
2.11 Canmore to Moraine Lake
Finally, budget-conscious tourists staying in Canmore are also reaching Lake Louise Drive and Moraine Lake. With ease, they hop on one of the 'Canmore Travel' buses leaving at 8 a.m. Consequently, they reach directly and spend 1 hour at each lake. 
3. End Note
Whether going from Banff to Moraine Lake or Lake Louise to Moraine Lake, folks who love the Canadian outdoors will find this information of great value. Notably, it answers, How to get to  Moraine Lake from Lake Louise? However, we don't know when the Canadian Government will consider allowing personal cars to park at the Moraine Lake Parking Lot.
So, why not take the alternative options that promise a safe journey to Lake Moraine? Although the crowds and traffic may decrease, the popularity and attraction of both Lake Louise and Moraine Lake will remain until the end. Have a pleasant journey!
As an Amazon Associate, Icy Canada earns from qualifying purchases. [amazon_auto_links id="81298"]
The Icy Canada team strives to create content that matters. It's why our content is written by travel writers, authority experts, well-known authors, and niche experts. Our content is also periodically reviewed by expert authors for accuracy and trustworthiness.
As an Amazon Associate, Icy Canada earns from qualifying purchases. [amazon_auto_links id="81298"]