The town of Banff, which was also the first ever municipality to be incorporated inside a national park, is a resort town known especially for its scenic beauty and hot springs. The town's ten notable peaks, lakes, ski resorts and various activities are the main "Banff Attractions" and make it count among the top-visited tourist destinations in all of Canada. Let's learn more about this beautiful resort town of Banff and have a look at some Banff attractions.
1. Banff, Alberta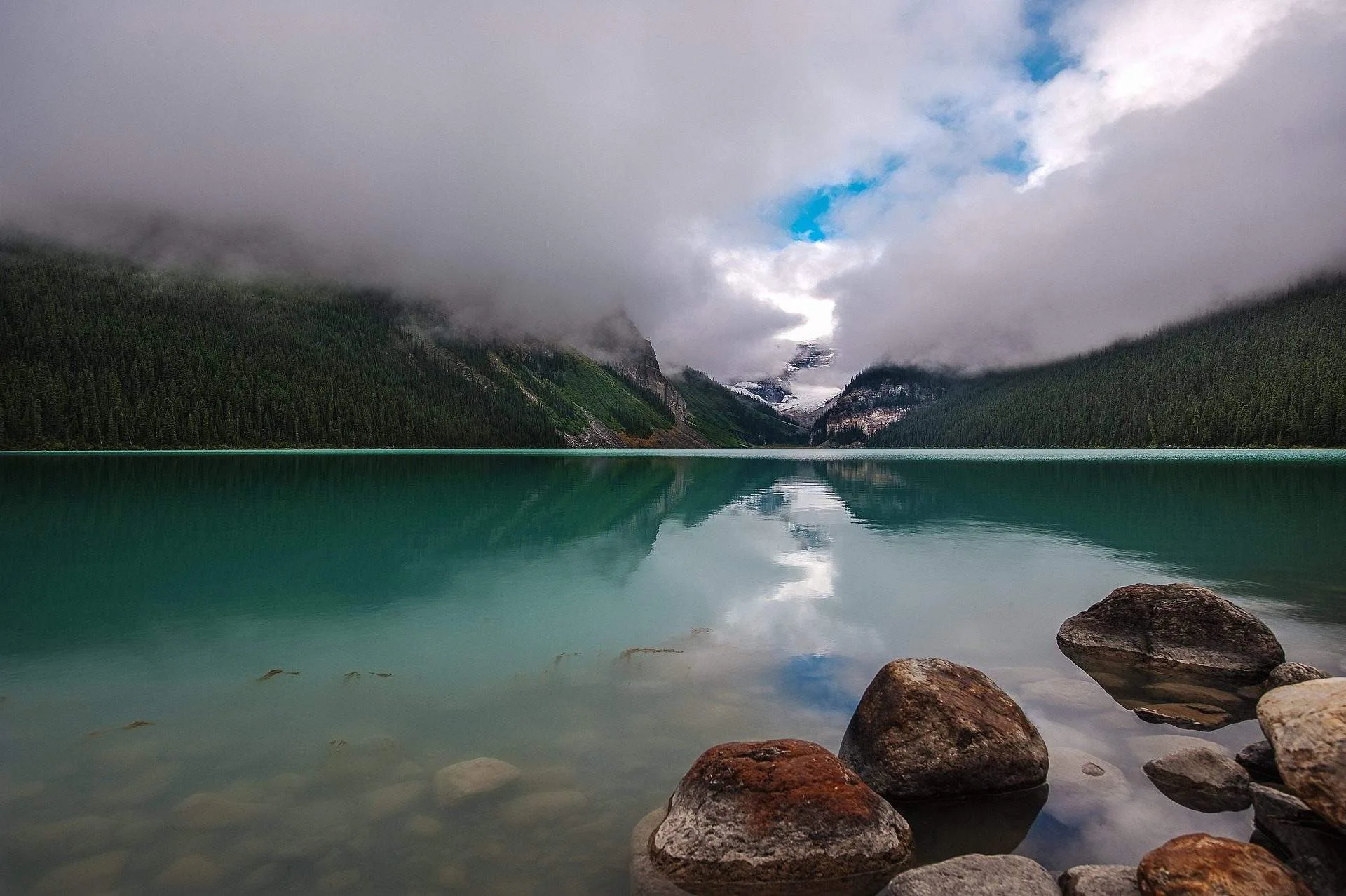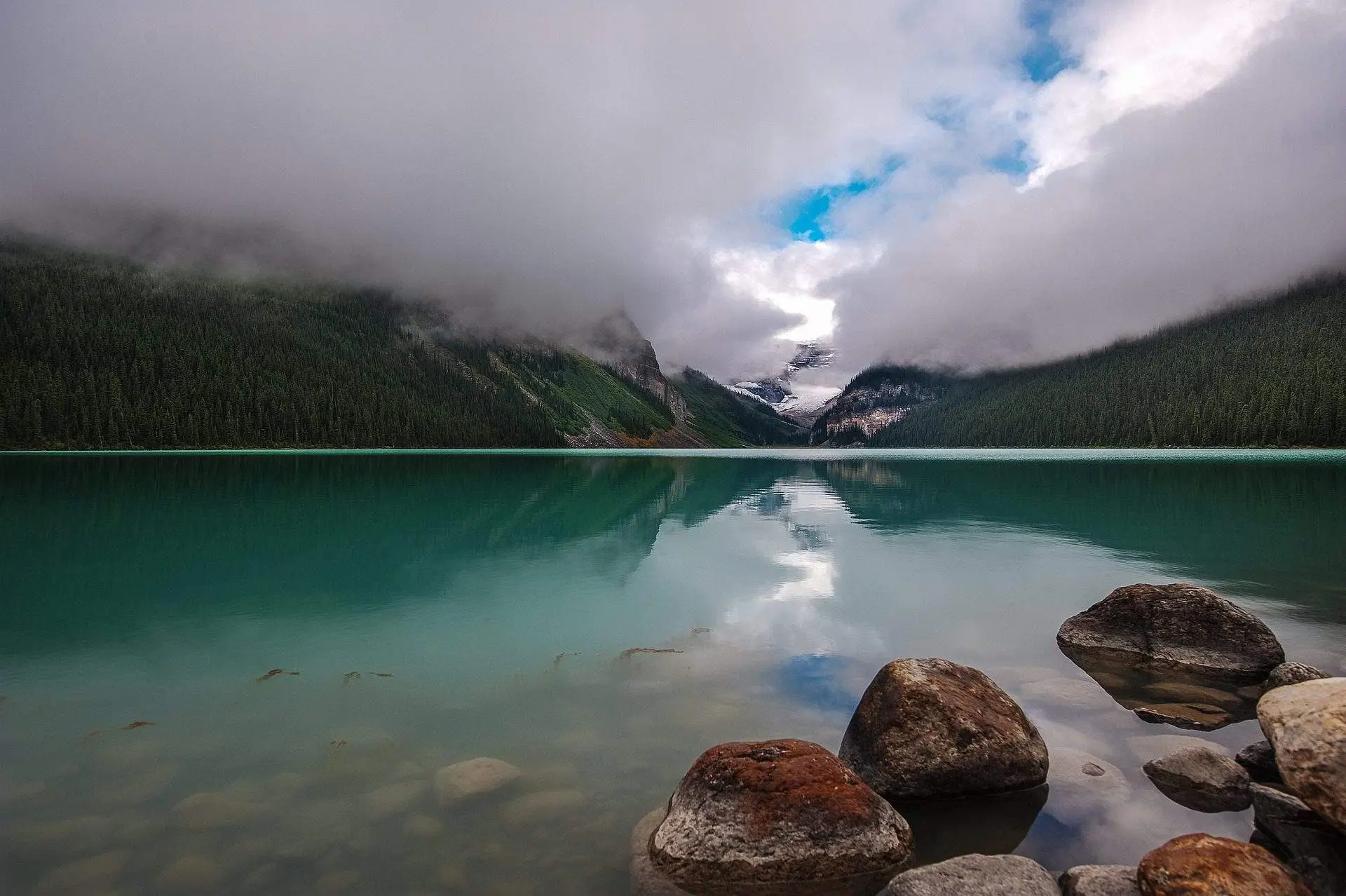 1.1. Location
The resort town of Banff is located in Alberta, Western Canada, in the Canadian Rockies. It is a community located at the second-highest elevation level in Canada, standing between 1,400m – 1,630m above sea level. The highest-elevation level is owned by Lake Louise, which is also located nearby the same National Park, known as the Banff National Park. It stands about 58 km east of Lake Louise.
It spreads across 2,456 square miles, mainly composed of mountain terrains and trails. The Banff National Park also has numerous glaciers, ice fields, and dense forests. It also has an Alpine landscape. The Trans Canada Highway also passes through the national park from its eastern boundary and continues into British Columbia, Yoho National Park, to be very precise.
The area of Banff experiences a subarctic climate, meaning it faces long and cold winters and warm to cool and short summers. Here, a drop of approximately -15 degrees Celsius in the winter temperature is marked. Snow can be found here at any point throughout the year.
1.2. History
Banff was recognized as a UNESCO World Heritage Site in the year 1984. The settlement, however, dates back to as old as 1887, by the name 'Rocky Mountains Park of Canada'. It was also Canada's first national park. The town was settled keeping in mind the aim of tourism, which explains the various Banff attractions we know today.
Today, it has 15 designated Municipal Historic Resources, 34 statements of significance, 48 Heritage Plaques, 25 Landmarks and Legends, and 179 sites that are found in the Inventory of Historic Resources. All of these achievements were gathered in the 2000s.
The famous Lake Louise, which is undoubtedly the most popular Banff attraction due to its beautiful and surreal colour palette, was named after Princess Louise Caroline Alberta, the Duchess of Argyll. It was discovered in 1882 by Tom Wilson, who called it the 'Emerald Lake' and is counted among the top Banff attractions.
1.3. Architecture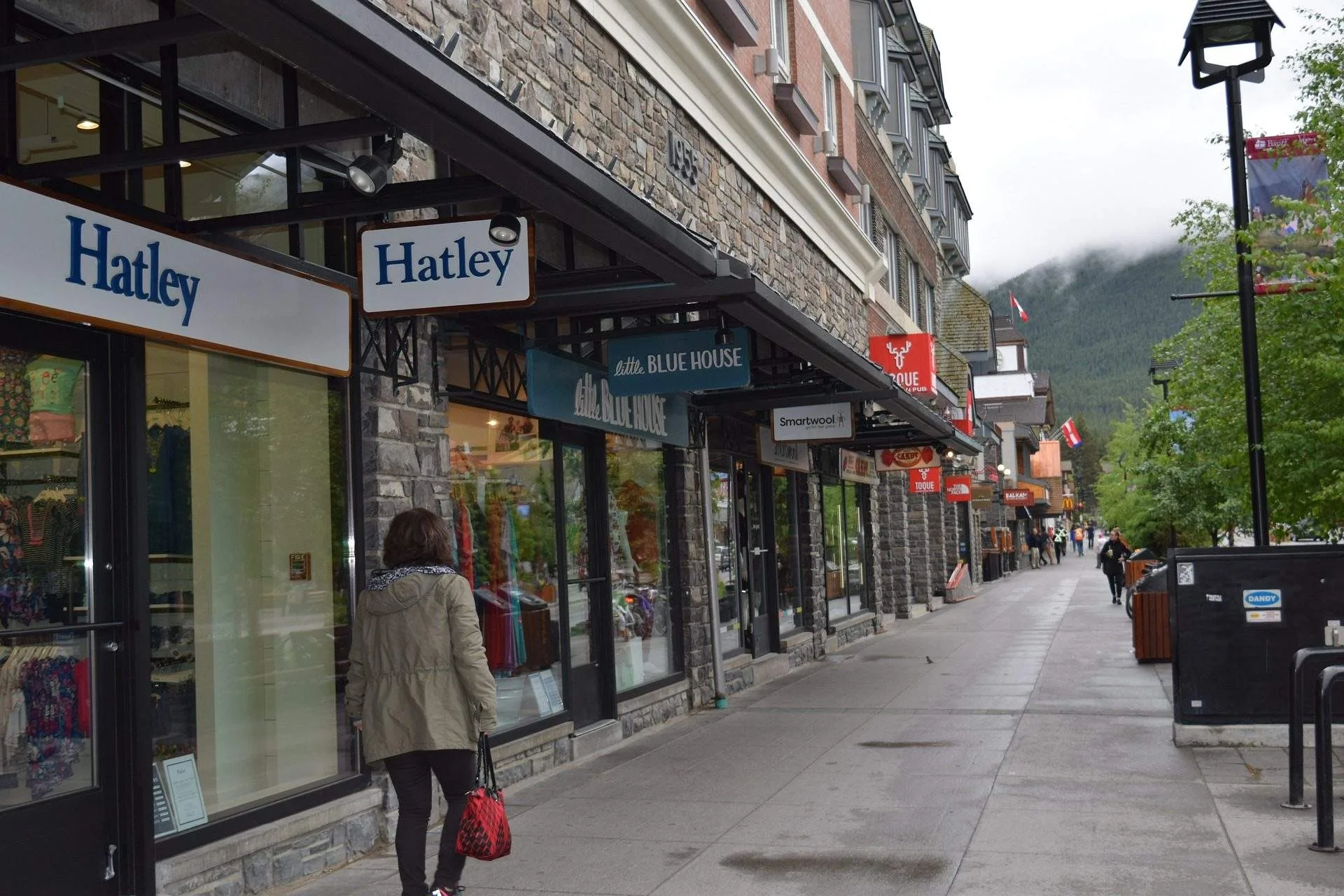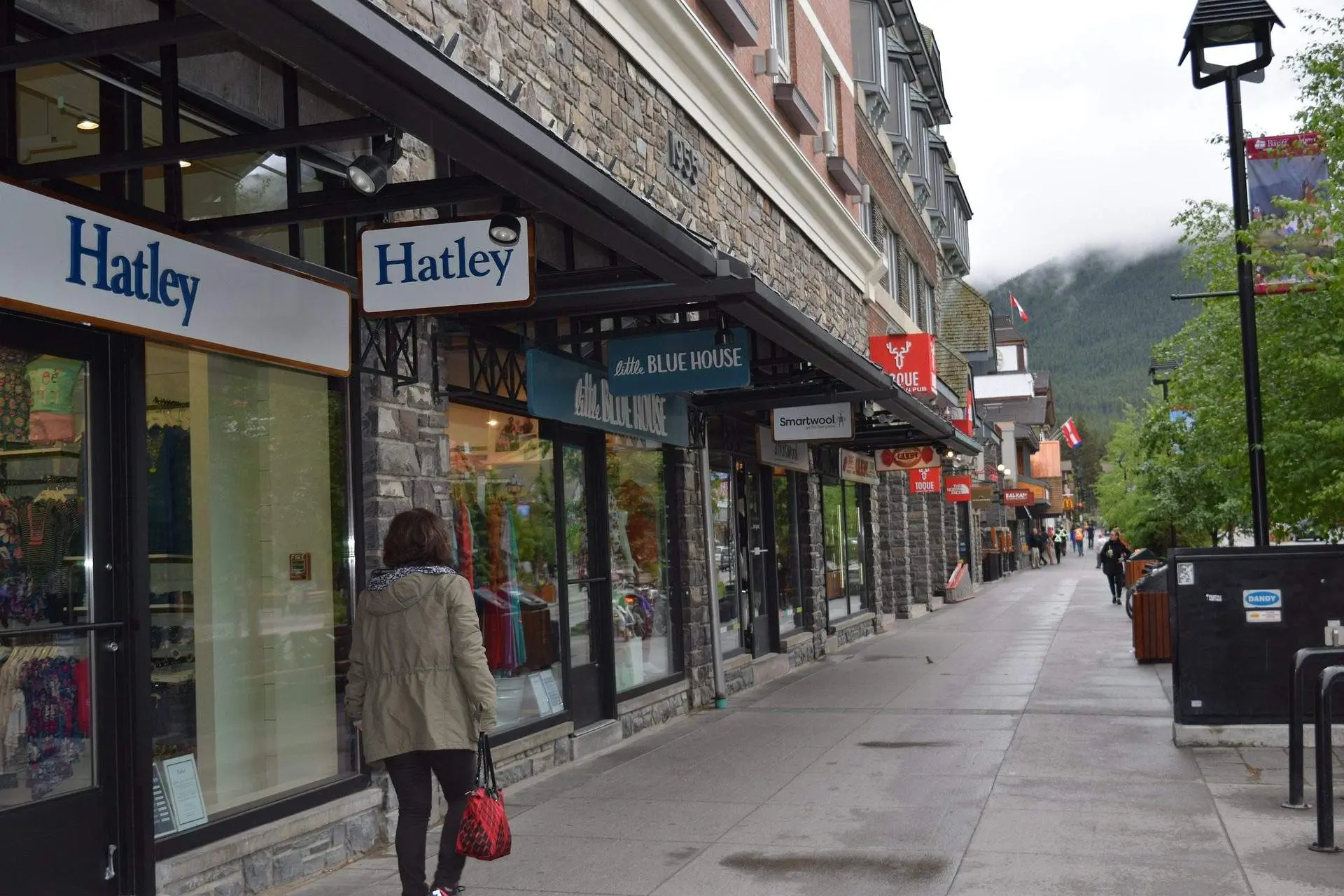 The architecture that is found across the Banff National Park is village-themed and was built keeping in mind the ideas of simplicity. The place is known to be influenced by rustic tradition. Thus, almost all structures are made of wood or stone. The majority of architecture heavily depends upon natural construction materials. The architecture can be spanned from the early modern era to the modern era.
1.4. Nearest Peaks
One of the main reasons why Banff Attractions are counted among the most visited attractions in Canada is its location, which is full of mountains, glaciers and ice fields.
1.4.1 The Valley of 10 Peaks
The valley of 10 peaks is among the top-visited Banff attractions:
Mt. Fay (10,613 ft)
Mt. Little (10,131 ft)
Mt. Bowlen (10,079 ft)
Tonsa (10,030 ft)
Mt. Perren (10,010 ft)
Mt. Allen (10,860 ft)
Mt. Tunzo (10,650 ft)
Deltaform Mountain (11,234 ft)
Neptuak Mountain (10,607 ft)
Wenkchemna Peak (10,401 ft)
No, let's have a look at some other peaks found here, which are most heavily visited by tourists and are among the top Banff Attractions:
1.4.2 Mt. Rundle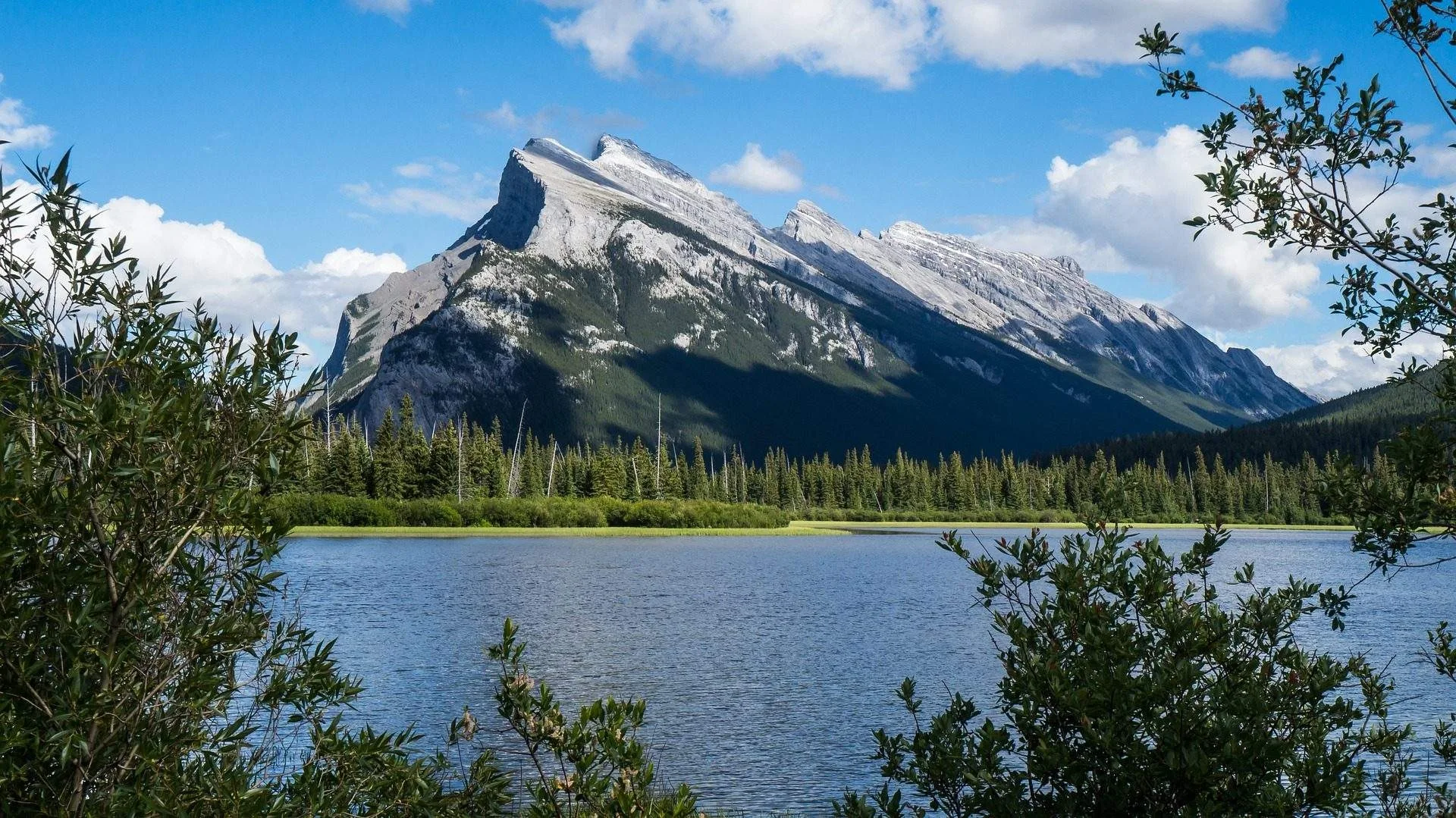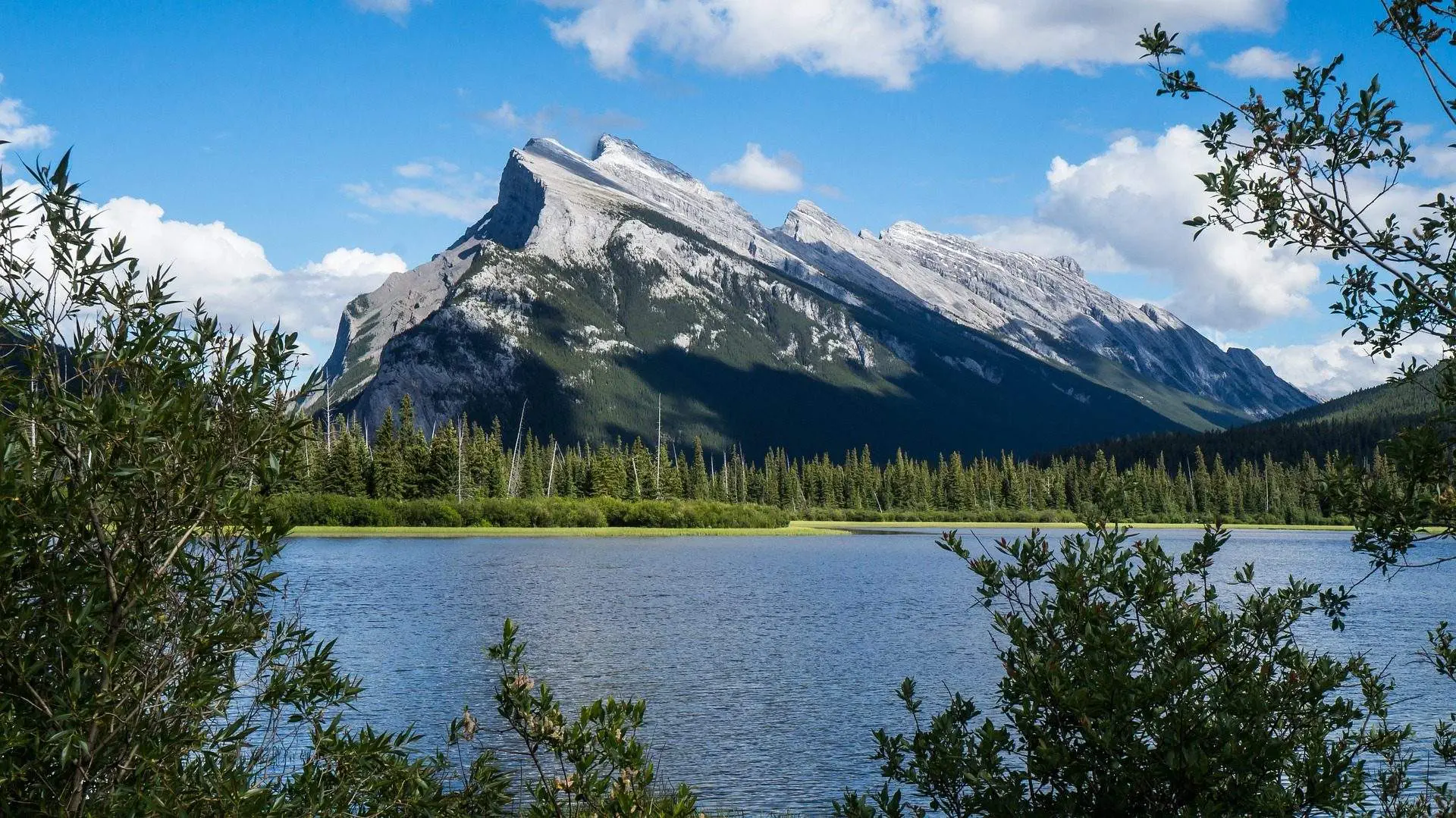 Also known as the House Mountain, Mount Rundle overlooks the town of Banff and Canmore in Alberta, Canada. It is a comparatively small mountain range, stretching over 12kms. It has seven distinct peaks on the southern part of the Trans Canada highway.
It mainly consists of limestones, dolomites and shales, dating back to the Paleozoic age. It also illustrates the famous Paleozoic 'sandwich' formations. It also consists of a natural stone called the 'Rundle Stone' or the 'Rundle Rock', a commonly used dimension stone in southern Alberta. Its main uses include activities like landscaping and building. The famous Banff Springs Hotel, Downtown Banff and several Parks Canada Buildings heavily used this stone among construction materials.
Mount Rundle is the most recognized in the range of Canadian mountains. Its most famous viewpoint is from the Vermilion lakes.
1.4.3 Cascade Mountain
The Canadian Cascade Mountain range is located in the province of British Columbia. It has been an erupting chain of volcanoes over the last 29 million years but also constitutes various non-erupting peaks. It is merely a division of the huge Cascade Mountain range, which starts from Northern California. It extends to the southernmost point of British Columbia, the Canadian Cascade Range. This range is considered a part of the Pacific Ring of Fire and saw its last eruption about 1,000 years ago.
A settlement was found in the region more than 8,000 years ago, most of which was killed due to smallpox, disruption to the community with a nearby Hudson Bay's Trading Post, and a 9.2 magnitude earthquake. Most of the indigenous communities were wiped off due to this series of events.
1.4.4 Canadian Rockies
The Canadian Rockies, which constitute the Alberta Rocky Mountains and the British Columbia Rockies, is a segment of the North American Cordillera. It is the easternmost part of this mountain chain. The highest peak of height, 12,972 ft, of the Canadian Rockies is Mount Robson.
The chain has several river systems. The rivers which originate from the peaks are The Fraser, Columbia, North Saskatchewan, Bow and Athabasca glacier rivers. The peace river penetrates the range as well.
The mountains are rich in limestone and shale and are also heavily composed of glaciers. Five national parks are located in this mountain range: Banff National Park, Waterton National Park, Jasper National Park, Yoho National Park, and Kootenay National Park. The first four stand adjacent to the Canadian Rocky Mountain Parks. All five of these parks are considered to be a single UNESCO World Heritage Site due to the extraordinary landscapes found there, which also include them among the top Banff attractions!
2. Top 12 Beautiful Banff Attractions
The surreal beauty of the town of Banff and Banff national park is proved by the tourism the place attracts. Picturesque Banff attractions and their soul-touching visuals never fail to make their beauty evident, some of which are discussed here:
2.1. Banff National Park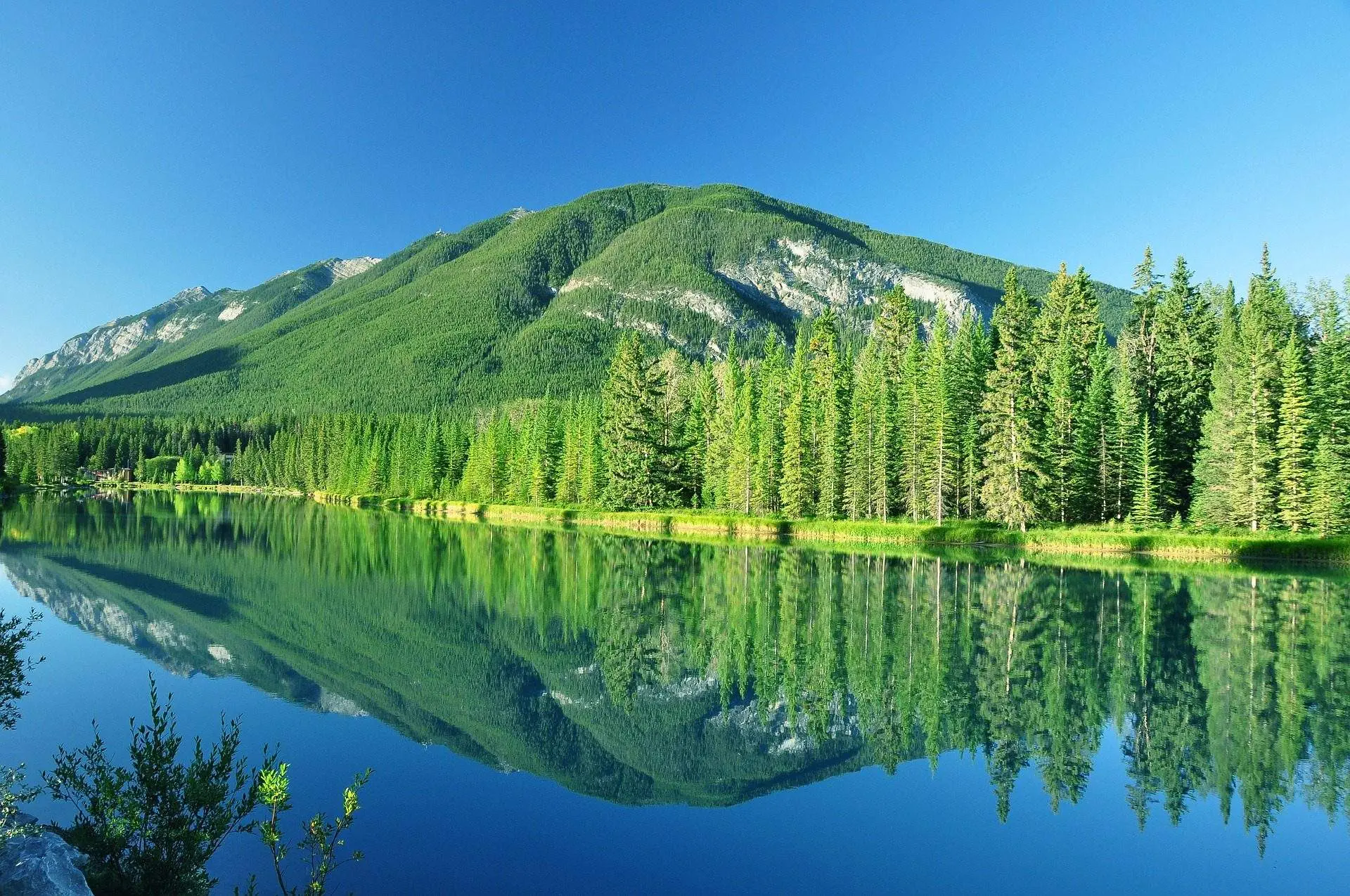 Banff National Park is one of the oldest national parks in Canada and is located in the Canadian rocky mountains. It inhabits the town of Banff, and the whole place will touch your heart with its beauty. It is a mountainous terrain spread over a landmass of 6,641 sq km, which constitutes many glaciers, dense forests, alpine landscapes and several jagged peaks.
Banff National Park is surrounded by several other attractions, which you can find in this list, such as Lake Louise, Jasper National park, and Peyto Lake.
The National Park rose to fame after the building and rigorous advertising of the Banff Springs Hotel and Chateau Lake Louise, which became the main source of attraction. The Trans Canadian Highway is also a major contributor to the tourism of Banff National Park.
The place has a rich history, which is made rich by the presence of various indigenous communities. Banff also served as an internment camp during World War I, for immigrants from Austria, Hungary, Germany and Ukraine.
Flora and fauna found here are highly diverse as well. The National Park inhabits 56 recorded mammal species, including grizzly bears and black bears, a few amphibians and reptiles, and 280 species of birds. Two endangered species, namely, the Banff Springs Snail and the Woodland Caribou, are also found here. Mountain Pine Beetles are found here in abundance.
Now, let us look at some more specific regions which attract people throughout the year for tourism purposes, which keeps them high on the list of Banff attractions.
2.2. Lake Louise
The beauty of Banff and Lake Louise go hand-in-hand.
The world-famous Lake Louise, renowned for its turquoise lakes, the Victoria Glacier, hiking trails, Lake Louise Ski Resort and Sulphur mountain backdrop, is located on the Bow river in Banff National Park. It holds one of the most jaw-droppingly beautiful scenes among all of the Banff attractions. It is located at an elevation of 5,680 ft and originates from the Victoria Glacier. It is about 220 ft deep.
The Lake Louise Ski Resort is a famous luxury hotel and recreational center in Banff and attracts a huge number of tourists throughout the year. Visitors can partake in several adventure sports and activities here: skiing, sleigh rides, dog sledding, paddling, hiking, Canoe rentals, and horseback riding. Lake Louise area is jam-packed with adventure sports, which makes the scenic beauty much more fun.
The famous Lake Louise park, Sulphur mountain, Lake Louise Gondola, and mountain biking trails, among many other views, contribute heavily to Banff Lake Louise tourism. Lake Louise is not at the top of the list of Banff attractions for no reason!
2.3. Downtown Banff
If you want to enjoy delicious food while sitting in a vibrant café, take a retro tour of Banff. The local shops visited here while shopping for some indigenous-inspired articles, riding a rental car, or walking around while taking in the soothing village life; Banff townsite will be one of the best places to visit among the Banff attractions.
From Whyte Museum to Mount Royal Hotel, the place will not fail to color you in the shade of its local culture. With rustic architecture promoting simplicity and evident impressions of village life, Banff townsite will make your heart soar.
2.4. Jasper National Park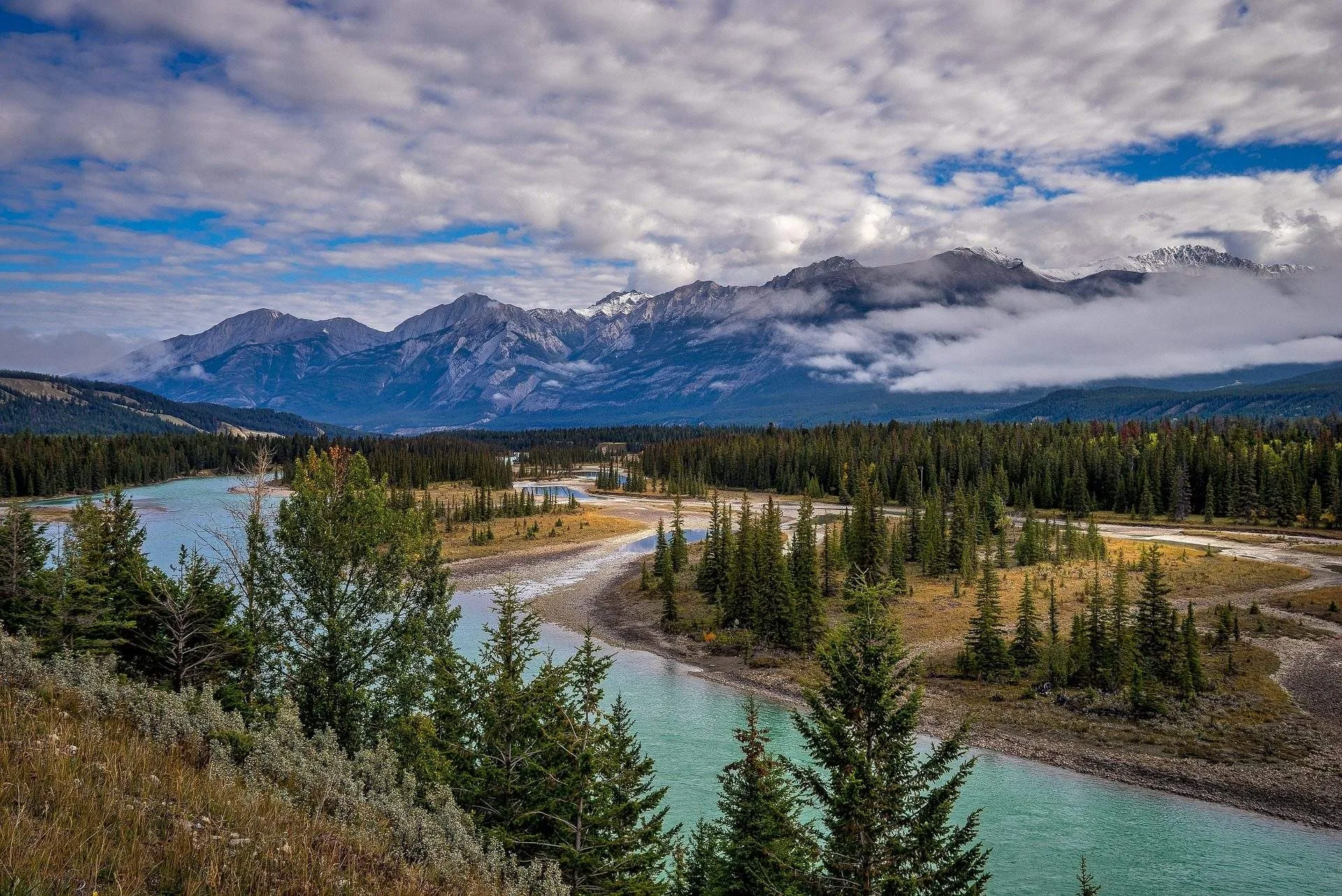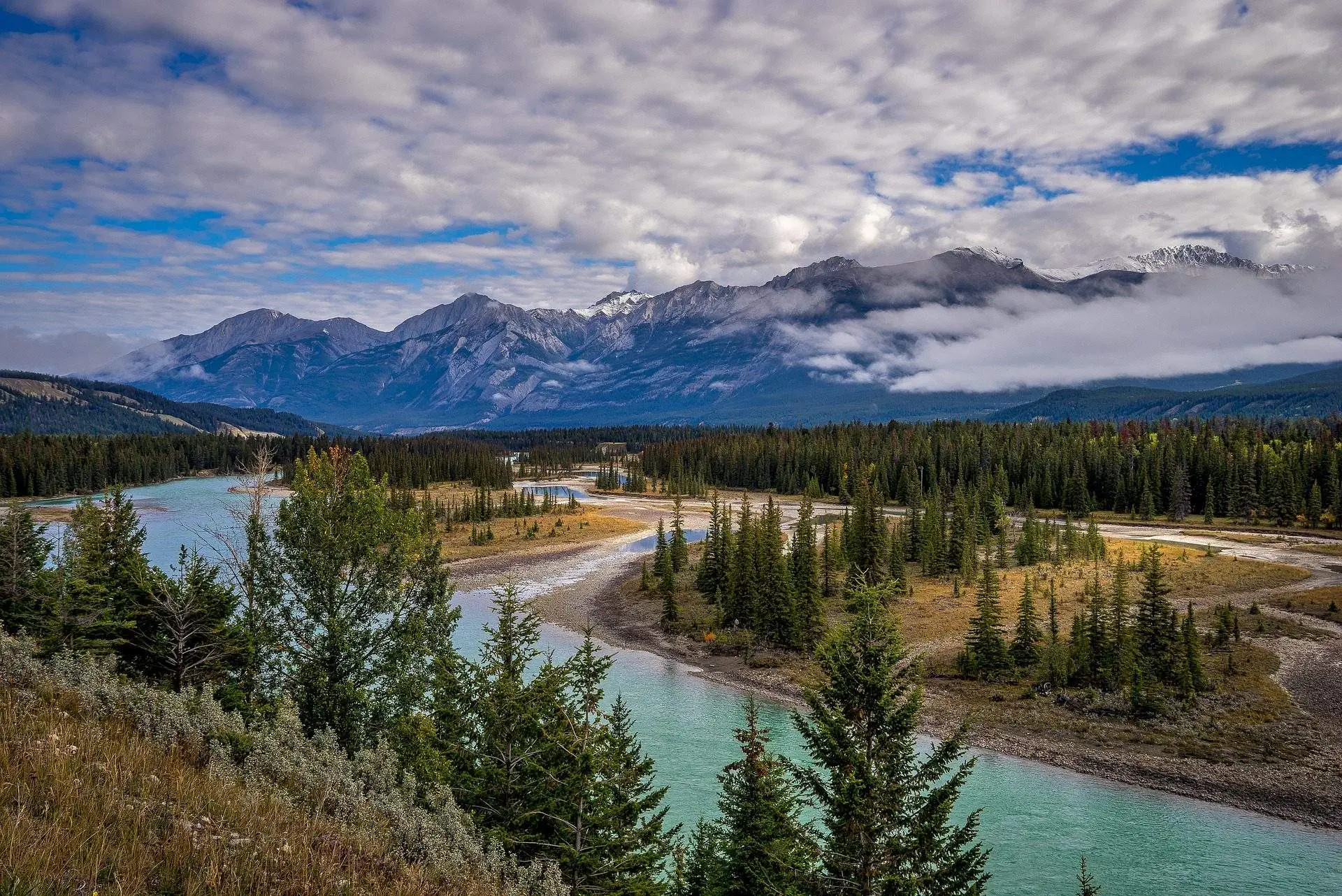 Jasper National Park is the largest national park in the Canadian Rockies mountain range, which spreads across a huge landmass of 11,000 sq km. It became part of a UNESCO world heritage site in 1984. The place includes the Athabasca Glacier, the Columbia icefield, waterfalls, hot springs, lakes, and mountains. It inhabits various mammal species and birds. It is most famous for the Canyons, Limestone Caves and fossils found here.
Mountain biking and hiking trails, fishing spots, wildlife viewing and photography, rafting, kayaking and camping are some of the thrilling activities tourists can partake in. During winter, one can also take up Alpine Skiing, dog sleds and snowshoeing. No wonder, so many visitors visit this throughout the year! Above all, you can spot grizzly bears here!
However, for many years, heavy tourism is becoming a concern for the authorities. It was observed that the increasing human interaction with the place was possibly affecting the migratory pattern of various animals and birds found here.
2.5. Sulphur Mountain
Mainly known for its Springs, Gondola rides, and observatory, the Sulphur mountain of Banff, Alberta, is a picturesque site with many visitors. The Bow Valley, accessible through the Gondola, is also a great attraction here. Visitors can also take up mountain biking or hiking trails to reach here while taking in the beautiful sites of the Alpine mountains and various mountain goats.
From restaurants, and gift shops, to famous observatories, you can find them here. The place has two research facilities as well, the National Research Council, Canada, built its facility here for the study of Cosmic rays in 1978 (shut down in 1981), and the Meteorological observatory, built in 1903.
Here, two natural springs have been commercially developed: Cave and Basin National Historic site and the Banff Upper Hot Springs. Among the Banff attractions, this one is a gem!
2.6. Basin National Historic Site
If you're a hot spring enthusiast, Banff Attractions will not disappoint you.
The Cave and Basin National Historic site cave is a site of a natural thermal mineral spring located deep within the Canadian Rockies. It is located around Banff National Park. It is one of the nine Sulphur hot springs located on Sulphur Mountain. The water here is 3 km deep. The Cave and Basin National Historic Site cave is the only one among the nine that can comfortably accommodate groups of people who like to enjoy hot springs.
It is also among the notable habitats of the Banff Spring Snail, one of the place's endangered species. All the rock formations found here were stripped quickly after the discovery of the cave.
2.7. Bow Valley
The Bow Valley Parkway of Banff National Park is amongst the top-rated Banff attractions. You can follow the beautiful biking trail while taking in the three vermilion lakes and bike to the Lake Louise Ski Resort. If you're interested in checking out some sculptures made by nature, you can also explore the Johnston Canyon.
Apart from these, the Bow Valley Parkway has numerous lookouts, picturesque spots and views of mountains. You can also view the natural hot springs, known as 'the ink pots.' You can take tours, rejoice and have fun, all at the same place!
Bow Valley runs along with the upper Bow River in Alberta, Canada. You can enjoy the Bow Valley Provincial Park here, which is famous for trout fishing. You can take in forest views, meadows and lakes. If you go there, it is almost mandatory to partake in the hiking trail of Johnston Canyon!
2.8. Banff Gondola
The Banff Gondola rides are famous for the breathtaking views of Banff attractions they present the visitors with, while they're enclosed in a comfortable four-person cabin which is glass encased. It allows the visitors to enjoy the awe-spiring views of Banff, the Bow valley parkway and six scenic mountain ranges (in 360 degrees as well)!
You can also walk on the 1 km-long self-guided skywalk, which leads to the famous cosmic ray station and meteorological station. If you're looking for a keepsake, the place also has a gift shop, restaurants, a Starbucks café, a snack bar, hiking trails, and one giant compass.
The Gondola ride starts at the base of Sulphur Mountain. The track is approximately 1 mile long, with a duration of about 10 minutes. If you're counting down Banff Attractions, it is almost impossible not to list this one!
2.9. Banff Upper Hot Springs
These commercially developed springs are located near the townsite of Banff, in Banff National Park, Alberta. It gives the visitors an amazing experience with a spectacular view of Mount Rundle inside the hot pool. The water of the pool comes naturally through a crack in the infamous Sulphur Mountain of Banff. Since receiving from Sulphur Mountain, the spring's water is famous for its healing properties. Its origin makes it rich in minerals. Its journey further down makes a unique blend of gases, minerals, and temperature, which is proven to have healing properties. Minerals like Sulphate, Calcium, Bicarbonate, Magnesium, and Sodium can be found in the Banff Upper Hot Springs water.
The spring is believed to be first discovered before the 1880s by the indigenous people who used it for healing and wellness purposes. In the year 1883, it was found by some workers and was later developed into a commercial spring. Today, it is said to host around 300,000 people annually. If you are checking out Banff attractions, you should visit this one!
2.10. Sunshine Village
Sunshine Village Ski resort is one of the major Ski resorts in Banff, famous for its location. It is located on the Continental divide, which makes it more prone to snowfall, and, thus, a great option for skiing enthusiasts. The sunshine Village ski resort can be accessed via one of the rapid Banff Gondola rides, which is about 10 minutes long if you want to catch the ski lifts and runs. However, it takes around 18 minutes to visit the upper part of the village.
Sunshine Village consists of three major and absolutely beautiful mountains: Mount Standish, Goat's Eye Mountain, and Lookout Mountain. The place hosts around 500,000 skiers and snowboarders annually, with skiing season that starts in Early November to last till late May.
As the skiing season starts in early November, an event called Slush cup is hosted here at the sunshine village, where the skiers attempt to ski down from a mountain, jump into a pool of water, and skim across the pool to reach the other end. Apart from these, various other skiing and snowboarding events are also hosted here. If you're visiting Banff, you might not want to miss this place, as it is among the top 12 Banff attractions!
2.11. Peyto Lake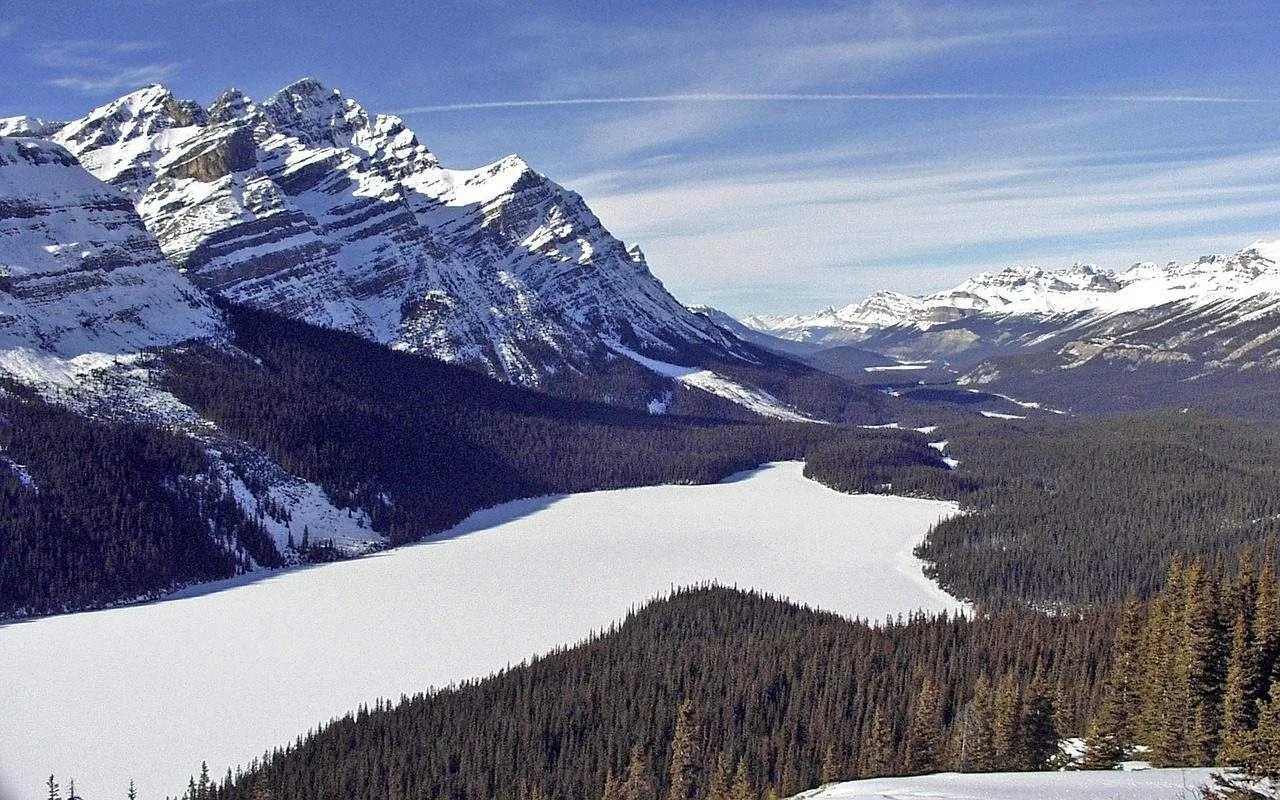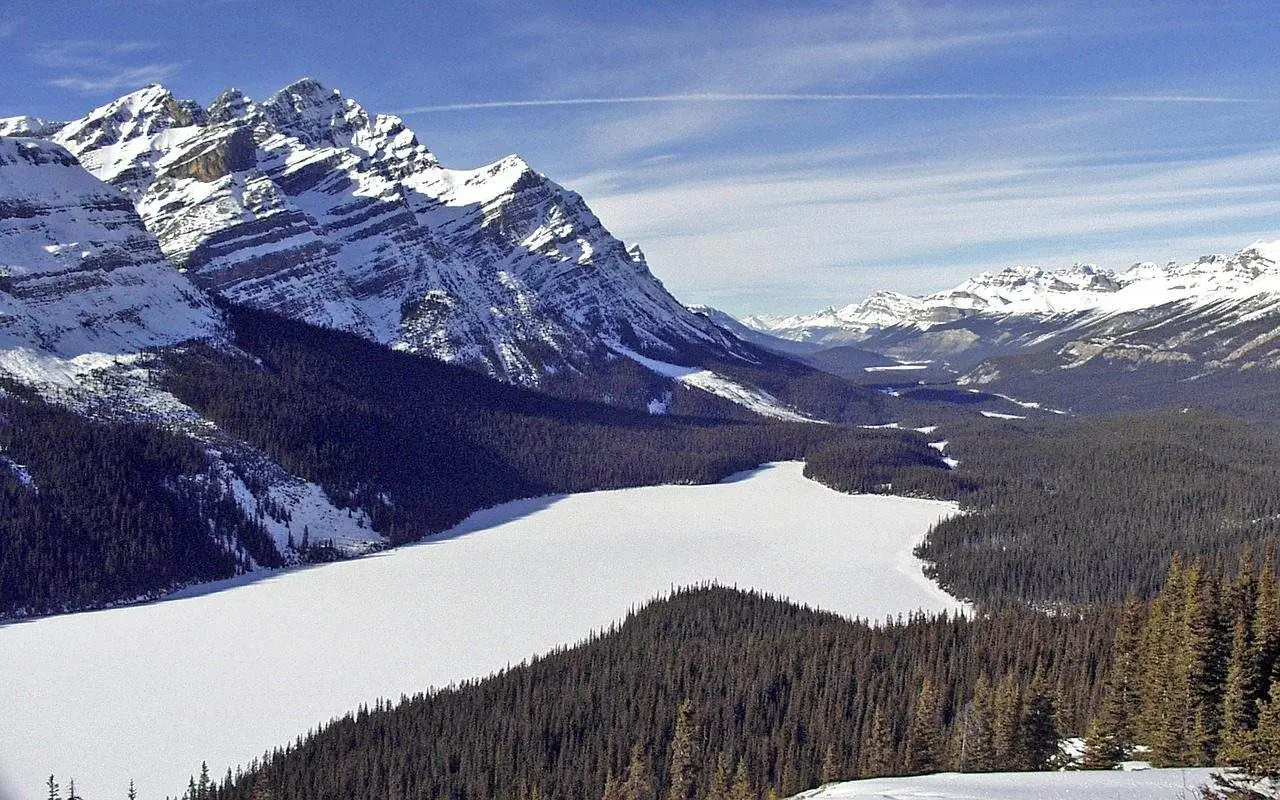 This one is the glacier-fed lake that flows in the Banff National Park in the Canadian Rockies. It is located near the icefields parkway and is named after Bill Peyto, a trail guide. It is located at the height of 6,100 ft.
Peyto Lake is famous for its unique and bright turquoise color, which it receives from large amounts of rock flour. This picturesque sight is one of those illustrated in books or used as wallpapers on computers, all because of its beauty. It is counted among the most beautiful spectacles located in Banff. Without a doubt, this place is one of the best-rated Banff attractions!
You can also find a trail near Lake Louise, which will lead you to an awesome viewing point of Peyto Lake. The 2.5 km long trail takes about 40 minutes to cover. It is a popular trail that runners, hikers, and snowshoers often visit. This breathtaking beauty's absence would've left the list of Banff attractions incomplete!
2.12. Johnston Canyon and Creek
Johnston Creek is a Bow River tributary located in the Canadian Rockies. As you approach the Bow river, it flows through a huge canyon known as the Johnston Canyon. The creek flows and cuts through limestone formations.
Further in the Canyon, you can find beautiful tunnels, waterfalls, and pools. You can also find a trail that leads to a beautiful meadow above the canyon. Inside the canyon, you can find the Ink Pots, the infamous springs of Banff, Alberta. This place is a treat for tourists who want to visit Banff attractions, as you can find various enjoyable tricks of nature simultaneously!
Final Note
Banff National Park, Alberta, is the most beautiful place in Canada to visit. If you visit here, we doubt you will find anything disappointing. It is an example of nature at its best, as the stunning landscapes will leave you in awe.
The list of beautiful things found here is too long. Apart from those mentioned above, you can also visit various other sites and activities, such as Moraine lake, Bow river valley, Bow Lake, Johnson lake, Lake Minnewanka (the largest lake in Banff), Jack lake, Banff Centre, Lake Agnes, Bow falls, Historical northwest Métis Homeland, Banff Avenue, Boat cruise, Columbia Icefield, Sunshine Meadows, Maligne lake, Columbia Icefield Skywalk, Cliff edge walkway, art galleries, mount Victoria, ten peaks among others.
Have your ever visited Banff? Tell us about your experience! Did we miss out on any other amazing Banff attractions? Let us know in the comments!
As an Amazon Associate, Icy Canada earns from qualifying purchases.
[amazon_auto_links id="81298"]
The Icy Canada team strives to create content that matters. It's why our content is written by travel writers, authority experts, well-known authors, and niche experts. Our content is also periodically reviewed by expert authors for accuracy and trustworthiness.
As an Amazon Associate, Icy Canada earns from qualifying purchases. [amazon_auto_links id="81298"]