Are you visiting Lake Louise these holidays? You can take delight in the hiking trails, the natural beauty of mountains, and the serenity of lakes.
According to one study on statists, it is home to some of the most visited ski resorts in the country.
Lake Louise area is majorly concentrated in the Banff National Park. The lake looks mesmerizing amongst the surrounding area of Mount Victoria and Victoria glacier. But the lake was not always known by its present name.
It was instead originally named Emerald Lake by its founder Tom Wilson. The name was changed to its current form in 1884 after Alberta's Governor General's Wife.
Millions of national and international visitors visit Lake Louise and Moraine Lake every year. Visitors mostly throng the national park in the peak season of mid-May to mid-October.
Are you in search of hotels for accommodation? Well, now your search ends, and you can sit back and read our article to get a comprehensive view of all the major hotels in Lake Louise village.
Parking In Lake Louise Village
Lake Louise tourism draws thousands of visitors from Canada and the world. As a result, parking is quite messy in Banff Lake Louise. You will probably find parking troublesome at the parking lot fills. It would be best to arrive early to have your parking space occupied at lake Louise lakeshore and Moraine Lake.
You can also confirm your area in the parking lot by shuttle reservations. Only paid parking is allowed at the public stalls, and you can utilize pay stations to produce and use the parking lot.
When visiting the UNESCO world heritage site by bus, make sure of your seat reservations. On-spot or walk-up seat sales are not allowed.
1. Fairmont Chateau Lake Louise
Location Details: You can reach the Fairmont Chateau Lake Louise hotel at 111 Lake Louise Drive, Lake Louise, Alberta, Canada.
Fairmont Chateau Lake Louise is one of the earliest resorts in Alberta. It was established as early as 1885. It is a historical resort used by Winston Churchill, Franklin Roosevelt, and even King George VI. This 539-roomed hotel is one of the top luxury hotels in Banff national park.
The Fairmont hotel lives up to its name, providing the beautiful sight of a lake against the backdrop of Fairview mountain. This hotel is awe-inspiring, with rich history and tradition of service to people.
Irrespective of whether the tourist season is active, the hotel is in high demand all year round. You can delight in the lake's stunning views, Saddleback pass, and Mount Whyte, among others.
You can also take pleasure in the exhilarating spa facilities of the resort after an exhaustive day of hiking trails, skiing, and sightseeing.
The Fairmont Chateau Lake Louise offers excellent cuisines from around the world. It is the perfect place to experience fine dining after an exhausting day. Do not forget to taste their unique dishes once you visit the hotel.
You can have a personalized experience on the particular concierge floor of the hotel. If you want to avail yourself of this feature, you must get the Fairmont Gold Experience Package. High-speed internet and an indoor aquatic pool are also offered to the customers.
1.1 What is the best time to visit Lake Louise?
Except for Afternoon Tea, which is available to day visitors to Lake Louise, the restaurants and bars at the Fairmont Chateau Lake Louise are only accessible to registered hotel guests.
1.2 Can you walk to Lake Louise from Fairmont?
The incredible glacier-fed Lake Louise steps away from the hotel's back entrance. Throughout the summer, visitors from all over flock to this famous lake to see the water, which changes shades of blue at every angle.
2. Lake Louise Ski Resort
Location Details: Lake Louise Ski Resort is located at 1 Whitehorn Road, Lake Louise, Alberta, Canada. Conversely, you can telephone the hotel at 956 8473. Also, Experience Lake Louise is located at the Samson Mall in Lake Louise village.
Lake Louise Ski resort is one of the largest ski resorts in North America. The resort is near the Canadian Rockies and offers stunning views of the lake to be captured on your camera. The surrounding lakes and mountains are a perfect escape into the snow-laden natural beauties of Alberta.
Apart from skiing facilities, the resort also offers Summer Gondola for its customers. It also provides its visitors with all the rentals or tools they may need for their tourist activities. You can experience the best sightseeing tours in the Gondola.
The sight of the wild grizzly bear from the summer gondola is not uncommon. The alpine scenario's views comprising sky-touching Mount Niblock and Mount Lefroy in the Banff national park fill the heart with joy.
The ski resort also offers delicious cuisines to take pleasure in. It provides the best dishes worldwide that captivate you into the rich world through culinary arts. It has one of the best chefs and offers a unique culinary experience on Canada Day.
As is evident from the hotel's name, the resort specializes in skiing activities. Wildlife interpretive center is another of the unique features of the hotel. The resort is rated 4.5 stars on TripAdvisor and has been awarded the 2020 traveler's choice award. Lake Louise Ski resort was also awarded the winner of the 2019 World Ski Awards.
2.1 Is Lake Louise Ski Resort good for beginners?
Lake Louise, in particular, has more beginner terrain than its sister resorts and is widely regarded as the best choice for families and beginners.
3. Mountaineer Lodge
Location Details: The mountaineer lodge is located at 101 Village Road, Lake Louise, Banff National Park, Alberta, Canada. You can reach the hotel by trans-Canada highway, Canadian pacific railway, or Canadian pacific railroad. Conversely, you can communicate with the lodge at 1587 741 3024.
Mountaineer Resort is top-rated between the larch season, mid-may to mid-October. It hosts people for any special occasion in both the summer and winter seasons.
The inn is close to Agnes, Moraine lake, Victoria glacier, giant beehive, and Banff National Park. The lodge offers several unique services and amenities that will make you cling to this lodging facility.
The mountaineer lodge is an exciting place to visit and rest once you are in Lake Louise, Alberta as a tourist. Many great lakes and resorts are close by, making your summer months vacation a wonderful experience.
The mountaineer lodge is so-called because many tourists come here to check on the mountains near the lakes. Swiss mountaineers had a unique role to play in this culture.
The hotel is also known for serving delicious food to its customers all year round. You can enjoy all of their unique dishes from their best chefs. The hotel offers seasonal and local dishes you will surely want to crave.
When in Mountaineer lodge, you can access the Sauna and other gyming facilities. Also, free Wi-fi is accessible for all its hotel guests, which facilitates a more extended stay in the lodge. The resort also has a hot bath, parking lot, and hiking facilities. You are also offered cable or satellite TV and a coffee or tea maker in each lodge's room.
3.1 Does Mountaineer Casino have a hot tub?
The hotel has a hot tub, free WiFi throughout, and a 24-hour front desk.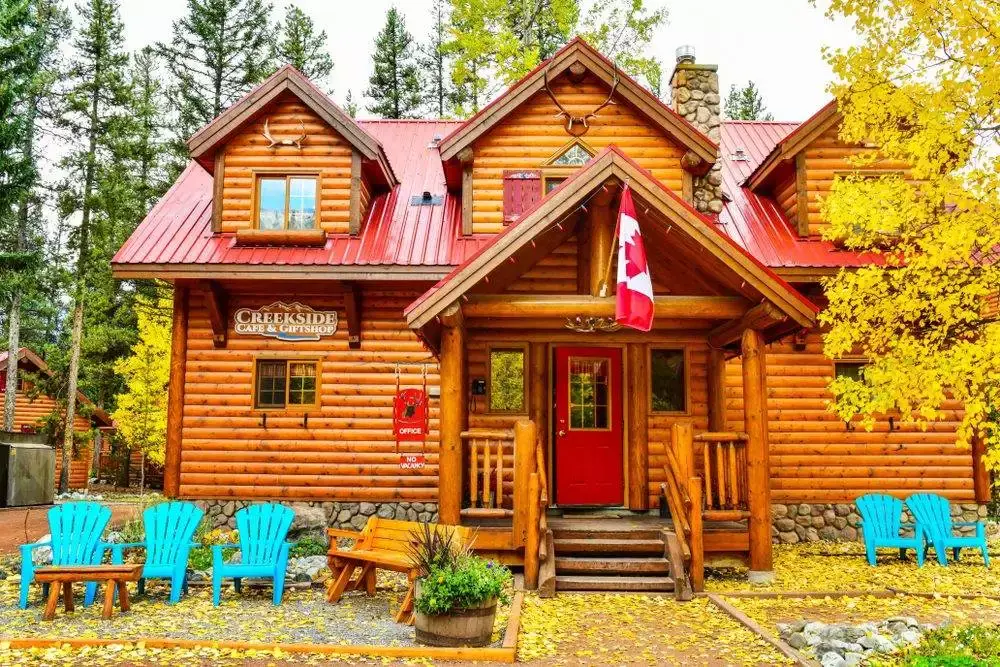 4. Lake Louise Inn
Location Details:  The Inn is located in the city at 210 Village Road, Lake Louise. For detailed information, visit their website.
Lake Louise Inn allows us to capture new glimpses of Parks Canada. It is a great place to visit in any season and month in Canada and offers the best view of the surrounding natural scenery.
The inn is renowned for providing world-class facilities to its visitors, who can also take delight in capturing the opinions of Six Glaciers, Victoria Glacier, and Big Beehive.
The inn is near Banff National Park, just 4km from the Lake Louise Ski Resort. The hotel presents you with a perfect cocktail of adventure, fun, great food, and incredible lodging facilities.
You have the Canadian Rockies and Lake Louise lakeshore near Lake Agnes. This lodge cum hotel is the perfect place to spend vacations with friends and family.
The Lake Louise Inn also presents you with its luscious and savory cuisines. It serves its food in remarkable settings in Banff. You can also have your tiffin prepared in case you are in a hurry for treating activities.
Unlike other hotels and resorts, this inn has a particular mini-golf club to enjoy the best of the Lake Louise area. You also have free Wi-Fi on the hotel premises. It also offers free parking and provides excellent service for its customers.
4.1 How far apart are Banff and Lake Louise?
Lake Louise is located 61 kilometers from the town of Banff. The drive along the TransCanada Highway takes about 45 minutes, or an hour if you take the scenic Bow Valley Parkway.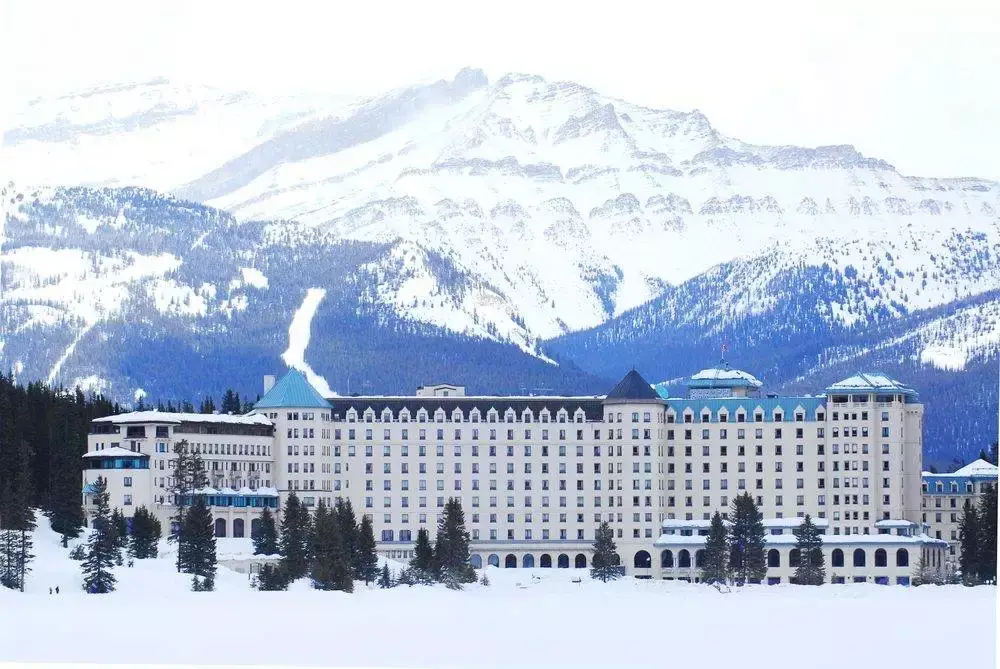 5. Deer Lodge
Location Details:  You can reach out to the lodge at 1844-478-3395. The club is located at 109 Lake Louise Drive in the city.
Deer lodge is a fantastic place you can call upon when visiting lake Louise. It is completely hygienic and sanitized, keeping in mind the general safety of the visitors.
The presence of the inn in lake Louise makes it easier to search for and plan for an ideal and safe location while traveling. It offers the best experience of classic mountain accommodation.
Deer Lodge deals with comfort and eases when you are there. You can experience any closely located lakes and mountains. It is within the range of Lake Louise Sport and Recreation Centre, which does offer a terrific experience and excellent sporting facilities in the Canadian city of Alberta.
It is a historic lodge with much of its furniture being a hand-hewn log. It proactively preserves and protects its landmark structure and decor.
The lodge has an extensive list of world-famous wines on its menu card. These wines are greatly influenced by European culinary cuisine. Canadian ingredients like bison and elk find a prominent place and are the specialty of the lodge's cuisine.
Besides, elements like seafood, vegetables, and locally available grains also occupy an important position in making dishes.
Apart from an accessible internet facility in the lodge, it has gyming, a hot bath, and lounge facilities for all its guests. It also has features like a baggage store and non-smoking rooms in the lodge for its visitors. Other features offered to the guests are outdoor furniture and a picnic area.
5.1 Why was Deer Lodge called deer?
Deer Lodge was named after the Warm Springs Mound geological formation, which contained saline and served as a natural salt lick for the local deer population. Deer and other wildlife would spend the winter in the protected valley as temperatures dropped in the high country, hence the name Deer Lodge.
5.2 Who owns Deer Lodge?
Gertrude Crosby, the owner, and founder of Deer Lodge at Lake Louise, immigrated to Canada from England in the late 1800s.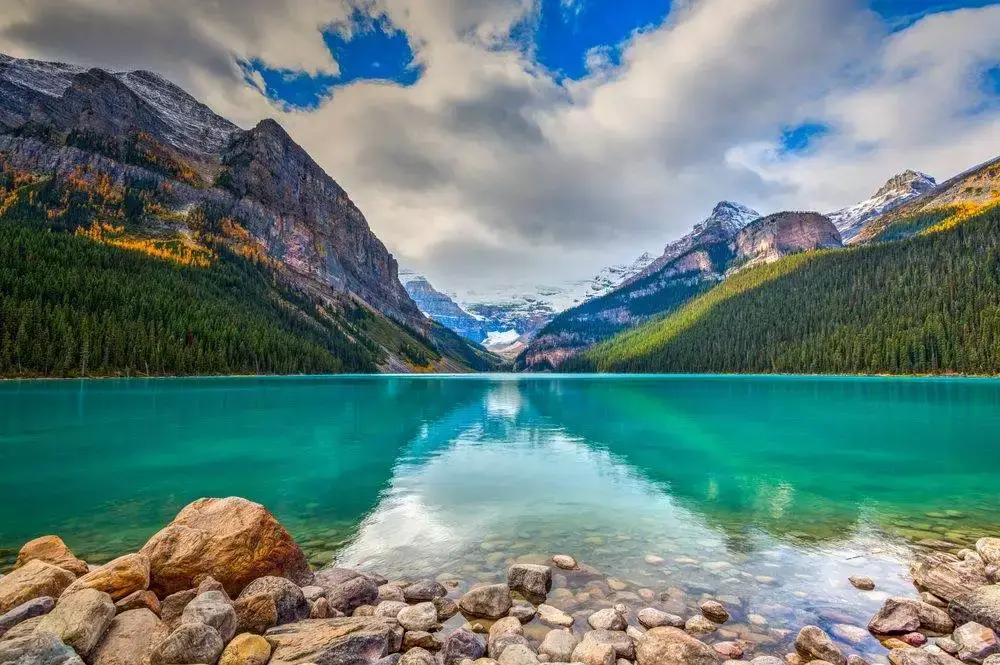 6. Baker Creek Mountain Resort
Location Details: Baker Creek Mountain Resort is located in Bow Valley Parkway, Lake Louise, Alberta, Canada. You can also reach out to their website for more information about them.
The Baker Creek Mountain Resort is an undiscovered secret in the Canadian Rockies. They offer you many comfortable cabins and suites, apart from the restaurant, and a special place for events.
The resort is a great place to spend your vacation at. Its high ratings particularly indicate this. The resort has excellent ratings and is one of the most loved resorts in Lake Louise.
It is rated at five stars on TripAdvisor and has similar ratings on Booking.com. It is also well-rated on Google with five ratings and has the highest rating on Hotels.com. These high ratings mirror the high satisfaction levels of its customers.
The restaurant of the resort offers you the best dining experience in Alberta. They offer Bistro on-site at Baker Creek. The restaurant shall provide you with freshly prepared creative Canadian cuisine. The cabins, luxury suites, and chalets have a year-round continuous supply of water, which is essential for living.
Baker Creek Mountain Resort offers an allergy-free room with a tea or coffee maker and a walk-in shower. You can also have access to soundproof rooms and rooms with additional bathrooms.
Few other amenities in these cabins and chalets are Books, DVDs, and music for children. The resort also offers you public Wi-fi, fitness, spa, and changing rooms. There are also bicycles available for you and a free parking lot for the same.
Closing Thoughts
When you sit down and plan your journey to Lake Louise, consider our list of 6 top-rated hotels for an exciting tourism experience.
Suggested Reads:
15 Amazing Restaurants in Lake Louise To Visit
As an Amazon Associate, Icy Canada earns from qualifying purchases.