Are you wondering about the things you can do in Oak Bay? If yes, you can give your thoughts a break and explore the fun activities to try in Oak Bay!
Oak Bay is located in the Vancouver Islands' northernmost area, which is one of the most beautiful places in the British Columbian province of Canada. Oak Bay is one of the thirteen municipalities of Greater Victoria.
If you plan on visiting Oak Bay, it is one of the best decisions you will make in your life. Oak Bay is one fantastic destination when you want to relax and enjoy the places while exploring its culture up close.
Oak Bay: 5 Amazing Things to Do!
So let's explore the rich culture of Victoria and fun things to do in the beautiful land of Oak Bay!
 1. Explore the Artistic side of Oak bay
Exploring the artistic side of Oak Bay is an important part of your journey. The art galleries will give you exposure to the artworks of Canadian artists. And for that, you can visit these places:
1.1 Winchester Gallery, Canadian Fine Art
Winchester Gallery was established in 1974, and here you can witness some of the finest art collections of Canadian Artists. The gallery features different types of paintings from collectors and dealers as well.
You can find contemporary art, historical form, and even local Canadian, some European, and other international art collection forms here.
You can visit the Winchester Gallery throughout the year. The collections of this gallery keep on upgrading, and additions are made every few months.
You can drive for five minutes from Victoria and reach the art gallery. It remains open from Monday to Saturday for visitors.
1.2 The Avenue Art Gallery
One of the finer art galleries located in Oak Bay Victoria is the Avenue Art Gallery. The place is one premium place that will instantly give you a posh feeling, as it has a beautiful boutique art gallery.
It was established in 2002. Here you will witness the work of sculptors, painters, jeweler makers, and glassworks. The art gallery is laden with modern and contemporary art of great artists admired and appreciated by the visitors.
The art gallery's best thing is to buy a few items that you like, and shipping is available for Canada's nearby locations.
1.3 Gage Collective Art Gallery
This art gallery has some unique works of art and acts as a platform for promoting local talents. You can get a peek at the local artist's culture, thought processes, and the hard work they put into every part they make.
The art gallery isn't a cold place with paintings hanging on the wall. It's a warm place where public interactions and education sessions go on.
A non-profit organizational society runs the art gallery. It actively organizes workshops and presentations related to music, art, and poems.
The Gage Collective Art Gallery has beautifully organized its gallery and website, where the details and inspiration behind each painting are mentioned. You can check them out here!
1.4 Eclectic Art Gallery
Eclectic Art Gallery was established in the year 2008. The gallery was founded to promote the art, culture, and talent of local artists. You can find several things, like paintings, designer jewelry, fine art, and handicrafts.
You can find over 100 artists' work here, and if you visit during the right time, you can even have the opportunity of witnessing the Late Summer Show.
It remains open throughout the year and from Monday to Saturday, so visit accordingly.
2. Explore the Parks and Nature
The next best thing for you to try here in Oak Bay is exploring the nature and Parks located in this beautiful place, so let's explore the parks of Oak Bay, and some of the best are:
2.1 Native Plant Garden
The area of the Native Plant Garden is quite big as it is spread over an area of 2.1 hectares. Located on Margate Street and Beach Drive, you can visit the park when you want to relax amid the trees and plants' lush greenery.
This park is located in a populous neighborhood, and you can explore some of the best collections of trees found locally, some native shrubs, and even some rare plants that are hard to find anywhere else.
There are long pathways and two beautiful lakes present in the park. You also have a great opportunity of witnessing some indigenous plants in Canada here.
2.2 Lokier Gardens
Lokier Gardens is located on Estevan Avenue at Musgrave Street; it is one of the developed parks in Oak Bay. The park is extended over a vast area of 1.42 hectares, and the best thing about this park is its aesthetic beauty.
You can witness various flowers like roses and sunflowers; apart from flowers, the park is decorated with shrubs.
You can visit here to enjoy the park's ornamental views; the fun fact about this park is that it has been named after Thomas Lokier, a resident. He built the entrance iron gate and donated funds for the plantations at the beginning of the construction.
2.3 Carnarvon Park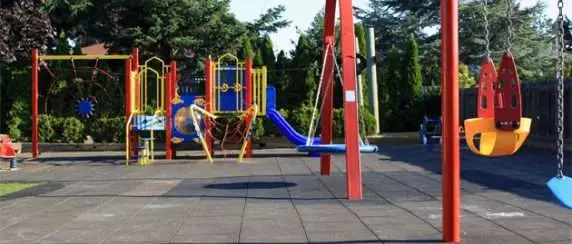 Carnarvon Park is one active place you can visit while you are enjoying your time in Oak Bay. By active, we mean you can practice many sports activities here. And the other best thing to do here is to enjoy the naturally developed aesthetics.
This sports park is developed in an area of around 4 hectares. So the games you can play here have no limits. You can try rugby, ball diamonds with a score, soccer, and even tennis courts present in the park.
There are changing rooms present in the park, and you need to pay some amount for getting access to the tennis court.
2.4 Windsor Park
Windsor Park is one of the must-visit parks of Oak Bay, as it is quite huge and is spread over an area of 4 hectares. The feature that makes it stand out from the rest of the parks is its scented garden, rose garden, and sports area.
This is one of the liveliest parks you can come across in the town, as you can play numerous sports here from rugby and tennis to cricket and softball. The park has a good sports area, and there is also a separate place for picnics and enjoyment.
There is a multi-utility hall present in the park that has changing rooms. The hall has movable walls that allow space for small events. The multi-utility hall can be rented for private functions. The feature of Windsor Park is no restrictions on pets.
2.5 Uplands Park and Cenotaph
The majority of Parks are developed in Oak Bay, but the Uplands are spread over a vast area of 30 hectares, and the park is undeveloped.
You can explore the naturally formed wilderness here. Garry Oak meadows and ecosystems are some amazing places in the area, and that too for over a century!
You can explore and find some of the rare plants of Canada in Uplands Park. Roam around the unpaved pathways of the park and witness the Oak Bay war memorial.
Here you can find 97 memorials of people who died during World War II. Uplands Park is maintained and taken care of by an organization called Friends of Uplands Park.
3. Beaches and Sports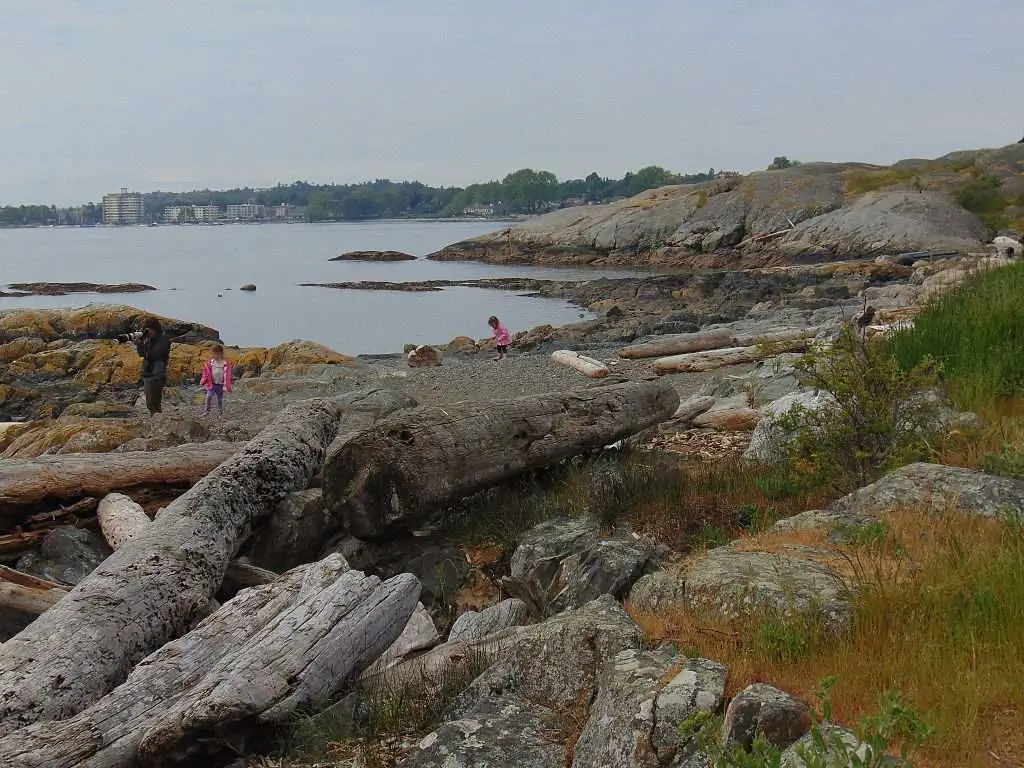 Beaches are the best places for every kind of traveler. If you want to relax or try some extreme sports, everything is available on the beaches, so let's explore the best beaches of Oak Bay!
3.1 McNeil Bay
McNeil Bay is a fine beach that comes within the area of Oak Bay. The beach gets its name from Captain William Henry McNeill. Captain McNeil was the master of Hudson Bay Company's steamer, whose name was SS Beaver.
Captain Wiliam Henry McNeil was also among the five owners of the land in Oak Bay! The beach is one relaxing place and is best recommended for walking rather than swimming.
You can bring on your pets to the beach for long, contemplating walks. You can also give try paddleboarding or surfing on McNeil beach.
3.2 Willows Beach
While you can enjoy a peaceful walk on McNeill Beach, you can try swimming here on Willows Beach. The beach is best suggested for families and kids; you can enjoy the beautiful views of Oak Bay Marina and Mount Baker.
Willows beach has a lively setup, and you have lots of options for shopping and dining here.
Several restaurants are present around Willows beach, so while your kids remain busy playing with the sand, you can grab a bite of some delicious food while enjoying the beach views.
Willows Beach is one of the best beaches to visit in Oak Bay, as some musical concerts are organized here during the summers!
3.3 Oak Bay Marina
Now many outsiders get confused by the name of Oak Bay Marina as it sounds like a beach, but exactly it isn't; Oak Bay Marina is like a dock and a customs checkpoint. The Oak Bay Marine Group operates the port.
The Oak Bay Marina was built by Bob Wright and is home to Pacific Undersea Gardens. It is one of the most recommended places to visit when in Oak Bay.
You can try a lot of things at Oak Bay Marina, like going on a cruise, renting bikes for local exploration, going on shopping, and renting kayaks as well.
3.4 Ocean River Sports
After you are done with your walking and swimming on the beaches of Oak Bay, you can head on to Ocean River Sports who are operating here in Victoria Oak Bay since 1981.
To clear your confusion, it is a sports rental business that has been present on the beach for over thirty years!
Ocean River Sports are present in several parts of North America, and you can see their shops and kayak schools present in Oak Bay.
So, when you are in Oak Bay, don't miss the opportunity to explore Victoria's bridges and harbors through full-day and multi-day tours offered by Ocean River Sports.
4. Go Shopping and Explore the Culture!
This is the most expected part of any trip, and as we always say, visiting a place and returning without a souvenir makes your trip incomplete.
So to get an experience of the marketplaces of Oak Bay, you can visit these places:
4.1 Summer Night Markets
One of the best-recommended markets to visit in Oak Bay is the Summer Night Market. If you visit Oak Bay from June to September, you can visit this amazing and lively market and shop for some items for yourself.
The market appears like a European Style Street Market which is open on the second Wednesday of the month in the evening hours from 4 to 8 P.M.
You can find a wide range of items here, from fresh fruits and vegetables to fabrics, wooden items, decorative glass pieces, jewelry, toys, and many other beautiful and multipurpose items.
The market comes to life when musicians, face painter, magicians, balloons, and street food joins the market.
You should not miss the Summer Night Market when you are in Oak Bay, as you will get to buy local items and experience the culture of the town.
4.2 Oak Bay Village Christmas Light-Up
Christmas is celebrated in every nook & corner of the world with all kinds of decorations, lighting, and Joy. Similarly, the Oak Bay Village Christmas Light-up is celebrated here like a grand festival. The festival is celebrated for around a week.
The festival begins on the last Saturday of November and ends on the first Saturday of December; you have enough time to enjoy this amazing festival.
The festival has all the fun elements you can imagine in a celebration as it has music, food, a bouncy castle, games and crafts, and the decorations light up the whole village.
The best part starts when Santa Claus arrives on the truck; the whole week is about fun, enjoyment, and celebration. The festival ends with the convoy on a truck that goes on a round of the whole of Oak Bay and near downtown Victoria.
4.3 Oak Bay Tea Party
Oak Bay Tea Party is an event that takes place once a year in the beautiful town of Oak Bay in British Columbia.
It sounds like an unusual party, but this celebration intends to have a fun element in the community's life and raise funds for some projects.
The tea party has been celebrated for the last 58 weeks; you can visit the venue and have a different town experience. Apart from enjoying your tea, you can also have a delicious breakfast and contribute to the community in fundraising activities.
4.4 Summer Concerts at Willows Park
A musical concert is significant for exploring the right side of the city's culture, and for that, you should attend Summer Concerts at Willows Park. The musical concert is organized on the beach, and it remains active throughout the summer.
The summer concert gives a platform to all kinds of artists, from local to established ones. Experience and music will be different and refreshing every day.
The beach views and music will set up the mood for a perfect date night. Just visit Dalhousie Street and take a break from your life to enjoy the music at Summer Concerts at Willow Parks.
4.5 Canadian College of Performing Arts
Canadian College of Performing Arts is one place you need to visit when you want to explore or witness the area's extremely talented crowd.
One of the best and most amazing art colleges present in Victoria is the Candian College of Performing Arts! You can entertain yourself by being a part of the audience and seeing Broadway shows and musical concerts.
And if the place leaves you spellbound and lights up the hidden spark inside you, the institute welcomes students from around the world, and some known alumni have studied here.
While you are present in Victoria, don't miss the opportunity of exploring a few impressive places in the town; for that, all you need to do is click here!
5. Places to Eat in Oak Bay!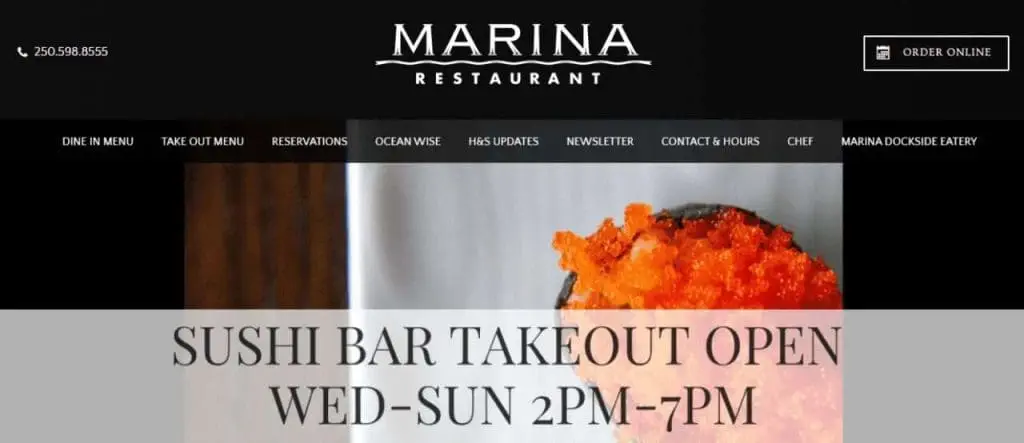 You may have explored a lot of places and done some cool things in Oak Bay, but one thing that you must do in this beautiful town is try its local cuisine and delicious food items, and for that, you can visit these places:
5.1 Marina Restaurant
Oak Bay Marina is an all-rounder place located on Beach Drive, as you can do a lot of other things and enjoy delicious meals here as well.
The best thing to do at Marina Restaurant is to make a reservation at the dockside eatery and try their new addition on the menu, sushi, one of the most loved dishes from Japan!
Sit on the harbor and enjoy the grand view of the sea and your food, of course. The restaurant offers dine-in and takeaways and has a wide range of cuisine on its menu; it is also one of the most recommended places to visit in Oak Bay.
5.2 Ottavio Italian Bakery & Delicatessen
One of the oldest bakeries in Oak Bay is Ottavio Italian Bakery and one of the most trusted bakeries that have satisfied locals' needs for a long time.
The bakery is like a one-stop destination for all your cravings and needs. You can find different variants of pasta, coffee, cheese, frozen meat, and a long list of items. You can take away your order or take it from the drive-thru.
5.3 Faro
If you have a sudden craving for pizza while roaming around Oak Bay, then Faro is the place you need to visit.
You will find some delicious woodstone pizza at Faro, a trendy restaurant in Oak Bay. You can try different cocktails, wine, and salads here, and the menu keeps changing according to the season.
The restaurant has an exquisite modern feel, and more than they feel their food is delicious, so try to stop by and taste their most recommended pizza, which will bow your mind. It's like heaven in your mouth.
5.4 Windsor Café
After you are done with your authentic wood stone pizza, you can head out to Windsor Café, which is the opposite of Faro's aesthetics and feels. The café has a vintage and rustic theme and is located in a Tudor-style home.
The menu of Windsor cafe changes according to the season and the availability of local supplies. Try some best wines and coffee here at Windsor Café and enjoy your food on a garden patio.
These are some of the best places you should head to when looking for good restaurants in Oak Bay.
If you are looking for some elegant pubs and bars, then head to the Snug; it is one of the oldest places in Victoria, which started in the year 1954.
If you are craving sweets and desserts, there are many options present in Oak Bay; you can visit Pure Vanilla Bakery & Café, and Roger's Chocolate is best recommended.
The restaurant and café list are quite long, and it can take you up to 2-3 days to explore all the best places to eat in Oak Bay.
Takeaway
These were a few amazing things you can do in Oak Bay, a beautiful small place in Victoria.
Apart from roaming around on the beaches and trying some cool activities, you have the option of exploring the art galleries and seeing some of their masterpieces.
There are markets and cultural events that are some of the best events to witness in Oak Bay. The Christmas celebration and the weekly markets are always present to make it one of the liveliest places to visit when in Victoria.
Also, read Top Rated Bakeries Ottawa.