The best places for Indian food can be spotted at almost every place in a food-centric city like Vancouver. If you are looking for the best places for Indian food in Vancouver, you're in luck. The hot and piquant Indian food can be at your fingertips just a mile down the street in Vancouver.
The city has been growing in standards of presenting cuisines and serving delicacies from around the globe to its population, and the city people are in love with the Indian restaurants and food courts delivering them bold Indian savour.
The talented Indian chefs in the restaurants have been relentlessly developing new dishes with inspiration from Indian-styled cooking and culinary influences to satiate Vancouver's Indian food longings. The native spices, when mixed, offer an extraordinary flavour to the dishes leaving a hint of India's rich food culture. With over two million Indo-Canadians in the city, it is quite natural to love and relish Indian food here.
The Top Ten Places for Indian Food in Vancouver
Feast your eyes on this article to find the route to the best Indian food in Vancouver. Indian cuisine is a diversity of gastronomies, each of which will take you to a brief Indian tour. These are the top 10 best places that you could visit to indulge your temptation.
This restaurant leads the list for being ranked among the top 5 Vancouver restaurants by Gourmet magazine, acknowledging their signature dishes and best wine list. The founder and owner, Vikram Vij has emerged popular in the Vancouver restaurant industry.
Welcoming visitors into their brilliantly designed restaurant, the restaurant has been successfully fulfilling thousands of people every week. The dishes and flavours served here are a blend of Indian-styled and local food flavours bringing out a whole new dish that resembles both cuisines.
The restaurant uses Indian cooking practices and locally treasured Indian spices to create magic in the dishes. The food here is pricey but is indeed worth it.
House of Dosas is a one-stop destination for your south-Indian food cravings. This place is a cosy dining gallery that offers a delightful variety of dosas with a number of distinctly flavoured chutneys to complement the dosa.
They serve hot, crispy, cylindrical or cone-shaped dosas stuffed with fermented rice, meatballs, and vegetables sided with mouth-watering flavoursome curries. The signature Kothu Paratha dish is a must-try here, and the starters are too delicious to miss out. All this at a decent and reasonable price, in one of the best places for Indian food in Vancouver.
Salam! As they greet. This is the spot if you are looking for yummy and spicy lunch or an evening meal. The restaurant will serve you varied spice levels of vegetarian and non-vegetarian curries to go with Indian Parathas and steamed rice.
The customers go crazy over the lamb chops, the Chicken Biriyani, the Chicken roasts, Rumali Rotis, the Tandoori Chicken, Daal Makhani and a lot more dishes picked right from the Indian kitchen and delivered to your table. The courteous team of waiters and a highly skilled chef together lift the across-the-board Indian feel and cultural touch in the restaurant. They even have online food delivery services.
Want to dine in a magical and amusing atmosphere? You need to eat here. East is East has a beautiful and exciting ambience and will serve you the delicious combined flavours of local and homeland food.
Here, your must-tries would be Butter chicken, vegan chocolate pudding, Naan, tamarind chutney, fresh salads, flavoured soups and whatnot. Anything and everything on the menu is Indian-derived, and homeland-rich flavoured. And are you a tea lover? If yes, you can not miss the different types of teas they serve here.
Siddhartha's kitchen is here and all set with a brilliant ambience to serve you Indian soul food. The authentic Indian food here will never miss a beat to deliver you the Indian-rich and custom-spiced full-sized dishes. Bringing to the table the authentic aroma of local Indian spices to create complex dishes and serve interesting Indian fusion cuisine is their speciality.
Some of the outstanding dishes include Lamb Methi, Tandoori chicken, tamarind prawns, flavoured rice, Lachha Paratha, Shahi Paneer, Chana Masala, Pakoras, Teas, yummy desserts and tasty drinks. The servings and services will cost you reasonably here. You can also have their food in the comfort of your home as they have takeaway services and home deliveries. It's among the best places for Indian food in Vancouver.
Rangoli is Vij's sister restaurant with a beautiful interior but with less decor and style that aims at exactly the same thing as the main restaurant, and that is- Serving you Indian-styled and Indian-cooking-influenced dishes with pleasure. The restaurant seamlessly offers casual dining, tasty drinks and desserts.
The latte chai and a number of fruit shakes, prepared here by infusing local and native feels, will make your day. The bespoke cocktail menu is everyone's favourite and invokes a late-night vibe to elevate people on their way home after a night out. The restaurant is highly maintained, and so are the prices. They have take-out and catering services too!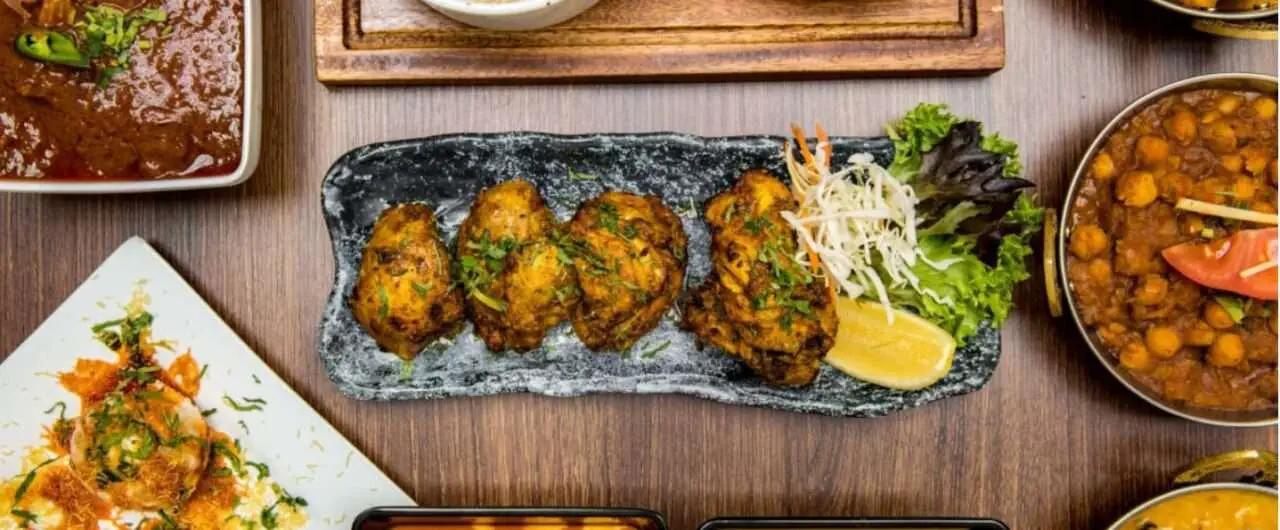 Tandoori Kona restaurant has been bringing the flavours from Indian streets and homes onto your plates. The restaurant aims at taking visitors on a flavour ride to India. Here, you will taste the best curry in Richmond at the best price. The plates and servings here entirely match the Indian-style servings.
Their butter chicken, Lamb Korma, and Chicken Vindaloo are the most popular. The restaurant provides an online delivery service along with dine-in facilities.

Need dining while enjoying the melody? This is the place. The restaurant's ambience is delightful. The Aroma Indian Restaurant and Lounge has been striving to add all the Indian zest to its dishes.
The Paneer Masala, Shrimp Pakoras, Paneer Pakoras, and other appetizers are among the most ordered food here. The food portions are impressive, and the flavours are purely Indian.
Another place for Indian food in Vancouver, The Green Lettuce Restaurant, is a popular place in the Lower Mainland that has been bringing a unique infusion of taste to the Vancouver population, and what's that? The restaurant has been cooking Indian-styled Chinese food because it believes that the traditional Chinese dishes, when complemented with local Indian spices, will bring a remarkably incredible taste of fusion.
The dance of spice in a variety of dishes, from Chilly Chicken, Veggie-Manchurian, Beef-Fried rice, Ginger Chicken, and Fried Banana to several other Indo-Chinese foods, will definitely touch your taste buds differently. The chais and decent wine selection are everyone's must-tries. The serving proportions are good enough for quite a reasonable price.
The Chutney Villa restaurant elegantly showcases the Indian gods and religion by maintaining divine decor in the interior. The restaurant readily serves the visitors pure South Indian meals. You can't get over their Katrika Chops and savoury Sri Lankan-Indian fused cuisine.
They have it all here, including flavorful spices, rich Indian curries, hot and crispy Dosas, and hand-made rotis. Providing custom-made food addressing both vegans and non-vegans. The food here reflects the time-honoured Indian cooking.
The Best Places for Indian Food in Vancouver
These are the top 10 Indian restaurants that will ease your travel to India by plucking up every bit of Indian cuisine and placing it wonderfully on your plate. The above restaurants have mastered the skill to blend and fuse cuisines giving birth to modern Indian cookery.
The way Indian food is enjoyed in Vancouver is beyond belief and for sure is elating the people who are acquiring a taste for Indian food. Are you ready to check in to any of these restaurants? I bet you will fall in love with India's food culture since the Incredible Indian eats never fail to amaze. Which is your favourite among the best places for Indian food in Vancouver? Bon Appétit!