Canada has always been known for its delicious food galore. Indians who moved to Canada during the 1960s due to economic prospects; most individuals who settled 6there brought a revolution in their food market.
Be it Little India or the busy bylanes of Vancouver-Seattle; restauranteurs have secured a warm position in Indian street food in Canada and its colossal food universe.
Indian entrepreneurs are coming out of the way to create a subtle plethora of typical desi indigenous foods, and people like this combination of mediocre and a modern infusion of Indian dishes.
Someone once said, "One can find the best desi dishes out of India, and that place is Canada," true that, from hip-street food spots to authentic Indian legacies, our picks will make you drool over these popular desi eateries.
Amazing Places To Explore The Best Indian Street Food In Canada
1. Chaska
Chaska, the Hindi word, which suggests "obsession," is undoubtedly an obsession with Indian Street food in Canada. Chaska source its ingredients directly from farmers, which is the main USP for them.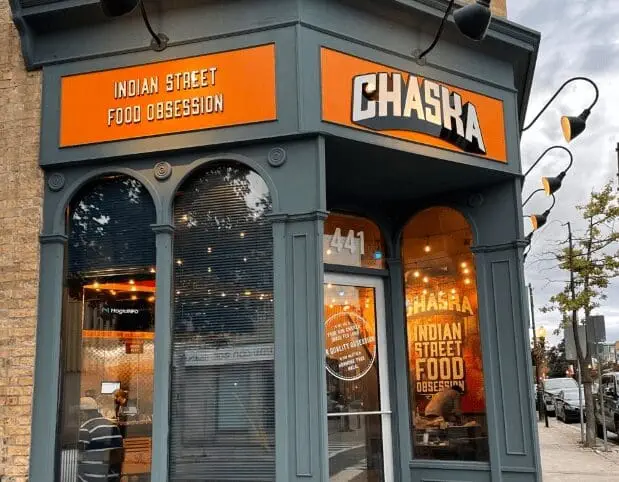 They're known to be one of the best Indian street food outlets in Mississauga. Their menu ranges from starters to the main course and desserts and drinks.
It's known for offering delicious North-Indian food to its customers, and the interior of the restaurant has been designed in the traditional Indian style. Various curries, kebabs, etc. fill the mouth with delight and satisfaction for one. Botti (Lamb) Tikka is a must-try dish here. Vegetarian options are available too.
Must Try: Botti Tikka, Bhel Chaat Toss, Chicken Kathi Roll, Samosa Sliders.
Address: 2325 Matheson Blvd E, Mississauga, ON L4W 5B6, Canada.
2. Khau Gully
Khau Gully, meaning "Street of foods", is a modern Indian cuisine food joint based in the city of Toronto, quite famous for its tandoori delicacies and Shortbus.
The ambiance is posh, with a touch of traditional-modern Indian style, which vibes totally with the extensive menu. They offer vegetarian options, but choices are limited. One must try the Kesari Mahi Tikka and Dahi Lasooni Murgh Tikka.
Chicken Alishan Kebab is one of the popular foods, and locals love to try their Chuimui Kebab, which is a vegetarian option.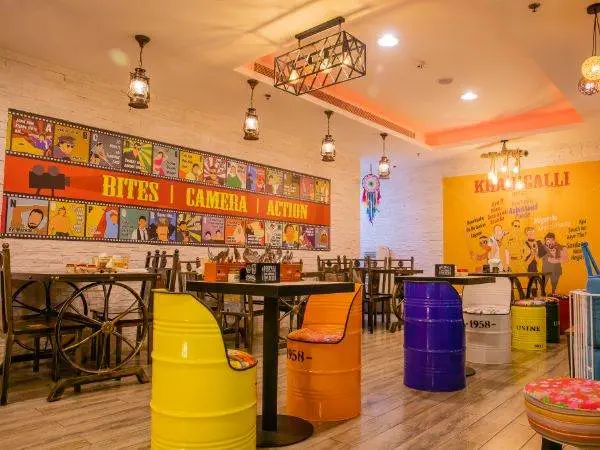 The soothing ambience, exemplary service, kind staff, and on top of all, fantastic food comprise this restaurant. One must visit this food joint to taste the authentic traditional-modern Indian street food in Canada.
Must try: Nimbu Dhaniya Murgh, Chuimui Kebab, Fish Finger Amritsari.
Address: 1991 Yonge St, Toronto, ON M4S 1Z8, Canada.
3. Little India Restaurant
This restaurant not only holds a big name but a big heart too. They're the only restaurant in their respective community that offered free food to people of different cities during the COVID-19 pandemic situation, and hence, their management and staff deserve a massive round of applause for this brave deed.
They're one of the most popular Indian street food in Canada with outlets in Little India, Toronto. One can find Samosa, veg and non-veg Pakodas, Tandoori Prawns, Seekh Kebabs, Masala Dosa, Egg Dosa, Chocolate Dosa, and Kottu Roti Lamb. Their menu also ranges from appetizers to main course dishes to desserts like Gulab Jamun.
The speciality of this restaurant is one that can find Chicken, Lamb, Beef, Seafood, and vegetarian dishes all under one roof! Also, recipes from Malayali and Goan Cuisine make it unique in the Canadian food market.
Courteous staff and reasonable pricing of the menu make this place a pocket-friendly option for people craving Indian street food in Canada.
Must try: Cocktail Seekh Kebab, Tandoori Lamb Tikka, Mix non-veg platter.
Address: 255 Queen St W, Toronto, ON M5V 1Z4, Canada.
4. Adrak
What's non-veg Indian food without Tikkas and Kebabs? This restaurant prides itself on presenting the famous North Indian street food in Canada.
Situated in Park Place Corporate Centre, Toronto, they provide luxurious and refined indigenous appetizers with a sleek contemporary twist.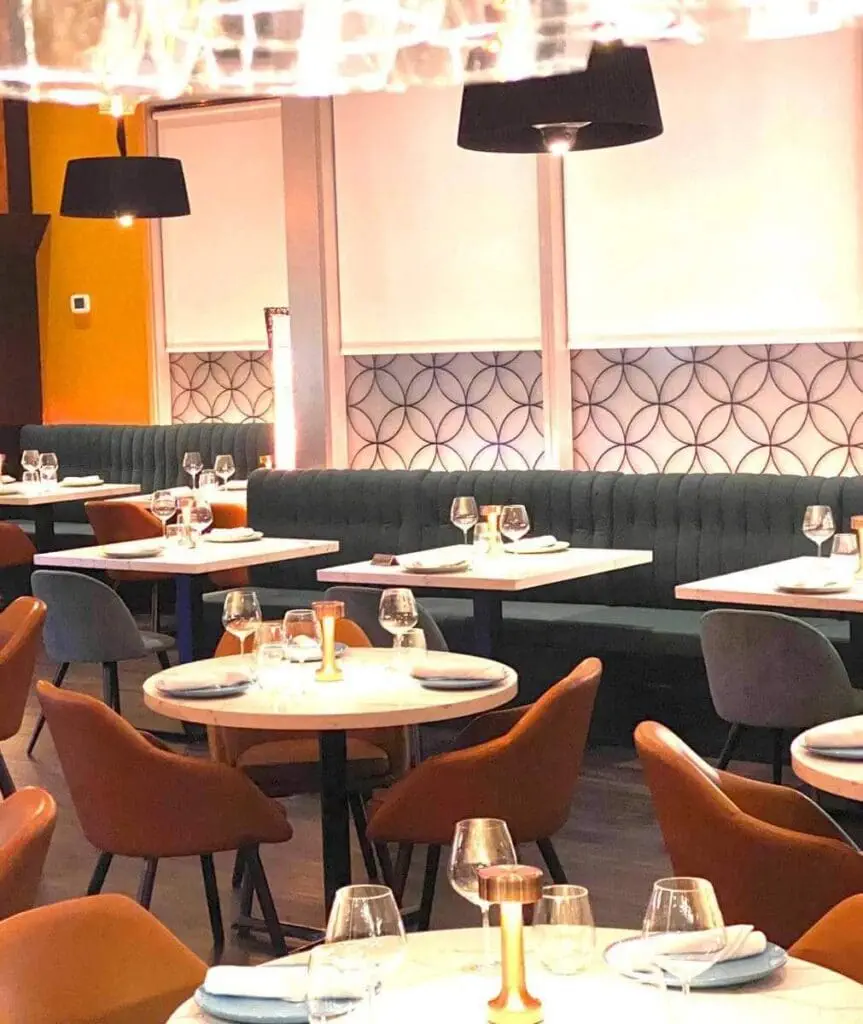 Having a soothing typical Northern India ambience and specializing in Tandoori items and sizzlers, one can ice down food with a company of alcohol, as they have a bar associated with them on site.
One can find a tinge of Nawabi food culture from Lucknow down here.
Don't forget about their famous dishes, namely Lamb Biriyani, King Crab Legs, and Raan-E-Sikandari. They provide a vegetarian menu, as well. They also offer takeaway and delivery services.
Must-Try: Raan-E-Sikandari, Lucknowi Chowk Ki Tikki, Angari Murgh Tikka, Malai Murgh Tikka & Roomali Seekh, Tandoori Shrimp.
Address: 15 Wertheim Ct, Richmond Hill, ON L4B 3H7, Toronto, Canada.
5. Bombay Chowpatty
If someday you want to satisfy your chaat cravings and feel the utter gastronomy of Mumbai, this is the right place for you.
Getting its name from Chowpatty Beach, Mumbai, a centre of Mumbai's street food universe, this little food joint, desi, and family-friendly, and 100% pure vegetarian food joint has an extensive menu of snacks that are successful in taking one to a mini food tour to Mumbai.
With an ambience of picturizing most of the Bollywood stars on their wall, this food joint also serves Faloodas and Shakes from a wide range of varieties.
Vada Pav and Dabelis be their most popular attractions, but one can have the perfect Samosa Chaat, which has made a place in the galaxy of Indian street food in Canada.
A bite of Pav Bhaji here may take you to Mumbai, virtually. The chutneys used are lip-smacking and too much palatable.
Must-Try: Pav Bhaji, Samosa Chaat, Pani Puri, Ragda Patties, Royal Falooda.
Address: 1386 Gerrard St E, Toronto, ON M4L 1Z2, Canada.
Also Read – Places To Visit For Indian Street Food In Canada: https://lbb.in/mumbai/new-place-alert-bombay-chowpatty-66ae42/
6. Udupi Palace
As suggested the name, Udupi Palace's name derives from the city of Udupi, in the southern part of India. It's a go-to place for people craving South Indian delicacies. This place offers 100% pure vegetarian food and gluten-free dishes.
Decorated with colorful shrines and traditional South Indian paintings, this restaurant is one of the most visited and most engaging by people who have a palate for South Indian dishes.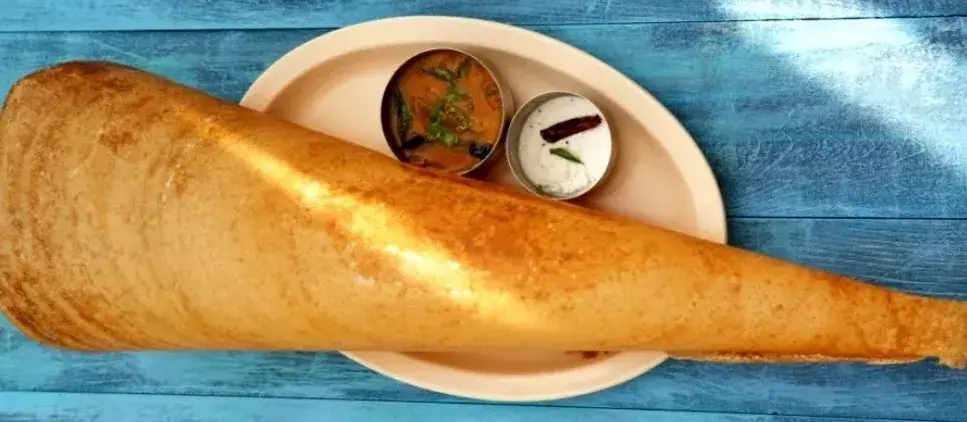 One can find Chhole Bhatura on their menu even though they focus on South Indian foods, and this idea of Chhole Bhatura in their list worked like cards for them. Street foods, namely Dosa, Uttapam, and Rava Idlis, are abundant.
Apart from that, Thalis are also there. Dosa varieties like Paneer Dosa and Paper Masala Dosa are amongst the most popular and most consumed Indian street food in Canada.
Must try: Paneer Dosa, Paper Masala Dosa, Idlis, Uttapam.
Address: 1460 Gerrard St E, Toronto, ON M4L 2A3, Canada.
7. Apna Chaat House
If you're in Surrey, and if you are looking for a place to have some relatively high-quality Indian chaat items, then look no further.
With beautiful artwork on the wall and calm ambiance, and polite and gentle service staff, they deal in spicy Indian street food, namely Punjabi Chaat, Kheema Pav, Vada Pav, and their main attraction, the standing Golgappa stall!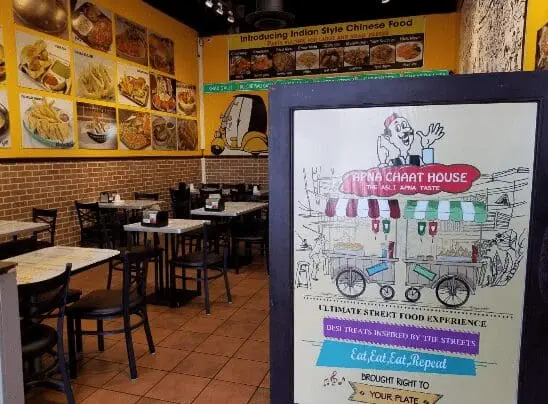 Drinks like Kala Khatta and Mango Lassi are way too popular. This food joint is way too popular among Surrey people and also with residing people from Vancouver and Seattle. You can opt for delivery too for these mouth-watering appetizers. Vegetarian options are available.
Must try: Punjabi Mix Chaat, Chicken Tikka Kathi Roll, Kheema Kulcha.
Address: 7500 120 St, Surrey, BC V3W 3N1, Canada.
8. Indian Street Food Co.
The Indian Street Food Co. offers traditional and authentic indigenous street foods in an elegant, upscale ambiance, which made them one of the most popular food joints in Toronto.
Chicken Wraps, Lamb Chops, Samosa, and Charcoal-grilled Chicken Tikka are the most popular, give yourself some company with alcohol, and their vegan-friendly and gluten-free claim make them a must-try.
Vegetarian options are available, and you can enjoy their food at home being delivered by them.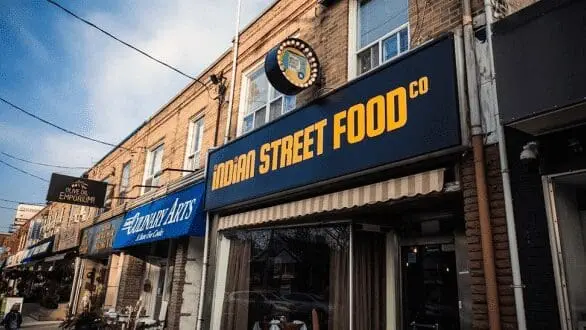 Must try: Fish Amritsari Pakodas, Lasooni Cauliflower, Pav Bhaji, Sweet Potato Chaat, and Galouti Beef Kebabs.
Address: 1701 Bayview Ave, Toronto, Ontario M4G 3C1 Canada.
9. Amritsari Chaat Bhandar
There's a saying, "Whatever Punjabis do, they do it in style." Locals say it's the best North Indian food joint in the entire lower mainland. The culinary experience in this place is unmatched.
Classic Indian snacks and street foods with a touch of the modern way of culinary skills are what you get in this popular restaurant in British Columbia.
Hugely famous locally for Chaat, Tikki, and Golgappas, this outlet features catering services for your ceremonies.
Dahi Bhalla, Sev Puri, Kachori Chaat, and Pakodas being the most popular, this food joint also features in bowl meals like Kadhi Chawal Bowl, Shahi Paneer Rice Bowl, and Amritsari Chana Bhatura bowl. This place is vegetarian-friendly.
Must Try: Dahi Bhalla, Bread Pakoda, Aloo Tikki, Sev Puri, Samosa Chaat.
Address: 8138 128 St., Surrey, BC V3W 1R1.
Takeaway
These are the top places for Indian street food in Canada. Canadian residents have been enjoying Indian food for a long. The way people enjoy Indian street food in Canada is unmatched, and that has led to a market of opportunities for Indian food joints.
Too much demand for Desi foods has been the pillar of the success of Indian street food in Canada. You can just fall in love with the Desi food culture there, and honestly, street foods never fail to mesmerize.
There's something for everyone, from the Nawabi tikkas to South Indian Idlis, and from Gujrati Dhoklas to northeastern Momos, one can find their favourite palate. What's your favourite food joint for Indian street food in Canada?