Tom Thomson was a famous painter and the forerunner of the group of seven, the national movement in landscape painting.
He was born on 5th August 1877 in Claremont, Pickering, Canada. He was a great artist who used complex mixtures of pigments for his fantastic artwork, and you will be surprised to know that his canvas paintings are worth $1.2 million to $1.6 million.
Several people know about this extraordinary artist. The sad part of his story is that he could only produce his fantastic artwork for five years.
Why did an amazing artist like Thomson produce paintings only for five years? Well, this is the part that makes people so interested in him.
This article will throw light on some of the lesser-known facts about Tom Thomson, along with several other things that people want to know about him, including his birth, childhood, and his tragic and shocking end.
Birth, Childhood, and Early Career
 Tom Thomson was the sixth among the ten children. He came from a Scottish Canadian stock and was born in Ontario. He grew up outside Owen Sound on a farm near Leith.
Dr William Brodie was Tom's elder brother and was one of the finest naturalists and was the director of the biological department of what we call today the Royal Ontario Museum. He was the director of this famous museum for around six years.
Dr Brodie has given Tom Thomson informal training as a naturalist where Tom collected several specimens from him. Most of us know that Thomson was a great painter, but very few of us know about his observation skills. He loved observing nature and its creations.
Thomson's family was known for creativity. His family members were extremely talented and taught Tom several musical instruments that he learned with much interest during his childhood.
Mandolin was his favourite instrument. Thomson also used to sing in the church choir, and it was during the early years of his childhood, that he started developing an interest in drawing and painting.
Tom Thomson had a chronic illness and was forced to miss a whole year of high school. After he missed high school, he began working at a foundry and machine shop at Owen Sound.
Thomson later enrolled in Canada business college in Chatham. Here, he was listed in the city directory in 1902. It was in the same year that he attended Acme Business College in Seattle. This school was run by his elder brother George and his cousin, F.R. McLaren.
Tom Thomson was a boy with big ambitions and was first employed at a commercial art company. He started his career by working as an engraver and calligrapher at a firm.
After putting a lot of effort into his work, Tom was hired by one of the toughest competitors, Seattle Engraving company, with a rise of $10 per week.
He was looking forward to working with Seattle and wanted to settle down. However, some circumstances caused him to turn into a painter.
Thomson, as an artist, had a lot of scope for improvement before he began his real career in painting. He must learn the technical part of the painting and understand the depth.
Tom Thomson later enrolled in Night School in Ontario. In the year 1908, he got involved in a well-known company called Grip Limited.
This was a commercial art firm and was at a crucial stage of development. Thomson worked with McDonald's and started blooming under him. McDonald's influence turned out to be great for Thomson and his growing knowledge.
Every weekend, Tom Thomson would show the pictures that he had sketched to McDonald's and the firm's other members.
These firm members appreciated him a lot for his sketches and seemed quite impressed by his work. Thomson went on a camping trip in 1912 and created beautiful paintings of the sceneries that he encountered.
His friends appreciated him and told him that the paintings looked completely real and showed the true character of the Northern landscapes.
This was when people started seeing him as an artist. His mature career started when he gave an amazing visual form to the Canadian landscape that he found in Algonquin Provincial Park.
His Personal Life
Alice Elinor Lambert used to work with Tom Thomson in Seattle. She was eight to nine years junior to Tom Thomson. He proposed to her when he wanted to settle down as his elder brother did after an age.
However, a misunderstanding between them led Tom Thomson out of the company and gave way to his artistic skills. On the other hand, Alice Elinor Lambert went on to write romantic novels. He later got married to Annie Fraser.
Tom Thomson's life has been subjected to some significant debates. One of the most important debates is why he did not serve in the war.
Some people say that he wanted to but was never given a chance to, whereas others say that his chronic illness stopped him from doing several things in life. For instance, he lost one year of education during high school due to his illness.
Besides being a painter or an artist, Tom Thomson is also known as an outdoor man because he was a great canoeist.
Nonetheless, he had a lot of love for fishing all his life, and his proficiency in fishing could not be doubted. He knew angling, which was a method of fishing by means of an angle.
Thus, the Algonquin Provincial Park people saw him as the right balance between art and angling.
Tom Thomson had a deep love for the Algonquin Provincial Park. This is evident in a few incidents narrated by his friends.
It is also said that other people who visited the park used to hire guides for themselves, but Tom Thomson used to explore the park on his own without anybody's help!
His Paintings
Tom Thomson was a legendary artist, and he is famous for his fantastic artwork. This section will throw light on some of the themes and series of his paintings.
Tom Thomson's most famous paintings are those of trees, especially pine trees like Jack Pine. Tom was a nature enthusiast who captured trees and the surrounding areas in his beautiful paintings.
He even loved to study how seasons affect trees and the changes in trees at different times of the year.
Once Thomson and his friend were walking on his friend's island. His friend was continuously emphasizing clearing up dead wood and trees. To this, Tom Thomson replied, "Don't, they are beautiful."
His first paintings looked as if he had rendered trees just in front of him. Later, as he proceeded with his work, his paintings became extremely expressive, making paintings of trees in different moods and seasons.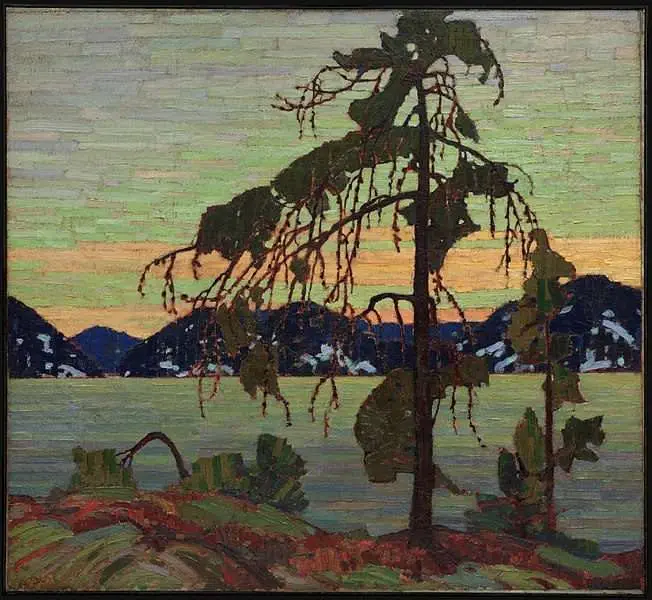 There was a special method of high-keyed colours that his friends used only for water, but Tom used it throughout his compositions, making them look exceptional.
Thomson also worked on the painting of a pine island, and some of his friends said that this painting expressed more feelings and emotions than any other painting of his.
In 1915, Tom Thomson started painting skies, and these were some of the most significant paintings that marked the end of his career.
His brushstrokes had something exceptional, which made his paintings like Sunset look extraordinary. This painting was painted at the water level and was done over the grey-green ground. He also did not forget to give depth to the colors of the sky and water.
In 1915, a volcanic eruption in Lassen park resulted in dramatic sunrises and sunsets. Thomson did not hesitate to take inspiration from the artistic skies that had formed at that time.
That whole year, he was seen focusing on the skies and the beautiful changes that took place. His heightened use of colours indicated Tom's interest in the skies.
When we talk about Tom Thomson, we cannot forget the nocturnes that he painted and produced. He was the only one among the group of 7 who had made two dozen nocturnal paintings.
It is said that for an artist, the main skill required is observation. There was no doubt that Thomson possessed this skill all his life.
He loved canoes, and so, at nights, he was found lying in his canoes and staring at the pretty night sky and the shining stars. His observation skills were evident in his magnificent paintings.
However, many artists even produce paintings with the help of their memory. Surprisingly, Tom possessed this quality too! Many of his paintings that showed moonlight were drawn with the help of his amazing memory, power, and determination.
Moose at night was one of the famous moonlight paintings that he completed with the help of his memory. He often used impressionism in his nocturnes, mixed with his power of observing and memorizing light, reflection, and atmosphere.
It is said that Thomson's father had a beautiful half-acre garden that was full of flowers and was worth watching once in a lifetime. It is probably this garden that developed his love for flowers.
Along with the half-acre flower garden, he was also influenced by D.R. Brodie in his early years when he had been trying to collect specimens. He produced several still-life paintings of flowers in his sketches.
At first, his flower paintings looked very ordinary. Still, as he started improvising on them, he used a different colour scheme and gave a different mood to every flower painting.
Thomson's beauty and talent lay in his special way of playing with the backgrounds and emotions.
During those times, in Algonquin Park, there was a presence of logging and lumber industries.
Tom even took an interest in drawing and painting the machinery that was left behind. This very clearly shows his curiosity and interest in his surroundings, making him an amazing artist.
The drive is one of his well-known paintings that was made during these times. He gave a mood to this landscape painting too. It is said that he followed the drive logs down the Madawaska River. This incident played a major role in making his painting.
Canoe Lake has a significant appearance in his early paintings, which were cleared out due to logging. Thomson's paintings have a lot of natural resources in Canada, and these have played a major role in giving him new ideas for his paintings.
Tom Thomson rarely painted human figures. However, whenever he drew humans in his paintings, the people would always be someone he knew personally or admired.
The Sugar Bush is one of the famous human figure paintings created by the artist. One of his achievements while capturing humans in his paintings is that he drew them far off, which helped the figures to blend with the scene.
His Tragic and Shocking Death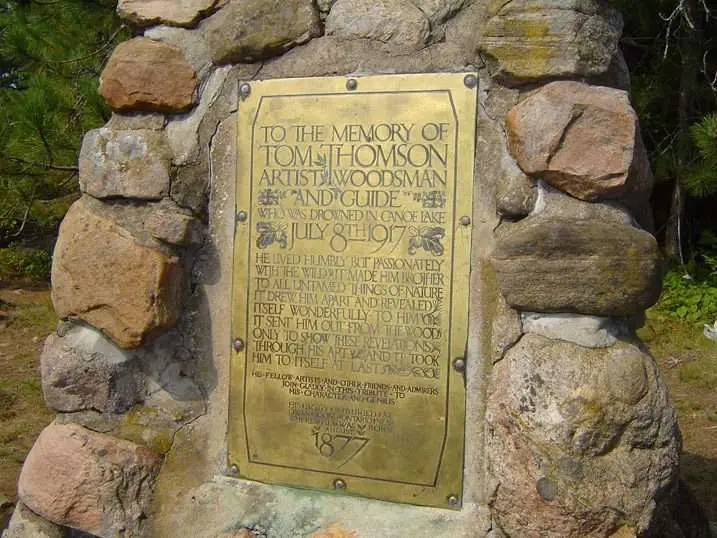 Since Thomson's death, his work has grown in popularity. The highest price achieved by his sketch was early spring and canoe lake, which had sold in 2009 for $2,749,500. Many galleries show Thomson's legacy.
Tom Thomson's death is probably one of the most mysterious deaths in the whole world. He had a chronic illness, but that was not the reason for his tragic end. He passed away at the young age of 39.
He was found dead in the lake of Algonquin Park exactly eight days after his canoe was found overturned at the same place. He had a bruise on his head, and his left ear was bleeding, but people claimed his death to be an accidental drowning.
The mystery of Tom Thomson's death is buried in history. There are several theories about his death that came up. According to one of the theories, he had been murdered by  Shannon Fraser. However, we can never know if any of the theories are true or not.