Algonquin Provincial Park is situated between the Ottawa River and Georgian Bay in Ontario and is located on the Canadian Shield. It was established in 1893, making it Canada's oldest provincial park. The park has several smaller provincial parks protecting rivers.
Algonquin Provincial Park is one of the most popular provincial parks in the country because of its size and closeness to Ottawa and Toronto. Algonquin Provincial park has more than 2,400 lakes, 1,200 kilometres of streams, and many rivers in its premise. The park is an area to switch between the deciduous forests from the south and the coniferous ones in the north. This mixture makes Algonquin provincial park home to various animal and plant species and an important wildlife research site.
The park is home to 860 known species of plants, the best being Eastern White Pine, Jack Pine, Balsam Fir, and Eastern Hemlock. Animal species like black bears, moose, beavers, elk, timber wolves, otters, porcupines, red foxes, and snowshoe hares are also found here, along with 91 species of birds, hawks, owls, eagles, scarlet tanagers, and other neotropical migratory songbirds.
The park comprises various climate types, including aspen parkland, spruce-fir forests, coniferous forests, and deciduous forests, which make up most of Algonquin park. The park also preserves many species, including maple, beech, oak, white pine, and dogwood.
Algonquin provincial park is one of the National Historic Sites of Canada and was declared so in 1992. It has played an important role in the further growth of park management and visitor programs. It is also a space for inspiring artists and historic structures like the West Gate, designed by George H. Williams, the Deputy Minister of Public Works for Ontario.
Algonquin provincial park has many things to do. Here are just 10 of the list of things to do while in Algonquin Provincial park.
10 Interesting Activities to do in Algonquin Provincial Park
Algonquin Provincial Park is Canada's largest provincial park, with many things to offer visitors. Here are some activities you can do in Algonquin Provincial Park.
1. Algonquin Logging Museum
Algonquin logging museum was opened in 1992 and is located near the East Gate. The museum is open seasonally and has exhibits and video presentations about logging equipment, interpretive panels, and the logging industry. Besides this, the Algonquin logging museum also has a 1.3 km long trail with a logging camp and an amphibious and steam-powered tug known as 'alligator.'
The excellent bookstore that sits in the museum is organized by Friends of Algonquin Park. The Friends of Algonquin Park has helped raise a lot of money for two of the park's museums and consistently supports research about wildlife, park history, Algonquin culture, and education.
During your visit, you can also learn about the transition from timber to forestry and the logging history of Algonquin. The museum also has an annual feature, 'Logger's Day. It is held in July or August and includes artists, a logger's lunch, interpretive actors, forest industry exhibits, and children's activities.
The 1.3km mentioned above trail is easy and has a wheelchair access point, reconstructed lumber camps, and other camping equipment. The best way to learn about logging and its importance would be to visit this great site in Algonquin Provincial Park.
2. Bartlett Lodge
Bartlett Lodge has been a part of Algonquin Provincial Park since 1917. It is located on Cache Lake, a small ride from the park. It has proved to be an important part of Algonquin's history, a large inspiration for Canadian impressionists, and a great place to stay. it has a modified American Resort, gourmet dining, and a lot of packages to choose from.
The current proprietors, Kim and Marilyn Smith, assumed ownership of the lodge in 1997, and the lodge has gone through many renovations since then. Bartlett lodge allows you to explore the trials and live history through your own eyes.
A famous feature of the Bartlett Lodge is their Moose Trail. The trail includes the shoreline, the carriage road, and the forest. Spring Beauties and Trout Lilies are found in abundance on this trail. You will also be welcomed by a large chunk of birds, with many migrants returning. The Hermit Thrush is one of these migrant birds that looks like a robin but has the most beautiful voice.
Research has shown that time surrounded by nature can help lower blood pressure, improve circulation, and reduce stress levels. So, the Moose Trail is an excellent way to sit back, cut off from technology, and enjoy nature.
The Moose Trail, of course, will also provide you with the chance to encounter moose, deer, black bears, pine martens, and wolves. Additionally, after you're done with the trail and reach the end, you can relax at Big Pine Point and get an opportunity to view the expanse of the wetland, Moose Swamp. If you want to check out the wildlife Algonquin offers, Bartlett Lodge is the place to be.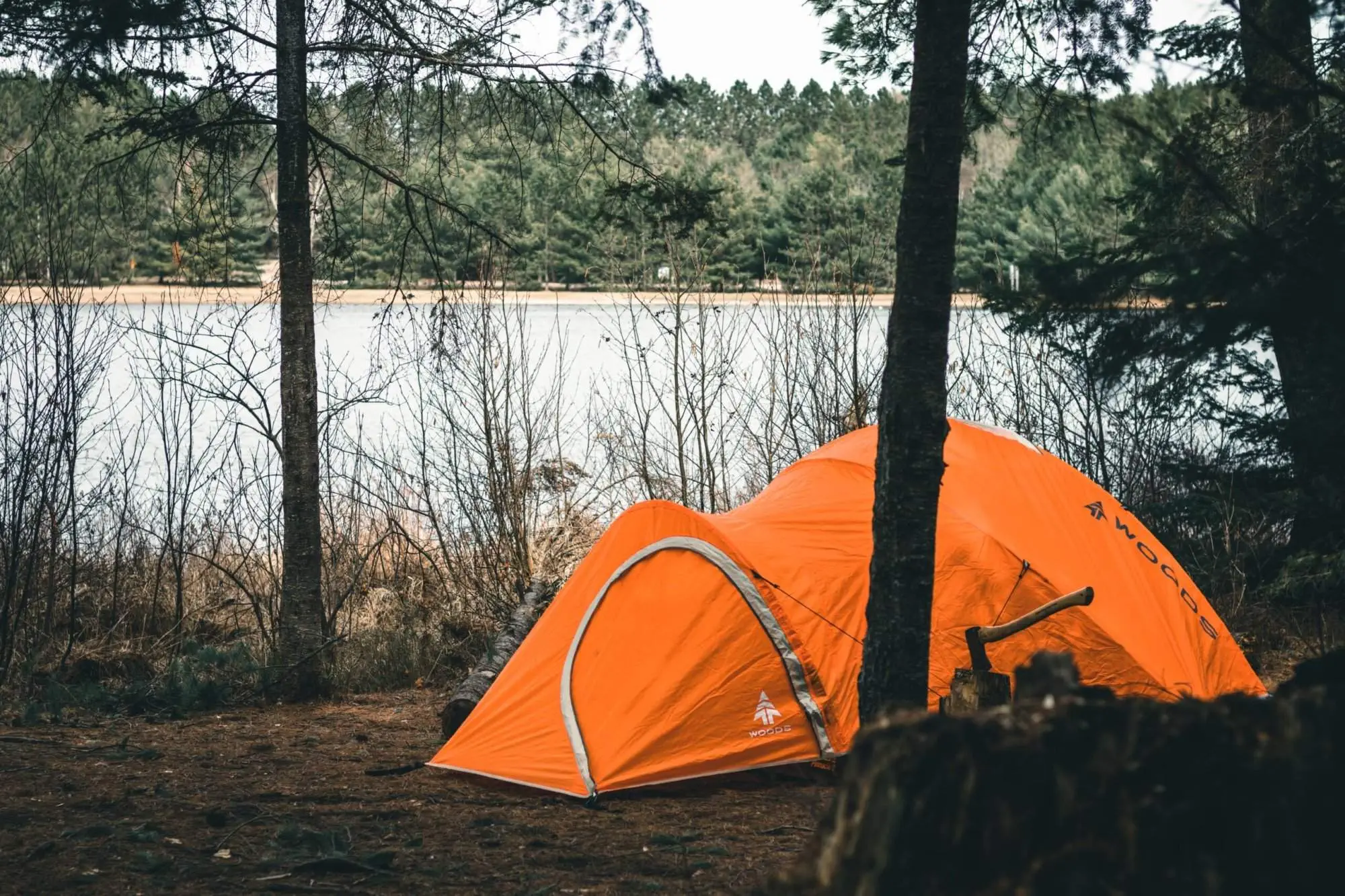 3. Algonquin Visitor Centre
To celebrate the 100th Anniversary of Algonquin Provincial Park and the Ontario Park system, the Algonquin Park Visitor Centre was opened. It has world-class exhibitions on Algonquin's natural and human history, a great restaurant, and an exceptional bookstore. A theatre presentation shows the story of the Park and shows you to a viewing deck to find the breathtaking view of Algonquin and its landscape.
According to the reviews of this place, the replicas of the wildlife are amazing and give you a glimpse of the actual size of the animals. The small gift shop and art on the walls make this location a treat for your eyes.
Algonquin Visitor Centre is an excellent point to learn more about the history of Algonquin and the contribution of its historical sites.
4. Canoe Lake
Canoe Lake is located in Nipissing District, Ontario, and is a part of Algonquin Provincial Park. It is a major point for many canoeists and is home to many cottages. The lake is located in the traditional territory of the people of the Ojibwa, Chippewa, and Potawatomi tribes.
The access points of the lake consist of large parking areas, a Ministry office for permits, and the Portage Store, which is well equipped with canoe equipment, camping equipment, outfits, and a commercial restaurant, that serves meals and ice cream. Canoe Lake also hosts a lot of summer camps.
Canoe Lake is a great spot to get excited about canoeing and try out the meals, summer camps, and equipment Portage Store offers.
5. Portage Store
As mentioned earlier, if you're looking for souvenirs, outfits for camping, or anything related to outdoor activities, Portage Store is the spot for you!
Portage Store has been functioning since 1937 and is a gateway to Algonquin's backcountry. The store offers outfits, rental options, canoes, guides to canoe routes, backcountry camping packages, and almost all camping supplies needed.
In terms of facilities, the Portage store is convenient to access, provides canoe and kayak delivery, allows for group transportation, vehicle shuttles, 125 rental canoes, helps with planning canoe routes, lodge accommodations, picnic areas, free parking, and seasonal canoe sales.
Camping essentials like tarps, tents, Nalgene bottles, dishware, water purification supplies, camping knives, flashlights, and headlamps can be found here. They also have camping extras like bug spray, sunscreen, rain ponchos, batteries, tin foil, Ziplock bags, Advil, and Tylenol.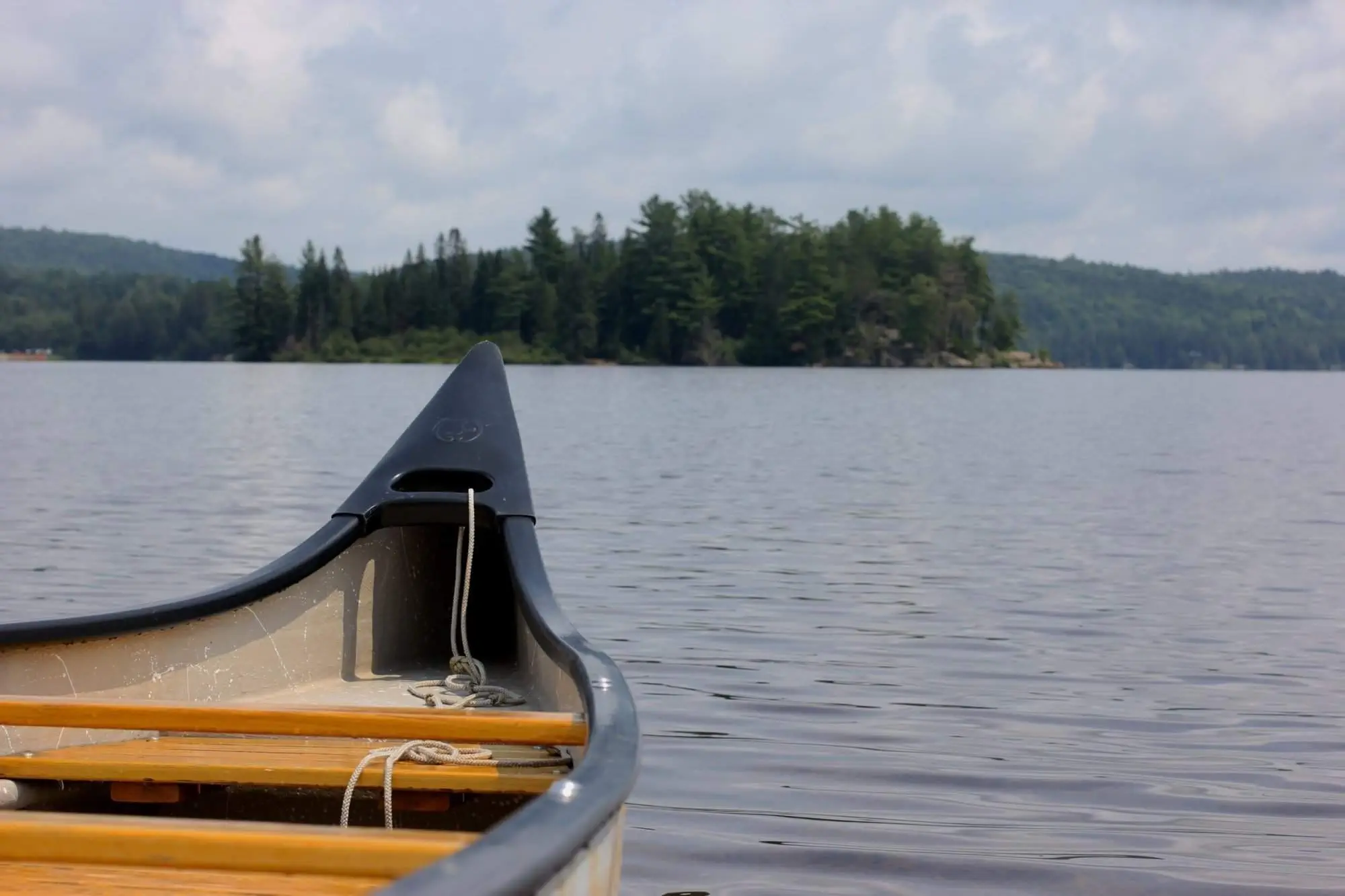 Their restaurant can seat up to 100 people and offers a fantastic view of Canoe Lake. They serve local ice cream and other baked goods. Their gift shop features unique Algonquin Park T-shirts, handmade pottery, nature recordings, polar fleece, decoys, moccasins, Native handicrafts, and Group of Seven prints.
6. Beaver Pond Trail
Beaver Pond Trail takes 34 minutes to complete. It provides excellent views of the beaver ponds and fascinating information about the beaver pond ecology.
The Beaver Pond Trail is a quick adventure comprising a charming lake, woodland terrain, local beavers, and majestic views. However, the terrain can be uneven, so there may be some difficulty for people with restricted mobility. The route's location and short nature make it a great spot for amateur hikers.
Follow the path in the forest and keep to the right, where you'll find the shore of Amikeus Lake. Following this, the trail bends along the banks of Amikeus Creek and gives you an insight into the local habitat of the place.
Anytime between April to October will allow you to make the best of this trial. After you are done with the Beaver trial, feel free to check out other trails nearby, like Loree Forest Loop trail, Bat Lake trail, Lookout Trail, Whiskey Rapid Trail, Spruce Dog Boardwalk Trail, Mizzy Lake Trail, Booth's Rock Trail, Hemlock Bluff Trail, Centennial Ridges trail, and Track and Tower Trail.
7. Mew Lake
Mew Lake has campgrounds with more than 130 campsites, radio-free zones, wheelchair access, recreational vehicle campsites, camp cabins, yurts, and other modern camping facilities.
The Old Railway Bike Trail is a famous trail around Mew Lake, which runs west from Mew Lake to the Track and Tower Trail. The full bike trail is 16.2km long and runs across Ottawa, Parry Sound Railway, and Arnprior. The trail is full of interpretive panels showing Algonquin's history. Additionally, the campgrounds are the site of over 260 bird species, like the Gray Jay and the Spruce Grouse. Algonquin park's most famous bird, the Common Loon, is also found here. More than 230 fish species are also available in and around Mew Lake.
There are canoeing opportunities available, as well as rentals. There are also conducted walks that allow you to walk and explore the part environment. An Outdoor Theatre often runs in June on the campgrounds. A beach and swimming area are also available. You can also skate in the skating rink and ride fat bikes. Mew lake Campgrounds offers campsites with firewood, drinking water, showers, and laundry. Seven yurts are available for rent and are accessible by wheelchairs, equipped with basic furniture and also electric heat.
Finally, here's a bit about the trails available at Mew Lake Campgrounds:
Track and Tower Trail: A great look over Cache lake, a trip to an abandoned rail line, and easy access from the campgrounds.
Hemlock Bluff Trail: A majestic view of Jack Lake.
Bat Lake Trail: Basic park ecology, a lookout, a hemlock stand, and acidic Bat Lake.
Two Rivers Trail: An easy climb to a cliff full of pine!
8. Lake Opeongo
Lake Opeongo is Algonquin's largest lake. In Opeongo, motorboats of unlimited power can be used. Opeongo doesn't have any cottages, but it is possible to camp and spend a night in the wilderness. There are numerous campsites available along the scenic, clear lake.
Hailstorm Creek is the most interesting feature of Lake Opeongo; it entered the lake from the west shore and is prime territory for a moose sighting. If you are a canoer with experience, you can cross Opeongo from the dock at the road's end to the North Arm. If you want a water taxi, Algonquin Outfitters provides the service.
9. Joe Lake
The Joe Lake campsite is an amazing one located in Algonquin Provincial park; it is on the southern shoreline and has a short trail that takes you to the tents. It has cliffs, access points to other lakes, and decent campsites.
It takes 20 minutes by boat from Canoe lake, and it has a lot of levels. The first has a fire pit with two tents, the middle quite is quite empty, and the third has another tent and the thunderbox.
There are tents to the right of the campsite. The spot with the best view is on a bit of a slope, and the third one is flat. The thunderbox is in good shape.
Coming to the fire pit, the grills are a bit old and rusted but would work on a windy day. There's a magnificent view of Joe Lake since it is not too shadowed by trees.
10. Centennial Ridges Trail
The Centennial Ridges Trail is a famous tourist spot. The route is an uphill one with some rough and rocky trails, but the result of this trail is a majestic view of the Algonquin Provincial park, and it is worth the effort and energy. The trail includes numerous small lakes, stunning views, and tranquil forests. You also get to experience the blue expanse of Whitefish Lake.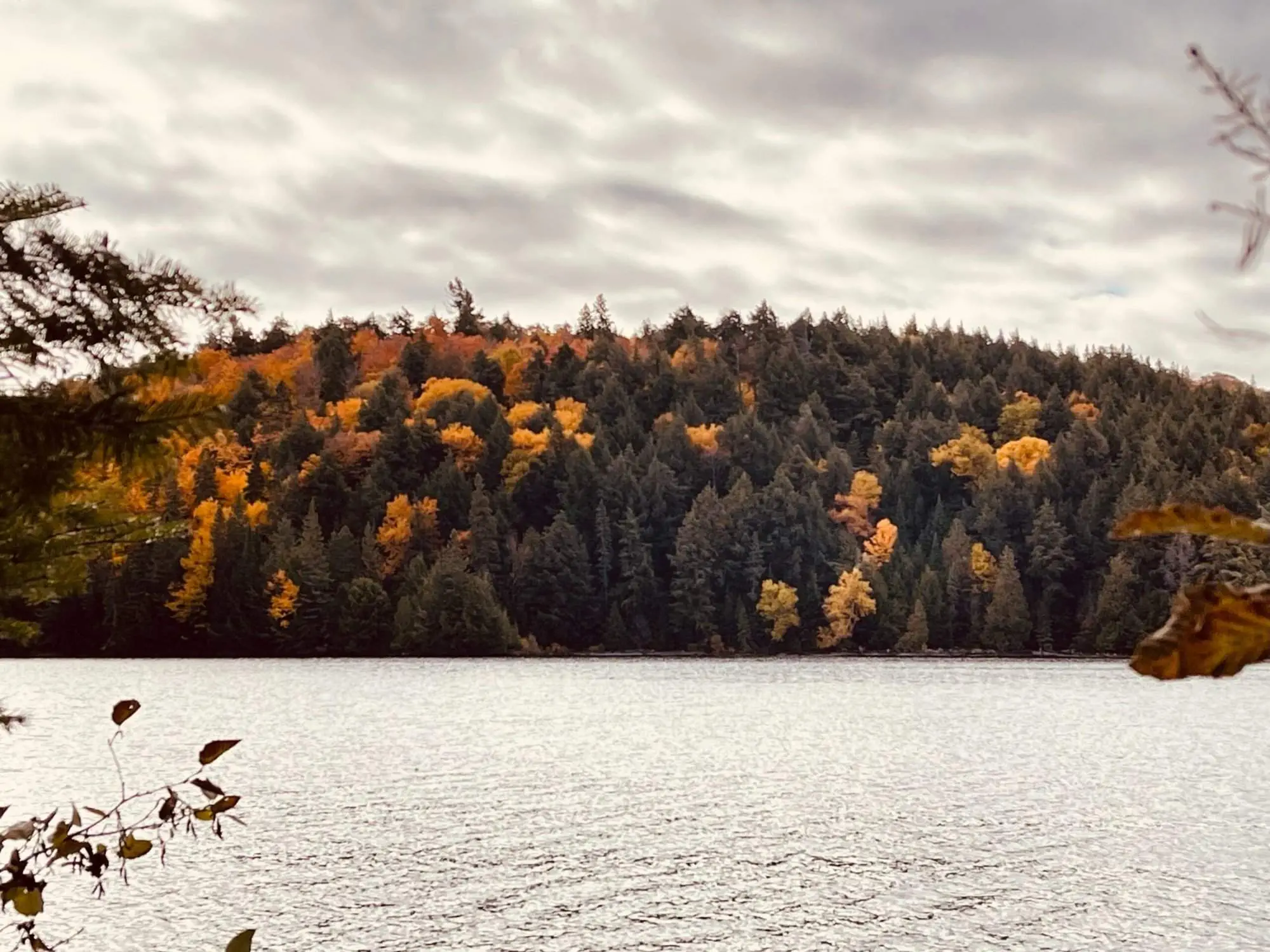 Follow the trail to the east for 0.5km, pass two small lakes, and arrive at the junction. From here, take a left and continue uphill for a kilometre. The cliff will be the location to get a charming view of the forest. Continue along the trail, walk along the edge of a small lake, and keep hiking till you reach another viewpoint. This viewpoint shows you the beautiful terrain of the Canadian shield. The next viewpoint will show you Cloud Lake and its undulating terrain. You will also cross Rutter Lake and return to where you started.
If these reasons aren't enough, check out this article for more reasons to visit Algonquin Park: Algonquin Park: 10 Interesting Reasons to Visit.
Algonquin Provincial Park: To Conclude
As can be viewed, this park is the best spot for people who love hiking trails, outdoor activities, and scenic views.
An important spot that deserves special attention is one that beautifully captures the art and history of Algonquin park, The Algonquin Art Centre. The Algonquin Art Centre is a beautiful gallery that shows just how talented Canada's local artists are. The Algonquin Art Centre has a lot of connections to local artists, including Michael Dumas. The Art Centre supports tradition and local art by displaying the newest works by Canada's artists. It also has a gift shop full of Canadian-made, eco-friendly souvenirs.
Algonquin park has always been well known for its outdoor recreation, but not many realize how much it contributes to Canada's art. A famous painting which shows parts of this landscape is 'The Jack Pine.' Tom Thomson made this magnificent piece. This is what the park aims to do – it wants every visitor to respect, acknowledge and believe in the power of art and nature.
The Tom Thomson Memorial is dedicated to the artist who belonged to a Canadian group of artists called the "Group of Seven." He helped popularize Algonquin provincial park but drowned in 1917 at Canoe Lake.
Algonquin park is famous for many things ranging from its spectacular landscapes and forested trails to its visitor center and museum. Educational tours, hiking routes, camping facilities – everything you need is available in this location. It also houses some excellent 4 stars and 3-star hotels, including Bartlett Lodge, Killarney Lodge, and Arowhon Pines. Since most hotels here don't have good Wi-Fi or phone signal, you can reconnect with nature and leave worldly worries behind.
So, the next time you're at Algonquin Provincial Park, make sure you make this list of activities and make the best of what the park offers!