Many skydiving centres offer tandem and solo skydiving experiences in Vancouver. Tandem skydiving is for people who are trying skydiving for the first time. In Tandem skydiving, you will jump from a plane at a height of around 10,000 to 13,000 feet (3,000–4,000 meters) above the ground. All the tandem skydiving is held in Abbotsford, Vancouver.
Solo skydiving is for those who have already had experience in skydiving. Here, instructors will just give some instructions, and you will be alone throughout the journey. There are solo skydiving training courses for those who are interested.
Vancouver skydiving centres also offer courses for those who want to become certified instructors and skydivers.
If you want to make your first jump memorable, try out one of the following Vancouver skydiving spots.
Vancouver Skydiving: Exciting Places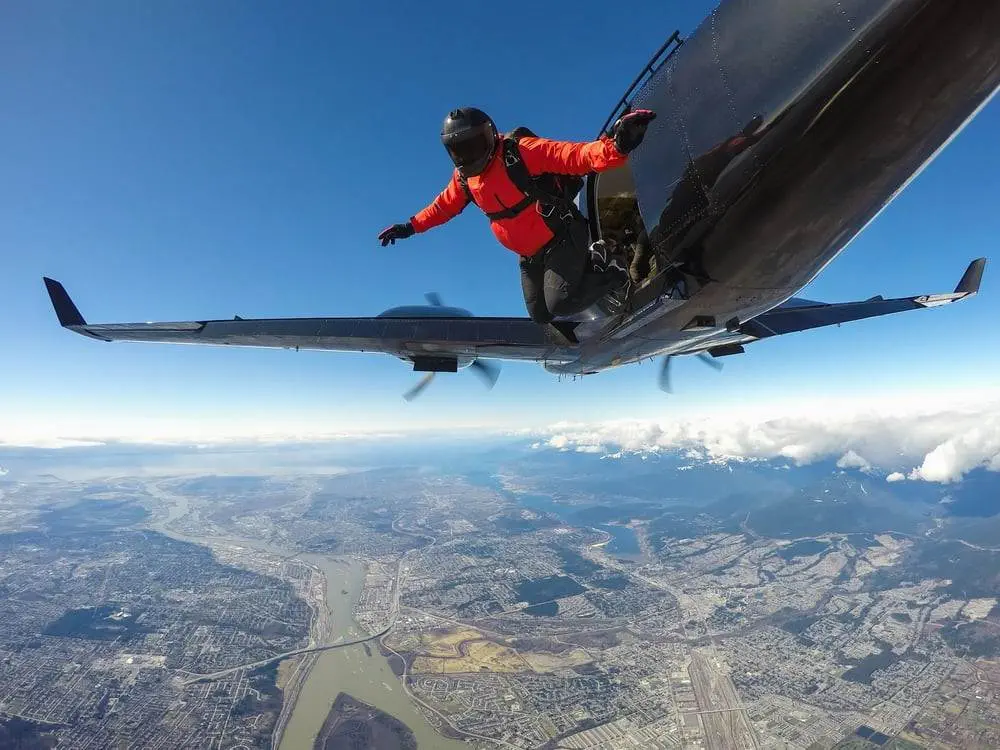 It's time to jump and remove Skydiving from your life's adventure list. If you are thinking of getting adventurous by skydiving, why not  try it in Vancouver, Canada The weather and spectacular scenic beauty of Vancouver will boost the adrenaline in your body while you jump.
There are no exact spots for skydiving within the city of Vancouver itself; instead, they are nearby the city and are accessible if you're coming from Victoria, Nanaimo, or any other place. Campbell Skydive Centre and Skydive Vancouver Island are 3 to 4 hours away from Vancouver City. A 3- to 4-hour journey won't be boring as you see beautiful scenery.
1. Abbotsford, Canada
The City of Abbotsford is situated in the Lower Fraser Valley, a huge field that is bordered by the Fraser Valley on the north. The city is bunched between majestic mountain ranges.
Abbotsford is one of the popular skydiving places that offer Tandem skydives and Solo skydives. Skydiving Vancouver is one of the skydiving centres located in Abbotsford. When you jump from an airplane, you can see breathtaking locations like the Fraser Valley, the Gulf Islands, and the Cascade Mountains. Skydiving Vancouver provides Tandem skydives and Solo skydives with amazing skydiving video and photo packages.
If you are wondering what to do after experiencing the awesome, fun, and breathtaking skydiving in Abbotsford, Wait, we have also covered some other awesome places that you can visit, like Clayburn Village, Mill Lake, Eco Diary, Fraser Fishing Adventures, Fraser River Safari, etc. You must visit these places with your family or friends, where you can have fun and come across pleasant nature.
2. Skydive Vancouver Island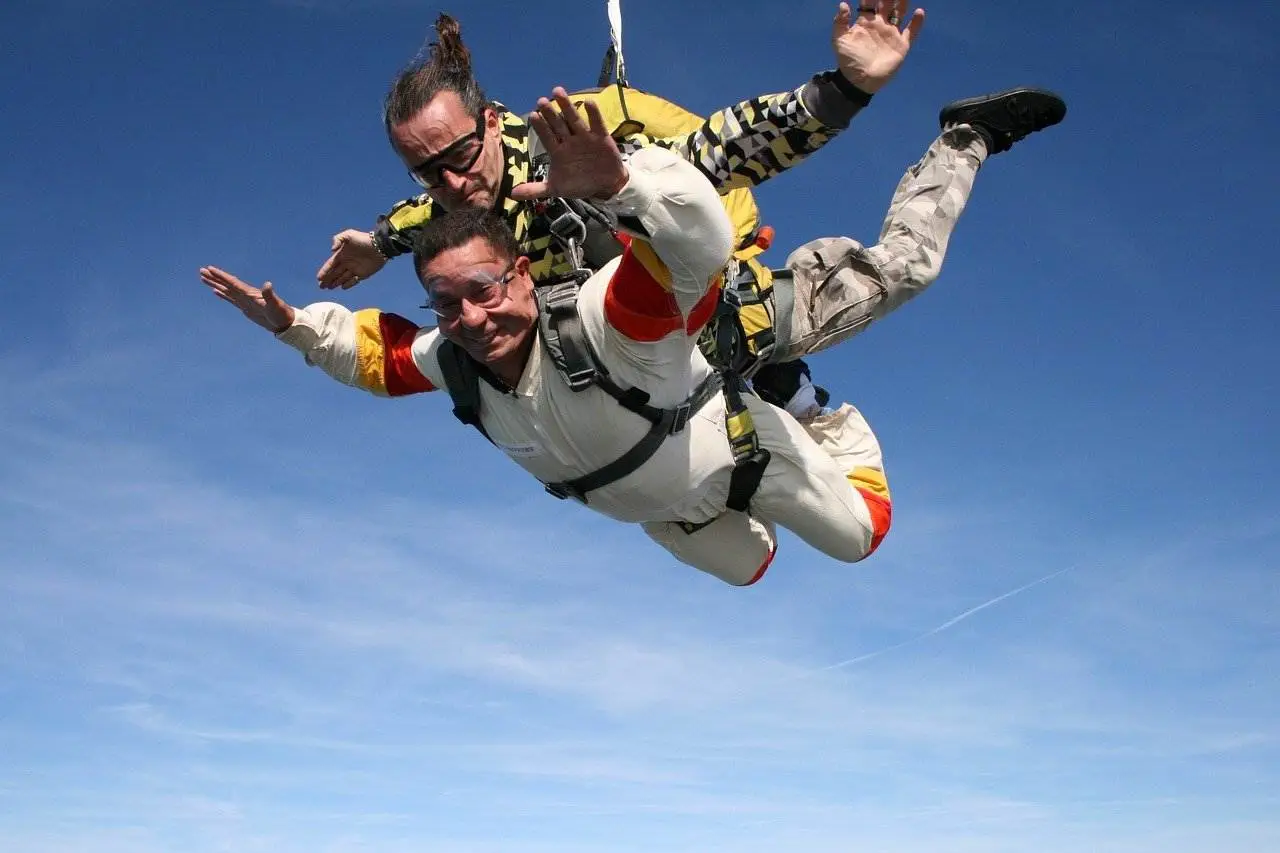 Imagine yourself flying over an ocean with an island. Amazing right? Whether you're flying for the first time or the 1000th time, it doesn't matter, but you should fly over this spectacular ocean. Skydive Vancouver Island offers tandem skydiving and solo skydiving over Qualicum Beach in Vancouver City.
It will be so unique to fly over an island and ocean where you can see the complete scenic beauty of nature covered with huge mountains, forests, and ocean. Throughout your skydive ride and until you reach the ground, you can see different types of birds and animals. No matter what, the feeling you get when you are passing through the beautiful clouds with the blue sky is just unimaginable.
3. Whistler Skydiving
Whistler Skydiving Centres offers the ultimate thrill and adventure of tandem skydiving over Pemberton Valley with the picturesque beauty of Whistler, Blackcomb, and Mountain Currie, which will create a buzz in you.
A freefall over a valley is a mind-boggling experience. Jumping from the sky, experiencing freefall, which is a feeling of complete freedom, and viewing the surroundings of the valley from a bird's-eye view is a unique and breathtaking experience that you will cherish your whole life.
4. Campbell River Skydive
Campbell River Skydive, located near Vancouver Island, has different types of skydiving, such as helicopter skydives, tandem skydives, and solo skydives. They also offer skydive training courses to people who want to become licensed skydivers. During the jump, you will be able to see an incredible view of Strathcona Provincial Park, the Cascade Mountain ranges, and the shores of the Campbell River.
5. Indoor Skydiving
People who have acrophobia or are really scared of skydiving can now experience it indoors without fear. IFLY Vancouver is now offering a new way of freefall without jumping from an airplane that is inside a wind tunnel. From children to seniors, anyone can fly in a wind tunnel. IFLY Vancouver is located in Richmond, Canada. Book a flight and get an indoor skydiving experience in your nearby wind tunnel.
Conclusion 
Skydiving is a risky activity that needs to be done carefully. All the skydiving centres mentioned in this article have packages of both photos and videos so that you can cherish the moments of your jump. All the skydive centres have received good reviews.
Vancouver skydiving centres are the best if you're planning an adventurous tandem skydive with your family and friends. Don't keep waiting! You must try skydiving in Vancouver. Just book a skydive ride and make this moment your dream come true.