Camping is known to be one of the most family-friendly outdoor sports. It is always the most preferred way to spend a weekend or have a refreshing time with friends or family and the best way to enjoy your camping trip is to daydream and let your mind wander.
All you need to do is, rent a car or drive yourself, find the perfect site; by a beach or near some mountains, put up a tent, and lose yourself in the scenic beauty of the site.
And when thinking of a camping trip, one cannot miss Vancouver Island.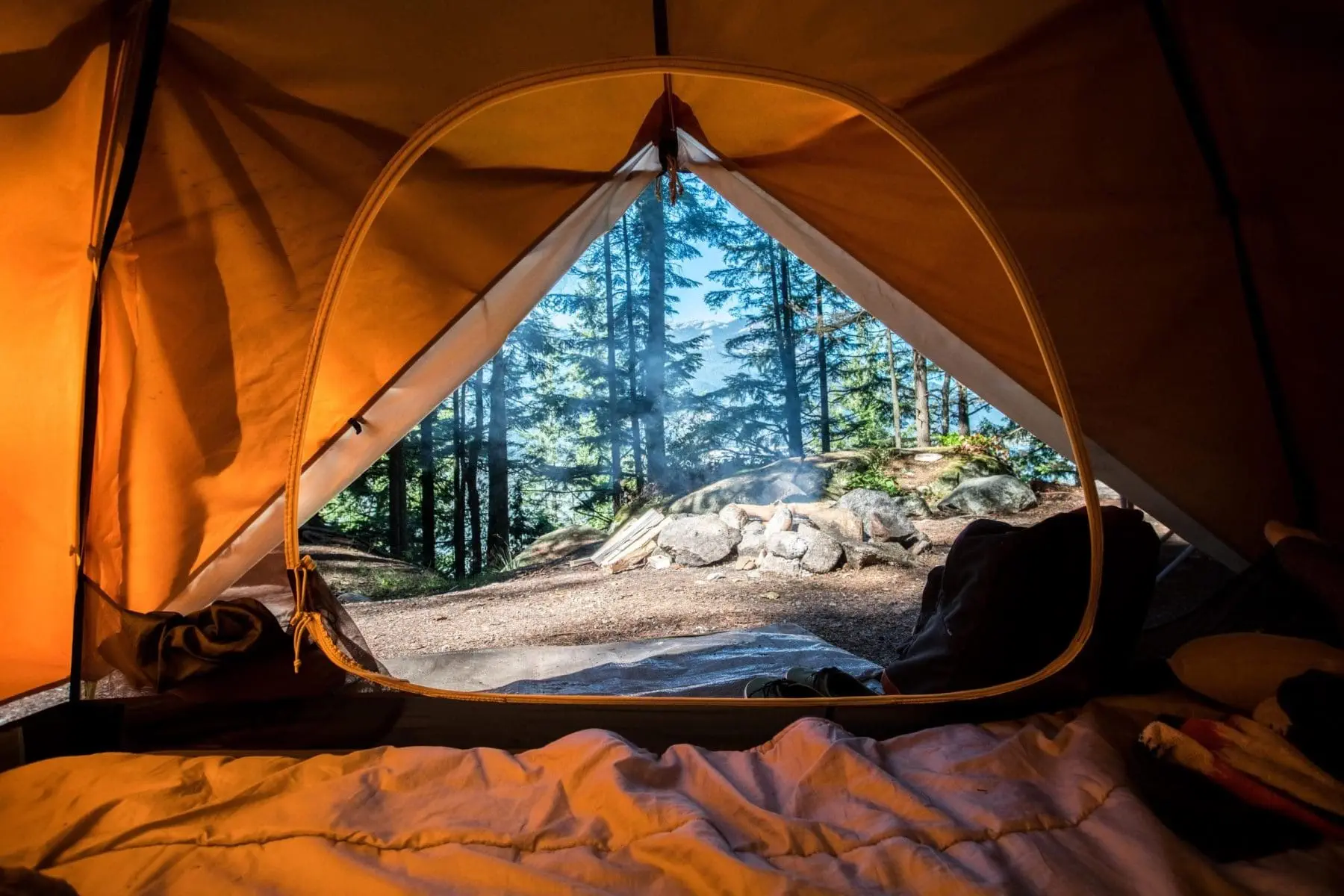 Vancouver Island, in the northeastern Pacific Ocean, is known for its soothing climate and recreational beauty. Prepare yourself for the memories and adventure of a lifetime on Vancouver Island, British Columbia.
Camping is considered one of Vancouver Island's most popular outdoor activities, as hundreds of beautiful campgrounds await exploration and this article is all about the campgrounds on Vancouver islands.
Vancouver Island is as beautiful as the spring, with lovely cities and rugged mountains, serene rivers and lakes, and splendid nature.
Whether you are looking to find a site behind a mountain escape or by a beautiful beach, campgrounds Vancouver Island has all the campgrounds you need.
There are full-service recreational vehicle campgrounds, backcountry walk-in sites, provincial park campgrounds, private campgrounds, and several other camping areas to choose from.
Campers can put up a tent anywhere they like, in recreation campsites outside of a park, along the lakes and rivers, or in private campsites as well.
A camping trip to Vancouver Island, without a doubt, is the perfect way to explore all of the island's highs and lows.
Vancouver Island consists of beautiful beaches, breathtaking views, and wonderful parks. There couldn't possibly be any other best choice for camping other than Vancouver Island.
Vancouver Island is a true delight to nature and adventure lovers, from hiking trails to recreation sites and amazing campgrounds.
To get a closer insight into campgrounds on Vancouver Island, please click here!
Campgrounds Vancouver Island: Important Things to Know!
Before planning a camping trip, you need to everything about the campgrounds. When is the best time for a camping trip to Vancouver Island? How to get to those campgrounds on Vancouver Island? What kinds of campgrounds are there to explore?
Don't worry. This post will answer all your queries.
There's no shortage of campsites on Vancouver Island. Whether you are looking for a spot by the lake, or a spot with panoramic views of the seas, or a spot that takes you deep through the forest, you will find it all on Vancouver Island.
However, you need to make sure when is the best time to plan your trip to explore the sites at their best. The weather is the foremost reason why most people love exploring Vancouver. Vancouver Island has the most pleasant and soothing all-year-round weather in Canada.
You can plan your camping trip any time of the year, as all the campgrounds and sites are open all around the year.
But the most favourable and peak camping season is from mid-May to early October. Most of the provincial parks and private campgrounds are best explored and enjoyed during this season. Campsites under Parks are generally considered best to be explored from mid-June to early September.
However, recreation sites are open all year round, making them the most comfortable and convenient. The best time to experience the best of everything is in summer, from July to August.
Additional Information
While camping, there are a few measures you need to keep a check on. Keep in mind the following points when you plan to go camping on any of the campgrounds on Vancouver Island:
Check for campfire restrictions: Campfires these days are more likely to be banned due to higher wildfire risks. So make sure you check out all the recent updates regarding campfires on the BC Wildfire Service Website. And never leave a campfire unattended.
Keep a safe distance from the wildlife: Vancouver Island is home to black bears, cougars, elk, and other large wildlife. So make sure to keep a safe distance from them, to keep yourself, as well as the safe.
Leave the place exactly as it was: Whether you are camping on Vancouver Island or anywhere else, make sure you keep the space clean. Take back everything you brought with you, and leave anything you find there.
 7 Best Campgrounds on Vancouver Island
Choosing the right spot is very important when going on a camping trip. In this post, we will list the 7 best campgrounds on Vancouver Island. Make the right choice!
Campgrounds Vancouver Island has a lot in store for you. If you prefer to get in close touch with nature, away from all the hustle and bustle, then the Island has many provincial parks that offer walk-in campsites that will take you deep into the wilderness.
Along with that, you also have a chance to paddle, boat, and ferry access camping. What can be more exciting and fun than paddling to your campsite? On Vancouver Island, campers can canoe, kayak, boat, or ferry to their desired campsites located on remote islands.
Here are the 7 best of all times, campgrounds in Vancouver Island.
1. Rathtrevor Provincial Park Campground
Explore this wide sandy beach campground located in Parksville. Walk along the wide belt of sand and feel the cool breezes.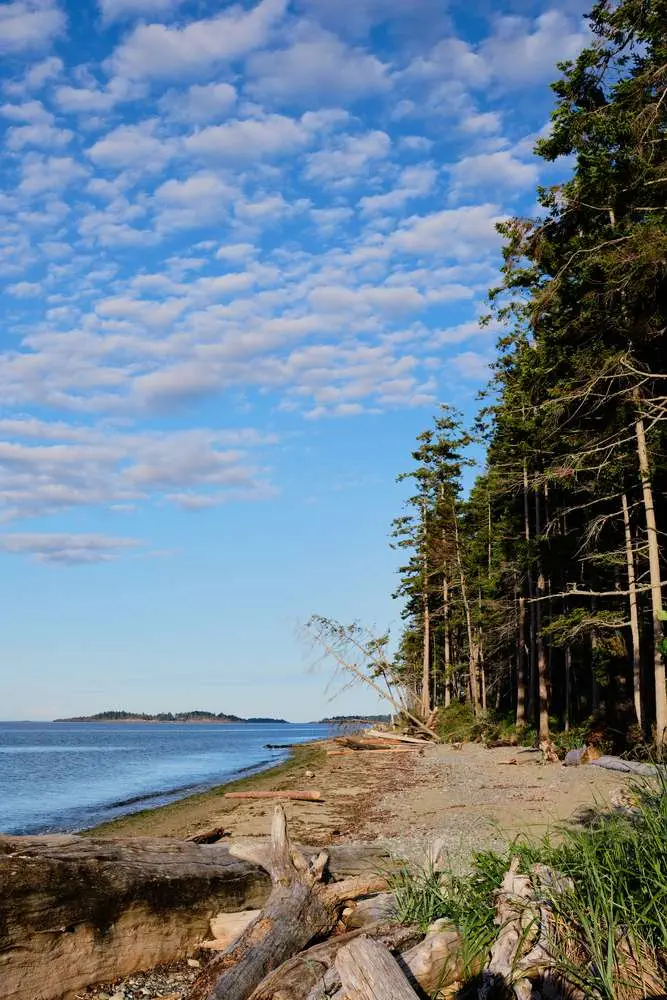 Rathtrevor Provincial Park Campground is one of the most popular and visited campgrounds on Vancouver Island during the summers.
The beauty of old-grown trees, a wide sandy beach, and scenic views are what make Rathtrevor one of the most explored camping destinations.
This lovely park has a total of 174 serviced camping spots and 25 walk-in campsites. Majestic pine trees surround most campsites, and the warm ocean waters make it a perfect family camping spot.
The majority of the campsites are easily accessible by vehicles, and the 25 walk-in campsites are just within a short distance of the parking area. The campground's best part is fully equipped with hot showers, a Sani station, and flush toilets.
The beach is also a great spot for viewing migrating Brant Geese during March and April. Camping, viewing, it's everything you need to enjoy.
The campground is open all year round, but few services are limited from mid-October to mid-March.
2. Cape Scott Provincial Park
Cape Scott Provincial Park hails on the northern tip of Vancouver Island. The Cape Scott area is known as the traditional unceded territory of the kwakwaka'wakw people.
The Cape Scott core area offers a lot of hiking trails, of which the Nels Bight is the most popular camping destination. The Nels Bight trail takes you closer to the beach as the forest opens up and lines the trail with thick salal bushes.
The Park is open all year round. However, the best time to hike and camp in the park is from April to October.
During these months, the days are long enough, which gives you plenty of time to hike and set up a camp, and the trials are at their driest, which makes the hike easy and comfortable.
Cape Scott Park is a remote wilderness area that makes campers feel so refreshed. It is the perfect place to get away from all the hustle-bustle of city life.
Visiting Cape Scott Provincial Park is another way of getting close to nature and the wild coast. It is a campers paradise in campgrounds on Vancouver island.
3. Buttle Lake Campground
Buttle Lake Campground hails in the Strathcona Provincial Park. The Strathcona Park, however, is the oldest provincial park in British Columbia.
Buttle Lake campground, as we can tell from the name, is set on Buttle Lake. The lake, however, sits on the Strathcona Provincial Park located in North Central Vancouver Island.
Strathcona Provincial Park prides a mountainous landscape with lakes and rivers. The park has a rugged wilderness and Buttle Lake, Campbell River, and Ralph River, which offer serene campsites.
Visitors prefer the campgrounds on Buttle Lake to the Ralph River because some campsites are located just next to the lakeshore. The rest of the campsites are mostly set in the forested area, surrounded by Douglas Firs.
All of the sites are easily accessible by vehicle, which makes the trip comfortable. While camping, I have fun activities such as boating, biking, fishing, windsurfing, and water skiing.
An adventure playground is also available at the campground, which makes the site completely family-friendly.
4. Goldstream Provincial Park
Goldstream Provincial Park, located close to Victoria, feels like a different world altogether in campgrounds on Vancouver Island.
When exhausted from the vibrant city energy, the only place to escape is Goldstream Provincial Park.
Camping is a major attraction of Goldstream. The park has a total of 173 campsites, which are all vehicle accessible. And the campground is well forested and is a busy site all around the year.
Visitors highly admire the gigantic old-growth trees, lush ferns, and bustling waterfalls, and it is considered one of the most visited campgrounds. The wooded camping area offers a picnic pavilion as well, where you can set up your picnic tables.
Another exciting park attraction is witnessed during the spawning season when the whole area is full of bald eagles flying overhead. Campers prefer visiting the park during this season to witness this exciting eagle viewing.
The campground also comprises a playground that very well zones into its natural surroundings and makes the campsite children-friendly. It is the perfect space for children to play and enjoy.
5. China Creek Campground
China Creek Campground in Port Alberni offers a great and unique camping experience.
The china beach campground offers 250 tents and recreational vehicle (RV) campsites. With amazing views of the Alberni Inlet, this campground provides campers with a quite different experience than others.
The best part is they offer both beach and forest-side camping. You can choose whichever view you prefer most. It offers campers the most peaceful and relaxing camping experience on Vancouver Island.
Considering RV parking, China Creek is the most beautiful RV park on Vancouver Island, offerings panoramic oceanfront and forest views.
The campground provides various other amenities, such as a playground, full-service marina, picnic shelters, washrooms, and shower facilities, making it fully family-friendly.
Camping at China Creek is available, either nightly or seasonally. Check out their website to know when to visit.
6. Green Point Campground
Green Point Campgrounds on Vancouver Island is the only campground in Pacific Rim National Park Reserve in Vancouver Island campgrounds.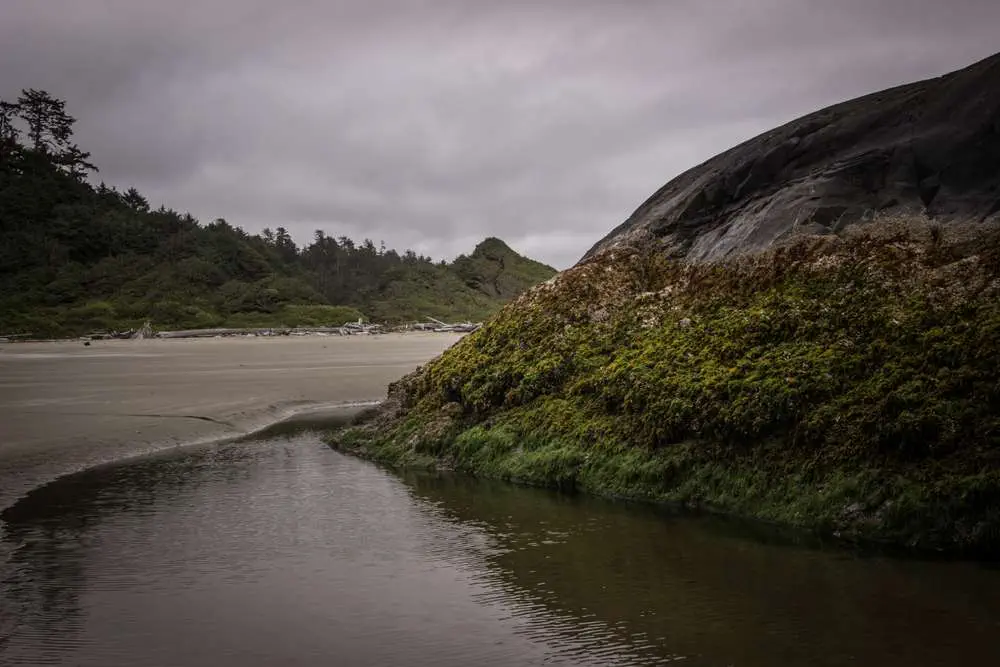 Pacific Rim is known for its long sandy beaches, and the Green Point campground is the only campground in the sandy beach region. The campground comprises 94 vehicle-accessible campsites, 20 walk-in campsites, and one group site.
The vehicle-accessible campsites are also recreational vehicle accessible. The campground is located on a forested terrace, offering stunning views of the beach. The beachfront setting makes it all the more beautiful and calm.
Ever since it was opened (in 1962), people from worldwide have come to visit. Campers love the serenity it offers.
When visiting the best campgrounds on Vancouver Island, Green Point Campground can not be missed. And when visiting Pacific Rim National Park Reserve, do not settle after being on the campground. There's so much more to explore on Pacific Rim.
To better understand how to explore the Pacific Rim, one of the Campgrounds on Vancouver Island, just click here!
7. Pachena Bay Campground
Enjoy the wilderness at Pachena Bay Campground, located at the north end of the most famous West Coast Trail.
Pachena Bay is considered among the most famous hikes in British Columbia and Vancouver Island. The campground offers a beachfront setting and is settled in an old-growth rainforest area.
The campground lies at the Pachena River's mouth and spans along a sandy beach that faces the open Pacific Ocean. You can enjoy the wilderness of the old-growth trees and the ocean views at the same time.
Conclusion
The campgrounds on Vancouver Island's best part is that tenting sites are right next to the west coast trail.
The best campgrounds on this Vancouver island camping trip are not very far and are in some of the best possible areas. The above-listed campgrounds offer you the best of campsites and some amazing hiking trails and stunning activities.
So, when planning your camping trip, keep these campgrounds in mind, and choose the best.  whether are seeking perfect RV parks, beach camping location, or a joyful tent campground trip, these campsites are very spacious, which makes them a good site for big family outings.