A quick guide on "what is clarifying shampoo."
Sometimes you may feel that your hair feels dull and is not portraying itself in its usual grandeur and wonder why that is the case? You have a regular hair care routine, and you use shampoo with adequate frequency so that you may take the best care of your hair.
But still, it is not living up to its full potential and displaying itself in all its glory; that's when someone recommends clarifying shampoo and finds asking yourself the question, what is clarifying shampoo?
The shampoo that you use for your regular care is good at taking care of your hair by itself for the most part, but sometimes it needs a little bit of help.
Your hair can get dull and weighed down due to excessive build-up of oils, grease, and other residues like dry shampoo, hard water minerals, and chlorine, if you are a frequenter of swimming pools, among other things in your hair and scalp.
A clarifying shampoo can get rid of all these deposits in your hair through deep cleansing in a way that is not possible for your regular shampoo and give your hair and scalp a fresh reboot, free of any residue or contamination and at liberty to assume its natural pomp.
How is a clarifying shampoo different from your regular shampoo?
The main difference between clarifying shampoos and a shampoo meant for regular use lies in the ingredients contained in them and the extra cleansing of hair and scalp that clarifying shampoos can provide over regular shampoos.
Clarifying shampoos can get rid of impurities like excess oils, build-up from using hard water, and build-up from styling products over time that a regular shampoo can't through its mild cleansing agents.
The main focus of regular shampoos is to make your hair look more beautiful by moisturizing it and giving it a more shiny appearance rather than performing a thorough cleaning while clarifying shampoos have just one purpose; clean your hair through a deep cleansing to leave it free of any residue or any build-up.
Now that you know what is clarifying shampoo let's move ahead to another question.
When and how often to use a clarifying shampoo?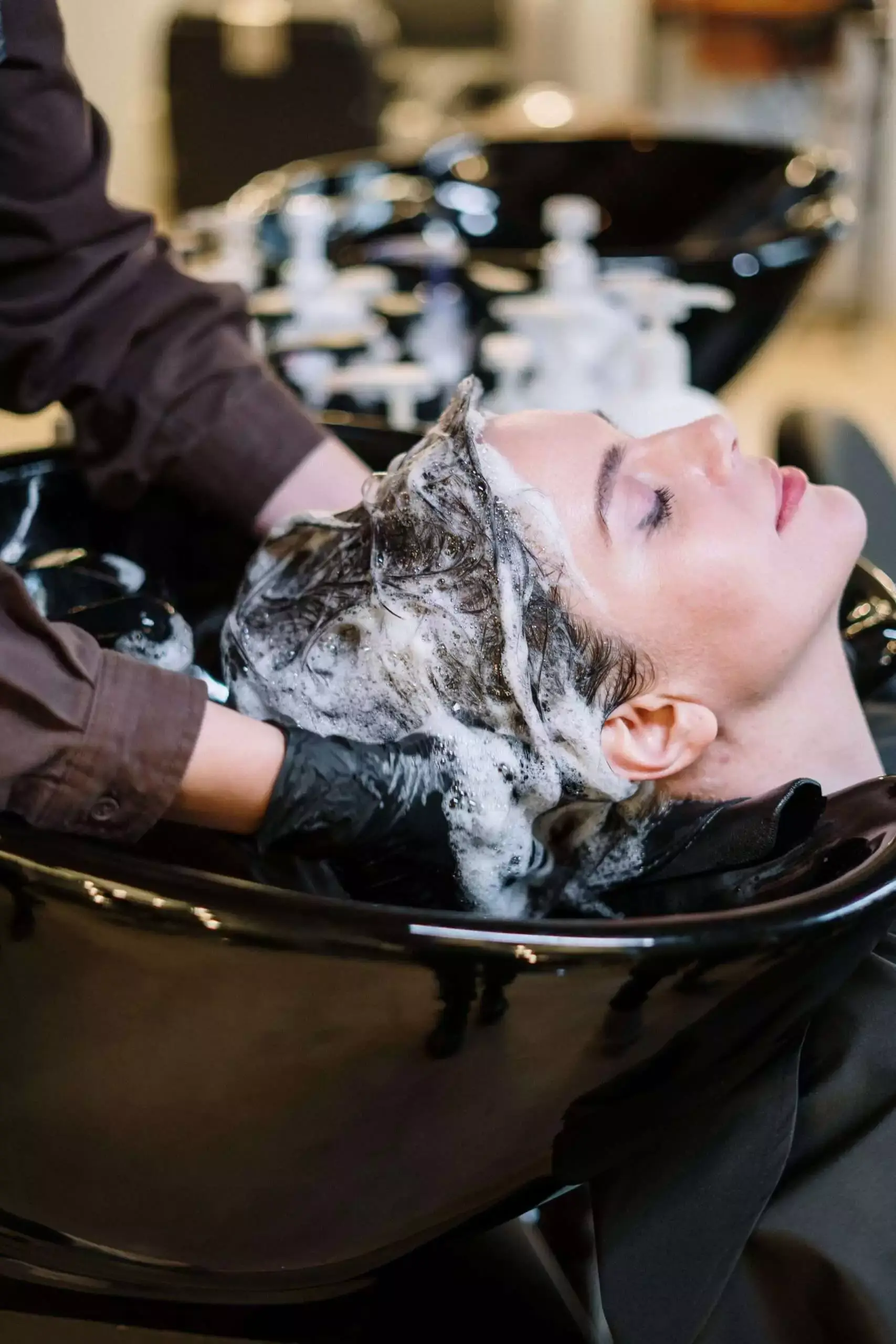 You should use a clarifying shampoo when you feel that your regular shampoo is not getting the job done; your hair feels heavy and dull, and repeated use of your daily shampoo is not making it any better.
Clarifying shampoos remove the excess build-up in your hair and thoroughly clean it, but that does not mean you should use it regularly. Regular use can lead to excessively dry hair and strip your hair of the natural oils that the scalp produces. While excess oils can be troublesome, your hair must contain some natural oils for optimum hair health.
While there is no recommended use for clarifying shampoos as people have different hair types and require different types of care, many hairstyle experts recommend using it between 1-2 times a month.
If you are looking to visit a hair salon to get your hair sorted, take a look at these to find your perfect place across different cities: 10 Best Hair Salons Calgary, Hair Salon Vancouver: 10 Excellent Places For You To Visit, List of Top 10 Successful Hair Salon Ottawa,  Top 10 Best-Rated Hair Salons in Toronto, Top 12 Best Rated Hair Salon Winnipeg.
Is it safe to use clarifying shampoos?
Clarifying shampoos can provide a deeper cleansing than regular shampoos under them containing heavy-duty surfactants compared to the mild cleansing agents used in regular shampoos.
While many regular shampoos contain a small number of sulfates among their ingredients, clarifying shampoos usually contain them in much higher amounts to perform a thorough cleaning, which, if used excessively, can lead to detrimental impacts rather than having the desired effect. However, it is to be noted that a few sulfate-free clarifying shampoos are available in the market.
If you use clarifying shampoos excessively, you may find yourself having excessively dry hair or finding more than the normal amount of hair strands in your hairbrush. Or, if you have conditions like dandruff, seborrheic dermatitis, and psoriasis, they might be exacerbated by excess use of a clarifying shampoo as they might dry out your scalp even might lead to the production of excess oil to counteract it.
If you are using hair color, you may also want to avoid a clarifying shampoo if it is not explicitly stated in the label that it will not lead to hair discoloration.
Can everybody use a clarifying shampoo?
A common question that may arise in people's heads is, can people of every hair type use it? The short answer is yes. Brunettes, curly hair, blonde hair; everybody can use it.
People having curly hair are particularly apprehensive when choosing their hair products, afraid that they might lose their natural curls and coils pattern if they use the wrong product. However, people with curly hair can use clarifying shampoos without fear and restore their hair to its best condition.
People having blonde hair can also use a clarifying shampoo to keep their hair from turning brassy. People with blonde hair tend to absorb minerals from water, pollution, and residue from hair products in their hair, making their hair brassy. The use of a clarifying shampoo from time to time may help with this problem.
Clarifying shampoo is a good choice for people with oily hair as it captures excess sebum off the scalp.
However, as mentioned earlier, if you are suffering from conditions like dandruff, seborrheic dermatitis, or psoriasis, a consultation with your dermatologist or a hair care expert might not be amiss to choose the perfect clarifying shampoo for you.
The best clarifying shampoos
Now let us take a look at some of the best clarifying shampoos that are available to us in no particular order;
1. Sunday Clarifying Shampoo by Bumble and bumble
The Sunday Shampoo by Bumble and bumble is one of the best-clarifying shampoos available for people looking to give their hair a complete reboot and make it completely free of any excess oil, product residue, and other impurities.
It contains ingredients like Panax ginseng root extract, rosemary leaf extract, and sage leaf extract, among other things, which gives your hair a thorough, deep cleanse and restores it to its natural glory.
2. Neutrogena Anti-Residue Clarifying Shampoo
The Neutrogena Anti-Residue Shampoo is one of the most popular choices among people looking for a clarifying shampoo to get their hair back on track.
It contains ingredients like sodium Laureth sulfate, sodium chloride, Cocamidopropyl betaine, glycerin, citric acid, and sodium hydroxide, among others, to give your hair a deep cleanse and remove all excess oil and build-up from previous product use and leaves you lighter and finer hair.
3. Shampoo Two by Paul Mitchell
For people wanting to give their hair a deep cleanse and free it of excess oil and different residue, this Paul Mitchell shampoo can be a great start. Preferred by many people, this is a clarifying shampoo that is worth a try.
A vegan, paraben-free product will completely clean your hair and leave you with shiny hair with a lemony scent. The use of a hair conditioner is recommended after using this clarifying shampoo.
4. Living proof. Perfect Hair Day Triple Detox Shampoo
The Living proof. Perfect Hair Day Triple Detox Shampoo is a clarifying shampoo that should be used when dealing with residue build-up in your hair, especially with hard water build-up.
It contains charcoal which absorbs impurities and excess oil, while disodium EDTA in its composition helps to soften hard-water build-up. A color-safe option gives your hair a thorough cleaning and leaves you with beautiful, dirt-free hair.
5. Reset Scalp Clarifying Gel Shampoo by amika
A favorite among many who use clarifying shampoos to achieve clean and residue-free hair is a sulfate-free clarifying shampoo. Having active ingredients like pink clay, charcoal powder, and Indian cress extract, among other things, this clarifying shampoo gel transforms into foam. It removes excess oil, pollutants, and other residues to give your hair a fresh restart.
6. Sachajuan Anti Pollution Shampoo
This clarifying shampoo is specially formulated to remove all the dirt and pollutants that get stuck in your hair and scalp from the outside environment and helps to clean your hair from the excess build-up as a result of them.
It constitutes lactic acid and green tea extract, among other things, which helps this Sachajuan scalp shampoo to perform a deep cleanse on your hair and scalp and leave your hair cleaner, stronger and healthier.
 7. Head & Shoulders Supreme Detox & Hydrate Shampoo
This clarifying shampoo by Head & Shoulders is one of the options for people dealing with dandruff and wanting to get clean hair and scalp. This detox shampoo has zinc pyrithione among its ingredients, which helps combat dandruff issues while also containing coconut water and naturally derived argan oil, giving your hair a deep cleanse and free of any residue or build-up.
Alternative to Clarifying Shampoo
While several clarifying shampoos are sulfate-free, many still contain sulfates. People concerned about the effects of sulfate on their hair may choose chelating shampoos or hair detox treatments.
Both of these serve the same purpose as clarifying shampoos in giving your hair a complete cleansing. Still, while hair detox treatments consist of only natural ingredients, chelating shampoos have ingredients that attach themselves to the impurities, minerals, and toxins and are washed away once the hair is rinsed.
I hope this article was successful in providing an answer to the question, what is clarifying shampoo.
As an Amazon Associate, Icy Canada earns from qualifying purchases.