Do you want to amp up your hair care regime? Do you want the secret to thick luscious hair? The only solution to protect our hair is to follow a good Hair Routine and to get regular haircuts and treatments. Both the solutions require constant attention and are time-consuming, making them difficult to adopt.
Here is when salons come to the rescue with the best hair services and professional expertise to save the day. There are many salons in the city, but it is important to choose a place that knows your hair needs.
We're here with a special list of Top Hair Salon in Ottawa, so you have the best options to choose from. To view some of the best Salons in Winnipeg, click here.
Top 10 Hair Salon Ottawa
1. Lydia Beauty Salon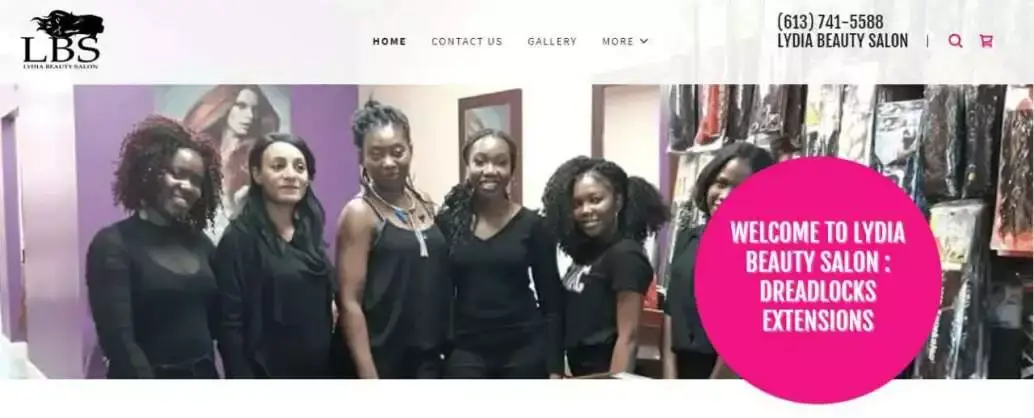 Lydia's Beauty Salon, located on Walkley Road, is one of the top Hair Salons in Ottawa that offers the best services. They provide an overall beauty regime to keep your hair and body healthy.
Their other beauty services include dealing with dreadlocks, quality hair extensions, braids, chemical hair statements, and natural hair treatments. They also provide aesthetics like lash lift and makeup services, waxing, nail art, and more. Lydia's Salon is full-fledged, and that is precisely why people around Ottawa love Lydia's for its great services.
Lydia's Beauty Salon has provided customer satisfaction to the fullest for the last 15 years at affordable prices. With their valuable salon experience earned in Toronto, Lydia Nganga has managed to gain a large clientele and fame in Ottawa.
2. The Hair Boutique
One other famous Hair Salon Ottawa is the Hair Boutique, which offers gender-neutral hair services and professional hair care. This hair care hotspot is home to some of the best hair styling treatments and hair experts in town.
Their services consist of hair highlights, keratin treatment, and other treatments of all kinds, and the products used here are of top quality. The hairstylists at work are professionals of the best kind working their magic to give you your dream hair.
It is located at 2269 Riverside, Ottawa, and is quite a famous Hair Salon Ottawa. They have a specially designed FAQ corner on their website to provide professional advice to their customers' queries about their services and products.
3. Salon 130
Salon 130 is the most feasible solution to opt for when you hunt for professional hair care on a  budget. It is located at 130 Slatter Street and aims at providing the best services to their customers, leaving them satisfied.
They offer Hair Cuts, Hair Styling, Hair Treatments, and many other services you need to get that gorgeous hair. They have skilled staff appointed to work and a warmly welcoming ambience that makes its customers feel relaxed.
The salon stays in service from Mon to Sat between 9 am and 9 pm and remains closed on Sundays. They mainly specialize in hair colouring with a wide range of hair colours to choose from and other popular hair treatments.
4. Salon Rouge, Hair Salon Ottawa
It is impossible not to add Salon Rouge to the list of Top Hair Salon in Ottawa. Salon Rouge is loved by the people of Ottawa for its creative hairstyling techniques that have been used for over 10 years.
Situated at 222 Dalhousie Street Ottawa, the salon is home to award-winning hairstylists with the best hair styling products. They also work with the latest hair trends that keep coming in and only use toxin-free products.
Going into Salon Rouge, you can be sure to see your hair look just like you always wanted them to be. If you are anywhere near Dalhousie Street, Salon Rouge is your most suitable option. Walk in to avail yourself of the best hair services and expert advice on how to keep your hair looking healthy.
5. Fernando Cellini Hair Salon
The next best hair salon in Ottawa is Fernando Cellini Salon, which provides its customers with every hair need. They only hire qualified professionals and have an elite set of skills to give you the best.
The salon is run by Domenico Tomei and Frankie De Caria, who worked hard to succeed Fernando Cellini. Domenico and Frankie co-own the salon, and it is situated at Byward Market, Ottawa.
Other head stylists at the salon are Francesco, Tania, and Sonia, who look after the salon's major activities. They provide various services like hair styling, haircuts, colour, and other package services.
6. Exhalo Spa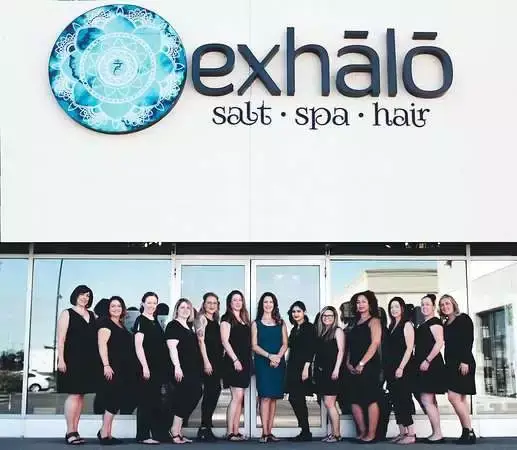 Another top-rated hair salon Ottawa is the Exhalo Spa, located at Riocan Avenue, crafting the best hair possible. They offer elite hair services that leave their customers satisfied and in love with the salon. The staff is well versed in the area and has a professional touch to all of their work.
They only hire hair stylists with at least a minimum experience of 10 years to join their dream collaboration. Their best hair stylists are Sarah McLaren, Shelly Ford, Anna Sokol, Awara Hasan, Sasha Katsova, and others.
They offer the best services in Salt Therapy, Organic Facial Treatments, Pedicure, Waxing, and other Oncology Beauty Treatments. The Salon provides an all-rounder experience that covers not just your hair but your whole body.
7. Antonia Hair Design & Hair Salon Ottawa
Next up on the list of great Hair Salon Ottawa, we have Antonio Hair Design & Hair Salon situated in Downtown Ottawa. They have well-trained hairstylists and hair designers who re-invent your hair, giving you a great customer experience.
They offer services that include all types of hairstyles and hair cuts, hair colour, perms, all of these at reasonable prices. They only use the most respected products on their customers to avoid any irritation.
Some of their top quality products that they use are L'Oreal Professional INOA, Goldwell Professional Hair Care Products, Curly Hair Solutions, and others. They remain open for service from Monday to Saturday and remain closed only on Sundays.
8. Vespa Hair Design

Next, in our Top Hair Salon Ottawa list, we have the Vespa Hair Designs located on Somerset Street West Ottawa. This Hair Salon comes with necessities, including a parking facility, serene ambience, and professional work.
Vespa Hair Salon Ottawa remains open from Tuesday to Saturday and remains closed on Sunday and Monday. The Hair Salon is run by three leading hairstylists Michael, Amy, and Rajaa, specialising in almost all hair services.
A list of all the services and prices each hairstylist offers is put up on their official hair salon website. They work with the most authentic hair products from Davines that naturally provide you with the desired results.
9. Hair Junkie
Hair Junkie lies in the Downtown area of Ottawa, in the city's heart, where one can easily travel to. It is a one-of-a-kind salon for all the good reasons like their ambience, trained professionals, and assured results.
Their professionals comprise some fantastic stylists like Fady, Liz, Alex, Mira, Allie, Angela, and others. They also provide specialized services in Ombre, Color Correction, Keratin Smoothening, and perms.
They use top-quality hair products from renowned brand names like Kerastase, Rico, and Living Proof that adds to the reliability of the salon. They also provide their customers with memberships that let customers get value-added services in coupons and discounts.
10. Hair Republic Beauty Lounge
We cannot make it through the end of the Top 10 Hair Salon Ottawa list without adding the Hair Republic to the collection. It is located at 7 Clarence St Ottawa, and the salon has a way with the clients that leaves them satisfied.
Working with brands like Schwarzkopf, Moroccan Oil, Unite has earned the salon a high reputation in the styling industry. Along with all the classic hair services, the salon also provides its customers with the best spa experience in town.
The Hair Republic is number 10 on our Hair Salon Ottawa list for its constant service for the last 15 years. Michelle Nguyen, their artistic director, highly promotes the brand name and its services on various platforms.
Hair is an asset to both men and women, and thus it is important to protect and keep them healthy. There are a lot of tips that can be practised to protect hair from damage and breaking. Some of these tips include avoid heat styling products, using hair masks, and regular hair oiling.
Having covered some of the best Hair Salon Ottawa offers, we hope to have served all your queries. Even with all the safety tips and tricks followed, expert advice is something we need to make the hair even better. Buckle up and hurry to your choice of Best Hair Salon and show your hair the love and care they deserve.
Au Revoir… Bonne Journée!
Suggested Reads:
10 Canadian Fashion Trends to Try this Season
As an Amazon Associate, Icy Canada earns from qualifying purchases.