Sometimes you need a break. As spring draws closer, many of the best parks in Toronto are ready to come back to life. Toronto parks offer a chance to escape the city's numerous skyscrapers and development zones. And visiting the green spaces that dot the streets of Canadian cities is the best way.
Many popular green spaces include waterfront parks that offer a variety of activities, such as sandy beaches, boardwalks, bike trails, walking trails, and tennis courts, while others, such as off-leash dog areas, zoos, and gardens, ensure a great experience.
Most of Toronto's parks are just a short subway ride away. Many parks have their subway station, while others require you to hop on a taxi and be anywhere along Queen Street West in minutes.
Most parks have open-air pavilions, convenience stations, playgrounds, walking paths, parking lot, and nearby stalls and food trucks selling various snacks and ice cream.
With this list of the 10 best parks in Toronto, you're sure to find the perfect spot for you.
Best Parks in Toronto
1. Sunnybrook Park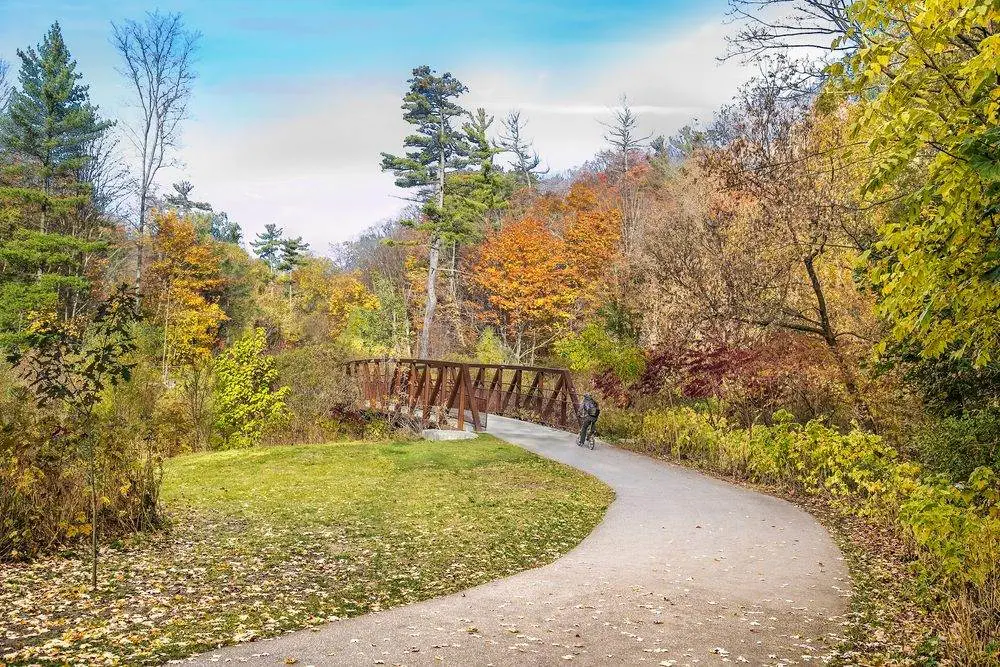 One of the city's largest parks, Sunnybrook Park, is in Toronto, Ontario, Canada. Sunnybrook Park, nestled on the south side of Bridle Path and north of Leaside, offers a magnificent experience to its visitors.
Set on the site of a former country estate, this park is about 154 acres and has everything you can think of, including 25 biking trails and a large dog off-leash area. This green space is a busy hub for recreational activities and cyclists.
As we know, it is also known for its wildlife–the park is listed as one of the top spots in the city for birdwatching. The park is not far from Toronto Botanical Garden, so consider visiting if you adore exotic flowering specimens.
Other details
Website: Sunnybrookpark
Telephone: +1 416-338-4386
Location:  1132 Leslie St, Toronto, ON, Canada.
2. Étienne Brûlé Park
Étienne Brûlé Park is located north of Bloor Street West in the Humber River Valley. Étienne Brûlé Park has great historical as well as environmentally significant area, as it was originally named as an honourable tribute to French explorer Étienne Brûlé, the first explorer to venture beyond the St. Lawrence River into what we now know as Ontario.
There are many picnic areas, ball diamonds in the park, and places you can get close to the Humber River. The river is a wonderful place to take a stroll, as you can spend hours exploring interpretive signs that explain the history and traditional uses of the area, making it the best place to go on a date among all Toronto parks.
Etienne Brule Park is located in the centre of Toronto, between the Humber River, the Old Mill and Marsh, the Lambton House Hotel, the Lower Humber River Discovery Walk, and the Lambton House Hotel.
Opening Hours: Opens 24 hours
Other details
Website: ÉtienneBrûléPark 
Telephone: +1 416-338-4386
Location: 10 Catherine St, Toronto, ON M6S, Canada.
3. Toronto Music Garden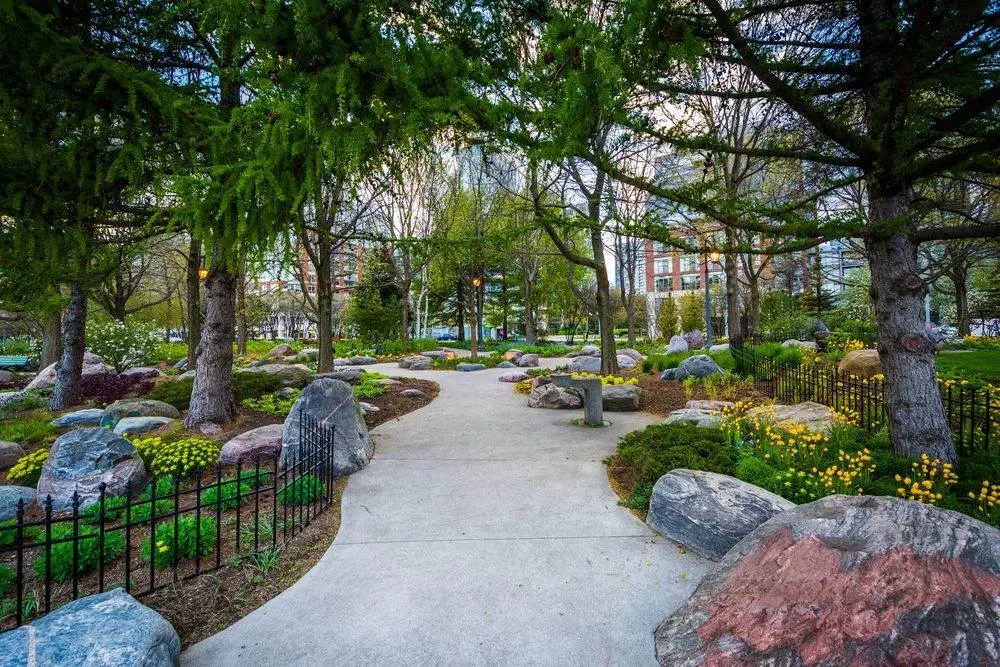 Located on the city's waterfront, Toronto Music Garden is one of the most beautiful parks in Toronto. This 3-acre garden is one of the city's most glamorous green spaces. The park was designed by Julie Moir Messervy and inspired by Johann Sebastian Bach's "The First Suite for Unaccompanied Cello".
A walking trail in the park leads visitors along his six movements: Prelude, Armand, Courante, Sarabande, Minuet, and Gigue, which evoke different moods, emotions, and shapes through music.
The gardens reflect these characteristics through Canadian Shields rocks, birch saplings, wild grass meadow groundcover, and ornamental grasses.
Opening Hours: Opens 24 hours
Other details
Website: Torontomusicgarden
Telephone: +1 416-973-4000
Location: 479 Queens Quay W, Toronto, ON M5V 3M8, Canada.
4. Dufferin Grove Park
Dufferin Grove Park is where kids run barefoot and laugh on summer nights. Located south of Bloor Street West and Dufferin Street, the 12-acre park is home to a mature forest canopy and is a popular place for families and friends to spend time outdoors. The park has a sports field, a basketball court, walking trails, picnic areas, an open-air pavilion, and an outdoor ice rink.
Over the years, Dufferin Grove has organically grown into a vibrant community centre in this vibrant neighbourhood.
The amenities found within the parking area are a multipurpose sports field, basketball court, picnic area, wading pool, children's playground, and a reflexology footpath. The Clay & Paper Theater is located within the park and hosts outdoor performances and special events seasonally during the summer and other seasons.
Opening Hours: Opens 24 hours
Other details
Website: DufferinGrovePark
Telephone: +1 416-392-0913
Location: 875 Dufferin St, Toronto, ON M6H 3K8, Canada.
5. Queen's Park
Located in Downtown Toronto, Ontario, Canada, Queen's Park is one of the largest urban parks in the world. The term "Queen's Park" is frequently used to refer to the Government of Ontario or the Legislative Assembly of Ontario. In 1860, Edward, Prince of Wales, opened the park in memory of Queen Victoria. The Legislative Assembly of Ontario is located in the Ontario Legislative Building in the park.
With its stunning sandstone architecture and historic buildings, delightful tree-shrouded park with large lawns and lots of green space, this park deserves special attention on your list.
Opening Hours: Opens 24 hours
Other details
Website: QueenPark
Telephone: +1 416-325-7500
Location:  110 Wellesley St W, Toronto, ON M7A 1A2, Canada.
6. Guild Park & Gardens
Guildwood Park is located on Guildwood Parkway between Eglinton Avenue East and Kingston Road east of Toronto, Canada. This stunning and historic park contains several sculptures, beautiful gardens, and sculpture reserves, making the park a popular destination for visitors. The place has an interesting history that reflects the contributions of famous artists, influential politicians, and government officials to the arts.
This area has a history as the site of Toronto's first artists' colony and is famous for its collection of artefacts recovered from demolished buildings in downtown Toronto. They arranged all these relics to resemble the ancient ruins that once occupied this site.
The landmarks in the area are:
 Bank of Toronto building; the façade of 1895.
Greek Theatre – created using the marble arches of 1912.
Temple Building was once the tallest structure in the British Empire.
Public artwork, including sculptures by E. B. Cox, Sorel Etrog, Emanuel Hahn, Frances Loring, and Florence Wyle.
Opening Hours: Opens 24 hours
Other details
Website:  GuildParkandGardens
Location: 201 Guildwood Pkwy, Scarborough, ON M1E, Canada, Canada.
7. High Park Zoo
One of Toronto's largest and most popular parks, High Park, located in Toronto's west end, is a great place to spend time for many reasons. The high park is the second largest urban park in the city after the 161-hectare Centennial Amusement Park. There's so much to see in this massive park that you wouldn't be able to see it all in one day.
Additionally, about one-third of the park remains in a natural state. Some of the best hiking trails in the High Park include Spring Creek and West Ravine, which meander through mature trees and along gurgling creeks for the cycling trails' and also for an ideal hiking experience.
High Park is home to hiking trails, a beautiful lakefront, a dog park, playgrounds, restaurants, greenhouses, picnic areas, and a parking lot. And in addition, sports facilities have tennis courts, soccer fields, volleyball courts, a wading pool, a splash pad, and baseball diamonds that are popular among sports enthusiasts. During the winter, an outdoor ice rink is available too.
The High park trackless train is a great way to get around the park. If you are lucky enough to be in the park in spring, then leaving without seeing cherry blossom trees is a crime.
Opening Hours: Opens 24 hours
Other details
Website: Highpark 
Telephone: +1 416-338-0338
Location: 1873 Bloor St W, Toronto, ON M6R 2Z3, Canada
8. Trinity Bellwoods Park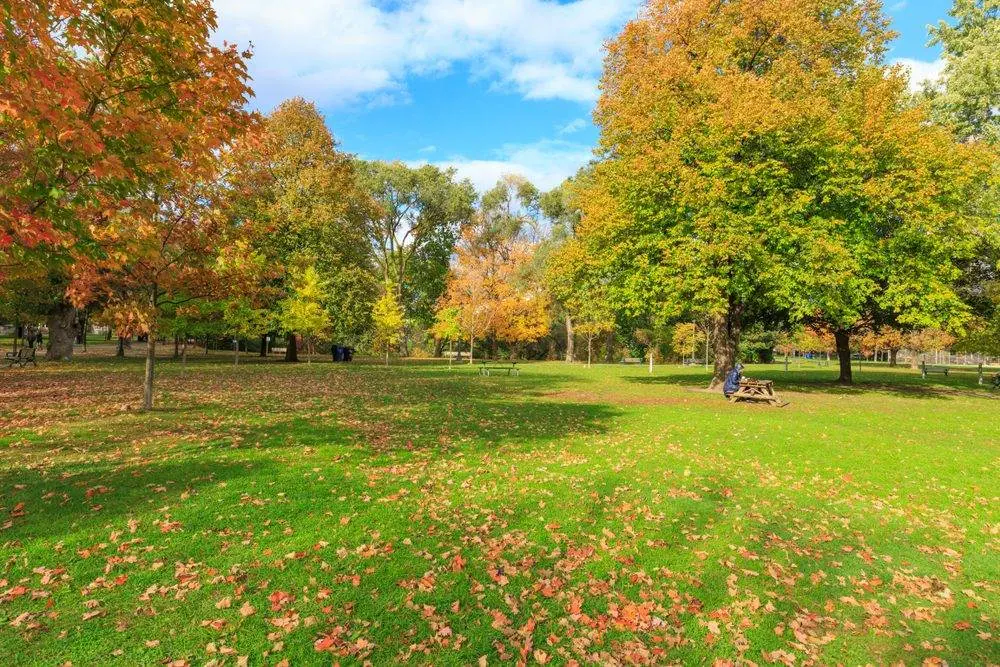 If you're looking for a traditional green space in Toronto, head to the trendy, culture-minded Trinity Bellwoods Park, which is a great place to spend a sunny weekend.
This 37-acre park can be easily accessible via the TTC and is ideally located on Queen Street West at Strachan. It has a wide variety of amenities and plenty of green space. The park has many amenities, like tennis courts, an ice rink, a picnic area, volleyball courts, and a children's playground.
Opening Hours: Opens 24 hours
Other details
Website: TrinityBellwoodsPark
Telephone: +1 416-338-2614
Location: 790 Queen St W, Toronto, ON M6J 1G3, Canada.
9. Trillium Park
There are plenty of amazing views of the Toronto skyline from the green space of Trillium Park, one of the newest parks in the old Ontario Place, right on the waterfront, that also offers plenty of breathtaking views of the city. The park gives the vibe of a magnificent destination that makes you want to visit during all four seasons, regardless of the weather.
The area consists of native trees, plants, flowers, beautiful boulders, and sedimentary rocks all over the park. Furthermore, playgrounds, sports fields, soccer fields, and washrooms are available in Trillium Park.
With the weather turning a bit cool, it's the perfect time to make your escape to Trillium Park into a lesson in history. You'll want to stop by to admire the two stunning large stone walls that connect with a bridge that symbolizes First Nations culture and heritage by being engraved as an engraved moccasin symbol to signify the land on which this park was built.
Opening Hours:
Sunday – Saturday: 6 am – 11 pm
Other details
Website: trillium park
Telephone: +1 416-314-9900
Location: 955 Lake Shore Blvd W, Toronto, ON M6K 3B9, Canada.
10. Riverdale Park East
Located near Broadview Avenue and Danforth Avenue, the 18-hectare Riverdale park boasts a beautiful view of the downtown Toronto skyline and stellar winter tobogganing opportunities.
There are a variety of recreational facilities available at Riverdale Park East, including two baseball diamonds, three multipurpose sports fields, a running track, bike trails, seven tennis courts, an artificial outdoor ice rink, a ball hockey pad, picnic areas, off leash dog area, and playground.
So if you are a fan of the skyline views, you should position yourself on the hill at the northeast end of the park, pack a picnic, and soak in the warm weather or the beautiful sunsets during a winter or summer day.
Opening Hours: Opens 24 hours
Other details
Website: Riverdale Park East
Telephone: +1 416-392-2489
Location: 50 Broadview Ave, Toronto, ON M4K 2N6, Canada.
And there are the 10 best parks in Toronto you can visit.
Suggested Reads: