If you were wondering about places to visit in Ontario, we've covered you. 
The province is home to several notable natural features. Over 250,000 lakes, unending woods, a huge wilderness, and various species are found in Ontario, Canada. 
In the sweltering summer, tourists flock to Ontario to visit some of the best museums and galleries in the nation, enjoy family time at amusement parks, unwind at lakeside resorts, go canoeing or fishing in the lakes and rivers, go camping in the gardens, and see some of the nation's most recognizable landmarks.
While some people go outside in the winter to enjoy the ski slopes, ice skating rinks, snowmobiling, and winter festivals, most stay inside to enjoy hockey games, dining, shopping, Broadway musicals, and other cultural attractions.
But the best is Fall. It is one of the most romantic seasons to visit this east-central region because the cool mornings are ablaze with golden Tamaracks and vivid yellow maple leaves.
Sound Amazing, right? So, if you are planning a visit, here are our top 15 most amazing places in Ontario.
1. Niagara Falls
The most well-known tourist destination in Canada is Niagara Falls, which draws millions of visitors each year during the visit to Ontario.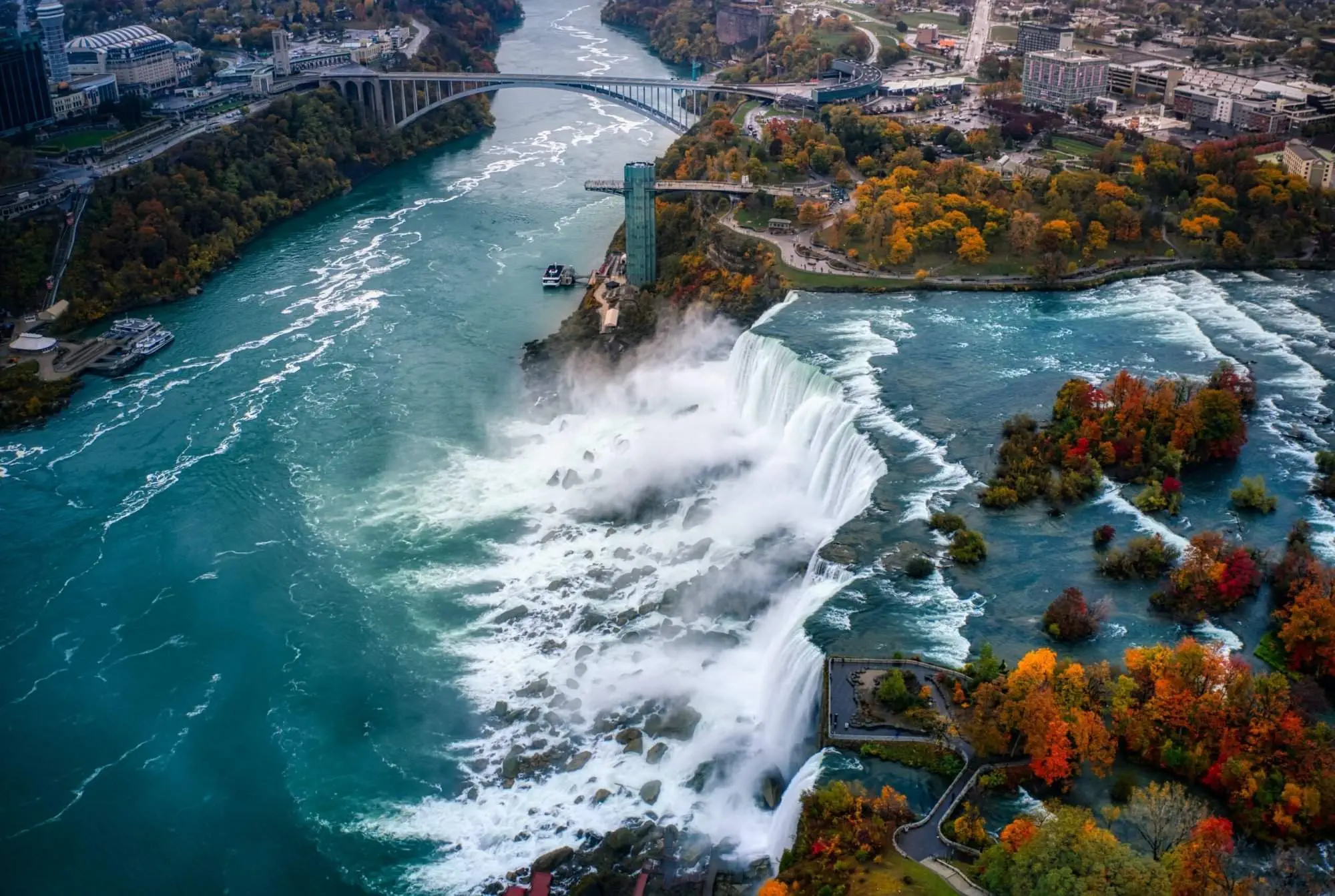 This is one of the most interesting places to go in Ontario. In contrast to New York in the United States, the city acts as a hub port along the Niagara River. 
Even though there are three sets of falls, the tallest one, known as Horseshoe Falls, plunges around 57 metres, forming a massive wall of water between Niagara Falls, Canada, and Niagara Falls, USA. 
The quantity of water flowing over Niagara falls on the Canadian side is around nine times more than on the American side. The fact that a city was created around Niagara Falls is what makes it so distinctive.
You could spend a week enjoying all the activities and landscapes available in Niagara falls because there are so many incredible attractions. 
Canada's best-kept secret is Niagara on the Lake. Be sure to go farther and discover Ontario's wine area of Niagara on the Lake while you are in Niagara Falls. Southern Ontario's Niagara-on-the-Lake is home to this town. 
It's worth the 20-minute drive to explore Niagara on the Lake, a quaint and historic Ontario town located beyond those magnificent waterfalls. In Toronto, it is simple to book day trips to Niagara Falls from hotels or hostels. 
From Toronto, the journey takes roughly 1.5 hours by driving to Niagara Falls.
1.1 Can you go to Niagara Falls for free?
Walking into Niagara Falls State Park to see the Falls is always free and open every day of the year. However, many people are happy to learn that in addition to this magnificent natural wonder, the tours of
Niagara Falls
and other activities available inside the park offer hours of additional entertainment.
Check the 10 Best Hiking Trails in Ontario That are Worth Visiting!
2. Georgian bay
During the visit to Ontario, Georgian Bay is one of the must-visit places to go in Ontario. It is sometimes regarded as the sixth Great Lake and has 1,242 miles of stunning shoreline and more than 30,000 islands. A tranquil beauty is created by the area's imposing towering cliffs, wind-swept pines, and infinite beaches with pure blue seas. 
It is a snowy paradise for snowshoers, snowmobilers, and skiers in the winter and a watery playground for fishermen, boaters, and kayakers in the summer.
The largest and freshest archipelago in the world, Georgian Bay contains 30,000 islands and 32 ancient lighthouses, in addition to Georgian Bay Islands National Park. 
The historic Trent-Severn Canal connects Lake Ontario with Georgian Bay on Lake Huron, northern Ontario. It was constructed in the late 1800s and early 1900s. A local outfitter like White Squall may be used to rent canoes so that you can explore this region.
2.1 Can you swim in Georgian Bay?
Everything a swimmer in open water could want is available in Georgian Bay. Warm, shallow waters are embraced by the sandy expanse of Wasaga Beach, the longest freshwater beach in the world at 14 kilometers.
3. Tobermory
This is the most beautiful place to go in Ontario. A must-visit destination on the bucket lists of the majority of Canadians. 
In actuality, the region surrounding Tobermory could have its list of 15 lovely places to visit, but when you combine all it has to offer, it becomes clear why it's so well-liked. 
During the visit to Ontario, you'll need to make room in your camera roll before your trip to Tobermory to take photos of Flowerpot Island's stone wonders and the incredibly blue-green seas at Indian Head Cove and the spectacular Grotto swimming places.
Fathom Five National Marine Park and Bruce Peninsula National Park provide several breathtaking exploration options in the Tobermory region. Bruce Peninsula National Park, on Lake Huron and Georgian Bay coast, provides its attractions. 
This tiny slice of unspoiled natural paradise is worth the trek from the larger towns.
3.1 What is the best time to visit Tobermory?
The best months in Tobermory are June, July, August, September and October. The coldest months are January, February and March. The rainiest months are January, August, September, October, November and December.
4. Toronto
Over 140 distinct languages are spoken in Toronto, one of the most culturally diverse cities in the world. 
Toronto is a lively, large city that is always humming with activity. It is one of the most popular tourist places on the planet. Some of the best restaurants in the world can be found here, along with hip clubs and bars and diverse events, as visitors will learn.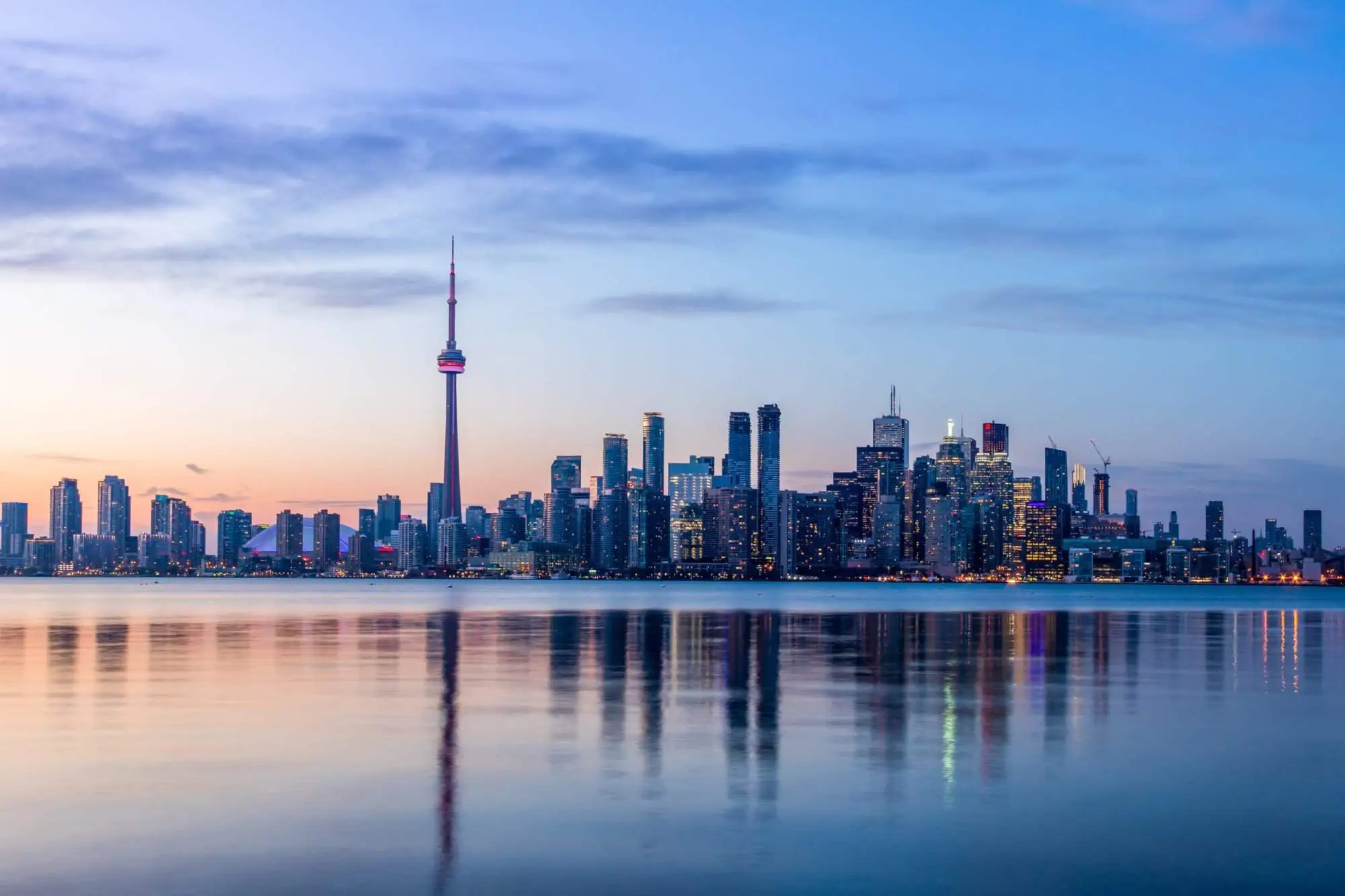 Toronto is a well-known hub for creating music, theatre, movies, and television. It is also the home of Canada's main national broadcast networks and media organizations. 
Over 43 million people visit its cultural institutions annually, including museums and galleries, festivals, free public events, entertainment hubs, national historical monuments, and sporting events.
'St. Lawrence Market, CN Tower, Toronto Island Park, Art Gallery of Ontario, and Royal Ontario Museum' are just a few of the city's top attractions during the visit to Ontario.
One of the top museums in the province is the Royal Ontario Museum, located in Toronto. It houses various collections, from natural history and science to international cultural displays.
One of Canada's most recognizable landmarks, the 553-meter-tall CN Tower, dominates the Toronto skyline. One of Canada's most prominent art museums is the Art Gallery of Ontario (AGO). 
It has an excellent collection of Canadian paintings emphasizing Toronto- and Ontario-based painters. A wonderful time to visit this stunningly gorgeous city is during the Fall and spring seasons, which are pleasantly colored and temperate.
4.1 What salary do you need to live in Toronto?
In Toronto, a person must earn $40,583 (before tax) to meet the city's living costs.
5. Niagara Escarpment
We had to include one item to cover everything else gorgeous about the region, even if several of the previously stated sites to visit in Ontario are located along the escarpment.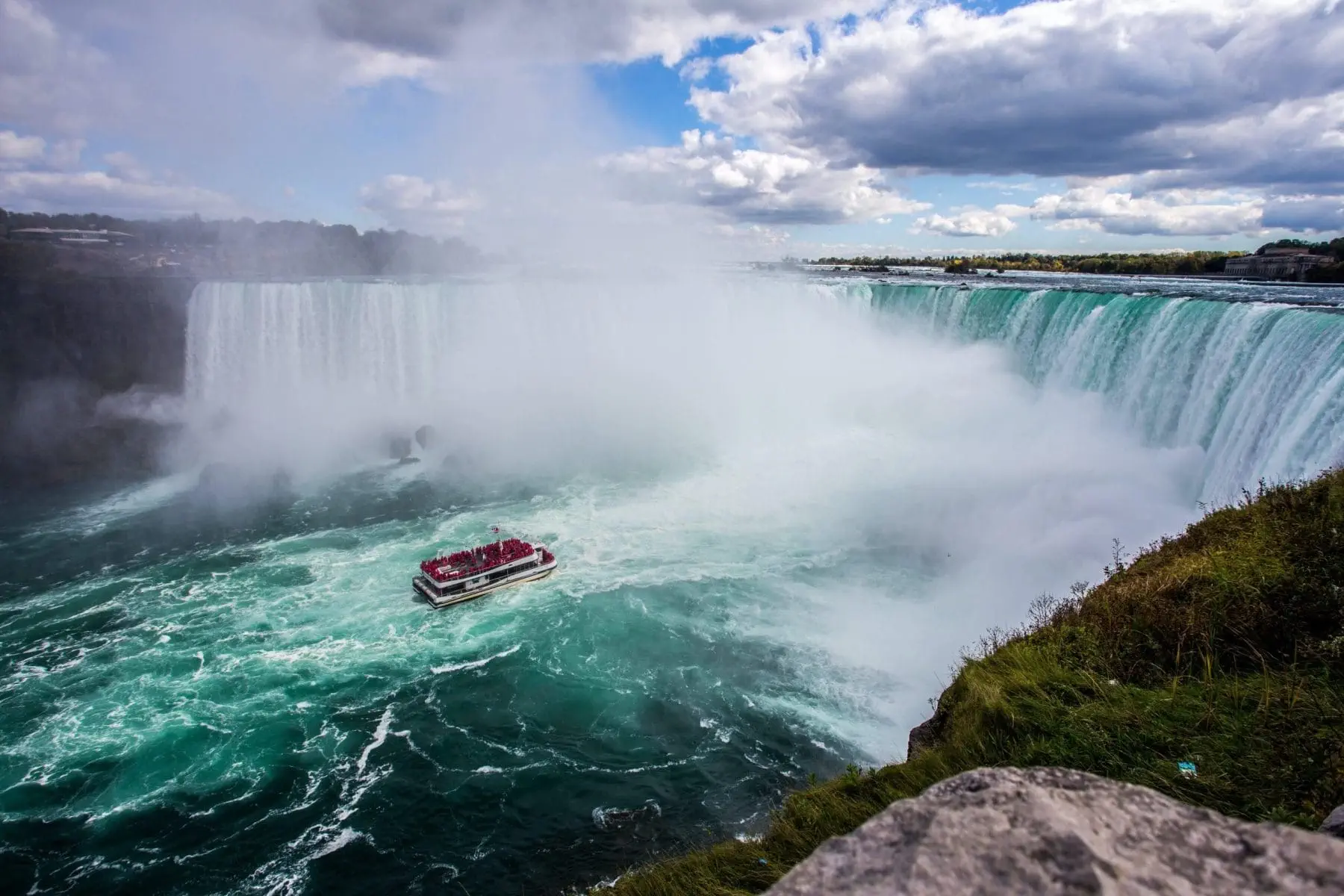 The most noticeable topographical feature in southern Ontario is the Niagara Escarpment. There are several kinds of wood, farms, recreation places, cliffs, marshes, animal habitats, historic sites, towns, and picturesque vistas across the region. 
With several distinct kinds of birds, reptiles, and other creatures, the environment of the escarpment is among the most diversified in all of Ontario.
The Niagara Escarpment has some of the oldest trees on the continent and is home to a large portion of Ontario's stunning fall foliage. Along the escarpment, you may find Niagara-on-the-Lake and the magnificent wine country in Ontario. 
The numerous stunning waterfalls and cliffs in the region are also a result of the escarpment. One of Canada's most well-known and unexpected hiking paths, the Bruce Trail, follows the ridge to Tobermory.
5.1 Is the Niagara Escarpment a mountain?
That name hasn't always known the Niagara Escarpment. Early in the 19th century, it was often referred to as the Mountain, and of course, it is still called that in Hamilton and Grimsby today.
6. Thousand Islands
The St. Lawrence River, close to Ontario, Canada, is home to the Thousand Islands, a series of islands in North America.   Thousand Islands, made up of over 1,800 distinct islands, is a wonderful place for outdoor sports and a tranquil getaway.
The St. Lawrence River and the Gananoque region are beautiful because you may take a boat journey to the Thousand Islands to visit some of the little islands that make up this region. 
The area, which the United States and Canada border, is home to a distinctive culture, an infinite supply of beautiful shorelines, and a rich history.
 During a visit to Ontario, the options available to visitors include guided boat trips, fishing tours, wakeboarding, and jet-skiing, all of which are entertaining and informative.
The Brockville Railway Tunnel, Fort Henry National Historic Site, and the Kingston Waterfront are just a few of the more well-known sights in the area that tourists may visit. Fort Henry National Historic Site is a national historic site in Canada, and you can tour the buildings. This is one of the interesting places to go in Ontario.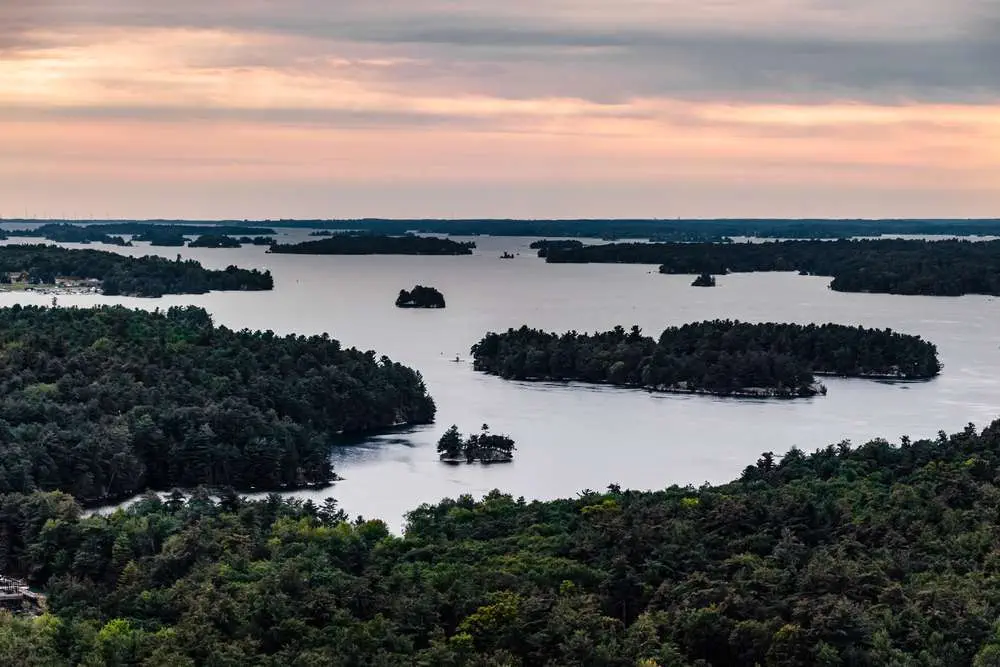 7. Casa Loma
Without question, Casa Loma is a "house goal" among Canadian cribs. This magnificent former mansion of one of Canada's wealthiest industrialists, which translates to "Hill House," is currently held by the city of Toronto.
 One of the greatest historical landmarks of the city, Casa Loma, was constructed in 1914. A forested hillside with ornamental grasses and wildflowers, lush vegetation, bubbling fountains, and elaborate sculptures surround the five-acre property. 
It is a miniature castle in the middle of the city, with turrets, huge ballrooms, and hidden tunnels. It's one of Canada's most magnificent structures, and exploring it would be ideal.
Toronto's Dark Side, a pictorial account of the city's worst periods, including The Plague, Prohibition, and The Depression, is housed there. Casa Loma served as the backdrop for films including The Pacifier, X-Men, Chicago, and The Tuxedo, among others.
7.1 What was filmed at Casa Loma?
It has served Wayne Manor's substitute in films like X-Men, Strange Brew, Chicago, The Tuxedo, Scott Pilgrim vs. the World, Warehouse 13, Twitches, Twitches Too, The Pacifier, and Titans.
8. Greater Sudbury
Northeastern Ontario's geographic center is Greater Sudbury. There are 330 lakes in this "city of lakes," the greatest of which is Lake Wanapitei. 
Greater Sudbury, the largest municipality in the province, provides urban conveniences, well-known tourist destinations, and scenic landscapes. 
The latter contains Kivi Park, Fairbank Provincial Park, Wanapitei Provincial Park, Fielding Bird Sanctuary, and Lake Laurentian Conservation Area. These parks are well-liked for outdoor leisure activities, including boating, swimming, cross-country skiing, hiking, bicycling, and camping.
Greater Sudbury is indeed a premier mining hub. Many inhabitants of Ontario who dwell in the surrounding regions use Greater Sudbury as their regional center. 
These tourists travel to the city to spend time with friends and family, participate in educational and cultural activities like Science North and Dynamic Earth, have fun, shop, and do business. Numerous interactive museums may be located across the city, including the history and science museums, Anderson Farm Museum, and Northern Ontario Railroad Museum.
9. Algonquin Provincial Park
There is beauty everywhere, but few tourist destinations in Ontario can compare to Algonquin regarding accessibility, size, and variety. Locals frequently camp at Algonquin Provincial Park since there are many beautiful rivers, lakes, and plant species to discover.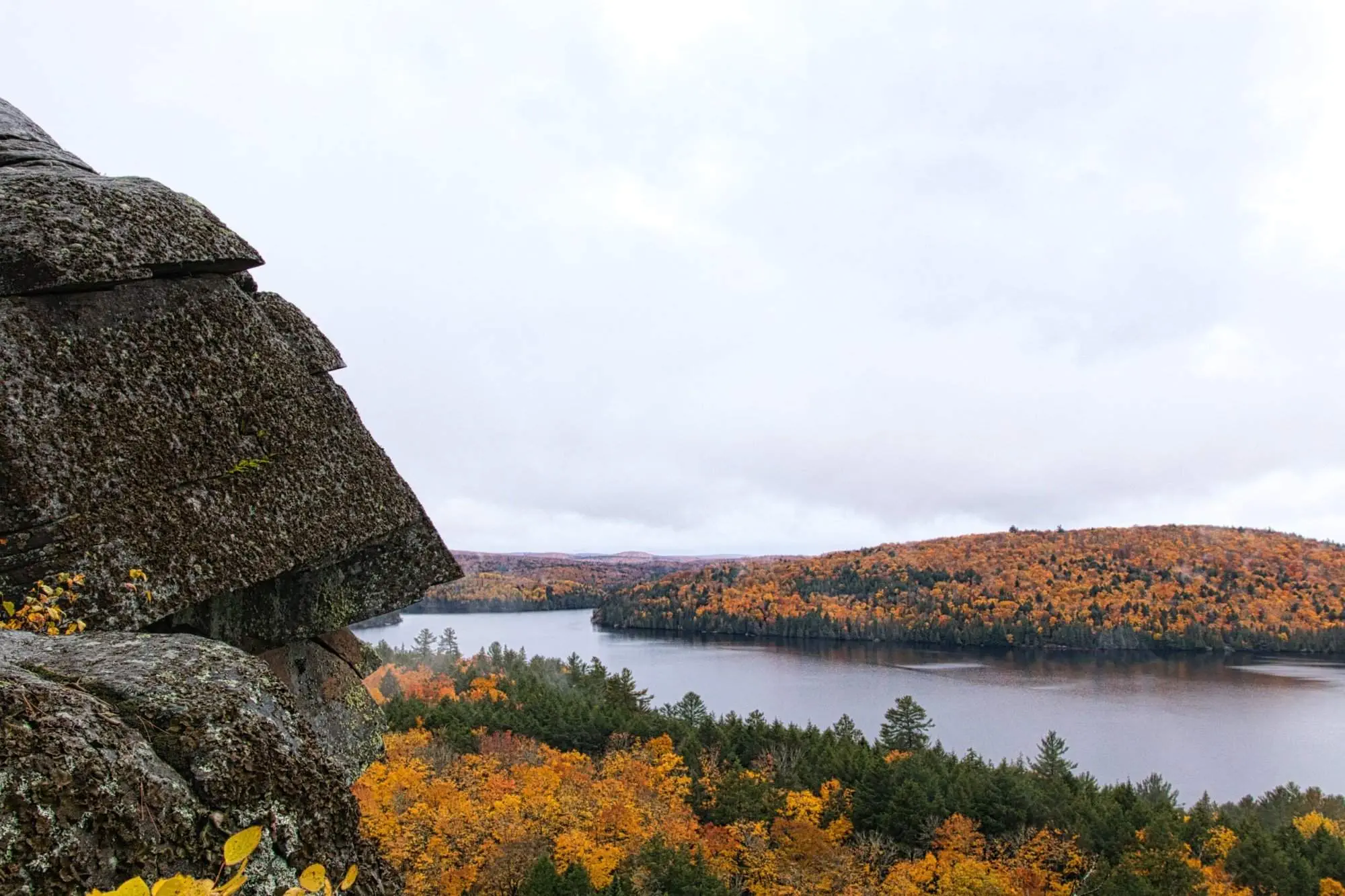 Southern Ontario is the ideal location for outdoor pursuits like canoeing and hiking and a terrific area to see Canadian wildlife like moose and bears.
This park also offers several beautiful beaches and excellent fishing during the visit to Ontario. Locals frequently camp at Algonquin Provincial Park since there are many beautiful rivers, lakes, and plant species to discover. 
The park has 19 interpretive paths, with distances between 0.62 and 7.21 miles and varying degrees of difficulty. Each route has a trail guide meant to present visitors to a certain era in Algonquin's ecological history.
9.1 Can you drive through Algonquin Park?
You do not require a permit to drive on Highway 60, a provincial highway. Whenever you come to a stop to use a park facility
10. Burlington
Along the coast of Lake Ontario, Burlington is about halfway between Niagara Falls and Toronto. 
Burlington is a lovely city that is sometimes disregarded. It has numerous renowned natural regions, delicious cuisine, stunning gardens, a flourishing art scene, and old architecture. 
This is one of the interesting places to go in Ontario. The latter comprises Spencer Smith Park, Mount Nemo Conservation Area, and the Niagara Escarpment, a UNESCO World Biosphere Reserve. 
The Brant Street Pier, a roughly 450-foot, S-shaped pier jutting out over Lake Ontario, and the storied Discovery Landing, a 14,200-square-foot iconic structure, are just two of its many distinctive attractions. 
It has an observatory with large, floor-to-ceiling windows that look out into the lovely Royal Centennial Pond.
11. Muskoka
Muskoka, a regional municipality in Central Ontario, Canada, offers tourists a wide range of enjoyable activities annually. There are so many stunning locations where you may pitch a tent or a cottage near the lake and spend the night.
There aren't many places in Canada more breathtaking to spend this season, and it's one of the greatest sites in Ontario to see the fall colors. 
Particularly in Muskoka, there are some of the wildest and most magnificent terrains, with countless stunning lakes near one another. 
In the province of Ontario, you must visit Santa's Village Family Entertainment Park, a major Muskoka destination for over 60 years.
11.1 Why is Lake Muskoka so popular?
Many people were initially drawn to Lake Muskoka by fishing, which is still a hugely popular activity on this shimmering, breathtakingly beautiful lake. In the past, the lake trout population was quite healthy. However, it started to decline in the 1970s.
12. Wasaga Beach
Wasaga Beach, a 14-kilometer beach that spans along the sparkling Nottawasaga Bay, is regarded as one of Ontario, Canada's top tourist sites. A pristine white sand beach, clear warm seas, and expansive mountain vistas await visitors.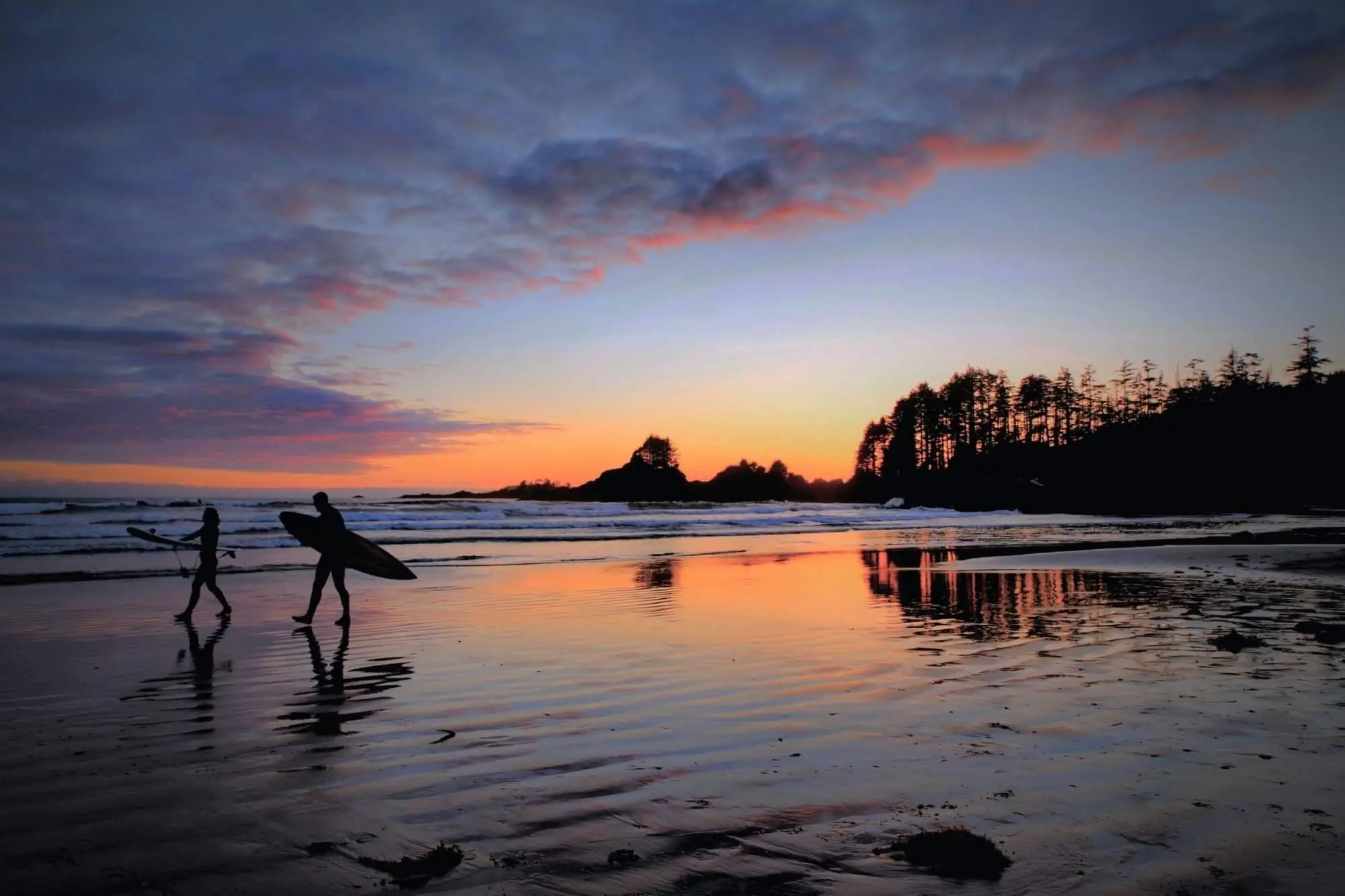 Wasaga Beach has a huge selection of top-notch dining and lodging alternatives. The recreation trail network is one of the best-kept secrets in the area. 
Scenic paths are ideal for snowmobile, cross-country skiing, mountain biking, and hiking. Thrilling water sports, including boating, jet-skiing, fishing, tubing, wakeboarding, kayaking, and waterskiing, are all available at Wasaga Beach. 
Skydiving above the beach offers thrill-seekers the chance to take its beauty from a singular vantage point. This is one of the interesting places to go in Ontario.
The beach is a component of Wasaga Beach Provincial Park, a park with 
pine-oak forests and 18 miles (30 kilometres) of bicycling and hiking paths. Deer and endangered birds, among other wildlife, are sure to get the attention of wildlife enthusiasts.
Wasaga Beach hosts cultural activities all year long. The Christmas parade, Wasaga Beach Blues Festival, and Kite Fest are some highlights. Come here to cross-country ski and snowshoe throughout the winter.
 Take advantage of Wasaga Beach's location as a gateway to well-known Ontario sites, including Blue Mountain Ski Resort and Collingwood Scenic Caves, and enjoy leisure, recreation, and adventure.
13. Blue Mountain
Ontario, Canada's The Blue Mountains, is a modest, endearing village alongside the glistening Nottawasaga Bay.
The autumn is when the Blue Mountain is most colourful, so take in the breathtaking views from the Summitview Pavillion or visit the Harvest Festival for some autumnal fun. 
This little village provides the ideal experience or activity for everyone, including children, groups of friends, and couples seeking a romantic break. 
The town's bike park, challenging mountain biking paths, and recently-powdered ski slopes are great for thrill-seekers. The bay provides many opportunities for water sports, including jet-skiing, paddle-boarding, kayaking, fishing, and sailing cruises. 
Unique shopping opportunities, mouthwatering waterfront cuisine, top-notch attractions, and magnificent views are all available to visitors.
13.1 What is the best time to visit the Blue Mountains?
The Blue Mountains are best visited when it is not bitterly cold or extremely hot, even though this area can be visited all year round. In other words, the spring months of September to October are the best for enjoying this location.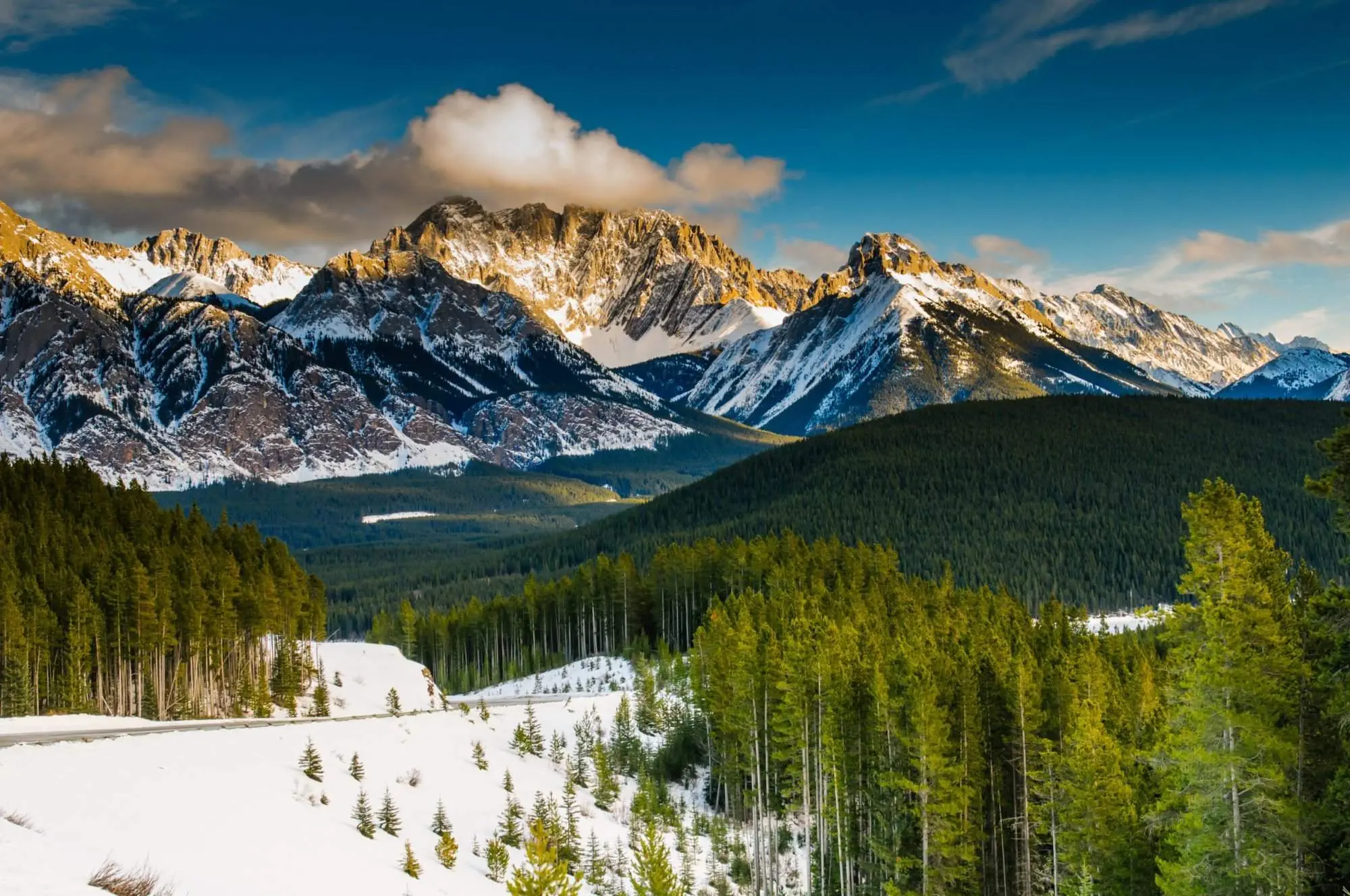 14. Kingston
Kingston, a little city on the magnificent Lake Ontario shoreline midway between Montreal and Toronto, is situated. 
This attractive historical city was first a French trade port, founded in 1673. Today, it is renowned for its rich past and culture and serves as a gateway to the famed 1000 Islands and the Rideau Canal, both of which have been recognized by UNESCO. 
Hendry House, Westbourne Terrace, and Parkview House are just a few of downtown Kingston's amazing old limestone structures, often known as the Limestone City.
Additionally, the city is home to several museums, art galleries, and historic locations, including Fort Henry, utilized in the War of 1812. 2013 saw the closure of Kingston Penitentiary, a maximum security facility.
The notorious jail is now accessible to the general public. Some of Canada's most violent offenders were reputed to be detained there. Visit one of the oldest jails in the nation to get a glimpse of what life was like inside.
The Grand Theatre is a historical property and one of the city's best theatres. Since its opening in 1902, the theatre has hosted countless performances. 
Since 1964, the theatre has served as the home of the Kingston Symphony. The main theatre features a stage, an orchestra pit, and 776 seats. A black box theatre with 105 seats is also present.
Numerous well-known artists, including Sandra Bernhardt, Nellie Melba, and Eddie Palmieri, have also performed there. This is one of the interesting places to go in Ontario.
15. Ouimet Canyon
In Dorion, Ontario, there is a sizable gorge called Ouimet Canyon. The valley is 2 km long, 150 metres broad, and 100 metres deep. Three Arctic plant species thrive there because the canyon is so cold and deep. 
Around the canyon, a 7.77 square kilometre area is protected by Ouimet Canyon Provincial Park, another interesting wilderness location. 
A lovely, flat trail and boardwalk link the parking lot to two observation platforms, making it simple to get some of the greatest vistas. This is one of the interesting places to go in Ontario.
Eagle Canyon Adventures is a theme park that makes the most of the spectacular geography to offer exhilarating, adrenaline-pumping enjoyment. 
The equally magnificent Eagle Canyon is about a 15-minute drive to the east. There are no facilities for camping here because it is a day-use park. There are restrooms provided and picnic sites close to the parking area. From mid-May through mid-October, the park is open.
Another characteristic of the canyon is the "Indian Head." The second observation deck offers a good view of this huge granite column. There is a tale about the Indian Head. 
There isn't much hiking in this park since the valley bottom is off-limits to tourists due to the delicate plant life there. There used to be several paths in the park, but only one is currently maintained.
15.1 Is Ouimet Canyon free?
No fee to visit Ouimet Canyon, but there was a cash donation box.
Closing Thoughts
Hopefully, the knowledge above and ensure you have a delightful time. We highly recommended that you visit these above-mentioned places. Other high-rated honourable mentions are; Lake Superior, thunder bay, Ottawa river, parliament hill, lake Erie and the other Unesco world heritage site.
So what are you waiting for? Visit today!
Suggested Reads: 
10 Badass Bike Shops Toronto for Bike Enthusiasts
12 Best Tobermory Cottages To Stay Right Now