Do you want to apply to the best colleges in Ontario but are not sure which one to choose? 
Ontario is the most populous province of Canada, with a percentage of 40% Canadians living there. Being the most populous, Ontario is also the most popular province among international students. Students worldwide come to pursue their education from some of the best colleges in Ontario.
Ontario is home to well-established & renowned universities as well as a few specialist colleges. The province has over 20 colleges that offer over 1000 study programs, all of which are job-oriented. Various study programs offered by colleges in Ontario include health care, tourism, engineering, marketing, business administration, animation & much more.
Choosing your preferred course from a wide range of over 24 colleges and 900 study programs can be overwhelming. This is why we have curated a list of the six best colleges in Ontario in this article. It will guide you through everything you need to know.
Top Reasons To Study in Ontario
Here are a few reasons why students choose Ontario to pursue their education and why you should.
I. Home to the Best Universities in Canada
The Canadian education system is known to all for its top-notch quality. And out of the top 10 Canadian Universities, Ontario is home to 5. It wouldn't be wrong to say that Ontario is the educational hub of Canada.
II. Graduate within a Budget
Most people can't afford quality education because of poor financial conditions. But with Ontario's colleges, you are miles away from that stress. Most of the study programs in the colleges of Ontario have comparatively lower tuition costs than other colleges. Additionally, aiding your financial burden, most colleges offer yearly scholarships & grants.
III. Programs For Everyone
Having over 1000 study programs ensures that there is certainly one course that would be right for you. Whether you are a creative person or technical, there is something for everyone. There are colleges offering courses that fit right with what you are good at.
IV. Career Building
The job growth rate of Ontario is booming over recent years. So getting an education from the best colleges in Ontario offers bright & better scopes for career building.
Now coming back to your guide, below we have listed the six best colleges in Ontario. We have provided all the necessary information regarding the courses & other amenities the colleges offer.
Speaking of studying in Ontario, this guide to Ontario might help you know the place better.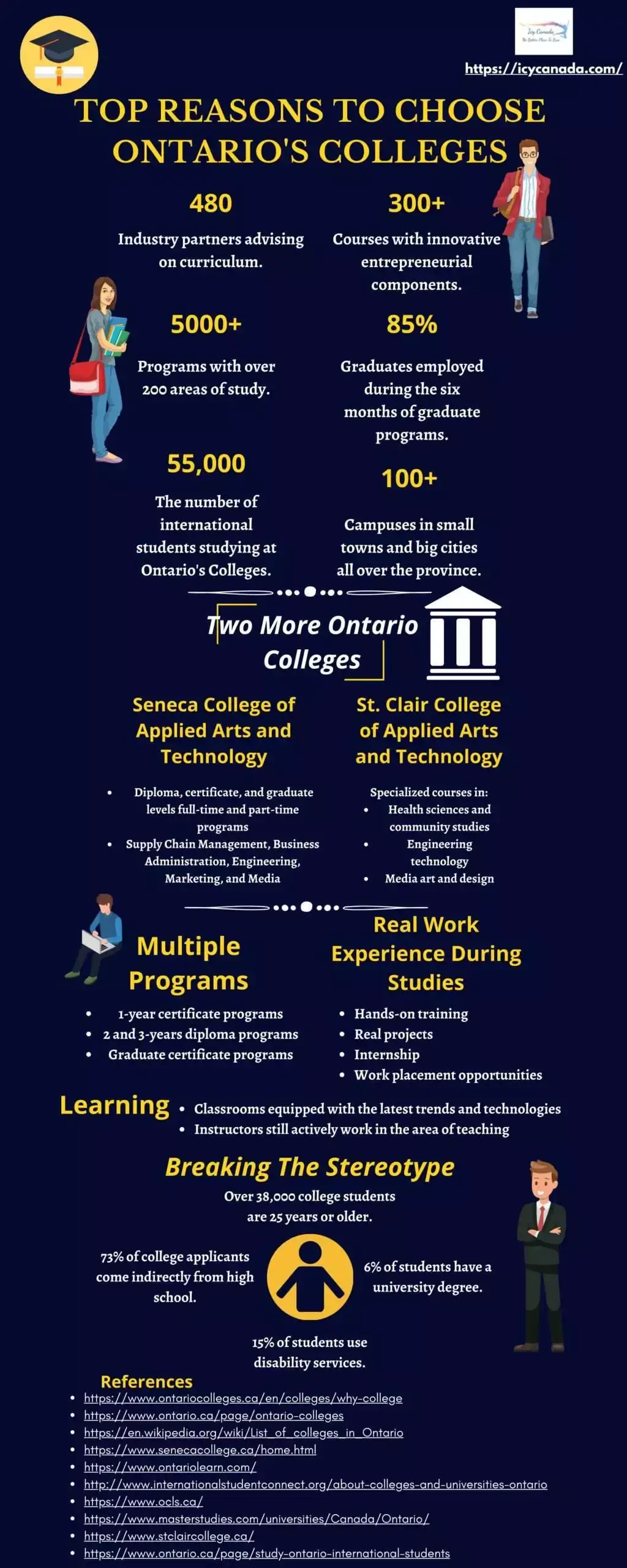 6 Best Colleges in Ontario
1. Northern College
Address: 4715 Highway 101 East, South Porcupine might help you know the place better.
Motto: Your College, Your Community
Website: www.northernc.on.ca
The Northern College of Applied Arts & Technology is a public college in Northern Ontario with four campuses. The other three campuses are located in Kirkland Lake, Moosonee, & Haileybury.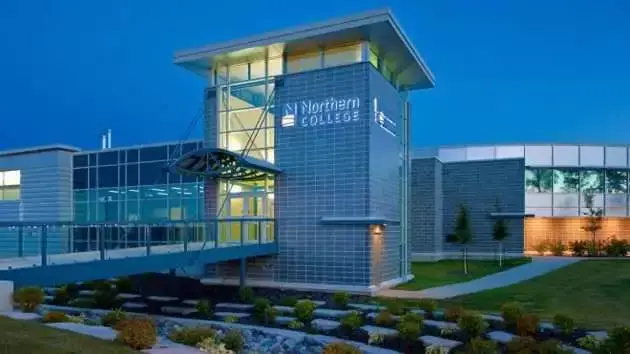 The college was established in the year 1967, back when Ontario's college system was formed. Initially, the institution established more such foundations offering career & job-oriented certificates & diploma courses.
The college's first campus was built in Kirkland Lake, later followed by Timmins, Haileybury & Moosonee. The institution offers an open space for learning & exploring your best choices. It provides you with a wide range of learning paths from human services, healthcare, business to trades & technology.
The Timmins (Porcupine) campus is known for its excellence in trade & technology. The campus is the perfect blend of rural & urban space. You will have all the amenities of a big city, yet there is a small town touch of Northern Ontario.
Along with offering over thirty-degree programs, Northern College also offers a career entrance & post-secondary preparation program. This is to help you get through your choice of course.
2. Algonquin College
Address: 1385 Woodroffe Ave, Nepean, Ontario
Motto: Your Goals, Your Career, Your College
Website: www.algonquincollege.com
The Algonquin College of Applied Arts & Technology is a public college based in Ontario. The college has three campuses, all located in Ontario. One primary campus is located in Ottawa, whereas the other two secondary campuses are located in Perth & Pembroke.
Algonquin College offers over 300 programs, which include degrees & diploma certificates. The college courses range from Health Sciences, Language, Media & Communication, Business, Engineering & Architecture, and many more. In total, the college offers courses under 15 different categories or departments.
The core of the college lies in three of its philosophy: Mission, Vision & Values. The mission of the college is to transform the hopes & dreams of the students into success. Their vision is to make their students global leaders & provide experiential learning.
The classroom environment of this college shapes the way of students further into life. The college primarily focuses on providing students with hands-on skills & training them for the working world. And all three campuses provide students with three different lifestyles.
As per international students statistics, the Ottawa campus is one of the best colleges in Ontario for skill development.
3. Humber College Institute of Learning and Advanced Learning
Address: 205 Humber College Blvd, Etobicoke, Ontario
Motto: We are Humber
Website: Humber.ca
The next college on the best colleges in Ontario is the Humber College located in Urban Ontario. The college has three main campuses in Ontario, including the Humber North Campus, followed by the Lakeshore Campus & the Humber Orangeville.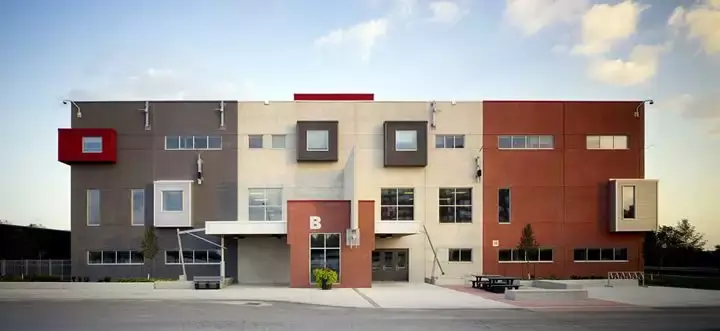 The Humber Institute of Technology & Advanced Learning was founded in 1967. The North Campus is located in Northwest Toronto, formerly known as Etobicoke. The campus offers living accommodation for nearly 1,000 students and provides both part-time & full-time programs.
Humber offers a broad range of programs, including diplomas, bachelor's degrees, certificate courses & postgraduate degrees. It offers over 150 study programs divided among 40 fields of study such as Marketing, Design, Journalism, Business, Tourism, Healthcare & more. Most of these courses come along with a practical component like an internship.
Apart from the 40 fields of study or departments, Humber provides Bridge Training programs in engineering & information technology. Additionally, the college offers academic resources & advisors.
The college offers campus residence for students in two of its campuses, the Lakeshore Campus & the North Campus.
4. St. Lawrence College
Address: 100 Portsmouth Ave, Kingston, Ontario
Motto: Hello Future
Website: stlawrencecollege.ca
Next on the list of best colleges in Ontario is Saint Lawrence College, located in Kingston, Ontario. St. Lawrence is a public college of Applied Arts & Technology. 
St. Lawrence was founded in 1968 as the first campus in the Cornwall location. There are two other campuses in Ontario, Kingston & Eastern Ontario (popularly known as Brockville). The campus at Kingston was established in September 1969.
Originally the campus at Brockville, founded in 1970, was proposed to be the main campus. However, later the Kingston campus was elected as the main campus. The institute offers over 100 academic programs as both full-time & part-time.
The college believes in providing a platform to help students achieve their dreams. This is why along with on-campus programs, the college also offers online education. The institute has an Academic Support Centre to help students with skill development by providing tutoring lessons & free resources.
For international students, the college has a separate International Students Resource department. This is to help students from abroad with finance, housing, and health.
Recent Statistics:
Statistical reports suggest that about 86% of St. Lawrence College graduates are employed within six months of their graduation.
5. Cambrian College
Address: 1400 Barry Downe Road, Sudbury, Ontario
Motto: Responsibility With Excellence
Website: www.cambriancollege.ca
The following college on the list of best colleges in Ontario is the Cambrian College in Downe Road, Sudbury. Cambrian is a public college of applied arts & technology.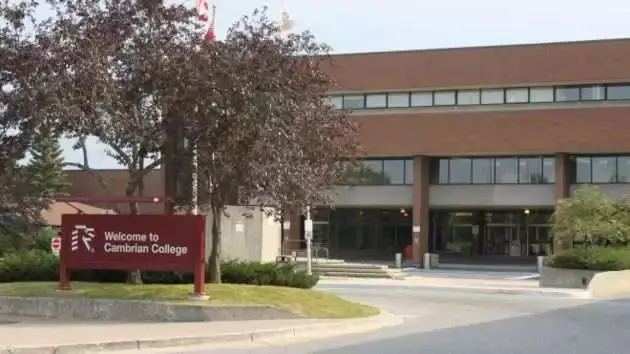 Since the year of its establishment, the college has been a leading post-secondary institution in Ontario. With over 80 full-time & 900 part-time academic courses & programs, the Cambrian College is spread across three campuses in Ontario, namely Sudbury, Little Current, Espanola.
The institution offers a broad range of academic services on campus to provide the best support & assistance. These services include an on-site bookstore, central library, e-learning facilities, academic success advisors, a test center, & a learning center.
The campus life of students is quite amazing. It offers a whole lot of places to eat, live & make most of your time. The college offers on-campus residence to students, along with an athletics center for those looking to stay fit.
6. Niagara College Canada, Welland
Address: 100 Niagara College Blvd, Welland, Ontario
Motto: Applied Dreams
Website: niagaracollege.ca
At last on the list of best colleges in Ontario, we have Niagara College of Applied Arts & Technology in Southern Ontario.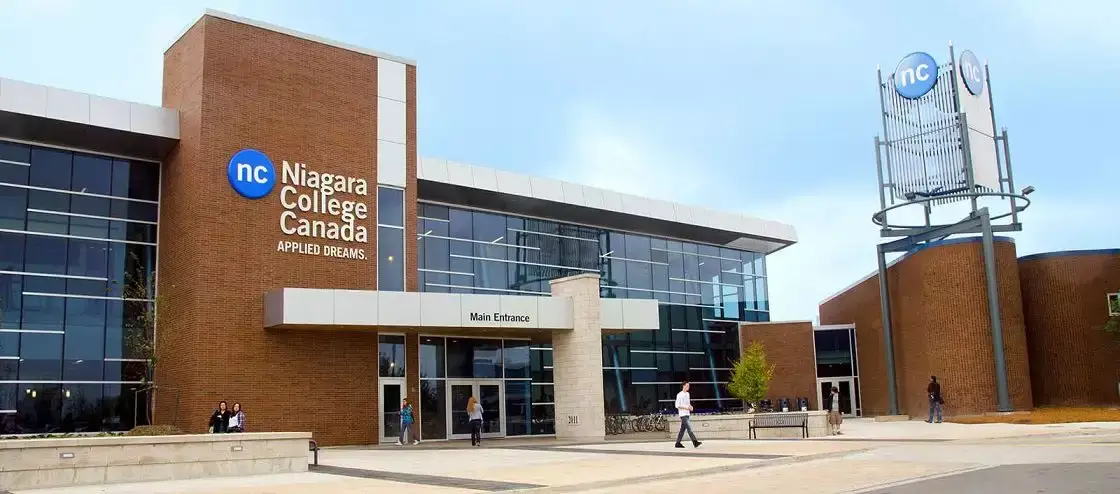 Niagara College is a public college in Southern Ontario, established in 1967. Currently, the college has three campuses, the Welland Campus, the Niagara-on-the-lake Campus, and the Ta'if Campus. The college is home to over 9000+ full-time students, including 4000 international students.
The college offers over 100 post-secondary programs, offering bachelor's degrees, diplomas, & part-time certificate courses. Together, all three campuses provide top-notch hands-on learning experiences as well as research opportunities.
The college also offers a few vocational & general interest academic programs along with the major educational programs. The institute aims to provide an unparalleled teaching & learning environment.
So, these are the six best colleges in Ontario anyone can apply for. Colleges in Ontario focuses on providing the students everything they will need to cope with the working world. They do not just provide education but experiences to survive in the world.
Mostly, the best colleges in Ontario have a broad range of innovative & exciting programs. Whether you are looking for a full-time course or a course to finish up soon and start earning, colleges in Ontario have every program designed.
Make sure you go through each of the colleges mentioned above and see for yourself which one serves your interests the best.
As an Amazon Associate, Icy Canada earns from qualifying purchases.