In the 2016 U.S Presidential Campaign, the then-Republican candidate and current U.S President Donald Trump promised to put America and Americans first under his "Make America Great Again" campaign slogan.
One of his campaign promises was to preserve the American job market from foreign workers, so he proposed his plan to restrict the H-1B Visa program that the U.S offers for foreign workers. Since then, there has been a lot of uncertainty lingering over the heads of thousands of existing H-1B workers living in the U.S.
And, now recently the U.S Government under President Donald Trump under the initiative "Buy American, Hire American" has officially suspended the validity of all categories of visa holders like J, L, and H-1B visa holders citing American unemployment and the COVID 19 pandemic, leaving thousands of workers who work in the U.S are now indecisively stuck.
The H-1B Visa problem is complicated than we think. Canada has a different immigration program than the U.S under which skilled laborers are hired, so it is really necessary for you to understand what H-1B really means in the U.S, to find its equivalent in Canada.
What is H-1B?
The H-1B visa is one of the categories of Visas provided to foreign nationals to work for U.S based employers in specialty occupations for a particular period of time. An individual himself/herself with required eligibility criteria cannot apply themselves to work in the U.S. They can be only sponsored by their employer in the U.S. This is one of the important points about the H-1B visa application. You can be only sponsored and cannot apply!
The USCIS (United States Citizenship and Immigration Service) has set up a quota or a cap of 65,000 applications for Bachelor's Degree holders; 20,000 applications for Master's Degree holders and exempts those who work for the government and non-profit organizations, from the quota.
Eligibility for visa sponsorship
To be sponsored by your employer for an H-1B visa, you need to have specialized knowledge or a degree or required years of work experience in a specialty occupation. Also, your employer must state the reason why he hires you and must prove that the position requires a specialized laborer under the Labor Condition Application.
Duration of stay
The H-1B visa holders have normally a duration of 3 years, which can be extended to 6 years. An H-1B visa holder who has lived 6 years completely in the U.S is allowed to apply for an I-140 immigrant petition or popularly known as the green card that grants them to permanently in the U.S.
How to work in Canada?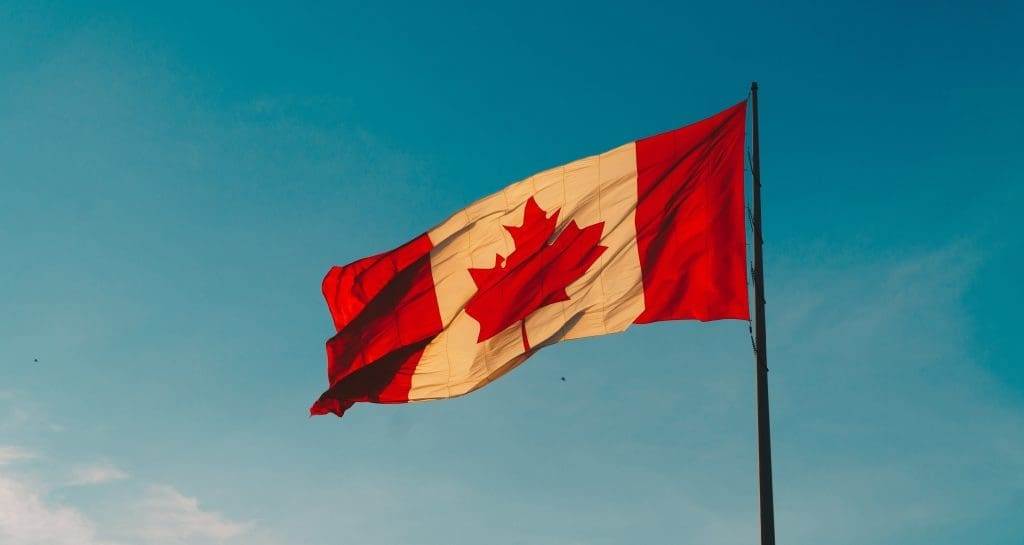 Canada is one of the most liberal countries in the world that is now actively looking out for talented and competitive individuals around the world to attract them to work in Canada. Luckily, the complications going on in the U.S have given the time for Canada to attract all those talents bleeding out from the U.S economy to absorb them into their own stream. Many U.S based employers even are now considering their operations better move to Canada. Canada now wants to create a new Silicon Valley of its own.
Back in Canada, the laws governing immigration and employment of foreign nationals are different. At this time Canada has opened itself up for H-1B workers in the U.S to come and work in Canada. Like the H-1B, J-1, F-1 visas the U.S offers, Canada also offers visas for each category of individuals.
If you want to work in Canada, there is more than one way through which you can choose to work in Canada. Either you can choose the Express Entry program or the most popular one right now is the Global Talent Stream program.
The Global Talent Stream program allows Canadian employers to hire highly skilled global talents to work for them. Work permit applications done through the GTS will be processed within two weeks. Just like the H-1B visa program, only an employer can apply to find the necessary talents that require his business. And, make sure you are eligible for the list of occupations that they have mentioned.
The employer has to file for a Labour Market Impact Assessment application mentioning the position in his firm, skills that the position demands, and proof that he was not able to find Canadians to fill the position. If your employer receives a positive on his LMIA application he will proceed to offer the job for you.
Below, I have curated a list of Top 10 companies that the H-1B workers can try for in Canada.
10 companies in Canada that H-1B workers can apply for.
MobSquad – Vancouver, British Columbia
If you are an H-1B visa holder, then this is the company you should definitely check out for in Canada. MobSquad was featured in Financial Times, The Washington Post, Gothamist, Economic Times, and many other news outlets as an example of how an opportunity was derived from a challenge.
MobSquad solves the growing technology talent shortage faced by US-based start-ups and scale-ups by enabling our clients to quickly have a turnkey "virtual" Canadian subsidiary, where Canadian-based software engineers serve our clients individually on an exclusive basis. It's a B-Certificate corporation and is ranked the third-best place to work in Canada.
MobSquad is one of the many companies in Canada that are leading Canada's dream to become a global tech hub in the upcoming years.
The CEO of the company Irhan Rawji, says that now they are receiving 30,000 applications online most of them who are H-1B visa holders, and also says that they are now busier than ever. So, check this out, do not waste your time.
Job openings: Senior Software engineer, Data engineer, Machine learning engineer.
TAL Group – Toronto, Ontario
TAL Group is a Canada-based job recruitment and talent management firm that recruits talents for various companies around the world. The company is based in Toronto, Ontario. Along with recruiting global talents for global companies, they also have positions in their company that you as a skilled worker will definitely satisfy.
The company mainly recruits Tech companies, Pharmaceutical companies, and Sales and service companies.
Job openings: Software Developers, Database developers, Executive managers, Clinical pharmacists, Sales specialists.
Ample Organics – Toronto, Ontario
Ample Organics is a software company building technology to support cannabis businesses. It builds reliable software solutions for cannabis producers, distributors and sellers across Canada, to manage their business legally within the framework. Since the legalization of Cannabis in Canada, there was a need for a particular solution to manage the data regarding businesses of cannabis in the country. And, Ample Organics fill the demand gap.
It is named as LinkedIn Top Startups in 2019, also it won Deloitte's Technology Fast 50 program in 2019
Job openings: Senior Full-stack developer, DevOps Engineer, Senior Product Engineer.
Swift Medical – Toronto, Ontario 
Swift Medical is a company that provides digital healthcare services to its customers. It has set up the most comprehensive digital wound care solution. The technology they built allows patients and practitioners to have a smooth interface between them. This is one of the most innovative startups in the field if you are looking for a different experience.
Job openings: Technical Architect, Account Executive, Software Engineer.
Ritual – Toronto, Ontario
This Toronto-based company has developed a mobile ordering app of its own that connects local restaurants, cafes, and customers for easy pickup and pay services. Ritual was one of the top companies ranked in LinkedIn Top Startups 2019 in Canada.
Job openings: Bilingual Account Manager, Talent Acquisition Manager, Senior iOS Software Engineer, Data Engineer for Fraud Prevention.
Activision- Vancouver, British Columbia
 Activision is an American-based game publishing company. This is their shop Canada. If you have relevant skills in gaming and coding, try your shot at Activision Canada.
Job openings: Senior Software engineer.
Drop – Toronto, Ontario
Drop is a consumer services company that provides gift cards through a mobile app to its customers whenever they make purchases they make at the selected business outlets that are partnered with Drop. In and the U.S, it's now becoming popular among Millenials.  It was ranked in LinkedIn's Top Startups 2019 list in Canada.
Job opening: Analytical Engineers, Developers.
Dialogue – Montreal, Quebec
Dialogue is a Canada-based startup company that links healthcare providers with those who need a diagnosis and medical care. Dialogue hosts a number of professionals from doctors, nurses, therapists, nutritionists, and much more. Dialogue is a place where you can find all your medical needs in one place.
Job openings: Healthcare professionals, Sales, and Marketing executives.
Royal Bank of Canada – Toronto, Ontario
The Royal Bank of Canada is a Canadian multinational financial service company. The company was named one of the best places to work in Canada. RBC is a well-established company in Canada that employs thousands of employers in a variety of skilled occupations. Being an H-1B worker, you must definitely try your luck here, and if you are selected this is one of the most reputable corporations to work for in Canada.
Job openings: Banking advisors, Client advisors, Business account manage
The Canadian Dream…
Canada has set itself a goal of letting in one million immigrants in a span of three years between 2017 and 2020. Canada has gradually increased the number of immigrants every year from 300,000 in 2017 to 310,000 in 2018, to 330,000 in 2019, and 340,000 in 2020. Canada is actively taking steps to increase its immigration rate every year.
Canada has also other plans. It is in the process of making a Silicon Valley of its own. Toronto, one of the major cities in Canada is the potential candidate for Canada to be the next Silicon Valley. The city has generated almost 30,000 jobs, higher than in San Fransisco or Silicon Valley, and generates $25 billion annually. Along with favorable immigration policies that attract globally high-skilled talents, government policies are favorable and supportive very much to entrepreneurs and startups.
So, with the current political situation in the U.S where it's becoming more and more xenophobic towards outsiders even those that come to work for the country's benefit, Canada is actively seeking to open up ways through which they can attract the best from the world. Canada has become a ray of hope for everyone.
The United States national ethos "The American Dream" seems to be taking its last breath and many worry it will soon die. But now, the country above the United States on the map is promising everyone is promising a better alternative, The Canadian Dream.
Why Try Out Rocket.net - IcyCanada's recommended hosting provider