Which are the best spas in Ottawa? Are you looking for some glow up, and you are in Ottawa? No worries, we have a list of the 15 Spas, Ottawa.
The way cleaning is necessary for your house to remain hygienic and beautiful in the same way spa is needed for you to stay glowing and stress-free. The climate of Ottawa is cold and dry, which makes your skin and hair dull. These are the reason why visiting a spa regularly is vital for you.
There are lots of spa in Ottawa, which makes it difficult for you to make a decision or opting the right spa. Say goodbye to your worries as we have shortlisted the best spas in Ottawa.
15 Best Spas in Ottawa!
1. The Upkeep Shoppe
You definitely wouldn't want to miss visiting this award-winning spa, located at the heart of Ottawa. The fact that this spa uses all-natural products makes it an appealing spa in Ottawa. Their naturopathic spa treatment is very effective, and you can also buy their eco-certified products.
The Upkeep Shoppe welcomes all genders and is a one-stop spot for all kinds of skin treatments, massage, beauty treatments like waxing and pedicures, etc.
2. Holtz Spa, Ottawa
Holtz Spa is the place where you can run to after a week of hard work. The spa offers exceptional services in holistic therapies for you and is dedicated to creating a balance between mind, body, and soul through massage and therapies.
This spa is not just for releasing stress. There's more to do like you can enjoy your snack while taking the massage and enjoying the esthetics. They have a long list of services provided by them. You can visit their official website here.
3. Renu Spa Urban Retreat
Renu's Spa focuses on working on the root cause of your problems and then providing massages based on the problem areas. This spa offers over ten different types of massages to its guests.
Apart from massages, you can also avail of some basic spa services like hair removal, facials, body treatments, and pedicures, etc. This spa has two branches in downtown Ottawa and Wellington Street. It is open for both men and women. These spas are slightly expensive, but the experience is worth the price.
4. Nordik Spa, Ottawa
Nordik Spa is located in Chelsea, Ottawa. The location of this spa has the potential of blowing your mind, as it is located amidst nature and is so huge that it makes itself the largest nature spa in North America.
This spa is like a weekend gateway for you, as there are ten outdoor baths, nine saunas, massage pavilions, numerous delicacies, and lots more for your complete relaxation.
Best known for its thermo-therapy, this spa also offers accommodation. This is the best Ottawa spa if you love nature. What else could you ask for?
5. Au Naturel Spa, Ottawa
This spa in Ottawa is known for its premium services. It is not just a spa; it's a place where you can spend a whole week! Let's explore this incredible spa in Ottawa.
Apart from offering the best quality essential spa services, Au Naturel Spa offers accommodation choices, in-room dining, jazz lounge, golf areas, saltwater pools, hot tub, and events like conferences and weddings, etc. The spa offers discounts and combo packages that you cannot deny.
6. The Retreat & Spa at Strathmere
This spa in Ottawa is another weekend getaway for you. The world-class spa services here will provide you a different experience. This spa is worth all your time and money because a relaxing, luxurious weekend is something we all deserve.
The Retreat Spa is located in Strathmere and is only an hour's drive away from Ottawa. You can stay overnight at this resort spa and witness weddings, corporate events, and several other celebrations and events.
They have a special retreat café and girls getaway packages. After getting your luxurious massage, you can have delicious foods and enjoy your drinks by the bonfire.
7. York Street Spa
Located in the heart of Byward Market, this spa in Ottawa is quite a popular one. They offer a full range of basic services like hair, nail, facial, massage, etc. But their uniqueness lies in tech-savvy services like infrared sauna and laser hair removal.
The spa etiquettes and customized services are just fantastic, as some talented artists perform it. They also have a store in the front where you can buy their environment-friendly products.
8. The retreat and spa Ottawa
Several spas go by this name, but don't get confused, as it is one of the most renowned spas located in the sub-urban skirts of Ottawa. Get yourself out of the restless city and enjoy some time in the tranquility of the spa.
The retreat spa is known for its specialized services in skin care and treatment. Apart from that, they also offer services like hair designing, bridal makeup, make artistry, micro-blading, men care, massage, etc.
9. Spa Junkie
Spa Junkie beauty bar and boutique is a unique but attractive spa in Ottawa. They specialize in skin treatment as they offer full body waxing, micro-blading, and micro-dermabrasion, which is a technique used for making your skin baby soft.
Apart from services, they do have a boutique that offers products like handbags, jewelry, perfumes, etc. Their talented staff and trendy attitude, and discounts have the potential of making you happier than before.
10. Matnik Spa Therapy
Matnik Spa Therapy specializes in facial treatments, as they have an extensive menu dedicated to skincare. This oasis of tranquility has various other services for both men and women. They offer Massage, Electrolysis, Sugaring, Reflexology, and Pedicure.
The multi-lingual staff here does fantastic work, and the aesthetics of the place is likely to make you forget about all your stress and worries. Book an appointment and get early bird discounts and offers from this spa.
11. Spotlight Hair and Spa
As the name suggests, this spa in Ottawa specializes in their services in hair and essential spa services like body care, skin treatment, makeup, epilation, eyebrow extension, etc. They are hair salon and spa rolled into one.
Their hospitality and years of presence have brought them in the popular category of spas in Ottawa, and you can get your meal from their menu while you relax at their service. Their talented artists and beautiful ambiance is the reason why they have a loyal customer base.
12. Vivianna Day Spa, Ottawa
This spa is quite old but famous in the city of Ottawa, as its presence has seen over 17 years. Vivianna day spa is one relaxing spa to visit with your friends and loved ones.
Their services include body care, hand and foot care, massage, facials, and waxing. You can enjoy a drink with snacks while the spa session is going on. The spa focuses on full relaxation and healing for you and the best hospitality for guests who have come along with you.
13. Ezcape Spa & Wellness
Another heavenly spa in Ottawa offers a diverse range of services from a spa, salon to wellness, and also has a boutique. Ezcape Spa and wellness is a one-stop destination for you, as you will get everything under a roof.
The spa segment offers the primary body and skincare treatments, in the salon segment, they specialize in hair care and treatment, both for men and women. In the wellness department, you can avail of services like psychotherapists, massage therapists, holistic nutrition, and many more.
14. Trending Nails Spa
As the name suggests, this spa is dedicated to nails care. This not your regular spa but offers everything you can do with your nails. They have an extensive list of services like nail art, acrylic fill, shellac gel full set, etc.
Apart from that, you will get five different types of manicures and four types of pedicures. They also offer services for kids.  So, bring your kids along and have a fun day here at Trending nails spa, because getting your nails done can bring the same level of happiness as a tub of ice-cream does.
15. The Ten Spot
The Ten Spot is a trendy brand with several franchise outlets present in Canada. Here, you will get a luxurious experience in nail services, skincare, great brow, and lashes treatment, and waxing, and laser treatment.
This brand doesn't just offer services but also has products in the skincare range, manicure and pedicure-kits, and they run a school for imparting their skills and knowledge.
As you have gone through the list of 15 best spas in Ottawa, there are places and events to witness in and around Ottawa, which you can check here! And after you get tired from sightseeing, you can always visit the spas for relaxation.
The best kind of experience can be gained in the resort spas as you don't have to head home after your massage. Instead, you get to stay overnight and have a full weekend of relaxation. But if you are short on time, then there are many other spas which we have listed for you.
So, without wasting any more time, please book an appointment for yourself and bring your friends along, and enjoy a day of relaxation and peace, because you deserve it!
This was an article on '15 Best Spas in Ottawa'; if you have anything more to add, please feel free to share your thoughts with us!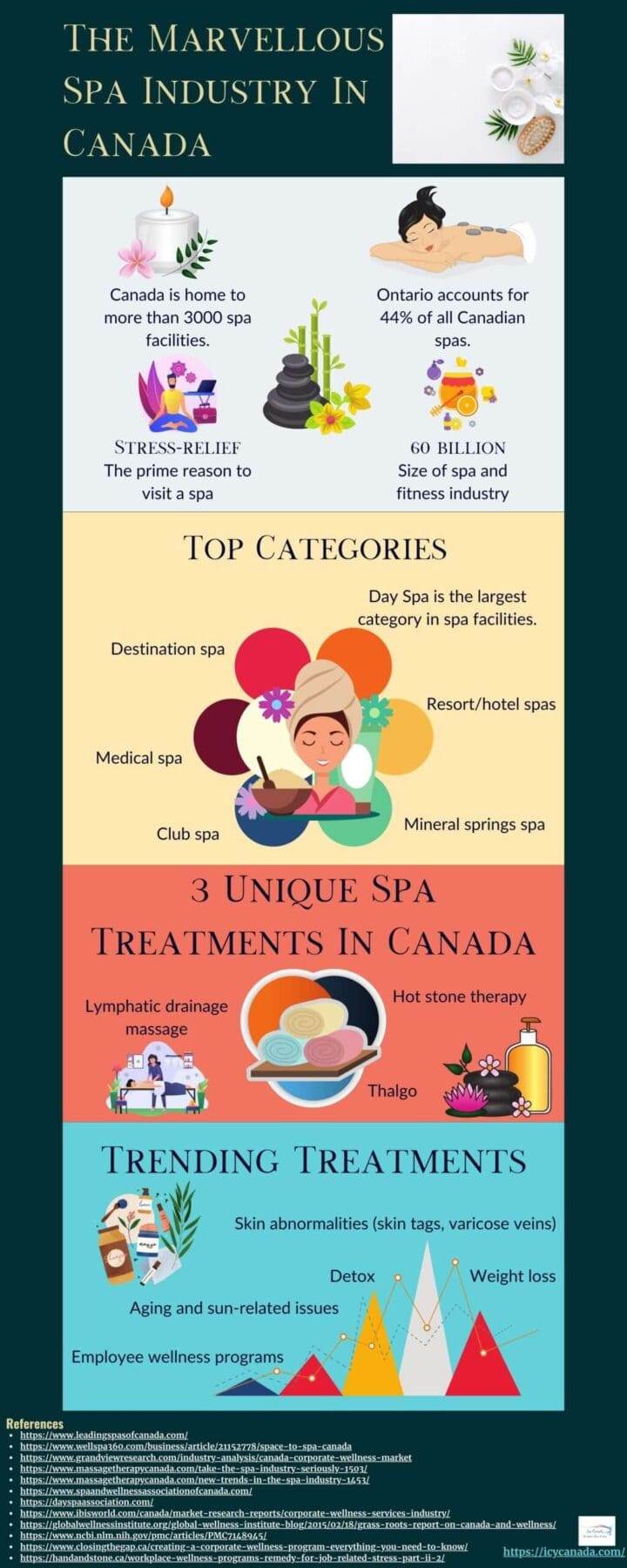 Why Try Out Rocket.net - IcyCanada's recommended hosting provider