Craving Chinese? Make these super delicious spring rolls recipes that are healthy at the same time.
Chinese spring rolls recipes are a popular appetizer and a favorite of many Asians. It is pretty common to find these in Asian countries, whether you're eating in a high-end restaurant or a food court, a small café, or a hawker shop.
This Chinese savory snack is made by rolling a pastry sheet with vegetables and frying it. It is filled with spring vegetables such as cabbage, spring onions, and carrots.
A crisp spring roll is filled with lightly seasoned crunchy vegetables and sometimes even meat. Their name comes from the fact that traditionally they were made with spring vegetables during the spring festival.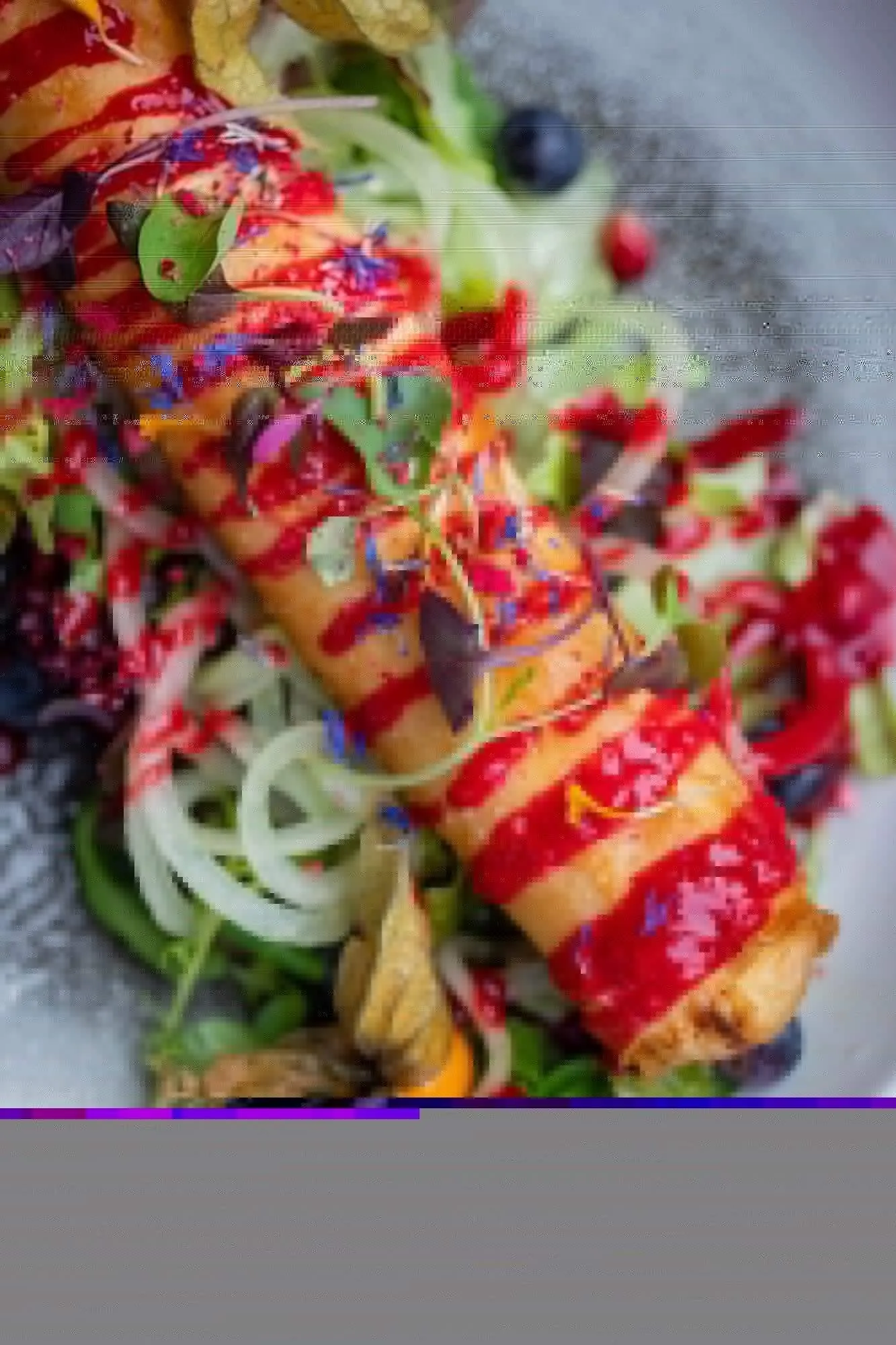 In almost every Asian country, this centuries-old Chinese snack is a popular snack. These rolls are made in various countries today in numerous variations.
Some spring rolls are made with vegetables along with meat or eggs. Some recipes don't even need to be cooked, while others are sweet.
However, in Chinese restaurants and cafes, vegetable spring rolls made from frozen spring roll wrappers are extremely popular. The vegetarian version is also vegan in a lot of places for some reason.
These are served along with various kinds of sauces depending on the country. Discover the best ways to make spring rolls recipe in this post below.
Spring Rolls Recipe
1. Fresh Spring Rolls Recipe With Peanut Dipping Sauce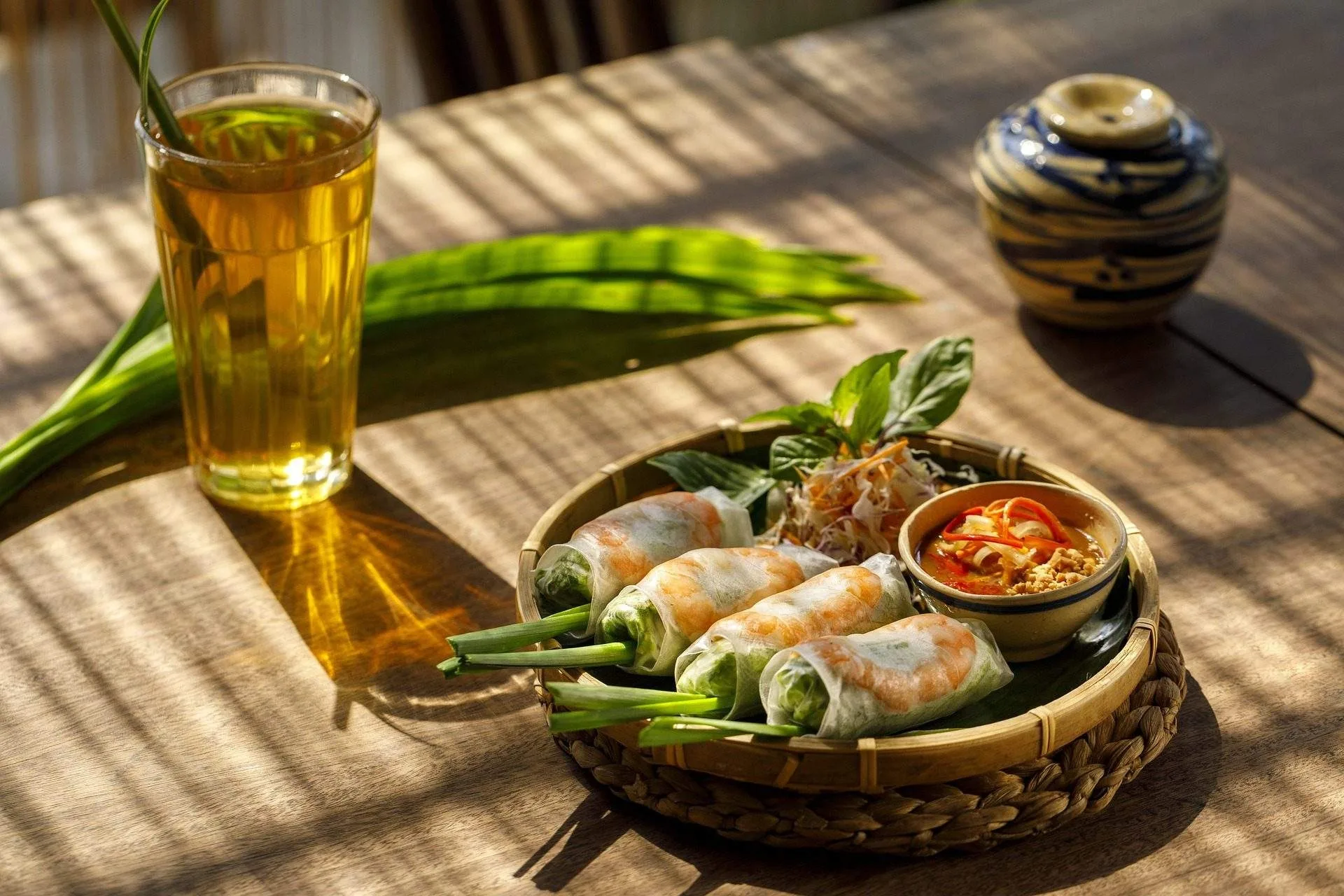 Make a fresh spring rolls recipe in just under 40 minutes by following this wonderful recipe.
Fresh Spring Roll Ingredients
1 package spring roll rice wrappers
1 package of vermicelli rice noodles
2 mangos
1 large carrot
1 large cucumber
1 pound small, cooked shrimp or chicken
1 bunch of fresh mint leaves
1 bunch of fresh basil leaves
1 bunch of fresh cilantro
For the Peanut Sauce:
3/4 cup sweet chili sauce
1/3 cup of smooth or crunchy peanut butter
1/2 teaspoon low-sodium soy sauce
1/2 teaspoon hoisin sauce
How to Make
1. Begin by dipping the spring roll wrapper in water. To do this, take a shallow bowl or a pie pan and add an inch of water. Then dip the rice paper wrappers in it.
2. Dip one rice wrapper at a time to avoid sticking. Just let it sit for about 10 to 15 seconds in the water and transfer it to a chopping board or clean surface.
3. Always remember to not let the wrapper be in the water for a long time as it would tear easily. The wrapper will become softer as the ingredients of the fillings are added.
4. To make the fillings, take the ingredients and add a thinly sliced bit of each ingredient. Peel the mangoes and cucumbers and make thin slices. Peel the carrots and use a shredder to make thin slices of the carrots.
5. If you eat shrimp, use cooked shrimp or chicken for the filling. Feel free to add any form of cooked meat to your dish.
6. To make the filling ingredients, you can add any type of ingredients. Such as avocado, bean sprouts, bell peppers, or fresh cabbage.
7. For fresh leaves, use cilantro, basil, and mint leaves. Cut them up very thinly using a cutting board. Layer these ingredients one by one on top of the spring rolls and add some vermicelli noodles.
8. Now, start wrapping the spring rolls. Take the sides of the rice paper wrappers and fold them. By doing this, the fillings stay in the center of the rice paper wrappers. Roll tight until the end.
9. It is very simple to roll this spring roll as it is similar to wrapping a burrito. Find your own way of rolling the spring rolls as you make many of them.
Make the Dipping Sauce
It is finally time to make one of the famous dipping sauces, peanut dipping sauce! To make this, take a blender or use a food processor to make it into a sauce.
Add sweet chili sauce, peanut butter, soy sauce, and hoisin sauce as instructed above. Blend them until it gets to a smooth and saucy texture. That is all you need to do to make this super yummy sauce!
Nutritional Information
Calories – 80kcal, Carbohydrates – 18g, Protein – 1g, Sodium – 36mg, Potassium – 146mg, Fiber – 1g, Sugar – 4g, Vitamin A – 1905IU, Vitamin C – 11.7mg, Calcium – 15mg, Iron – 0.4mg.
How to Store
It is very easy to store spring rolls or summer rolls. Even though it tastes absolutely delicious on the same day, it can be refrigerated for about two to three days.
To do so, use plastic wrap to secure each spring roll individually. This prevents the rolls from sticking together. Store it in an airtight container.
2. Vietnamese Spring Rolls Recipe
Make this super delicious recipe in under 40 minutes!
Ingredients
12 8-inch rice paper wrappers
1 small head of lettuce
1/2 lb. (227 g) cooked meat or shrimp, sliced thin
8 oz. package of dried rice vermicelli noodles
1 medium (1 medium) cucumber, cut into thin strips
fresh herbs: mint, asian basil, Vietnamese coriander, Vietnamese perilla or cilantro
For Peanut Dip
Around 70g hoisin
2 tablespoons (30 ml) of peanut butter, almond butter, or cashew butter.
1 teaspoon (5 ml) rice vinegar
1/2 teaspoon (2.5 ml) sesame oil
1 teaspoon (5 ml) chili garlic sauce, optional
How to Make the Spring Rolls Recipe
Start making the vermicelli noodles according to the package instructions. After you cook the noodles in a pot, drain the excess water and let it cool aside.
Take a large bowl, and pour water into the bowl. Take rice paper wrappers and dip them in the water. To do this, dip the rice paper rolls in the water. Then lay it on a flat surface without the sides sticking on the surface.
To make the fillings, take a large bowl and add the above-mentioned ingredients one by one. Use noodles, lettuce, shrimp or meat, cucumber, and herbs.
Place the rice paper sheet on a plastic cutting board and begin layering the fillings on top of each other. Put the lettuce first on the sheet and then proceed to add the rest of the ingredients such as veggies, meat, herbs, and noodles.
Remember to use crunchy veggies or meat in the center of the fillings. This makes sure you get a crunchy texture while you bite the summer rolls.
Keep the fillings in the center of the rice paper rolls and start by rolling the wrapper over it. Tuck and roll just like you make a burrito. Make sure the rolling is firm and none of the fillings come out.
To make these Vietnamese spring rolls, you can use any type of Vietnamese herbs in your recipe. Feel free to use cilantro, basil, mint, or any other herbs in your Vietnamese spring rolls.
For the Dip
To make the hoisin sauce, add the ingredients to a bowl. Put hoisin, rice vinegar, chili garlic sauce, hoisin, and sesame oil.
Use a fork to mix it well. It is optional to use a blender or a food processor. Blend them until it changes into a saucy and creamy texture.
Nutritional Information
Calories – 161kcal, Carbohydrates – 20g, Protein – 10g, Fat – 4g, Saturated fat – 1g, Cholesterol – 59mg, Sodium – 304mg, Potassium – 176mg, Fiber – 1g, Sugar – 2g, Vitamin a – 150IU, Vitamin c – 2.1mg, Calcium – 42mg, Iron – 0.9mg.
3. Chinese Spring Rolls Recipe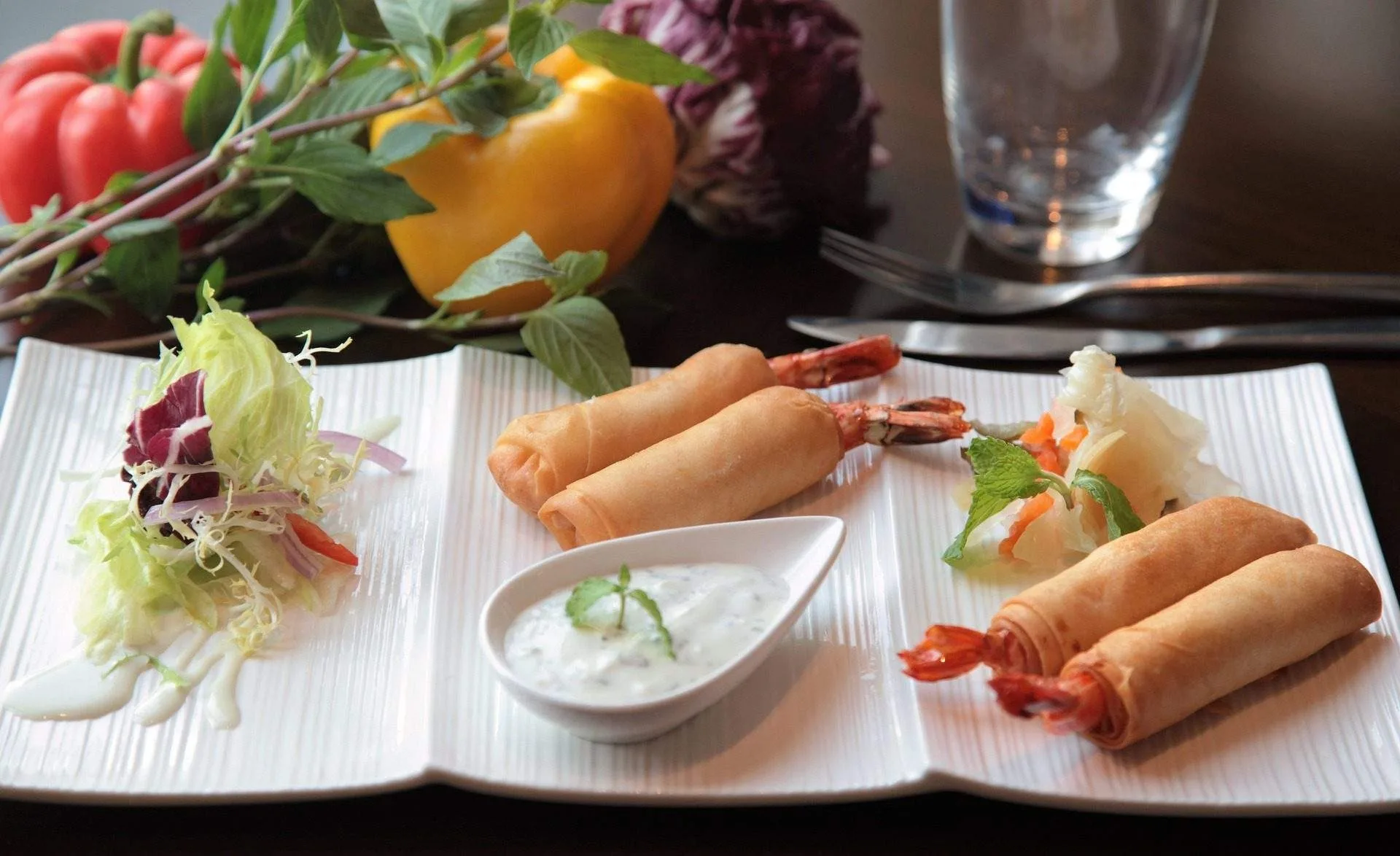 Ingredients
8 ounces finely shredded pork loin(225g)
¼ teaspoon salt
½ teaspoon sesame oil
1 teaspoon Shaoxing wine
½ teaspoon cornstarch
¼ teaspoon white pepper
TO ASSEMBLE THE FILLING:
2 tablespoons oil
1 clove garlic (minced)
10 dried mushrooms 
2 medium carrots (thinly sliced)
1 cup bamboo shoots (julienned)
1 small napa cabbage (thinly sliced)
1 tablespoon Shaoxing wine
2 tablespoons light soy sauce
1 teaspoon sesame oil
½ teaspoon salt
white pepper (to taste)
1/4 teaspoon sugar
2 tablespoons cornstarch
For Wrapping
1 package of spring roll wrappers
1 tablespoon cornstarch
Canola oil or vegetable oil
To make the dipping sauce:
2 teaspoons sugar
2 teaspoons hot water
1 teaspoon Worcestershire sauce
1 tablespoon soy sauce
How to Make
Take the marinade ingredients and mix them with the pork. Let it marinate for about half an hour. During this time, prep the rest of the fresh veggies by chopping them to desired sizes. Slice them thinly for the summer rolls recipe.
Take a pan and add pork on high heat. Add a few tablespoons of oil and add thinly chopped mushrooms, carrots, and garlic. Stir it using a wooden spoon for half a minute.
To this, add napa cabbage or green cabbage, Shaoxing wine, and bamboo shoots. Stir these ingredients well for a few seconds. While cooking this, reduce the heat to medium heat in order to not burn the ingredients in the pan.
To the same pan, add soy sauce, white pepper, sugar, and sesame oil. It is optional to add water at this step. If you have soaked mushrooms in a bowl of water, you can use it instead. This will give a rich mushroom flavor to the summer rolls. Simmer for a longer time if you add water.
Simmer the ingredients for another 3 to 5 minutes. The cabbage should be fully wilted at this point. Then add water to corn starch and mix it well. This would make a cornstarch slurry. Pour it slowly into the pan and stir well. Add more slurry if the filling has some liquid still left.
Then turn off the stove and remove the filling. Please place it in a large bowl, which allows it to cool down. If you want to make your filling process easier, then cool the filling by using a refrigerator. It is easier to use cold filling.
Use a fresh spring roll wrapper for a tastier result. You can also frozen spring roll wrappers to make it quicker. Remember to close the wrappings as tightly as possible without breaking their wrappers.
Place the wrappers on a flat surface and start making the rolls one by one. Add two spoons of fillings on each wrapper. Roll the edges and fold it like an envelope. Brush the corners of the wrappers with a cornstarch slurry to seal the edges. This keeps the wrappers from breaking.
There are a few questions as to using eggwash for sealing the spring rolls, but it results in causing a stain in the spring roll. Thus it is better to use cornstarch slurry for sealing the spring rolls.
After making the rolls, place them on a tray. Separate and keep each roll, so that they do not stick. You can also freeze the spring rolls overnight and fry them the next day. Use an air-tight container or a zip-lock bag to store these spring rolls in a refrigerator.
Use a small frying pot to fry these yummy spring rolls. Pour enough oil to fry the summer rolls. Keep the heat at medium heat at 325 degrees. While frying, place the spring rolls one by one and fry them in little batches.
Flip the rolls and cook until it turns golden brown in color. After removing them, place them on a plate with paper tissues or towels on them. This helps in removing the excess oil. That is it!
Now, make the dipping sauce. To do this, take a pan and add Worcestershire sauce, soy sauce, sugar, and some water. Stir in medium heat and transfer to a bowl after the sauce is simmered. Serve this sauce along with the fried spring rolls!
Nutritional Information
Calories – 155kcal (8%), Carbohydrates – 19g (6%), Protein – 6g (12%) Fat: 6g (9%), Saturated Fat – 1g (5%) Cholesterol – 10mg, (3%), Sodium – 425mg (18%) Potassium – 174mg (5%), Fiber – 1g (4%), Sugar – 1g, (1%), Vitamin A – 1215IU (24%), Vitamin C – 7.3mg (9%), Calcium – 35mg (4%), Iron – 1.1mg (6%)
Make spring rolls overnight
It is possible to make summer rolls ahead of time. Just freeze the homemade spring rolls using a plastic wrap or zip lock bag. Make sure they get fully frozen so that it becomes easier the next day.
When it's time to fry them, do not let the frozen spring rolls cool or thaw at room temperature. Fry it in hot oil directly.
4. Chicken Spring Rolls Recipe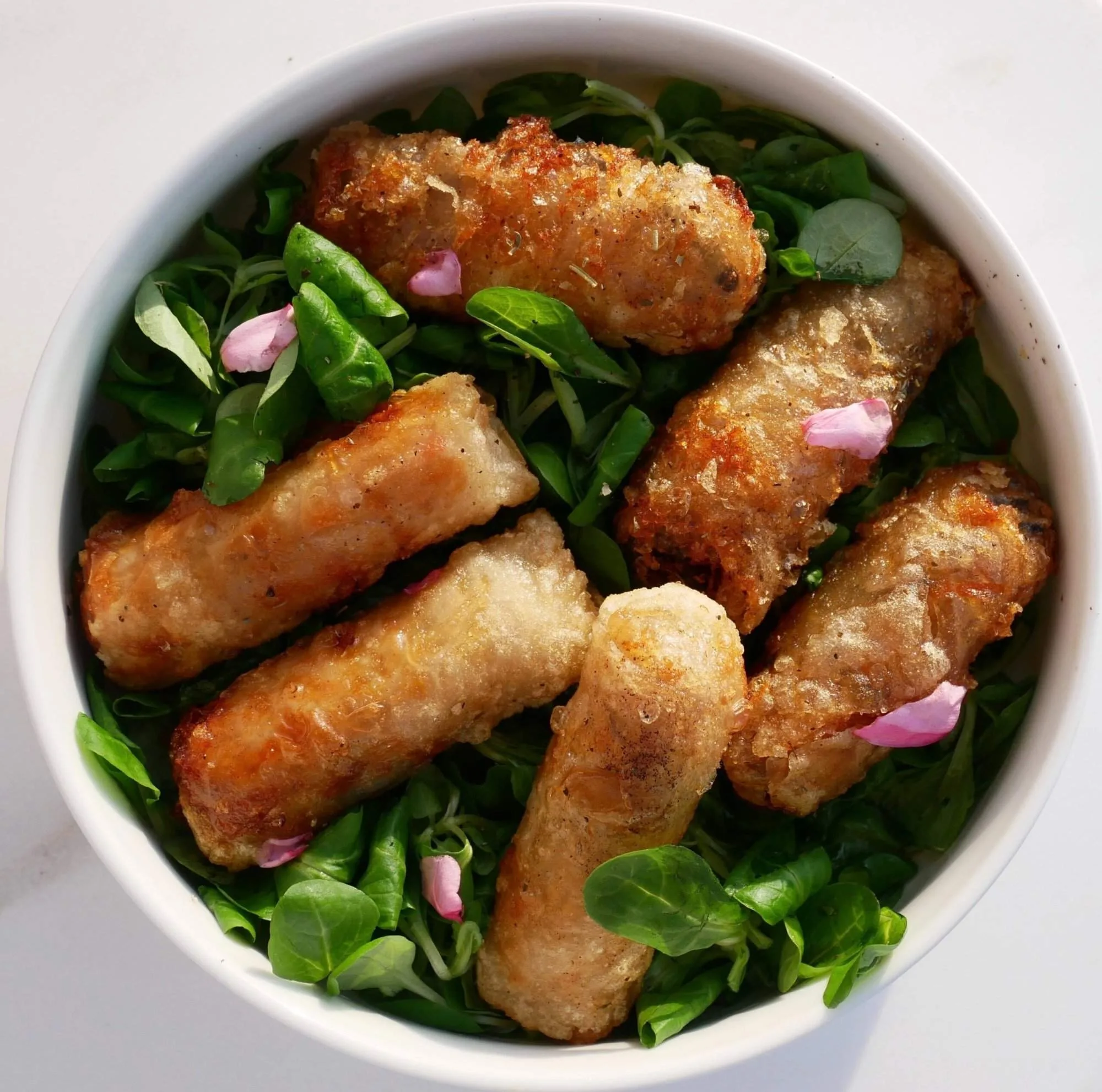 Ingredients
2 pounds (907 g) boneless chicken, we prefer thighs but use what you like
2 Tablespoons (30 ml) grape seed oil or vegetable oil
4 cloves garlic, minced
2 teaspoons (10 ml) sesame oil
1 Tablespoon (15 ml) of fish sauce or soy sauce (use Tamari for gluten-free)
1 bunch of fresh basil, mint, or other herbs
1 head of fresh lettuce, chopped
carrots,
celery,
cucumbers,
daikon radish or bell peppers
12 rice paper
For Garlic Dip Soy
3 Tablespoons (60 ml) soy sauce (use Tamari for gluten-free)
1 clove garlic, minced
1 Tablespoon (15 ml) lime juice
1/4 teaspoon sugar
1/4 teaspoon sesame oil
How to Make
To make the chicken, take a large bowl and add these ingredients on top of each other. Chicken, soy sauce or fish sauce, sesame oil, vegetable oil, and garlic. Combine them all together and let them marinate for about twenty minutes. Remember to cover and keep it aside.
Take a frying pan and set the heat to medium heat. Now take the marinated chicken and cook it until the chicken becomes cooked. The chicken should form a crispy layer while cooking it. After it's cooked, take the chicken and slice them into thin pieces.
To make the wrappers, take a large bowl containing water in it. Add warm water rather than hot water. Take the rice paper wrappers and place them in the bowl.
Do it separately for it to not stick with each other. Remember to not let the rice paper sit for a long time in the water as it would tear easily. Then layer it on a flat surface or a wooden chopping board.
Place the rice paper on a surface and begin layering the summer rolls. First add the lettuce or butter lettuce, fresh herbs, crispy chicken, and other vegetables. Roll the rice paper gently by keeping the fillings intact in the center.
To have something crunchy, try adding raw carrots, cucumbers, or celery at the center of the filling. Also feel free to use any type of fresh herb such as mint, basil, coriander, or any herb of your choice.
Tuck and roll the rice paper wrapper using your fingers. If you want to secure the rolls a little firmer, I would suggest you use cornstarch slurry as a paste to stick the edges of the spring rolls.
For making the dip, take a bowl and combine garlic, soy sauce, sugar, sesame oil, and lime juice. Continuously stir to combine the sauce
Serve these fresh spring rolls along with garlic soy dipping sauce. You can also store this overnight and reheat it the next day.
Nutritional Information
Calories – 362kcal, Carbohydrates – 27g, Protein – 37g, Fat – 11g, Saturated fat – 2g, Trans fat – 1g, Cholesterol – 100mg, Sodium – 1190mg, Potassium – 735mg, Fiber – 2g, Sugar – 2g, Vitamin a – 5231IU, Vitamin c – 5mg, Calcium – 46mg, Iron – 2mg
As an Amazon Associate, Icy Canada earns from qualifying purchases.
[amazon_auto_links id="81298"]
The Icy Canada team strives to create content that matters. It's why our content is written by travel writers, authority experts, well-known authors, and niche experts. Our content is also periodically reviewed by expert authors for accuracy and trustworthiness.
As an Amazon Associate, Icy Canada earns from qualifying purchases. [amazon_auto_links id="81298"]