Food is an essential thing for survival. A portion of tasty food can bring smiles to the faces of millions of people and can make one happy. 
Canada is the second-largest country in the world. It has a blend of various foods and traditions. Canada, also known as 'the Land of Maple Leaves,' has a variety of cooked cuisines, with the most common ingredient being maple syrup. 
Maple products are popular, reflecting the significance of the Maple tree in Canada, which we find adorned in the flag of Canada. 
Nothing can be more delightful than enjoying some must-try and mouth-watering Canadian dishes amidst the stunning landscape, pleasant weather, forests, and lakes of Canada.
Many of the Canadian foods came from the Indigenous people, who were the oldest inhabitants of Canada. They're also food and customs in Canada from France and England's colonial influences. 
Here are the 12 most popular Canadian dishes where you can taste the flavours and delicacies of food.
1) Poutine 
Poutine is a traditional and popular food recipe in Canada that comes from chicken, bacon, and smoked meat combined with crispy fries, melted cheese curds, and rich gravy.
History of Poutine
Poutine originated in the late 1950s in the Quebec city<span data-preserver-spaces="true"> of Montreal and is a widely popularized Canadian food. Poutine is Canada's national dish and is a must-eat item, simple but delicious.
Poutine, a quintessential dish of Canada, can be found in restaurants, festivals, cafes, fast-food chains, and food trucks on the top menu list. 
Poutine is a comfort dish for Canadians as a result. The thick gravy is typically made of chicken and beef stock, cornstarch, flour, garlic, shallot, vegetable oil, peppercorns, ketchup, and Worcestershire sauce. 
Poutine was first elevated by renowned Montréal chef Martin Picard of Au Pied de Cochon. He debuted his widely imitated foie gras poutine in 2002, uniting upscale and casual Québec cuisine on a single platter.
Chuck Hughes, a chef from Quebec, defeated his formidable opponent with a platter of lobster poutine to win the prestigious television cooking competition "Iron Chef America."
Variations people enjoy today
As poutine gained popularity, a variety of variations started to emerge, including:
i) Veggie poutine – prepared with mushroom sauce and fresh veggies
ii) Irish poutine and Italian poutine – prepared with spaghetti sauce in lieu of gravy or sausages, which is made with lardons.
iii) Fries Poutine – These fries, which are topped with cheddar, olives, sausages, jalapenos, and chicken pieces, will make you fall in love.
Two examples of regional variations: 
i) La galvanade from Gaspésie – which is served with chicken and green peas
ii) Montréal-style poutine- which is cooked with smoked meat 
One of the well-known chefs who has served the wildly popular dish, which consists of French fries, gravy, and cheese curds, is Gordon Ramsay. Imitating Ramsay, french fries with cheese toppings like mozzarella cheese are frequently used these days.
2) Nanaimo Bars 
The name of this popular Canadian food or candy came from the beautiful city of Nanaimo in British Columbia<span data-preserver-spaces="true">. Like Poutine, Nanaimo bars are an iconic recipe in Canada. Its sweet taste resembles chocolate fudge. 
About Nanaimo Bars
Nanaimo bars can be easily identified by the custard buttercream filling stuffed in between a chocolate-coconut graham cracker base and a chocolate ganache on the top.
The Base layer comprises unsalted butter, granulated sugar, unsweetened cocoa powder, chocolate, salt, lightly beaten egg, graham cracker crumbs, chopped almonds, and sweetened shredded coconut. 
The Inner cream filling consists of butter, powdered milk, custard powder, vanilla, and powdered sugar. The top layer is made up of chopped chocolate and unsalted butter. 
This iconic Canadian no-bake dessert is named after a city on Vancouver Island. 
Best way to have Nanaimo Bars
i) Keep Nanaimo bars in the fridge in a sealed jar (because of the egg and dairy).
ii) Before serving, bring to room temperature.
Common Names
The Nanaimo bar has also been referred to as: 
i) New York slice
ii) London fog bar
iii) Chocolate square
iv) Prayer bar
KEEP AWAY FROM DOGS
The poisoned symptoms a dog may experience if it ate one of these Nanaimo bars could include:
i) vomiting
ii) diarrhea
iii) convulsions 
iv) even sudden death
However, the city played a crucial role in popularizing this delectable dessert option as the Nanaimo bar and securing its legacy in Canadian culinary history.
 Nanaimo bars are a must-eat dessert in summer if you are a sweet dish lover.
3) Ketchup Chips
About Ketchup Chips
These are munching potato chips and fries cooked with butter or coconut oil, vinegar, tomato ketchup, salt, paprika, onion powder, and garlic powder. 
Tomato ketchup is an essential ingredient in this food. It is usually found in Canada's grocery stores<span data-preserver-spaces="true"> and is a favourite snack among Canadians. 
Interesting History of Ketchup Chips
Hostess conducted some significant experimenting throughout the 1970s, including chips with ketchup, grape, and orange flavours. The tangy-salty ketchup type turned out a hit and the sweeter fruits didn't take off.
Ketchup chips are widely available in Canada's supermarkets and gas stations. Unbelievably, this is a Canadian classic. The history of the ketchup chip is somewhat convoluted.
The novel flavour was a big success in the Great White North, sparking a nationwide ketchup chip frenzy.
Brand Change
As already known that the popular Canadian snack company named Hostess created the ketchup chips in the late 1970s, but later on, it became much more popularized and sold under the Lays brand since the 21st century.
4) Split Pea Soup 
The classic split pea soup is a perfect meal for winter since it's a warming and hearty recipe. 
About Split Pea Soup
This food has many vegetables, such as green or yellow-coloured peas, carrots, onions, celery, dried thyme, garlic, coriander, sage, and rosemary. It might be your mother's next new favourite dish.
Yellow pea soup, or soupe aux pois (jaunes), is a staple of Québec cuisine.
The original Québécois cuisine is similar to early Maine and Vermont cuisines, and it helped disseminate this split pea soup across the country.
Benefits of Having a Bowl of Soup
Potassium, which is present in split peas, lowers blood pressure. Beans, peas, chickpeas, and lentils help decrease blood pressure, prevent cardiovascular disease, and boost general heart health because of their nutritional makeup, which is high in potassium.
One bowl of split pea soup contains 18 g of fibre and 27 grammes of protein, making it an extremely healthy food. This soup is a simple method for me to meet one's daily goal of consuming at least 25 g of fibre. Iron, potassium, and folate can all be found in abundance in split peas.
Preparations 
These vegetables are tossed in butter with bay leaf, salt, pepper, chicken, or vegetable broth. A lot of references to the pea-soup have been found in literary texts.
Adding pieces of chicken and smoked ham or beef increases the taste of the soup. It can be made chunky or with a smooth blended consistency. This food is rich in nutrients and is also very cheap. 
This French-Canadian cuisine is very colourful with a smooth texture. It is a traditional Canadian recipe of Quebec and is famous worldwide.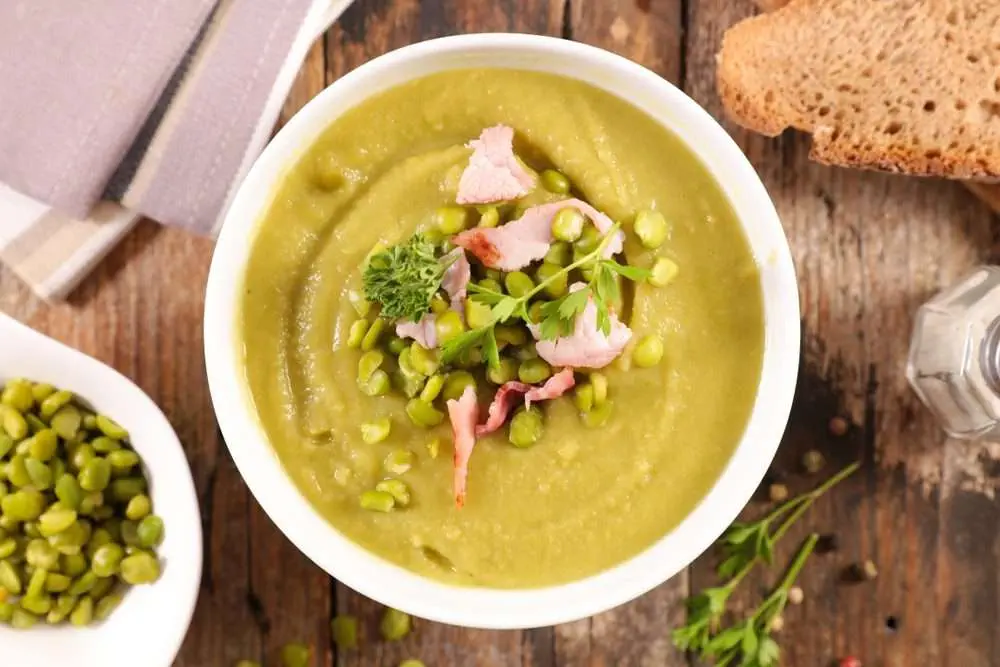 5) Butter Tart 
A butter tart is a tiny pastry that is sweet, buttery, and caramelized and is mostly found in Canadian bakeries. 
Butter tarts are a Canadian dessert, having a flaky tart with a rich filling of buttery caramel. 
About Butter Tarts
The Maids' Cottage restaurant delivers the best butter tarts.
How are Butter tarts made?
The ingredients for the filling are: 
i) Butter
ii) dark brown sugar
iii) maple syrup
iv) egg mixture
v) vanilla extract
vi) salt
They are cooked in a pie crust until the mixture is semi-solid and the top is crunchy. And the butter tarts are ready to go in one bite.
The butter tart should not be confused with bread-and-butter pudding or butter pie.
Butter tarts often use dried fruits such as raisins, nuts, or currents added to this food to give more flavour to it. Sometimes the filling also has chocolate or cream in it.
It is good for an evening meal.
Interesting History of Butter Tarts
Butter Tarts recipe dates back to 1900 in Canadian history. Butter tarts were a staple of early Canadian cuisine.
The Women's Auxiliary of the Royal Victoria Hospital Cookbook from Barrie, Ontario, contains the first known recipe for a butter tart, which dates back to 1900.
Butter tarts' precise ancestry is unknown. Some attribute this to the young French women known as "filles du roi," who immigrated to New France between 1663 and 1673 to marry voyageurs.
The Canadian Encyclopedia claims that they produced butter tarts by combining their pastry expertise with the available ingredients.
6) Montreal Bagels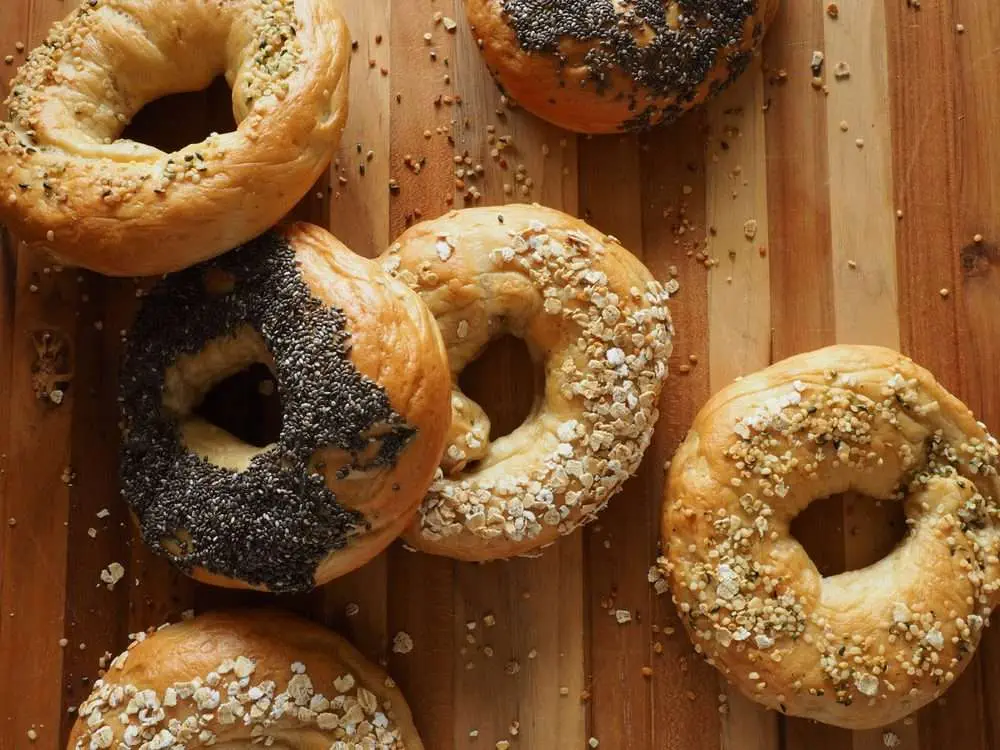 Montreal-style bagels are a classic sweet dish baked that is created by hand and roasted over a wood-fired oven and are easy to make at home. 
About Montreal-style bagels
The Montreal bagel is smaller, thinner, sweeter, denser, and has a bigger hole than the New York-style bagel, which also incorporates sourdough. 
Genuine Montreal bagels are sweeter than New York bagels because they are boiled in water and honey. The main distinction is that they are prepared in wood-fired ovens, which gives the crusts a crunchier texture and a richer, more flavorful flavour.
Throughout the city, delis and bagel shops sell this famous dish. Bagels are still made by hand and baked in front of customers in a few Montreal businesses.
There are two main types:
i) white-seed (sesame seed)
ii) black-seed (poppy seed)
Preprarations for Montreal-style bagels
The ingredients used for making Montreal-style bagels in this food are pure maple syrup, dry yeast, lukewarm water, unbleached bread flour, which is used for making the dough, sesame seeds or poppy seeds for seasoning, and honey for a honey-water bath of the dough. 
Montreal style bagel resembles the New York bagels, which originates in North America. It is an iconic snack of Canada brought by Jewish immigrants <span data-preserver-spaces="true">to Montreal. It is soft, fluffy, and also delicious to eat.
7) Pea-meal Bacon

Peameal Bacon is an iconic recipe, Canadian bacon cooked with a twist of lean boneless pork loin.
It is primarily found in Ontario. Its creation is attributed to Toronto pork packer William Davies, who immigrated to Canada from England in 1854.
About Pea-meal Bacon
This Canadian bacon was rolled in yellow grounded peas or cornmeal and cured in a basic brine of salt and sugar to increase its shelf life.
 Canadian bacon is sometimes referred to as "back bacon" or "peameal bacon" in Canada because it is frequently preserved in ground cornmeal or yellow peas.
Cooked peameal bacon tastes more like fresh ham and has a delicate, salty-sweet flavour (when compared to smoked-back bacon or side bacon). Small pork cutlets have been likened to cooked slices.
It is consumed as a component in a pork meal or served in slices for breakfast, lunch, or dinner. Because it is thinner and contains less fat than traditional bacon, peameal bacon is seen as a healthier option.
However, 21 g of fat is still a lot for breakfast. Crocker advises ordering half the bacon to significantly cut the amount of calories and sodium.
Ingriedients
This Canadian food item is cooked with pork loin, apple cider vinegar, red hot pepper sauce, garlic, celery seeds, mustard seeds, bay leaves, peppercorns, ice cubes, and kosher salt. 
The Peameal Canadian bacon is sweet and juicy, making it a must-eat item, and it is usually used as a stuffing in sandwiches.
8) Saskatoon Berries-Pie and Jams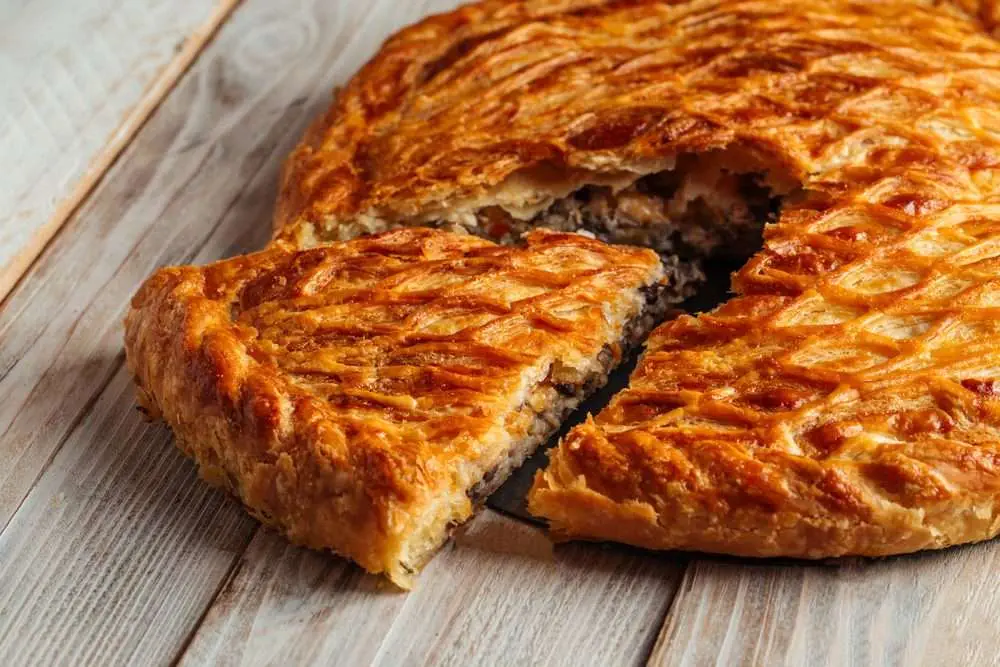 Saskatoon berries are a traditional and favourite food for Indigenous Canadians. These berries are beneficial in curing many diseases as they are great antioxidants. 
Saskatoon berry pie, created with my Saskatoon berry pie filling, is one of the well-known pies in the entire world.
About Saskatoon Berry Pie
The pie's origins are in the Canadian Prairies, and it's frequently served as a dessert with vanilla ice cream.
The ingredients used for making Saskatoon berry pie are:
S

askatoon berries
Frozen pie crust

White and Demerara sugar

Cornstarch or flour
Butter
Lemon zest or juice

Egg

Jams for garnishing and taste
In place of saskatoon berries, blueberries are occasionally used to make the pie. This fruit's tasty pie is a deep, magnificent purple colour, mildly sweet with a hint of sharpness, and the indescribably complex flavour that comes from this special Saskatoon berry.
Saskatoon Berry Pie Filling
The majority of Saskatoon berry pie recipes omit the use of a pre-cooked filling.
The Saskatoon berry pie filling, on the other hand, is precooked on the stovetop to give the berries time to soften and the flavours to meld, giving your pie a richer, softer, thicker, and tastier filling!
Another delightful layer of flavour that sets this Saskatoon pie apart from others is the taste of almonds!
Saskatoon Berry Pie Sauce
Saskatoon berry sauce, which is excellent as a cheesecake topping, perogy filling, or a special topping over yoghurt or ice cream. Even as a cake filling, one can utilize it (mixed with whipped cream).
For winter, you can use fresh, frozen, or canned saskatoons.
This pie is a soft, rich, and delicious recipe for having a meal.
9) Montreal Smoked Meat
 Montreal smoked meat<span data-preserver-spaces="true"> is a classic and delicious cuisine of northern Canada and is usually stuffed in a Pastrami sandwich. 
About Montreal smoked meat
The meat is beef brisket, cooked with black peppercorns, coriander seeds, kosher salt, cloves, dried bay leaves, and pink salt. 
Montreal-style smoky meat is a type of kosher-style deli meat product created by salting and curing beef brisket with spices. It is also referred to as Montreal smoked meat or simply smoked meat in Quebec.
The ingredients used in the dish are:
The rub, ground coriander, ground black pepper, paprika, onion powder, garlic powder, dill weed, ground mustard, crushed red pepper, and celery seeds are used.
How is Montreal smoked meat differs from New York pastrami?
It takes over a week, that the brisket used in the dish is given time to absorb the flavours before being hot-smoked to ensure complete cooking.
The entire brisket is used in Montréal-style smoked beef, which is distinct from New York pastrami.
In contrast to pastrami, which employs the naturally slimmer navel cut, this incorporates fatty portions of the muscle. While American-style pastrami, prepared from the navel, is more marbled with fat and has a firmer texture, Montreal-style smoked meat, made from brisket, is stringier and softer.
In the same way as pastrami and corned beef are brined, brisket is used to make Montreal smoked meat, although the mixture contains little to no sugar. Then it is smoked, similar to pastrami, but corned beef-style without the spice coating.
Canadian cuisine has an outstanding and beautiful flavour because of the smokey meat style. Since the beef brisket is cured, smoked, and then steamed, it is juicy and flavorful. The majority of Canadians prefer this.
10) Canadian Pizza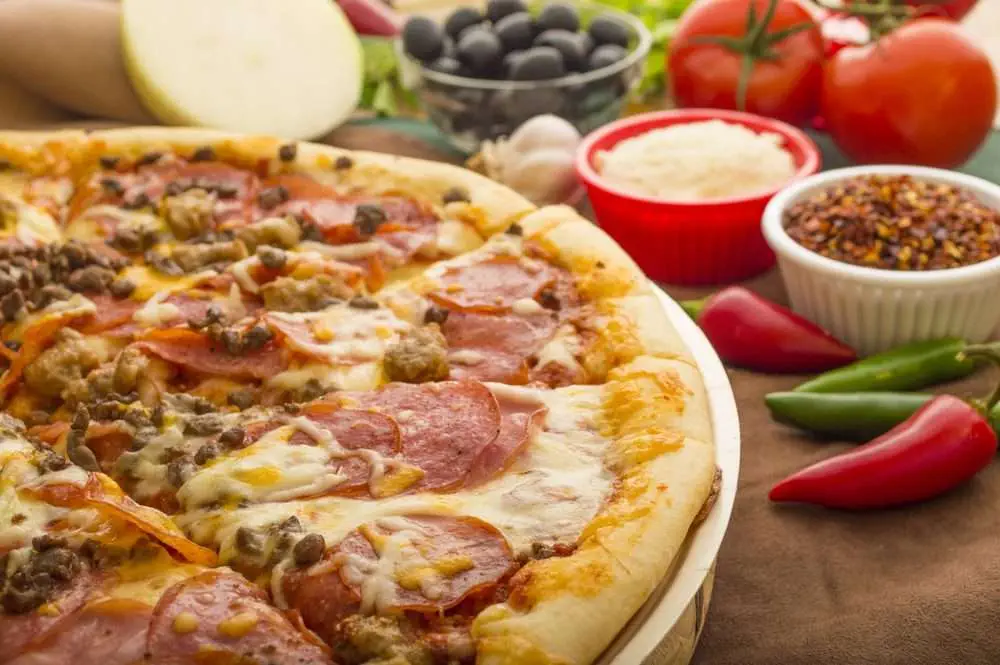 About Canadian Pizzas
Pizzas are a favourite food item worldwide, but Canadian pizzas <span data-preserver-spaces="true">vary in taste. Canadian-style Pizza consists of Canadian poutine/pork pizza, Canadian Bacon pizza, and so on. 
Even New York-style pizza gained popularity in the US when it started resembling Canadian pizza.
Albertans and Saskatchewan's in the Midwest started to prepare slices akin to their southern neighbours once the deep-dish Chicago variant crossed the border into Canada.
The ingredients used in the dish are:
The bacon pizza comprises unbaked pizza crust, pizza sauce, Mozzarella cheese, sliced mushrooms, green, red, and yellow bell peppers, bacon, crushed dried oregano, crushed dried basil, and crushed red pepper flakes. 
This recipe is a favourite for Canadians.
Maple syrup is given as additional toppings along with cheese. Sometimes the pizzas are also made with pineapple.
11. Tourtiere 
The Canadian food Tourtiere is a meat pie with a flaky pastry base spiced with an allspice blend. It is a popular French-Canadian meat pie recipe in the country. 
Originally from Quebec, tourtière is a French-Canadian meat pie dish that is typically cooked with potatoes and minced pork, veal, or beef. Sometimes, wild meat is used.
It is a customary component of the Quebec New Year's Eve and Christmas Réveillon meals. The classic French-Canadian pie often referred to as pork pie or meat pie and is loved all over Canada and New England.
What do You Need to Tourtiere?
The Crust comprises flour, kosher salt, distilled white vinegar, unsalted sliced, and frozen butter. 
The Spice blend contains dried thyme, dried sage, kosher salt, ground ginger, ground cinnamon, ground black pepper, ground cloves, ground allspice, cayenne pepper, and grated nutmeg. 
The Filling requires Russet potato, onion, ground beef, ground pork, butter, salt, crushed cloves, and garlic. Egg and water are used for making the egg wash. 
This Canadian food is a favourite among both French and Canadian people.
12. Beavertails Food
Beavertails is a renowned dessert recipe among Canadian foods, which are fried pastry pockets, usually sweet, and come with maple syrup. 
The Beaver Tail is a hand-pulled fried dough pastry designed to mimic the long, flat tail of a beaver.
Variations of BeaverTails
It is created with whole wheat flour. Then, various delectable decorations are placed on top, ranging from the traditional cinnamon and sugar to whipped cream and Nutella.
BeaverTails may be found in a variety of desserts, including strawberry cheesecake, coco vanilla, hazel amour, avalanche, Killaloe dawn, and many others.
Instead of pastries, you'll discover a variety of savoury delights such as poutail, poutine, beaverdog, and fries.
In addition to these, there are recipes like Kraft dinner; a prepared meal made up of a combination of Macaroni and cheese, Caesar cocktail, Salmon seafood, Timbits, Lobster roll, Lake fish, Donair, Hodge Podge, Chicken Fricot, Ploys, Cretons Quebec pate, Moon mist ice cream, Toutons, Tacos, Wild rice, and many other foods.
Kraft dinner is almost like a national dish of the country. Caesar cocktail is a vodka-based juice. Caesar can be used for drinking or garnishing certain foods  Caesar is usually topped with Clamato juice, but roasted carrots, blue cheese, spices, pasta, and other food imported from the European Union are used to create this one of the best favourite recipes.
Maple syrup is the essential ingredient item used in almost all Canadian foods. Maple is life to Canada and its people.
Closing Thoughts
Let's Summarize all of it.
French recipe is an influence on Canada. Canadian diets are similar to the diets of Europeans and Americans. Also, Canada has become a multicultural country due to many foreign immigrations, and the cuisines have become more popular.
In the 17th and 18th centuries, English, Scottish, and French came and settled in Canada, while in the 20th and 21st centuries, people from South America, Asia, and the Middle East came to Canada. 
These immigrants brought new traditions, highly influencing Canada's food and culture. Hence, it can be concluded that Canada has a vast array of cultures, languages, history, landscapes, and cuisines, which is never-ending.
Thanks to That, Canada's food and the recipe are never-ending. Thus, it follows a western diet. Most of the foods come from Quebec City, the most fertile land suitable for agriculture. 
Favourite FAQs