Away from the buzz of Ottawa city, located in a tranquil setting, this Brookstreet hotel gives one of the best experiences that one could ever have. Situated on the western edge of Ottawa, this 18-story luxurious hotel has an impeccable view of the Gatineau hills.
With around 275 rooms and suites, the Brookstreet hotel stands among the most loved hotels in the area. 4 pm is the check-in time, and the check-out time is 11 am. This hotel is highly rated among its users for especially its comfy beds.
The Brookstreet hotel is just a ten-minute drive from the Canadian Tire Centre and twenty minutes from downtown Ottawa. It is one of the best hotels in the area that gives its customers a comfortable stay and dining experience.
The 4-diamond Brookstreet hotel comes with 276 luxury rooms and suites with beautiful artworks that capture one's attention. With easy check-in service, excellent room service, and non-smoking rooms, the hotel guests who have stayed in the past have had mind-blowing experiences in the Brookstreet hotel.
Not only does the hotel have plenty of nearby attractions, but you also wouldn't feel like leaving the massive comfortable rooms offered. The Brookstreet Hotel is an excellent place for two travellers and has a sustainable property.
Who can be Brookstreet Hotel's Guest
If you are a solo traveller, a couple looking to celebrate their anniversary, or a family wanting the best time, this hotel is the best place to stay for a night or two. Booking a clean and spacious rooms at this hotel is easy and takes just a minute.
Have a look at this beautiful hotel in the below video:
Top Things To Do at Brookstreet Hotel
1. Perspectives on restaurant
Experience a fine-dining at the Brookstreet hotel's Perspectives restaurant, where food is served with utmost quality, love and care. All the staffs of the Brookstreet hotel are highly qualified professionals with sufficient years of experience in hospitality.
Brookstreet hotel is one of the best dining destinations in Ottawa. The culinary team of the Perspectives restaurant strives to present you with top-class dining that is a treat to the eyes and mouth, making you experience food to the fullest.
The dining room has beautiful furniture that keeps the guests comfortable and cozy. With affordable prices and excellent food, this Perspectives restaurant has the finest servers that give you an overall fruitful experience at the Brookstreet hotel.
While some find this on-site restaurant food a bit too pricey, many who enjoy gourmet dining say it is worth it to have food from this exemplary Perspectives restaurant.
2. Valet parking
The underground parking garage of the Brookstreet hotel has a vast space for parking cars. The hotel has valet parking facilities where the vehicles are parked in a secure, climate-controlled underground parking garage.
But to our surprise, the hotel charges for public parking. At the same time, most hotels around Ottawa park their customer's cars for free, and Brookstreet hotel charges for the same.
Nowadays, most people opt for electric cars to save fuel consumption and money. If you have an electric vehicle, there's no worry; the underground parking garage of the Brookstreet hotel has two charging points and charging for the first two hours is 1.50 dollars, while it costs 2 dollars every hour afterward.
3. Options for jazz lounge
For some, music is the only escape from the real harsh world. Wouldn't it be beautiful if you could have a lavish dinner while listening to astounding jazz music? The options jazz lounge at the Brookstreet Hotel is the best that Ottawa offers, featuring live jazz music. One could experience local jazz music while dining with the best culinary creations of one of the top chefs.
It is not only the beautiful jazz lounge that one needs to be in awe of; the astonishing view of the Marshes golf club through the panoramic windows is also a treat to our eyes. Options jazz lounge of Brookstreet hotel is available for dining in and take out so that you don't have to always stay at the hotel for the most fantastic experience of your life.
4. Canadian Tire Centre
Built-in 1996, this Canadian Tire Centre is a multi-purpose indoor auditorium and is just 5.7 kilometres away from the Brookstreet hotel. This center is the 19153-seated home of the National Hockey league's Ottawa senators. The hotel guests who come to enjoy this art entertainment facility are provided shuttle services that help them not worry about the transportation part of their trip.
With just 24.7 kilometres from downtown Ottawa, this hotel promises not to disappoint its guests by catering to their needs now and then. Only a few hotel brands provide top-notch facilities to their guests, and Brookstreet hotel is among the best.
5. Brookstreet hotel brand popular amenities
A hotel is marked best with the room amenities that it can provide for its guests. Brookstreet is a lovely hotel that includes the following property amenities;
Starbucks café

 and a restaurant

Allergy-free rooms

a small desk

Free wifi

Comfy mattresses and European pillows

HDTVs for each room

Safes that are electronically operated

Air conditioning

Climate control

Minibar facility
More property amenities:
Pedicure

Manicure

Waxing services

Evening entertainment

Banquet room

Newspaper

Express 24-hour check-in/ check-out

On-site car detailing

On-site ATM

Car hire

Particular meeting room

Conference facilities
6. Attractive hotel facilities
The Brookstreet hotel offers many other facilities that include on-site car detailing, an on-site restaurant, a café, uninterrupted free wifi services, laundry service, a library, a fitness center, a championship golf course, a kids' play area, secured parking, extra beds, a nearby golf course, and so on.
Only a few hotels have eye-catching facilities; Brookstreet hotel Ottawa is a unique hotel that incorporates mostly all the facilities a customer looks for. This outstanding hotel is wheelchair accessible, which makes the hotel more user-friendly.
Easy booking
The rooms at the Brookstreet hotel can be booked online for the lowest-priced dates in the comfort of wherever you are. All one needs is an internet connection. You can book the hotel at the most discounted prices through many sites.
While booking, you must look for the lowest-priced dates as the hotel offers the lowest price on a first-come, first-serve basis.
Swimming pool
The swimming pool is a place to relax. The indoor pool of Brookstreet hotel has saltwater pools where not only are elders allowed to take a hot tub bath, but children are also allowed to have a fun time in the indoor pool. The kids' pool high chairs are a unique feature that the hotel provides, catering to the kids' needs so that they feel included.
The indoor pool is open all year, and the outdoor swimming with good such pool quality is only open seasonally for the guests. The indoor and outdoor swimming pools are cleaned at regular intervals thoroughly for the inmates to have the best experience.
Best Room service
A hotel's beauty lies in how its room service staff behaves with their guests. Many times we would have experienced the worst room service, and we would regret paying for the hotel immediately.
Most of the Brookstreet hotel's guests have mentioned that the hotel has outstanding room service that cannot be matched. The staffs are proficient in two languages, English and French, making it easier for guests from different countries to have a smooth experience at the hotel.
The room amenities are also exceptional since only quite a few hotels offer what Brookstreet hotel has to offer.
Perfect air conditioning
The climate isn't the same all through the year, and the temperature also varies as the climate changes. All the rooms at the hotel have air conditioning, and the room temperature can also be adjusted according to the guests' needs for the best experience.
Au Naturel Spa
Want a chance to get away? Looking for a space to chill with your loved one? Here is an opportunity to relax and enjoy at the Au Naturel Spa of the Brookstreet Hotel Ottawa. It is a full-service spa where one can relax while getting a whole-body massage. One of the Brookstreet hotel guests mentioned that the Indian head massage is something that everyone should try.
Laundry service
Now, there's no reason to worry about unwashed clothes. Brookstreet hotel provides one of the best clean laundry services. From just a call away, the staff will take care of your dirty clothes and provide you with clean, neat, washed clothes.
Pet-friendly rooms
Many love and are attached to their pets. Pets can change your mood instantly and are personal lifesavers. Brookstreet hotel wouldn't want to leave your pet at your home while you travel; that's how much this hotel cares about your needs and well-being.
All the hotel rooms are pet friendly, and you can enjoy your stay with your pet, but additional charges may be applied. Well, everything comes at a cost.
Golf course
Two miles from the Brookstreet hotel, there is a golf course, one of the nearby attractions that draw in many hotel guests. This is a 27-hole golf course, and you can imagine how great the golf course would be.
This championship golf course is a hustle-free escape from our mundane life. A mini-golf course on-site can be used for additional charges. There's also a mini-golf course inside the hotel available for its guests.
Free wifi and paid wifi services
In this age where we are glued to our phones, free wifi is what most of us seek. Free wifi is a boon for many hotels, and public places have free wifi for the public to use.
The Brookstreet hotel offers complete, uninterrupted, free wifi services for the guests. There is also another paid wifi service that costs ten dollars a day. Many find this weird why would someone keep a free and paid wifi service at the same place?
All about the hotel's rooms
Luxurious beds with comfy pillows are the most basic amenity a guest would expect from a hotel. Brookstreet hotel offers its guests plenty of European pillows and soft, comfortable mattresses that would keep you glued to the bed and wouldn't want you up.
The rooms are all non-smoking, and there are exclusive spaces for smoking. The hot tub in the bathrooms is an intimate heavenly space where you can recharge your energies to the fullest.
Family rooms
The family rooms are super large where you can enjoy the stay with your spouse, kids or relatives. The banquet room can occupy many guests where formal meetings and meals are given to the participants. The hotel is also couple-friendly, and most of the couples who have stayed have rated the hotel high for being couple-friendly.
Games room
Games keep the kids busy and the grown adults who find matches interesting, keeping them distracted from this busy world. The hotel has an indoor games room where toddlers and kids can be kept engaged. The games room has x-boxes, movies for kids and other exciting games that keep you and your kids busy.
Connecting/adjoining rooms
Brookstreet hotel has adjoining/connecting rooms that are subject to availability. These rooms can be booked by contacting the front desk much prior while booking the dates.
King room
The hotel offers a posh deluxe king room with a balcony and golf view, which has the most significant space of all the rooms, a deluxe king room with a balcony and a standard king room with a room size less than that of the size of the deluxe king room with balcony.
Queen room
Brookstreet hotel also has a queen room with two queen beds for families/friends to stay in with a balcony or terrace. The queen room is budget-friendly, and there are also other rooms, Junior suite, banquet room, double deluxe golf view room and junior suite with one king bed and one sofa bed.
The suite features original artwork that mesmerizes its guests throughout their stay at the Brookstreet hotel.
Fitness center
Everyone wants to look good; everyone strives to be fit. No matter how much we eat or how tasty the restaurant provides us with food, we all want the best body to show it off to our Instagram audience and, importantly, for us to feel healthy.
Brookstreet hotel has one of the best restaurants and a fitness center, which shows that they care for our overall well-being. With a wide range of exercise equipment, this fitness center offers its guests high-quality services that one could ask for.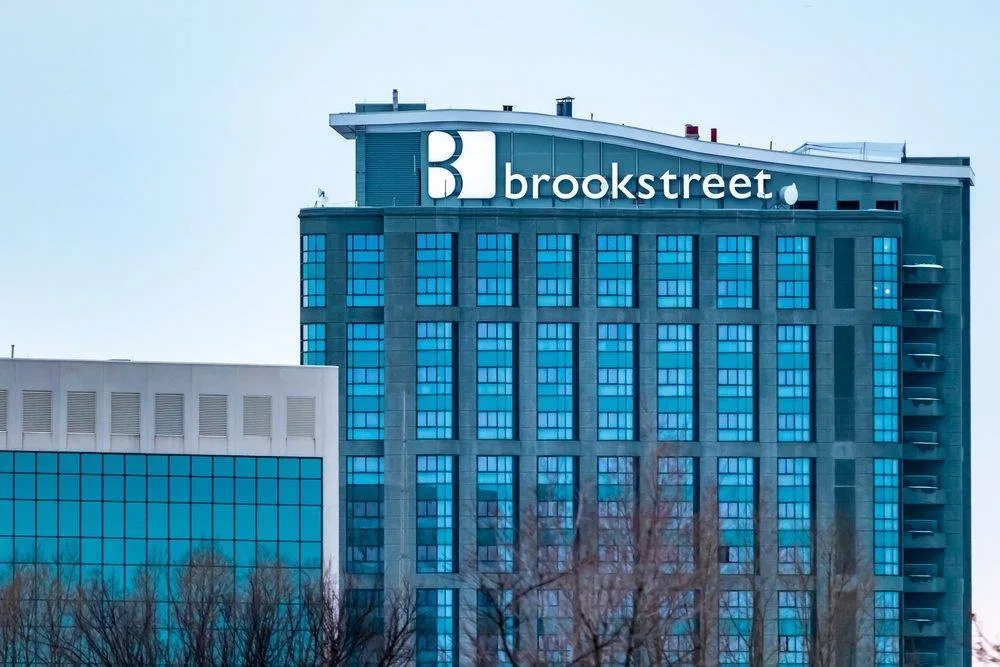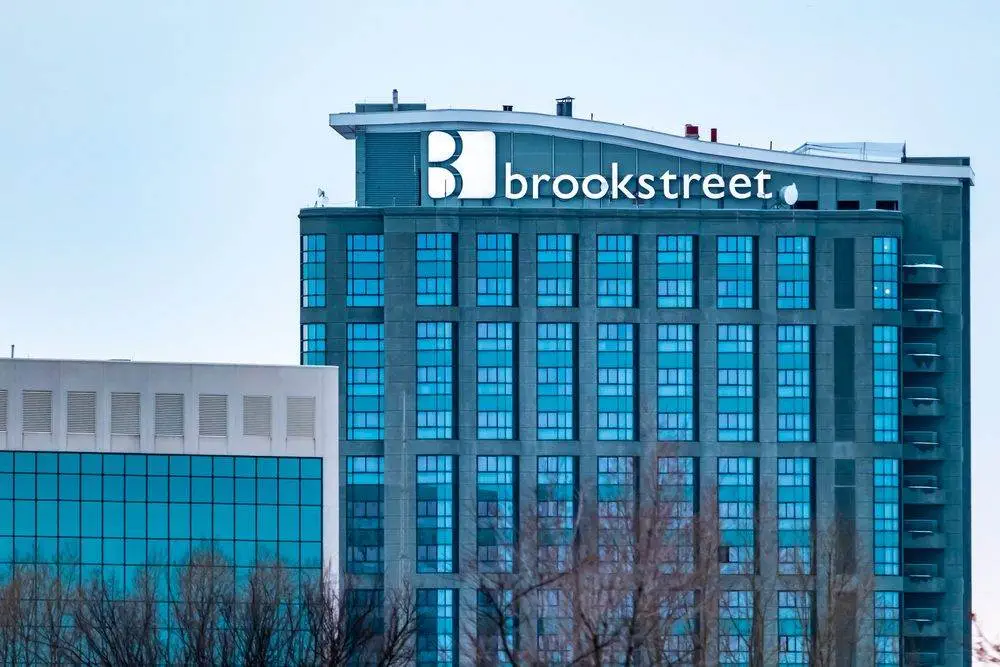 Closing Thoughts
When we think of escaping reality, we all opt to go out travelling. While the Brookstreet hotel promises one of the best stays in the area for its guests, it has a few negatives that one could consciously overlook for the hotel's price.
From most of the reviews from its guests, we can blindly choose Brookstreet hotel for experiencing a short, sweet and lovely stay.
Whether you are looking for clean spacious room overlooking the spa or swimming pool or conveniently located restaurants these 6 amazing hotel have you covered.
Frequently Asked Question
1. What are the Public parking charges at the hotel?
Have you heard a hotel ask for its customers' money for parking their vehicle? Many other hotels do not charge for public parking, but the Brookstreet hotel takes cash to exchange its secured parking facility.
In fact, for the price that one has to pay to stay at this hotel, many would opt for other hotels that offer the same services at better prices.
2. What About The Laundry Services/dry Cleaning?
Not many hotels in this range would charge for dry cleaning services. The laundry service that the Brookstreet hotel offers is set and also pricey.
3. Is The Wifi Good At The Premise?
We all expect the hotel wifi to work well, or at least we expect it to work barely. But many guests have mentioned that the hotel promises of free wifi don't work, and the paid wifi version is also not up to the mark. Many single guests complained of disturbances in the family rooms.
As an Amazon Associate, Icy Canada earns from qualifying purchases.
[amazon_auto_links id="81298"]
The Icy Canada team strives to create content that matters. It's why our content is written by travel writers, authority experts, well-known authors, and niche experts. Our content is also periodically reviewed by expert authors for accuracy and trustworthiness.
As an Amazon Associate, Icy Canada earns from qualifying purchases. [amazon_auto_links id="81298"]