Come to the beautiful Philippines if you've always wanted to visit a place that looks like a postcard landscape. The beaches in the Philippines fantasy is a reality here, with hundreds of immaculate white sand beaches that have the same texture as walking on powder and are located adjacent to turquoise water that is as warm as it is clear.
The most difficult thing is selecting which beaches in the Philippines you want to visit. In a country with more than 7,000 islands, you are never too far away from a beach with white sand in the Philippines. Each beach" in the Philippines has something unique to offer visitors.
To help you make a better decision, Here are the 15 most beautiful Philippines beaches teeming with great marine life waiting to be explored. Read on and Learn more!
Listed Here Are the 15 Most Beautiful Philippines Beaches
1. Nacpan Beach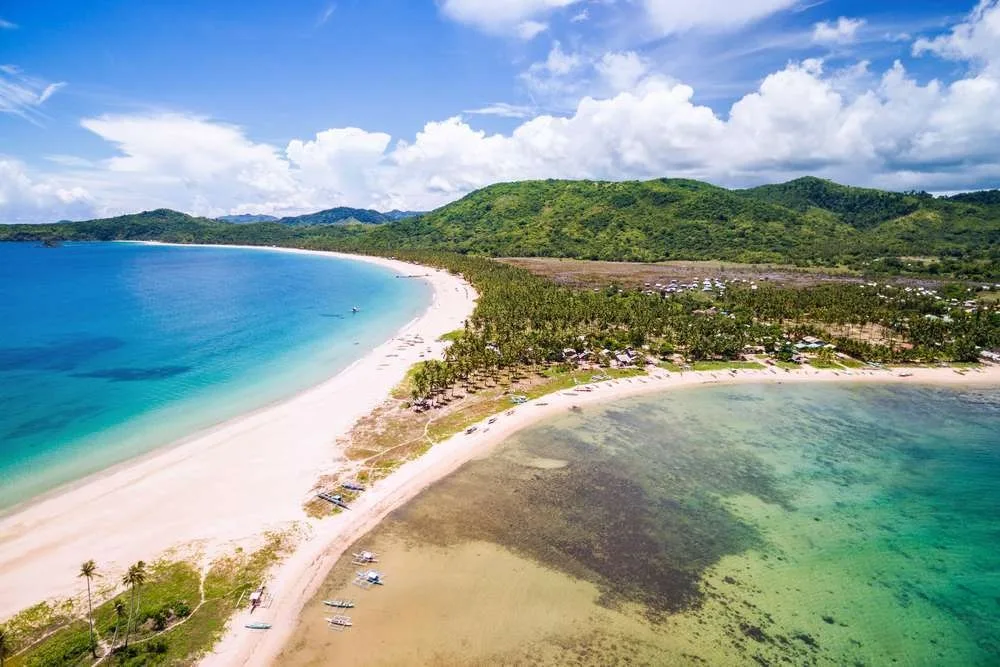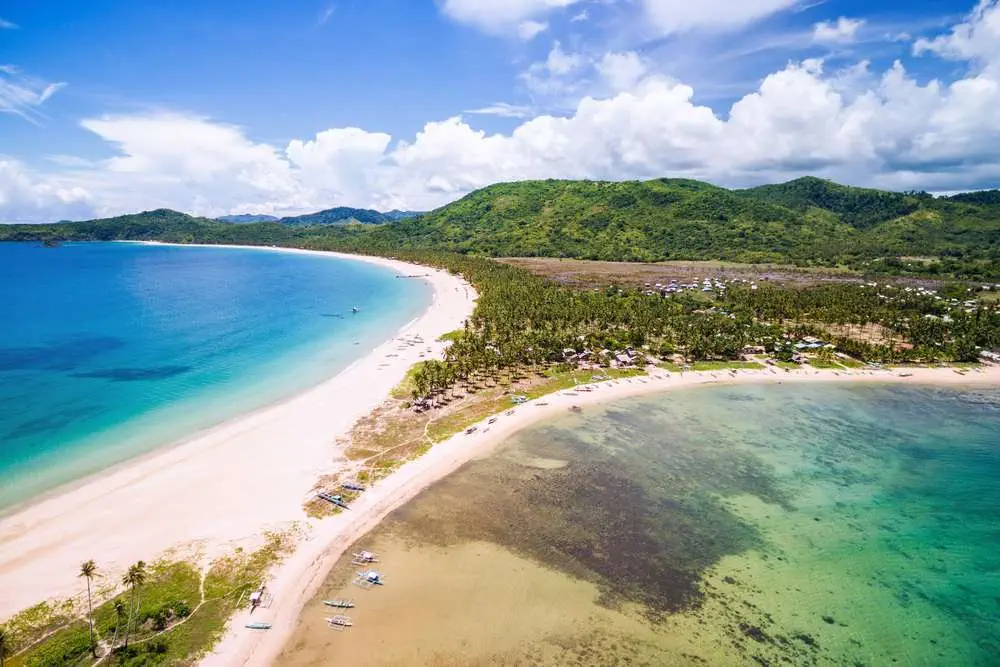 Nacpan is one of these beaches, and it's just about an hour's drive from El Nido itself. Few people visit this beach because of its relative isolation from civilization and the difficulty of the routes leading there. Rent a tricycle or, if you're courageous, a scooter and explore the city at your own pace.
The coastline of El Nido has some of the most beautiful beaches in the Philippines, in addition to the beautiful small islands that dot the waters of Bacuit Bay and may be reached by boat.
It has a beautiful length of fine white sand, soft waves, and just the proper amount of business to be convenient without being overrun by tourists. The picture-perfect setting may entice you to extend your visit.
1.1 Is there an entrance fee to Nacpan Beach?
Entry is free. A tricycle or motorcycle can take you from the El Nido city center to Nacpan Beach. The trip to the beautiful beaches in a tricycle, which costs $20 and seats two people, takes about an hour.
2. Boracay
Among the 15 most beautiful Philippines beaches, like Palawan, Boracay was formerly the proud owner of the "World's Best Island" title.
Even though the island has undergone tremendous waves of commercialization in recent years (much to the chagrin of those who knew the island before the surge of tourists), its natural white sand beach beauty is evident and still shines through despite the crowded development.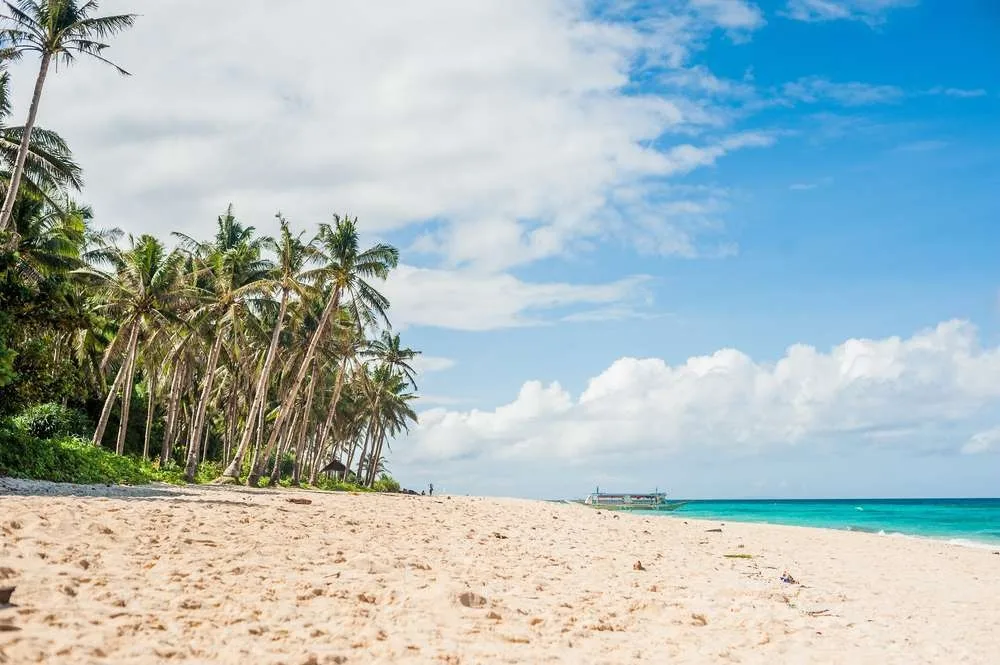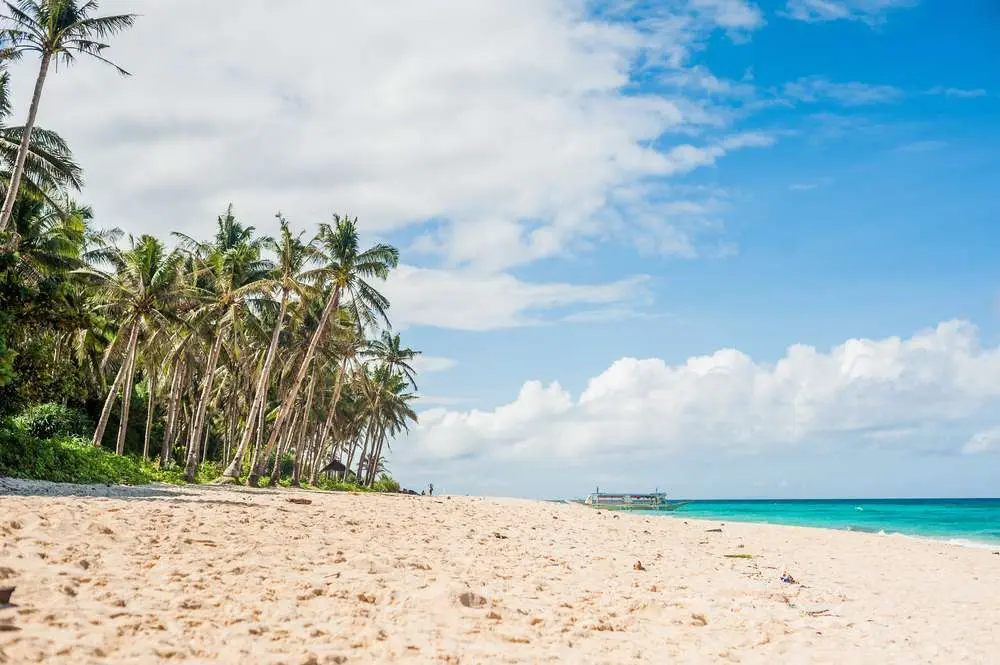 As the longest and perhaps the most popular white sand beach on the island, White sand Beaches never fail to attract visitors with its fine, fluffy sand and breathtaking sunset vistas.
From water sports to lively bars, you can find everything within walking distance of the beach. There are three separate "stations" along this lengthy stretch; if you're looking for a quiet place to relax by the water, go to Station.
2.1 What is the best month to go to Boracay?
The dry season, which runs from November to April, is the ideal time to visit Boracay. The cold, northeasterly wind blows across the island during this time, known as the "Amihan season." The sea water is ideal for swimming, diving, and other activities, and humidity and rainfall are still minimal.
3.  White Beach, Puka Shell Beach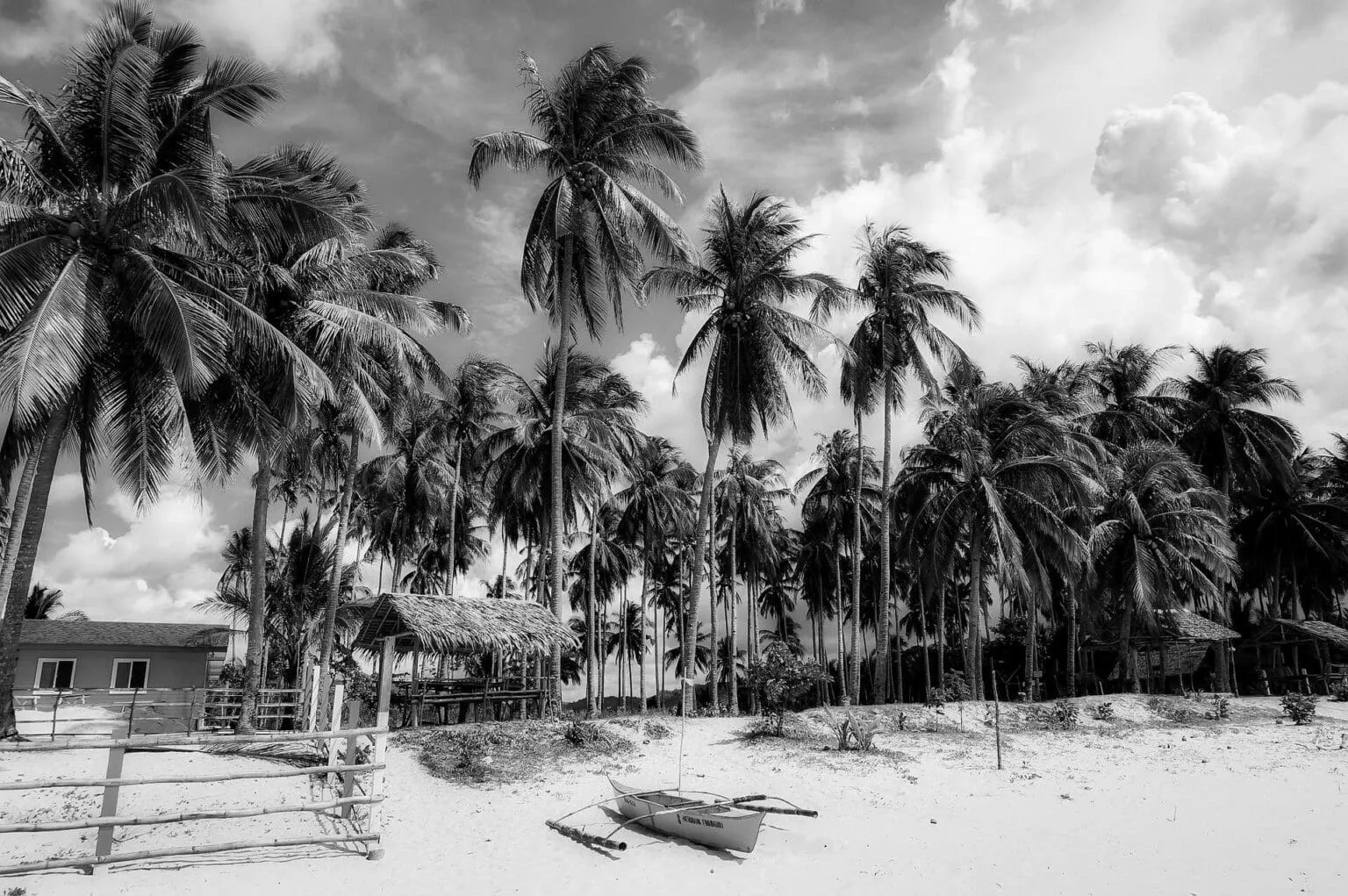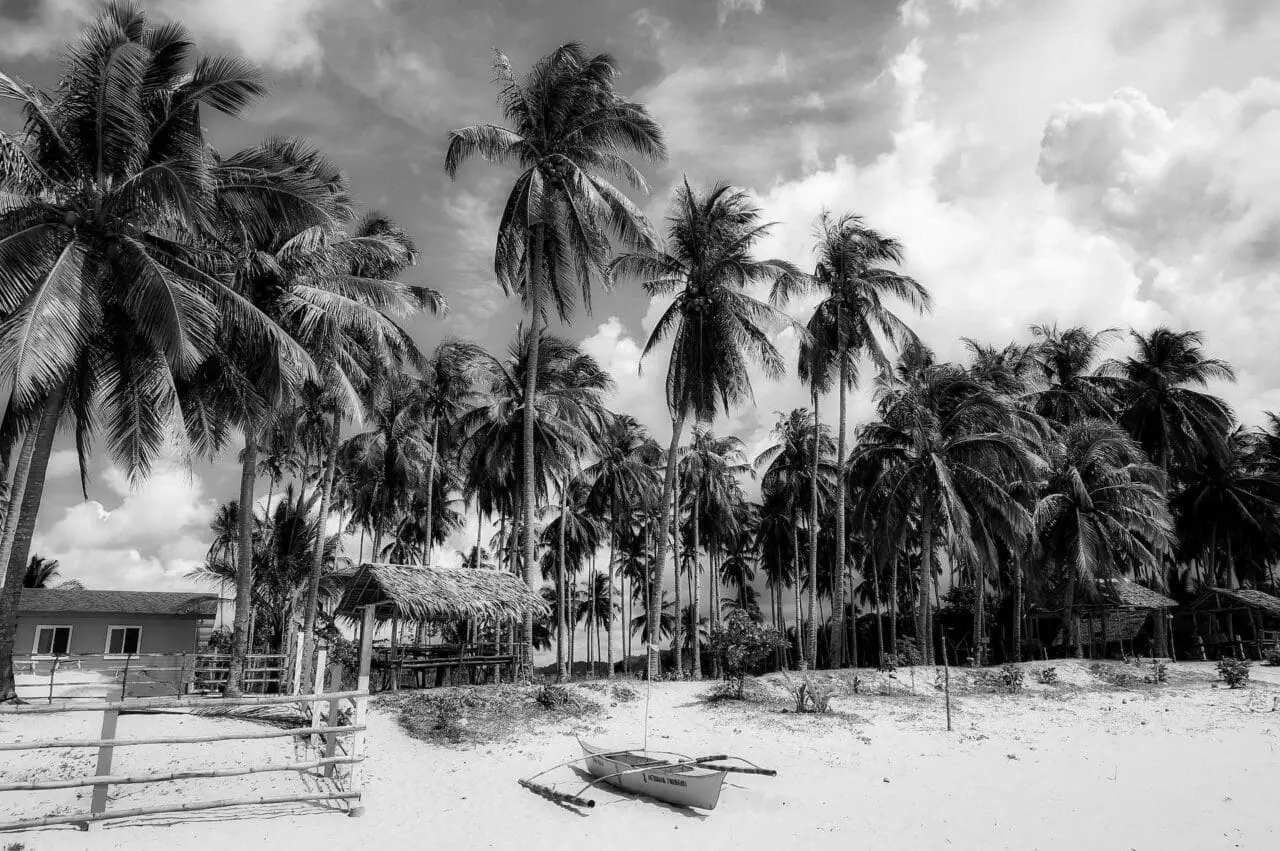 Most visitors are drawn to Puka Beach by its natural beauty—coral reefs, beach resorts, and serenity—even though it hasn't been developed nearly as much as other beaches.
To experience "Old Boracay," when the island was renowned for its tranquility and marine life, go to Puka Beach. Due to the presence of puka shells on the beach, Puka Beach's sand is notably coarser than White Beach, hence the name. It's recommended to bring your food and beverages as there are few places to buy them, and they are pricey.
On the island of Boracay, Puka Beach is yet another stunning beach stretch perfect for an island-hopping vacation. It is one of the Boracay beach locations that are more tranquil than White Beach, making it appropriate for anyone looking for a more tranquil tropical getaway.
White Beach is by far the most well-liked beach on Boracay, but be careful because the sea on this side of the island has stronger currents and greater peaks.
3.1 Can I take shells from Boracay?
If caught, offenders will be fined PHP 2,500 or imprisoned for up to three months for initial offenses and up to six months for subsequent offenses. Aside from that, it would be best if you always gave anything you take back to the beach.
4. Paradise Beach
To the south of Bantayan Island, near the city of Santa Fe, among the 15 most beautiful Philippines beaches, is a little, private beach that lives true to its name. A few nipa roofs, some wooden seats, and a gorgeous shoreline make up this beach, which is everything from obvious.
The tall palm trees, coconut trees, beach resort, and greenery provide a lovely setting, and the lack of other tourists ensures you can relax and take it all in without disturbance.
4.1 Can you swim on Paradise Island?
If caught, offenders will pay a fine of PHP2,500 or even face up to three months in jail for first-time offenders and up to six months for repeat offenders. In addition, anything taken from the beach should be given back.
5. Dumaluan Beach
Dumaluan Beach is regarded as Panglao and among the most beautiful Philippines beaches is a small Island greatest, with some even going so far as to call Alona Beach second best. The ocean is shallow and safe for families because of the lack of waves.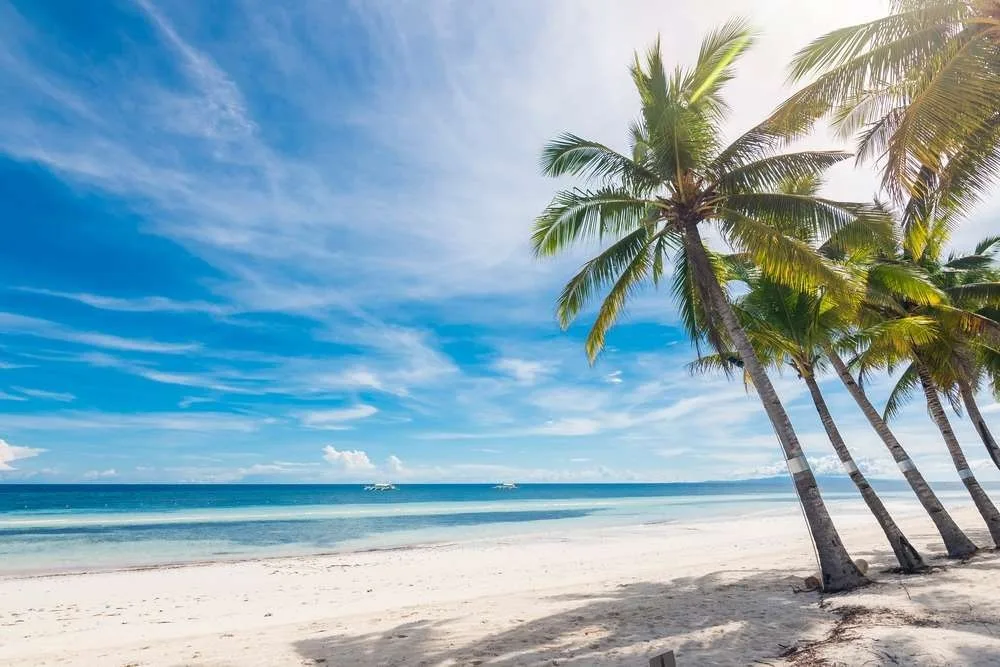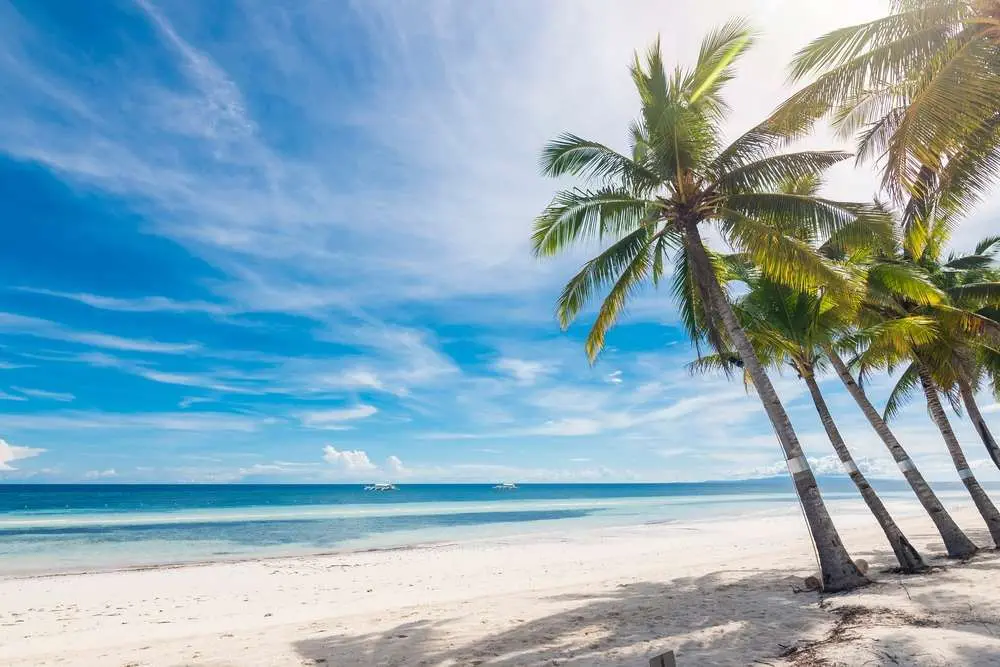 The beach is wide and clean, and there are resorts along its length where you can have a nice dinner or a cold drink. There is a public beach. However, resort guests may access the beach and use the resort's facilities, including the rental of beach homes.
Spending a little more to access the beachfront of private resorts is a good idea if you want to avoid the crowds that congregate at the public beach on the weekends.
5.1 How do I get to Dumaluan Beach Resort?
The resort's convenient shuttle service makes it simple to get about the area while staying at Dumaluan Beach Resort. Dumaluan Beach Resort features a car park on-site for guests who prefer to use their vehicles for optimal convenience. Visitors can park for nothing. The resort can arrange for taxis or car rentals if you're looking for a simple way to travel privately throughout Bohol.
6. El NidoBeach
The cove is surrounded by a sizable karst cliff, which provides further cover from curious passing boats. As it is a small island with a beach resort, it is advised that you schedule your visit with your tour operator to avoid the busiest hours if you wish to enjoy this beach in solitude.
Please don't let the crowds at this beach deter you from going there while you're in El Nido. There is a reason why it is so well-liked and popular with tourists.
On these lovely islands, you can spend the day swimming, tanning, or climbing the hill to see the Twin Beaches. A day filled with all of these things would be restful.
Due to this, trips to Nacpan Beach are very well-liked by travelers from the United States and other nations.
You must travel inland to Nacpan Beach at El Nido and participate in island-hopping activities, scuba diving, etc. If you have extra time, you should visit some of El Nido's many breathtaking beaches.
Traveling to Nacpan Beach in El Nido during the rainy season, which typically lasts island hopping tours from June to November, can be difficult due to the muddy roads. To get to the beach, these roads must be traveled.
7. Beach of Saud
Saud Beach is one of the many stunning beaches along its shore. Among the most beautiful Philippines beaches, the beauty of Saud lies in its being well-maintained and has seen very little development.
The beach has beautiful sand, the ocean is huge, and the water is brilliant blue. This picture-perfect beach is two kilometers long, covered in pristine white sand, and famous for its calm seas and breathtaking sunset views.
During your excursion through Pagudpud's surrounding areas, you shouldn't miss the opportunity to stop at this stunning beach. The famed Bangui windmills of the province may be seen in the distance, adding an extra special touch to the already breathtaking scenery.  Take pictures as you navigate through the water, using the breathtaking panorama of Pagudpud as a background.
Protip: Because the waves tend to be rough during the rainy and typhoon season (which typically runs from late May to October), you should try to avoid that time of year.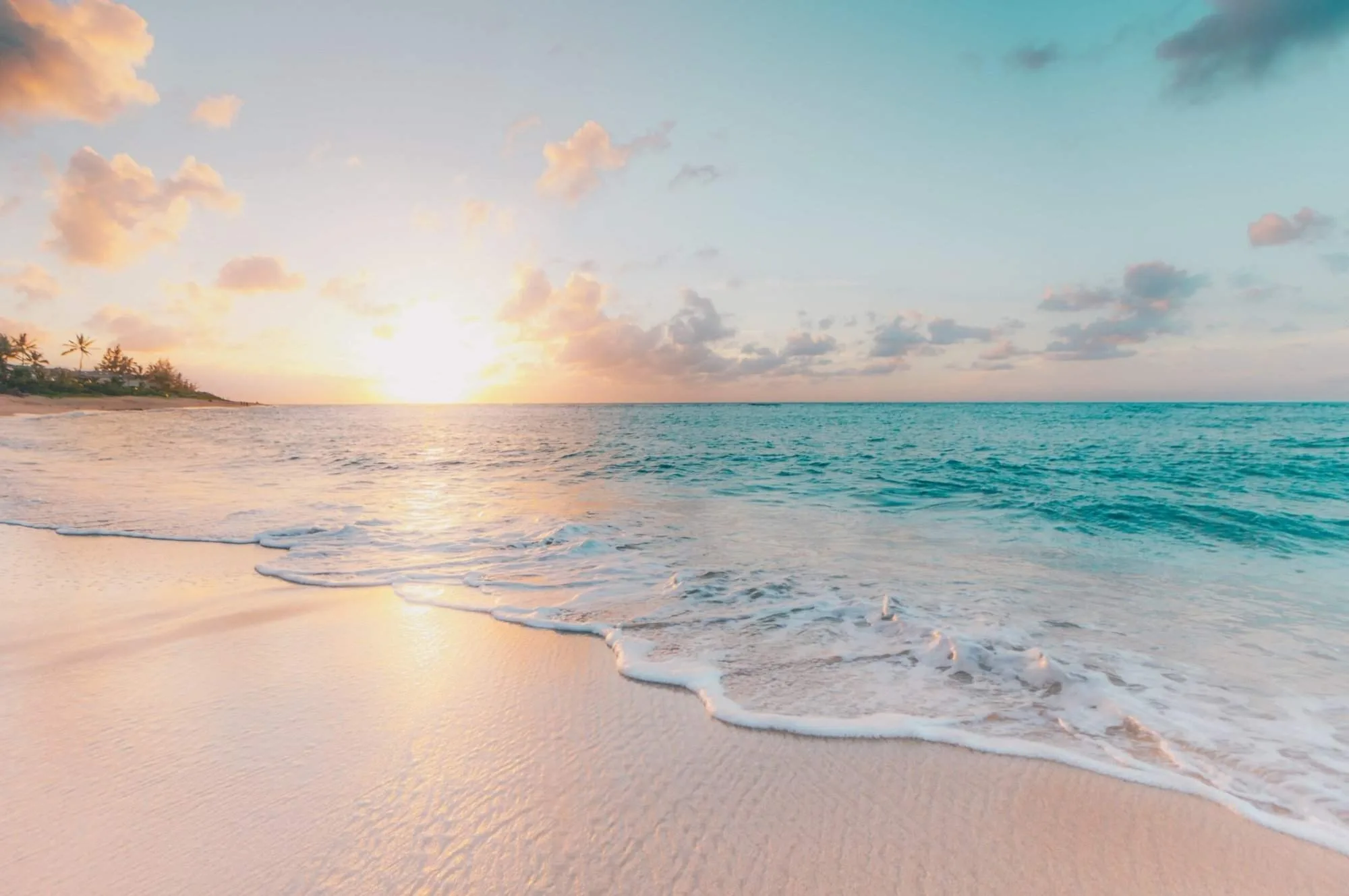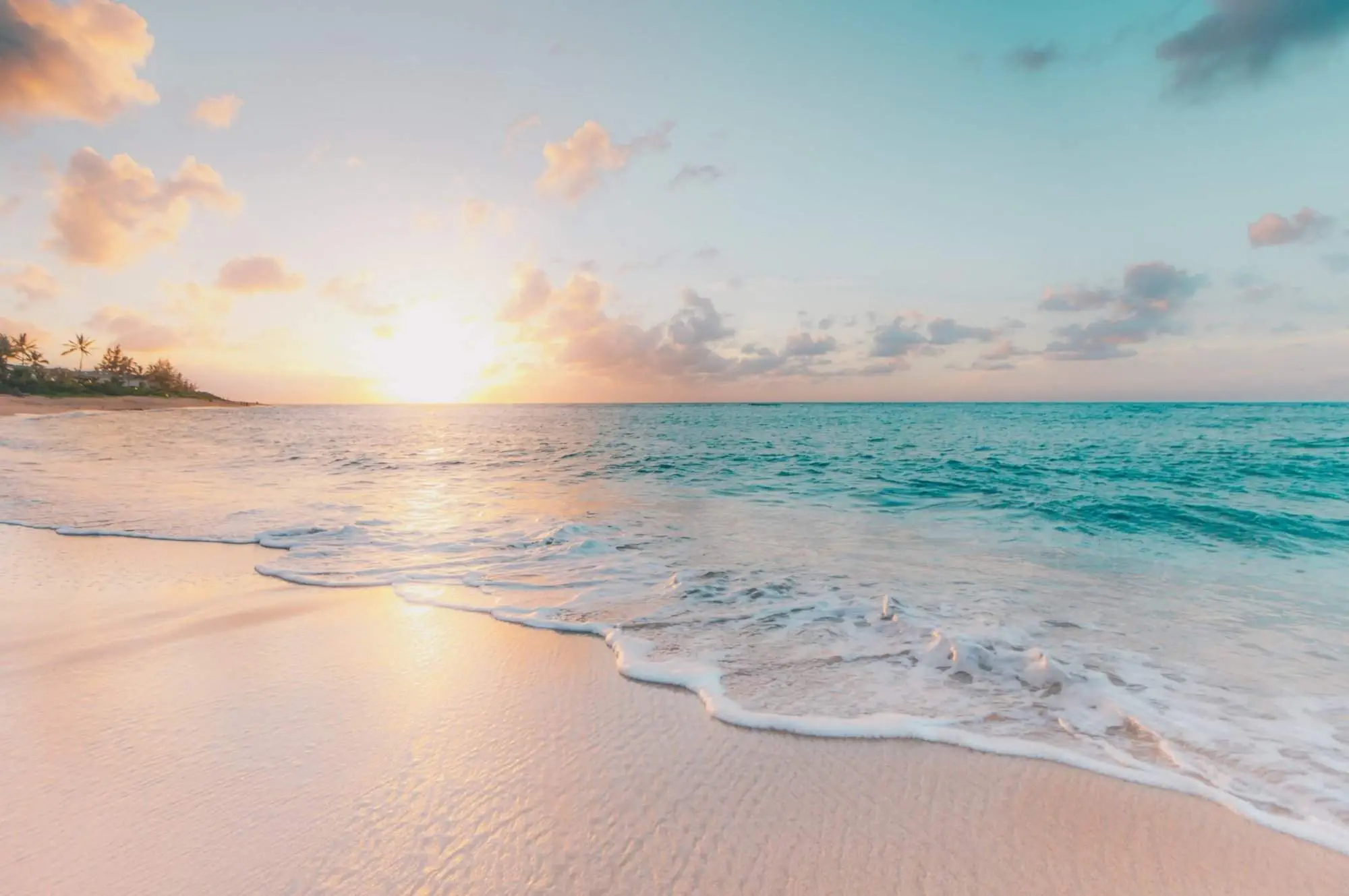 8. Bay of Anawangin
Campers from Manila go to Anawangin Cove to escape the city's hectic pace. They set up tents, take just what they need, and reconnect with nature by living in the wilderness with no cell phone reception.
Being a beautiful and intriguing byproduct of a sad event in Philippine history, the cove's formation is hard to beat. After the 1991 eruption of Mount Pinatubo, which caused widespread destruction throughout a large portion of the Philippines, no one anticipated that the subsequent ashfall would transform the rocky shore of Anawangin into the sandy beach it is today.
Moreover, on these incredible beaches, unexpectedly, Agoho trees thrived to become lush woodland that now shelters campers from the beach's sweltering heat. Hikers may experience the untamed beauty of Anawangin by ascending a hill for a panoramic view of the whole cove.
9. Banjul Beach
On the island of Coron, Banjul Beach is a well-liked spot for dining on tour. You'll want to stay for more than just dinner because of the expansive limestone structures in the background, the stunning blue sea, and the smooth white beach.
Part of what makes it so endearing is its diminutiveness. Its modest outpost with a few cabins and wooden tables is great for those that want to take their time on a beach vacation and enjoy the lovely beach surroundings.
While visiting Coron, you should benefit from taking an island-hopping tour that includes a visit to Banol Beach. A nightlong camping trip that includes this beach is possible in Coron. You won't forget to bring your camera because it is one of Coron's most alluring tourist attractions!
You should avoid going during the monsoon and typhoon seasons, which normally go from July through September, because the island-hopping tour involves travelling by boat.
10. Marimegmeg
Among the most beautiful Philippines beaches that are also great for watching the sunset is Marimegmeg Beach, which can be reached by road from the rolling hills of El Nido proper, much like Nacpan.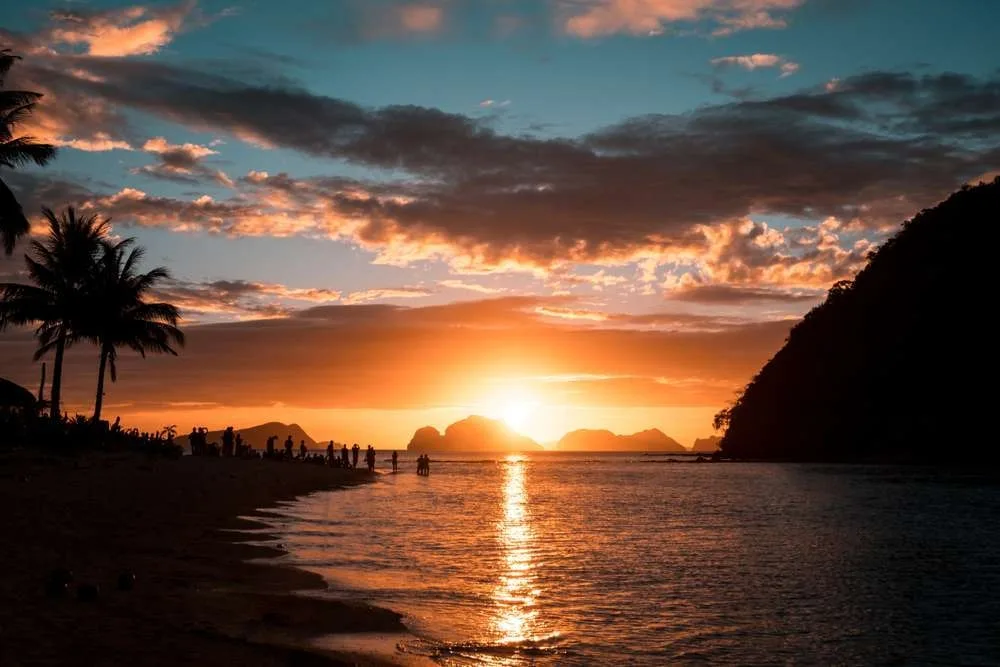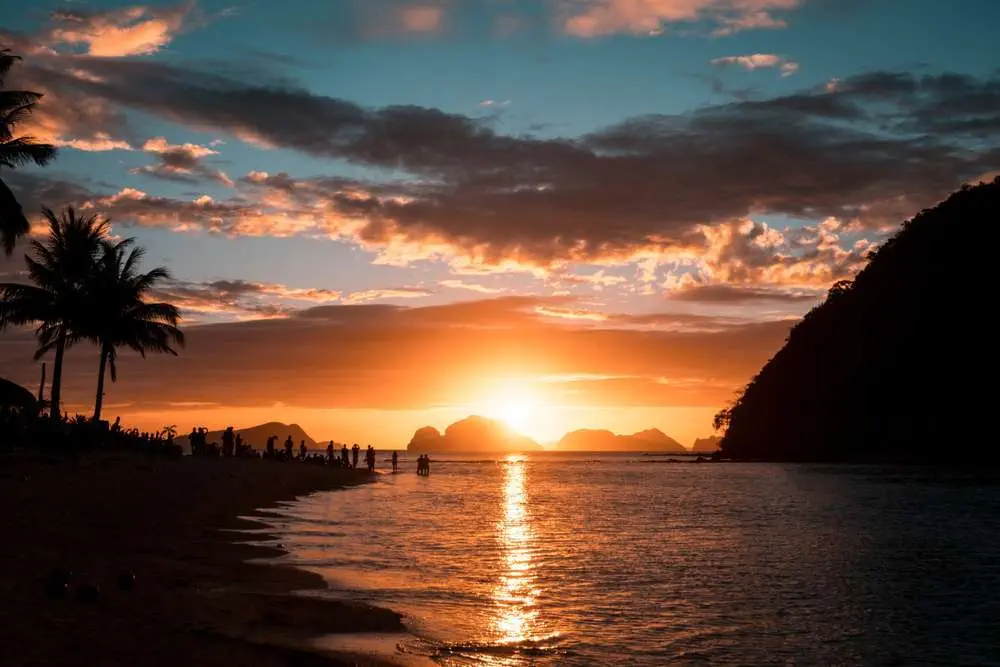 The beach's general atmosphere is a big draw for vacationers. Envision lounging on beanbags, swings, and daybeds as the sun goes down, with beverages, music, and the sea only steps away. Marimegmeg Beach is a popular destination since it is a 15-minute tricycle ride from El Nido town core.
11. Mahabang Buhangin Beach
Mahabang Buhangin, located on Calaguas Island near Tinaga in Camarines Norte, is another among the most beautiful Philippines beaches. It is a magnificent hidden beach that has been likened to the Boracay decades past.
Tourists from the surrounding areas come to philippine beaches and go to this bounty beach, whose name means "long beach" in the local language, to enjoy the beautiful blue seas, white sand, and abundant vegetation. You can spend the weekend here or go on an adventure to Calaguas Island as this is among the best beaches.
Renting a cottage or pitching a tent on this beach and rediscovering what it means to be in a tropical paradise while swimming about in its turquoise waters is one of the greatest ways to take advantage of this beach, like scuba diving, cliff diving, etc. you can see sea turtles also.
Since getting to Calaguas would require you to ride on a boat, it is strongly recommended that you avoid making travel plans to this area during the monsoon and typhoon seasons, which typically run from June to October. There aren't many shopping options, but the beach is great for camping.
Bring your tent or book one of the beachfront villas to spend more time at the beautiful beach. A day may be spent exploring the island's small community, hopping to adjacent islands and limestone cliffs, and trekking up surrounding hills for stunning scenery.
11.1 How do I get to Mahabang buhangin?
The two access points to Calaguas are Vinzon or Paracale, so head in that direction from Diet. Take a jeepney or hire a tricycle to go to the fish port if you're coming from Vinzon. It takes about 30 minutes to get there. Take a van to Paracale if traveling there instead.
12. Beach of Lambug
Being a public beach, Lambug is a favorite among the locals and is regarded as one of the top 15 beaches in the Philippines. Visit, however, on an average weekday.
Badian, a well-known location for canyoneering adventures, is home to Lambug Beach, a well-kept secret. This public beach is ideal for unwinding, relaxing, and enjoying the sun's warmth. But did you know about this local gem?
It's a calm beach area where you can relax and listen to the waves; it looks nice to see sea turtles, scuba diving, etc., as they break on the coast, and you can live out your beach fantasies.
Although few people visit this location every day, you must spend the night close by if you want to witness the marine life. The area directly surrounding the beach has a few rooms and cottages for rent.
The beach is home to several attractive hotels and cottages along its expansive stretch of fine, white sand, but it's also a great place to pitch a tent for the night.
It is quiet and unassuming; there are no posh stores or large crowds of tourists. Its solitude, simplicity, and laid-back atmosphere make it alluring as a getaway from Cebu City's bustle.
13. Boulders of Valugan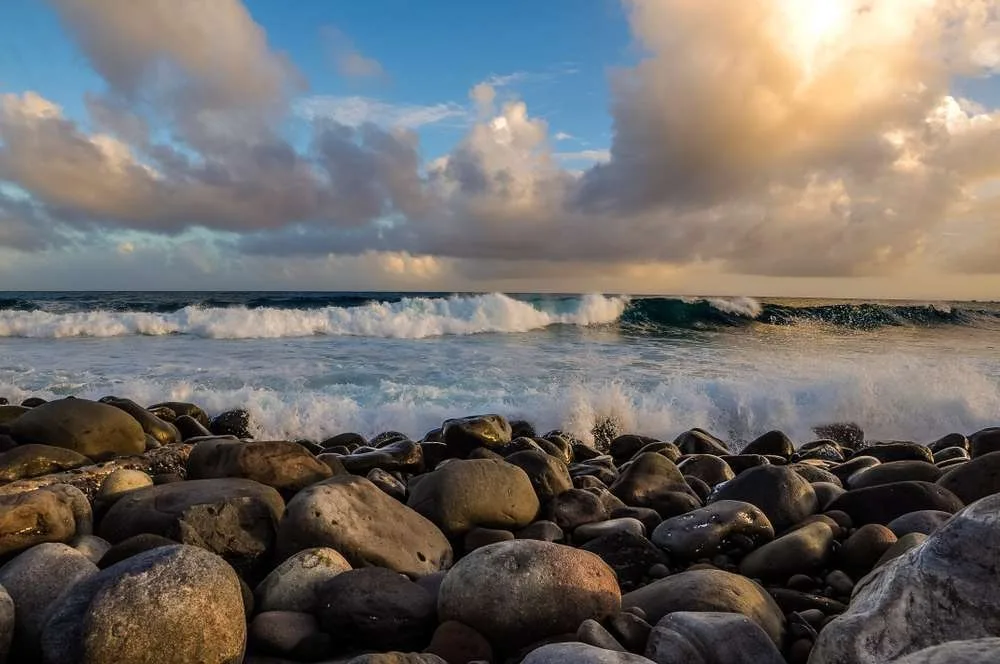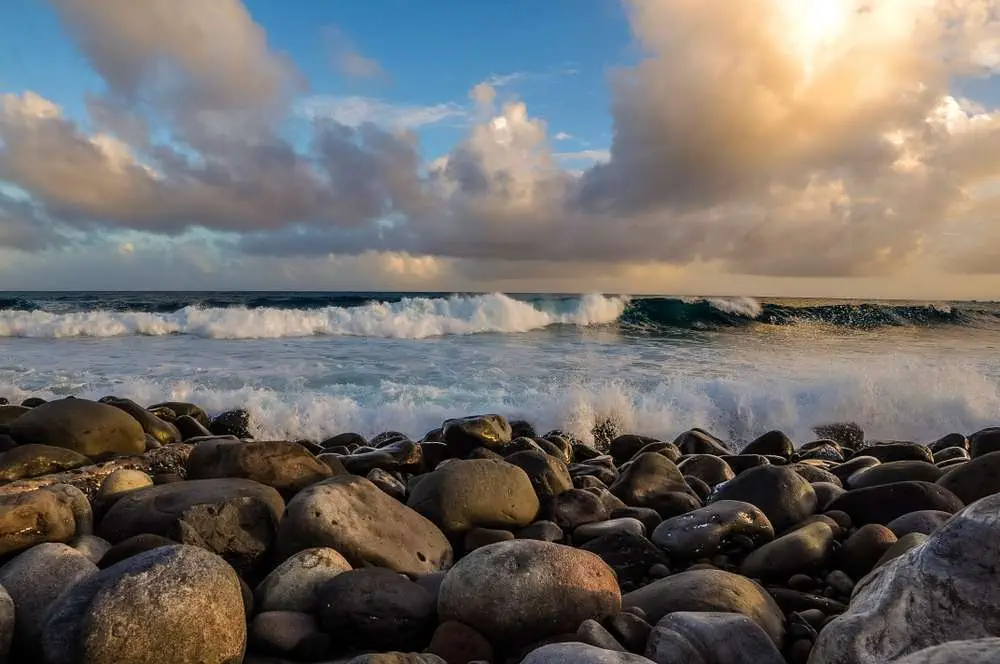 Vaughan Boulder Beach is an impressive and pristine beaches gateway sight in the northernmost Philippine province of Batanes.
Because of an eruption of nearby Mount Iraya that occurred more than a millennium ago, the island of Valugan is covered with smooth rocks and boulders that provide breathtaking scenery. These landscapes are a photographer's dream, with striking color contrasts between the grey limestone cliffs, the deep blue ocean, and the undulating green hills.
Closing Thoughts
These 15 most stunning beaches in the Philippines include some of the nicest ones, the least expensive, and the most accessible. So, what are you waiting for? Make your memorable getaway today.
These are some honourable mentions places that you might also want to include in your list;  pink beach, great Santa Cruz island, siquijor island salagdoong beach, calitang beach and dahican beach in this tropical island paradise.
As an Amazon Associate, Icy Canada earns from qualifying purchases.
[amazon_auto_links id="81298"]
The Icy Canada team strives to create content that matters. It's why our content is written by travel writers, authority experts, well-known authors, and niche experts. Our content is also periodically reviewed by expert authors for accuracy and trustworthiness.
As an Amazon Associate, Icy Canada earns from qualifying purchases. [amazon_auto_links id="81298"]