Ottawa, get ready to have fun at The Big Bounce Canada which is available on numerous dates and time spots at Ottawa – Saunders Farm.
If you're looking for a short weekend getaway or some special tourist attraction in Ottawa, then here's something you should definitely check out! The Big Bounce Canada is here to make your family time more enjoyable and fun-filled.
Known to be the world's largest inflatable park with several fun-filled activities, Big Bounce Canada is coming to 3 Canadian cities this summer. 
1. What Is Big Bounce Canada? 
Big Bounce Canada is the world's largest inflatable park, which several other activities meant for all age groups, to make sure that nobody feels left out!
From a 300m obstacle race to an oversized slide, Big Bounce Canada has it all and the best part is that this is suitable for all age groups, from toddlers to adults.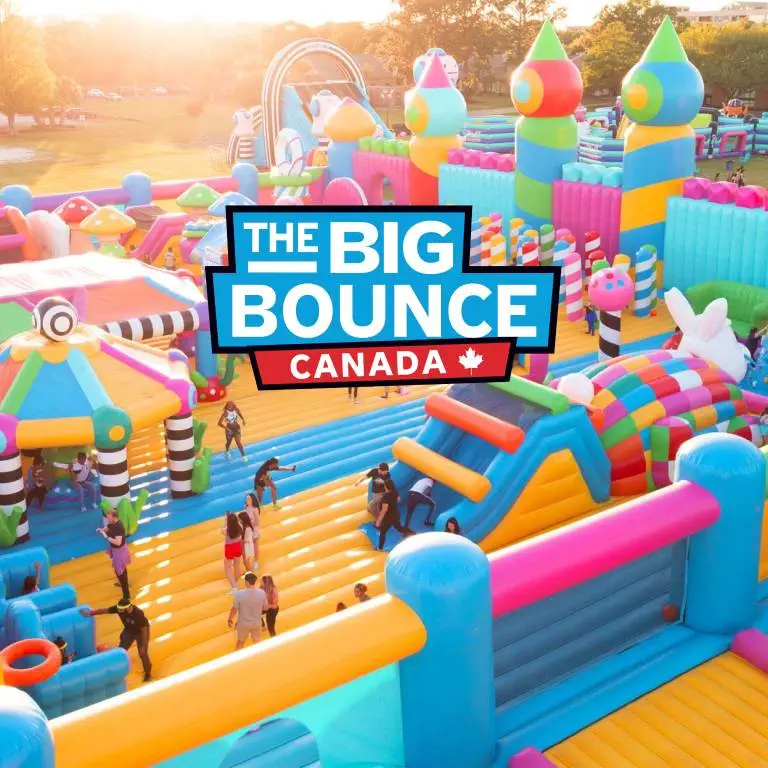 2. What Are the Main Attractions in Big Bounce Canada? 
This inflatable park has got the perfect summer vibes with huge slides and oversized balls! This theme park will be suitable for you – whether you visit with your friends or your kids, you won't be disappointed at all.
This inflatable park has a 300m long inflated obstacle race which, even though unsuitable for toddlers, is sure to entertain you.
Apart from this, there is also the Sport Slam activity which gives you a reason to get competitive in the bouncy sports area.
Also, there is the Air space activity with its oversized slides and huge ball pits which have unlimited access.
Additionally, it has a bouncy castle covering an area of about 16,000ft and is 32 ft high; all the more reason to visit this theme park, right? 
Moreover, there will be several food trucks and other stalls around the theme park to make your experience more joyful. 
3. Dates and Time 
The Big Bounce Canada theme park will be available on many dates and you can select your date slots according to your convenience.
For all the dates, the opening time of the theme park remains the same, that is from 9 a.m. So, what are you waiting for?
4. Duration 
The duration for all the dates remains the same that is 3 hours. The Bouncy Castle has slots which you can decide according to your convenience while booking the tickets.
The 3 slots for the bouncy castle are from 9:10 a.m., 10:05 a.m. and 11:00 a.m. 
5. Age Requirement 
All ages are allowed, but kids who are 3 years old or younger must be accompanied by a parent or guardian with a ticket. 
6. Tickets 
Even though the tickets to the event site are free, there are several slots based on the visitors' age.
There are 4 sessions, namely the toddler session which is for the age range 0-3 years, the junior session which is for the age range 0-7, which apparently is specifically designed for smaller kids, the bigger kids session which is for the age range 0-15 and the adult session finally, which for 16 years old and above.
You can get tickets according to your convenience from FEVER and while doing so do not forget to check if all the sessions are available on the date you're choosing.
7. Details for the Event – Big Bounce Canada in Ottawa 
What –

Big Bounce Canada, Ottawa. 

When –

On various dates.

Where –

Saunders Farm: 7893 Bleeks Road, Ottawa, K0A 3P0.

Time –

From 9 a.m.(Duration – 3 hours).

Tickets – On FEVER.