Dogs are certainly one of the loveliest creatures to exist. They are a bundle of happiness, ever-ready to cuddle. The one common thing among all dog lovers is that their dog is never just a 'pet' to them. It is like their child and the most loved family member. If you're someone who loves dogs, we know that you always want the best for your pooch. This article will help you find the best dog daycare Toronto.
If you're searching for top dog daycare Toronto, you're at the right place. Leaving your dog alone at home can be distressing for both, the owner as well as the dog. It can cause separation anxiety which then leads to destructive behavior.
Lucky for you, Toronto is abundant with excellent dog daycare & dog boarding centers that render a variety of services, whether you have a small dog or a giant mutt. All of the dog daycare Toronto in the list below are reliable and are known to have numerous happy customers that keep coming back. So, you know your fur baby is in good hands, and you can have a harmonious outing.
Here is The List of 5 Finest Dog Daycare Toronto
Parker Pet Care – Pet Boarding Service
Address: 68 Floral Pkwy, North York, Toronto ON M6L 2B9, Canada
Timings: 7am- 7pm
Parker Pet Care is undoubtedly one of the best choices for your pupper. They provide accommodations for dogs of all sizes, breeds, and ages. With a huge play area (for big & small dogs), toys, comfortable bedding, fresh water throughout the day, and a splash pool, your pet is sure to have the time of its life! They are known for their passionate and dedicated staff. You can leave your dog under their loving care for as long as you wish to. No need to worry as your dog is given proper supervision, love & attention, and you will receive frequent updates via email or phone.
The sweet part is that you can have a free trial day where the staff will get to know your pet and its likes and dislikes for a pleasant stay.
Services :
Pick up and drop in air-conditioned 'pet taxi.'
Clubhouse – socialization/group activities
One on one activities for shy pets
Grooming
Dog daycare & overnight boarding
Medical supervision
    2. Woof! Dog Shop And Daycare
Address: 843 Bloor St W, Toronto, Canada
Timings: 6am- 9pm | 9am-5pm on Saturdays
The pictures of happy dogs at Woof! Doggy daycare's website says it all. The staff of Woof! Dog shop and daycare is thoroughly trained and possesses advanced knowledge & background of animal behavior. This is a good option if you're looking for affordable yet quality care services.
A special feature is that the dogs are grouped based on their temperament and energy levels, allowing them to get along well, creating an amicable environment. They take in only a limited number of customers as 'No Overcrowding' is a strict policy here. The caretakers are competent at handling over-excited dogs and using positive reinforcement to keep the dogs in order.
Apart from this, a part of their proceeds goes to dog rescue agencies in Ontario.
Services:
3. Unleashed in The City
Address: 211 Ossington Ave, Toronto, Canada
Timings: 7:30am- 6pm
If your dog requires an 'adventure day,' then this is the place for it. Unleashed in the city combines daycare and play care with special emphasis on social interaction.  You can choose a field trip, hike plus swimming, park, or on-leash pack stroll around the neighborhood for your four-legged best friend. Don't worry, your dog will get plenty of cuddles and relaxation time after a long day of canine fun.
Along with this, your dog will learn basic pack etiquette, socialization skills, and general obedience. Your dog will have enough toys to play with and a comfortable bed to chill out on. The staff is dedicated, well experienced, and encourages learning through positive play by spending quality time with your pet.
Services:
Shop
Dog training
Cab service
Memberships
Behavioral assessment for your dog
4. Doggieland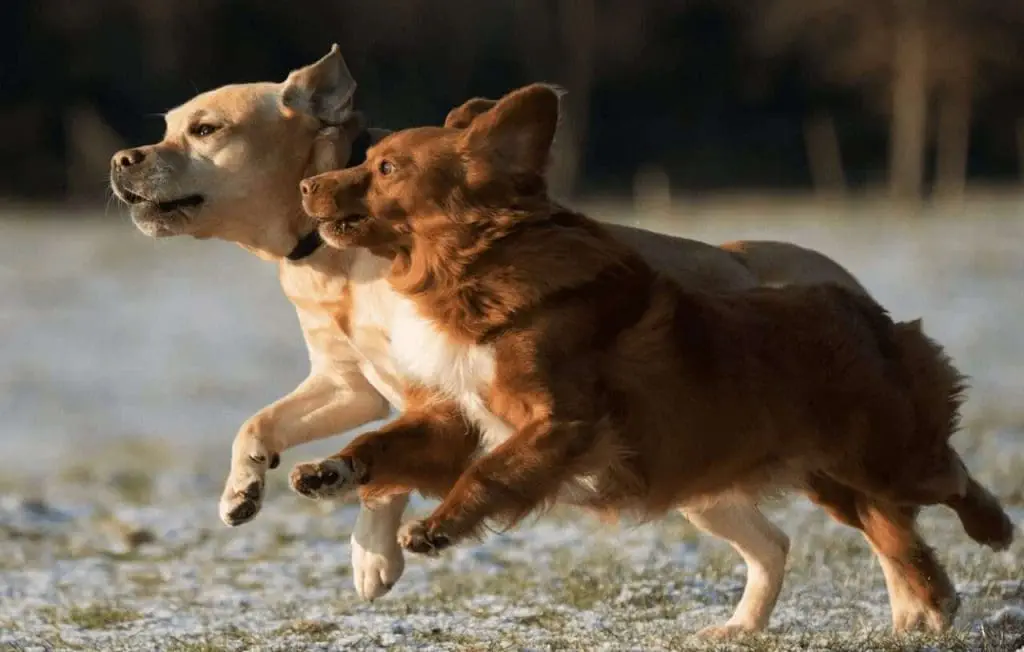 Address: 1 Fairlawn Ave, Toronto, ON M5M 1S6
Timings: 7am- 7pm (Mon-Fri)
Doggieland is a certified dog daycare Toronto. It has been voted "Top Pet Daycare in GTA" in Top Choice magazine numerous times. They provide free dog daycare service on your first day! With an indoor play area, a lounge room, and a fenced outdoor area, your dog is free to play all day and have a jolly time. The staff at Doggieland is hardworking and loving, supervising the dogs 24hrs a day. The testimonials on their site are enough to give you the assurance you need. It is definitely the best dog daycare Toronto.
They have various packages for daycare boarding, ranging from half to full day to overnight packages, and if you happen to have more than 1 dog, the packages can be shared. Doggieland provides your dog/s with their own bowls and cleans water and food at all hours of the day.
Services:
Boarding
Daycare
Grooming
Pick up and drop off
Home visits
Dog walking
Chiropractic
Training
5. Paws Playground
Address: 19 Carlaw Ave, Toronto, Canada
Timings: 7am-6pm
This daycare boarding center is nothing less than a 'dog heaven.' An important aspect of Paws is the 'assessment' which is like an interview to know whether you are comfortable leaving your puppy here, whether your dog is comfortable with the staff, followed by introducing your dog to all the other furry friends there. Thus ensuring that your dog will have an enjoyable stay at Paws Playgrounds.
Your dog can spend the day playing on the slides, the jungle gym, in the pool, running around in the free space, and then curl up on the couch or in the daycare attendant's lap for some cuddles. There is a separate play area for small dogs and private areas for lunch and dinner, along with cage-free kennels.
Services:
In-home puppy visits- potty training, feeding, etc
Dog bathing
Cat sitting
Dog boarding services and daycare
Security monitoring
These were some of the choicest dog daycare Toronto for your furry family members. The basic requirements for all of these include- your dog must be vaccinated and free of flea/ticks,  non-aggressive, and shouldn't have been exposed to contagious illnesses. Rest assured, there is no doubt that your dog will have an awesome time in these daycare boarding centers. The smile on its face will tell you all!