Burnaby Village Museum is an open-air museum established in 1972 in Burnaby, Canada, near Deer Lake Park.
Earlier known as the Heritage Village, it consists of beautiful historical buildings, a blacksmith shop, a general store, and an old-style ice cream parlour, and has the unique charm of the 1920s!
It is a place where history can be lived again. The buildings in Burnaby Village Museum are a real beauty, some of them being original heritage buildings bought from other communities.
In contrast, others are facsimiles of old buildings and are used to display over 50,000 artefacts ranging in size and variety.
If you are in Vancouver, you need to check out the Burnaby Village Museum to avoid the FOMO you will have to go through later. Yes, it is that amazing!
Also, to ensure you have a perfect time in Vancouver, you can visit some places as amazing and beautiful as the Burnaby Village Museum.
If you are curious and want to learn about some permanent displays in Burnaby Village Museum, you should plan a visit.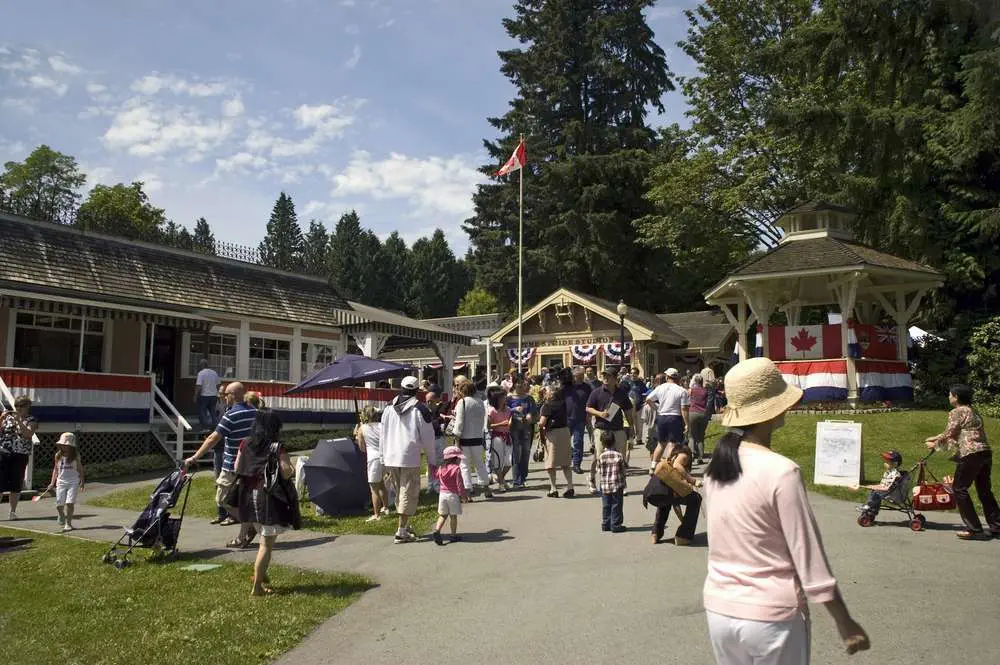 History of the Burnaby Village Museum
Burnaby Village Museum was once just a 4.3-acre site with a limited number of artefacts.
You will be surprised to know that now it covers an area of 10 acres and has more than 50,000 objects varying in size and creativity.
The Museum was inaugurated in 1971 in the presence of the Governor-General of Canada, and only in the first three days of its opening, the Museum had already had 15,000 visitors. Just Imagine!
In 1984, the Heritage Village was named the "Burnaby Village Museum' to reflect its role as the community museum of Burnaby.
In the three years that followed, the area expanded to 9 acres as it acquired lands near Deer Lake, and a new entrance was made.
The Olympic Torch Relay in 2010 had one of its stops at the Burnaby Village Museum.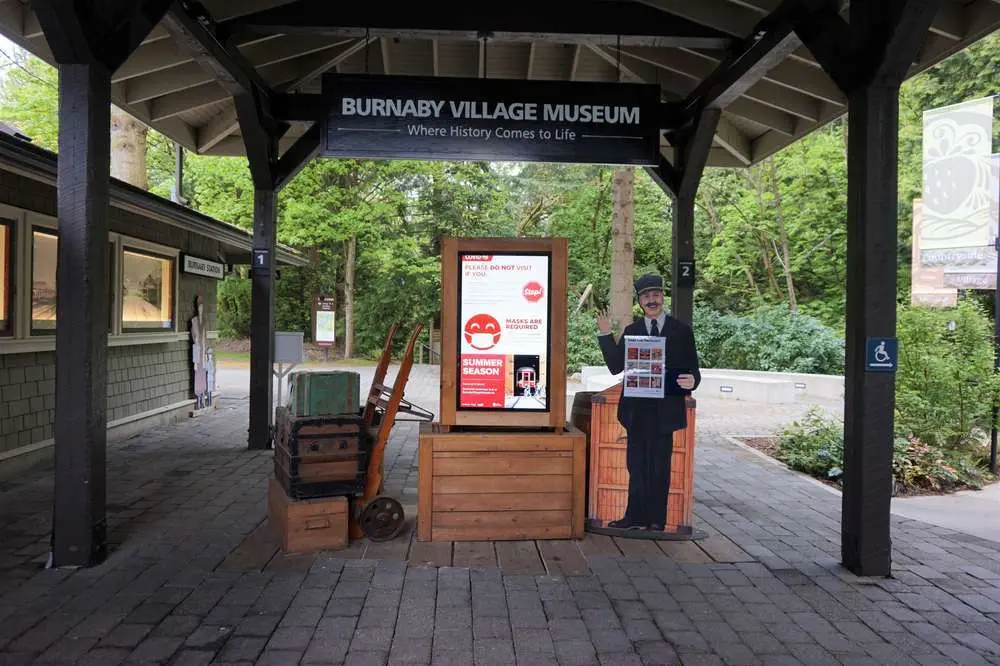 Permanent Exhibits at the Burnaby Village Museum
During the first season of its opening in 1972, the museum had livestock on display. As a part of promoting the museum, the visitors were allowed to smell the hoofs.
Three years following the first season, a Chinese Herbalist display, a model railway, and a 1911 bachelor's house built by Tom Irvine were opened for display.
The following year, Burnaby's heritage building was set up in the museum as a real estate and surveyor's office along with the Royal Bank building.
In 2001, the Museum's interurban tram was sent for restoration, which was returned to the Museum in its original appearance in 2007.
The Museum has been an attraction as a perfect set to shoot many more series.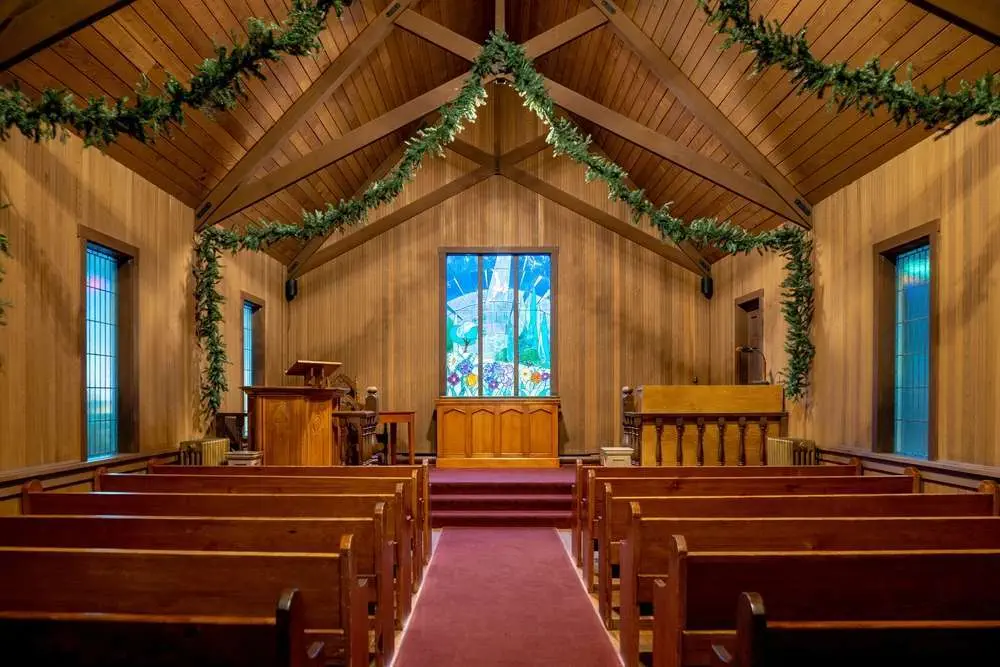 Permanent Exhibits at the Museum 
1. Church
The church at the Museum is a facsimile of a 1920s church and is mostly used for weddings.
2. C.W. Parker Carousel
The 1912 C.W. Parker Carousel is over 100 years old and has been attractive for many generations.
The carousel rides are much more in demand during festivals or season breaks like Spring break and Heritage Christmas. One spin of the carousel costs around $2.65. Even local schools' spring break scavenger hunt also takes place here.
There are strict rules regarding riding and loading the carousel so that it can carry on to give a fantastic experience to its visitors for generations to come.
3. The Stride Studios
It is a temporary gallery that displays different and varied of exhibits each year.
4. Central Park Theatre
It is the theatre in which silent, black, and white movies were played from the 1920s.
5. Royal bank
This bank was constructed in 1950 and appeared exactly like the Burnaby bank, which opened in 1921.
6. Interurban tram
Cherry woods and oak woods beautifully highlight it. It was returned to the Museum after getting restored for five years.
7. Way Sang Yuen Wat Kee
It is a reproduction of a Chinese Herbal shop. The contents found in it were provided by a store in Victoria, which was operational in the years 1900-1971.
8. Jesse Love Farmhouse
This 1893 farmhouse is a symbol of the love of Jesse and Martha. Also, it is the oldest building in the Burnaby Village Museum.
9. Burnaby Post
It is a printing shop in excellent working condition. Its name is kept in Burnaby's weekly paper, the Burnaby post.
10. Burnaby Lake General Store
It is a general store based on the actual Burnaby store from the 1920s.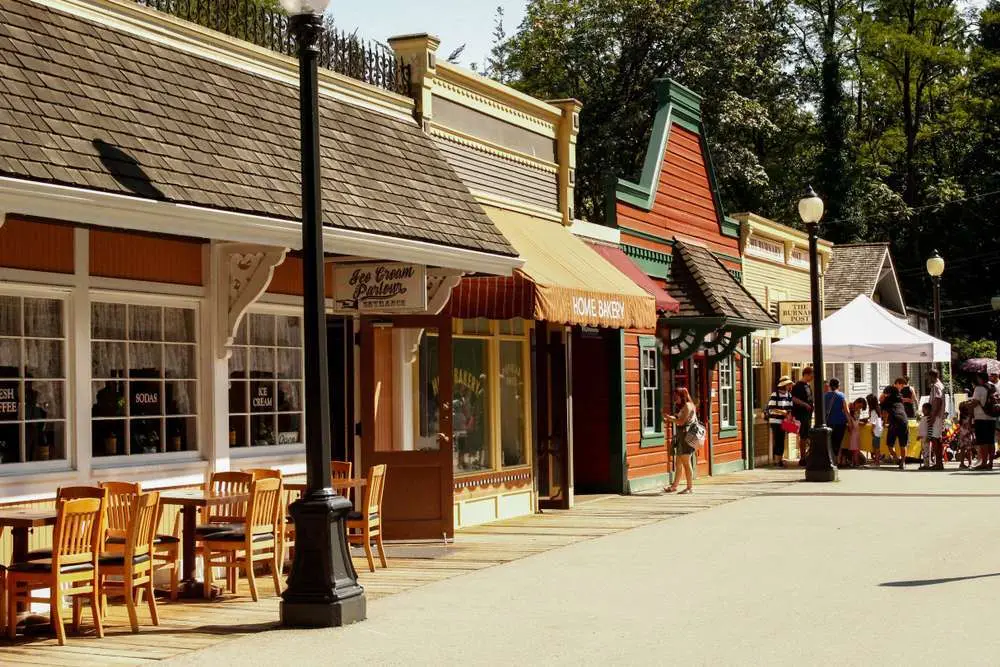 11. Seaforth school
It was a one-room school that initially served 20 students in Burnaby. It was moved to the Burnaby Village Museum in 1983 as a permanent exhibit and was opened to the public as it was of great historical importance.
12. Treble Chef Phonographs
It is a music shop which has a well-functional piano. It is based on a 1920 music shop.
13. Vancouver Heights Sheet Metal Works
The building was initially a shed used for horseshoeing. Now, it consists of tools used to prepare items from metal sheets.
14. Icecream Parlour
It is the Museum's restaurant and can house 75 guests at a time. It is open for both lunch and dinner. You can enjoy a memorable meal or stop by for a coffee at this restaurant.
15. Wagner's Blacksmith Shop
It is an operational blacksmith shop based on a Burnaby business set up in 1925. You can feel the heat of the shop when you visit it. It is one of the high displays of the Burnaby Village Museum.
Various Events And Celebrations
Different events are organized in the Museum around the year. The Museum is decorated, and activities are classified according to the festival.
One of the most enjoyable events among it is Christmas- the entire village is decorated beautifully.
But that is not all. The most probable reason people visit the Museum during Christmas is the 'Scavenger Hunt,' which takes place in the haunted village, the live music performances, and crafts by children.
Another major celebration is the Spring break, where several educational activities for children are organized at the 'Learning House.'
On Canada Day, heritage activities and face painting are organized for children. A parade is also carried out, and there is lots of entertainment.
Other events at the Museum include Victoria day, Labour day, Discovery day, and many more.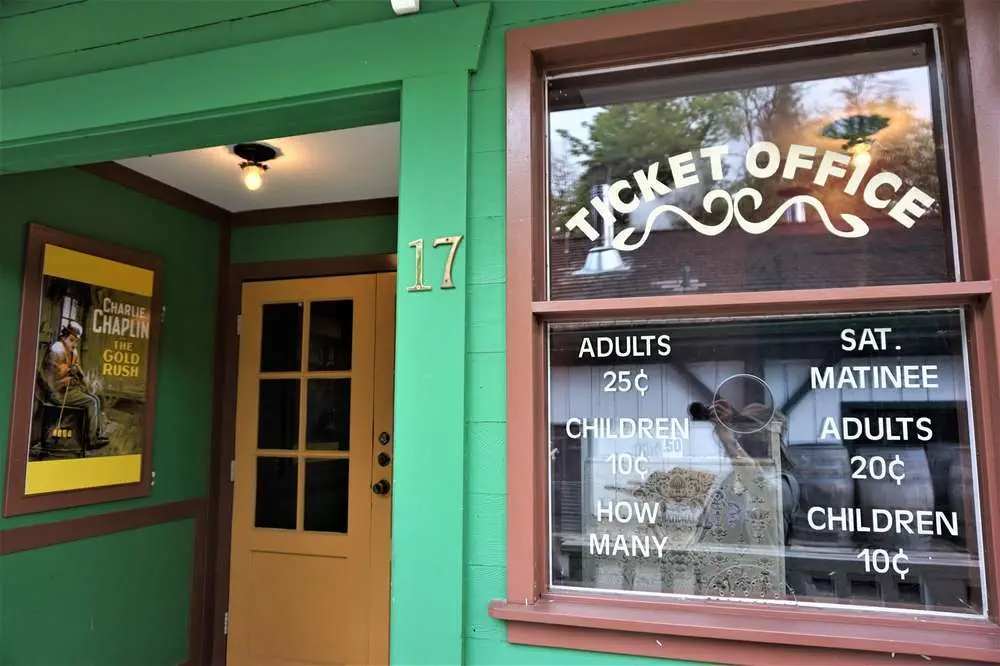 Closing Thoughts
The Burnaby Village Museum is worth a visit if you have not been there yet.  You would be quickly tired, but the displays, the celebrations and the variety of buildings it offers would not end.
It has a lot to show, whether it be the variety of artefacts, the one-room school, or the seven-mph carousel.
Now, here the Deal maker has completely free entry right now. You read it right! Unlike other heritage sites, which may charge $10 or even more, gate entry is free at the Burnaby Village Museum.
You can reach out to the Burnaby Civic Employees Union for any issue with the appointed employees at the museum.
So, what are you waiting for? Experience Burnaby Village Museum, today.
To plan a trip to this beautiful place, visit the official site of the Burnaby Village Museum. Or, if you already went to the museum, leave your Burnaby village museum reviews below.
FAQs – Burnaby Village Museum
1. The Best way to reach the Burnaby Village Museum?
You may take any of these options out of bus or metros from the following transit lines as they have stops near the Burnaby Village Museum.
Both of them are equally convenient.
Bus -110, 123, 144.
Metro – Millenium Line, Expo Line.
2. What Movies are Shot At the Burnaby Village Museum?
This brilliant museum has been a fantastic set to shoot so many films. Several movies and series have been shot here, a few of them being:
1. Lucifer
Lucifer is an American Television series that revolves around Lucifer, played by Tom Ellis, who is done with his dull life in hell and comes to live in Los Angeles.
He runs a nightclub wholly owned by him, gets hired by LAPD, and helps people with their miseries through his knowledge and experience.
In the famous episode 'The Good, the Bad and the Crispy,' Dan and Chloe trace Charlotte and find her near the carousel so that they can arrest her for the murder of Chet Ruiz.
2. Huckleberry Finn and His Friends
It is a series set up in 1979 covering the exploits of Huckleberry Finn and Tom Sawyer.
It is based on the novels by Mark Twain, which are 'The Adventures of Tom Sawyer and 'The Adventures of Huckleberry Finn.'
Huckleberry Finn and His Friends were filmed at the Heritage Village (now known as the Burnaby Village Museum) in British Columbia.
3. Supernatural
Supernatural is an American television series filmed in Canada in 2005.
It revolves around the Winchester brothers trying to understand and fight through paranormal events, some based on real-life events and others based on urban legends.
Many parts of this series were shot at the Burnaby Village Museum.
We recommend you take Burnaby Village Museum tours when you visit Burnaby Village Museum.
Suggested Reads:
15 Fascinating Facts about Royal British Columbia Museum