The megapolis and largest port city of Canada is Vancouver. Vancouver is located in Canada's western part and the province of British Columbia's Lower Mainland. Ranking as the most livable city globally, Vancouver is also ranked as one of the best cities to live in North America. Let us explore what to do in Vancouver in January.
Are you Excited to Know What to do in Vancouver in January!!
Vancouver's shoreside is cushioned against the North Shore mountains and has more than a lot to offer endlessly throughout the year, making it the best place to visit in Canada.
The camera-friendly Vancouver draws affluent people along television and film production houses, giving them the full advantage of its natural beauty that further helps the influx of wealth into the local economy.
The amazing resources of the region help British Columbia get above 90% of its electricity from hydroelectric, the reason being no fossil fuel-related pollution happens from the electrical grid.
1. What to do in Vancouver in January? Let's Explore
Winter in Vancouver is everything about pounding rains and slight snow. You can, however, get snow in some of the Canadian Mountains.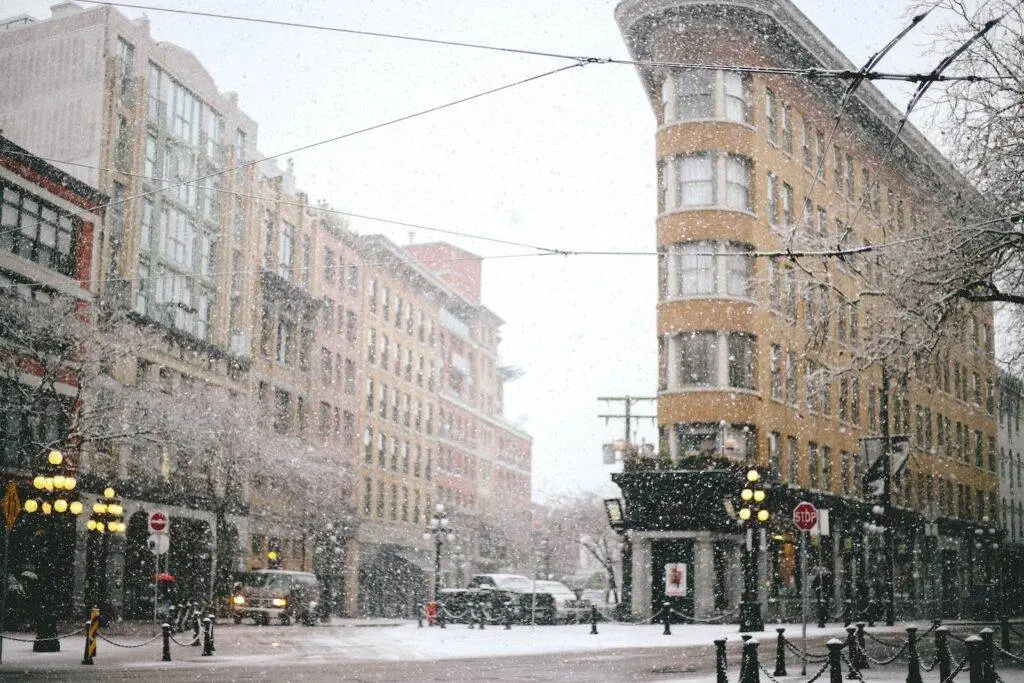 Vancouver visits are overloaded with outdoor winter activities that cover picnicking at parks, skiing, snowboarding and sports activities, walking and hiking trails and indoor activities like exploring galleries and museums in and around the touristy city and feasting at the Dine Out Vancouver Festival, or witnessing the spectacular polar bear swim in the ocean yearly once on New Year's Day.
Vancouver has flamboyant stretches of skies, rainforests, and wildlife along the pristine beaches.
Starting from Christmas till the chilling month, if you visit Vancouver in the holiday season in January, you can experience the festive holiday spirit. From natural surrounding to displays of exhibits or night skiing that can be done at Grouse Mountain, you will be delighted.
Pure crisp and fresh aura with a moderate climate and sweet breeze from the winter rains, suffuses pleasant fragrance all over the city when you drive downtown Vancouver. Vancouver winter means short days, dark aura watching sunsets at stunning beaches, guilt-free indulgence in food festivals, sparkling lights, magical light walks, light displays and outdoor activities in abundance. Let us now see what to do in Vancouver in January.
1.1 Smooth Along Ice-Covered Slopes
Known for winter activities, Vancouver is an iconic spot to engage in skiing and various snow sports. On cold winter's day, there are a lot of attractions like downhill and cross-country skiing, skating, tubing, and snowboarding, which offer a vast choice for every traveller to choose.
Ice Skating is an activity you go for during evenings or weekends. Winter trips in January to Vancouver are synonymous with enjoyable activities that hold glissading over ice at an outdoor ice skating rink.
Primarily at the recreational centres of Vancouver are these prodigious indoor skating rinks that charge skate rentals at just CAD 10 or below that if you do not carry your own skates.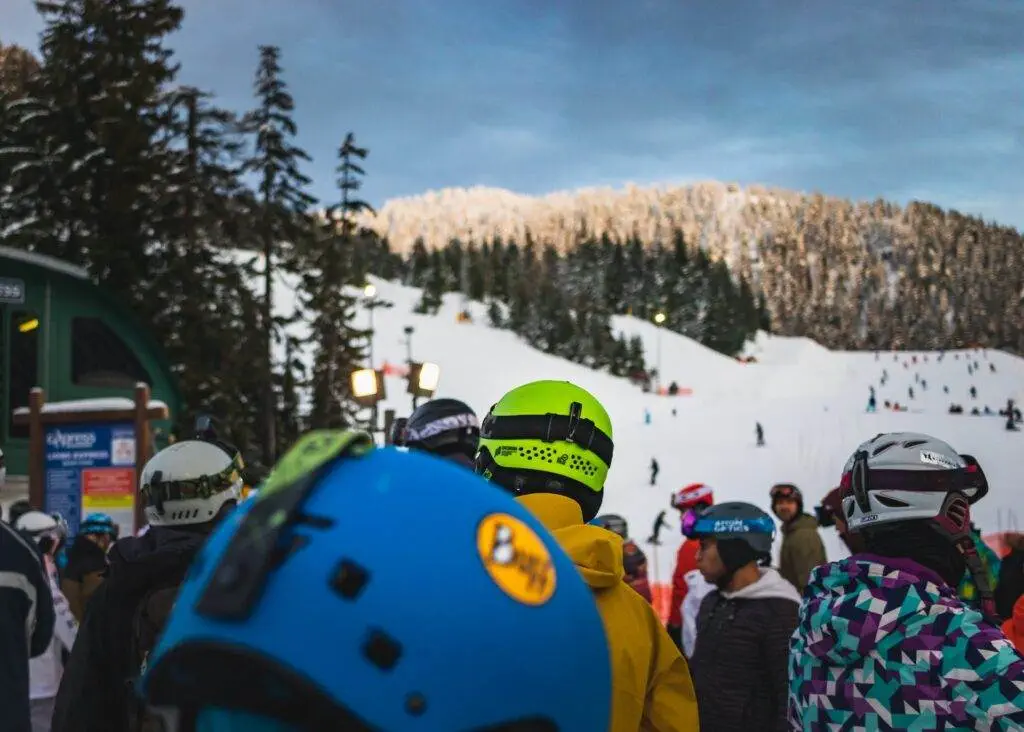 1.2 North Shore, Vancouver Locations
Vancouver has plenty of entertaining activities during winter that you will be amazed to discover. Skiing or ice skating across the Cypress, Grouse Mountains and Seymour Mountains. These locations of the local North Shore Mountains are near Metro Vancouver, 30 minutes from downtown Vancouver.
1.2.1 Cypress Mountain
If you want recreational activities other than skiing, you can go to Cypress Mountain. The exquisite Cypress is 30 to 45 minutes away from downtown Vancouver.
In Cypress Mountain, you can look forward to a cabin hunt. Covered with snow, there are more than a hundred cabins hidden away in the dense forest that can be your home till you stay here and will tickle your fancy to give the most enthralling views.
North Vancouver visits in winter will pack your phone memory with the most beautiful captures of a lifetime.
The cabin owners are also present at times in the cabins, and this paradisiacal place in North Vancouver is sure to be on your to-visit list.
Tobogganing is another amusement as snow tubing and is more fun-filled.
Tobogganing will make you experience the excitement of rushing downhill at high speed.
The tube for Tobogganing can then be linked to a conveyer belt that will pull you back up. The price of Tobogganing varies, so be sure to check before travelling.
1.2.2 Grouse Mountain
North Vancouver is overloaded with beautiful locations. Another jewel is Grouse Mountain. A fifteen minutes drive from downtown Vancouver this Resort is renowned for skiing and ice skating. It is located in the hills of North Vancouver, and you can come across snowboarding, skiing even snowshoeing in this captivating Resort.
A subdued winter version of the renowned trail up the mountain is the "Snowshoe Grind".
It is a steep hiking trail that is a part of the Grouse Mountain Resort located on a mountaintop. T
his winter trail is filled with adventures, and this magical place comes in must places to visit in Vancouver as it turns into Vancouver's own North Pole.
Snowboarding and skiing at Grouse Mountain are within reach of downtown by public transport.
This also makes this well-known vacation spot a bit more occupied.
If you do not want to engage in snowboarding or skiing, you can go for the miraculous views it offers at sunset in winter.
You can also visit this Ski Resort to appreciate the landscape views, mountain tops, and ocean, for which it is also called the "Peak of Vancouver".
1.2.3 Blue Grouse Lake
If you dream of meeting Santa's Reindeer, you may visit Blue Grouse Lake. You can also skate under the stars, sleigh through snow or go on a magical light walk and adore the gorgeous night sky.
1.2.4 Mt Seymour
Located in downtown Vancouver is Mt. Seymour. It contains beautiful natural terrains apt for skiing for beginners with several gentle slopes. It also holds professionally sculpted terrains for advanced skiers and riders but does not operate any nightly lodging.
1.2.5 Robson Square
Robson Square in Vancouver offers an experience of indoor ice skating every winter. Vancouver cost skate rentals at Robson Square are as low as $5. A lit-up roof adjacent Vancouver Christmas tree will make you go through a truly magical experience.
1.2.6 Whistler Blackcomb
Whistler Blackcomb is the biggest Resort for skiing in entire Canada. It is an internationally renowned ski resort with enthralling cross-country ski trails stretching over 4757 acres besides 36 lifts and above 200 captivating 200 runs. If you forget to carry your own skates, you can rent skates.
From pro skiers to novice skiers, Whistler Blackcomb ski resort extends suited skiable terrain for skiers. Driving across the scenic Sea towards the alluring Sky Highway, this is a two hours drive from Vancouver.
1.3 Enjoy the Festival of Lights
Located in downtown Vancouver, Stanley Park gives visitors large stretches of 400 hectares of green space to wander through in the wintertime. It offers much more than you can appraise. This downtown peninsula brims with heavenly beaches, gorgeous rainforests, and touring trails for walking and biking, besides a majestic seawall that encircles Stanley Park around its coastline.
1.3.1 Stanley Park, Bright Nights
Winter is loaded with holiday spirits, and if you visit Vancouver during January, then you cannot miss the Bright Nights holiday celebration feels with its sparkly light displays that are vivacious and zestful. It is located in Stanley Park.
The little-known Stanley Park of Vancouver awakens under millions of dazzling lights that will give you a magical feeling of walking in the air.
1.3.2 Canyon Lights
Open all throughout the day, Capilano Suspension Bridge Park gives you a breath of fresh air and in the evenings you can explore the star-studded aura of the Canyon Lights. It is the most sought-after winter attraction in Vancouver.
The visually appealing light displays at the Capilano Suspension Bridge Park are an all-year-round attraction that is the highlight on cold breezy days. It gives a surreal feel of thousands of sparkling lights bedazzling the iconic suspension bridge and the area encircling it.
The bedazzling lights across the suspension bridge to the picturesque luminescent forests will feast your eyes. Tickets and timing details are available online.
1.4 Feast Your Eyes on a Hockey Game
When visiting Vancouver, you can visit family-friendly event centres to watch action-packed games.
1.4.1 Langley Events Centre
If you plan to visit Vancouver in January, you can visit the Langley Events Centre. It regularly hosts various games.
It is a dynamic arena with spacious seats and brilliant food and beverages.
The events centre hosts sports such as hockey and gymnastics at its Arena Bowl.
It has turf fields, individual suites, the Willoughby Community Centre, an outdoor playground, a fitness facility, a banquet hall and abundant parking space.
The hockey action by Vancouver Giants presented CHL action in January this year.
So, you may choose from the several games to watch and support them while making yearning memories.
1.4.2 Rogers Arena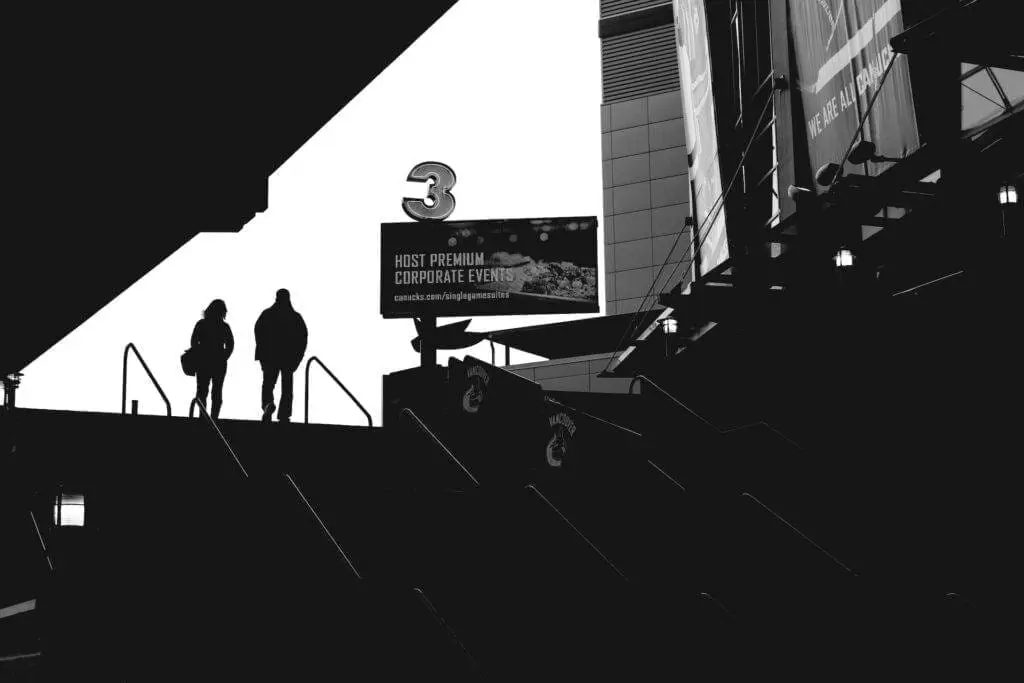 Located in downtown Vancouver is Rogers Arena. This glorious sports and entertainment arena hosted ice hockey events at the Winter Olympics of 2010.
Home to various hockey teams, the Rogers Arena, is popularly known for the Vancouver Canucks ice hockey team plays. Witnessing their sportive game against the Team of Tampa Bay Lightning or the Colorado Avalanche will give much energy to your soul. You can also treat yourself to beverages and locally prepared refreshments while watching the game.
1.5 Indulge in Delectable Food
Various Vancouver food events and beverage festivities take place under sublime sparkling lights all over Vancouver. Find out about the events when you devise your itinerary. You must try sushi here.
1.5.1 Hot Chocolate Festival
Have you ever heard of a hot chocolate festival? Yes, it takes place at various festivals all over Vancouver, and you can grab a cup of hot chocolate specials at several locations. The festivities run for a few weeks in January.
It is a local festival of Vancouver in winter, popularly known as the Greater Vancouver Hot Chocolate Festival, in which neighbourhoods and municipalities of Vancouver participate and craft the finest cups of cocoa.
1.5.2 Dine Out Vancouver
Vancouver winter calls for indulging in Dine Out Vancouver. It is a family-friendly festival with loads of restaurant-exclusive dishes and access to special deals to indulge in hot winter treats.
Street Food City Festival is a treat for gourmet lovers that offers food trucks with a delectable variety of food lineup that serves right from creamy grilled cheese to Indian food.
The celebrated program of Dine Out Vancouver commences spanning over two weeks. Casual lunch-to-dinner choices, it has a whole boatload of scrumptious spread that happens towards the end of January and extends till February.
1.6 Lookout Point
Located near the Vancouver Harbor downtown, in the Harbor Centre Tower, the striking Lookout opened in 1877, is 168 meters tall and is a must-visit in Metro Vancouver.
1.6.1 Vancouver Lookout
Around Vancouver is another jaw-dropping location, Vancouver Lookout. The Mesmeric Lookout is a charismatic tallest top of an office building from where you can get fabulous views of the entire city besides snowy peaks around Vancouver. On luminous sunlit days, you can view the towering Mount Baker too.
1.7 Delight in Soulful Musical Experience
1.7.1 Vancouver Symphony Orchestra
Vancouver bursts with surprises for its tourists at every nook. On rainy days, you can also visit the Orpheum Theatre and plunge yourself into the blissful musical experience of the Vancouver Symphony Orchestra. It is the biggest performing arts organization based in Vancouver since 1977.
1.8 Sift through Art Gallery
1.8.1 Vancouver Art Gallery
The Vancouver Art Gallery provides a global platform for British Columbia's spirited and dynamic artists' community's most prominent public art museum. The Vancouver Art Gallery is located in western Canada and exhibits the work of innovative contemporary artists worldwide. Vancouver Art Gallery exhibits major exhibitions to limited ones of Vancouver-specific artists.
Numerous activities are regularly held in the Vancouver Art Gallery, the most recent being a huge hip hop and EDM festival held in March 2023, a Comedy fest in Stanley Park scheduled in March 2023, a free-to-attend puppy party and massive warehouses sale timed for April 2023. These events are held frequently, keeping this area jam-packed with gatherings.
1.9 Discover the World of Science
The spherical shape of Science World has had the most aesthetically pleasing views of the skyline of Vancouver City for decades. Perfect for a family outing, the SkyTrain will assist you in commuting with an entry cost of approximately CAD 25.
1.9.1 Science World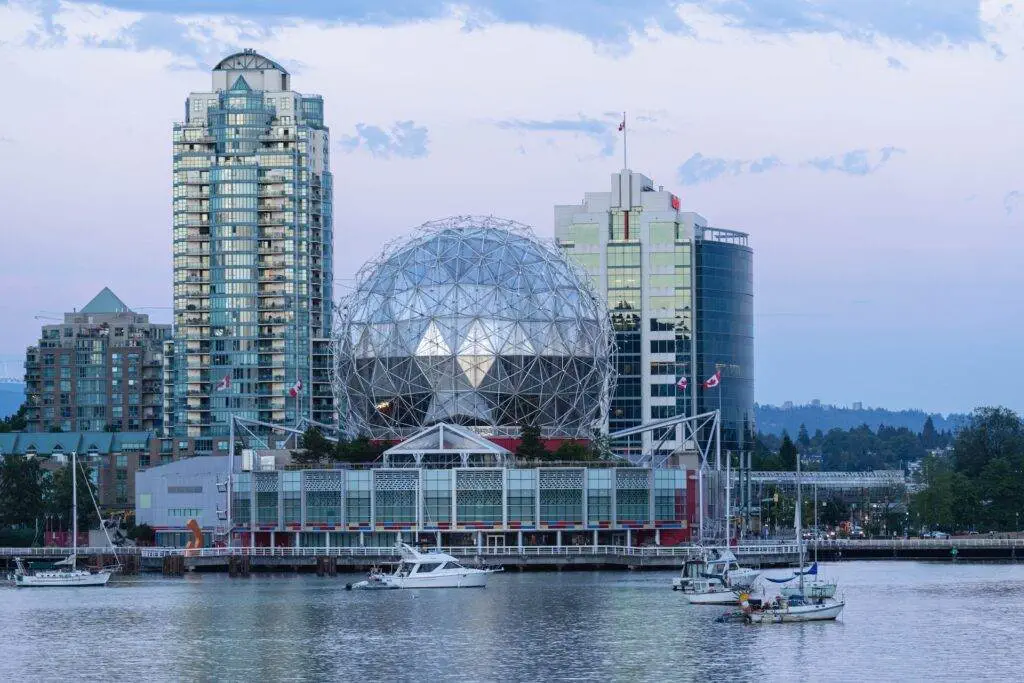 TELUS World of Science, or the Science World, is Vancouver's iconic geodesic dome on Quebec Street.
It features several displays that enlighten tourists with science and educational film shows besides comprising a giant screen and has children's activities in abundance.
It is a respite for outdoor activities and cold, rainy weather conditions that give a relaxed day experiencing informative and entertaining science exhibits indoors.
Science World covers a broad spectrum of topics from the human body to each specific about the beautiful natural world to everything about engineering.
Give your childhood self to go easy and explore the world of science while your children be in awe at the play-based approach when you visit Science World.
1.10 Get Thrilled at Popular Hangouts
1.10.1 Mount Pleasant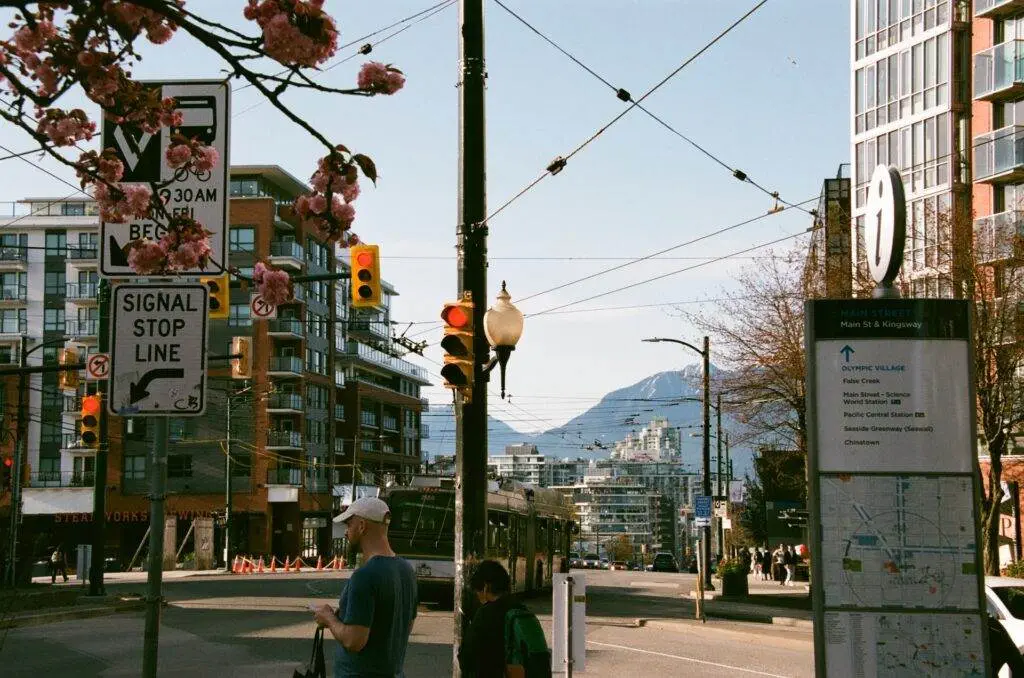 This spot is for buoyed-up escapades filled with cool vibes that youngsters and hipsters looking to live up to. Located in the airport vicinity, Main Street bursts with art galleries, peculiar restaurants and good cheered cafes. Several transport options are available to reach this entertaining neighbourhood in Vancouver. The lights display during winter with their aura going at its own pace.
Here, you can sense bustling food scenes with family-friendly restaurants besides Michelin-recommended places, from Vietnamese joints to Filipino Restaurants. The comedy club that hosts stand-up comedians, The Comedy MIX and Little Mountain Gallery are the best comedy nightclubs here.
1.11 Rummage Around Vancouver's Markets
Bursting with delicious food trucks, festive music, interesting exhibits, fun activity, shops for gifts, and flavorful drink options, this place will keep you warm and satiate your belly.
1.11.1 Granville Island
Have you pictured yourself navigating to a market in an Aquabus mini-ferry? Visiting Vancouver will make that possible too. On rainy winter days, picture yourself devouring delectable savories and smoothing along exciting shops giving a perfect touristy feel.
Commuting to Granville Island Public Market, a place that is an absolute favourite of the locals too, you can buy your much-needed basic and keep the evenings traversing the Island. You can reach the market by road also.
Granville Island is a colossal indoor Public Market where you can go through quirky breweries, colourful shops, theatres, and esthetic art studios that have replaced industrial buildings.
It is an intriguing spot that can be visited throughout the year.
A pleasant place to browse for vegetables, freshly baked goods, an assortment of fruits, a variety of local crafts and art and pick up a savoury to gobble while on the shopping spree or as a takeaway.
1.11.2 Yaletown
Yaletown is an effervescent neighborhood in Vancouver because of its chicest restaurants, full of pep cocktail lounges, breezy outdoor terraces, along with in-vogue décor and fashion boutiques. All things make it the Vancouver restaurant best.
Adjacent shores are David Lam Park which has green stretches of lawns and playgrounds along the Seawall. It has walking trails and cycling paths. Yaletown is among a few places that you can visit when you are in Vancouver in winter. Discover the must-visit restaurants in Vancouver.
1.11.3 Jack Poole Plaza
Adjacent Vancouver Trade and Convention Centre is the colossal Jack Poole Plaza. It is situated in downtown Vancouver. Numerous yearly events are scheduled here, from New Year's Eve Celebrations to Canada Day Celebrations and the exuberant Vancouver Christmas Market.
1.12 Hop on Tour
You can fleet across False Creek in an Aquabus to see various tourist attractions around Vancouver for fast-paced schedules and economical rides.
1.12.1 False Creek
A definite and narrow False Creek opens doors to many places to visit in Vancouver. This inlet separates the West End neighbourhoods and downtown from the rest of Vancouver and is one of the major water bodies that borders Vancouver.
Across this exciting stretch of water, you can catch Aquabus mini ferry to reach Granville Island and enjoy the fun-filled experience.
1.13 Explore the Underwater World
Winter in Vancouver means rain. A wet day may indicate your trip to the family-friendly Vancouver Aquarium,
1.13.1 Vancouver Aquarium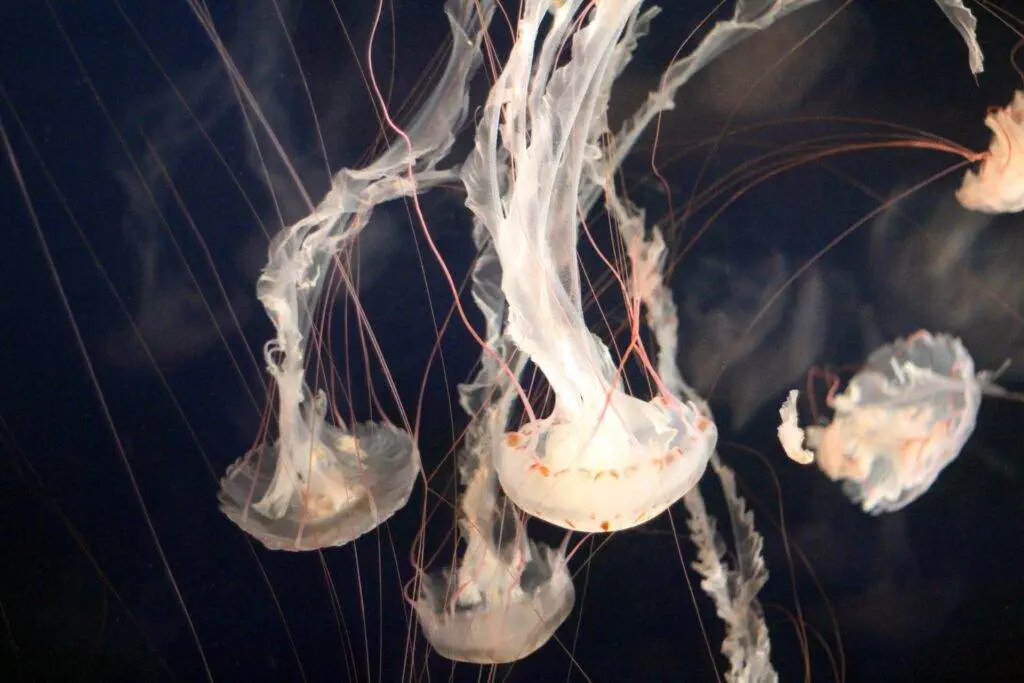 Vancouver Aquarium displays radiant colourful fishes with more than 30 displays indoors. It has an outdoor pavilion of extensive marine mammals, including sea lions, seals, octopuses, alligators, sea urchins, otters, and much more.
A winter visit to Vancouver Aquarium, Canada's largest aquatic underwater world, brings a lot of surprises. It has had free shows that have amazed tourists since 1956. Dedicated to education and conservation, Vancouver Aquarium is a fun place to be during the Christmas festive days and has special seasonal activities.
2. Summing Up
What to do in Vancouver in January? Well, guys, you must have got the answer now. Vancouver attractions also include its commute which is Vancouver Hop-on-Hop-off Bus. If you plan to visit Vancouver during the holiday season, the best way to explore the skylarking escapades is by the Vancouver Hop-on-Hop-off Bus.
You can buy passes for whole-day trips that would take you around Vancouver and cover all the enthralling and alluring places to visit in a short duration. The bus journey may seem like a touristy thing but have around thirty stops, Stanley Park, Chinatown, Gastown, and The Robson Shopping District being a few major ones.
Winter holidays in Vancouver accelerate travelers and tourists globally, so it is good to check out early bird discount offers at various places to visit and book tickets online beforehand. You can also opt for H Tasting Lounge, which has a private enchanting winter patio.
You can also visit Harrison Hot Springs and immerse in the ethereal Christmas light displays, shop souvenirs at Robson Street, or explore Vancouver's cost budget to expensive hotels here.