Banff became Canada's first National Park owing to its natural splendour coming from its surrounding lakes and mountains. Banff National Park's unending beauty of majestic mountains, forests with natural beauty, and blue glacial lakes has drawn visitors for centuries. The memories that one makes in these two places remain etched in their hearts and minds forever.

Along with visiting Banff, tourists do not like missing out on visiting the alluring Lake Louise. Lake Louise is surrounded by the magnificent Canadian Rockies and its vibrant turquoise waters and towering peaks make it worth the visit. One can choose to visit Lake Louise depending on the kind of activities they enjoy doing.
Lake Louise's weather remains extreme so one should choose the time they choose to visit this place accordingly. If one wants to dip their toes in the water, enjoy sunbathing, go swimming, or have a fun picnic day then they should visit Lake Louise during the summer season, which lasts from June till September. If one is looking for skiing, ice-skating, and other winter activities then they should visit Lake Louise from October to May.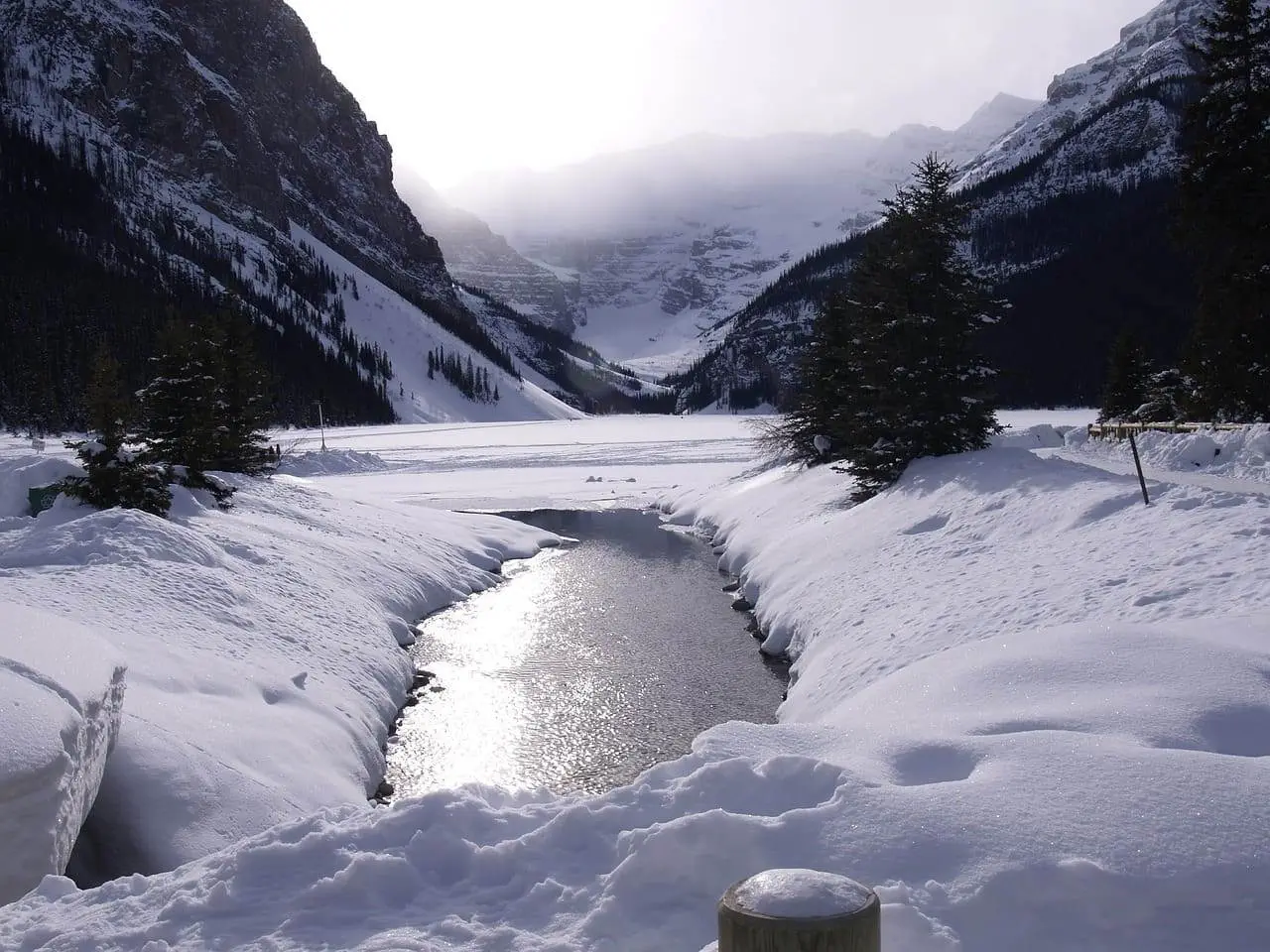 1. How Far Is Lake Louise from Banff?
The town of Banff, which is located inside the national park, serves as a popular starting point for travellers visiting the surrounding area. So, if you want to go to Lake Louise, you'll probably be driving from Banff.
It's not a problem at all that the two locations are only about 57 kilometres (35 miles) apart. The trip from Banff to Lake Louise is beautiful, passing through some of the park's most breathtaking scenery. The Trans-Canada Highway will snake its way through valleys and over mountain passes, providing stunning views at every turn.
The distance you travel will, of course, affect how long it takes. Depending on traffic and road conditions, you should allow 45 to 1 hour for the drive if you're driving. The trip will take a little bit longer if you're taking a bus or shuttle because you'll need to account for stops along the way. However, you can be certain that the journey will be one to remember in either case.
2. Fastest Routes by Road To Get from Banff To Lake Louise
The Trans-Canada highway is the fastest route to get from Banff to Lake Louise as it is a straight stretch of 57 kilometres before one takes the exit onto Highway A-1, which takes one straight to Lake Louise. 
This is considered the best and fastest route for journeying from Banff to Lake Louise for those who would not like any stops along the voyage. People who travel via this route say it takes an approximate time of forty to fifty minutes. 
Another highway route that one can take is the Bow Valley Parkway route, via the Trans-Canada Highway which makes one reach Lake Louise eventually. While taking the Bow Valley Parkway route several tourist spots that come with panoramic views. One can choose this route if they have time in hand and want a leisurely drive.
However, this route is not recommended if one wants to get from Banff to Lake Louise as quickly as possible. It comes with a slight amount of traffic due to the tourist spots in between. 
Since the Bow Valley Parkway is so beautiful, many people visit Lake Louise Ski Resort right next to it in the winter season and bike along it in the summer season. Because of the Parkway's lower height and the slopes along its sides, many animals can be seen there. 
These routes to be taken from the highway are most convenient if one is using a car as their mode of transportation. Depending on how fast one wants to get from Lake Louise to Banff one can choose their route. Choosing to go by car from either of these routes is one of the best options as it will allow one to explore the area in their time of leisure. 
From June to September, there is no reason to worry about travelling from these routes, as the climate is relatively warmer. But as Canada has an unpredictable climate, it is better to check weather reports before one decides to journey by road during the remaining months.  
2.1. Parking at Lake Louise If One Goes by Car
Visiting Lake Louise by car requires one to leave at dawn since parking spots fill up quickly as Lake Louise is one of the main tourist attraction spots in Banff National Park. Parking is finite at the Lake Louise Lakeshore. 
Parking at the Lake Louise Lakeshore gets a tad bit frustrating because people arrive early during dawn. There is nowhere to wait for parking spaces to open up after the lot is full. It is recommended to plan one's day and leave on time if one does not want any kind of hassle while parking at the Lake Louise Lakeshore. 
Usually parking at Lake Louise is a bit of a hassle. But parking at Johnston Canyon is relatively easy as one can simply park at the hike's beginning.  In conclusion, the visit from Banff to Lake Louise makes Johnston Canyon a must-visit, as it is one of the main attractions in Banff National Park.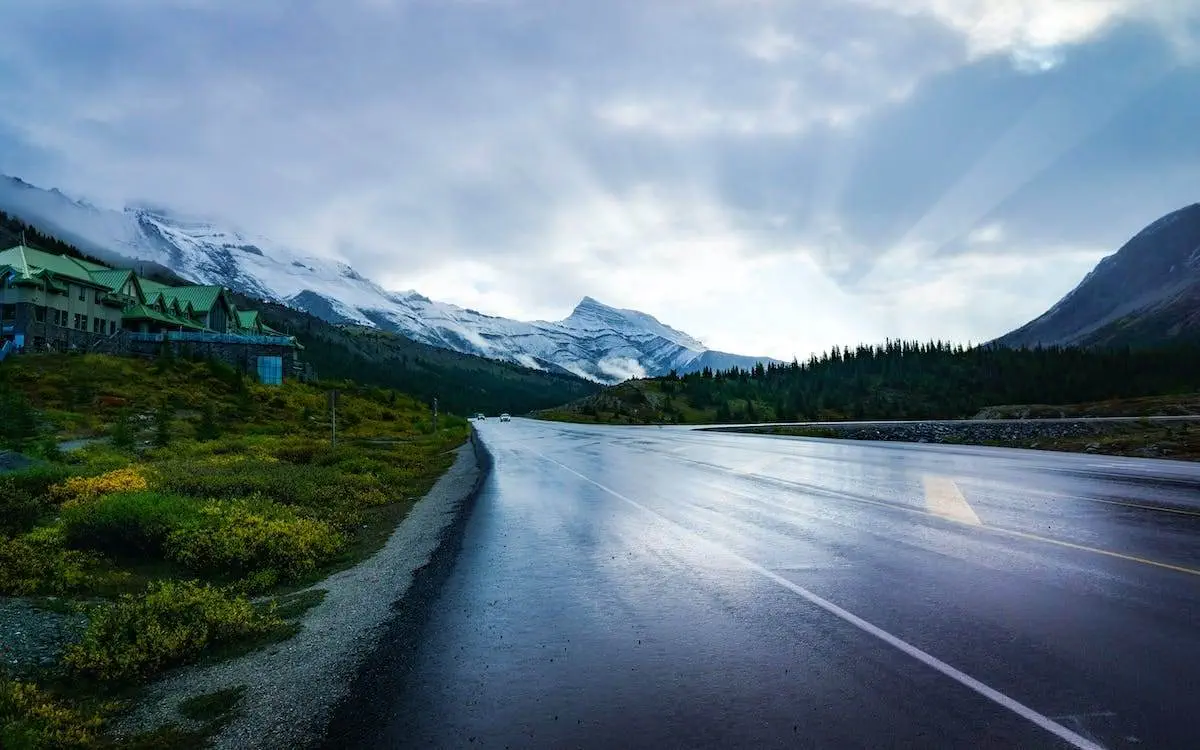 2.2. Lake Louise Shuttle Service 
The easiest and most relaxed way to visit these beautiful spots is choosing to use the Parks Canada Shuttle. One must reserve their shuttle in advance if they want to experience these stunning views. 
During the summer season when crowds are at their peak, it is recommended to use the Parks Canada Shuttle Service.  It is necessary to make reservations for the daily Lake Louise Park and ride the shuttle. One must get on the Parks Canada Shuttle by driving on the Lake Louise Park and Ride which lies to the east of the Lake Louise village. 
One can also choose to go by the Lake Louise Roam Transit, which is a daily bus service that runs from morning to night, making it convenient to travel from Banff to Lake Louise. The Lake Louise Express, Route 8X, runs nonstop from Banff to Lake Louise.  Route 8S, the Lake Louise panoramic route is also available. Riders can pay their park pass or bus pass according to what suits them. 
2.3. Other Options to Go from Banff to Lake Louise
Other than using one's car or choosing the Canada shuttle/ shuttle bus, one can also choose to go by Uber or taxi. However, it is slightly costly and if one is looking for cost-effective transport, then it is not recommended. 
There are also carpooling services available. However, the availability of it depends upon what season one is going. There are also private van transfers and minibus transportation services accessible. 
A few tour services offer different kinds of vehicles, depending on one's choice. It is the best option to choose from if one wants to take a picturesque trip in elegance, amongst the Canadian Rockies and feel like they are straight out of a movie scene!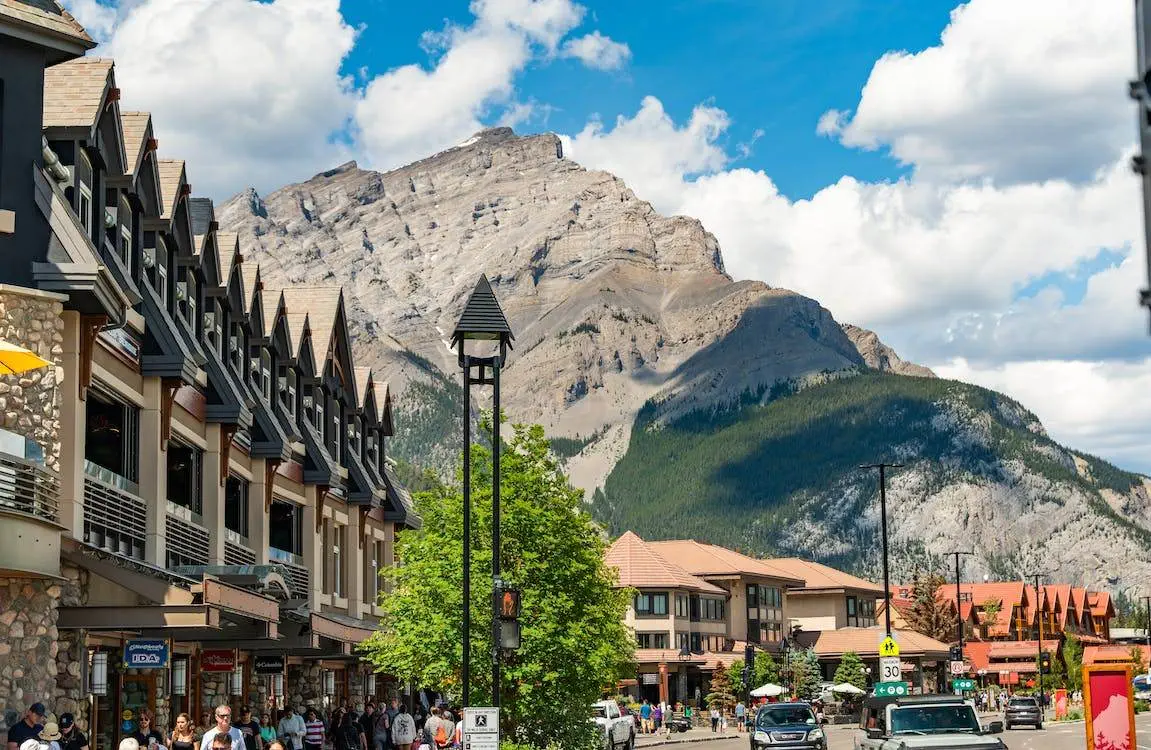 3. Stopovers from Banff to Lake Louise
3.1. Lake Louise Ski Resort
The Lake Louise Ski Resort in Canada may be one of the most beautiful spots to ski or snowboard in the world. This resort is known for its splendid factors and beautiful vistas! 
The scenery at Lake Louise ski resort enhances the fantastic skiing and snowboarding experience, but it's not the only reason tourists come there in droves. The Lake Louise ski area is a world-class ski resort with a family-friendly atmosphere and offers places to suit all levels of skiers and snowboarders. 
The free Canada shuttle service runs between Lake Louise Village and Lake Louise Ski Resort. The shuttle service is also available from Banff to Lake Louise. One can also choose to take a car as their mode of transportation. The scenic drive from Banff to Lake Louise ski resort takes an approximate time of one hour.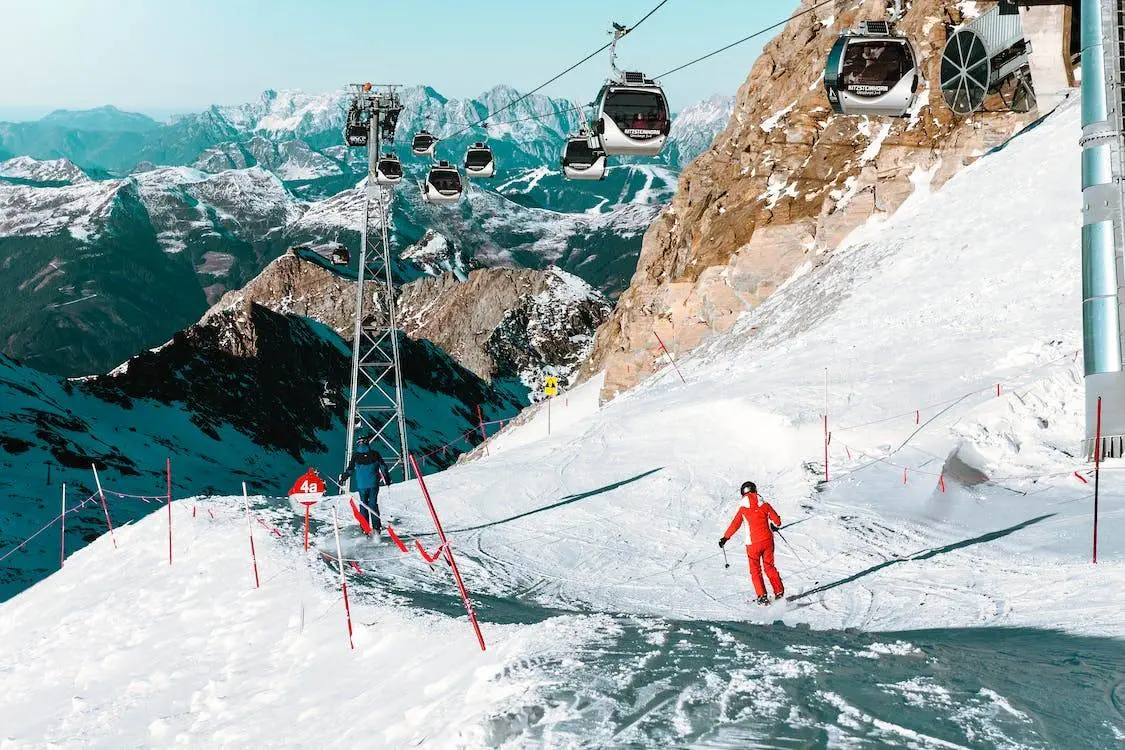 3.1. Baker Creek Mountain Resort
The Baker Creek Mountain Resort is amongst the quieter and lesser-known resorts that lie in the Canadian Rockies. This Banff National Park resort is located near the Bow River. 
The Baker Creek Mountain Resort on the Bow Valley Parkway takes less than twenty minutes from Lake Louise. It is the perfect resort to rejuvenate and relax if one has one or two days in hand. 
3.2. Castle Mountain Lookout Trail
One of the most visited hiking trails in Banff National Park is this trailhead with panoramic views. Along the Bow Valley Parkway, Castle Mountain is roughly 22 kilometres (13.7 miles) from Lake Louise.
The full walk is slightly over 7 kilometres long and should take around three and four hours to complete. When one reaches the Castle Mountain Lookout point, you'll be treated to not just an up-close glimpse of the massive Canadian Rockies that makes Castle Mountain so appealing. 
One can hear the soothing sounds of stream water as they trek further into the hiking trails. One will spot different kinds of mountains as they get deeper into the Bow Valley, which leaves people awe-struck by their gorgeous views. 
3.3. Johnston Canyon 
Johnston Canyon is touted as one of the best hikes that comes with stunning views. It's simple to get to, not too tough and offers a variety of destinations. If one wants a quick walk, one can head to the Lower Falls, but if the adventurer within you is beckoning to delve deeper into these Canadian Rockies, one can go visit the Upper Falls. 
Johnston Canyon is considered one of the most popular and easy hikes in Banff National Park. There are fewer crowds during winter in comparison to summer. The frozen waterfall has a completely distinct appearance and feel. The frozen force of the waterfall is fascinating. It's quite incredible to observe how the water flows but remains frozen until spring. If one has been to Johnston Canyon in the summer, going in the winter feels completely different. 
The natural beauty of the snow-capped tree gives Johnston Canyon a lovely view. To call it a winter wonderland is an understatement. The trees will almost certainly be covered with snow, creating panoramic and spectacular views. 
During the summer season, people flock to Johnston Canyon in abundance. As a result, the winter tours are less expensive. It also feels more personalized, since fewer tourists visit the place at that time. 
If one is going from Banff to Lake Louise then one must give Johnston Canyon a visit, as one of the highlights of it is The Johnston Canyon Evening Ice Walk Tour. It entails exploring Johnston Canyon at night with flashlights and ice boots (which they give). Aside from an amazing night out, getting hot chocolate is the icing on the cake. 
Another winter attraction of The Johnston Canyon is the secret cave. This hidden cave is located near the Upper Falls, just off the hiking trails. It should be noted, however, that the cave is closed from April to June. 
If one wants to watch the turquoise blue waters that Banff is known for, then one must visit Johnston Canyon in the summer season. During the summer season, the Johnston Canyon stream that one hike close to and over is frequently a vivid turquoise. 
4. Things to Do/ Places to Visit Nearby Lake Louise 
Banff town which lies amongst the Canadian Rockies offers visitors all over the world with several different activities to do and places to visit, depending on what season one chooses to go. 
4.1. The Downtown
The downtown area is charming and there are many fantastic places to dine, drink, and shop. Banff Ave is a lovely area to stay in Banff National Park, with mountains that provide gorgeous views.
It is also a ski resort, and as a result, many visitors come mainly for skiing. Many other ski resorts are close by for people to access. However, Banff town is not about just visiting a ski resort but there are plenty other places to visit within it. 
4.2. The Banff Hot Springs
Banff Upper Hot Springs is a mere 5-minute drive up Sulphur Mountain. The mountain panorama spheres give spectacular views, and the Hot Springs are among the best in Alberta. The hot springs are conveniently accessible and inexpensive. 
It is also extremely comfortable for guests as they are offered stunning views of the Sulphur Mountain. The weather does not matter as the pool remains hot whether it is summer or winter. There are also comfortable changing and restrooms available if one is simply taking a one-day journey from Banff to Lake Louise. 
The hot springs are also rich in minerals, which refreshes visitors and gives them a soothing experience. The Banff Upper Hot Springs is one of the main attraction spots for people to visit Banff National Park. 
4.3. The Banff Gondola
The Banff Gondola is a must-visit when one chooses to visit Banff Town. All year, the Banff Gondola (or Sulphur Mountain Gondola) provides breathtaking and panoramic views of the Canadian Rockies, The Bow Valley, and Banff Town. 
The Banff Gondola transports guests to the summit of Sulphur Mountain, where they may enjoy summit views without exerting any effort. Parking is not an issue during the winter (which is the best time to visit the gondola), but during summers there is a slight hassle with parking. One can also avail of the shuttle bus service if they do not wish to take a car, as those services are available every forty minutes. 
Other features of the Banff Gondola include a pretty restaurant, a gift shop, and more knowledge about the place.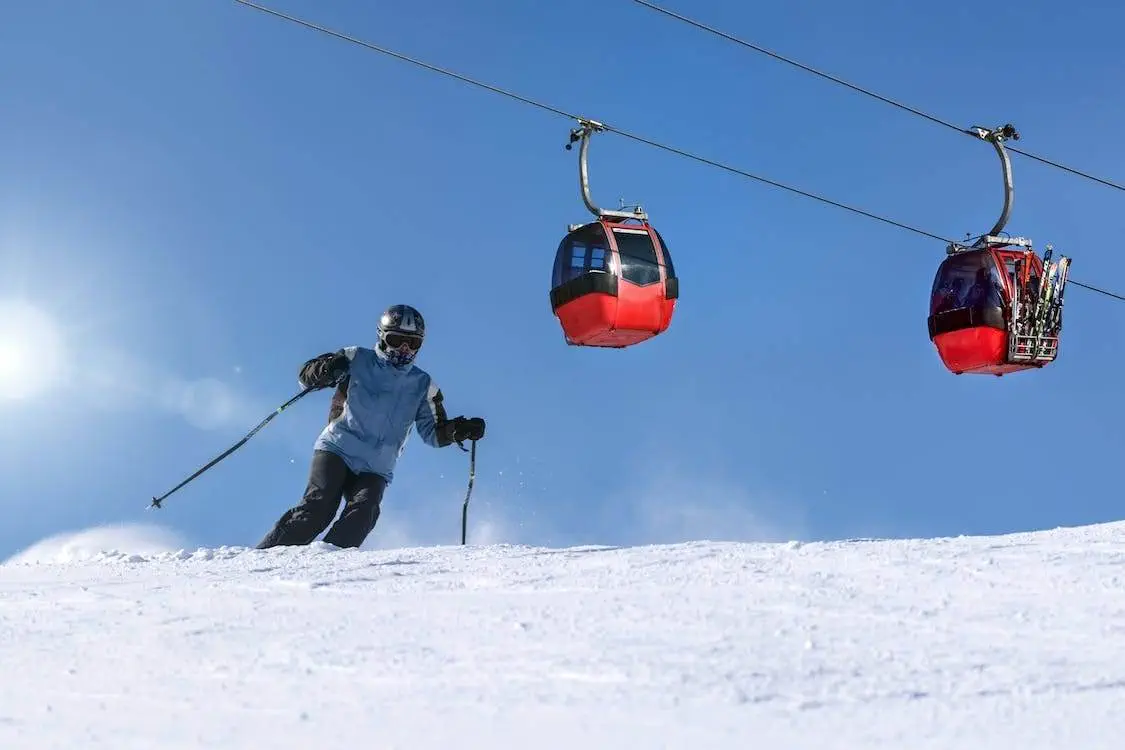 4.4. The Bow Valley Parkway
While going on a drive from Banff to Lake Louise if one chooses to use the route of The Bow Valley Parkway then there are several stops on the way that one must visit.
Fun cycling on the road, exceptional hiking, or simply a peaceful setting for a picnic lunch. The Bow Valley Parkway route parallels the Trans- Canada highway route and is perfect if one has more time in hand to visit places. 
4.5. The Muleshoe
If one is looking around for a picnic stop where they can enjoy birdwatching and simply rejuvenate then Muleshoe is a place one must visit. This beautiful picnic spot offers picnic tables, restrooms, and a fantastic bird sanctuary. 
4.5. The Storm Mountain
Storm Mountain Lookout is another fantastic picnic place along the Bow Valley Parkway. There are a few picnic tables above the gorgeous Bow River. One should keep some time to explore the interpretative signage which does an excellent job of delineating the ridgeline. 
4.6. The Bow Falls
Bow Falls is one of the best places to visit when one is going from Banff to Lake Louise. It is a stunning waterfall located just to the west of Banff. Bow Falls is a broad waterfall spanning the Bow River. It is not a massive waterfall in Alberta, dropping 9 meters, but it is one of the nicest sites to visit near the townsite. 
Bow Falls is one of the most accessible waterfalls in the Canadian Rockies, surrounded by natural scenery and rugged cliffs. It is a popular destination for travellers looking at things to do that are within the reach of Banff town, as well as those looking for a stroll or those interested in photography. 
Additionally, Bow Falls can be seen from a variety of vista points, including a well-kept boardwalk that runs alongside the Bow River. From the Surprise Corner Viewpoint, one can also see Bow Falls and Banff Springs Hotel. It is also a mere stroll from Banff Avenue and one can reach by walking, biking, or driving. 
There is no fixed season to visit Bow Falls as it is open all year round and has spectacular views to offer in both summer and winter. They are gorgeous all year round. If one chooses to go in the winter, one will probably find Bow Falls iced over and covered by ice, which is a surreal sight to behold. It is worth noting that the cliff-top part is closed in the winter. 
If one chooses to go by car, then there is a tiny parking area, where one can easily park and enjoy the views. However, there are limited spots to park, and one should note that during the summer season, which is peak season, the parking spots fill up quickly. 
It is recommended that rather than going by car, one should not miss out on walking to Bow Falls. Walking is one of the finest methods to get to Bow Falls in about thirty minutes, with much of that time spent in the woodlands next to the Bow River. From the Banff Pedestrian Bridge near Banff Village to Bow Falls, a 1.2-kilometre woodland walking path follows the bank of the Bow River. The Bow River Bridge Trail runs over the Bow River to the Surprise Corner viewpoint and is the trailhead for the Bow River- Hoodoos Trail. 
Bow Falls also has stroller and wheelchair access, as well as picnic seats, on top of a well-kept parking area. This stunning place is free to visit, although it is located within Banff National Park, thus a Parks Canada Pass is required. However, if one is looking for hard-core activities then it should be noted that there are no organizations that offer rafting experiences that travel directly over Bow Falls. There are, however, guided float cruises on the Bow River. 
Lastly, an important point of caution to remember while visiting Bow Falls is to maintain safety. For some reason, people think it's a good idea to jump the rails and get up close to Bow Falls from the cliffside every summer. There are always photos on Banff Community Facebook sites of families including young children, attempting to touch the water or capture the perfect snap and vista near the river from extremely slick angles, which proves to be extremely risky. 
Falling in would not only be cold, even in August, but it might also result in one's death, or, at the absolute least, a risky rescue job for responders. One should respect the paths and not endanger anyone's life. There are other locations away from Bow Falls where one may go close to Bow River. There are some lovely spots near the Canmore Bridge to unwind next to the river with a picnic. 
Suggested Reading: Is It Better to Stay at Banff or Lake Louise – Choose Wisely
5. Final Words
In conclusion, as previously stated, if one is searching for an amazing mountain road journey, driving from Lake Louise to Banff should suffice!  Numerous great stops that allow one to see many of the things that make Alberta so gorgeous.
Yes, it is a quick and simple drive. But quite frankly, there is no point in that. One can take time to enjoy these small spots on their trip from Banff to Lake Louise to make the most of their experience!