Whether you wish for a short road trip for a few days or a long one, The Banff National Park in Alberta Canada, is undeniably the best place to be in the summer.

 With its clear aquamarine lakes, glaciers, and the Canadian Rockies, as well as various cafes and restaurants, the Banff National Park is the oldest in Canada.

In the Summer season, the park has unlimited options for all kinds of adventurous activities and breathtaking views of nature. If you're looking to hike and climb or just stroll and have lazy picnics, this park has things that people of all ages, and interests, will enjoy.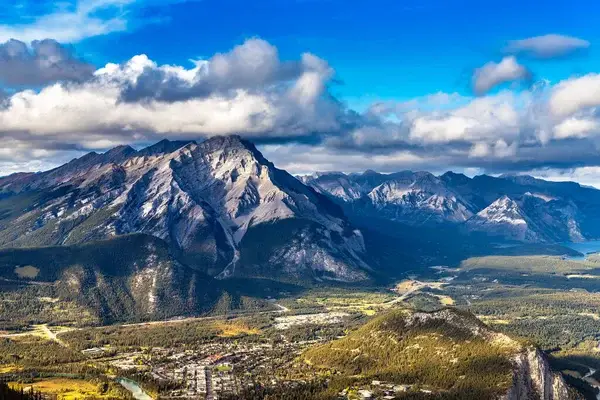 1. Tips to Explore Banff National Park in Summer
The weather in summer at Banff is very pleasant with the average highs throughout summer months between 20-25º C and lows around 7-10º C. However, the weather in the mountains can change in an instant. Banff weather can be slightly unpredictable as well.
It is recommended to dress in light layers so that you are equipped for any weather hot or cold, dry or humid. Moreover, a few important tips and pointers are mentioned to ensure that you have a fruitful visit.
1.1. Strolling and Exploring Downtown Banff
Banff is extremely pedestrian-friendly; you can walk practically everywhere you want in the town. In the peak summer, a couple of main roads, mainly the stretch between Wolf and Buffalo Street are shut down. There are no vehicles, people either walk or use bikes and roller-skates.
Hence, Banff Townsite is a great place for shopping and visiting art galleries. Visit the restaurants there, as due to the absence of any traffic, the patios extend to the main roads, making your lunch/dinner experience a surreal one.
If you are of age, do not miss the breweries that serve craft beer, a very famous brewery here is Jasper Brewing Company. Spend a day exploring the cafes, and boutiques and drop around at the souvenir stores to take a piece of memory back home!
The Banff Park Museum National Historic Site is the oldest natural history museum in Canada. Moreover, visit the cave and its exhibits, and learn about the history of the region. The natural thermal springs in Cave and Basin must be seen. Don't forget to conclude the enriching experience with a walk on the Interpretive Discovery Boardwalks.
The Buffalo Nations Luxton Museum should be a must in your itinerary this summer. Learn about the indigenous people of the First Nations. Another incredibly informative experience with a vast repertoire of the culture and heritage of the First Nations.   
For a day spent outdoors in and around downtown, consider a short and pleasant walk for 15 minutes along the Bow Falls trail to the magnificent waterfalls. You will come across charming picnic spots and art stalls on your way. You are also very likely to spot wild animals here!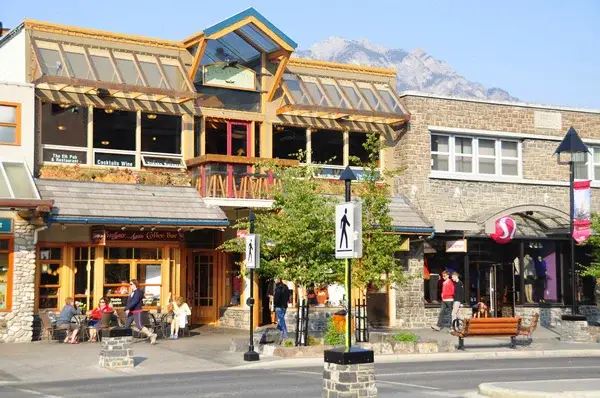 1.2. Walking to Bow Falls
Bow Falls is a delightful waterfall right external the Town of Banff. Bow Falls is one wide cascade that traverses the Bow Waterway.
With 9 meters tall, it's anything but a gigantic waterfall in Alberta using any means, however, it is as yet one of the most mind-blowing sights to see close to the townsite. Encircled by the normal landscape and rough precipices, Bow Falls is likewise quite possibly one of the most open cascades in the Canadian Rockies.
Bow Falls can be delighted from different perspectives, including a very much-kept-up promenade that runs along Bow Waterway. You can likewise see Bow Falls, as well as the Fairmont Banff Springs hotel.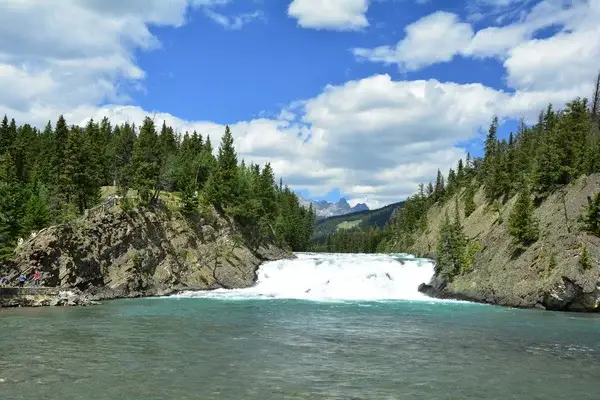 1.3. The Banff Farmers Market
The farmer's market is a "special event" in Banff town that sells locally grown goods. Ranging from fresh fruits and vegetables to artwork and jewelry, this market has it all.
Get fresh produce for yourself and show support to the local vendors! There are also food trucks, and shops for clothes, cosmetics, coffee, artisan foods, pottery, and other handcrafted goods.
1.4. Biking Along Bow Valley Parkway
The Bow Valley Parkway to Lake Louise is the best-paved road and is very popular among cyclists. Hop on a bike and enjoy the scenery, and the mountain views, and spot occasional wildlife!
It is a 17 km pathway. To get out of the townsite, rent a bike and set out on this perfect summer activity! You can even attempt longer rides that will take you to Johnston Canyon.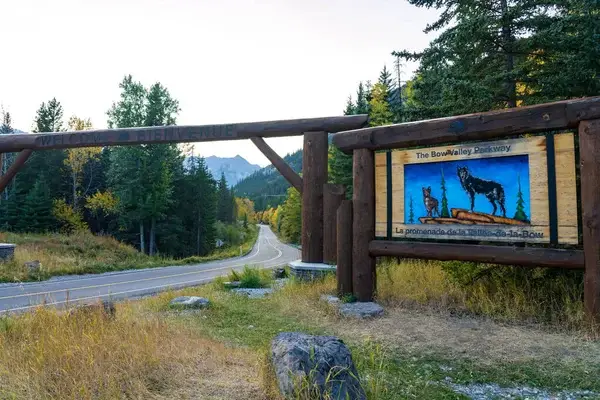 1.5. Morant's Curve
Another renowned spot along Bow Valley Parkway is Morant's Curve. Trains pass through the Canadian Rockies along this bend creating a photogenic frame with the Mount Temple and Mount Fairview as the backdrop. Because of this, it is an undeniably popular spot for photographers.
Keep in mind that this activity requires waiting. This scenic viewpoint near the Bow River does not witness a regular schedule of trains, a train passes by every 1-2 hours. 
1.6. A Few Must-Do Hikes
The prime hiking season in Banff is July to September. If you are someone who is extremely adventurous and enjoys hiking and climbing, the Banff National Park in summer is your paradise.
You are in the Canadian Rockies, and there is bound to be an overwhelming number of good hikes with majestic views. Research and choose the ones that are appropriate for you. Here are some of the best hikes at Banff, the ones you cannot miss!
1.6.1. Moraine Rockpile Trail
This hike at Moraine Lake is considered easy and short with low elevation gain, making it convenient for young kids and the elderly. The hike leads to the breathtaking view of Lake Moraine, with its majestic cobalt-blue waters.
1.6.2. Sunrise Hike to Lake Moraine
If you still cannot get enough of Lake Moraine, you can also opt for its Sunrise hike. This hike is popular, so if you are driving there, make sure to reach early to secure parking spots!
You might have to drive in the pitch dark at Banff, but the breathtaking sunrise and the impressive mountainous backdrop will be worth it.  
1.6.3. The Tunnel Mountain Hike
The Tunnel Mountain hike is another easy and family-friendly hike, located at the center of the town of Banff. It is known for its accessibility from the Banff town center, only a few minutes walk from Banff Avenue.
The hike is straightforward and safe, and you have clear signs to follow on the way. It is short and delightful, offering multiple viewpoints over Mount Rundle and Bow River.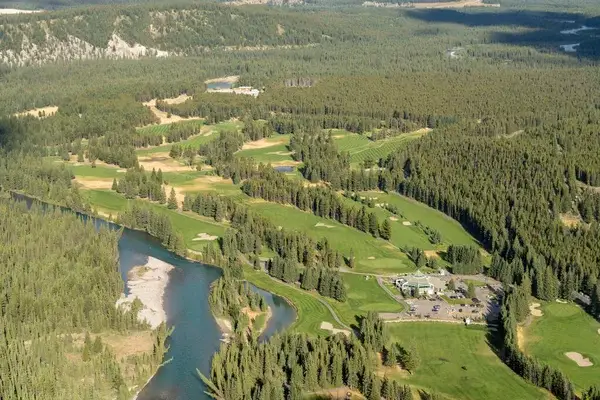 1.6.4. The Healy Pass Trail
The Healy Pass trail is a hike on a moderately difficult level. In the early summer, this trail is flooded with wildflowers, the main attraction of this hike. They bloom in the summer, hence the ideal months to visit are July- August.
The view of the huge stretch of alpine meadow, the surrounding mountains, and the Egypt lake, makes the hike worth it. Although a little long, this is easily one of the dreamiest and most movie-like hikes in Banff National Park!
1.6.5. The Big Beehive
This hike is very loved and popular, and reasonably so. It is a moderately easy hike that starts above Lake Louise, offering a very impressive view of it.
It also offers a view of the Mirror Lake, waterfalls, and the magnificent Lake Agnes with the famous Tea house. If you keep climbing, you will be rewarded with the final viewpoints of Little Beehive and Big Beehive. The latter part of this trail is relatively quieter.
1.6.6. Explore the Johnston Canyon
Exploring the Johnston Canyon during summer is a once-in-a-lifetime experience. The summer heat melts the snow in the surrounding mountain to give rise to rushing waterfalls and creeks at the canyon. You can explore along the walkways and experience the grandeur of Nature close at hand.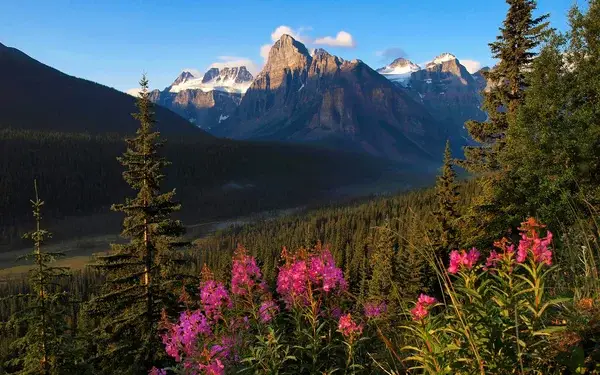 However, while visiting the park, it is mandatory to adhere to the protocols and ensure safety. Always, always carry a bear. While hiking in comparatively quieter areas, make noise! At the same time stay at a safe distance from animals and respect their space, do not go too close to their habitat. 
1.7. The Banff Gondola
You must have heard about the famous Banff Gondola and its amazing views. The Banff Gondola is at the base of the Sulphur Mountains at the heart of the Canadian Rockies. The Gondola takes you up to the top of Sulphur Mountain, giving you an unbeatable panoramic view of the Canadian Rockies.
The overhead view of the surrounding Bow River and its golf course is complemented by the observation deck at the top of the gondola. The ride does not end there! There is a lot to see up at the top of Sulphur Mountain. There is the Above Banff interpretive center- you can gain knowledge about the History and Ecosystem of Banff here. 
Additionally, if you want a spectacular 360-degree view, take a stroll on the boardwalk trail to the peak of the mountain! There are a lot of steps to climb, but the top is much quieter and less crowded. Moreover, at the very top, you can encounter these two National Historic sites: the meteorological observatory (1903) and The Sulphur Mountain cosmic ray station (1956). From up here, one can see downtown Banff, the Trans-Canada highway, and Mt Norquay. There are information and signs on the boardwalk that you can refer to on the way.
This ride is a fun one for children and grown-ups alike. Parking here is free of charge, with a lower and upper parking lot, although it is ideal to reach early as they fill up pretty quickly in the afternoon. But you can also avail buses and shuttles that run there. There is an option for on-spot purchasing of tickets, but it is safer to get tickets online if possible.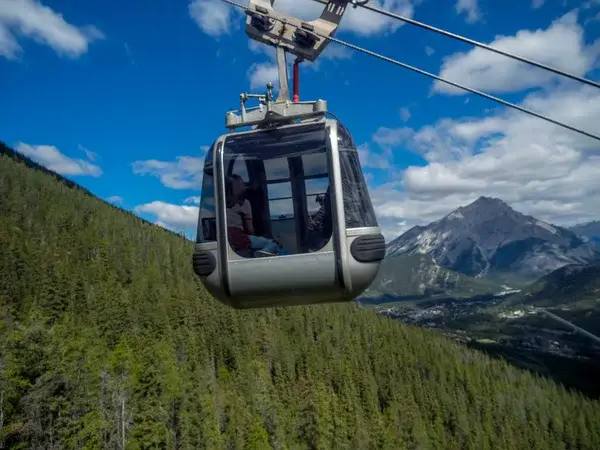 1.8. Norquay Chairlift
Although magnificent in itself, the Banff Gondola can be on the more expensive side as it is one of the crowded hotspots of Banff. If you want to opt for other Gondola options in the Summer, go for the sightseeing chairlift that operates on Mount Norquay. 
This open-air chairlift is considered to be a hidden gem. It is affordable, not crowded, and gives surreal views of Mount Rundle, and downtown Banff from above 7000 feet. 
1.9. The Mount Norquay Via Ferrata
If you are an experienced hiker and you want to try something with a higher difficulty level, you should try scrambling.
It required the use of your hands and body to walk up steep terrains. The Via Ferrata of Mount Norquay is the ideal scrambling activity that your adventurous heart will remember forever.
It is an assisted climbing experience, so do not worry you will be harnessed, and a professional mountain guide will constantly accompany you. You can spend as long as 8 hours conquering the trail and be rewarded with the most surreal views. If you are up for it, do not forget to book a guided tour!
1.10. The Lakes
The lakes in Banff are a major attraction with a whole different charm in the summer. To get the peak summer vibes, a day of exploring and soaking in the scenery and having picnics by the lakes, all should occupy a major portion of your itinerary.
Exploring Lake Moraine and hiking around it is an activity that has already been covered. Here are a few more unmissable scenic lakes at Banff:
1.10.1 Lake Minnewaska and Minnewaska Cruise
Lake Minnewaska is the most popular Lake in Banff National Park and hence is very busy during summer. It is because of the spectacular landscape and serene walking trails there.
It is an easy and enjoyable spot for families. You could take a stroll along the Lake or opt for the boats and cruises of Minnewaska that are particularly famous. If you go on the Minnewaska cruise, you will be able to see the 'devil's gap' where this large glacial lake starts. Other than boat rides, there are other activities options available like hiking, canoeing, and motorboating.
This lake is a popular and convenient tourist spot because of its proximity to Banff town. It is only 3 km away from town. If you are eager to get stunning views of the Lake but do not want to opt for difficult climbs, try the C-Level Cirque hike. It is an easy hike that the whole family can attempt, and it gives you spectacular views of Minnewaska!
1.10.2. The Two Jack Lake
There is another Lake that is close to Downtown Banff, which is the Two-Jack Lake. One of the top things to try here is Stand-up paddle boarding. Do not fret if you are not an experienced paddler, this is a fun summer activity regardless.
The two-jack lake is towered by Mount Rundle. If you get the opportunity to visit Two-Jack during sunrise or sunset and get the spectacular view of Mount Rundle reflected in the Lake's waters, please do!  The other glacial lake, Johnson Lake is also an ideal spot to try your hand at Stand-up paddle boarding aka SUP.
If the crowd of tourists is getting too much for you, a relaxing picnic at Two Jack Lake could be the ideal place of escape. This Lake is peaceful and has provisions of picnic areas, restrooms, campgrounds, and abundant parking.
You could attempt other water sports like canoeing, kayaking, and swimming. You could also avoid the throng of travelers by spending time enjoying the mountains and waters of Lake Johnson. At Lake Johnson, you can expect a big open grassy area with assigned picnic tables. Or be spontaneous and jump in for a swim at either of these Lakes!
1.10.3. Lake Louise
The most popular major tourist hotspot, Lake Louise is a glacier-fed lake that takes up a brilliant turquoise blue color in the peak summer.
It is picturesque with a backdrop of the Banff mountains. It is the picture-perfect place where everyone is taking pictures for the gram. This iconic Lake has water sports options like canoeing, it is very popular and a must-try.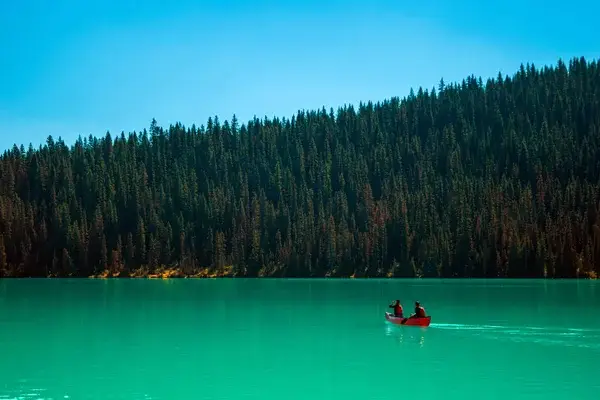 1.10.4. Peyto Lake
The other most heard iconic restaurant which witnesses a flock of thousands of tourists, is the Fairmont Chateau Lake Louise. Here you are offered an array of foods and even afternoon tea. Enjoy the delicacies, relax, and do it with a view. Take a look through the large windows down at Lake Louise. This elegant experience is a must, so make your reservations beforehand.
After Lake Louise, Moraine, and Minnewaska, Peyto Lake comes next in popularity. It is a glacier-fed lake in Banff National Park. As is the characteristic of all Banff Lakes in the summer, Peyto Lake has stunningly blue waters.
Peyto Lake can be reached very conveniently from the Icefields Parkway, with a 10-minute walk up to the viewpoint of Peyto Lake. An interesting fact about Peyto Lake is that the shape of it looks like a fox head!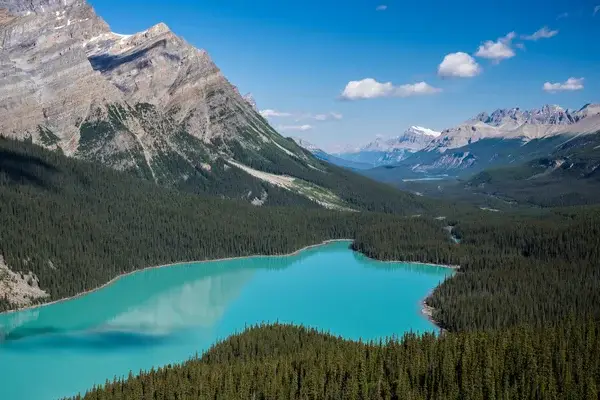 1.11. Horseback Riding
For all the outdoor enthusiasts out there, do not miss out on the opportunity of horseback riding in Banff National Park. There is something so fascinating about jumping on the back of a horse and heading out into the backcountry to escape the hustle of Alberta's tourism.
The stunning views that the hikes and Gondolas have to offer, can be experienced more intimately. You could opt for riding in the mountains or take a ride into the unknown passes at Banff. You will be uninterrupted, with not as much crowd as in the mountains, but make sure to take precautions!  
Popular among tourists is the horseback ride into the backcountry of Banff National Park. Local companies like Banff Trail Riders offer rides on horseback and will take you into the backcountry of Banff, even stopping for delicious lunches on the way! It is one bucket list experience of the summer that will make you feel like you're living in the movies.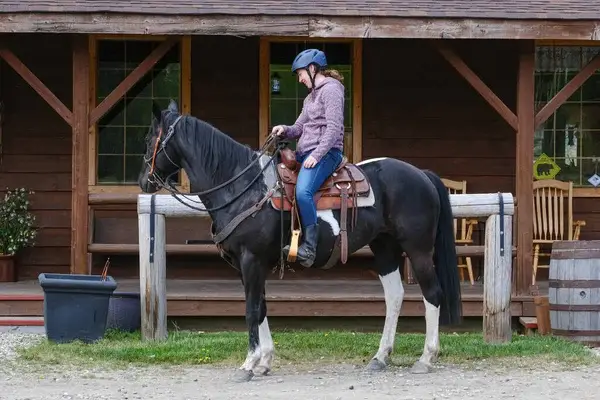 1.12. Columbia Icefield
If you are still looking for a bit of snow in the middle of Summer, do not worry, you are amidst the mountains and glaciers.
At the edge of Banff National Park, and the southern end of Jasper National Park, the Columbia Icefield is the glacial attraction you should visit. You could book special buses like Ice Explorer that are equipped to venture on the icy terrain and travel out to the ice.
2. Precautions to Take when Visiting Banff National Park
However harmless and breathtaking your surrounding environment may look, it is essential to keep in mind that you can encounter dangerous large bears, wolves, or caribou. To be on the safe side, do not opt for hikes that have trails in isolated areas. Always travel in groups during hiking, and remember, bear spray is a must!
If you are visiting Banff National Park, you are very likely to be expecting wildlife. The park is home to a multitude of wild animals, and you will be able to spot bears, mountain goats, elks and deer, moose, caribou, wolves, and many more, the list goes on. The park is an excellent opportunity for photographers to do their magic and capture the diverse untouched wilderness of Canada.
If observing animals up close is something you wish to stress, opt for safaris that provide a set tour with professional guides. You could also consider hiking up the Bow Glacier Falls behind Bow Lake or experiencing the ice walks on the Athabasca glacier.
3. Final Words
Banff Public Park is one of Canada's extraordinary irreplaceable assets, drawing in a large number of guests consistently. Incorporating a piece of the Rough Mountains, the recreation area is home to lovely turquoise lakes reflecting the snow-shrouded tops, alongside glacial masses and timberlands. Beginning around 1985, it has been remembered for UNESCO's rundown of safeguarded normal and social landmarks.
The primary features of this noteworthy excursion along the Turnpike are the undeniably popular Lake Louise, the Château Lake Louise, and the tremendous Columbia Icefield. You likewise have a decent possibility of seeing a portion of Canada's untamed life. The recreation area is home to an enormous number of mountain bears, elk, caribou, wolves, beaver, and wild bears.
Winter can be fun at Banff, but the peak season at Banff is summer. If you are looking to be adventurous and fill your time with hikes, climbs, strolls, and picnics, Banff National Park is the summer destination of your dreams!