Pukaskwa National Park is situated in the Thunder Bay district in Southern Marathon, Northern Ontario, Canada. Established in 1978, you can find it on Lake Superior's north shore.
Among the six national parks in Ontario, the Pukaskwa National Park is the most remote and boasts 1878 km of boreal forests accompanied by rocky shorelines and sandy beaches overlooking Lake Superior and the Pic River Dunes.
The wilderness of Pukaskwa National Park is rich in the ancient human story due to the culture of the Anishinaabe First Nations.
Also, you will occasionally find black bears, lynxes, moose, and wolf packs in this park.
1. Hiking Trails in Pukaskwa National Park
If you are a fan of hiking, Pukaskwa National Park is the one for you. Six remote hiking trails can be enjoyed by both beginners and experienced.
When you go on a day hike, you will get stunning views from the White River Suspension Bridge.
All said, it's time to look at the different trails available in Pukaskwa National Park.
1.1. Easy Hike
1.1.1. Boardwalk Beach Trail
This falls under the easy hiking category. When you choose this hike, you can relish a boardwalk stroll to Horseshoe Bay and enjoy the beautiful dunes. You also get to witness the sunset at Horseshoe beach and listen to the rhythm of the beach waves.
This trail is 1.2km, with a boardwalk for 0.2km.
1.1.2. Hattie Cove Fire Walk Through the Coastal Hiking Trail
Are you interested to know what fire does in a boreal ecosystem? Then strolling through the 2012 Hattie Cove Prescribed Fire area is the right choice. You can witness the quick regeneration taking place in the boreal forest.
This trail is 0.7km. This is another trail under the easy hiking category.
1.2. Moderate Hike
1.2.1. Beach Trail
This trail falls under the moderate hiking category. Here, you get to witness the beautiful sandy beaches of Pukaskwa that are burrowed under the coves and harbors of Lake Superior.
You will have a great time splashing water or playing calmly with the sand on the Middle beach. This trail is 2km.
1.2.2. Southern Headland Trail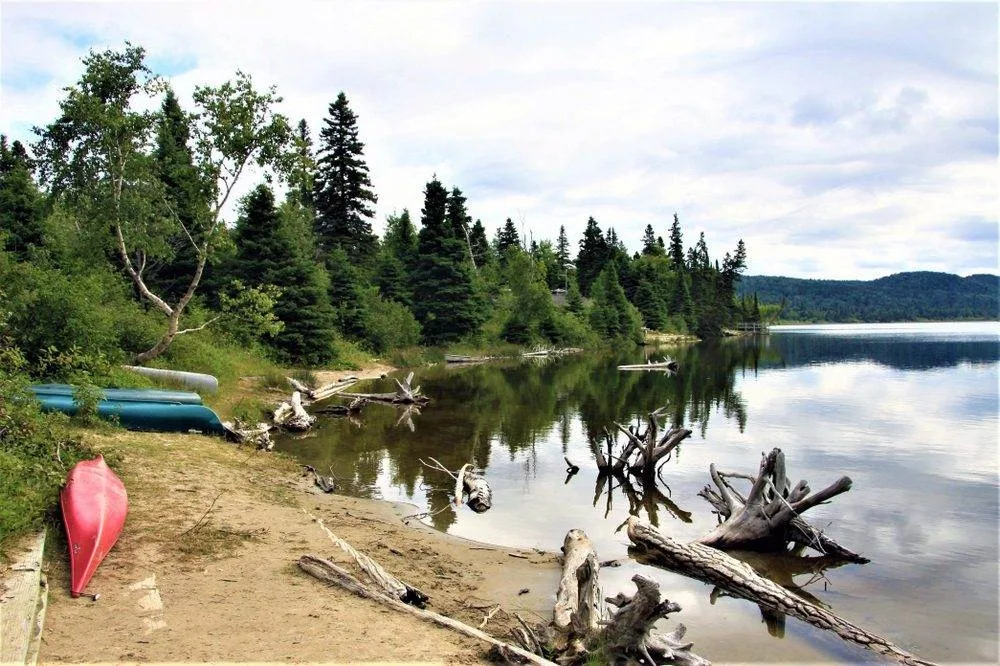 This bumpy trail lets you encounter the wild shore of an inland sea. It further extends into Lake Superior and offers views of Hattie Cove, Pulpwood Harbor, and Horseshoe Bay.
You can also find rare life forms, small arctic-alpine plants, and lichens amidst the rock formations. The Southern Headland trail is 2.2km.
1.2.3. Manito Miikana
Manitou Miikana, the Spirit Trail, is a good place to enjoy peacefully. As you climb higher, you can get spectacular views of Lake Superior and the Pic River Dunes. Want to rest? No worries. You can do it from the two viewing decks along the trail.
1.2.4. Bimose Kinoomagewnan
Bimose Kinoomagewnan, the Walk of Teachings lets you learn the seven grandfather teachings from both the Ojibway elders and youth.
You can read elders' stories regarding love, honesty, bravery, etc. This trail is 3.7km.
1.2.5. Combination Hike
As the name suggests, this hike covers all three trails. You can begin this hike from the Visitor Center, then take the Southern Headland Trail to Horseshoe Beach. You can visit the Beach Trail and follow the shore trail until its end at the North Loop Campground.
After that, take a stroll, and after you cross some campsites, you will reach the Halfway Lake Trail. Once you complete the trail, you will hit the road. Hurray! Then it is time to return to the Visitor Center. This trail is 6.3km.
1.3. Difficult Hike
1.3.1. White River Suspension Bridge Through the Coastal Hiking Trail
Get ready for an adventurous hike on the White river suspension bridge. This bridge is part of the rocky and alluring Coastal hiking trail. However, it is best to contact the park staff for the trail conditions.
You also require necessities such as footwear, food, ample water, and a map. This trail is 18km.
1.3.2. Pukaskwa Coastal Trail
The length of this Coastal trail is 64.1km, and it is near Pic River 50, Ontario. This is quite a challenging route, and this trail is the best for activities such as backpacking and hiking. The route type here is a point-to-point.
Move over hiking; now it is time for camping. You can find the best camping sites in Pukaskwa National Park. Let's take a detailed look at it.
2. Hattie Cove Campground in Pukaskwa National Park
Are you in for a camping trip with your family? Hattie Cove Campground in the Pukaskwa National Park welcomes you. You can reach this destination from the Trans-Canada Highway in a short drive. This is located at the north end of the park. You can access it through Highway 627, the only road to the park.
The Hattie Cove Campground is the best choice if you are a fan of the front country. This place provides 67 vehicle-accessible campsites along with the best wilderness and privacy. The campsites can contain one motor vehicle and six people in two tents.
Pukaskwa's Hattie Cove Campsites are available on a first-come, first-served basis.
3. Backcountry Campsites in Pukaskwa National Park
Want a change from a short hike? You can hike or paddle to one of 65 labeled backcountry campsites in the Pukaskwa National Park. You can reserve well in advance to enjoy this beauty right at the heart of nature.
While hiking, you can find private toilets, food lockers, and a fire pit. In case of booking a boat shuttle, you can always call the park for information. Parks Canada staffs are very supportive and will assist you with your requirements.
There is more to experience in Pukaskwa National Park. Two backcountry experiences are not to be missed. One is to hike over 60km of the rocky terrain or paddle 135km through the shoreline in the remote region of the Pukaskwa National Park.
4. Backcountry Hiking in Pukaskwa National Park
4.1. Coastal Hiking Trail
You are in for a treat as this is the wildest hike on the Great Lakes shores. You get to experience a challenging hike and enjoy the wilderness of Ontario. Breathtaking views and wonderful beaches are guaranteed on this trail. This is a part of the Trans-Canada Trail. There are two suspension bridges on the Coastal hiking trail. One can be found across the White River at Chigaamiwinigum and the other across the Willow river.
5. Backcountry Paddling in Pukaskwa National Park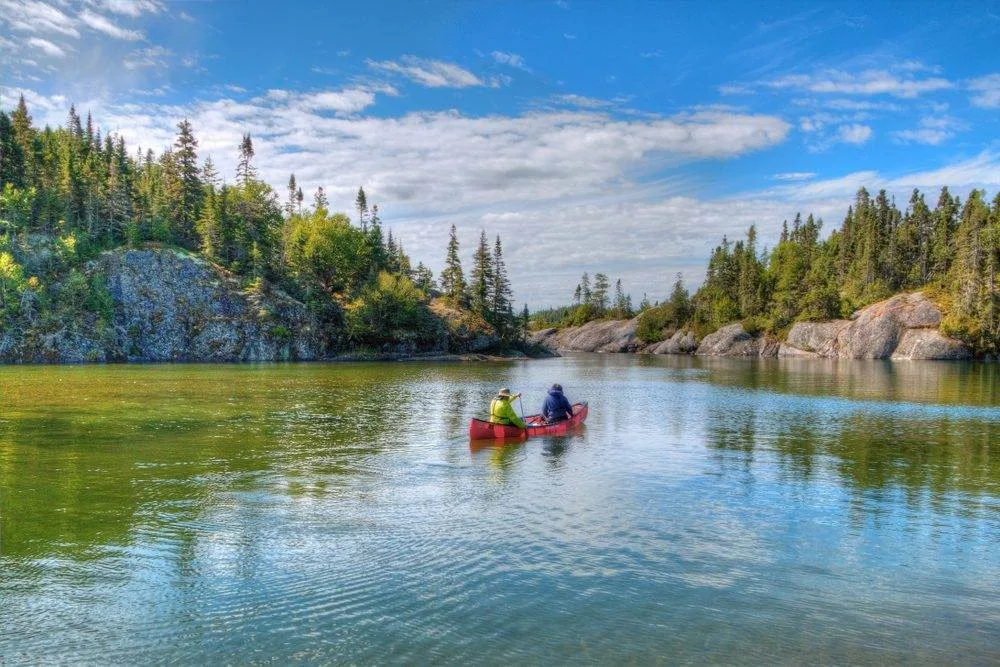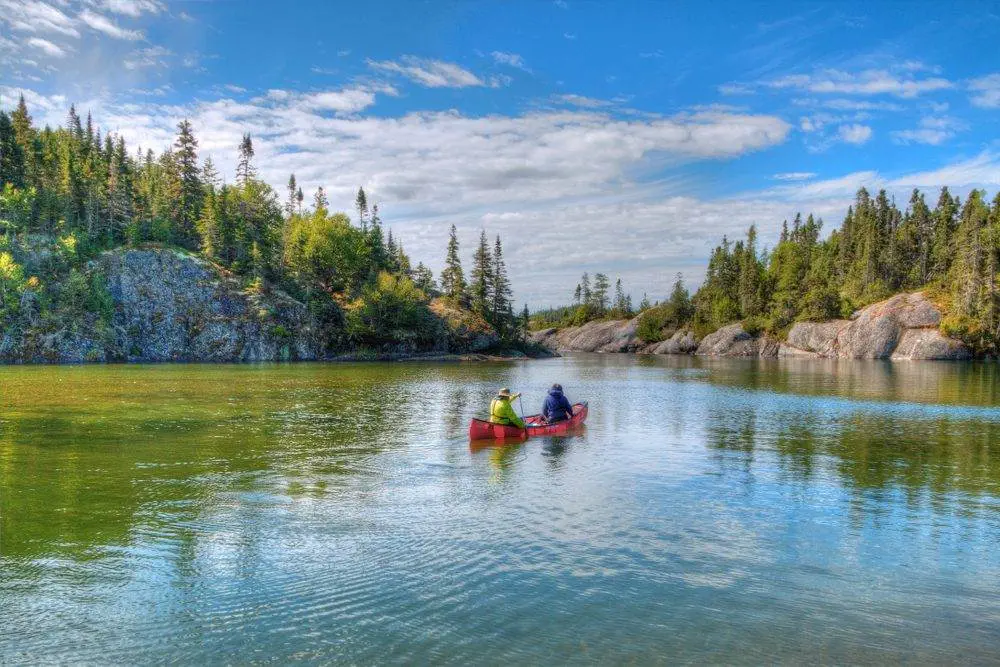 5.1. Coastal Paddling Route
When paddling in Pukaskwa, be it by a canoe or a kayak, this coastal paddling route offers an experience similar to paddling in an ocean due to the vast size of Lake Superior, and paddlers require technical knowledge to experience this beauty fully.
5.2. Interior/River Paddling
Two rivers that attract the interior paddlers are the White River and the Pukaskwa river. You can contact the park or visit the park website for detailed information.
6. Geocaching in Pukaskwa National Park
Ready for a treasure hunt? Geocaching is where you do it. You can use GPS to find the hidden small box to record your visit in the logbook. Pukaskwa is one of the national treasures of Canada.
When in Pukaskwa National Park, don't miss the red chairs in stunning locations from coast to coast. You can relax and enjoy the wonders offered by Parks Canada.
Apart from the White River, the Cascade river is also present in the Pukaskwa National Park.
Of all the national parks in Ontario, Pukaskwa National Park is the largest. A three-and-a-half-hour drive from Thunder Bay is all it takes to visit this park, and a five-hour drive from Sault Ste. Marie. You can call the parks Canada dispatch service in case of any emergencies when you are in the park.
As an Amazon Associate, Icy Canada earns from qualifying purchases.
[amazon_auto_links id="81298"]
The Icy Canada team strives to create content that matters. It's why our content is written by travel writers, authority experts, well-known authors, and niche experts. Our content is also periodically reviewed by expert authors for accuracy and trustworthiness.
As an Amazon Associate, Icy Canada earns from qualifying purchases. [amazon_auto_links id="81298"]