What to do in Costa Rica? Well, there are endless adventures and attractions in Costa Rica to have fun and create beautiful memories.
Costa Rica's outstanding multiple terrains, lavish rainforests, beautiful beaches, and exciting outdoor adventures make it one of the popular destinations for tourists.
1. What to do in Costa Rica? Excitement Overloaded
Are you already excited to know in detail what this paradise in Central America has to offer? Let us jump right to that.
1.1. Enjoy the Lovely Landscapes of Manuel Antonio National Park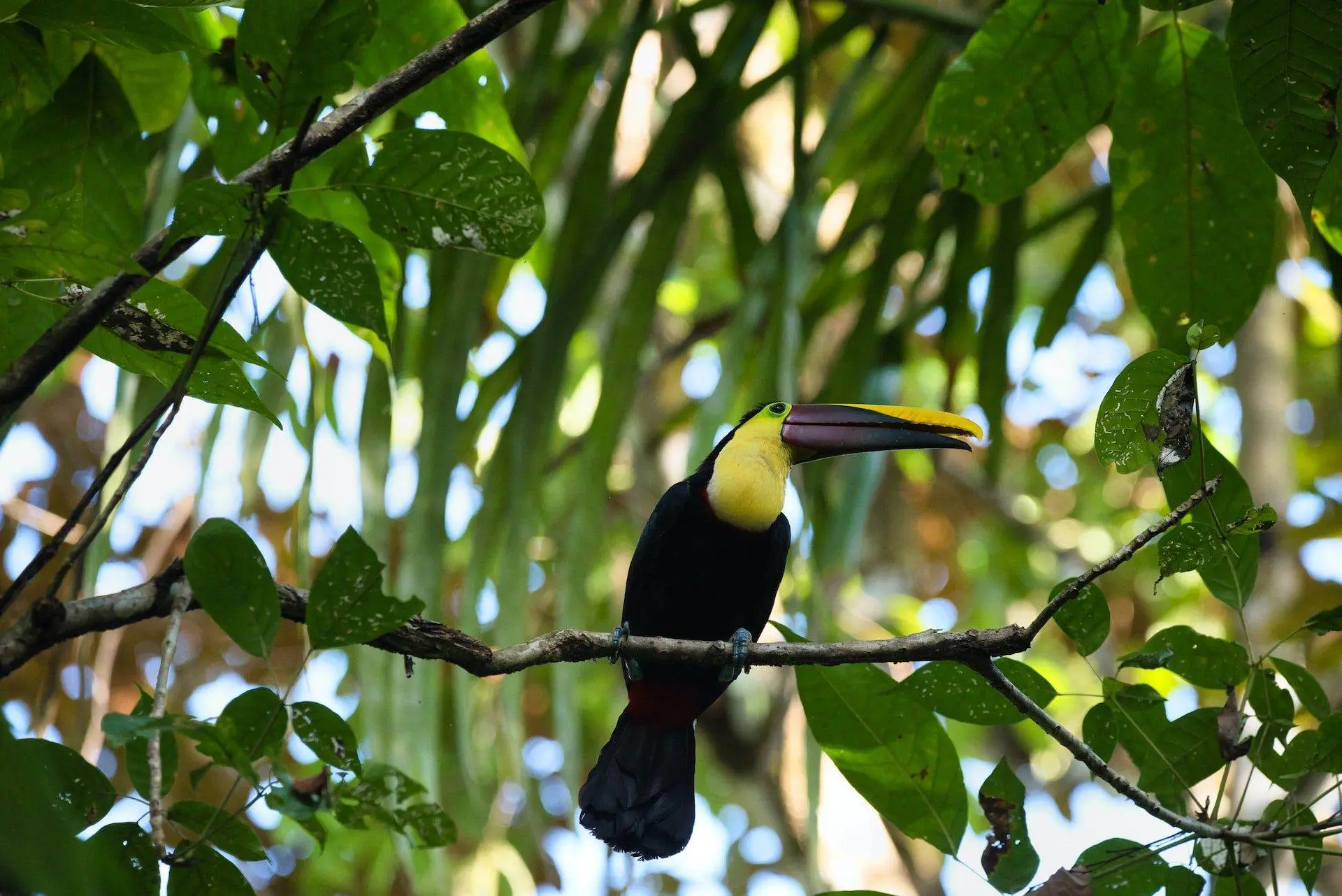 The park contains the most beautiful landscapes. You can find the park enveloped by a plush tropical wet forest. When you stroll along the paths of this park, you will have visitors.
Eager to know whom you will encounter? You get to watch capuchin monkeys, raccoons, iguanas, sloths, squirrel monkeys, and rare species of birds. There is an interesting fact about them. You can find them only here in Manuel Antonio.
Numerous species of marine birds also call this place their home. Espadilla Sur, Manuel Antonio and Puerto Escondido are the lovely beaches here. The point that connects Manuel Antonio and the Espadilla Sur beaches is a place with natural beauty.
Also, Manuel Antonio Beach offers you spectacular views to enjoy.
1.2. Explore the Arenal Volcano National Park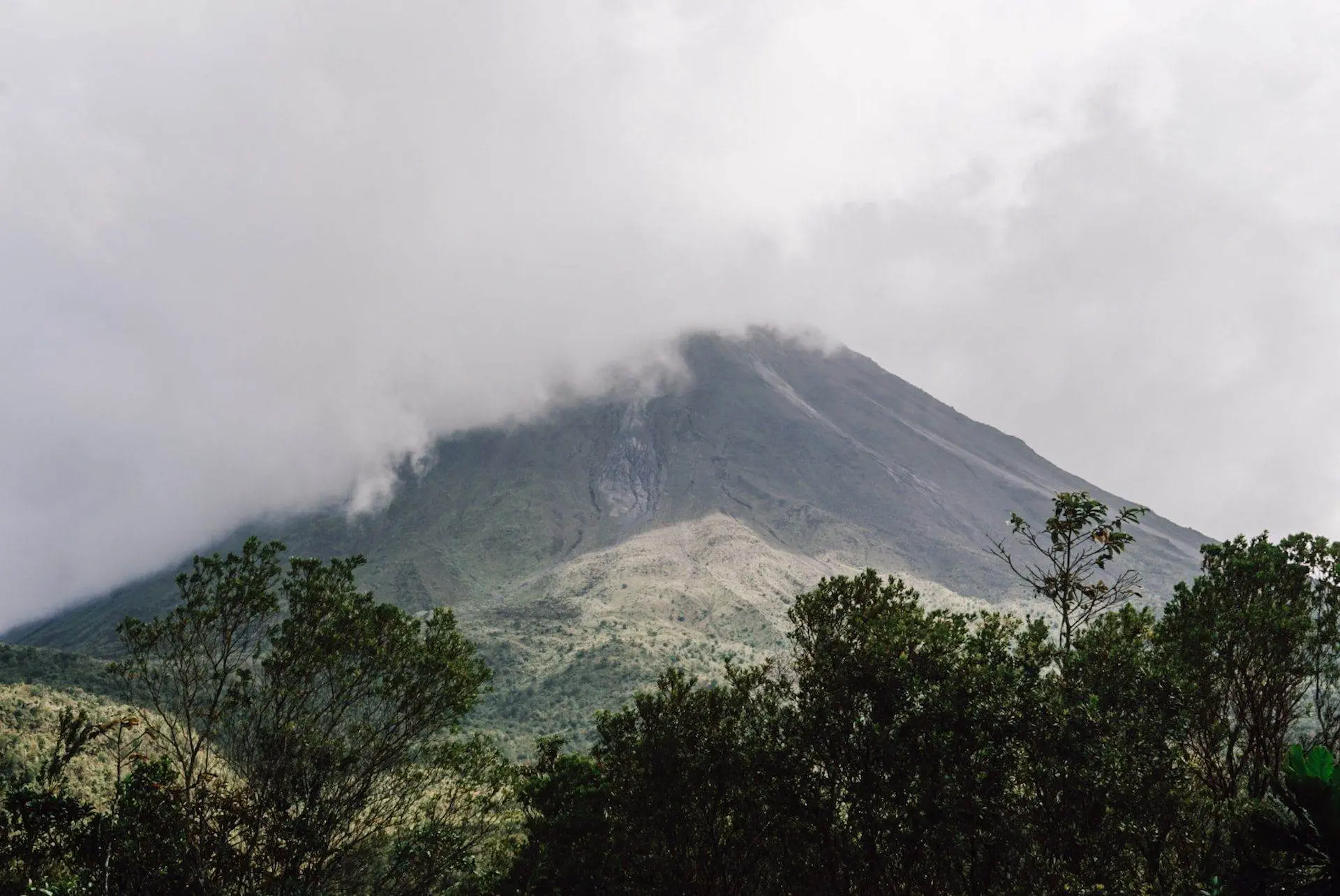 This park is one of the most preferred spots in the Northern zone. The park comprises several trails namely the Heliconias, Los Miradores, Coladas, and Tucanes.
What is so interesting about these trails? You get to observe the beautiful flora and fauna present in the park. You can observe the remnants of the lava tracks. the remnants of the lava tracks.
The Arenal Volcano is an apt place to hike and enjoy hot springs. You can enjoy a complete range of activities including paddling underneath the Arenal waterfall and immersing in the Baldi hot springs.
1.2.1. Can you access the Volcano portions?
What is the fun without visiting the Volcano portions in the Arenal Volcano National Park? Yes, you get to access only a few portions of the Volcano, provided you are on a guided tour.
1.3. Get Awestruck by the Amazon of Costa Rica – The Tortuguero National Park
Without wondering what to do in Costa Rica, visit the Tortuguero National Park. Situated in the northeastern area of the Caribbean coast, you can access this park in Costa Rica only by boat.
Touted to be the Amazon of Costa Rica, this place is best known for its turtle nestings. Sea turtles, white-faced monkeys, toucans, red-eyed frogs, and various species of birds and mammals are all those you can explore in this place.
1.3.1. Kayaking
Kayaking is one of the perfect activities to do in this park. You can explore more areas, which is not possible with motored boats. You will have an amazing experience while gliding on the water silently without disturbing the wildlife.
1.4. Enjoy Hiking in Corcovado National Park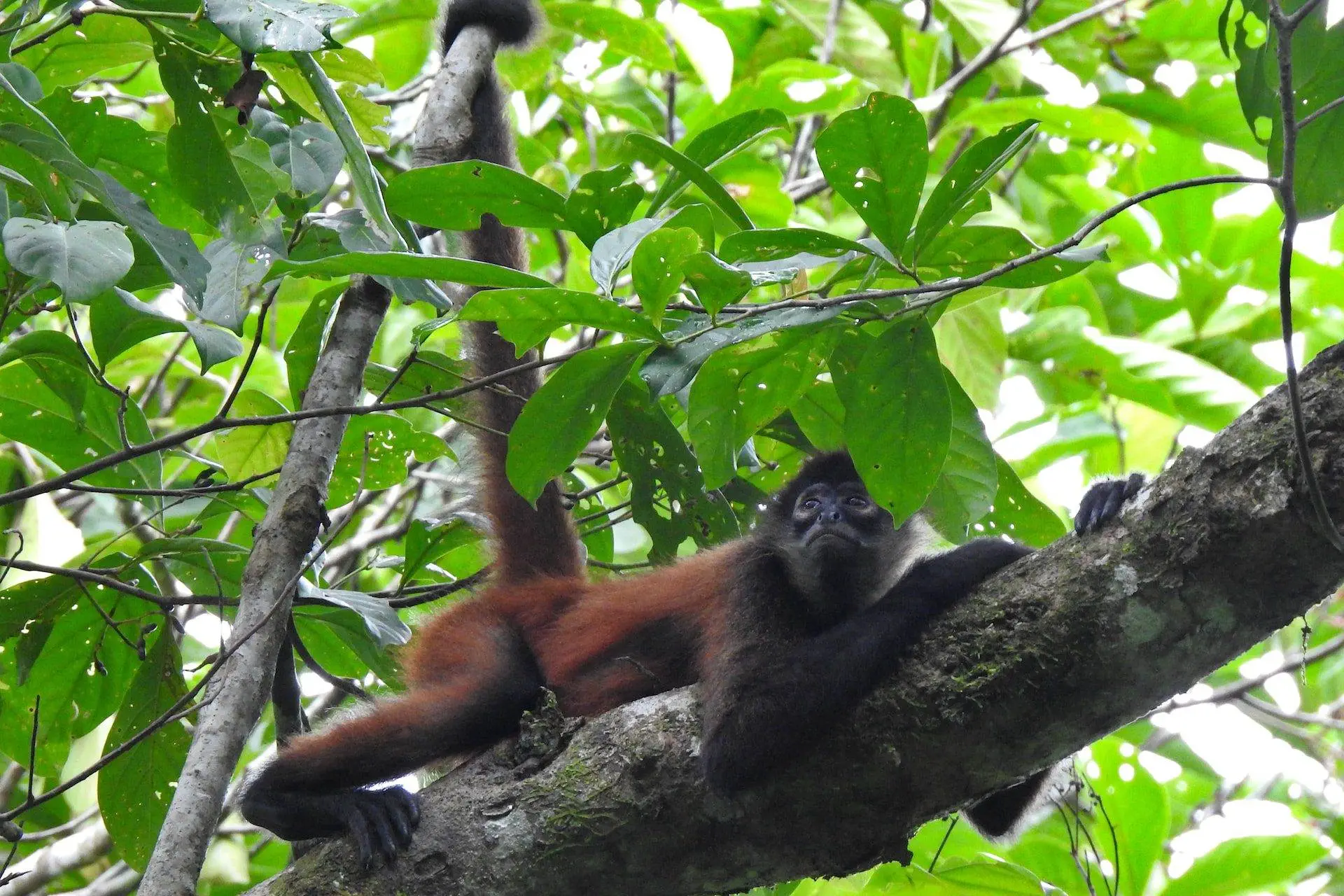 Get to know the unique place of Costa Rica – the Corcovado National Park. If you are an ardent hiker or a wildlife enthusiast, visit this park.
The park is touted as the most biologically exceptional place on our planet. You can find this park on the Osa peninsula. Wildlife and endangered species call this place their home. Are you excited to know what species you can encounter here?
You can encounter Tapirs, Peccaries, poison dart frogs, scarlet Macaws, and much more.
1.5. Fall in Love With the Whale's Tail in the Marino Ballena National Park
This National Park is where you can enjoy watching whales and dolphins emerge beautifully from the water. There is one fascinating feature in this park. Want to get more details on it?
There is a section in this park where you can observe the union of two beaches. This makes it appear like a whale's tail. Indeed a fantastic work of our mother nature.
What is more interesting is that the sole purpose of this park is safeguarding the humpback whales' migration. And look at the work of nature! There is this Whale's tail.
1.5.1. Entrances to the park
The park comprises four various entrances. They include: Uvita, Colonia, Ballena and Piñuela. Of these, the Utvia and Colonia are easily accessible.
Also, the best time to reach the whale's tail, also known as a tombolo, is during low tide.
1.6. Admire the Natural Beauty of the Cocos Island National Park
UNESCO declared this park a World Heritage site. The natural beauty and the abundant biodiversity of this park are unparalleled.
The remarkably clear blue turquoise water is why plenty of marine habitats call this place home. This park is also one of the spectacular places for diving.
Now that you have seen plenty of attractions, don't you think it is time to go wild and have fun? Let us discover the activities in Costa Rica and get the most out of them.
Now that you have known about the many national parks in Costa Rica, are you still wondering what to do in Costa Rica next? There are different spots for you to explore here. It is now time to see them.
1.7. Explore the Ever Busy La Paz Waterfall Gardens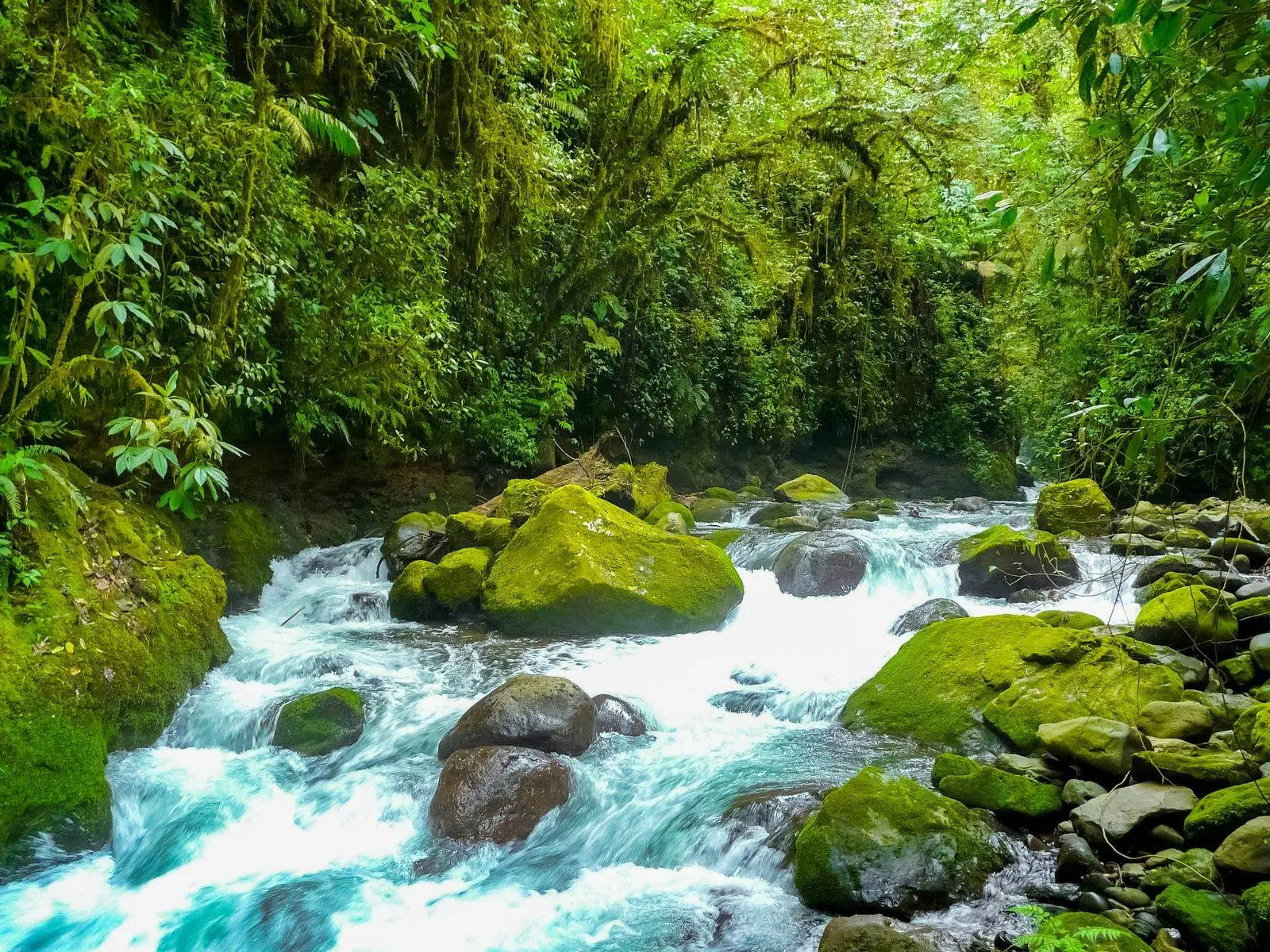 The enchanting La Paz Waterfall Gardens is encompassed by rich flora and fauna. As for activities, you have wonderful hiking trails, and also a coffee plantation. La Paz comprises rain and cloud forests.
You get to see frogs, colourful butterflies, jaguars, spider monkeys and whatnot. If you are an ardent wildlife lover, consider this your paradise. You still have the main feature of the park. Have you guessed already? Yes, it is the La Paz waterfalls.
There are a total of 5 waterfalls, each contending with the other in beauty. Want to have a memorable moment standing directly beneath the falls? You can do this in the Magia Blanca waterfall, which consists of a viewing platform to achieve this.
1.8. Head Over to the Nauyaca Waterfalls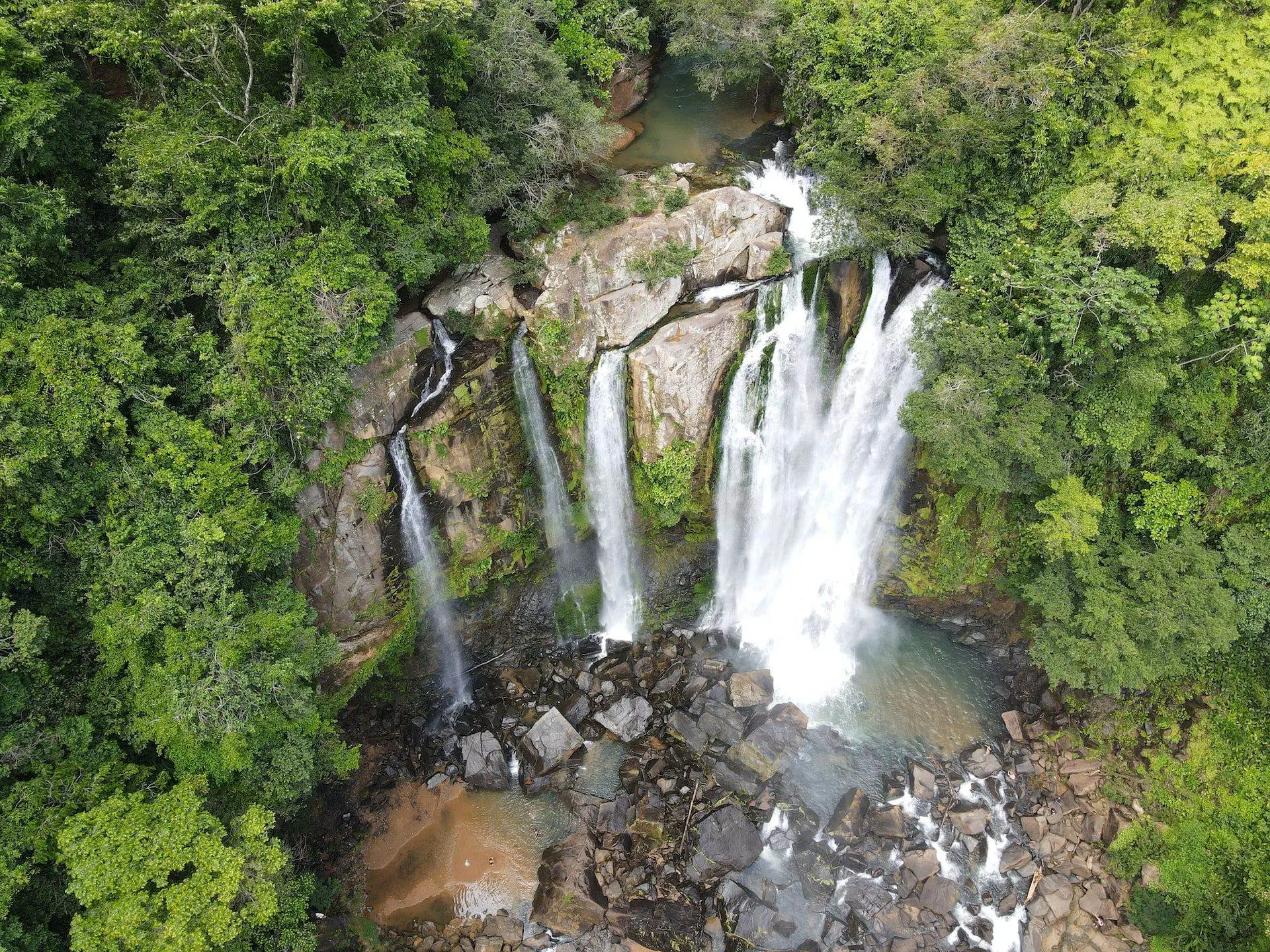 Located on Costa Rica's south pacific coast, this is one of the waterfalls not to be missed. These Nauyaca waterfalls do not stop by captivating you with their beauty but also offer plenty of activities. The activities include horseback riding, swimming, jumping, and much more.
Coming back to the waterfalls, you can observe there are two levels. One fall is 45 metres high, while the other is 20 metres high and comprises a deep pool for visitors to enjoy swimming.
1.9. Get Mesmerized By San Jose – Costa Rica's Capital
San Jose comprises a big international airport. The primary attractions in this place include museums, interconnected districts, and lively dining scenes.
Speaking of the museums, visit the Plaza de la Cultura for the excellent compilations at the Pre-Columbian Gold Museum. The Jade museum has even rich treasures. Additionally, you can visit Costa Rica's National Museum, National Theatre, and the Central Market.
Moving over to architecture, tourists throng Barrio Amón for its fantastic architecture. Barrio Escalante meanwhile, is known for its various restaurants, bars, and cafes.
1.10. Enjoy the Stunning Del Toro Waterfall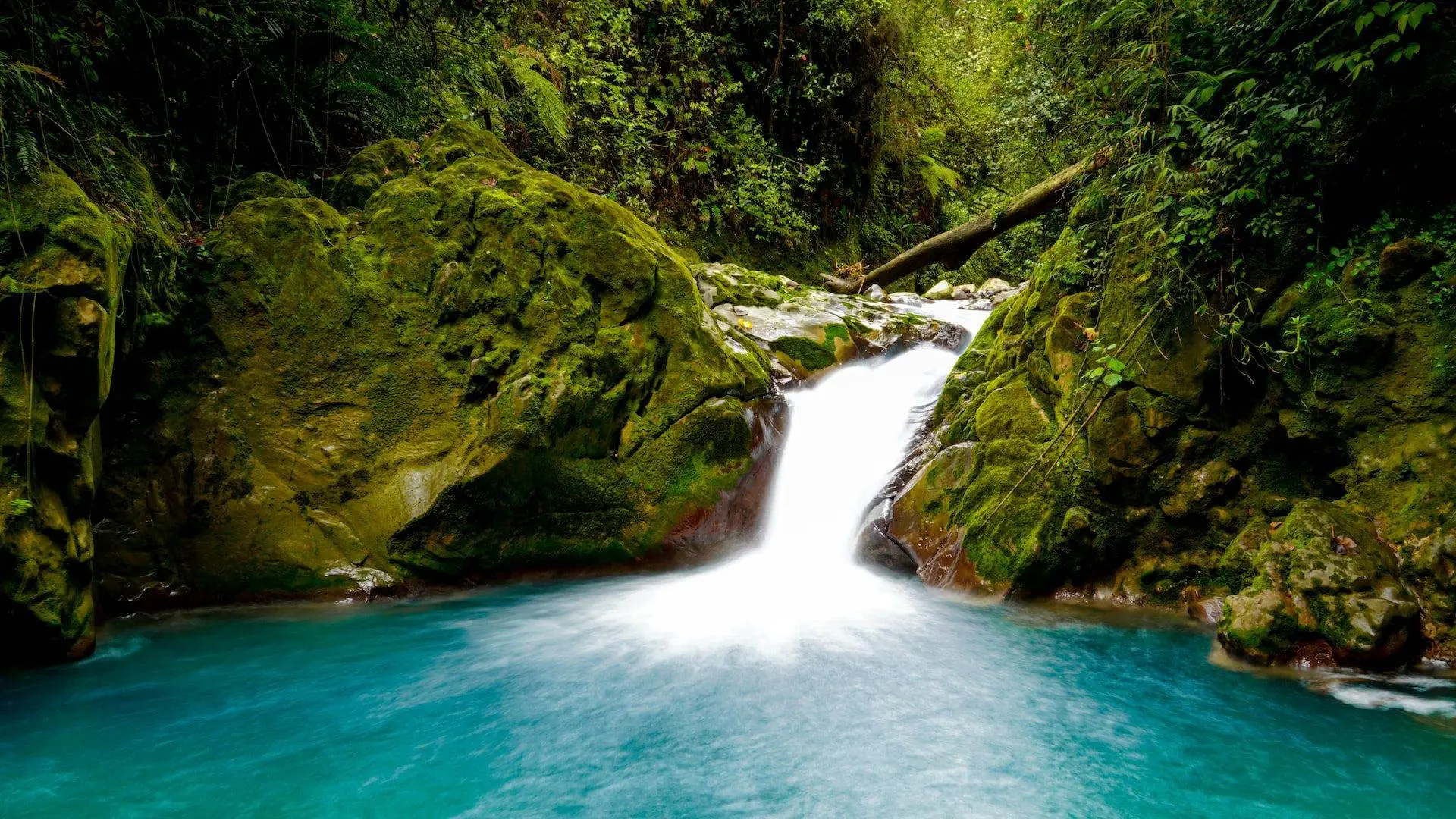 Get to know this breathtaking waterfall descending into an inactive volcano crater in Bajos del Toro. This waterfall is also one of Costa Rica's highest waterfalls.
You can also experience stunning views, lovely flowers, fantastic gardens, and many more. You can also experience stunning views, lovely flowers, fantastic gardens, and many more. The place will captivate you with its beauty.
1.11. Have Loads of Fun at Puerto Viejo de Talamanca
Visit this village situated on Costa Rica's Caribbean coast. This place is lively with music and wildlife. You can find the best spot for surfing – Cocles Beach, and surfer enthusiasts throng this place. If you are a food lover, taste the Caribbean-style cuisine here.
If you are a nature fan, go on to discover the rainforests or visit the nearby Cahuita National Park. This place keeps you occupied one way or the other and never gives you a dull moment.
1.12. Discover Nature at the Monteverde Cloud Forest
You will be transported to a completely different world when you enter this place which is like a mountaintop paradise. You can find this place encompassed by rich, damp cloud forest.
You can also find numerous mammals, a variety of birds, and amphibian species in this forest. What is more interesting about this Monteverde Cloud Forest is that 2.5% of the world's biodiversity is present here.
Another exciting place is to explore the adventure parks in Monteverde. You can have fun and simultaneously obtain educational experience.
1.13. Stop at the Jaguar Rescue Center
This Jaguar Rescue Center is excellent for ill, injured, or orphaned animals. The center offers veterinary services and the best care to the animals. Sloths, monkeys, mammals, reptiles, and birds are the primary focus of this center.
The center also offers both public and private tours. What do they do on these tours? They explain the stories, characteristics, and difficulties these creatures face.
1.14. Enjoy the Thrill of Ziplining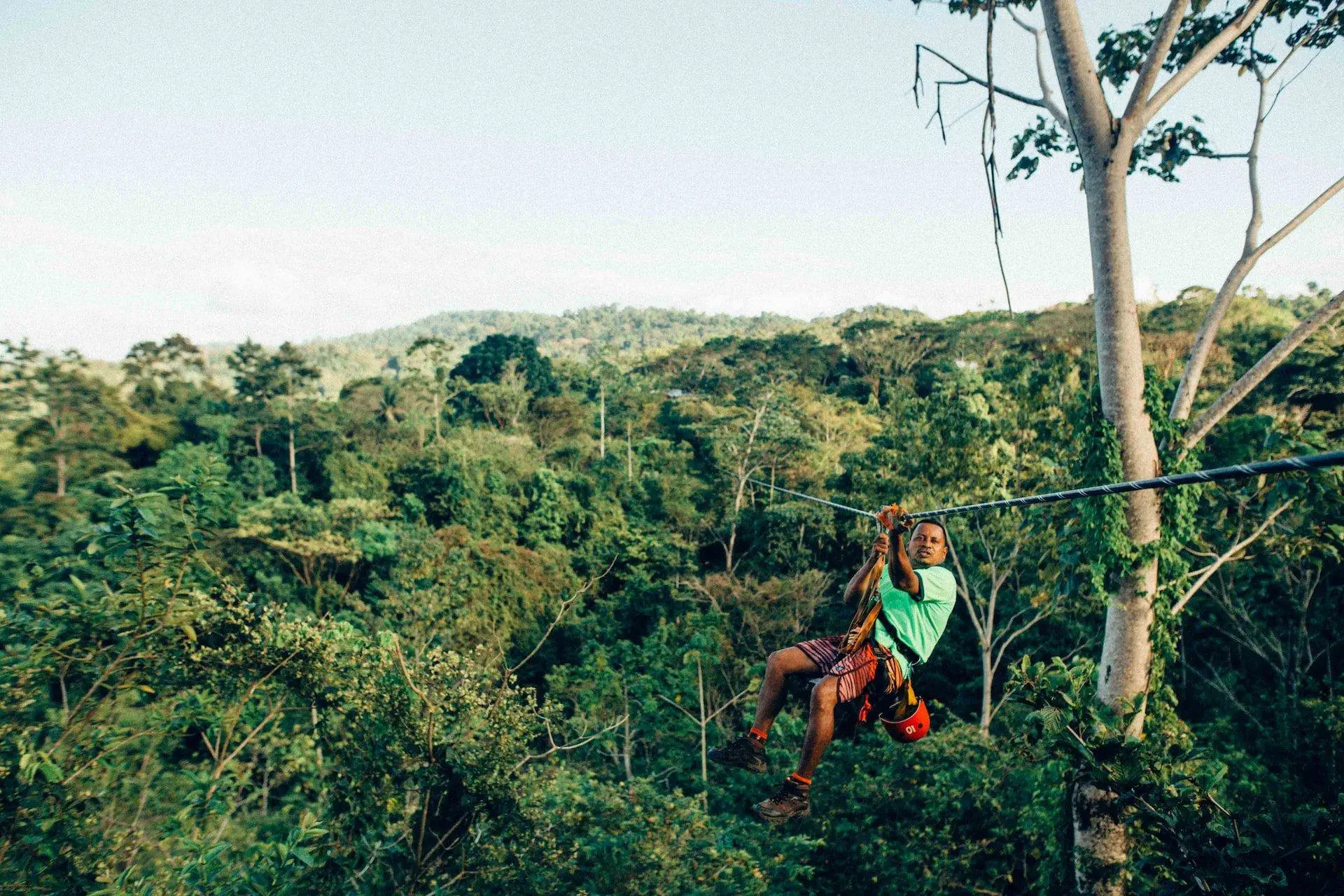 You need not think twice about what to do in Costa Rica. Opt for the zip-lining activity. This activity is impossible to miss when you are visiting Costa Rica. The long cables and picturesque views the country offers are very much popular.
Flying over the rainforest is quite an adventure. There are also quite a few spots in Costa Rica where you can enjoy ziplining to the maximum. Let us get to see a few below.
1.14.1. Guanacaste
As you go ziplining from Guanacaste, you can enjoy the tropical breeze on your face and witness Treetops woosh as you glide through the rainforest on a string of upheaved platforms joined by zipline cables.
Guanacaste is fondly called the Gold coast of Costa Rica. This place has become the preferred destination for its secluded beaches and remarkable highlights.
They include Playa Carrillo, Rincón de la Vieja National Park, and Santa Rosa National Park. Santa Rosa boasts of being Costa Rica's first national park.
1.14.2. La Fortuna
Want a ziplining adventure that spikes up your adrenaline? Go for the Mundo Aventura zipline in La Fortuna. This comprises several canopy lines, and when you go ziplining, you will have the company of landscape from the Treetops.
What about the views? Pino Blanco Waterfall, the Arenal Volcano, and Cerro Chato will reward you with their picturesque views.
One noteworthy point is that canopy tours are also referred to as zip line tours in Costa Rica.
1.15. Have Fun Going Scuba Diving and Snorkeling
Costa Rica is a great place for scuba diving and snorkelling. If you want to loosen up, and wondering about what to do in Costa Rica, jump right to this activity.
The best place to enjoy snorkelling is on Cano Island, Costa Rica. When you go snorkelling, whale sharks and turtles will accompany you.
As for scuba diving, Bat islands, Cahuita National Park, and Las Catalina Islands are some of the best spots.
1.16. Enjoy a Boat Tour in the Gulf of Papagayo
The best place where you can get a lovely experience going on a boat tour is the Gulf of Papagayo. It is situated on Costa Rica's north pacific coast.
It comprises countless boat access and incredible snorkelling spots. To get the maximum out of the Papagayo Gulf, choose boat tours.
1.17. Experience the Thrill of ATV Tours
Boost up your thrill level by going on this tour. Drive your ATV via the jungles and arrive at beautiful viewpoints. Want to have extra fun? Drive your ATV in the rainy season and soak your attire with little mud.
LA Fortuna, La Cruz, Jaco, and Manuel Antonio are some of the best places for ATV Tours.
1.18. Immerse Yourself in the Perfect Hot Springs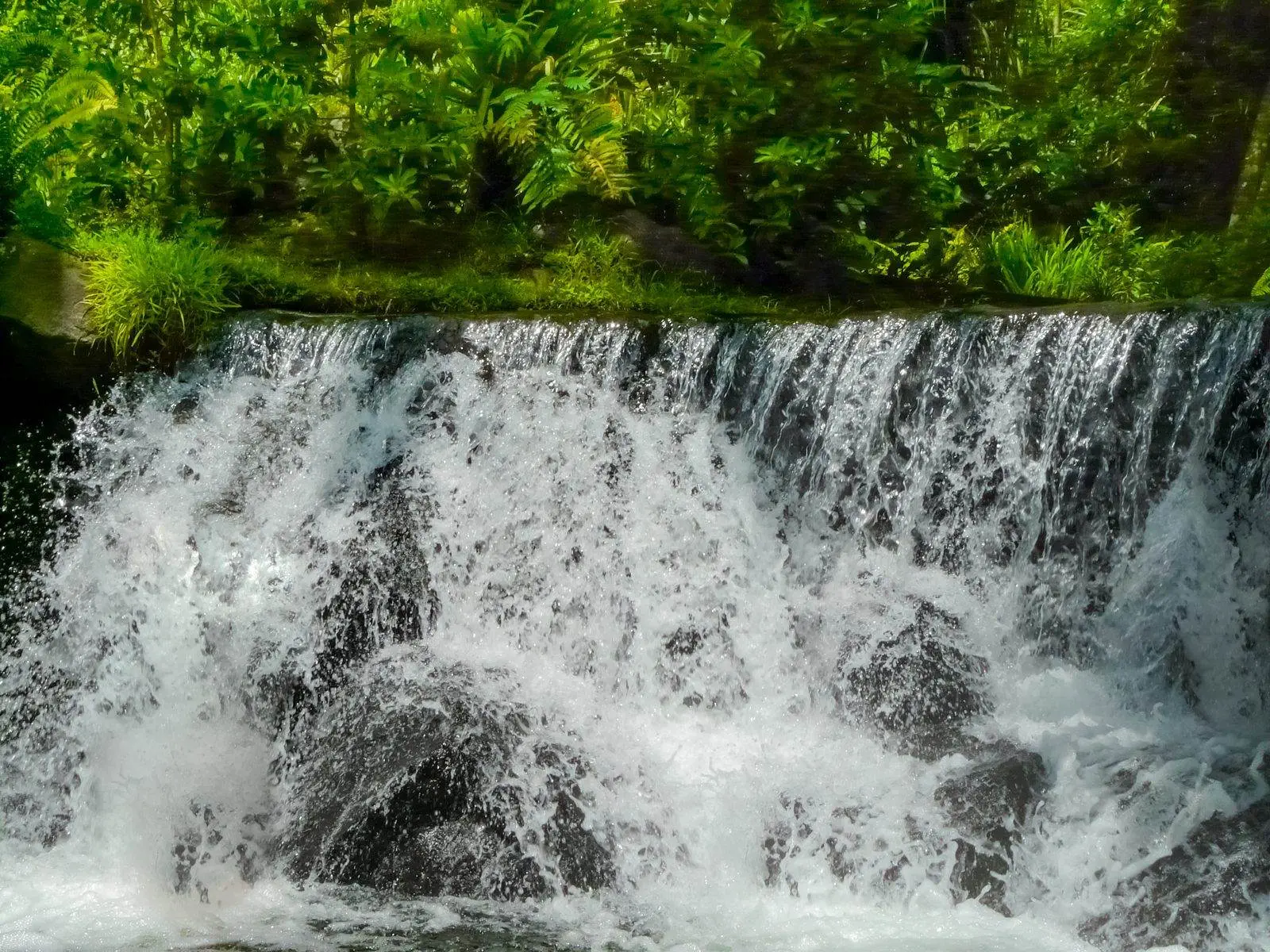 There are activities galore in Costa Rica, and you would not even have the time to think of what to do in Costa Rica.
You can find numerous natural hot springs in Costa Rica. What created these hot springs? The presence of many active volcanoes gave rise to these. You can find most of them in Central Costa Rica. This place is where volcanic activity occurs frequently.
You can find that the best destination for this activity is the Tabacon Hot Springs. It is close to the Arenal Volcano and the La Fortuna waterfall. If you want to choose a less populated place, you have the Eco Termales, Rio Agua Caliente, and Titoku Hot Springs.
1.18.1. Is there something outside Central Costa Rica?
Yes, you have one outside Central Costa Rica. Pay a visit to the Vandara Hot Springs in Rinca de La Vieja National park. You can find this place situated in northern Guanacaste.
1.19. Go Water Rafting
Who would not love water? You can find enough rivers in Costa Rica. Water rafting lets you enjoy the water. If you want to enjoy it, first find the perfect destinations for water rafting.
One such perfect spot is the Pacuare River, close to the Caribbean coast. Coming close to that is the Río Naranjo, nearby to the central Pacific Coast.
If you are in the area of Guanacaste, Tenorio River is an apt place for water rafting.
1.20. Experience Bird Watching
Costa Rica is home to local and migratory birds. What are the birds you get to spot here? Hummingbirds, toucans, Macaws, and motmots are those you get to encounter.
Who knows? You might get an opportunity to see the Holy Grail. Additionally, you can peek at the national bird. Yigüirro is its name, and it is a clay-coloured thrush.
1.21. Take Pleasure in Water Surfing
It is always fun to do water activities. Costa Rica's waves are the best in Latin America. Tourists flock to this place to enjoy surfing. Even beginners will love surfing in Costa Rica due to the warm water and small waves.
You can easily find a surfboard and an instructor. They will also offer you, private classes. You can even enroll in a surf camp.
Speaking of all these, don't you want to be familiar with the best surfing destinations? Jaco, Santa Teresa, and Playa Grande are some of the best spots to enjoy surfing.
1.22. Get Familiar with the Costa Rican Culture
Getting familiar with different cultures and traditions followed in various countries is always interesting. Costa Rica is one such place where people are very welcoming.
The Costa Rican people proudly call themselves Ticos or Ticas. Their profession is wildlife guide. You can contact them to get familiar with their culture. An added benefit? You get them as your friend too.
Do you love dancing? Take a salsa or bachata class, and dance your heart out. Also, get to know the attitude of the Costa Ricans – Pura Vida. Are you eager to learn the meaning? It is approaching life with a relaxed attitude.
1.23. Relish the Lip-Smacking Costa Rican Cuisine
It is always a delight to taste the signature dishes of each country. So, what is the signature dish here? Enjoy the meal, Casado. What are the ingredients involved? Rice, salad, beans, plantains, and meat. In certain situations, you will find fish instead of meat.
What about snacks? Relish the Caldosa. What are the ingredients? The ingredients are onions, fresh fish, lime, and peppers. You will find it served in a tiny bag of toasted corn chips.
1.24. Try Your Hands at a Cooking Class in Costa Rica
Allow your taste buds to experience the lovely food of Costa Rica. After looking at their cuisines above, don't you want to try them yourself? Come to know the conventional cooking methods of the Costa Ricans by enrolling in their cooking class.
1.25. Go on a Sailing Cruise
Are you on a beach vacation in Costa Rica? Booking a sailing cruise is a must. Your experience will be extraordinary when you go on a sunset cruise. You can enjoy this sunset cruise with your family. If you are a die-hard romantic, go with your sweetheart on this trip.
Do you know why the sunset cruise is so special? You will be sailing under the pleasant blue sky while enjoying the sunset.
When you visit Costa Rica, your trip will be incomplete without having fun on the Costa Rica beaches. There are numerous postcard-worthy beaches where you can compete in water sports or recline on the beach and enjoy the sparkling waters.
1.26. Visit the Punta Uva Beach
A white sand beach encompassed by palm trees and sparkling clear water is something not to be missed. You get a soothing feel on this beach as it is very calm.
Another fantastic feature of Punta Uva is the beautiful butterfly gardens. You can find a few exotic butterflies here namely the Blue Morpho.
Your kids will have a lovely time swimming and having a picnic here.
1.27. Get to Know the Very Famous Playa San Juanillo
San Juanillo is one of the famous beaches in Guanacaste. The soft sands of the beach are a total contrast to the grey rocks and the rich greenery that borders the shoreline.
You can chill out at this beach or enjoy a picnic. If you prefer swimming, go for it. You can even hike to the rocks' top to get scintillating views of the beach.
1.28. Spend Quality Time at the Jaco Beach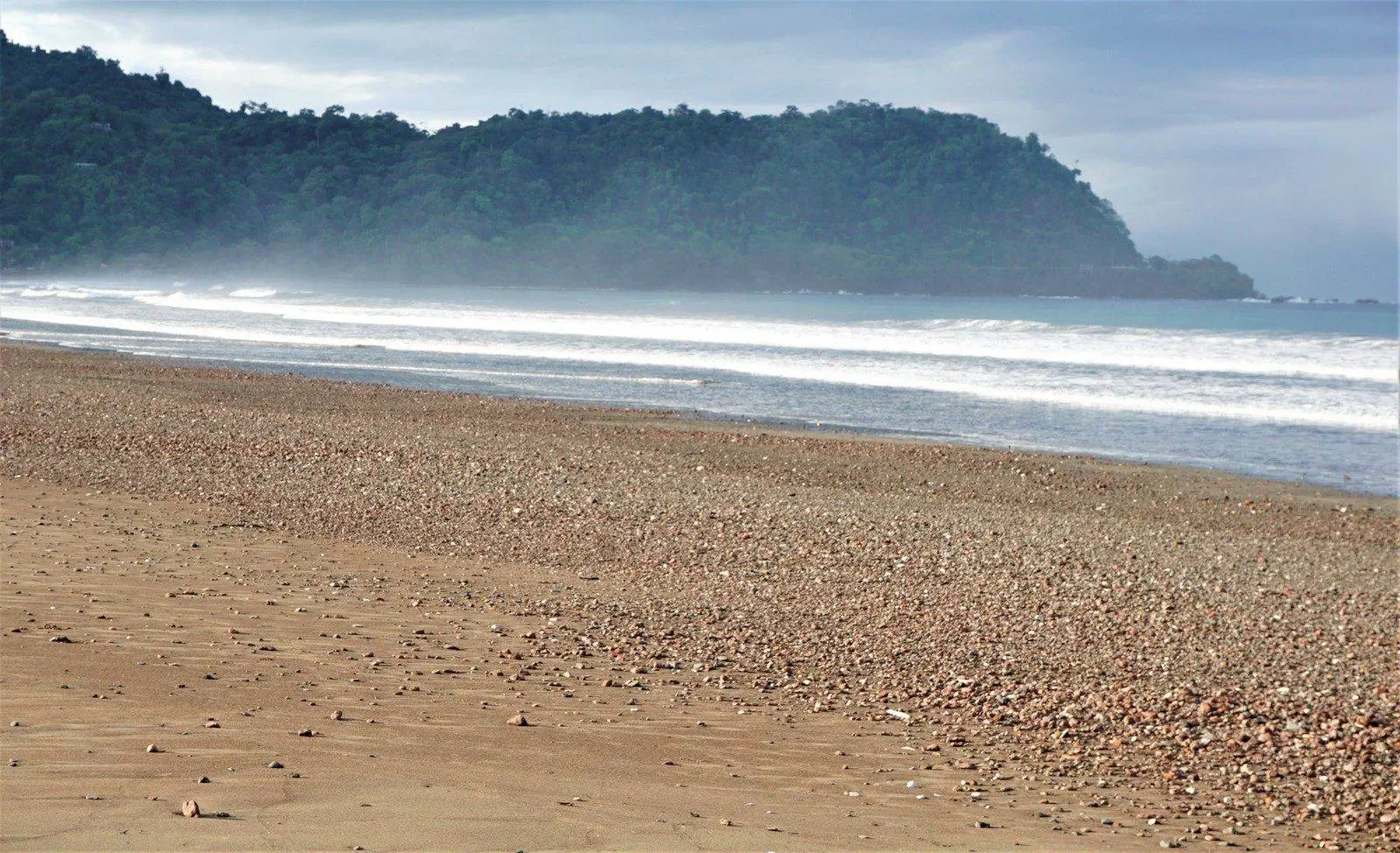 Enjoy your time at Jaco beach, where the waters are peaceful and shallow. You will find the water very warm. Watching the sunset from this beach is something lovely.
The Jaco town is at the back of the beach. You can notice the town buzzing with activities. After enjoying the beach, you can visit some of the best restaurants for either dinner or lunch.
1.29. Witness the Sea Turtles at the Montezuma Beach
The beach comprises grayish-brown sand with beautiful palm trees as its backdrop. You can go further south of the beach to find additional beaches and abundant wildlife.
If you are at the beach at the appropriate time, you will be lucky enough to witness the release of baby sea turtles into the ocean.
Now that you have plenty of information on what to do in Costa Rica, why don't we proceed to the FAQs section?
2. FAQs
What is the Primary Language Spoken in Costa Rica?
Spanish is the predominant language here.
What Are Some of the Fun Activities to Enjoy in Costa Rica?
Ziplining, water surfing, and bird watching are some fun activities.
Bottom Line
Costa Rica fun is something you have to experience without fail in your lifetime. The hanging bridges, fascinating cloud forests, magnificent creatures, scenic waterfalls, and beautiful parks are a few examples to describe the beauty of Costa Rica.
Hence, plan your vacation and head over to Costa Rica. Once in the country, stop wondering what to do in Costa Rica, and have the utmost fun with all the activities we have curated for you.
Overall, you can never forget the experience Costa Rica gives you.