Let's start with a little important information about the Blue Mountains Scenic Caves, town, and surrounding area. So, Blue Mountain Scenic Caves is a beautiful village near and around Collingwood, Ontario, Canada.
The blue mountain caves are 10 km away from Collingwood. A beautiful yet full of scenery, 260 Caves Road will take you to your destination. Besides, Blue Mountains Scenic Caves, also known as Collingwood Scenic Caves.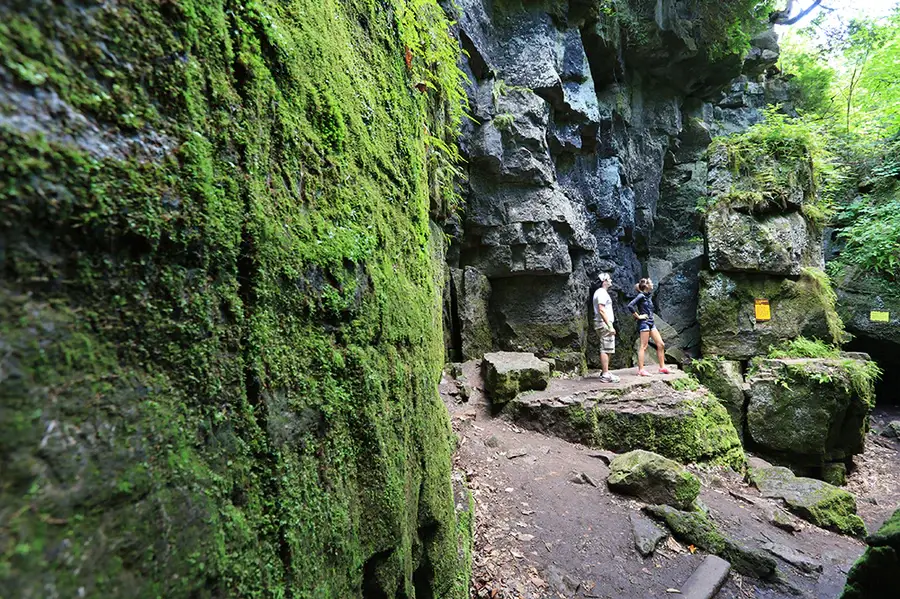 First, I will take you to the most happening place in the Blue Mountains Ontario's Scenic Caves Nature Adventures. Second, I will take you to the spot that is perfect for all age groups of people and then I will give a whole list of reasons, Why?' Let's start.
1. Scenic Caves Nature Adventures – Collingwood, Ontario
This name holds a long history right from its formation to its maintenance. Second, it also has a history of aboriginal people who used to use these caves for various purposes, however, I will not bore you with the historical details rather, will tell you what is in for you to enjoy.
The scenic caves nature adventure might be breathless, dangerous yet exciting, therefore, people of old age and children will need more care. But, don't worry as the spot holds a lot more activities for elderly people as well as children.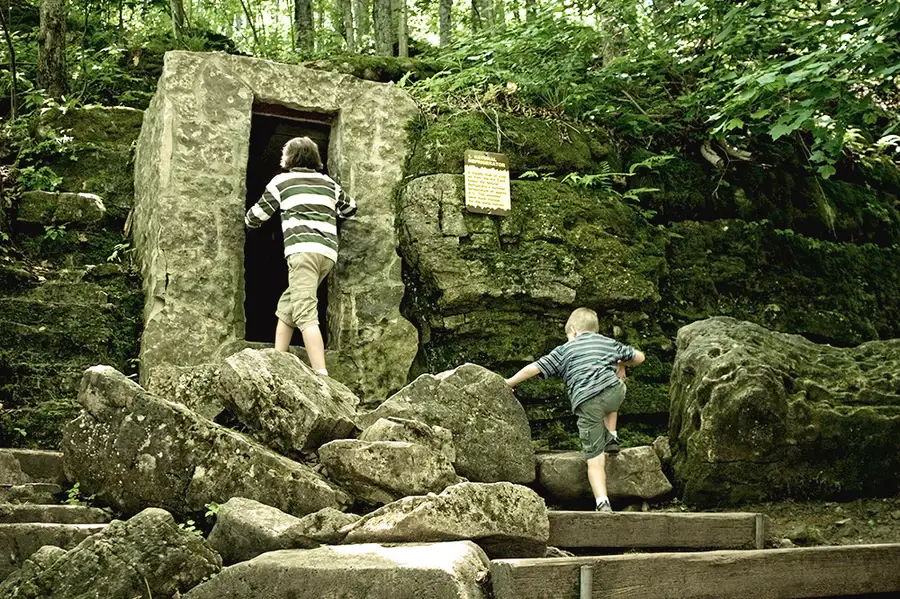 Check out their official website for more specific details.
The Blue Mountains Ontario scenic caves adventure can be your lifetime experience as it holds a series of exciting things, tracks, and views for you to enjoy an experience. Further, these natural caves are about 5 million years old, I mean isn't shocking that you could actually see these caves walk by and finally, feel the ultimate serene vibes around?
1.01 Navigation and Guide
The whole location is a self-guided trail, so, you just need to read the guidance and walk accordingly to reach the right place at the right time. These self-guided trails are perfect and easy to read and understand, in other words, the trails will show everything, so, you can find a way.
1.02 Be Careful…
The nature adventures and the nature trails toward the caves of the Blue Mountains are a challenge themselves. Also, the rocks are so slippery which makes them more dangerous. In other words, If you like risky things and the satisfaction after reaching the destination then this trail is for you.
1.03 What Not to Miss in the Blue Mountains Ontario's Scenic Caves Nature Adventures?
1.03.01 Natural Cave Formation
Everything and every spot in and near the caves is worth visiting. You will see the natural ice cave formations throughout the guided tour.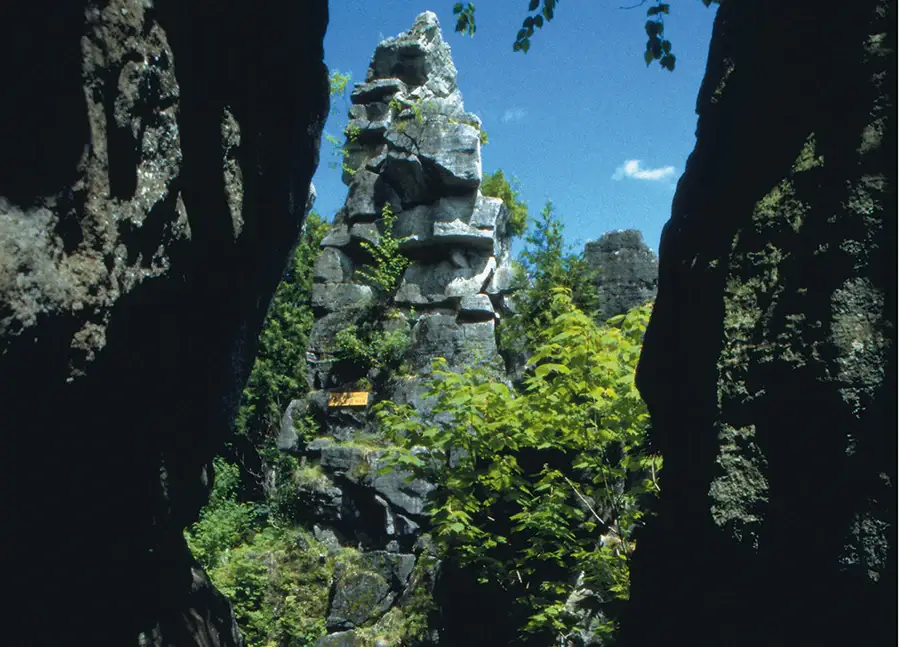 It includes bear caves, caverns carved millions of years ago by glacial ice and spectacular views.
1.03.02 Fat Man's Misery Scenic Caves
Next is the Fat Man's Misery Caves, like its unique name this cave is not for healthy people as it is the narrowest cave in the entire location and is worth visiting.
The naturally carved cave was formed millions of years ago. It is very narrow. That is, people wider than 36 meters are advised not to enter along with people who have a fear of small spaces. 
1.03.03 Refrigerator Cave
This cave is the most amazing part of the whole hiking trail up to the caves and is one of Canada's best places. This cave has a temperature of 4degree Celcius with constantly cold air flowing in and out. You should indeed come and explore these caves in a new place with your whole family. 
So pack your bags, and to rephrase it, take your family or friends on this self-guided tour through the growth forest and visit historic caves. I am sure you will have so much fun.
2. What Time Is Required to Be at Scenic Caves Nature Adventures?
Make sure you give at least 2 hours to the cave and caverns carved trip plus add extra time for rest, food and to freshen up. The caves carved millions of years ago by glacial ice will be enjoyed to the fullest when given enough time to admire them.
The trail covers all the seventeen unique geological features which cannot be missed just because of lack of time, so, plan your trip before and enjoy everything.
3. Near and Around Hiking Trails of Scenic Caves
If you are a hiking person, you have to go on the hiking trail of scenic blue mountains and natural adventure. The hiking paths are well-marked with rules, guidance, and a way to follow each of the beautiful views.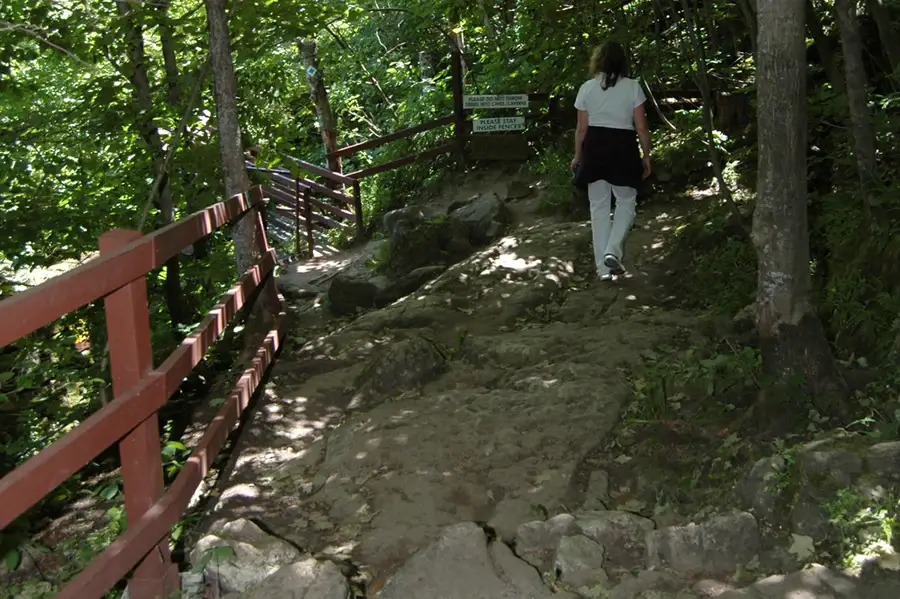 After visiting the caves and caverns, the unique adventures of hiking are a must-try activity. The whole family of all ages can enjoy the panoramic views of southern Ontario on the highest point. You will see the most beautiful views While moving forward from the highest point of the Niagara Escarpment.
3.01 Must-Haves
Don't forget to wear hiking shoes.

Pets are not allowed obviously.

Water bottles are enough to keep yourself hydrated and necessary food items.
There are so many picnic areas to stop by, rest, and continue the trail. The breathtaking lookouts will make your trip worth it. Enjoy the 15km hiking trail center through the old-growth forest. This is just the start of all the outdoor activities the place offers.
Don't forget to go through their website for all the important details to follow and know.
3.02 Rocky the Train Ride
If you are coming with your kids then this is for you because the rocky train ride is the silver lining of the whole spot.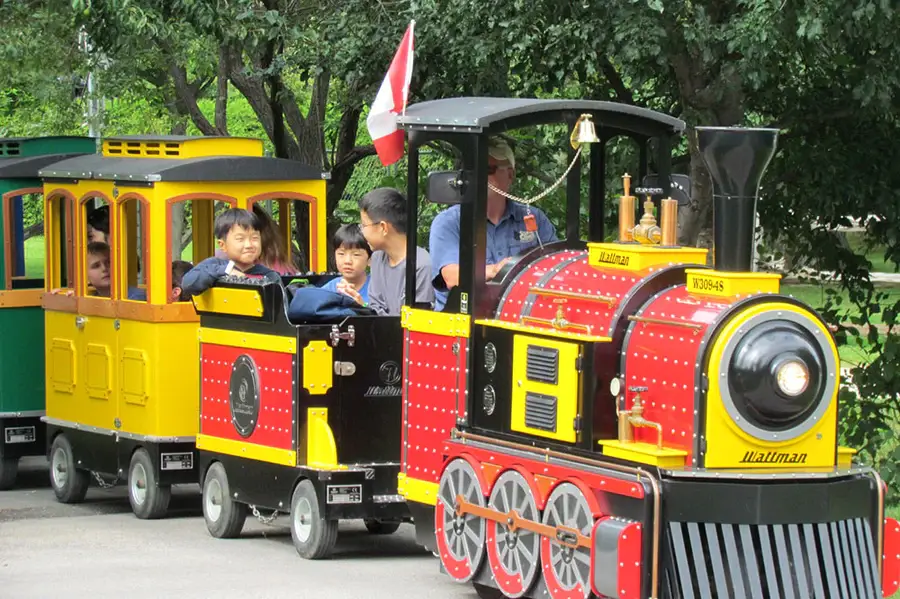 It will take you around the scenic views beautiful landscapes, tunnels, and a lot more. Even if you are tired after a hiking trip you can enjoy by just sitting and having a look surrounding countryside.
Don't worry the place has a snack bar to grab something to eat. Check out the availability of tickets and things to take care of, on their website before going.
3.03 Mini Golf of Scenic Caves
People of old age and even those who like quiet less tiring activities must go for mini golf gound. The mini golf ground is open to people of all ages and is enjoyed a lot by all the people who come here.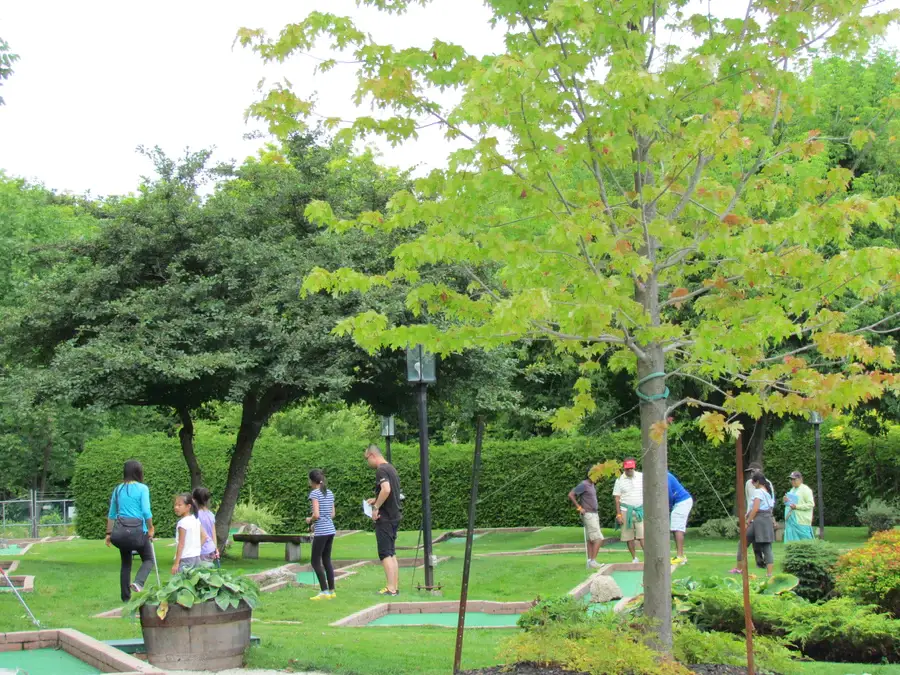 The golf ground has around 14 holes of playground open irrespective of skill level. So, if you are tired from the trip or just want something to relax come here. All important things are well mentioned on their official website.
4. The Suspension Bridge of Scenic Caves
You are visiting the blue mountains' scenic caves and nature adventures, therefore, you cannot miss southern Ontario's longest suspension bridge which is a must-watch. This bridge really gets on your fears because it is 420 feet long and at a height of 82 feet from ground level 
I mean who would not walk onto it and experience this lifetime of memorable adventures by viewing the most scenic views? Furthermore, it will show you the best angles of the entire South Georgian Bay and even further.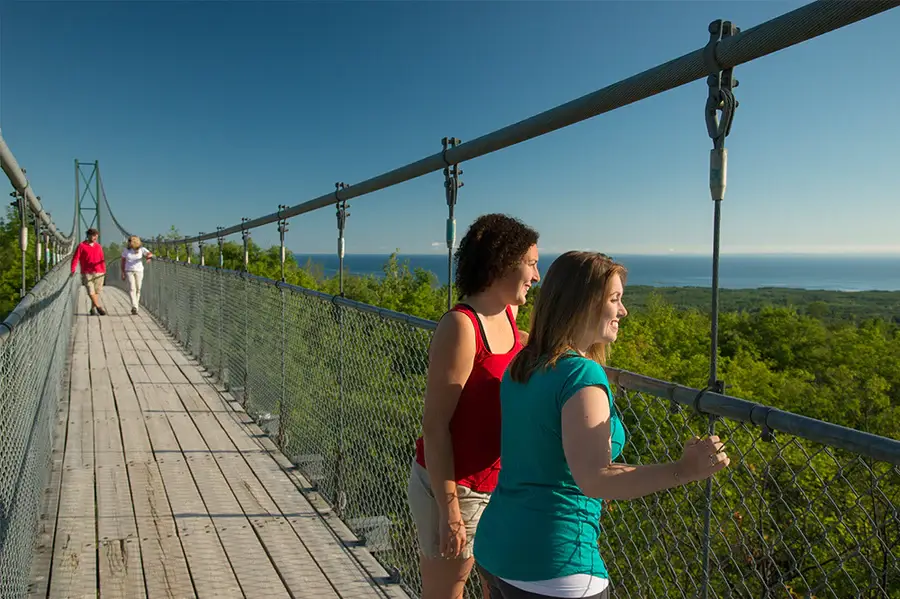 The suspension bridge is really the highlight of the scenic caves adventure trip because it is available for all age groups, take your family, and old parents for a little exciting trip, and for kids to experience the amazing spot of a suspension bridge. Check out their website as well for more details.
Explore the bridge by walking and admiring the view from the height which is one of Canada's best sights to see. Of course, the suspension bridge is safe for everyone just be very sure, to carry light carriers, and the whole trip is self-guided.
5. Gemstone Mining 
Gemstone mining is a very fun activity to do after enjoying the scenic views of a suspension bridge. It is a beautiful yet fun activity to perform with your kids as well as for old people, however, people of all ages can perform the whole activity.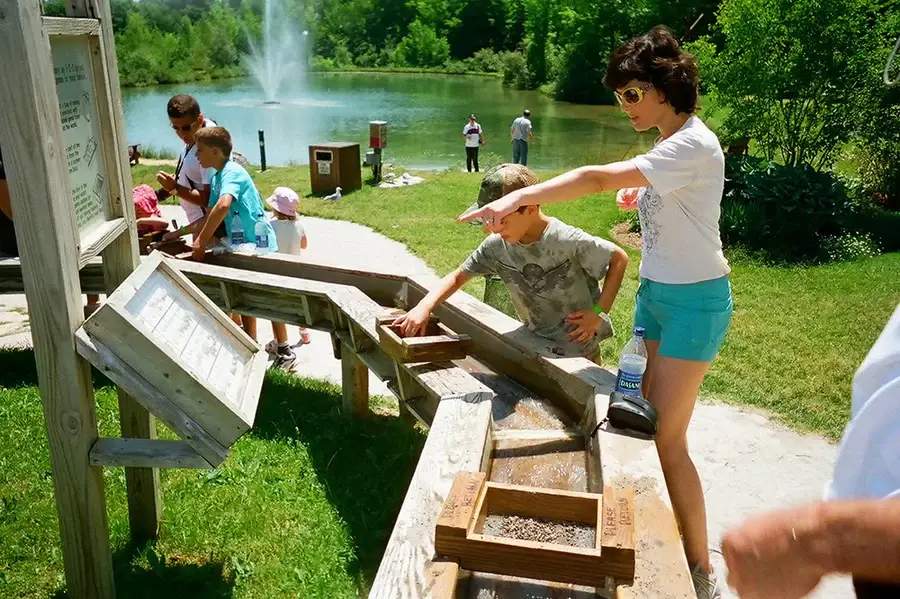 To be a little specific, the entire activity is about 45 minutes long and will guide you throughout the session. You will know how early people used to extract minerals and historical assets out of the sand.
Want to know the rates and opening hours go through their official website.
6. Food and Gift Shop of Scenic Caves
The spot has a snack bar to refill your tummy, grab drinks for rehydration, or just sit and take a break.
The gift shop is always fun as you can buy things for everyone in the family or just take them home as a souvenir. Here's a link to the official website, Visit, and go through the details.
6.01 Trails End Grill
Foodies, here comes your favourite part because the Blue Mountains cave has a perfect solution for your cravings after tiring activities.
Check out the whole new menu since there are enough varieties to choose from here on the official website of the Blue Mountains Scenic Caves and Nature Adventures.
7. Winter Special Activities
Everything I mentioned above was summer activities that you can enjoy in the summer season. But don't worry, I got you. if you are planning to visit during winter.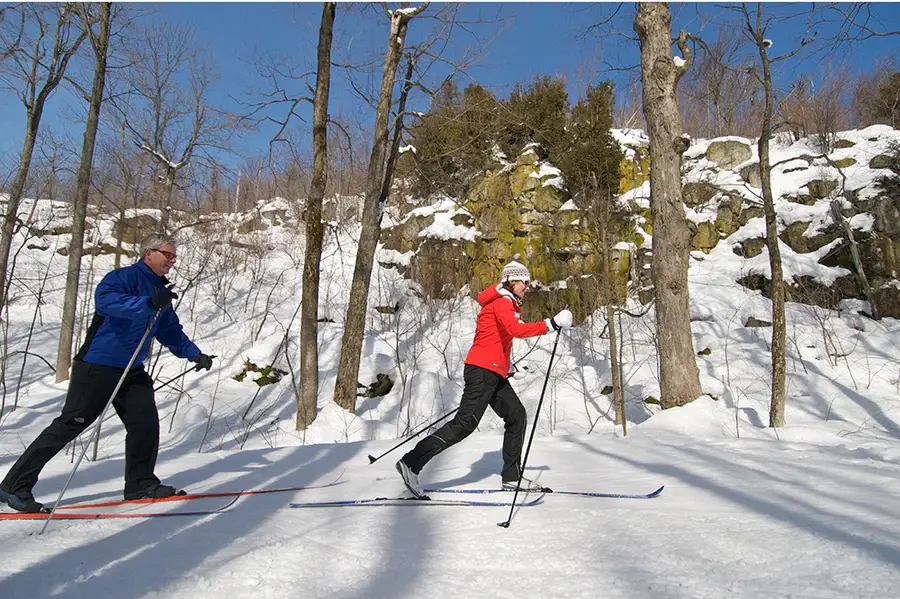 Winters could be equally, or I would say more fun to visit, because you will get to experience cross-country skiing, skiing, and much more.
7.01 Winter Trails
Winter trail passes are so much more fun than summer hiking trails. If you love snow, you will experience skiing equipment, whole new scenic views, and a lot of thunder.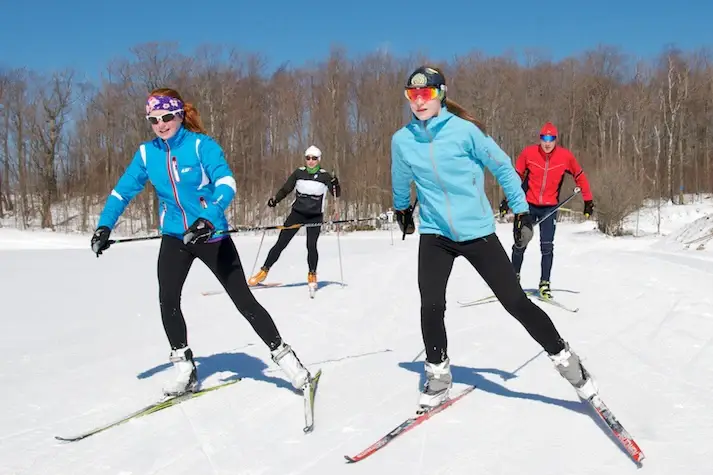 There are a few things to be positively considered before planning to do the winter trail as follows:
Check the age limits along with ticket prices accordingly.

The pass availability and duration of the trail.
Don't worry, you can click here for the official website of the Blue Mountain Scenic Caves and Nature Adventures.
7.02 Snowshoeing in Scenic Caves
The activity is as fun as the name suggests. You will be provided with snowshoes to walk over the suspension bridge without a doubt. Finally, you will enjoy the spectacular view of Georgian Bay covered in a white sheet of snow from a great height whenever you want.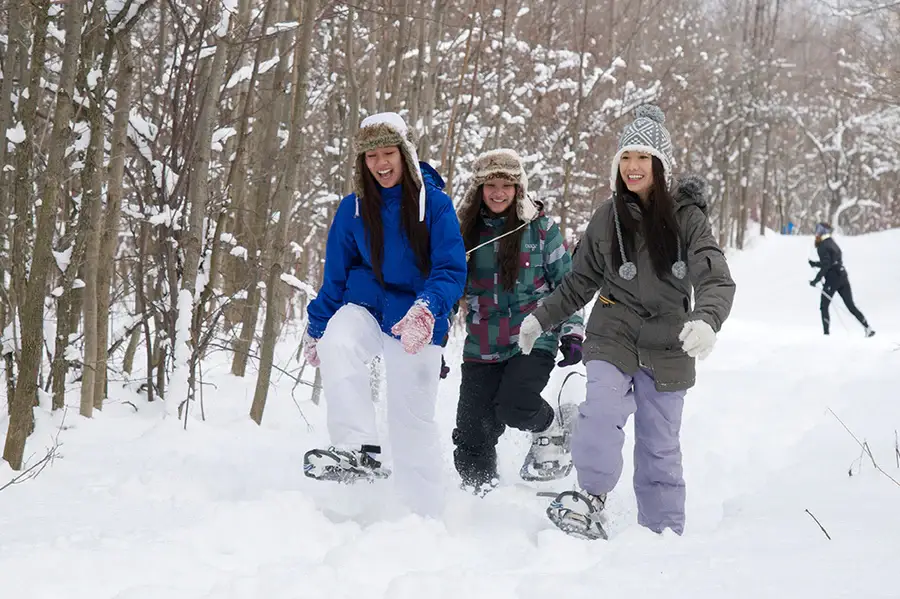 It's always a smart move to check the availability and prices along with age limits for all the activities you are planning to perform. Again I am sharing the link to the specific website where you can check all the details necessary to go there.
7.03 Important Things to Know before Going
7.03.01 Nordic Lessons and Rentals
Going for snowshoe trails or cross-country skiing is obviously an amazing idea, moreover, These two things will guide you further.
First is Nordic rentals where you can buy all the tools, clothes, and major equipment for snow skiing. Second is the Nordic lessons, where you will be taught how to ride and get other important information.
 Further, you can check the rates for the said activities on the official website of Blue Mountain Caves.
8. Children's Adventure Playground in Scenic Caves
As the name suggests, this adventure park is specially for your kids to live the best days of their childhood. The whole activity includes a lot of activities like tiring jumping, hiking, and climbing stuff which your children would definitely love.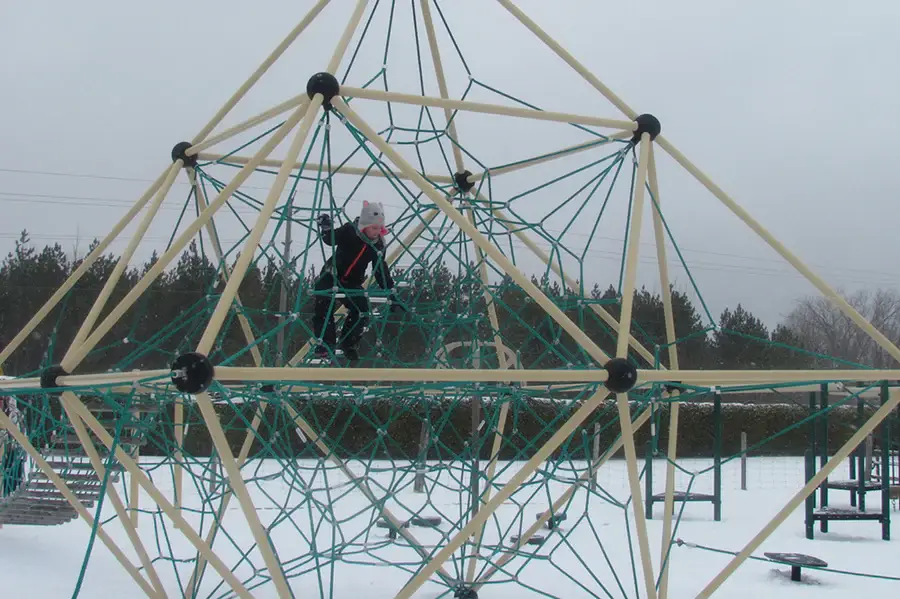 Children's Adventure Playground is always open for both seasons. So, you can grab your tickets and visit with your kids anytime just don't forget to grab your tickets on time. Visit the official website for more information regarding dates, timings, and rates.
9. Park Admissions Tickets
There are two separate admission park ticket systems for each summer and winter season. Everything is mentioned on the site regarding prices and age limit timings. Finally, the visitors should take care of the important instructions.
Make sure you visit on time and also read the instructions carefully to avoid any inconveniences later. The links for summer season park admission and winter season park admission.
10. Final Note
The Blue Mountains scenic caves are worth visiting and it would be more fun if you came here with your family and friends.  If you liked this article you might like other articles like here. Happy reading my readers.