Are you tired of that monotonous routine and want to go for an adventurous vacation somewhere near lakes and mountains? Then Maligne lake is just for you. Maligne Lake is one of the most photographed lakes, located in Jasper National Park. It is a 22km long lake with stunning locations and beautiful hiking trails. You can easily pay a blissful visit and spend a full day in Maligne Lake and nearby places. 
Jasper National Park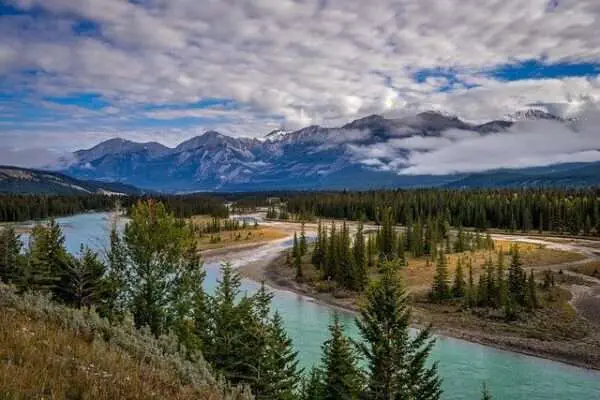 Jasper National Park, situated on the eastern slopes of the Rocky Mountains in western Alberta, is noted for its majestic peaks, glacier-fed lakes, and vast wilds. It is the largest national park in the Canadian Rockies, with over 2,700,000 acres. The establishment of Jasper National Park took place in 1907. Although Banff National Park is the more renowned tourist attraction, which is famous for its mountain landscapes and lakes like Moraine lake, of the two, you can not miss Jasper National Park. 
Outdoor activity lovers and daring families searching for a more easygoing Canadian Rockies experience love Jasper National Park sights. If you find hordes of tourists overwhelming, Jasper might be the place for you. There's no need to get up at the crack of dawn to acquire a parking spot for Jasper's top attractions because there are fewer people. You may, however, choose to get up early anyway to ensure that you don't miss anything.  Jasper National Park is home to many beautiful places such as spirit island, Maligne Canyon, Medicine Lake, Maligne Lake, and many more.
The place is not just filled with wonderful places and beautiful lakes. There are a variety of activities to do in Jasper National Park.
Jasper National Park: Things To do
You can visit Jasper National Park museums and take a glimpse of art and history.
Pay a blissful visit to the Jasper National Park spas
You can attend Jasper National Park Classes and workshops.
If you are a beer or wine fan, take the Jasper National Park food and drinks tour.
Enjoy the Jasper National Park Fun games to avoid boredom.
Buy a gift for your close friend from nearby Jasper National Park shopping complexes. Jasper National Park shopping complexes are available anytime during the day.
Step out of your bed at night to enjoy the Jasper National Park nightlife.
Explore the Jasper National Park's nature and wildlife.
They also offer various Jasper National Park tours, which will take you on a detailed trip around the national park, or you can use Jasper National Park transportation facilities to wander around the place.
You can take a wildlife tour to explore the exotic wildlife. 
Maligne Lake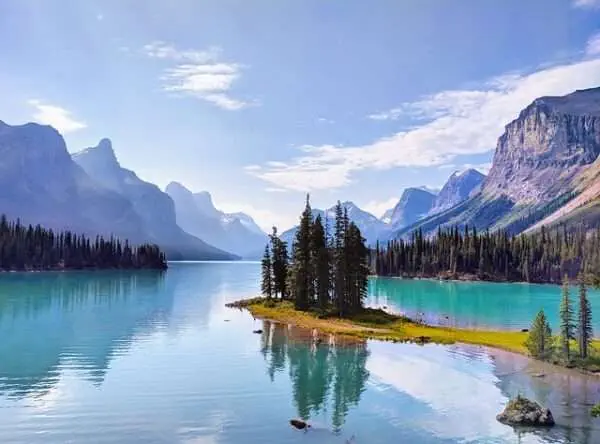 Maligne Lake is a renowned stunning spot in the Canadian Rockies. It's the Canadian Rockies' largest natural glacial lake and a must-see for anybody visiting Jasper National Park. This mysterious Lake is one of the largest and longest natural lakes in the Canadian Rockies. It is about 22km long and 1500m broad and, it extends along the large-wooded Spirit Island to the dexter to the coronet creek of coronet glacier.
Spirit Island is a small island located on Maligne Lake's lakeshore. The island is encircled by nice turquoise blue glacier water and bordered by towering mountains that form the "Hall of Gods," a box canyon. You can visit spirit island on a boat cruise. The boat cruise is about 30 minutes long. The spirit island is one of the most photographed places in Canada. The spirit island is a landmark for the Maligne Lake boat trip.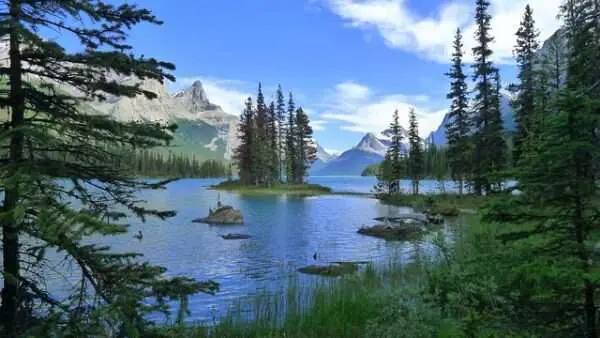 At the north end of the lake, an open forest of shore pine mixed with spruce accompanies backpackers throughout the whole trip. It is a natural habitat for moose, glacier ducks, and a variety of other animals. During summer, hiking and cross-country skiing during winter, making this a year-round destination.  
Even the drive to Maligne Lake from Athabasca Valley through Maligne Valley is breathtaking. It's about 45 kilometers from Jasper's townsite to Maligne Canyon and Medicine Lake, both fed by the outflow of Maligne Lake. 
Maligne Lake, the largest natural lake, was previously known to the aboriginal people of Jasper as "Chaba Imne" (Beaver Lake). The mystery scenic lake was discovered in 1907 by Mary Schaeffer, a prosperous Philadelphia Quaker.
Mary Schaeffer toured this beautiful valley and scenic lake using a map acquired from Samson Beaver and later wrote about her travels, making the region a prominent tourist attraction.  Anyone visiting the Canadian Rockies should visit Maligne lake, and it's a must-see if you're staying near Jasper National Park for a few days.
The beautiful lake is filled with stunning tourists attractions. One of its popular tourist locations is Maligne Canyon. If you get to visit Maligne lake, then you also must visit its nearby locations. You will be confused about which site to visit first, Maligne Canyon or Maligne Lake, but you will see both on the same day if you manage your time. The lake is easily accessible from Jasper National Park, that is why you need to carry snacks with you to visit the best nearby restaurants.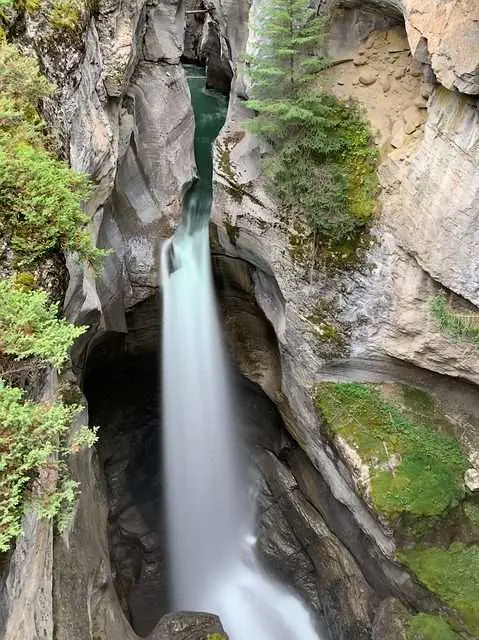 Maligne Valley provides hikers and paddlers a variety of outdoor activities. There's an exhilarating experience waiting for you, whether you're paddling to the campsites near Maligne Lake or hiking through the narrow mountain valley trails to Jacques Lake, or climbing the magnificent hills. While most tourists prioritize Maligne Lake and its boat cruise, the north end of the lake has several hiking routes.  
Things To Do Near Maligne Lake: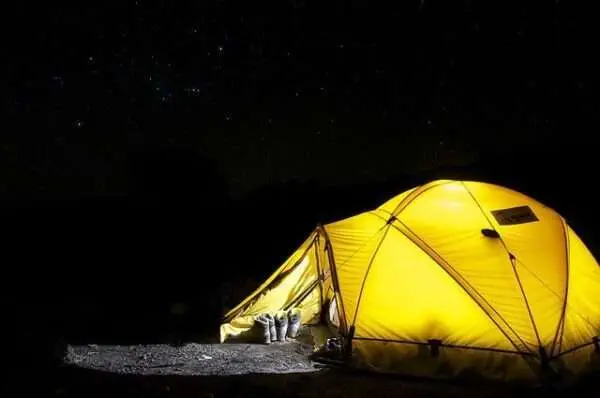 1. Camping
Hidden Cove: Located 4 kilometers from the parking area, It is ideal for first-time paddlers and families looking to spend the night on Maligne Lake.
Fisherman's Bay is located 13 kilometers from the parking lot. This is the campsite that is closest to Spirit Island. Paddling here will most likely take you most of the day, as it is 13 kilometers long.
Coronet Creek is located 21.3 kilometers from the parking lot at Maligne Lake's southern end. Wake up to spectacular views of Coronet Glacier if you camp here.
2. Maligne Lake Cruise
The Maligne Lake boat cruise, operated by the Pursuit Collective, is one of the most popular activities on the lake. The boat tours take place in a glass-enclosed boat. Spirit Island is 14 kilometers up the lake on the 30 minutes panoramic boat tour. The boat tour to the island takes about a half-hour. Upon arrival, passengers get off to the boat docks, and passengers have 15 minutes to take photos before returning to the boat. The lake Maligne boat tours are one of the best rides to experience and one of the best ways to visit spirit island. During the boat trip, you will get a different perspective of Maligne lake.
An informative tour guide Jordan and Captain Kelly. The boat trip is a guided tour of Maligne lake and spirit island. Both the tour guide Jordan and Captain Kelly are extremely funny and also good at their job. The informative tour guide will tell you Every little detail about Maligne lake and spirit island. The tour guide will help you throughout the tour. The lake cruise is worthy of all your time and money. 
3. Hiking
Maligne Lake is the perfect spot for everyone who loves hiking and exploring mountains and ridges. There are many hiking trails near Maligne lake of every type. Maligne Lake hike trails are safe and easy trails with beautiful scenery.
6 Heavenly Hiking Trails Near Maligne Lake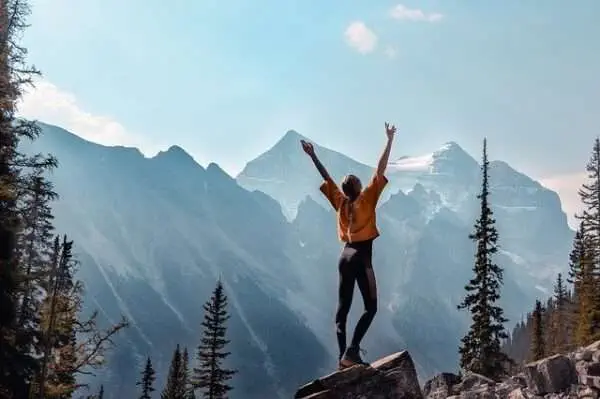 Safe and accessible routes lead along both sides of the lake and some smaller lakes in the nearby forest, while more challenging hike trips surrounding hills above the treeline for panoramic scenery.  Although wild animals can be seen throughout the Maligne Valley, hikers need to be extra cautious, particularly on the Opal Hills route, where grizzly bears wander in late spring and summer. Regular trail reports are available at the Jasper Visitor Centre in downtown Jasper or look for bulletins at trailhead kiosks.  
1. Moose Lake Hiking Trails (Moose lake Loop)
Length:1.4 kilometers (one-way) 
Difficulty Level: Easy
Trailhead: Boat House, Maligne Lake
This is a short trail. The loop path that passes through Moose Lake is less than three kilometers (1.9 miles) long and is one of the most fun simple treks in the Maligne Lake region. You can park your transport vehicle at a parking lot at the end of Maligne Lake Road and mount the hill across the road to the trailhead booth, hidden behind a locked gate. Follow the broad Opal Hills route for 300 meters, turn left onto a narrow path that crosses a brook, and vanishes into the forest. A short, uneven course splits left one kilometer down the trail, leading to Moose Lake, a calm water body where moose are occasionally spotted after dawn.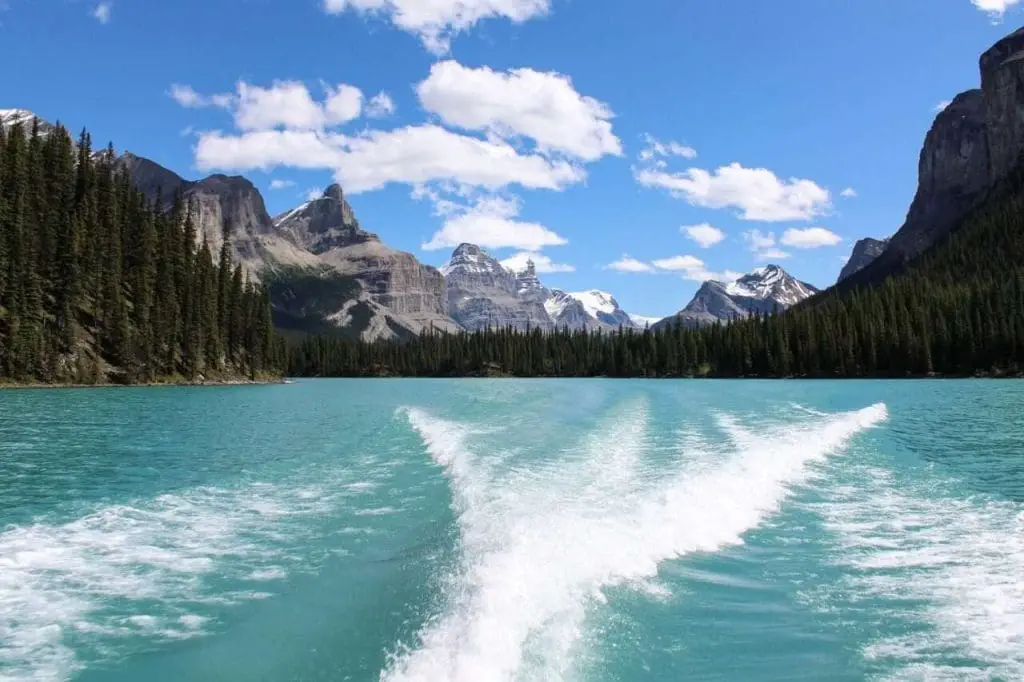 Then, come back to the parking lot by following the trail as it drops to the shore of Maligne Lake. You also have the option of continuing left to the parking lot or continuing right along the Lakeshore Trail to extend your stroll. 
2. Lake Trail (Mary Schaffer Loop Trail)
Length: 3.2-kilometre (1-way round trip)
Difficulty Level: Easy
Trailhead: Boat House, Maligne Lake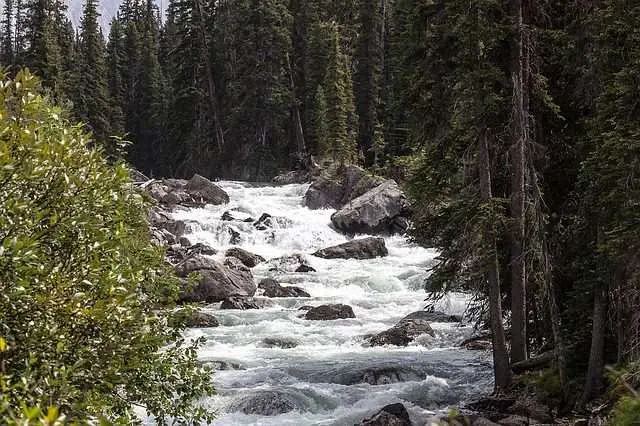 This easy-breezy walk commences next to the Boat House that continues along the eastern bank of Maligne Lake, passing through an open space with lakeside picnic tables to Schaffer Viewpoint, named after the first white person to observe the valley.  Some famous mountain range includes Bald Hills, the Maligne Range, and the unique twin peaks of Mount Unwin and Mount Charlton. After pulling yourself away from the phenomenal vista, continue along a shallow bay, follow the trail into spruce and subalpine fir forest and end with a circle back to the middle parking lot.       
3. Lorraine And Mona Lakes 
Length: 5.6 kilometres/3.5 miles (90 minutes) round-trip
Difficulty level: Easy
Trailhead: Picnic place (the end of Maligne Lake Rd)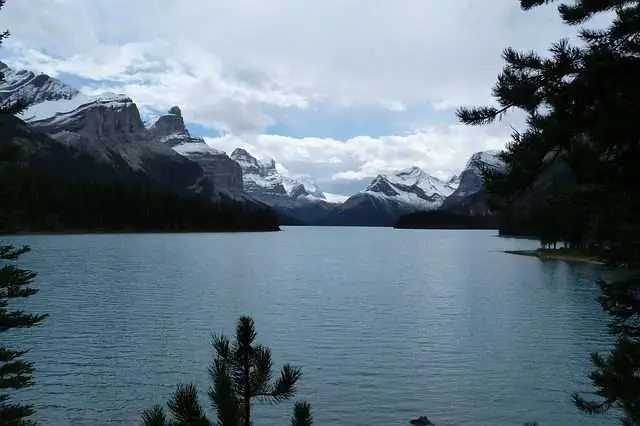 This pair of lakes surround themself with forests takes a little longer to reach than Moose Lake, but they're both heavenly attractions that combine into a 5.6-kilometer (3.5-mile) journey in two hours, or longer if you carry picnic snacks. The trailhead can be located 100 meters north (to the left) of the Moose Lake and Bald Hills trailhead and directly opposite the road from the Maligne Lake Road parking lot.
The Mona Lake turnoff is 300 meters (0.2 miles) further down the main trail. It takes less than five minutes to reach both lakes from the main route. Mona Lake is the bigger of the two, with views of the Maligne Valley to the north. The rocky shoreline of Maligne lake is pretty appealing. 
4. WatchTower Basin Hiking Trail
Length: 10 kilometers (3.5 hours) one-way
Difficulty Level: moderate to difficult
Trailhead: Maligne Lake Road, 24 kilometers from Highway 16
Watchtower is a vast, open basin high above Maligne Lake Road's throng. The first six kilometers from Maligne Lake Road are hiking through dense lodgepole pine and white spruce forest. The trail continues to enter the basin and follow the west bank, crossing it at 10 kilometers and formally ending at a campground.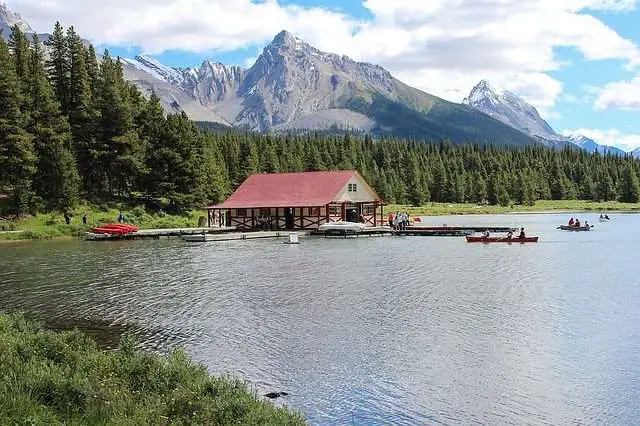 The Maligne Range rises to a summit three kilometers beyond the campground to the west and south.  Maligne Canyon is 17.5 kilometers northwest of the summit of this ridge, where the Skyline Trail intersects, and Maligne Lake is 27 kilometers southeast. Day visits to a tiny lake in the basin or Skyline Trail features like the Snowbowl, Curator Lake, and Shovel Pass can be made from Watchtower Campground.
5. Opal Hiking Trail
Length: 8.2-kilometre (3 hours round-trip)
Difficulty Level: moderate
Trailhead: north corner( upper parking lot, Maligne Lake)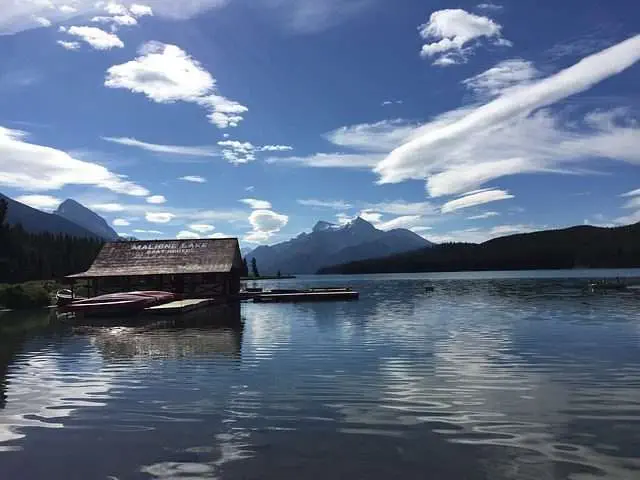 On the east side of Maligne Lake lie the silver-grey Opal Hills. An 8.2-kilometer trail loops around the lower slopes of the Opal Hills, which are towering ridges of boulders formed by a rockslide that happened fewer than 14,000 years ago. Although the round trip distance is shorter than the trek up to the Bald Hills and back, because of the steeper nature of the terrain, you should allow a similar amount of time to accomplish the loop—roughly 2.5 to three hours. 
6. Jacques Lake Hiking Trail
Length: 12 kilometres/7.5 miles (3 to 3.5 hours) one-way
Difficulty Level: moderate
Trailhead: Beaver Lake Picnic Area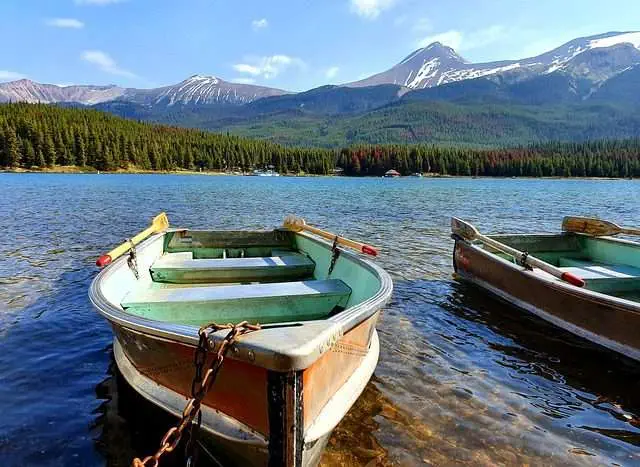 The attractiveness of this trail, which begins at the southeast end of Medicine Lake and continues through a narrow valley, is its lack of elevation increase and the numerous small lakes its borders. The heavily faulted Queen Elizabeth Ranges rise abruptly above the valley floor on all sides, their layers inclined nearly vertical. 
Maligne Lake is the perfect location for every adventure enthusiast. You must visit the lake once in your lifetime.