Are you looking for some good Whistler restaurants to check out? Don't worry. You have clicked on the right article.
Whether you are a tourist or just a local of Vancouver- Whistler always gives everyone that home feels. Whistler is a place that remains busy all year round as it is filled with massive options of activities both in summer as well as winter. And Whistler restaurants are just another reason behind their popularity.
Everyone comes to Whistler, imagining that it is a ski town, and they will ski, hike, inhale in some exotic snowy views and then return with a heavy heart.
But it is so much more than being just a ski town. The options for activities here are ample. It is recognized as a foodie's paradise!
Some of the Whistler restaurants offer the finest dining you have ever experienced. It is one of North America's most favored food stops.
Most people make this a two-day trip, which includes great food, bars, skiing, and hiking. To make your next stay at this beautiful snowy place a lot better, we have curated a list of excellent Whistler restaurants (in no particular order).
Whistler Restaurants: What is so special About Them?
Pemberton Valley, which lies just half an hour north of Whistler Village, has plenty of organic farms, fields, and orchards full of fresh fruits.
Whistler gets its supply of fresh products from here. The finest chefs of Whistler can create magic with these fresh veggies and meat.
Tip: Many of you foodies like to know the entire process of making the food. For those curious souls, a trip up to the Pemberton Valley is highly recommended.
Here you can take guided tours that will guide you through the farms and orchards, and you will get a complete vision of how the delicious food goes from the local farmers to your plates!
Apart from this, we can't deny the fact that the tourism industry makes Whistler a luxurious place. Millions of dollars go into this place from lakhs of visitors each year.
As a result, local businessmen and even entrepreneurs get a chance to create some of the best and finest hotels and restaurants with high-quality chefs to give you your money's worth.
Also, the locals know how to give you that luxurious taste of life! And, the ambiance of the snow-capped peaks is worth everything.
Amazing Whistler Restaurants
The eating scopes are diverse here. You can avail a lot of cuisines and plates from all over the world in Whistler. It can get tough to make up your mind.
Let's just say that you will also see a lot of food chains, and most of the time, people get confused and end up eating at a food chain. So here is a complete itinerary of food- starting from bars and five-stars to local cozy breakfast places.
First, we are going to talk about some fine bars where you can taste some craft beer, world-class wines, gin, and tonic, as well as vodka for all those young-hearted peeps out there.
1. Bar Oso
Cuisine: Spanish.
Popular thing: Tapas.
Address: 150-4222 Village Square, Whistler, BC V0N 1B4, Canada.
This is one of those Whistler restaurants or rather a fancy bar that will give you a Spain feels. Want to taste some of the best small plates, tapas, and house-made charcuterie? This is the right place for you then.
Even if you are Spanish, you will find that authentic Spanish cuisine right here in the heart of Whistler.

Apart from the food menu, the wine list will make you go crazy. Starting from authentic Spanish gin and tonics, beer, and a carefully curated wine collection- the quality is indeed top-notch.
Bar Oso is a must-visit for all the gin lovers out there! If you want a quick lunch or dinner, then also this place is an excellent option.
Though this bar is not the best at advertising, there is a homely touch of Spain here. Jorge Muñoz Santos, the owner, does an incredible job running this place. This bar should be on your list of must-visits on your trip of exploring the best Whistler restaurants.
2. Alta Bistro
Cuisine: Pacific Northwestern cuisine.
Famous for: Weird but flavorful meal combinations.
Address: 104-4319 Main St, Whistler, BC V8E 1B1, Canada.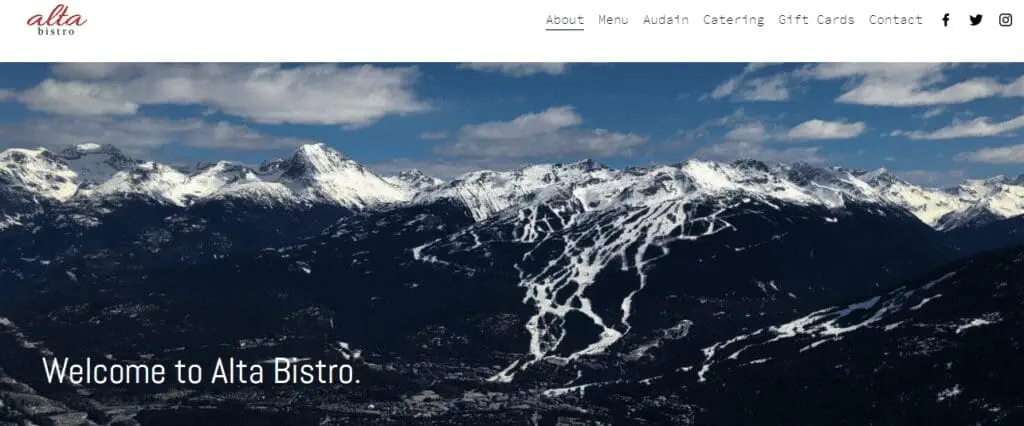 A place entirely dedicated to foodies- Alta Bistro is a highly-rated food destination. It is even located in the heart of Whistler, in the Whistler village.
Apart from the farm-to-table dining available here, it also provides us with an award-winning collection of select cocktails.
The most impressive part of this place is that it uses local items and ingredients only. Both its food and cocktail menu changes seasonally, and the combinations available here are both creative and playful.
How do you feel about pumpkin soup that has popcorn in it? It indeed sounds weird but everyone who has ever been there, comments that it is a mind-blowing creation.
3. Bearfoot Bistro's Ketel One Ice Room 
Popular for: Vodka.
Address: 4121 Village Green, Whistler, BC V0N 1B4, Canada.
Are you someone who never got out of that Vodka phase of your life? Here at Bearfoot Bistro, enjoy your love for vodka at the lowest temperature possible.
It has one of the world's coldest vodka-tasting rooms and is indeed a unique experience. The temperature is -25 degree Celsius and freezing but you will discover more than 40 types of premium vodkas from all over the world. Please make sure that you don't forget to put on some warm jackets!
The reason behind this freezing temperature is instead a scientific one- you can get a better and actual taste of these premium vodkas! Alcohol never tasted so good!
4. Araxi
Famous for: Freshly shucked oysters.
Address: 4222 Village Square #110, Whistler, BC V0N 1B4, Canada.
This is one of the costlier Whistler restaurants. Ask any of the locals for the best place to eat, and they will name Araxi without even thinking for a second.
Located near Blackcomb mountain, this restaurant has been a pioneer in the field of the mining industry of Whistler. It also provides sustainable dining. You can be sure that you are getting the freshest ingredients right from the farm.
Apart from this, a delightful feature of Araxi is its private oyster bar, which supplies fresh oysters and other magnificent seafood every afternoon. This place might dig a hole in your pocket, but it is indeed worth it.
5. Aura
Famous for: Lakeside views and French cuisine.
Address: 2131 Lake Placid Rd, Whistler, BC V8E 0B2, Canada.
Located right next to the mesmerizing Lake Nita, Aura is one of the gorgeous Whistler restaurants. If you want to try the lovely local cuisine of Whistler, then Aura is a must-visit.
It is also a stunning location if you're going to have a date night in town!
Also, it has an open kitchen, so the views are mouth-watering!
6. Purebread
Famous for: Scones.
Address:1-1040 Millar Creek Rd, Whistler, BC V0N.
This place is the breakfast destination of Whistler. Had a hard day skiing? Head out to Purebread after a good night's sleep! Their bakery portion is fantastic and the scones are almost cooked to perfection.
The bakery is located in an isolated part of Whistler village, so you might have some difficulty finding it, but the locals are there to help. They have another branch in Vancouver too. So if Whistler is not in your books right now, you can just check out the Vancouver Purebread!
7. Peaked Pies
Famous for: Cheap pies.
Address: 4369 Main St #105, Whistler, BC V0N 1B4, Canada.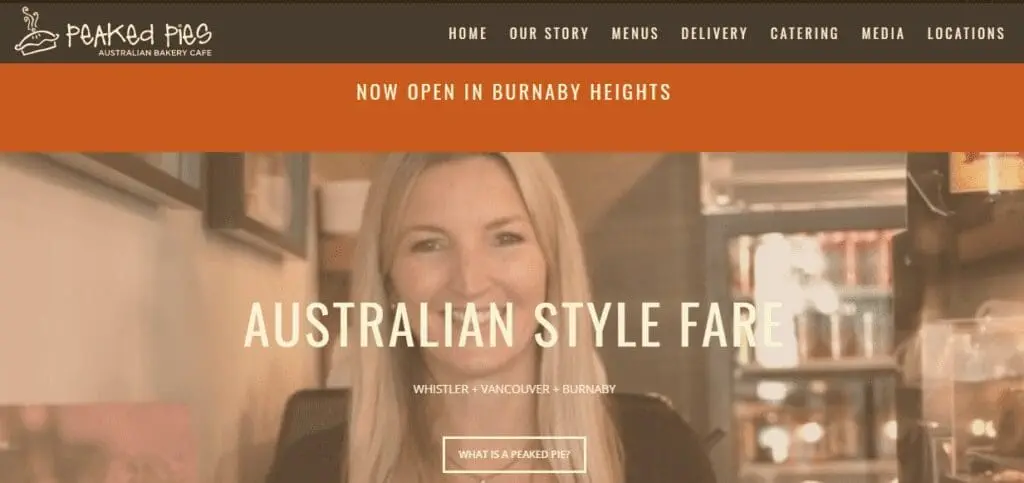 Are you a pie lover like me? Then this is the best dinner for you. This has a high rating and kind comments on Yelp. This is one of the Whistler restaurants that is a bit on the affordable side.
The pies are delicious, and you get the best savory pies here as well. They are served with gravy and mashed potatoes, which is a thing in Australia.
But you can get the cakes without the gravy as well, but I'd recommend the gravy as it does quite a justice to the pies.
8. La Cantina
Famous for: Mexican cuisine.
Address: 129-4340 Lorimer Road, Whistler BC.
This is a stall, but its food is sure to grab your attention. After all, who does not like rich Mexican savory food?
And another plus point is it is inexpensive. The best-seller tacos are only $2.5. Unbelievable? Check it out the next time you walk through the roads of Whistler village and grab lunch here at this cozy stall.
9. Rim Rock Cafe
Address: 2117 Whistler Rd, Whistler, BC V0N 1B2, Canada.
This is one of the Whistler restaurants that offer fine dining on a date night. The Pork Belly dishes of Rim Rock are highly appreciated. There is a wide variety of seafood available on the menu, and you might get confused.
But try to go for the scallops or the grilled fish as they are sure to win your heart.
Make sure to plan one of your dates here the next time you visit Whistler.
Conclusion
Have you ever been to any one of these Whistler restaurants? What is your favorite go-to place here? Planning a beautiful trip to Canada?