Hiking in Vancouver is a fun thing. Vancouver is known for its breathtaking natural settings, even if it features a good number of vibrant districts and cultural landmarks. Mountains surround the city. You can always find a park or other green area nearby because of the city's numerous parks and other tiny and huge green areas.
There are nine beaches that provide a variety of vantage points for viewing the Pacific Ocean sunset. With easy access to a lot of wilderness and urban living, the finest of both worlds is available in Vancouver. You won't have to seek far to sate your appetite for an outdoor adventure in Vancouver, whether you're a longtime resident, a newcomer, or just stopping by for a short trip.
All that's left to do is choose the best hiking trail once you have strong shoes on your feet and a bag filled with the necessary equipment and safety supplies.
There is a hike for in or near the Vancouver area for almost everyone region, from simple and convenient city paths right there to challenging exercises that are easily accessible by transportation and all-day hikes that are only a short drive away. Look through our list of the top hikes nearby Vancouver for suggestions on where to go.
1. Stanley Park, Vancouver
Go west from the centre of downtown Vancouver to Stanley Park for a healthy dose of nature. There are more than 27 kilometers of paths in the 1,001-acre park. These easy trails, which wind through hemlock, cedar, and fir forests, provide a special approach to discovering Stanley Park that cannot be done by vehicle.
For hiking in Vancouver, Stanley Park is a fantastic location.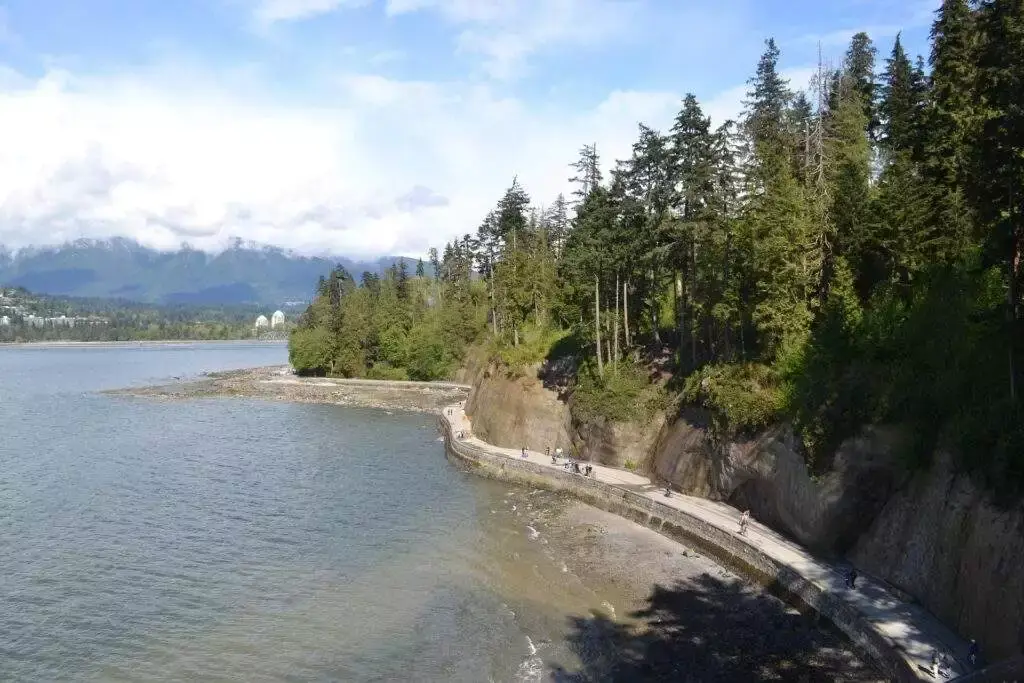 The park's Bridle Path runs through its center and connects to several additional trail. A loop around Beaver Lake is made by the Beaver Lake Trail, which is reached by traveling east on the Lake Trail. Lovers Walk can be used as a detour to travel to Ferguson Point and Third Beach in the west.
By continuing on Prospect Point Trail, you can reach Prospect Point at the park's northernmost point and enjoy one of the city's best vistas. You decide on the adventure!
2. Pacific Spirit Park and The Howe Sound Crest Trail
2.1. Pacific Spirit Park
In addition to Stanley Park, Vancouver has several major green spaces. The University of British Columbia campus is protected from the surrounding area by the 1,885 acres of woodland and walking paths in Pacific Spirit Park, which is almost twice the size of Stanley Park.
Over 50 kilometres of trails meander through colossal, lush evergreens. In the vicinity of 29th Avenue and Imperial Road, where non-technical, generally flat path accompanied by names that honor the region's flora and fauna, such as Huckleberry, Hemlock, and Deer Fern, can be reached, is a wonderful place to start. The paths are accessible from numerous locations.
Even though they are a stroll rather than a trek, the trails in Pacific Spirit Park are ideal for people of all skill levels and those who don't have the opportunity to travel yet want to encounter the grandeur of the West Coast's famous woods.
2.2. The Howe Sound Crest Trail
A sample of the magnificent BC backcountry is available to bold hikers on the Howe Sound Crest Trail (HSCT)! The North Shore's most recognisable mountains that the 33 km HSCT traverses over and around include The Lions, James Peak, Mt. Harvey, and Brunswick Mountain. There are a lot of spectacular vistas of Howe Sound and the coastal mountain range as you travel.
A wonderful location for hiking in Vancouver is The Howe Sound Crest Trail.
The Howe Sound Crest Trail is a challenging, one to two-night backcountry excursion (or an even more challenging trail run) that is not for the faint of heart due to many scrambles, mild exposure, and a few hazardous parts requiring chains or ropes. The rewards of this route are unsurpassed by anything this close to Vancouver for the determined hiker.
3. Burnaby Mountain and Foreshore Trail
3.1. Burnaby Mountain, Burnaby
Burnaby Mountain is a well-liked destination for residents and students seeking a quick experience nearby to home at the adjacent Simon Fraser University, located just east of Vancouver.
An excellent location for hiking in Vancouver is Burnaby Mountain.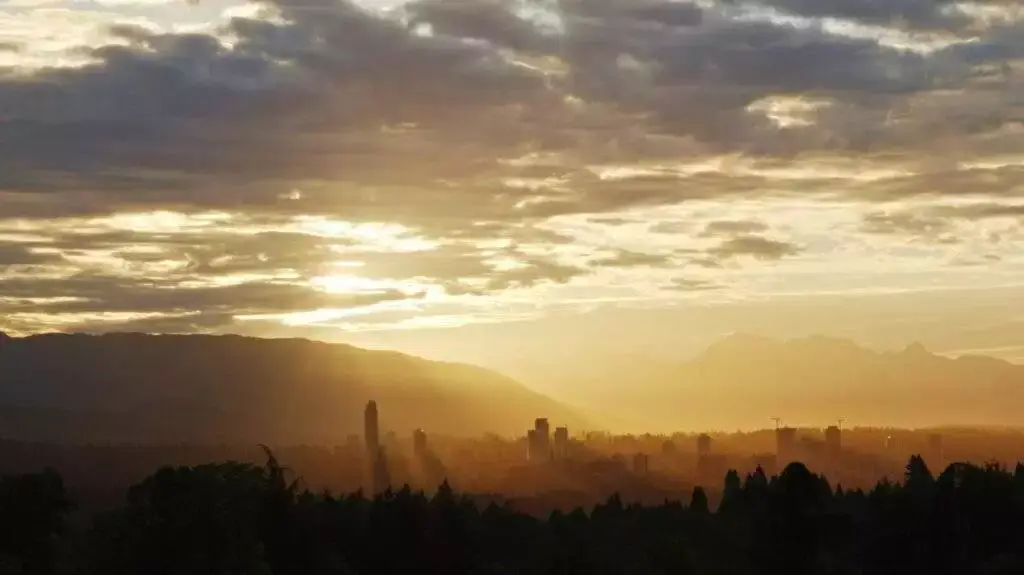 Mountain bikers and hikers can both use the 26 various routes in the 1,423-acre conversation area. The mountain's top, at 366 meters, has just enough height to make your heart race, but Burnaby Mountain's pathways are generally ideal for first-time hikers.
A well-known loop connects seven trails: The SFU campus connects to Mel's Trail, where one can access Gear Jammer. Take the easy Pipeline Trail to the more difficult Nicole's Trail before continuing to Dead Moped and Power Line Trail.
Once you're done, take the Poplar trail back to Gear Jammer, where you started. This circle is ideal for hikers looking to see the finest of Burnaby Mountain because it offers a variety of terrain, climbs around 250 meters, and covers little over five kilometers of travel.
3.2. Foreshore Trail
In search of a simple adventure in Vancouver. Visit the campus of the University of British Columbia to see the Foreshore Trail and several stunning beaches. This is the ideal location to go on long hikes, explorations, and beach activities.
A superb area for hiking in Vancouver is Foreshore Trail.
A simple 3-mile track in the Pacific Regional Park, the Foreshore Trail follows the border of the UBC campus. There are many wonderful beaches nearby, including Acadia Beach, Spanish Banks Beach Park, and Jericho Beach, for kids who simply want to explore the seashore. Kids who wish to explore and beach comb will love the sandy and rocky mixture of the beaches.
Amazing and enormous cargo ships can be seen sailing from the beaches, among many other breathtaking sights. All my kids were pleased by this unexpected gift. As much as they enjoyed watching the big ships pass by, they also liked tossing rocks into the water.
4. Quarry Rock Hike and The  Cabot Trail
4.1. Quarry Rock Hike, Deep Cove
Hikers on the Quarry Rock Trail are rewarded with a sweeping view of Deep Cove and the surrounding forests. For a 3.8-kilometer roundtrip hike that gains only 100 meters in elevation, that is a lot of scenery.
This short but sweet trail winds through a dense forest, navigating the toughest terrain via wooden walkways and stairs and crossing a mountain stream. Despite a few rocky spots, the track is straightforward and suited for hikers of all skill levels.
As you reach the summit, you come out onto a smooth rocky overlook overlooking Deep Cove and Indian Arm.
The Quarry Rock Trail, less than 20 kilometres from Vancouver, is a part of the 48-kilometer Baden Powell Trail, which crosses the mountains between Horseshoe Bay in West Vancouver and Deep Cove in North Vancouver.
4.2. The Cabot Trail and Skyline Trail
After this flat walk, a stunning headland cliff provides views of the rough coastline. The Cabot Trail makes its way down the mountain, and you can see it from an eagle's perspective, where the vehicles resemble toys.
From the viewing decks, search for whales in the Gulf of St. Lawrence.
The Cabot Trail and Skyline Trail are excellent places to go hiking in Vancouver.
This ecosystem is home to many boreal birds, moose, bald eagles, and bears. Give moose plenty of room, and be careful along the cliffs if you have kids. Remain on the boardwalk since the headland plants are quite delicate and easily harmed by trampling. Dogs are not allowed in this area because they annoy wildlife, particularly moose and bear.
The Skyline Trail is a 3.5 km loop that falls through a thick West Coast forest after ascending a high ridge. A historical marker designating the spot of the 1954 US Airforce F-86 accident will be located along the route, and there will be picturesque views at the top of the old ski run. Similar to the nearby Grouse Grind and BCMC trails, this trek is a fantastic choice for getting in a strenuous workout because of its steep inclines and rocky terrain.
5. Lynn Canyon Park
Lynn Canyon Park, located in North Vancouver, offers a range of short treks and blends hiking paths with several attractions. The main draw for most hikers is the popular hiking destination which is the 50-meter-high Lynn Canyon Suspension Bridge, which swings over a canyon and the raging river that cut it.
A breathtaking location for hiking in Vancouver is Lynn Canyon Park.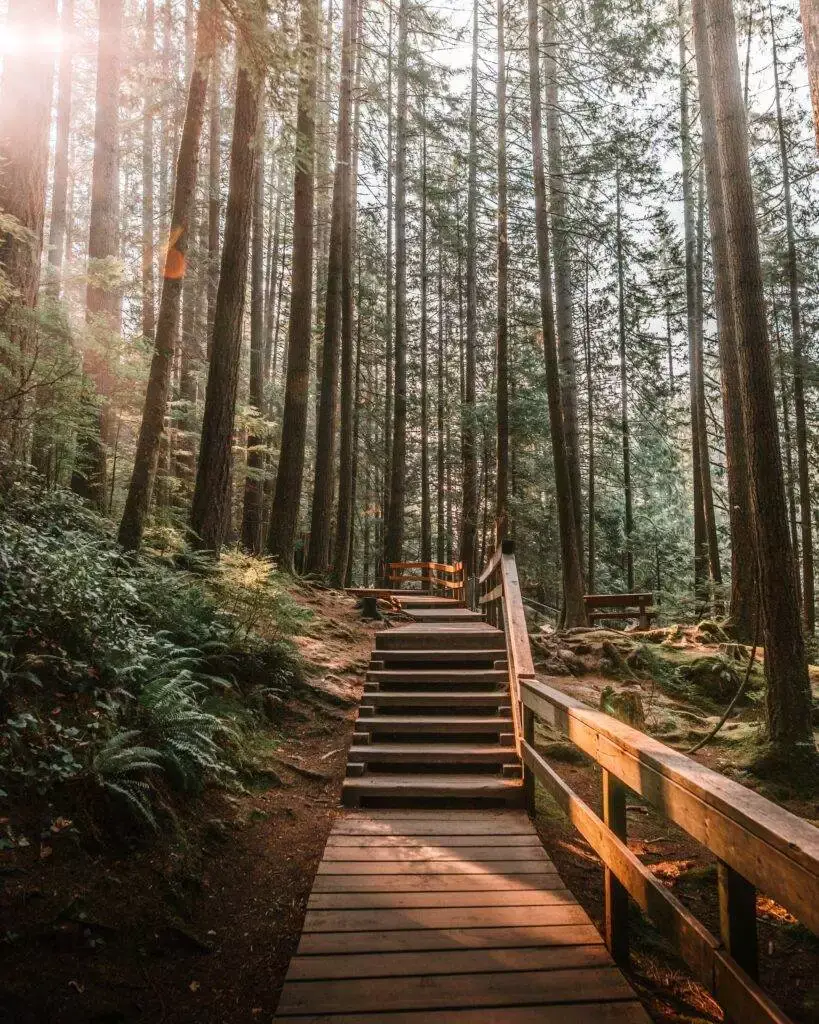 However, there is much more for hikers to discover along the 48-kilometer Baden Powell Trail, from easy strolls to difficult terrain. For a trail map, stop by the Ecology Center or access the park website.
The 30-foot pool is accessible by a short trail, making it a well-liked location for picnics and swimming.
You'll feel even more alone as you ascend to Twin Falls, where you may gaze at a gorgeous cascade and a large pool below the Twin Falls Bridge.
Alternately, descend the trail for views at water's level.
You can either explore Rice Lake's whole circuit or take an easy riverbank trail that goes to Lynn Headwaters. The Baden Powell Trail stretch that traverses the park can be hiked in less than two hours.
6. Lighthouse Park and Grouse Grind Hike At Grouse Mountain
6.1. Lighthouse Park, West Vancouver
To access the West Vancouver trails, cross the Lion's Gate Bridge (which, despite its somewhat confusing name, is an entirely distinct town that is not part of the city of Vancouver).
The massive Point Atkinson Lighthouse in West Vancouver may be reached via a network of well-kept trails and offers breathtaking views of the Vancouver skyline over the Burrard Inlet.
Because they are non-technical and have little height gain or loss, the routes of Lighthouse Park meander through a grove of towering Douglas fir trees and provide big benefits for relatively little labour.
By using the direct Beacon Lane Trail, you can get to the lighthouse in as little as 10 minutes, but you may also take your time exploring the park's many other trails.
6.2. Grouse Grind Hike At Grouse Mountain, North Vancouver
Any Vancouver resident will respond passionately when you bring up the Grouse Grind; depending on how they did on "Mother Nature's Stairmaster," their answer will either be positive or negative. It's a grind, The Grouse Grind. You can lower your head and make your way up the steep, arduous trail, periodically aspiring to take in the sounds and sights of the forest before continuing your ascent. Even though The Grouse Grind is only 2.9 kilometers long, it climbs 850 meters, making it a challenging trail.
A breathtaking location for hiking in Vancouver is Grouse Grind Hike.
As The Grind gets you there, you may explore a lot on Grouse Mountain, from zoos to lumberjack competitions. Bring cash for the gondola ride back down since downloading via it is required.
The Grouse Grind is essentially a milestone for Vancouver residents, but it is a challenging, technical trail that  that the hikers in good physical condition who are well-prepared should only attempt. It remains the wilderness even though many people hike there every day. Be ready, dress appropriately, and follow any stated rules or seasonal closures.
 7. Norvan Falls, North Vancouver
The climb to Norvan Falls in North Vancouver's Lynn Headwaters Regional Park should be the first choice for hikers seeking a lengthier excursion with lots of value.
You have plenty of time on the 14-kilometer roundtrip walk to take in the breathtaking surroundings, which include cedar trees that grow as high as the sky, streams that meander beside the trail, and vistas along the river, to mention a few.
A fabulous location for hiking in Vancouver is Norvan Falls in North Vancouver.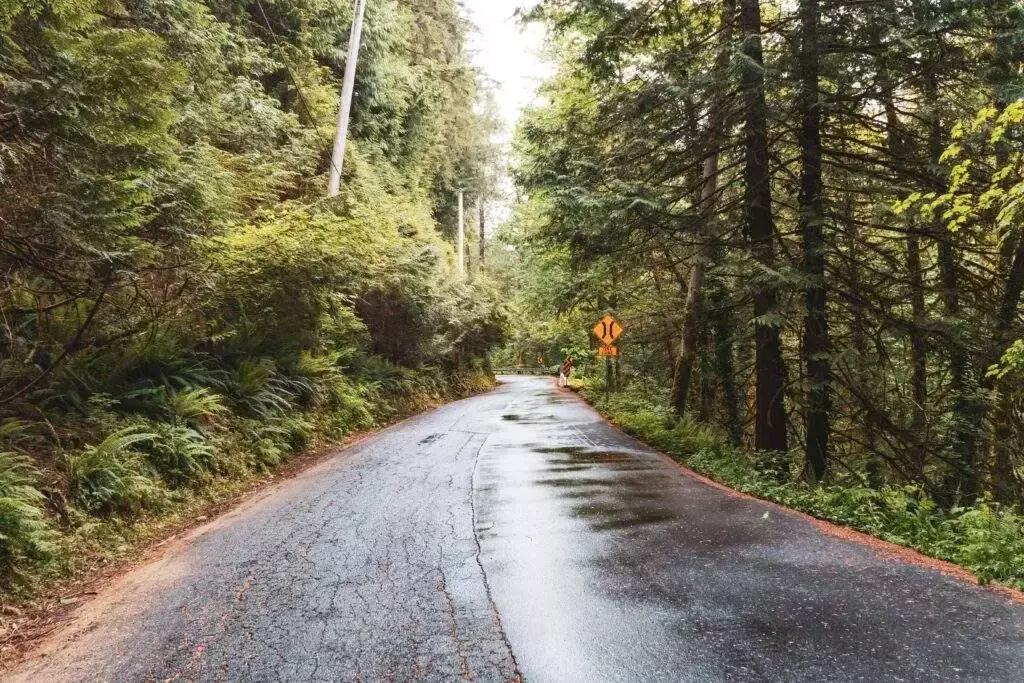 The actual draw is the roaring Norvan Falls waterfall, which cascades into the creek below and is encircled by lush, unfathomably green trees.
In comparison to many other walks in the area, which frequently include climbing up a mountain, this one is somewhat tough while being on the longer side and having a total elevation gain of fewer than 200 meters.
Norvan Falls is an excellent option if you're searching for a day trip with lots of benefits that don't involve climbing a mountain.
8. St. Mark's Summit, West Vancouver
If you're seeking the kind of fulfilment which can only be possible with that attained while perched atop a mountain, head to St. Mark's Summit at Cypress Mountain in West Vancouver. Don't get too comfy; as you progress near the top through steep, technical terrain, the trail's difficulty substantially rises.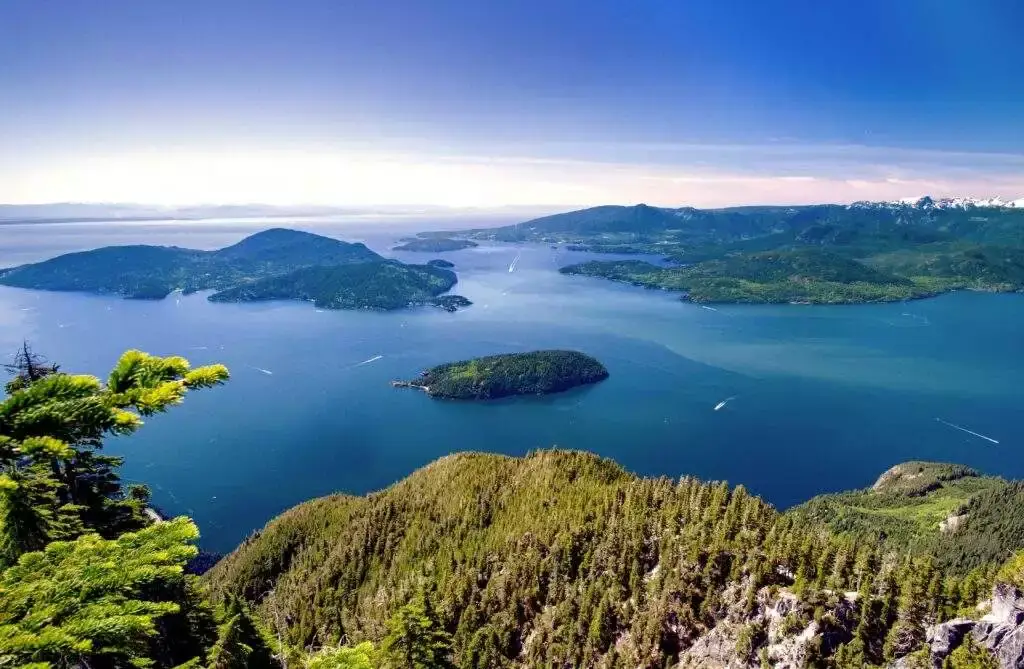 Although the hike's height gain is only approximately 460 meters overall, the trailhead begins much higher up, so you'll undoubtedly feel like you're on top of the world. The track is normally well-kept; you can expect to get a little sweaty and muddy.
The effort will be rewarding because of the sights from the summit.
St. Mark's Summit is an 11-kilometer hike that is best completed in the summer on a sunny day.
Start early because it's likely that you won't be the only person seeking the peak in favorable weather. Weekend traffic is typically lighter than on weekdays.
9. Dog Mountain Trail, North Vancouver
If you don't have insufficient time to complete an entire day trip but still want a bit of a challenge and some breathtaking views, head to Mount Seymour Provincial Park to climb Dog Mountain. This journey is commonly used throughout the summer because of how easily it can be reached and how close it is to the city. As a result, although the views are generally abundant, you should be warned that there may also be large crowds.
A fantastic venue for hiking in Vancouver is Dog Mountain Trail.
At five kilometres roundtrip, this hike is neither particularly long nor difficult. However, this tricky path has plenty of roots, rocks, and slick mud to keep your feet and mind busy. On Dog Mountain, wearing appropriate hiking shoes is a good idea.
Vancouver and Howe Sound can get vistas of Mount Baker in Washington State on a clear day. Not bad for a hike that can be fit in after work!
10. The Chief, Squamish
If you want an indulgent torture (see: the Grouse Grind above), then the Stawamus Chief should be on your list of must-hike destinations in the Vancouver area. The Chief trailhead is conveniently located around one hour from Vancouver, but you should leave especially in the summertime, early on weekends when parking can be scarce due to competition with rock climbers.
A terrific venue for hiking in Vancouver is The Chief, Squamish.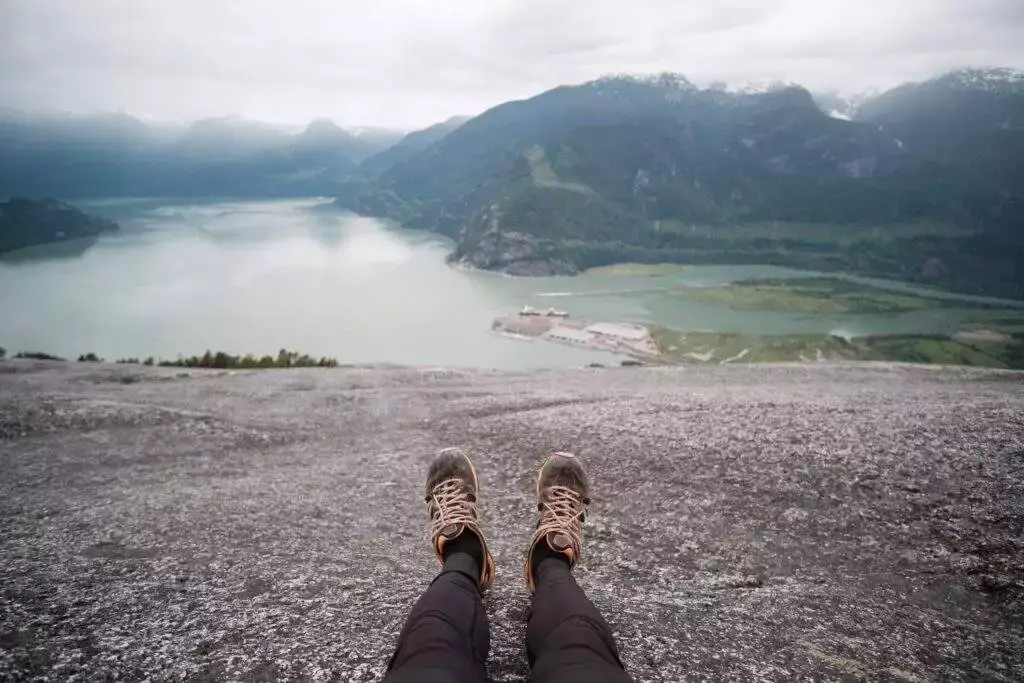 Yes, the intimidating granite face visible from the Sea to Sky Highway is used for rock climbing. Keep an eye out for them, even though they will probably look like small ants from below.
There is a well-maintained, though difficult, trail that leads to the summit of the Chief for those who would like to ascend there through trail rather than rock. In actuality, there are three summits that can be reached separately or all at once.
If you're up for a major effort, get going early and make it a point to stop by each one since they all provide stunning and distinctive views. The first summit is a four-kilometer round-trip, but the distance is deceiving, just like the Grouse Grind.
There is a 500-meter height rise throughout the two kilometers of climbing. The return distance and height gain from including the second and third summits is about three kilometers.
The trip to Vancouver and hiking in Vancouver are worthwhile. You'll never forget the hike you took in the highlands, near the waterfalls and breathtaking scenery. Decide to go trekking as soon as you can in Vancouver.
Suggested Reads:
20 Most Famous Vancouver Tourist Attractions
As an Amazon Associate, Icy Canada earns from qualifying purchases.