British Columbia, the picturesque and Canada's westernmost province, is the perfect place for settling down. It comfortably rests amid the Pacific Ocean and the Rocky Mountains.
The geography of British Columbia is diverse. It also comprises a combination of incredible mountains, lovely beaches, and lush valleys.
But what if you are new to British Columbia? You will find it very challenging to choose the apt place to live among the many incredible cities. To make it easier, we have listed some of the best places to live in BC (British Columbia) below.
1. Best Places to Live in BC
BC (British Columbia) consists of numerous great cities. Every city has its unique highlights and cost of living. Now, let us look at a few of the best places to live in BC.
1.1. Vancouver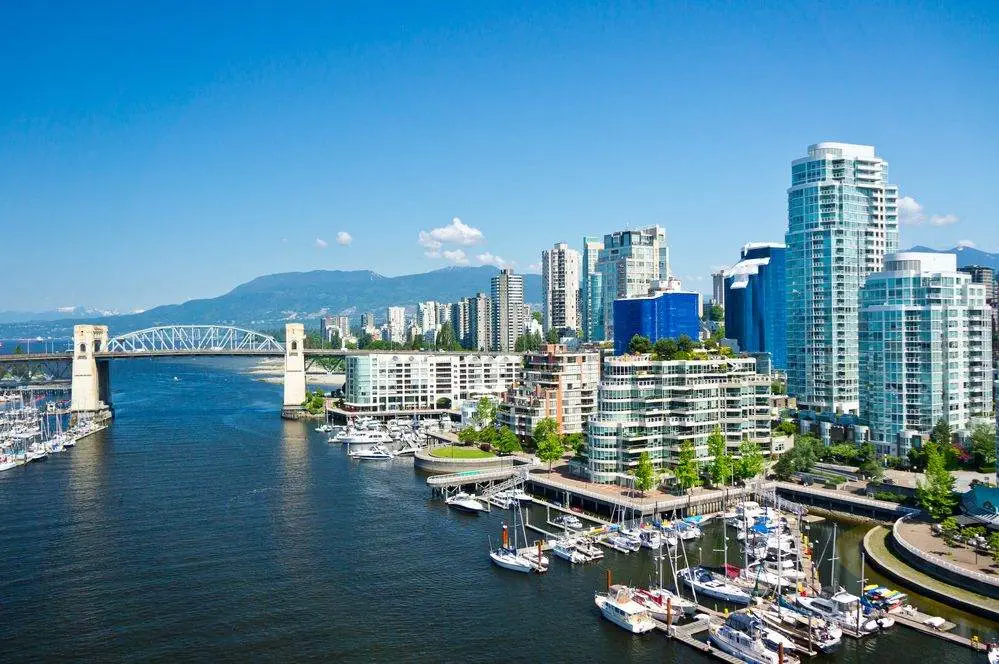 If you are hunting for one of the best places to live in BC, Vancouver tops the list. Why particularly Vancouver? Because the exquisite settings of the country are unmatched.
You can find this beautiful city having wonderful surroundings in all four directions. You have the incredible mountains in the north, the magnificent Fraser River in the south, lush valleys in the east, and the lovely Pacific Ocean in the west.
Vancouver also boasts of being the largest city in British Columbia. This coastal city has countless historical attractions and cultural draws. You can enjoy outdoor life to the maximum here. That is why Vancouver is also fondly called the outdoor enthusiast's playground.
1.1.1. What Are the Other Things the City Has to Offer?
Vancouver has more on its plate. You have the spectacular sea-to-sky highway, and hiking and biking trails, which are quite popular.
Metro Vancouver consists of residential domiciles by the side of the Fraser River. They include North Vancouver, Richmond, West Vancouver, and others. Dwellings, namely Burke Mountain, provide Vancouver residents with parks, a vast train network, and ample green space.
Vancouver international airport is also Canada's busiest airport. It links Vancouver and its surroundings through the air.
1.1.2. Education and Jobs
On the educational front, you can find two universities. One is the University of British Columbia, and the other is the Simon Fraser University. The government funds various elementary and high schools. You have lots of job options too.
1.1.3. Downtown Vancouver
Downtown Vancouver bustles with numerous attractions and activities. You have the best dining places, outdoor adventures, lovely parks, and whatnot.
You can enjoy the best nightlife in Gastown, taste different dishes in Granville Public Market, enjoy Stanley Park, and have fun at Vancouver Aquarium. The list is endless.
Undoubtedly, Vancouver tops the list of best places to live in BC.
2. Victoria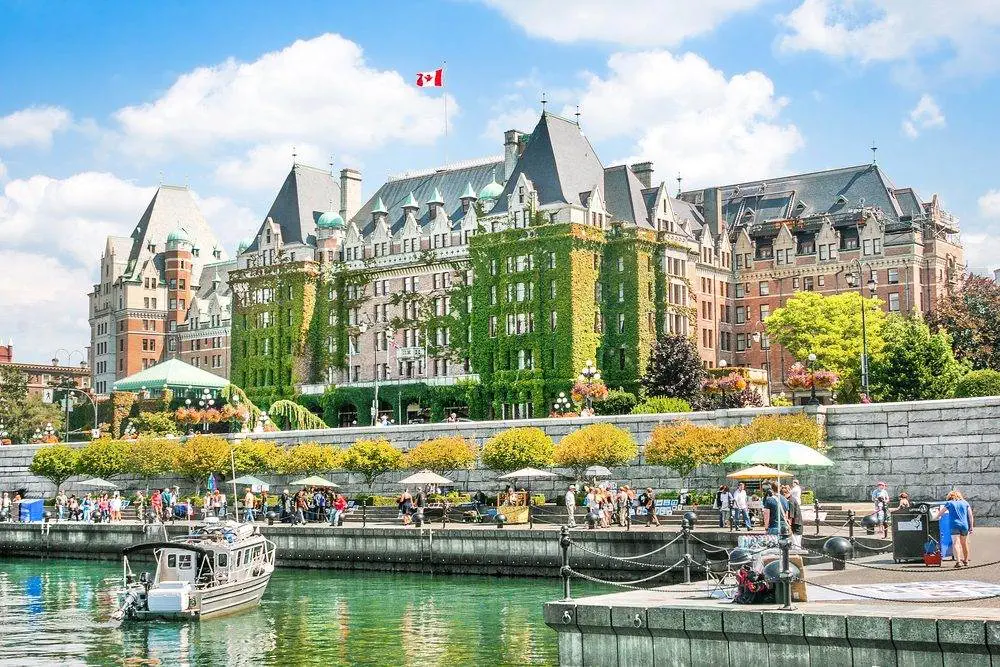 Victoria has earned the credit of being Canada's best small city. It is the capital city of British Columbia. Victoria has a mild climate, and you get a small-town ambience here.
Victoria is also called Garden City. Why is it called so? Because you can find beautiful flowers blooming throughout the year.
2.1. Education and Jobs
Victoria offers numerous job opportunities in technology, government organizations, and business. You also get good pay.
Not only jobs, but the education standards are excellent in this city. You can send your kids to either public or private schools. The property taxes are also lower here.
2.2. More about the City
Victoria also offers many activities, including mountain biking, kayaking, hiking trails, and rock climbing. Of these, the most demanding hike is the West Coast Trail. The city also has a rich culture. You can observe historic buildings by the side of the waterfront.
Victoria has its international airport. You have frequent ferry and flight services connecting you to Vancouver and Seattle. You can enjoy a ferry ride from the mainland to Vancouver Island.
You can also get breathtaking views while wandering Dallas Road. Victoria has a temperate climate and receives less rain when compared to Vancouver. In Canada, Victoria is the warmest city during winter.
With all these beautiful features, Victoria also gets included in the list of best places to live in BC.
3. Kelowna
Kelowna – the Hawaii of Canada is a thriving city. It receives lots of sunshine. The weather is also the best here. You get good public services in the city.
You have a transport system that takes you around the city. It also links you to places on the province's inside and outside.
There are also several lovely parks and hiking trails. The city rests at the centre of Okanagan Valley. You can find beautiful beaches which have attractive play structures in its offshore. These structures will keep your kids hooked and squealing with excitement.
3.1. Education and Jobs
Kelowna boasts of having an excellent school system and health care system. If you are a working professional, you don't have to worry about jobs, as you can find many job openings. A few big industries in Kelowna include technology, healthcare, manufacturing, and agriculture.
3.2. More about Kelowna
You will never feel bored in this city, as it offers countless things to do. The Downtown area has fashionable shops and restaurants operated by the locals. When you visit Downtown, the Kasugai Botanical Gardens are hard to miss.
You can have some leisure time in this garden. It has a calm and relaxed atmosphere. Other remarkable highlights are the Big White Ski Resort and Kettle Valley Railroad.
While the Big White Ski Resort is the perfect place to ski in British Columbia, the Kettle Valley Railroad is known for its extraordinary wooden support bridges.
You can also consider Kelowna in your list of best places to live in BC.
4. Richmond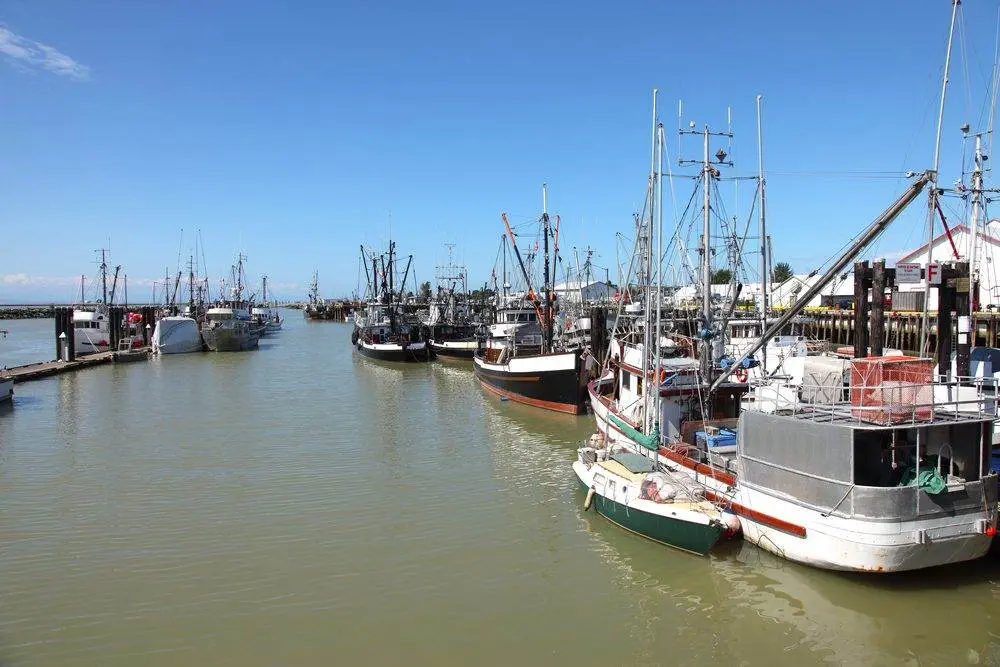 There are multiple best places to live in BC, and Richmond is one among them. The city houses the Vancouver International Airport. You can find this city located in the southwest of Vancouver.
There are many attractions, including the Richmond Night Market, where you can treat yourself to lip-smacking dishes. You can explore lovely parks, namely Richmond Nature Park, Terra Nova Rural Park, and others.
The city also has the best healthcare systems and several major hospitals. The public transport system is excellent and eases your travel.
4.1. Education and Jobs
Richmond has several excellent schools within the borders of the city. Of these, you can find the majority are public schools. There are many job options in different fields too.
4.2. Other Specialties of Richmond
You can access Vancouver easily from Richmond. Not only Vancouver, but you can also reach Burnaby and more Lower Mainland areas.
You can visit art galleries, museums, and the unmissable International Buddhist Temple. Take your kids to whale watching, and witness the spectacular humpback whales and Orcas on the Pacific West Coast. There are also several golf courses for golfing.
Richmond also has Lulu Island Winery to taste delicious wines. Lastly, don't miss the Aberdeen Centre – a unique shopping mall in Richmond.
5. Penticton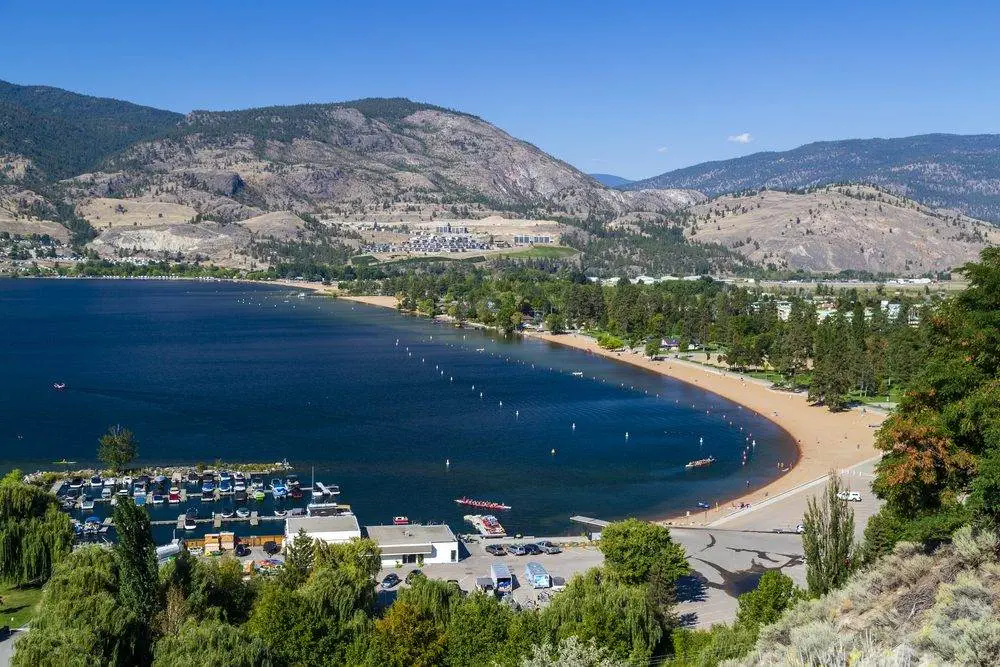 Penticton is a summer-fun town and is full of family-friendly activities. There is no scarcity of beaches here. Among the beaches, Skaha Beach has earned the credit of holding a spot in the list of ten best beaches. The National geographic traveller magazine conferred this title.
The soft sands of the beach and the crystal clear water compete in beauty. Once you finish splashing the beach waters and come out, Skaha Lake Park awaits you.
The park has a children's play area, courts to play tennis, and open places apt for outdoor games.
5.1. Education and Jobs
Penticton contains private and public schools. There are seven elementary, three secondary schools, and two middle schools. Jobs are available in various domains, including technology, construction, agriculture, and manufacturing.
5.2. More Features of Penticton
Penticton comprises an airport with flights connecting directly to Toronto, Montreal, Victoria International Airport, and others.
Downtown Penticton has several restaurants and cafes where you can have the ultimate dining experience. You can also have fun shopping.
You can observe local arts exhibited in many cafes. The city also provides good job opportunities. Start-up companies offer new jobs which you can utilize and shine.
With all these features, don't you think this city deserves to be among the best places to live in BC?
6. Nanaimo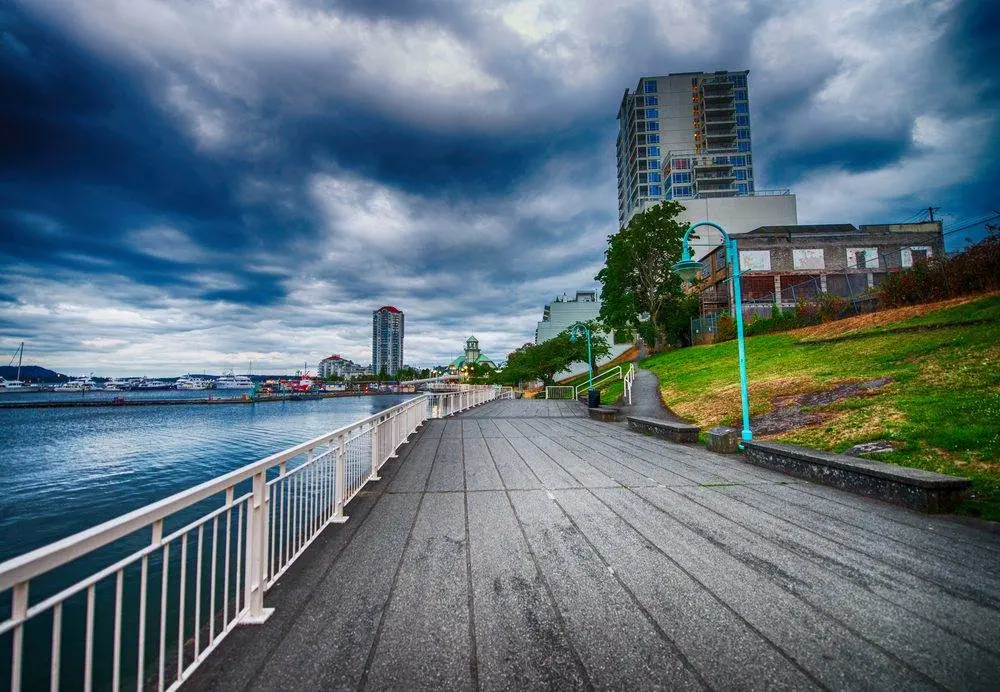 If you are scouting for a family-friendly city, Nanaimo awaits you. You can find the place located on Vancouver Island's east coast. The city has earned a spot in the list of most desirable places to reside.
You can see the downtown area busy with unique restaurants serving delicious foods inside and outside the restaurant. There are outlets where you can acquire souvenirs, clothes, art, and jewellery.
The waterfront area of this small city has vast piers. These piers are the exit points of the whale-watching tours. The seaplanes also depart from here to the mainland.
If you want to know about the history of Nanaimo, visit the Nanaimo Museum or the Vancouver Island Military Museum. These places will give you an account of how Nanaimo has changed over the years.
6.1. Education and Jobs
Nanaimo offers decent jobs in various domains, including real estate and accounting. The city contains good schools and an affordable housing market. It also houses Vancouver Island University, which both local and international students prefer.
6.2. Other Draws of Nanaimo
When you are on a visit to Nanaimo, it is impossible to miss the heavenly desert – Nanaimo Bar. It is a three-layered delicacy consisting of a wafer, a nut, and a base with coconut crumb. The heavenliness gets multiplied with chocolate ganache at the top and custard icing in the middle.
There are also many community activities in Nanaimo. These activities include arts, sports, and entertainment. You can enjoy thrilling outdoor activities, namely, scuba diving, sailing, golf and many more.
Nanaimo is another city you can consider among the best places to live in BC. Don't you agree?
7. Whistler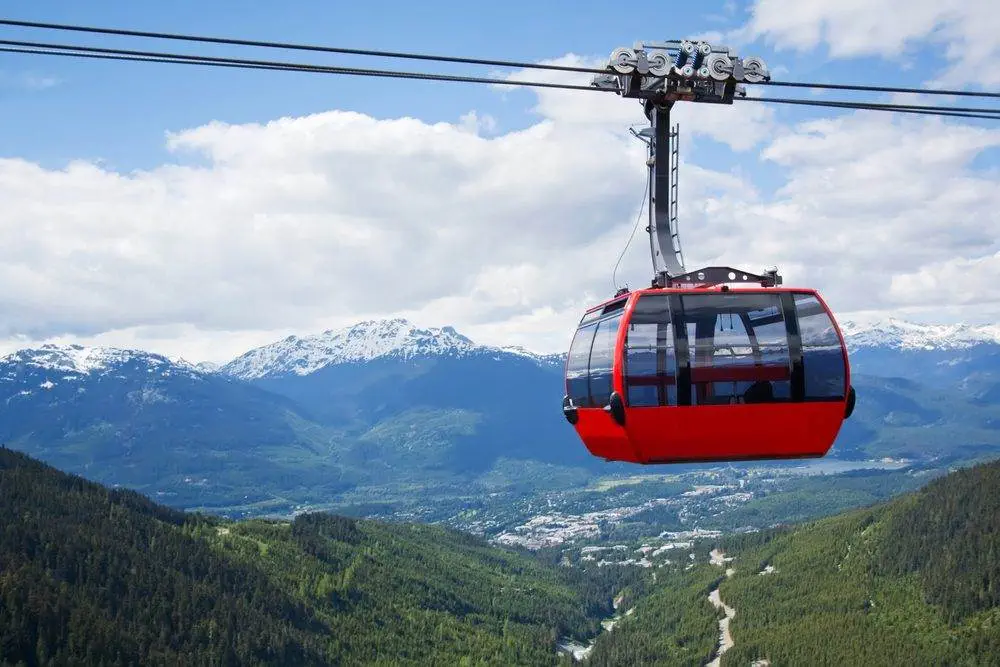 Whistler is a resort town thronged by tourists worldwide. This small city keeps everyone entertained. It is also the resting place of Whistler and Blackcomb – the world-class ski resort. Skiing is the primary activity here; Undoubtedly, this is the finest place for this activity in Canada.
If skiing is not your forte, then go ahead, and go on a trip to either the Whistler or Blackcomb mountains. Board the peak-2-peak Gondola to witness spectacular views.
You can always encounter consistent snow in Whistler. You can reach Vancouver from Whistler through the sea-to-sky highway. Whistler was the host of Canada's 2010 Winter Olympics.
7.1. Education and Jobs
Whistler provides private and public education. You also get career vacancies in different domains.
7.2. Adventures in Whistler
During winter, Whistler is pure fun. You can experience various activities, including heli-skiing and sledding. There is also Whistler Village swarming with shops and restaurants.
Stroll with your dear ones, and create memories. If you are a fan of outdoor activities, love breathtaking scenery, and like warm locals, Whistler suits the bill perfectly. You will consider Whistler among the best places to live in BC.
8. Langford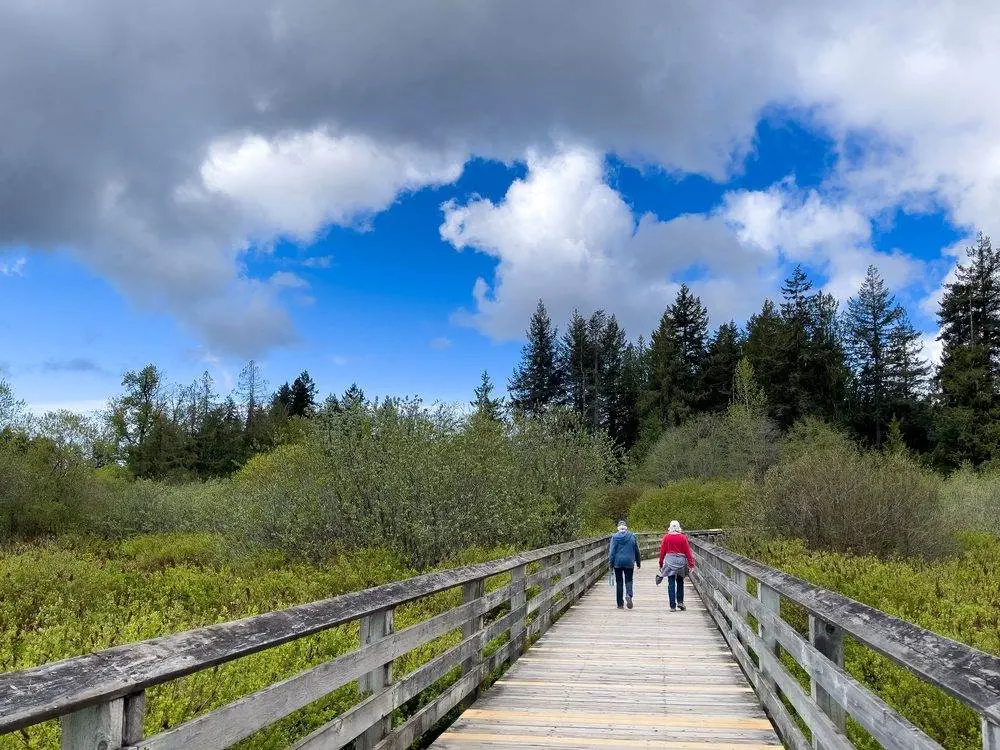 Located on South Vancouver Island, nature encompasses Langford. If you plan to choose this place to reside, you need not worry.
You can also consider purchasing property here. The real estate prices are reasonable. You can go shopping at the farmers market for your daily requirements.
There are water activities to have fun. You have the local sports team for entertainment. Langford City is developing steadily. But it takes efforts to protect its maximum green space even though the city plans to expand.
8.1. Education and Jobs
Langford has several public and private schools which offer elementary, middle, and secondary school education. There are also job opportunities in Langford that you can avail of.
8.2. More about Langford
Langford contains the best background. Do you want to find out how? It is due to the stunning views of various places. These include Saanich inlet, Mount Finlayson's summits, Juan de Fuca Strait, Mount Skirt and Mount Wells.
Though Langford is quickly developing, it still perfectly maintains its small-town ambience. With all these favourable conditions, you can also choose Langford as one of the best places to live in BC.
9. Surrey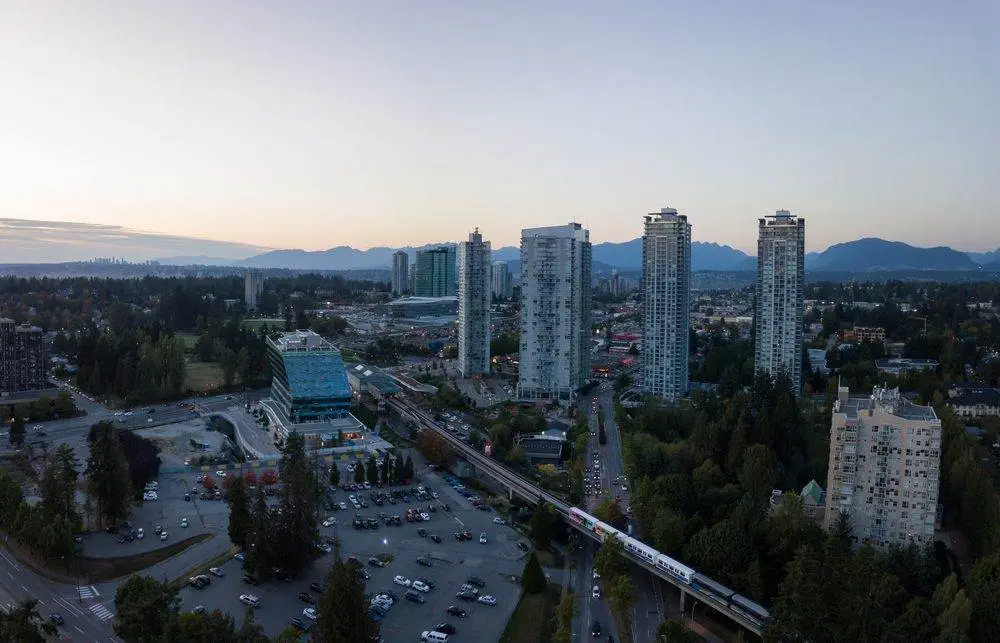 In British Columbia, Surrey is a big city. In terms of population, Surrey ranks as the second largest. You can find many Asian and Indian origin people residing in this city.
You can board the Skytrain from the Gateway Station in Surrey and reach Downtown Vancouver without taking much time. The city has several shopping malls, community centres, hospital systems, and lovely parks.
9.1. Education and Jobs
You can also find good schools in the city. Homeschooling is also an option here. The living costs in Vancouver are more expensive when compared to Surrey.
Surrey offers good job opportunities. Additionally, you can get more employment options since it is very close to Vancouver. Travelling time between Surrey and Vancouver is also less.
9.2. Other Features of Surrey
Surrey has an affordable housing market. Since the city has a large population, you can try your hand at real estate investments. The city also hosts annual community events. There are good places to dine.
The great restaurants to try are the Old Surrey Restaurant, Tap Restaurant, and Afghan Kitchen. For sports lovers, Cricket is very popular here. If you prefer nature, Surrey has numerous parks to enjoy.
Don't you think Surrey fits the bill to enter your list of best places to live in BC?
10. Kamloops
Kamloops is British Columbia's second biggest interior city. You can find it located inside the regional district of Thompson-Nicola. Due to its location, the weather in Kamloops is different from the other coastal cities in British Columbia.
Sometimes, you will experience extreme weather conditions. Summers will be unbearably hot, and winters will be cold.
10.1. Education and Jobs
Educational standards are high in this city. So, if you have a school-going kid, and want to settle down in British Columbia, you can choose Kamloops. You have both public and private schools.
There is a French language school in Kamloops. There are decent job openings. And most of them are in the sales domain.
10.2. More about Kamloops
The city has a lively cultural scene, wine tours, beautiful scenery for enjoying outdoor activities, and shopping places.
Kamloops is also the host of several community events. The outdoor activities include hiking, mountain biking, and skiing. The city also has effective healthcare systems.
If you plan to shift with your family, you have both indoor and outdoor attractions to enjoy. Your kids will love visiting petting zoos, swimming pools, and an indoor trampoline park.
Well, this is another city that can enter your lineup of the best places to live in BC.
2. FAQs
Does British Columbia Have UNESCO World Heritage Sites?
Yes, there are UNESCO world heritage sites in British Columbia.
How Many National Parks Are There in British Columbia?
You can find seven National Parks in British Columbia.
What Does the Aberdeen Centre in Richmond, British Columbia, Offer?
This place is a unique shopping mall. It provides the following combo: shopping, dining, and entertainment. You can enjoy world class-shopping here.
Bottom Line
Undeniably, BC has many amazing cities, and it is pure bliss to live in British Columbia. They have all the amenities. You can taste the best local cuisine. There are even breathtaking mountain ranges, beautiful beaches, and lovely parks.
If you are planning to settle down in British Columbia, it is a good starting point. There are umpteen best places to live in BC. The Canadian province also has lots to offer, and you can enjoy travelling around the best cities in BC.
Click here to read more.