This post includes a list of some of the best wineries in Okanagan Valley. If you are a wine person, this list is a must-read for you.
Canada might not be in the top 3 countries you think of when it comes to wine production. For the winemaking renaissance, France, Italy, or Spain usually comes to mind. But to your utter surprise, Okanagan-Valley in British Columbia, Canada, actually lives up to the mark for wine production.
Where is The Valley?
Characterized by a string of Lakes, the Okanagan-Valley, aka the Napa North, is a part of BC's interior plateau region. The major focus of this region is the Okanagan Lake, which flows from the city of Vernon to Penticton.
What is Okanagan Valley Famous For?
It is known for its vineyards and award-winning wines. Aside from that, the location is also famous for the Kettle Valley Railway Trail and the Okanagan Lake.
It is home to incredible landscapes of rolling hills, year-round wine tasting tours, outdoor recreations, and fruit orchards.
The majority of the wineries in this valley are located in West Kelowna, a beautiful Canadian community on the hillsides of Okanagan-Lake.
Defined by the Okanagan Lake, this region has a very not-so-Canada-like climate, with spectacular backdrops for visitors.
Okanagan Lake
This lake is for your hot summer days, refreshing water experiences. Spanning from north to south, it is known for its beaches and recreational activities.
So, while you are out on the wine tour, do engage yourself in some amazing activities too.
Why Visit The Valley, British Columbia?
It has the warmest climate in Canada, and it offers a variety of summer activities. People mostly visit The Valley for its world-famous wines, but Okanagan's major cities like Osoyoos, Penticton, and Kelowna are major reasons too.
This region is the Summerland of Canada. Being a region of lakeshore communities, it offers scenic views too. This is why The Valley has been one of the most visited destinations in Canada.
I guess now you know enough about The Valley, so let's explore the wineries that this sunny mountain region has in store for us.
Top 7 Okanagan Valley Wineries: Little Drops of Heaven
It's time to swirl, sip, and enjoy.
1. CedarCreek Estate Winery, Kelowna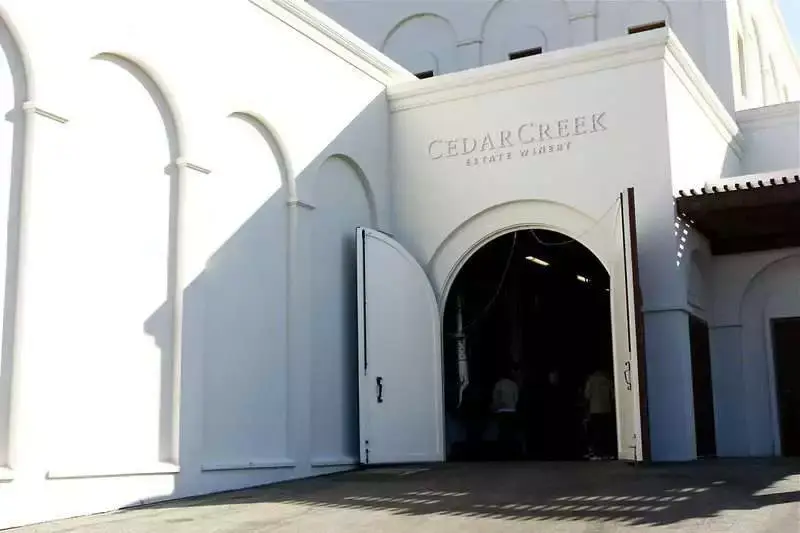 Address:
5445 Lakeshore Rd, Kelowna
CedarCreek Estate-Winery is an award-winning North Okanagan Winery with picturesque views of Lake Okanagan. It is a 50-acre estate with a single vineyard.
What makes CedarCreek special?
The Northern Part of The Valley has a moderately cool climate, which gives the grapes the pure expression of North Okanagan. They are best known to create cool-climate wines.
The winery features a classic tasting room with windows looking over the rolling valley, a Home Block restaurant, and an Aspect House exclusive for the club members.
The Wine
CedarCreek's wines are an expression of the Valley, from North corner to South. The wines are as vibrant and pure as they can be. They feature two different collections of wine, the Platinum Collection and the Aspect Collection.
To make the most of your CedarCreek experience, you can join their club to get a regular supply of world-class wines.
2. La Frenz Winery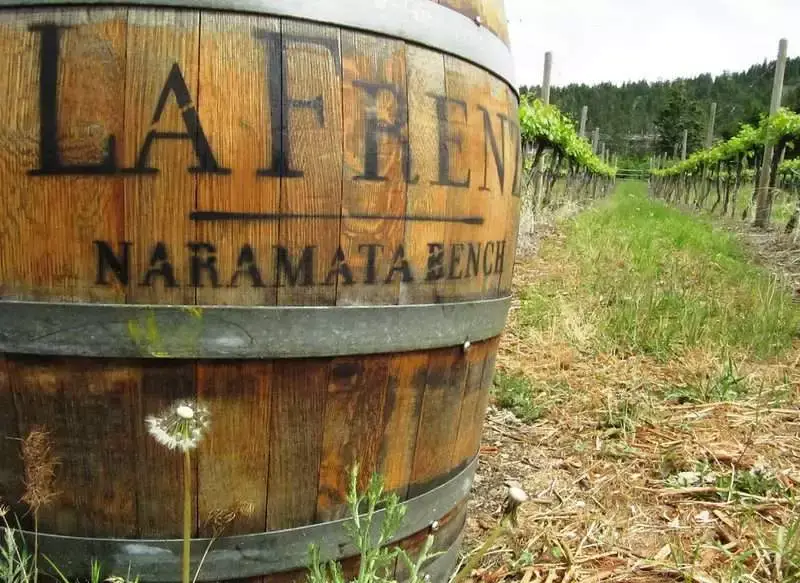 Address:
1525 Randolph Rd, Penticton
Overlooking the beautiful Okanagan-Lake on the Naramata Bench, La Frenz Winery is a royal destination for family wine tours.
This winery has wine tasting tours only in summers, and you can make reservations in advance. During Queen Elizabeth II's visit to Canada in 2005, Chardonnay and Merlot were chosen from here for her gala dinner. The best part about them is their royal wines.
So they literally have royal fame to their name. They have a sophisticated glass and timber tasting room, which visitors thoroughly enjoy.
In addition to that, they feature vintage-style ports too. And they have made some of the most awarded wines in the entire Pacific Northwest.
They have four separate offerings to suit member preferences.
3. The Vibrant Vines Winery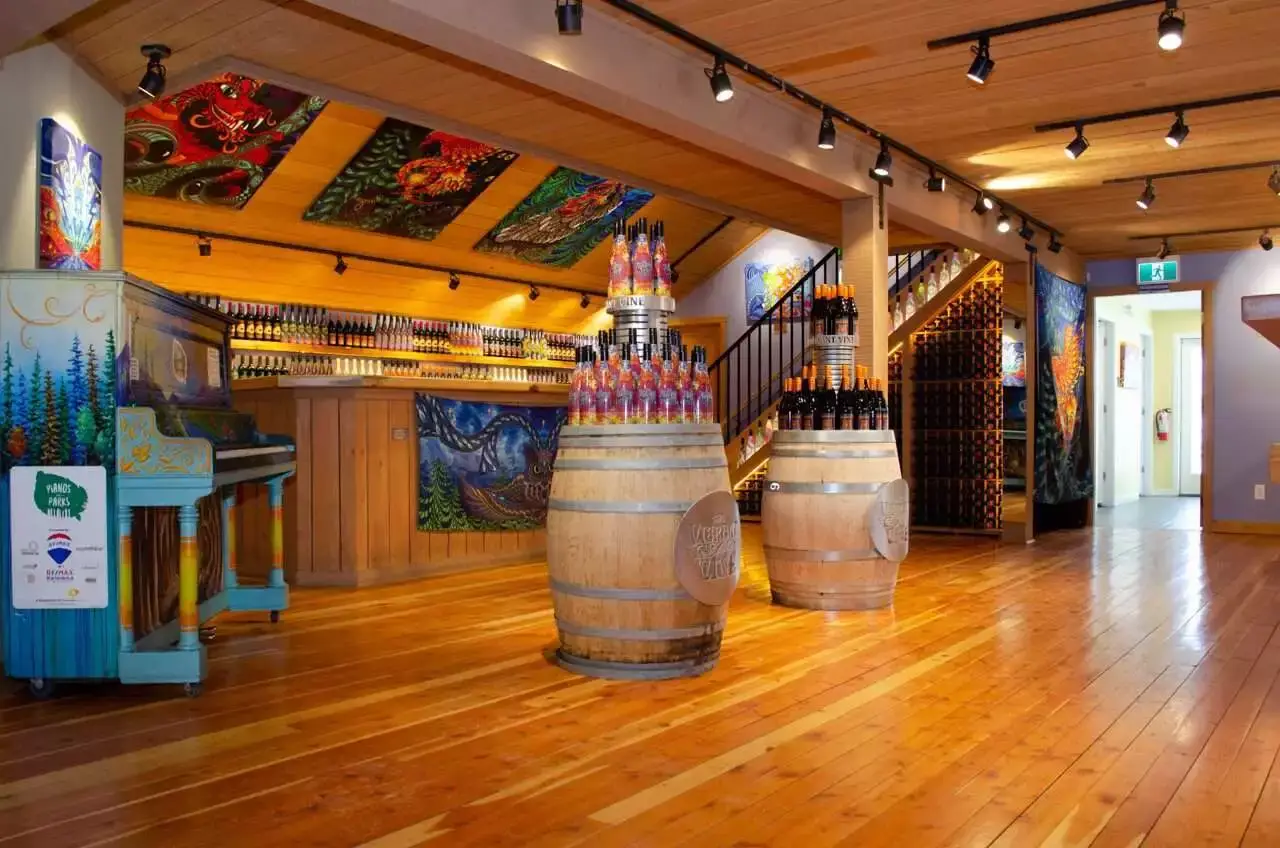 Address:
 3240 Pooley Rd, Kelowna
Vibrant Vine Winery is an all-season and the most artfully entertaining winery of BC. It is that place where you meet wine, art, and music altogether.
What is special about them?
The experience you will have in this winery is extremely special. Upon arriving, you will be assisted with 3D glasses for a fun 3D experience of the tasting room. All artworks and designs on the walls of the rooms, clothing, and bottles are 3D.
They have a wide selection of wines, ranging from aromatic whites to full-bodied reds.
What else to enjoy?
During the peak season of tourism, you can enjoy live music sessions. They feature local musicians and artists from throughout the valley.
They have a Snack Shack too, to enjoy along with the music. You can have freshly baked pizza or woopsicles; these are popsicles made from wine.
4. Sandhill Wines
Address:
1125 Richter St, Kelowna
Sandhill Wines, located in downtown Kelowna is a sophisticated local winery. It is a must-visit on your Kelowna wine tour, and no one regrets coming here.
What is special about Sandhill?
The wines made in Sandhill are made from grapes that come from six unique BC vineyards. This is what makes their wine so special because the grapes are collected from different regions from east to west. And each vineyard has a unique growing environment.
Their wine region provides a tasting room gives off an urban feel, which tourists enjoy the most. They offer a wide selection of wines for tastings, ranging from award-winning wines to Sandhill single vineyard wines.
On the Sandhill patio, pints, flights, and cocktails are available too.
5. Indigenous World Winery
Address:
2218 Horizon Dr, West Kelowna
British Columbia's one-hundred % Indigenous winery, located in downtown Kelowna is the Indigenous World Winery, where modern culture meets with indigenous history.
The wines made here are made as an effort to respect the environment and communities of the indigenous people. The grapes for the wines are selected from both Similkameen and Okanagan-Valley Vineyards.
The produce they use for the wines is the highest quality fruits, which gives their wines a refreshing taste. They do have their own vineyard as well, which stretches for about 2.4 acres. And they have a wine shop too.
They feature four different wine types: Wine, Red, Sparkling, Rose, and over 1o wine varietals, including Merlot, Pinot Gris, Muscat, and others.
6. 50th Parallel Estate-Winery
Address:
17101 Terrace View Rd, Lake-Country
Nestled in the heart of The Valley, near the shores of Lake Okanagan, 50th Parallel Estate-Winery is a cosmopolitan winery. This unique winery is for those who have good eyes for architecture.
The winery's floor-to-ceiling glass windows and a modern tasting room give it a special touch. This winery was created to be a wine destination that is second to none. And till today, they live up to their words.
They now have a 61-acre vineyard, growing some amazing quality grapes. The winery features 4-5 types of wines, including Glamour Farming and Rose Wines.
What else is there?
They have an on-site Block One restaurant as well. This dining experience is something one wouldn't want to miss. Visitors are often amazed by the outdoor seating area of the restaurant. It's open all year round.
You can book a table in advance or by the time you reach there.
7. The View Winery and Vineyard
Address:
2287 Ward Rd, Kelowna, BC
Nestled in a 1920's apple-growing property, the View Winery and Vineyard is a must-do trip for those who love the natural taste and essence of fruits in wine.
The old apple-packing house was built into a winery in 2006 and now produces over 10,000 cases each year. They have a diverse selection of award-winning wines, including Riesling, Pinot Gris, Ehrenfelse, and Gewürztraminer.
What is special about them?
The View Winery and Vineyard is the one to add Canada's first wine in a can. The BLING Sparkling Wine was put in a can in 2013.
This winery offers an authentic Okanagan experience, although it is close to downtown Kelowna. The orchards and the rolling vines around the estate provide a countryside feeling.
Their wine club, Red Shoe Wine Club, is a common name in the game. Members get 6 to 12 bottles of wine or cider every spring and fall.
Depending on the membership level you choose, you are entitled to various discounts.
This is the winery to be in if you are looking for a vintage vibe.
A few more outstanding wineries in Okanagan are:
BC Wine Country

Dirty Laundry Vineyard

Pentage Winery

8th Generation Vineyard

Arrowleaf Cellars
Wineries in the vicinity of Sparkling Hill Resort
The resort is a well-known world-class spa and wellness destination that you've probably never heard of. This health and wellness center, located 30 minutes from Kelowna International Airport and 15 minutes from Vernon, British Columbia, is the ideal spot to press the reset button.
If you visit Vernon and take a Lake Country Wine Tour, this is a nice extra to see because it is surrounded by vineyards close to the resort.
Upon leaving the resort, the first thing that comes to mind is its position. Seven Lake Region wineries are within a 25-minute drive of The Hill, located in British Columbia's Valley or wine country. Let's look at each of them and why a wine tour should be on your list of things to do while looking for wineries near the resort.
The first of seven wineries, the 50th Parallel Estate-Winery, is merely a 15-minute drive down picturesque Commonage Rd. This backcountry road delivers breathtaking lake and valley vistas to this 61-acre vineyard. When you arrive, you may partake in a wine tasting in their cutting-edge facilities or enjoy a picturesque sip on the terrace at Block One Restaurant.
The next winery on the list is O'Rourke's Peak Cellars. This is the newest winery, but it shouldn't deter you from paying a visit. They provide the only lakefront wine tasting experience in the Okanagan and a garden café with stunning vineyard views.
Intrigue Wines is located immediately across the street from O'Rourke's. They provide a more private tasting room experience and a concept of employing cool fermentation and minor handling to preserve as many fruit qualities as possible in their wines.
Blind Tiger Vineyards is a small organic winery for the whole family to enjoy. It is the only tasting room with a view of Wood Lake, and they take care in creating wines with as minimal chemical intrusion as possible. Visit for a picturesque glass of wine and stay for the genuine wood-fired pizzas.
Arrowleaf Cellars is located in lake country, right around the corner from Blind Tiger. Their name refers to the Arrowleaf Balsamroot, an Indigenous plant designated as Kelowna's official flower in 2001. Currently, 60 percent of their wine is white, focusing on clear, crisp, aromatic qualities.
Ex Nihilo Vineyards is located almost across the road and uphill from Arrowleaf. It is an 8000-square-foot Mediterranean-style vineyard and tasting area with a unique design to highlight local artists. Each wine is made by old-world traditions while using new and creative techniques.
Okanagan Valley Real Estate
Okanagan is a vast tract of land surrounding The Lake, home to about 350,000 people. The Valley is a diversified place with gorgeous woods and easy access via major roads. The county, divided into Northern, Central, and South Okanagan, provides something for everyone.
Here are a few links to properties:
Okanagan Valley Weather
The weather in Kelowna is one of the reasons why so many of our tourists decide to stay. Most of Canada admire Kelowna's weather due to its warm summers with low humidity and reasonably moderate winters!
The Okanagan heat visits one of our numerous beaches and parks, a favorite summer pastime. In the fall, explore Kelowna's rich and diversified farm-to-table culture, and in the winter, take your skis and snowboards for some fun in Kelowna's warm climate.
Canada's Five-Time Winner of Winery of The Year
Mission Hill
The Okanagan was virtually unknown as a wine area in 1981, but it was famous for the quality of its stone-fruit crops. Grape producers were only starting to take chances, growing plants in the untested ground.
Despite these dangers, the glacier-formed valley provided a variety of soil profiles, long, hot growing days, and a variety of microclimates. These diverse sub-regions provided a chance to produce wine with a distinct terroir. This possibility inspired mission Hill Family Estate's vision for the future of Okanagan wine.
They continue to take inspiration from the valley and the vines we tend to, despite being recognized as Canada's only five-time winner of Winery of the Year and collecting several best varietal honors on the world stage. The trip has only just begun.
Information about the Okanagan Falls
Dogtown, which was formed from Dog Lake, was established in 1893. ("skaha" means "dog" in the Okanagan language). The present name is derived from a minor series of falls that used to exist on the Okanagan River at the Skaha Lake exit. Due to the construction of a dam on the river, the falls have now been submerged beneath the lake.
They indicated an interest in incorporating as a municipality in 2012, and the Regional District of Okanagan-Similkameen approved a study on incorporating the community as a municipality in December 2020.
Penticton is nestled at the top of a massive spillway produced when Mount McLellan restricted the flow of Glacial Lake to the west and Peach Cliff to the east. It is home to a vast collection of geological wonders.
Final Words
Well, these are some of the best wineries to check out in this valley. There are actually over 120 wineries in this area, and we couldn't put each and everyone on this list. So, we picked out the seven most visited and favorite wineries of tourists.
This area is mostly known for wine tours and everything, but it is more than that. If you are here for a long vacation, you will discover that yourself.
There are amazing river and lake tours, mountains to check out, parks to visit. So it is best to enjoy everything Okanagan-Valley has to offer. All you need to do is, sit back, relax, take a sip of wine, pose for a photo may be and enjoy everything.
Suggested Reads:
The 11 Most Amazing Things To Do In Kelowna
As an Amazon Associate, Icy Canada earns from qualifying purchases.