Not long after Toronto became a place for South Asian people to settle down, they invested in their food culture and made it popular among the Canadian people. Today one can see Japanese, Chinese, Vietnamese, and a fair amount of Indian restaurants scattered over Toronto.
Top 10 South Asian Restaurants in Toronto
We bring you the 10 best South Asian Restaurants in Toronto, including fusion and non-fusion Asian delights, allowing you to decide what's best for your feast.
a) TVX – The Vegan Extremist
Cuisines served: Thai, Indian, and Asian.
TVX or The Vegan Extremist is a little vegan food joint to drop by Kensington Market in Toronto, a silent modern twist to those of South Asian delicacies.
The interiors have traditional wooden decor and a handwritten menu on the wall, which is updated daily, this little restaurant is undoubtedly a must-try and is among the best South Asian restaurants in Toronto.
The restaurant mostly features vegan curries accompanied by Paratha or Rice, but strangely their menu has Butter Chicken(The BC) in it. Worry not! It's completely vegan, which subs in fried cauliflower instead of Chicken.
Butter Chickpea and Aubergine Curry are among local favorites. Its low-key and comfy decor gives a good vibe while sit-and-dining. Methi Thyme Tea is a must-try to refresh your nerves.
Must try: The Eggplant Curry, Curry tacos, Shroom Wings, The BC, and Methi Thyme Tea.
Address: 291 Augusta Ave, Toronto, ON M5T 1N9, Canada.
b) Pukka
Cuisines served: Indian
If you're craving traditional Indian food with a re-invented modern twist, Pukka may be the perfect destination for you.
This restaurant claims to be having high-caliber Indian fusion cooking in the city and is among the top-rated South Asian restaurants in Toronto. Chilli Brownie is one of them. Have you ever heard of Chilli Brownie?
It's a brownie topped with hints of chili sauce in it. The restaurant has a cozy, comfortable ambiance, with verses written in Hindi on their walls, perfect for family feasts, and an intimate dining experience.
A Lamb lollipop is one of the exquisite snacks a person can have here. Vegetarian options are available. Also, this food joint is a vegan-friendly choice.
Must try: Gunpowder Shrimp, Butternut Squash Samosa, Pomegranate Palmer drink, and Chilli Brownie.
Address: 778 St Clair Avenue West, Toronto, ON M6C 1B6, Canada.
c) South Asia Malaysian Cuisine
Cuisines served: Malaysian and Indonesian.
South Asia Malaysian Cuisine offers an exquisite menu of vegetarian and non-vegetarian South Asian delicacies featuring Gado-Gado (an Indonesian salad with bean sprouts, shredded cucumber, eggs, deep-fried Tofu and topped with shrimp) and Mee Goreng(Malaysian deep-fried noodles).
This South Asian eatery is among the best South Asian restaurants in Toronto, featuring modern decor, with foods served in clay dishes.
It's a great place to head for an Asian feast, with family or pals, one is going to have a cracker of time with Asian delicacies on the plates.
Must try: Sambal eggs, Honey Garlic Chicken wings, Curry Beef Brisket, and Malay Fish Curry.
Address: 3700 Midland Ave, Scarborough, ON M1V 0B4, Canada.
d) Makkah Restaurant
Cuisines served: Pakistani, North Indian, and Bengali.
This restaurant gets its name from the city of Mecca in Saudi Arabia, a holy place for Muslims, and is among the best North Indian and Pakistani restaurants in the Danforth region in Toronto.
Though it serves Pakistani and other Indian dishes, this food joint is Bangladeshi-owned. This place also features a big portrait of the Kaba in Mecca, the Muslim holy praying region.
Locals claim it to be the best Halal BBQ place in Toronto. Though non-vegetarian foods like Naan Kebab Rolls and Beef Biryani rule the area, vegetarian options are also available.
Meals are served in disposable plates and bowls. One can taste a tinge of Bengali dishes like Tilapia Fish, Pomfret Fish, and Rohu Fish curries are available too. Nothing can match the sweeter ends with Mango Lassi and Rasmalai.
Must try: Lamb Biryani, Beef Biryani, Tandoori Kebabs, Makkah Special Bihari Kebab, and Naan combo.
Address: 1020 Danforth Ave, Toronto, ON M4J 1M2, Canada.
e) Shangrila Tibetan & Asian Cuisine
Cuisines served: Tibetan and Nepali.
This Himalayan-influenced little food joint with a cozy Tibetan-style interior, this one of the best places in Toronto to salivate the Asian cravings and is among the best South Asian restaurants in Toronto.
Unique and famous for its well-reached menu selection from seafood sizzlers, curries, and beef or chicken specialties, this ultimate food joint is clean, tidy, well managed, and food freshly prepared from the oven.
From their Tibetan Corner in the menu, Jhol Momo, Shangrila Special Mix Momo, and Gyu-ma(a Tibetan style Beef sausage, cooked and sauteed with onion) are worth mentioning. Vegetarian options are available.
Must try: Chilli Pork, Jhol Momo, Shabtak(a Tibetan beef curry), and Se-Ku-Wa(tender pieces of pork marinated in a mixture of Tibetan spices and special sauce, served with lemon and chilly).
Address: 1600 Queen St W, Toronto, ON M6R 1A8, Canada.
f) Hanoi 3 Seasons
Cuisines served: Vietnamese
This Vietnamese food joint is among the most popular and visited South Asian restaurants in Toronto.
The best part of this compact food joint is that a live kitchen is attached where foodies can explore the first and last of a dish being made, and foodies can have authentic Vietnamese cuisine tasted.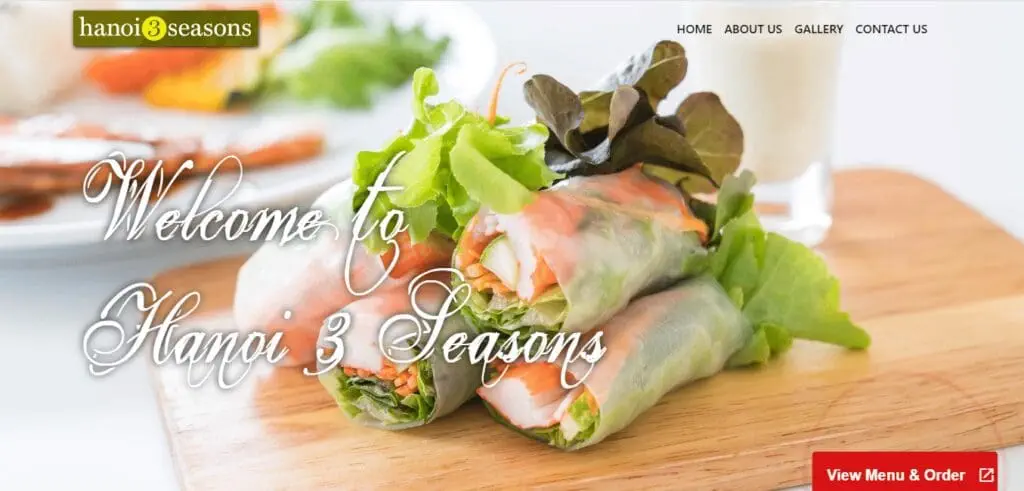 One can wine and dine here, courtesy of a bar attached to them. One can taste the 'Sinh-to,' a traditional Vietnamese smoothie here. Vegetarian options can be availed. They also have a new branch operating in Leslieville.
Must try: Pho Ga(Basil Chicken & Lemon leaf), Tom Nuong Xaor(spicy Shrimp with Lemon Grass), and Bo Xao Sate(spicy Beef Sate with basil).
Address: 588 Gerrard St E, Toronto, ON M4M 1Y3, Canada.
g) Madras Masala
Cuisines served: South Indian and Indo-Chinese.
Toronto has a fair share of South Indian restaurants, be it in Downtown or Little India or nearby cities like Brampton, Madras Masala just pops out of the list with its delicious South Indian food.
Toronto people love it and are among the best South Asian restaurants in Toronto.
Indo-Chinese fusion dishes like Chilli Paneer, Gobi Manchurian, and Chicken Fried Rice are served along with authentic South Indian delicacies like Dosa, Idli, and Uttapam.
More than ten types of Dosa choices are available. This place gives one a wide selection of bread and rice and also features in availing vegan and gluten-free foods. Madras Coffee after meals adds a strong South Indian aroma to the feed.
Must try: Badami Chicken(tender chicken pieces cooked in almond sauce), Prawn Saag(prawn cooked in spinach sauce), Malabar Fish curry(fish cooked in authentic Coconut sauce), and Lamb Navratan(tender lamb pieces cooked in cashew fruit sauce).
Address: 796 Bloor St W #1, Toronto, ON M6G 1L7, Canada.
h) 5 Spice Dining
Cuisines served: Sri Lankan and South Indian.
This little bamboo decor restaurant features Sri Lankan cuisine to the people of Toronto, and a surreal steal deals with weekend buffet options.
Termed as one of the best South Asian restaurants in the Toronto-Scarborough area, a foodie can taste perfectly cooked Sri Lankan Chicken Curry, Coconut rice & Mutton Sukka, Eggplant Curry, and Tofu Appetizers.
Golden Chicken Curry, which is a vegan chicken dish, is a must-try. One can give a perfect end to a meal with Wattalapam, a fantastic dessert to try. Vegetarian options are available.
Must try: Mutton Kothu Roti, South Indian Mutton Biryani, Golden Chicken Curry, and Khool(a Sri Lankan seafood soup).
Address: 2826 Markham Rd, Scarborough, ON M1X 1E6, Canada.
i) Oyshi Sushi
Cuisines served: Japanese and Korean.
There was a time when Toronto didn't have overflowing Sushi eateries. There are seemingly many options whether you like hand-rolled or maki, nigiri, or even U-Dong noodles, Oyshi Sushi is a high-end splurge for a Sushi corner in Toronto and is one of the best South Asian restaurants in Toronto.
Welcoming guests with complimentary green tea, one can have Tempura, Sushimi, Sushi Pizza, Chicken, or Beef Teriyaki with some beer to accompany, courtesy of to bar attached.
This Japanese ambient restaurant also features private booths for wine-and-dine with closed ones.
U-Dong noodles like Tempura Soba(Japanese-style noodles in a deep bowl of broth, with shrimp and vegetable tempura) and Nabe-u-dong(Japanese-style noodles in a bowl of stew, green onion, seaweed, fishcake, and seafood) are incredibly famous among the people of Toronto.
Must try: Avocado Roll, Boston Roll, Spicy Tuna Maki, Tekka Maki.
Address: 12 Queens Quay W, Toronto, ON M5J 2R9, Canada.
j) Chef's Hall
Cuisines served: Chinese and Asian.
This place is lovely. There are some great food options across nearly all cuisines. The evening vibe is amazing for some after-hours relaxation.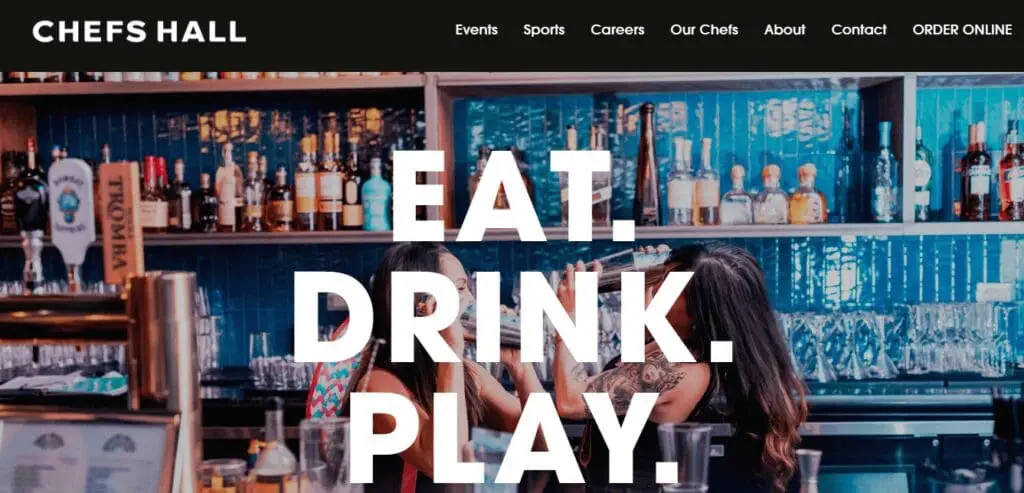 There is live music on some nights. The beer options are good too. Their espresso is just one of the best you will ever have.
Must try: Chorizo Burrito with Tortilla Soup.
Address: 111 Richmond St W, Toronto, ON M5H 2G4, Canada.
Conclusion
These are the top 10 South Asian restaurants in Toronto, which I think will be helpful in your visit to Toronto if you're either craving Asian delights or up for a family feast.
The above restaurants with a modern twist have secured their position among the top best restaurants for Asian foods in Toronto. They've mastered the skill to satisfy customer palate.
Which one of these is among your favorite South Asian restaurants in Toronto?