There has never been a better time to visit a water park in or around Montreal with the heat waves battering the city. You could visit a different waterpark every weekend this summer with all the options available!
Going to one of these water parks means you may avoid the oppressive heat in Montreal and have an exciting time with your friends. They are the best for combating sweltering heat waves and humid conditions, especially when the temperature is above 30 degrees Celsius and feels humid.
If you intend on visiting one of these water parks, don't forget to bring your swimwear, because it gets really hot in this snowy winter city sometimes. And now that summer has arrived, you can safely choose any of the sites listed hereby and go sliding and sledging as long as you desire.
Of course, you might enjoy a few cold drinks at the greatest Montreal picnic places or even visit some of the city's swimming pools, but when do you hope to get all wet? Take a deep dive into the greatest locations, enjoy the sound of water splashing, take a day trip from Montreal and be ready to be in the wettest waterparks.
So this summer, escape the sweltering heat by visiting a waterpark where you may experience the excitement of a fast slide, ride a river raft with friends, and float down a lazy river. You must visit 11 fantastic water parks, all of which are within a three-hour trip.
Locals and visitors visit Montreal's water parks, which feature some seriously cool rides, to escape the sweltering summer heat.
To make your job easier, we've selected a few of Montreal's best water parks that are well worth a visit. Choose the one you and your friends or family wish to visit after looking at them.
10 Montreal Water Parks To Visit-
1. Mont Cascades – Outdoor Water Parks
Two hours from Montreal, within the Outaouais region, this lush park offers a wide range of affordable water activities and 25 kilometers of hiking paths.
This area does not need waterfall chasing. Little ones can avoid being enticed by height-restricted attractions thanks to short cues and family-friendly slides. Apart from a three-foot deep pool and a five-foot deep "beach," Splash Forest and the new Kidz Zone offer further diversions.
However, there are a handful of large thrill rides, including Tornado Alley, a gloomy tunnel with an angry windstorm for adults and older kids.
Bring your family to the multilane sports zone so you may race each other down water slides. Along with a pool and kids' area, Mont Cascades offers a variety of water slides to enjoy.
2. Aqua-Parc Saint-Pie
Whether or not you propose to pitch a tent for the weekend or select a day-trip dip, Parc St-Pa provides guests with grounds for quiet habitation.
On the far side of normal encampment fixtures like fireplace pits, petanque courts, arcades, and vocalizing nights, St-Pie campers will cough up additional money for access to seven water slide circuits, a giant blue pool, and arranged water games. Before heading into the city, run a couple of motor vehicle laps at Sanair Super Speedway's following door.
Only 1 hour from the metropolis Parc St-Pie has six water slides, a swimming bath, and water games for the children. Additionally, Parc St-Pie permits you to camp on-site, and you can purchase bundled habitation and water park passes for added savings.
3. Valcartier Parc Aquatique, Village Vacances Valcartier
Twenty minutes north of Quebec, this four-star resort's Ice Edifice is the main attraction in return winter. However, its indoor and out of doors waterparks build a splash with guests year-round.
With a hundred water games, 2 themed rivers, and a few thirty-five slides—including Mount Everest, the best fast slide on the continent, and an imaginary place, the heart-racing new simulated free fall, the place makes waves with families. But that's not it, as Valcartier conjointly excels in hydropathy with Aroma Spa, a hideaway for hydrating facials and Swedish massages capped with quiet scents and balms.
This 102,000-square-foot indoor water park always counts for a great day, regardless of the time of year or the weather.
4. Bromont Water Park- Lazy River Water Park
Cool off at Bromont Water Park this summer, with thirteen water slides and 4 pools. Search out the waterslide good for the extent of thrill. Whether you are searching for all the slides labeled as straightforward, difficult, terribly tough, or extreme, this waterpark has slides for individuals of all talent levels.
This water park is located in a metropolis space that offers a splash pad to children and adults where they'll relax and play with their family and friends. There are water jets that get activated by motion sensors and provides an opportunity to own fun and relax. With the exception of the splash pad, there are restrooms, shaded rest areas, and ever-changing rooms for the convenience of individuals.
Bromont waterpark has four pools to relish clean, hygienic, and fresh. Thus, you'll soothe your nerves and refresh your senses.
Hit the slopes with fourteen downhill slides at this ski-park-turned-water-park just an hour's drive from the metropolis.
Slide at steep speeds down L'Anguille, zipline, and dive from the Chariot DE cat, or catch some waves in one in all four heated pools. Pack a picnic or snack on a dish of naan and sip on sangrias and smoothies at Bar Olé! Olé!.
Admission to the waterpark grants you access to off-roader expertise, hiking trails, and alpine luges.
Bromont waterpark is the best place to spend a hot summer day with your family or friends, permitting you to cool down and luxuriate.
5. Amazon Water Park, Granby Zoo
The Granby Zoological Garden has been a favorite place to go to for friends and high-school trips since 1953.
Granby Zoological Garden Waterpark is the best aquatic park close to Montreal. It offers water slides, games, a lazy stream, and a huge wave pool. You'll be able to get pleasure from the journey stream to float down and revel in the Amazon woodland.
At the same time, you'll be able to dump water buckets on your family and friends. Don't forget to go to the Captain Dragon's Den with your youngsters. Here, you'll be able to get pleasure from a large cannon and spray bubbles on one another.
In addition to Yalaka, the most important heated wave pool in Quebec, the 45,000-square-foot Amazon-themed park options a foam basin with a large, bubble-blasting cannon. Journey seekers will catch glimpses of Hurakan, the puffing Mayan god of wind, and a smoldering volcano from the 15-meter tall tower for the boa, Ara, and Piranha slides.
If you're visiting with youngsters, you would like to go to the Captain Dragon's Den, where a large cannon can spray everybody with bubbles.
6. Jay Peak Resort House
If you're coming up with a vacation to a metropolis with your children or friends, this one is the simplest place to go to in the summer. You'll jump around together with your children and experience your childhood. However, kids below the age of 6 aren't allowed.
This indoor water park is open all year. Children can love the Mill pool play space, whereas adults will take a look at their courageousness at The Drop water slide wherever you fall in at forty-five miles per hour and do a full 360-degree flip before reaching rock bottom. Given such a lot of quite simple water slides here, you'll be able to learn to surf or blues board on the Double Barrel Flowrider, float on the lazy stream, or soak within the hot tubs.
Pump things up before touching ski peaks or golf greens with La Chute, a 65-foot drop from a tube thus tall it juts out of the building. At forty-five miles per hour, the 360-degree waterslide ends as suddenly as it begins with a 3-2-1 numeration and a trapdoor floor slippy out from beneath your shriveled toes.
The Water Park also offers interlocked floating modules placed in water and meant for water activities. You may notice ladders, flip bags, obstacles, trampolines, stairs, and slides wherever you race with your friends.
7. Calypso Theme Waterpark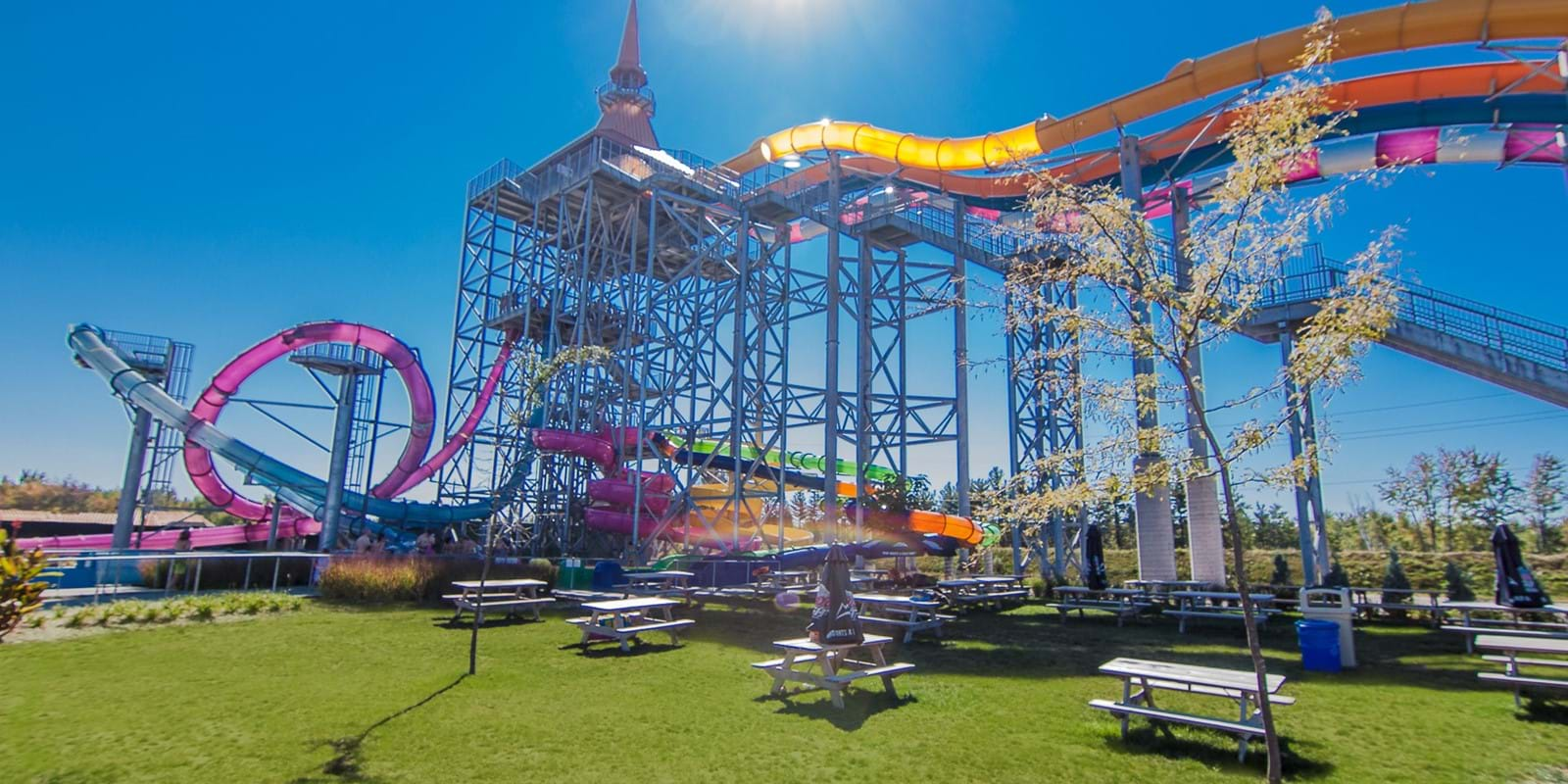 Cross the Quebec-Ontario border for Canada's biggest themed waterpark, home to Summit Tower and Calypso Palace, the tallest waterslide and largest wave pool within the country.
Canada's biggest themed water park has one thing for everyone! With thirty-five water slides, a wave pool, non-public cabanas, and 2 themed lazy rivers, there are tons of things for your family to do.
Since the gap in 2010, Calypso continues to boost the bar, sinking millions into new experiences like Aqualoop, a 2.5 g power-driven drop, and Bantoid Language Expedition, a watercourse ride through deserted islands, waterfalls, and flooded caves. As titans of the Waterworld, the park house owners offer many practicalities, like room dryers and a fingerprint payment possibility.
This waterpark offers many activities for families and friends. Don't forget to rent a Palace Suit or high muckamuck collapsible shelter if you wish to pay for the whole day. These cabanas are ideal for storing your stuff and enjoying the laid-back atmosphere.
8. Mont Saint Sauveur Water Park
This large water park offers over twenty waterslides, a wave pool, a lazy watercourse, a hot tub, and a play space for the children.
Hit the rapids of the Colorado watercourse, a two-person raft ride that pummels 700,000 liters at you as you wind your method down the mountain, or relax with a body of water shoulder massage within the heated, adult-only Pool-spa.
Savor the read from the Alpine lift terrace with an après-swim cocktail; however, drink and dive at your own risk.
Once you're all splashed out, take your price tag not far away to Parc for 5 free thrill rides. The family enjoys rivers and marine life as their water playground, sandcastle waterpark, and other aquatic thrills. Younger kids enjoy big kahuna's water park's water world and thrilling rides.
Before visiting Mont Saint-Sauveur Water Park, go to their website, which lists what water slides are open that day.
9. Parc-Safari Aquaparc
Escape the warmth at this tropical oasis in Saint-Bernard-de-Lacolle, simply south of the metropolis- Parc Safari Aquaparc.
Spend the day on their eight water slides with the new Dolphin lake. Here the water park is targeted at young kids. Thus, there are many water sprinklers, kid-friendly water slides, lazy rivers, and walk pools to relish.
Enclosed in your day pass to the water park is admission to the installation, wherever you'll relish the drive-through expedition. This installation is the sole place in Quebec where it's doable to visualize African animals.
10. Super Aqua Club
Near Montreal, the Super Aqua Club offers a variety of aquatic sports like slides, a floating obstacle course, and a lazy river. You can't miss Tornado because it is the best water slide in the Super Aqua Club.
This aqua club, located in Pointe-Calumet, straddles two lakes and combines a beach with a waterpark.
There are many attractions at the Super Aqua Club, including water slides, a lazy river, and an over-the-water obstacle course. Two rides you shouldn't miss are the Tornado, a water slide taller than a seven-story building, and the Wipe Zone, where you must cross the structure without falling into the water. In addition, Super Aqua Club offers private beach areas where you can book a gazebo.
Take on the tall waves of Tsunami, the nation's first and only underwater rollercoaster, and then try not to crash and burn in Wipe Zone, a floating obstacle course with a brand-new halfpipe. Mini aqua-clubbers can row miniature canoes or flap their water wings in wading pools decorated with castle and pirate themes. You may either stop by Splish Splash for hotdogs, beavertails, and ice cream or pack your own picnic lunch.
Wrap-up Thoughts
You wouldn't have to worry about the heat during the summer months with these water parks in Montreal. These water parks guarantee that visitors will enjoy their day to the fullest, whether alone or with friends and family.
There is no chance of disappointment or a lack of suitable rides at these water parks in Montreal, North America. If you're planning a trip to a country in North America and you have a few days to spend in or near Montreal, go to the nearby water parks to cool off in the summer.
Icy Canada