Centreville Amusement Park is on the Centre Island of Toronto Islands. If you want a day out and fun activities for young and adults, join the delightful spread at this remarkable place. The 1900s turn-of-the-century-themed buildings of the park are all welcoming.
The place is a true treasure, promising a great view of the Toronto skyline. This family destination is equally worn by locals and tourists.
A Brief History of Centreville Amusement Park
Centreville Amusement Park, operated by the Beasley family since 1967, has fun attractions for young kids, children, and adults to join them. The government of the City of Toronto has leased the property to Beasley since then.
Beasley family has nicely kept the entire amusement park area and is constantly upgrading it for the perfect family fun. The 600 acres property at Centre Island once had seven rides.
The amalgamation of the closed 1955s Sunnyside Amusement Park and 1930s Hanlan's Point Amusement Park, Centerville, offers recreational attractions for all.
Location – Centreville Amusement Park
The amusement park is located on Centre Island. Centre Island is part of the Toronto Islands. The Island is offshore of Toronto, Ontario, Canada.
a) Contact
21 Avenue Of The Islands, Toronto, Ontario, M5J 1A1, Canada.
website- www.centreisland.ca
Phone- 416-203-0405
When to Visit Centreville Amusement Park?
Centreville Amusement Park is a great theme park operated from May to September.
You can enjoy it late in the evening from June to August (weekends only). Check details. The amusement park closes early in May and September.
How to Visit?
Centreville Amusement Park is a short ferry boat ride from Toronto's downtown. You can take a ferry boat from the Jack Layton Ferry Terminal to Centre Island.
Toronto ferry docks are located at Bay Street and another at Queens Quay.
Entry Charges and Booking Information
a) At the Theme Park
You can buy Individual tickets at the Centreville Ticket Counter. Go for individual ride tickets if you are going for select rides.
All-day passes include 30+ rides and attractions for the season long, and prices vary for adults, children, and families.
Rides and Attractions
The Centreville Amusement Park boasts 30 rides and attractions that too family-friendly. Below are the details of some of the 30+ rides at the themed park.
a) Rides
i) Sky Ride
Sky Ride, or the Toronto skyline, is an aerial ride in the Centreville Amusement Park. The five towers long, this aerial ride crosses a farm,  a water body, and two islands without mid-stations.
The chairlifts are comfortable, but it is better to hold the side angles tight. The number of twin chairs is 50.
ii) Scrambler
Enjoy the colorful light and sound show by enjoying a spinny ride in the dark.
iii) Log Ride
Log Flume Ride is the most liked by young ones. Here is a look at the complete ride.
iv) Ferris Wheel
Have a view of the themed park from the Ferris wheel's height. The Windmill Ferris wheel is not only antique but makes the place all the more aesthetic.
v) Rockin' Ferry Ride
Rockin' Ferry is the ride for you if you wish to experience what's been on the rough sea. Make sure a rider over 4′ accompanies you; if you are 4′ or less than that.
vi) Miniature Train
Two miniature trains with five passenger cars in each run on a 2ft narrow gauge. Kids really like the little journey around the park grounds and the farm.
So spend some time with your family in "Lil Red Express" and "Lil Blue Express."
vii) Toronto Islands Mine Coaster
It is comparatively slower than other coaster rides but a fun two-minute coaster ride.
viii) Bumper Boats & Bumper Cars
Enjoy the dodgy ride in the Coote's Cattle Coral. The newly-themed rides are entertaining.
ix) Splash Pad
The kid-friendly splash pad is located west of the mini golf course. Isn't it the best way to beat the heat, and that too completely free?
x) Swan Ride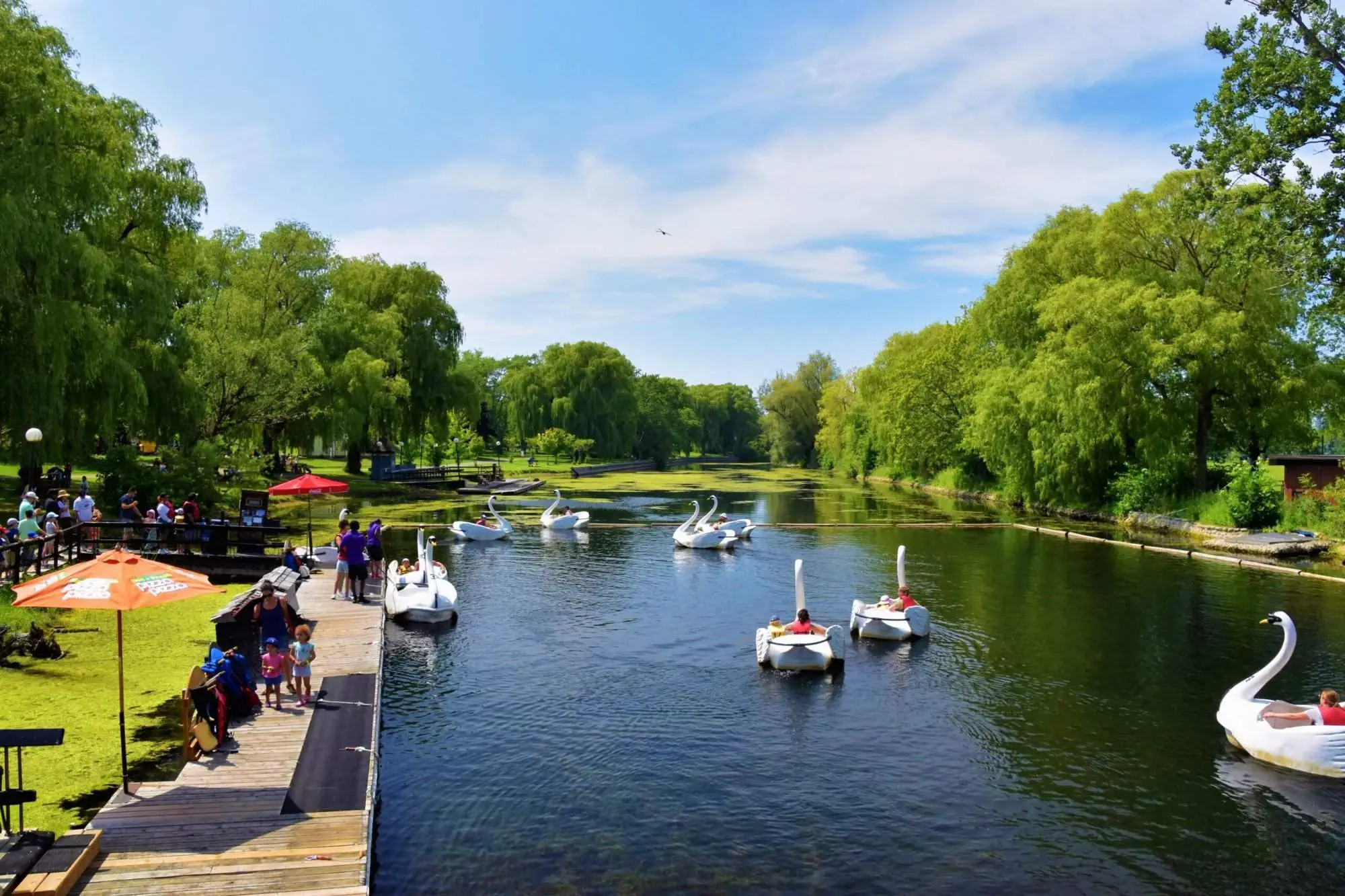 Swan ride is a two-person ride and can be steered by one. This water ride amid lush greenery soothes one's mind and soul.
xi) Antique Carousel
The theme park has a 1907 antique carousel. The 52 hand-carved animals to ride on include cats, an ostrich, pigs, a lion, and rabbits keeping it trendy from the typical style of only horses. 36 of 52 on this antique carousel move up and down on brass pillars.
Two fancy seats and a Wurlitzer band organ add a majestic grandeur to the carousel.
Apart from the above rides, new rides are constantly added, like Twirling Tea Cups, a recent one.
b) Ride Tickets
Although there is no admission fee for entry to Centerville park, all 30+ rides need tickets. The number of tickets per ride varies. For example, you need 3 to 6 ride tickets for the sky ride. Here are some extraordinary features of ride tickets at the Centerville amusement park:
Tickets do not expire, and you can use them whenever you want.
You can even buy a sheet of 30 or 65 tickets.
A family pass in the form of a wristband for 4 is also available.
You can buy tickets online too.
Food Outlets
Centreville Amusement Park has many Food outlets. Click here for the list of restaurants in the amusement park.
Apart from the above list of restaurants, there are many other restaurants in and around Centreville Amusement Park.
a) Carousel Cafe
Carousel Cafe, located adjacent to the Centreville Amusement Park, is a cozy lakeside restaurant in the heart of Toronto Island. I am sure the listed features will take you to grab your favorite food.
The outdoor patio soothes your brain and appetizes your vision.
What else? You can ask for gluten-free food here.
This fully licensed restaurant offers a range of cocktails, tropical drinks, beers, and wine to beat the heat.
b) Shopsy's Island Deli Bar & Grill
Another beautiful restaurant with a patio on the island. You may undoubtedly experience huge footfall and long waiting at your favorite restaurant.
To book a reservation at the restaurant of your choice, call: (416)203-0405.
To book a reservation at Toronto Island BBQ & Beer Co., call: (416)504-4841.
Far Enough Farm
Walk around with your kid or children and meet the pet animals at the Far Enough Farm located east of the Centreville Amusement Park in Centre Island.
It is a must-family visit for city parents who wish to teach petting etiquette to their children. This 1959 originated animal farm now has 40 species of farmyard animals and birds.
The farmers at the far enough farm are friendly and have experience taming horses, cows, sheep, and goats. The farmers, while performing their duties at this animal farm, make sure to answer all the queries of their visitors.
Celebrate Birthdays
Centreville Amusement Park is the best place to celebrate your kid's birthday. Centreville offers party packages, including all-day ride passes, loot bags for guests, lunch, personalized birthday cake and cookies, a tent, and meet and greet the Beasley Bear. Contact at mail id:  info@centreisland.ca
Tips for Pleasurable Day Out
It is always better to visit early and plan your day to avoid long lineups. It always opens at 10:30 am, so you have enough time to explore the nook and corners of the fantastic amusement park.
Take big rides first to avoid waiting during peak hours.
Bring your refillable water bottles and light snacks to beat the thirst and hunger between rides.
A big group enjoys the best at the Centreville amusement park. If you wish to let the child in you sail free, this amusement park replenishes you when you visit with your little friend.
Since some amusement rides are age and height-restricted, it is better to check the sign at the ride or check with the operator.
Before exploring, check the operational details online. It is best to get an online pass for individual ride tickets or passes for food outlets.
The island and the Centreville theme park are wheelchair accessible. The wheelchairs are available for rent at First Aid and Lost Children Center by showing two public IDs.
Weekends are generally crowded, so plan an early-day trip.
Takeaway
Reaching Centreville Amusement Park via ferry ride is great fun in itself. The treasure of 30 rides and attractions leaves you with lifetime memories. So whether you are a fun-loving person or love to relax, Centreville Amusement Park in Toronto Islands allows you to explore it in your way.
The place is best and historic with nice rides, pocket friendly, and a great gateway to be with grand family members. Let your little one freely interact with the farm animals at Far Enough Farm and see them gaping at the planes flying overhead into the nearby airport.
As they say, "It's Always Sunny At Centreville."
If you have planned a brief stay in downtown Toronto.
Frequently Asked Questions
Q1. Is Parking available?
Yes, Centreville Amusement Park has paid parking facility.
Q2. Is there any infant-friendly ride in the theme park?
No, infants are not allowed on any ride.
Q3. Is drinking or smoking allowed in the theme park?
Smoking and drinking are not allowed on rides or when waiting in line.
Q4. Are cycles, strollers, or wagons available for rent in Centreville?
No, but you can rent one in Centre Island.