Calgary gardens are one of the most beautiful attractions Calgary has to offer. Along with being the world's third most livable city, Calgary also has a lot of botanical Calgary gardens that make it a center of fresh air and a city worth exploring for its nature.
Calgary has the best places for you if you're craving a touch of nature and leisure. Calgary's gardens are a true gift for your eyes and your soul; with their flowers, wildlife, and history, you can be guaranteed to have a great time.
With a long list of beautiful Calgary gardens to explore, pinning down the most beautiful Calgary gardens may seem like a task, but here are the 10 best gardens Calgary has to offer!
1) Botanical Gardens Of Silver Springs
The first on the list of Calgary gardens is the Botanical Gardens of Silver. They are considered a 'hidden gem' of Alberta, Canada.
Open to the public year-round, this beautiful garden of Silver Springs is placed in a Birthplace Forest. There are 18 individual gardens with unique features in Birthplace Forest. These gardens are connected by walking paths with pretty flowers, fruit trees, and shrubs.
One highlight of the botanical gardens is their labyrinth. It opened in 2013 and is the most impressive outdoor labyrinth in Canada. Another highlight is its Shakespeare Garden. The Shakespeare garden of Botanical Gardens of Silver is the only kind in western Canada. This beautiful garden has plants and greenery mentioned in some great artists' works.
2) Dorothy Harvie Gardens
Another mentionable garden in this list of Calgary Gardens is the Dorothy Harvie Gardens. Dorothy Harvie Gardens are located within the Calgary zoo. The gardens have a conservatory with a grand collection of tropical plants.
Another addition to the Calgary zoo is the Enmax conservatory. The project reuses and reinvents two 40-year-old greenhouse structures. New energy-efficient glazing systems provide a supportive environment for ethnobotany pavilions.
These two highlights of the Calgary zoo make it a great place to be in touch with nature.
3) Reader Rock Garden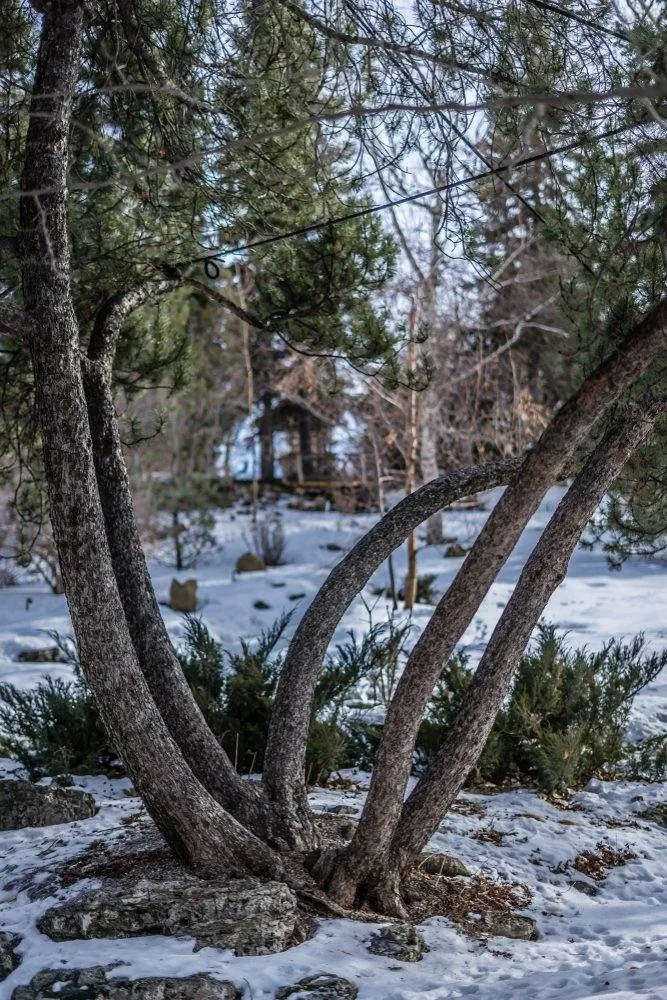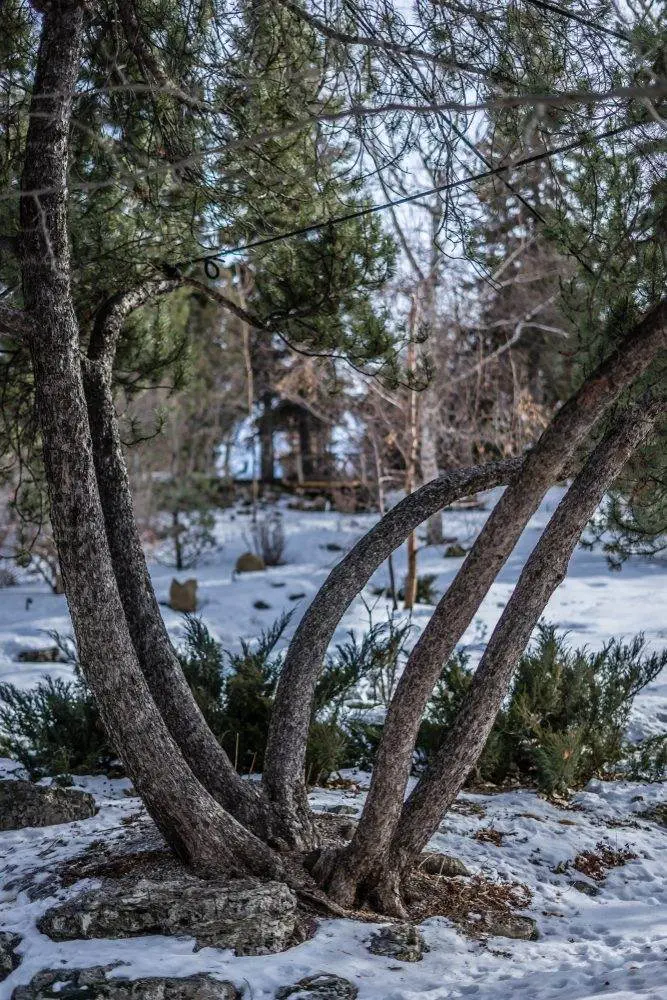 The Reader Rock Garden is associated with William Roland Reader and is third in this list of Calgary gardens. This historic park is one of Calgary's most beautiful gardens. It has a beautiful cultural landscape that restored the Reader house, rock pathways, bridges, and beautiful flowers. It's perfect for group events, like weddings and family gatherings. It is also the first of the Legacy Parks to open.
The Reader Rock Garden is built on a hillside south of Calgary. William Roland Reader got the inspiration for creating this garden from British influences. This beautiful place consists of rock paths, steps, and walls which form plant beds into sections of specimens. It features naturalism, informality, and alpine settings. It's been regarded as one of the most beautiful gardens on the Western side of Canada.
Reader Rock Garden is also one of the Calgary gardens with a cafe. Reader's Garden Cafe is an excellent cafe for relaxing and having good conversations.
4) Devonian Gardens
This park is an enclosed space maintained by the City of Calgary Parks and covers a full city block. J.H. Cook Architects and engineers designed Devonian Gardens. The Devonian Group of Charitable Foundations and Calford Properties donated them to the city.
The Devonian Gardens is a large indoor park and botanical garden located in Calgary, Alberta, Canada. The Devonian Gardens are fourth on the list of Calgary gardens worth exploring. Indoor Devonian Gardens are located on the Stephen Avenue pedestrian mall and are enclosed with glass on the top floor of The Core Shopping center.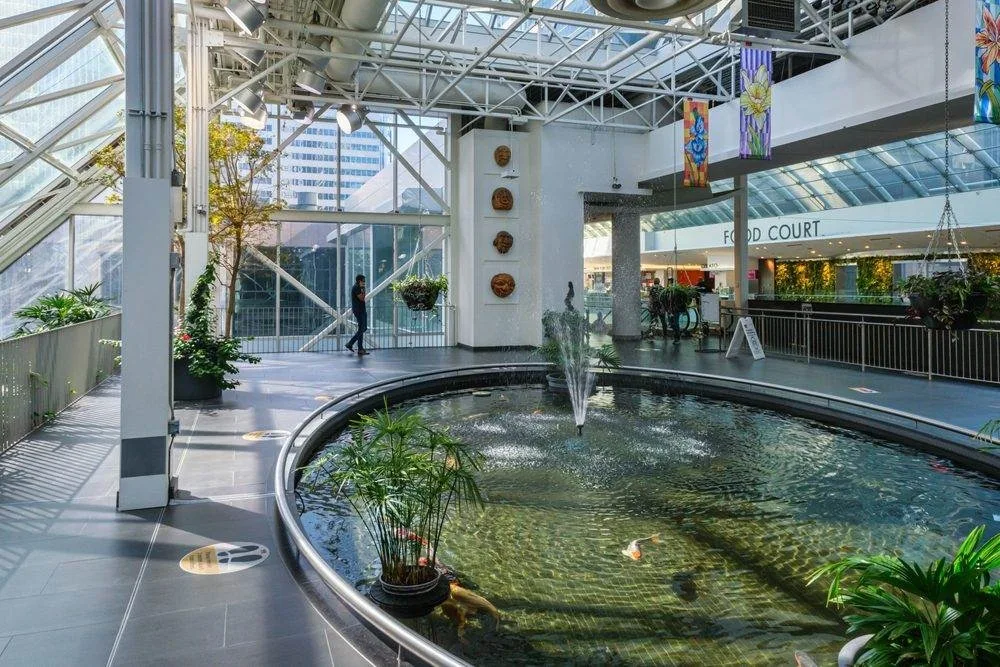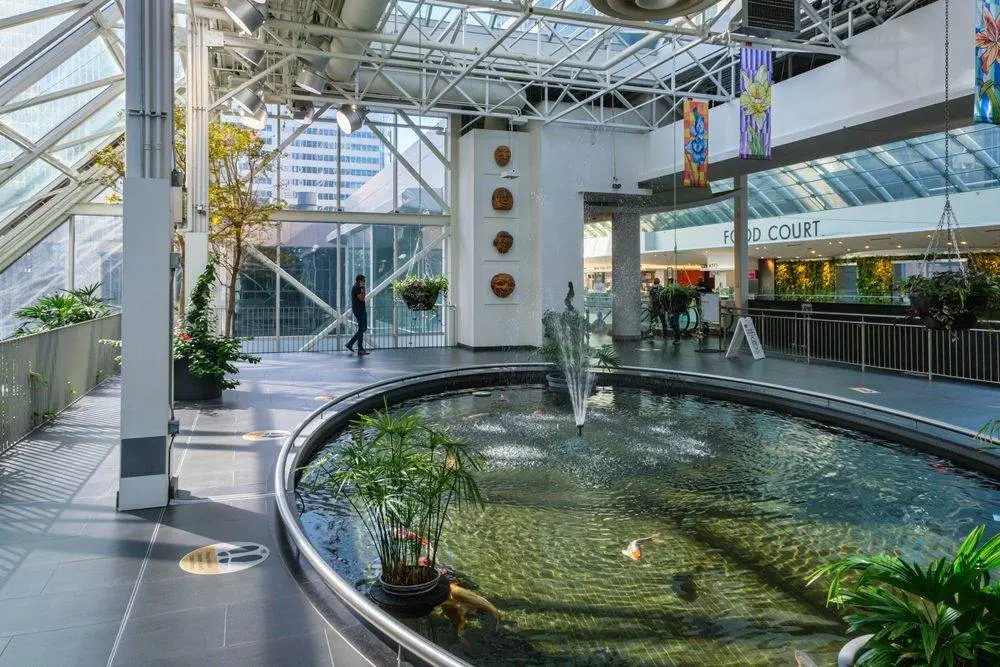 The gardens include a living wall, fountains, and a children's play area. They also have more than 55o trees and a space for events. The space also holds over 20,000 plants and many waterfalls. Additionally, a full-service restaurant is available if you get hungry.
After a renovation in 2012, the Devonian Gardens now have a living wall, new plants, and a new water feature.
5) Beaulieu Gardens
A National and Provincial Historical site, museum, and gardens, Lougheed House, is situated in Calgary's Beltline Community. It was built by Senator James Lougheed and his wife, Lady Isabella, in 1891. Visiting this beautiful Calgary garden will allow you to view some spectacular flowers, weddings, and vegetable gardens.
Isabella named it 'Beaulieu' after the mansion was built, which means 'beautiful place' in French. And from here, the most beautiful Calgary gardens, Beaulieu Gardens, were brought.
The Beaulieu Gardens have many shrubs, many of which have been in Calgary since the Victorian era. They also have a cutting garden and a vegetable garden.
6) Riley Park In Senator Burns Memorial Rock Garden
Senator Burns Memorial Rock gardens were initially a part of Burns Manor and were owned by Senator Patrick Burns. It counts in the list of one of the most beautiful Calgary gardens because it is the ultimate spot for a warm summer day.
Riley Park includes picnic sites, water fountains, concessions, and a wading pool. It also has a stage that plays free concerts during the summer. Riley Park is also home to the Vancouver Olympic/Paralympic Centre and Nat Bailey Stadium.
Riley Park has two cricket grounds: Calgary and District Cricket League's flagship. These venues have been used historically for Canadian cricket.
7) Lawrey Gardens
Lawrey Gardens is one of the best Calgary gardens in Canada. It is a part of Edworthy Park and is located near Bow river. It's a perfect destination for hiking and exploring native wild plants.
Its collection of native grasslands makes it one of the best Calgary gardens. It also has its fair share of wild animals. Additionally, it also has an area for your dog to enjoy.
8) Cascade Of Time Garden
The Cascades Of Time Gardens is a little oasis a few minutes away from downtown Banff. These Calgary gardens are covered with pathways leading to a bed full of flowers and trees. It has a great view of Banff Avenue and the Cascade Mountains and has a great number of interactive exhibits. This Calgary garden has many ponds, fountains, and viewing benches.
9) Quinterra Legacy Garden And Park
The history behind this garden makes it one of the Calgary gardens worth the visit. Lawrence, Zackariah, Joshua, Kaiti, and Jordan were five young adults who passed away on April 15, 2014, in Brentwood in Calgary. Hence, their families gathered to help society and tell others they appreciated their support.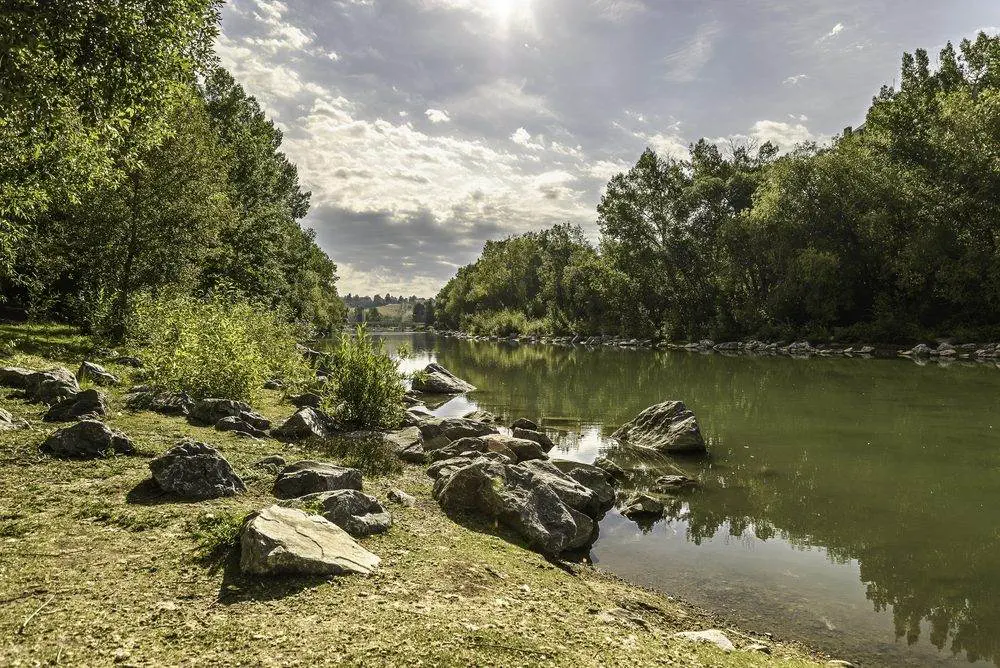 Quinterra Legacy Garden is a uniting musical garden showing hope and creativity. It allows you to interact, play music, dance, and celebrate life in hope. It is the first of Calgary gardens to be dedicated to music and performance entirely.
The elements of this garden represent the five lives lost. Visitors often feel inspiration and creativity here. All the elements in this park stand for the number five – five leaves, branches, roots, a five-pointed star, and five chairs before five flowering trees in the garden.
10) Prince's Island Park
The last in this list of the most beautiful Calgary gardens is Prince's Island Park. It is spread over 20 hectares of land and is named after the founder of the Eau Claire Lumber Mill, Peter Anthony Prince.
Prince's Island Park is an urban park on an island in Bow River. There are a lot of things you can do here. You can hike along the hiking trails and stroll around the beautiful pathways. You can enjoy festivals like Calgary Folk Music Festival and Heritage Day celebration. You can also canoe in the river after a picnic with your family.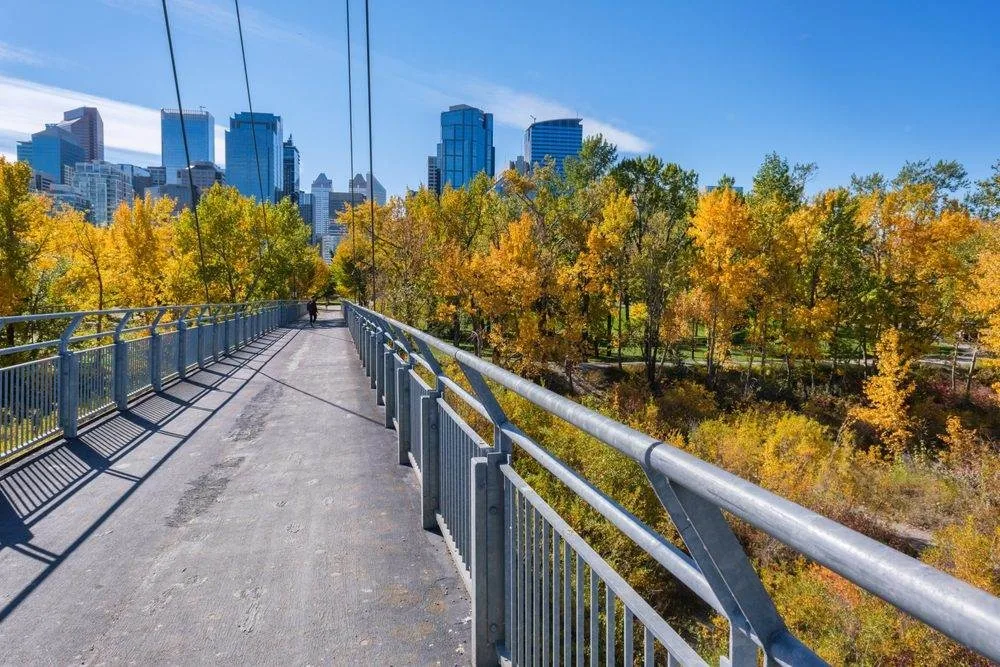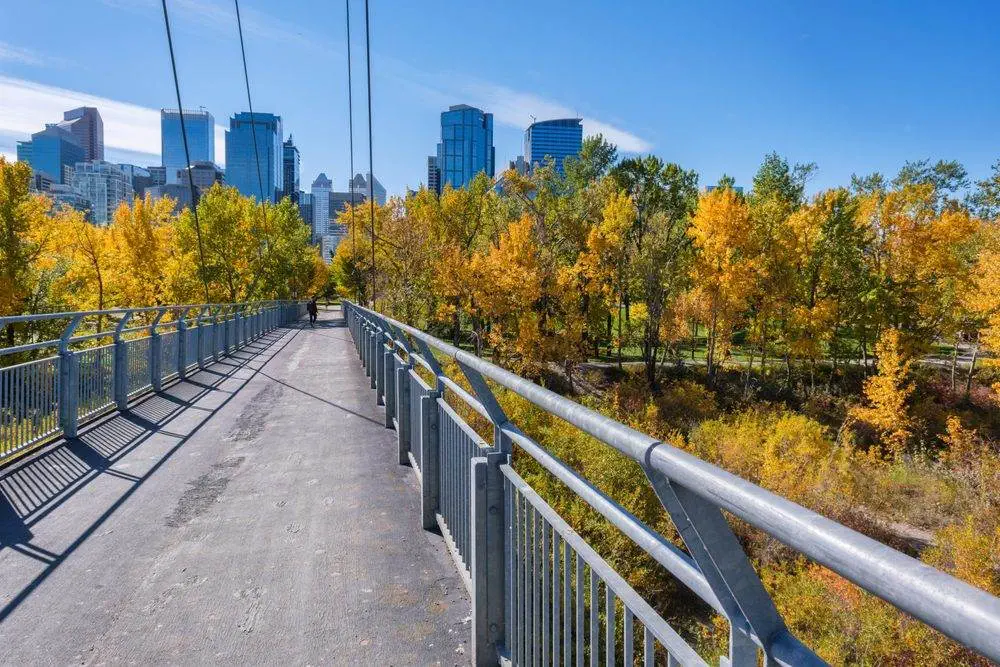 There are a lot of beautiful flowers and water fountains to amaze your eyes. The best highlight of this great place is its Chevron Texaco Learning Pathway, an environmental pathway on the park's east side designed to treat stormwater. Once you're done enjoying the park, you can go and shop at the Eau Claire Market.
Final Words
If you've already visited a lot of gardens in Calgary and are wondering about what to do next, check out this article: 15 Best Places To Go In Calgary
A few other parks and gardens must be mentioned because of their excellence. Old Botanical Gardens are large, with wetlands, benches, trees, and beautiful flowers. Gerry Shaw gardens, while smaller in size, is gorgeous and surrounded by tall trees, making it a great spot for a romantic walk.
Finally, Coutts Centre for Western Heritage in Nanton is a great spot for weddings and events, a great place to remember the Western Heritage of Canada. Its diverse heritage broadcasts flowers reflective of cultures, like peonies and poppies.
Spring is the best season to visit these gardens. Greener grass, blooming flowers, bright sun – all these make it easier to stay upbeat and smiling. Calgary has a lot of cold, dull winters, but thanks to its beautiful gardens, the color doesn't die. So, what's the wait for? Start today and check out all these beautiful Calgary gardens!
As an Amazon Associate, Icy Canada earns from qualifying purchases.
[amazon_auto_links id="81298"]
The Icy Canada team strives to create content that matters. It's why our content is written by travel writers, authority experts, well-known authors, and niche experts. Our content is also periodically reviewed by expert authors for accuracy and trustworthiness.
As an Amazon Associate, Icy Canada earns from qualifying purchases. [amazon_auto_links id="81298"]