A guide to the best Calgary Parks
Calgary is a city in Alberta, Canada. It is home to one of the most beautiful and prominent parks globally. At present, there is a total of 5200 parks in Calgary. Some of the parks even support bio-diversity.
Some parks are the largest in North America, and some even host various festivals. Some are famous for their hills, hiking trails, and so on. Parks are the best way to be with nature and rejuvenate yourself. There is something for everyone in the Calgary top parks.
Below, we have curated some of Calgary's best, visit-worthy parks and the very interesting stuff that will leave you and your family in awe.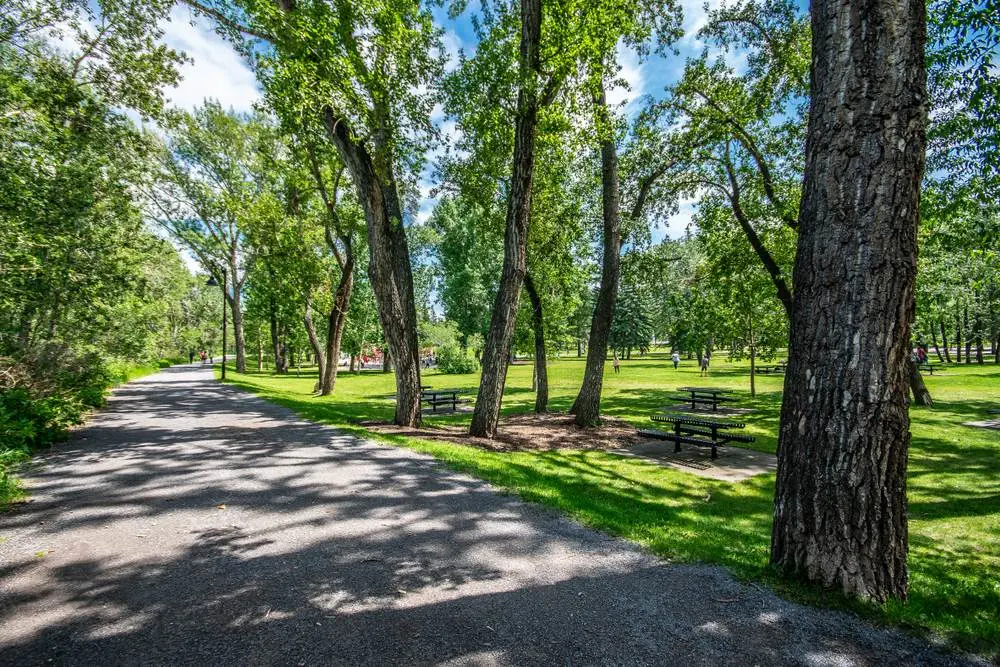 1. Fish Creek Provincial Park Of Calgary Parks
Fish creek provincial is one of the most beautiful parks, southwest, Calgary, Alberta, Canada. It is the second-largest urban park in Canada with an area of  13.48 km2 (5.20 sq mi), after Rouge National Urban Park in Greater Toronto Area, Ontario, followed by Pippy Park in St. John's, Newfoundland, and Labrador. There is a beautiful park in Ontario, Niagara Park, in Niagara Falls.
Fish Creek has recreational activities for almost every age group. It was founded in 1975, and the park got its name from Fish Creek, which flows through the park and connects with the Bow River. There is a man-made Silkome Lake in the southeast direction of the park with gigantic trees and the best place for groups seeking nature.
Hiking and biking trails are pretty famous here as there are more than 100 kilometers of paved and unpaved trails; it is bliss for hikers as well as for couples seeking nature+.
There are jogging paths for joggers. There is a boat launch at Bow River, so you can enjoy boating here. The boat launch remains open from April 1 to October 31. Bird watching is a pretty nice deal here as there are more than 200 bird species to observe, including great blue herons.
You can go fishing in the Silkome lake and bow river. Swimming is allowed in Silkome lake. Other activities that you can enjoy in this ark are walking, wildlife watching, rollerblading, and winter activities.
Animals found here include deer, owls, beavers, coyotes, garter snakes, and frogs. There are more than 200 species of birds in this park to observe. This big park is zoo-wheelchair-friendly and walker accessible.
A curious birder may also see rare sightings of American blue herons and white pelicans. Recommendation from local insiders: Patrick Twomey's. It is one of the best-hidden gems for nature attractions.
2. Bowness Park of Calgary Parks
Bowness Park is a 30-hectare urban park, on the bow river, in Bowness, one of the parks, northwest Calgary, Alberta, Canada. It has been serving Calgarians for over a hundred years now. One of the best activities to enjoy is ice skating on the lagoon in the winter.
This park became very popular due to the streetcar service. On weekends 25,000 people would visit the park, and 28 streetcars were used to control the traffic. In 1911, John Hexel donated land for the park to extend streetcars. The streetcar services were discontinued in 1950.
In those days, the park had numerous facilities like a swimming pool. There was a lagoon for canoeing and boating, a merry-go-round, a dancing pavilion, camping sites and cabins, and a scenic railway. Most of these attractions are gone today.
It does not matter in what season you visit Bowness park, you and your family will have the best time to spend here. The park provides picnic tables, fire pits, barbeque setups, and picnic shelters( Book your picnic sites here). In summer, you can enjoy the wading pool.
Seasonally, the University of Calgary Outdoor Centre runs mini-train rides throughout the park. For boating on the lagoon, you can even rent a boat. In winter, you can try cross-country skiing or skate on the lagoon. Kids can enjoy mini-golf and train rides.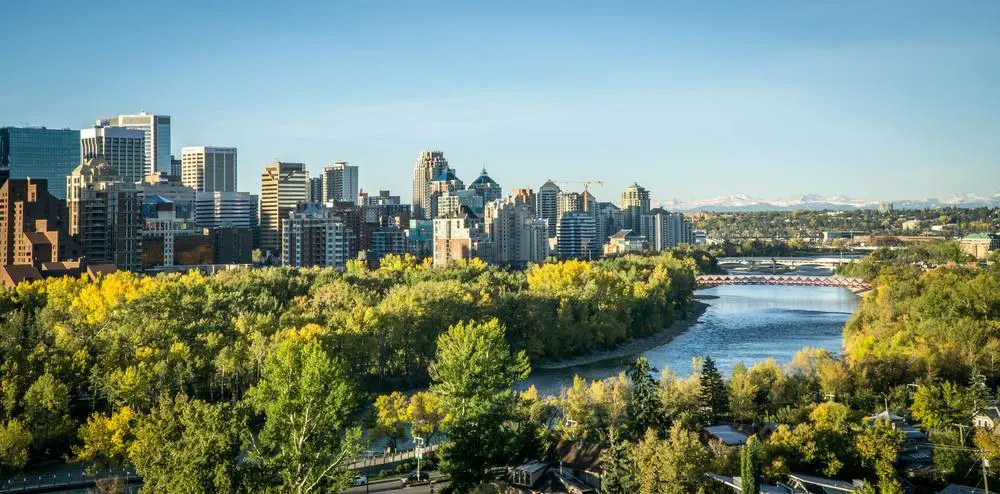 3. Edworthy park of Calgary Parks
Edworthy Park is located along the south shore of the Bow River, in the northwest section of Calgary, with a spread of 1.27 square kilometers. Edworthy Park was created in 1962 and was named after "Thomas Edworthy."
The park is constructed on an old sandstone quarry. Edworthy is worth a visit; here, you will find that everything is so huge – huge trees, huge hills, huge playgrounds, and huge picnic spots. The hills are a sight to devour. Visit Angels Cafe before crossing the bridge to the Great Park. The trees found here are riparian woodland, aspen, willow, and balsam poplar. After hearing a strange suit, the kids head down to the water for a splash. What a wonderful afternoon activity.
You can put your hiking gear to good use here as there are hiking trails here, namely: The Bow River Pathway and The Douglas Fir trail. The bow river pathway runs side by side with the river. It is beautifully landscaped for evening picnics.
If you want to walk or bike, you can take the flat surface, but if you're going to go for something interesting, you can go for the worn-out path on the hills.
The douglas fir trail is about 2.5 km trail, it will take you through the alluring forest, and your end destination to the hilltop will give you the view of your lifetime. The playgrounds are perfect for a party or a get-together; they have fire pits, a BBQ stand, and Gazebo.
You will have to book your picnic-sites prior.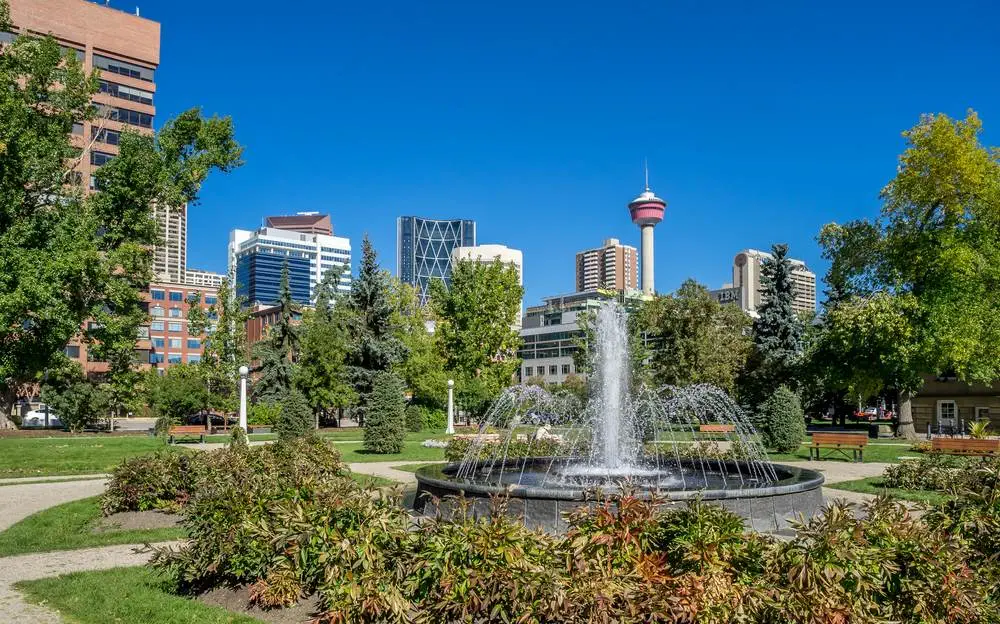 4. Nose Hill Park of Calgary Parks
Nose Hill Park is located on the northwest side of Calgary. It was created in 1980 and spread over 11 square kilometers. It ranks as the fourth-largest urban park in Canada and is among one of the largest parks in North America. It is a municipal park. It probably got its name because specific locations in this park look like a nose.
In 1969, you could drive your four-wheeler to see the view from the top of the hill; at that time, the population was just 3 lakhs. The population is 1 million, and you will have to climb the hill on foot for the gorgeous view. It had a sandstone quarry for construction purposes in the past. Even today, blocks of sandstone can be found in the area.
When visiting the park, don't leave anything expensive in your car. A beautiful region with lots of hikes and vistas. Unfortunately, the parking lots are smash-and-grab by robbers, especially John Laurie Blvd.
You can bring your dogs here; the park offers an off-leash area, but there are coyotes around, so be careful with the dogs. You can enjoy hiking, biking, and walking like nose hill. There are certain historical and archaeological that you can check out.
5. Prince's Island Park of Calgary Parks
Prince's Island Park is an urban park on the bow river in Calgary, Alberta, Canada. It covers a surface of over 20 hectares. The park was named after Peter Anthony Prince because, in 1947, the land for the park was donated to the city by the prince's family.
Many people incorrectly refer to it as Princess Island Park. It is connected to three bridges to Eau Claire and downtown Calgary and northbridge to memorial drive and the community of cresent lights.
This park is one of Calgary's most highly used parks, as it hosts several festivals and events attended by more than 7 million people annually. Festivals include Canada day celebration, Shakespeare in the park, carifest, afrikadey, expo Latino, barbeque on the bow, heritage day celebration, and Calgary folk music festival.
Besides the vibrant festivals, you can enjoy canoeing in the river and skating in the lagoon in winter. You can savor the foliage in autumn, hiking on the trails, biking, walking, picnicking, and shopping at Eau Claire Market.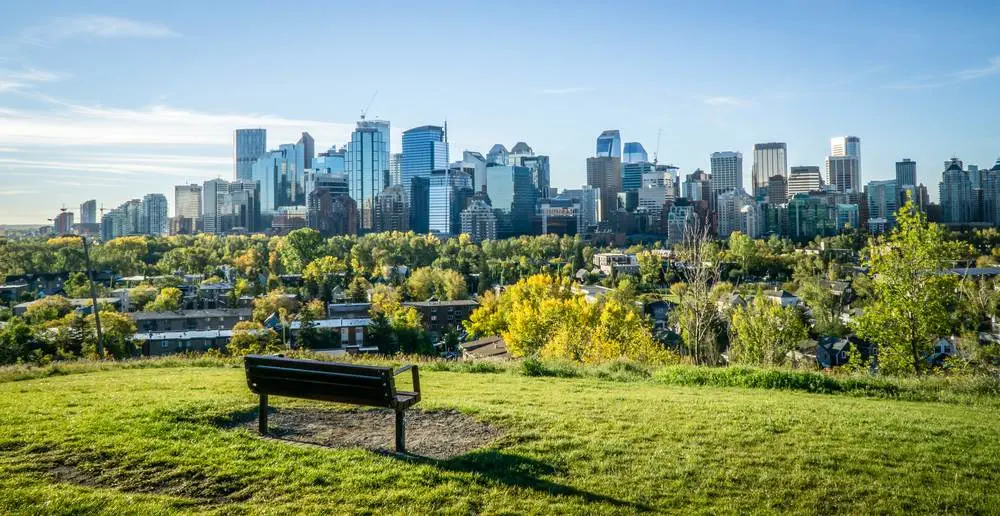 6. Confederation Park of Calgary Parks
Confederation Park lies northwest of Calgary, Alberta, Canada. The park is in the shape of a crescent with more than 160 hectares. Confederation Park was once known as "The North Hill Coulee."
The park was opened in 1967 to celebrate the centennial of the Canadian Confederation. It is famous for couples to get their wedding pictures taken. In 2017 as a part of 150 years of the Canada Day Celebration, the park received many new improvements.
However, on local birder web sites, we've noticed that warblers and other cold birds are frequently observed here when it's warm. The Parks depot office building has a small playground for children and proper restrooms.
This park has a lot of massive trees and a tiny creek that runs through it, which combine to make it a surprisingly wonderful birding habitat, although only in the spring/summer/fall seasons. On our most recent visit, the pond (which is actually a storm water reservoir) was still half-frozen, with just mallards there.
Next to the park is Confederation Golf Course. The park offers pathways, tennis courts, and baseball diamonds in summer. In winter, you can enjoy cross-country skiing and toboggan hills.
The playgrounds are huge, with many rides and a water pump for the children. Whether by walking or biking, you can discover the nature of this place.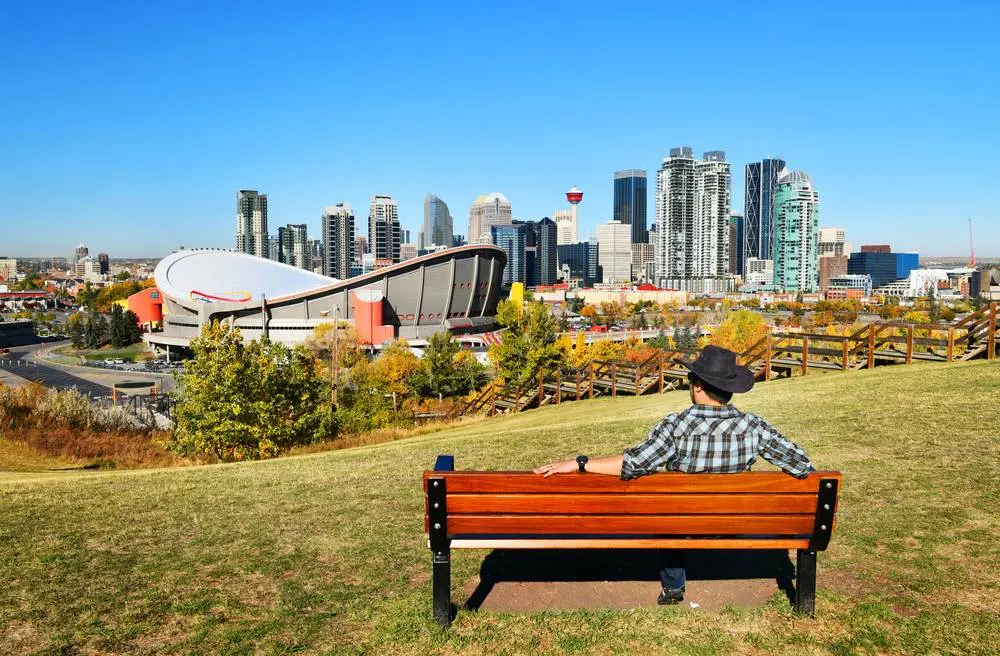 7. Riley Park of Calgary Parks
Riley Park is a destination urban park in Northwest Calgary. It is on the north side of Bow River and the south side of the Alberta College of Arts and Design. It is located next to Kensington. In 1910 Ezra Riley donated the land for the park so that the residents could enjoy themselves.
Some species found here are American Crow, Red-breasted Nuthatch, White-tailed Prairie Hare, and Merlin. This park has a high degree of biodiversity due to the variety of trees and shrubs. One visited Riley Park and can take a stroll in it. Although it is a small park, it features lovely flower beds, a playground, and an impressive wading pool.
Activities that you can enjoy here are the cricket pitch, wading pools, gardens, water fountains, playgrounds, picnic sites, and a children's play park area. There is a beautiful rock garden named after Senator Patrick Burns Memorial Garden.
Closing Thoughts
Well, apart from these 7 Calgary parks, you can also pay a visit to Prairie winds park for fun activities and a great day. Visiting the parks in Calgary is one of the best things to do on a trip to Calgary.
There's no better way to be close to nature and explore the green spaces than by visiting Calgary parks. And you have so many options too. So, get going.