The Mexico of your dreams is in the Riviera Nayarit. I'll outline some of the top activities in Riviera Nayarit in this article and explain why you should visit this place!
Filled with beaches that have a gold tint to them and palm trees that stoop so low that the waves kiss the waxy leaves. There are adorable taqueria and tequila shops-filled cobblestone villages. Mountains covered in mist and vegetation rise behind, providing hiking opportunities and a variety of rare wildlife sightings.
While this is happening, the Pacific coast headlands are being battered by screaming waves, and the sunsets are among the greatest you will ever see.
The Riviera Nayarit extends more than 200 miles across the western Mexican coast and is anchored on one side by the vibrant party destination of Puerto Vallarta. Fortunately, it's been preserved a little more than the nation's other significant vacation hubs on the Baja and Oaxaca coasts.
There are still plenty of remote coves, deserted beaches, and real adventure here. The top ten things to do in Riviera Nayarit are listed below.
Best Things to Do in Riviera Nayarit:
1. Journey to Nuevo Vallarta and visit Playa del Amor ( Hidden Beach )
1.1. Nuevo Vallarta
It won't take long for you to cross into the adjacent state of Nayarit, where the Riviera Nayarit starts, even if you may be arriving in Puerto Vallarta in the state of Jalisco. The state of Nayarit begins just over the bridge near the airport, and you'll be at Nuevo Vallarta right away.
As a master-planned resort town with all-new residences and beachfront hotels, Nuevo Vallarta (or "Nuevo," as the locals name it) first emerged. Although Puerto Vallarta may receive much attention for its tourist attractions, Nuevo Vallarta has one of the largest densities of hotels in the nation.
This area is home to some of Mexico's best hotels, including the Hard Rock Hotel Vallarta, Marival Distinct Luxury Residences, and Grand Velas Riviera Nayarit.
1.2. Hidden Beach
A secret beach with plenty of shelter, sunlight, and pure water is accessible through a gaping hole in the surface of the lush, green island.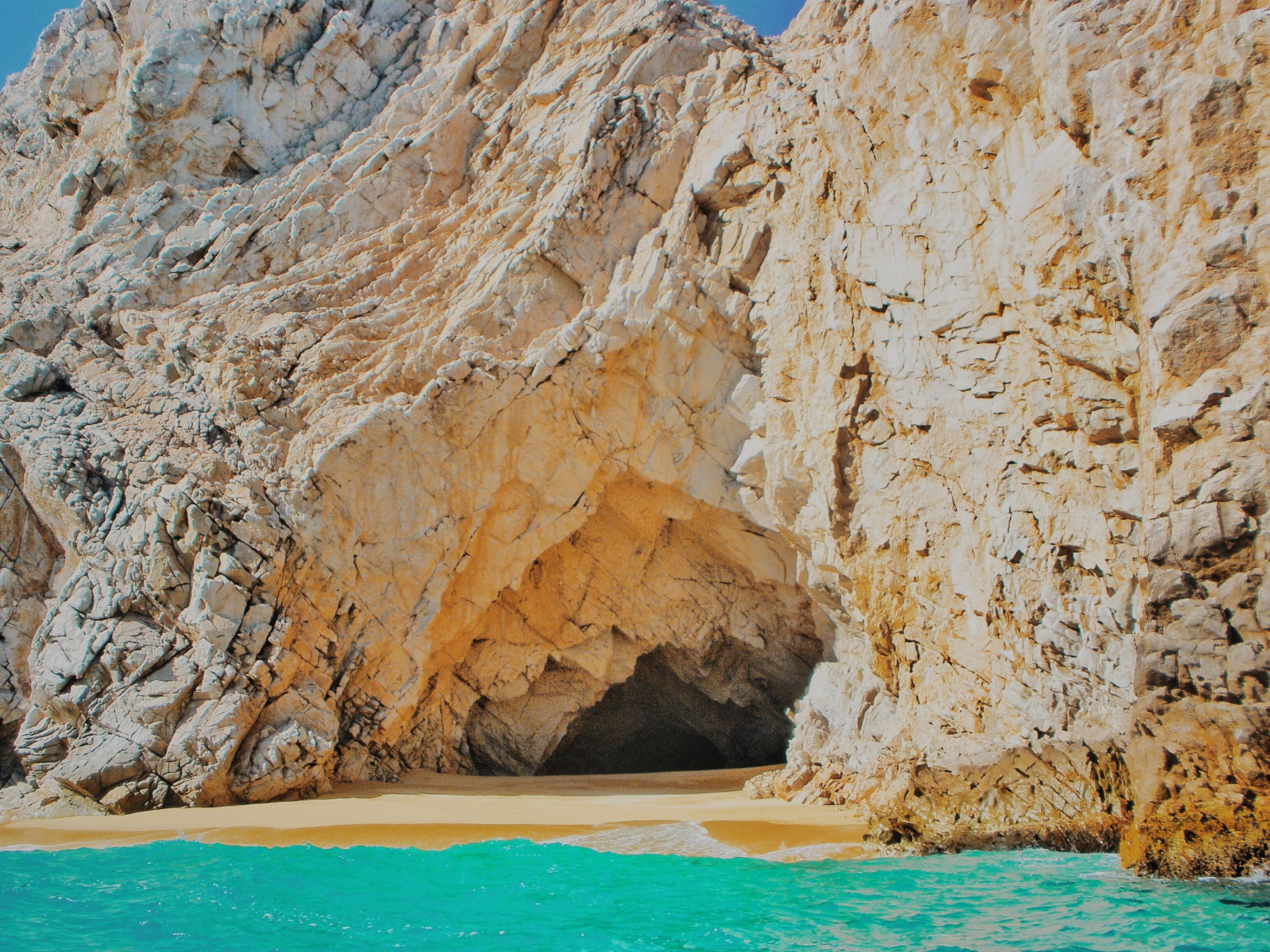 A feature of one of the Marieta Islands, Playa del Amor, sometimes referred to as the Hidden Beach, is situated about 22 nautical miles west of Puerto Vallarta, Mexico, at the opening of Banderas Bay. Wide, sandy cavern with the Pacific Ocean pouring in looks like something from a fantasy book.
A collection of uninhabited islands known as the Marieta Islands was created by underwater volcano eruptions. Although they are natural wonders, the exposed beach was brought to light by a factor other than volcanic activity.
2. San Blas
San Blas marks the northernmost point of the Riviera Nayarit (or, depending on your direction of travel, the southernmost point). The ratio of people to animals drastically changes when you leave Rincon de Guayabitos, and soon you'll feel like you're alone with the winding road and nothing but a jungle.
In contrast to the untamed beauty that surrounds it, San Blas is somewhat of an oasis. Visitors adore the quiet fishing village's gorgeous beaches, huge surf, and wildlife, which give it a hint of a backwater vibe.
From the sixteenth to the nineteenth centuries, the Spanish conquistadors used San Blas as a major harbor. To safeguard Spanish assets against pirates, a castle was built here.
The village today feels practically lost in time, yet that is exactly what makes it so incredibly endearing. If you take the time to travel up to the splendor of San Blas, you'll quickly become recognized as an authority in Mexico.
3. Bucerias
The cobblestone lanes of Bucerias may be a tourist hotspot, but you can still hear the beating pulse of Mexico through them. This small fishing village, just north of Nuevo Vallarta, was swiftly discovered (and adored) by tourists and has grown into a vibrant coastal community.
Although Bucerias is still a small town, it is booming because of its unique beachside hotels, dining options, and shops. The weekly Art Walks, which take place on Thursdays from April to November, are a great way to learn about the town's art and culture while picking up a souvenir at the Tianguis de Los Domingos. Bucerias offers lots of activities for families as well.
4. Spot Crocodiles at National Marshes and Support the Return of Baby Sea Turtles to the Wild
A wildlife sanctuary that lies close to the northern Nayarit region's white-sand beaches is home to crocodiles, water-walking lizards, jaguars, and a variety of migratory birds. The vast network of lagoons in the area can be seen up close on a boat tour through the National Marshes, also known as the San Blas mangroves or Marismas Nacionales.
Several sea turtle nesting sites can be found on the beaches of Banderas Bay, and during the hatching season, which runs from June through November every year, tourists may witness the baby turtles hatch and swim toward the ocean. Four protected species, including leatherback and Oliver Ridley turtles, nest along the Nayarit coast, and many of the hatchlings frequently take place just outside the resorts around Banderas Bay.
Since visitors are encouraged to participate in the hatching process and assist in the release of the young turtles, the local hotel sector has actively worked to safeguard and conserve them for more than 30 years.
5. Spend the Day Watching Whales
Oceanic mammals can be seen in huge numbers at Riviera Nayarit. From November to April, when hundreds of humpback whales visit these waters as part of their migration between Alaska and Hawaii, kayakers in Banderas Bay frequently spot dolphins, and tourists can go on a whale– watching cruises.
There are numerous whale-watching excursions available, some of which include entertainment and dancing, and others that let visitors enjoy a day on the ocean by snorkelling or kayaking.
6. Get to Know Huichol Art
The Huichol people, an Indigenous group who have long resided close to Sayulita in the foothills and highlands of Mexico's Sierra Madre Mountain range, maybe learned a lot about my travelling to Riviera Nayarit.
The Huichol, who are descended directly from the Aztecs, are well renowned for their distinctive beadwork on miniature skulls and animal figurines, as well as yarn painting, in which colourful yarn is pressed into a surface covered in beeswax and resin.
The town centers of Sayulita and San Blas, as well as the gift stores at resorts, both sell Huichol jewelry and artwork.
7. Explore the Nearby Puerto Vallarta
The busiest city in Riviera Nayarit and a major port of call for cruises to Mexico's West Coast is Puerto Vallarta. There are a lot of other things to do in Puerto Vallarta while you're there, while the beaches of Banderas Bay are the area's most well-known attractions.
There is something for every taste and budget in Puerto Vallarta's local cuisine, which is known as one of the greatest in all of Mexico. Options range from affordable street food to luxury restaurants.
8. Unwind on Banderas Bay's Beaches
The largest natural bay in Mexico and the most popular tourist destination in Riviera Nayarit is Banderas Bay (Bahia de Banderas), which stretches 42 miles (68 kilometres) from Punta Mita in the north to Cabo Corrientes in the south.
Banderas Bay is known for its surfing, boogie boarding, body boarding, swimming, and a variety of other water sports that you may experience at one of the area's many all-inclusive resorts.
The range of beaches you'll discover around Banderas Bay, from family-friendly stretches of sand where you can buy fresh coconut pie to beachfront resorts dedicated to the LGBTQ+ community, is one of the region's main draws.
9. Visit Sayulita, a Beach Town
Sayulita is a small beach community that is well-known as one of Mexico's top surfing locations. It is located about an hour's drive north of Puerta Vallarta.
Wander the narrow streets, eat at a coastal restaurant, take a surfing class, or at the very least, observe the pros at work. There are many chances for shopping, but because Sayulita is more popular with tourists, its costs are frequently greater despite its laid-back exterior.
The atmosphere at Sayulita is what you pay for. Because it is undeniably stunning and has a unique atmosphere; sand and cobblestone lanes wind around the small beach, where surfers warm up before travelling to the larger breakers outside of town.
10. Outdoor Adventures in Riviera Nayarit
Riviera Nayarit's outdoor adventure tours offer much more than just vacations that include rappelling. Rappelling Vacations in Riviera Nayarit These excursions are frequently referred to as the "Big Brother" of the Canopy Adventure Park.
These Nayarit Outdoor Adventure excursions offer anything from vacations that include a zip line and rappelling to mule rides:
A speedboat journey across Banderas Bay will take you to your waiting Mercedes Benz 44 Caravan Transport "Unimog," which will take you to the Sierra Madre Mountains at an elevation of 2000 feet. Mule Ride: As you continue your ascent of the mountain, your knowledgeable adventure leaders will gear you and assist you in mounting your very own mule.
11. Enjoy Tacos De Birria with The Freshest Fish
The birria taco was king in this part of Mexico before the quesabirria swept over by. Birria tacos are hearty, mildly spicy, and frequently made with slow-cooked goat meat (although occasionally with beef, lamb, or even fish). They are sold at street stalls and along the roads between towns in the area.
Every local has a favourite place, so seek out their advice or simply follow the crowd on a self-guided taco tour. The region of Nayarit is known for its fresh seafood, which is oven-plucked straight off the boat, butterflied, and grilled within hours of swimming in the Pacific. However, don't end your culinary tour there.
Almost any coastal restaurant will serve the catch of the day, which is frequently whitefish like red snapper or Mahi Mahi. The Conrad, among other upscale establishments, can even arrange for a boat to transport freshly caught fish to the beach. Make a reservation at Tuna Blanca in Punta de Mita for an elegant Pescado Zarandeado, of course, prepared to order.
12. Stay in Rincon de Guayabitos
In the Riviera Nayarit, Guayabitos boasts one of the most extensive lodging selections. The bungalows and cabins on or very near the beach make this Mexican area distinctive. In the Bay of Jaltemba is where Guayabitos is situated. Because of its size, peaceful beaches, and crystal-clear seas, this inlet is referred to as the "biggest pool in the world."
You can swim peacefully, sunbathe, play beach games, savour delectable cocktails, and choose from a variety of dining alternatives on the shores of Guayabitos. From the bay, you may arrange excursions for sport fishing and whale and sea lion watching.
We sincerely hope you enjoyed reading about the fascinating, enjoyable, and distinctive things to do in Mexico's Riviera Nayarit.
There is a tonne of fantastic tourist attractions and fascinating places to go in Riviera Nayarit. Excellent opportunities can be found, among other areas, on Riviera Nayarit's beaches and in the suburbs. Plan your trip to Mexico as soon as possible and put Riviera Nayarit as your first stop when you land in Mexico.