Are you a wanderer who likes exploring new places?  Then Maligne Canyon is the perfect getaway place for you! But, visiting a place without having any background knowledge and interesting facts makes the site slightly dull.
Located amidst the lush greenery and beauty of Alberta, Canada, whether summer, winter, or fall, the canyon always has its vivid beauty to offer its visitors. Maligne Canyon is a beautiful place within Jasper National Park and should also be on your bucket list. 
So, why not gather some interesting facts about Maligne Canyon? It's always beneficial and enhances your knowledge; you can brag about it in front of your friends.
Essential Facts About Maligne Canyon!
Here are 10 things to note about the magnificent Maligne canyon.
1. Let's Talk About History First!
Maligne is a French word that means wicked! Well, that was unexpected. Why would someone name such wild beauty as wicked? There's a story for its name, which sounds reasonable.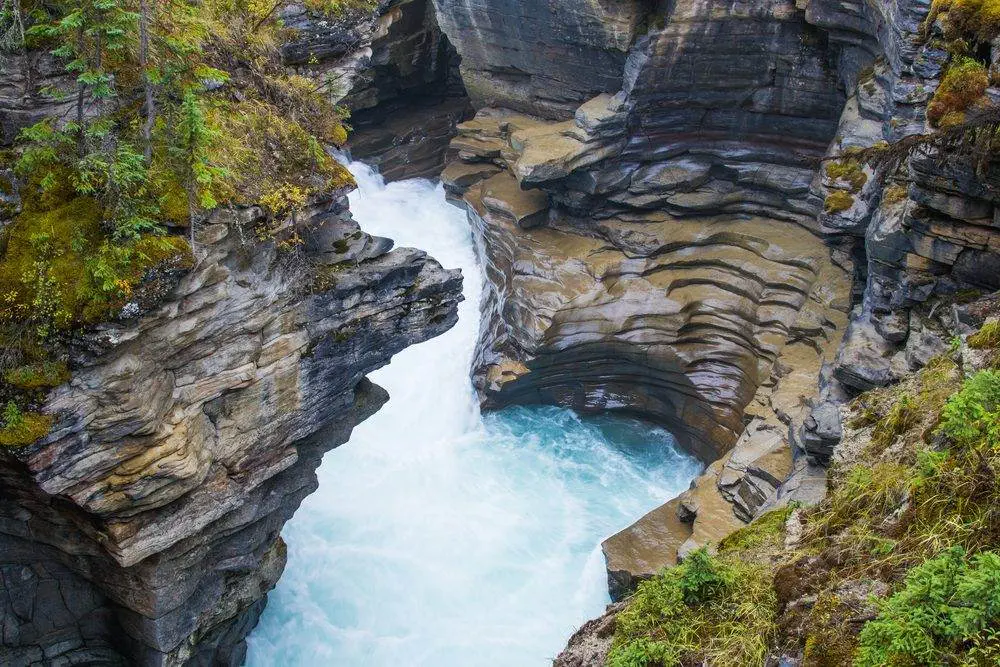 It is believed that once a French man was trying to cross the river that flows beneath the canyon, but his horses couldn't withstand the current of water and got swept away, hence the name Maligne.
The river flowing beneath the rocky terrain has a high current flow, and the river is called Maligne. That is something you definitely wouldn't wanna miss!
2. About the Canyons
The Maligne Canyon has a depth of 55 meters, and it spreads across the Jasper National Park in 1.2 km of length.
The canyon's walls are limestone, and its shape is narrower in the upper area and broader below, allowing some geologists to believe that the canyon had an underground cave system.
There are fossils in the walls of Maligne Canyon! Yes, you can find the imprints of ancient creatures like snails, sea lilies, etc. During winter, natural ice sculptors form on the canyon's walls, allowing adventure seekers to go ice climbing.
3. About the River
The river is also named Maligne and flows only in the high seasons, from May to December. From January to April, as the winters are at their peaks, the river freezes, allowing nature to form beautiful ice sculptures.
It is believed that the river flows through an underground cave system from Medicine Lake, which is around 14kms away from the canyon.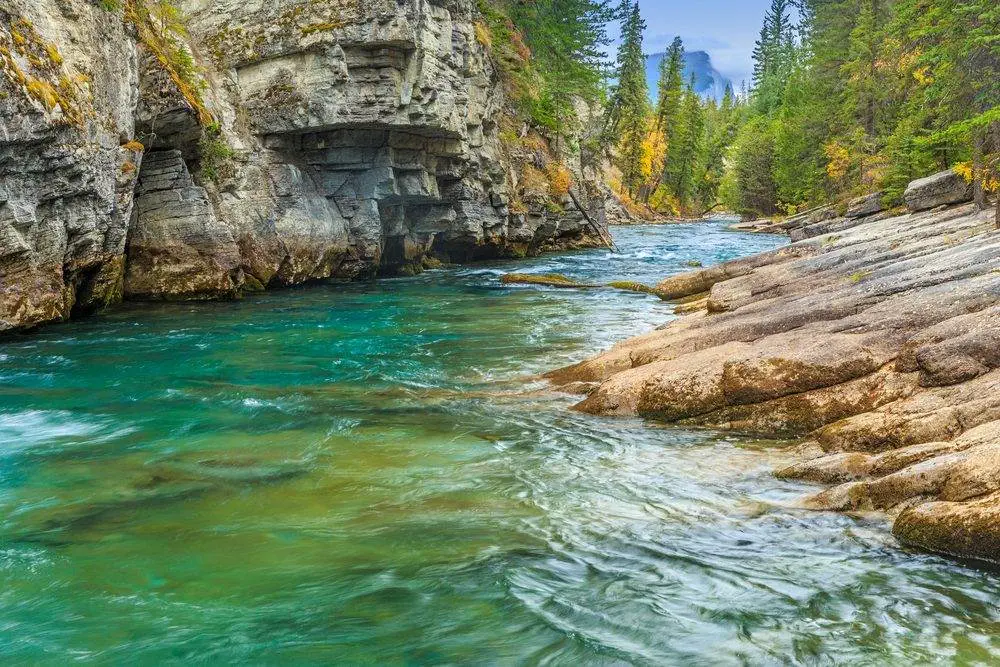 Also, the Maligne canyon has six bridges built to allow visitors to explore its beauty and witness a frozen waterfall during winter.
Beneath the river lies an underground drainage system known as karst. Scientists and geologists believe this conclusion is from observing the massive flow of underground water that emerges with sudden force.
4. About the Hike
It is possible to park your car, cross a bridge, witness the beauty and move on to the next destination.  But that would visit in disguise. So, please go inside and explore the mountain ranges, those canyon walls, and all the amazing things yourself.
Parking spots are available near the first and second bridges and the sixth bridge.  It is advisable to come prepared with lots of time because the full loop of the hiking trail is around 3.7 km long.
At the second bridge lies the tallest waterfall of Maligne canyon. Around the third or fourth bridge, all that energy put into trekking will get rewarded with a mesmerizing view.
There's no compulsion. You can return whenever you want, but don't miss the photogenic areas of the waterfalls, high peaks, water levels, etc.
5. Apart from Hiking
Maligne Canyon is well renowned for its trekking. 
Still, besides hiking and taking in natural beauty, you can learn about geology thanks to the numerous instructional boards that keep popping up there. Visitors can also go on horseback rides and do ice walk tours.
Observe flora and fauna of the place, and you can easily spot mosses, lichens, water insects, and birds like American dippers, ravens, black swifts, etc., with their nests.
The best part about Maligne canyon is the Aurora or star gazing during a festival celebrated as Jasper Dark Sky Festival.
6. Weather Decisions
Maligne Canyon always looks stunning. There's no doubt about that. During summer, the place is covered in lush greenery. 
You can experience the wilderness of this canyon, and the adventure doubles up when the Maligne River's level rises while flowing beneath those rocky terrains.
Maligne Canyon and most of Canada transform into winter wonderlands. The river freezes if you visit this location in the winter, but that's not a bad thing—you may descend the canyon to see the frozen cascade and appreciate its beauty from a different perspective.
Don't miss the opportunity of taking lots of pictures, as Maligne Canyon is quite photogenic.
7. About the Ice Walk
The ice walk is one of the major attractions of Maligne Canyon. Ice walks are possible only during winter, so if you get a chance or are planning to explore and experience all kinds of adventure Jasper National park offers, try visiting between January and April.
Don't forget to wear your waterproof snow boots, and go with a group, as going alone is not advisable.  If you are a brave individual who wants to go ice walking alone, turn around after the third bridge because it is not safe to continue.
There are several ice walk tours organized by the national parks that give tours to visitors twice or thrice a day. Give an attempt to ice climb and take lots of beautiful pictures.
The view from beneath the canyon is breathtaking, and it can be an experience of a lifetime.
8. Things to Carry Along
Maligne Canyon is an adventure-filled place where you can trek and enjoy the beautiful views offered by Jasper National Park.
Before hiking on the trails, a few things that you should carry with you include items like rain protection because you never know when it starts raining, and you don't want to ruin your trip.
Wear hiking boots for more comfort and a down jacket if you visit during winter. A camera, of course. Without a camera, your visits are incomplete, and carry your water in a bottle as tourist places have pricey shops.
A small bag full of the items mentioned above will do the job. If you want to save some time and avoid the rush, try to visit the place in the morning hours. Also, try to take a tour guide along as they are really helpful from every perspective.
9. Apart from Maligne Canyon
Yes, the canyon is an excellent place for the adventurer inside you. 
You won't regret it! But as you have already reached Jasper National Park, take some time to explore the place. Jasper National park is the largest and among one of the oldest parks in Canada, spreading over 10,800 sq. km. And was established in the year 1907.
It is a package of all-natural wonders, like it has glaciers, mountain peaks, lakes, hot springs, etc. It has some famous mountains, such as Mount Columbia and Mount Edith Cavell.
The Columbian icefield has eight significant glaciers, and Athabasca Glacier is one of the most beautiful among them. Jasper National Park's lakes have the Athabasca River, Pyramid Lake, Patricia lakes, and of course, the Maligne River.
And there's a skyline trail of around 25km and a sky tram to add the last bit of fun to the park. You can click here to gain in-depth insight into Jasper National Park!
10. Few Important Facts
The Maligne Canyon is easily accessible from Jasper town, only ten minute drive. It is advisable to visit the place in the morning from 7.30 to 8.00 A.M.
Start your hiking journey from any bridge you want, with no compulsions. The loops are slightly steeper, so be prepared.
It has also been reported that one can find grizzly bears near the sixth bridge of the Maligne canyon. The probability is low, but being aware and prepared can do many wonders.
Additionally, if you want to stay around Jasper national park, all ranges of accommodations are available nearby.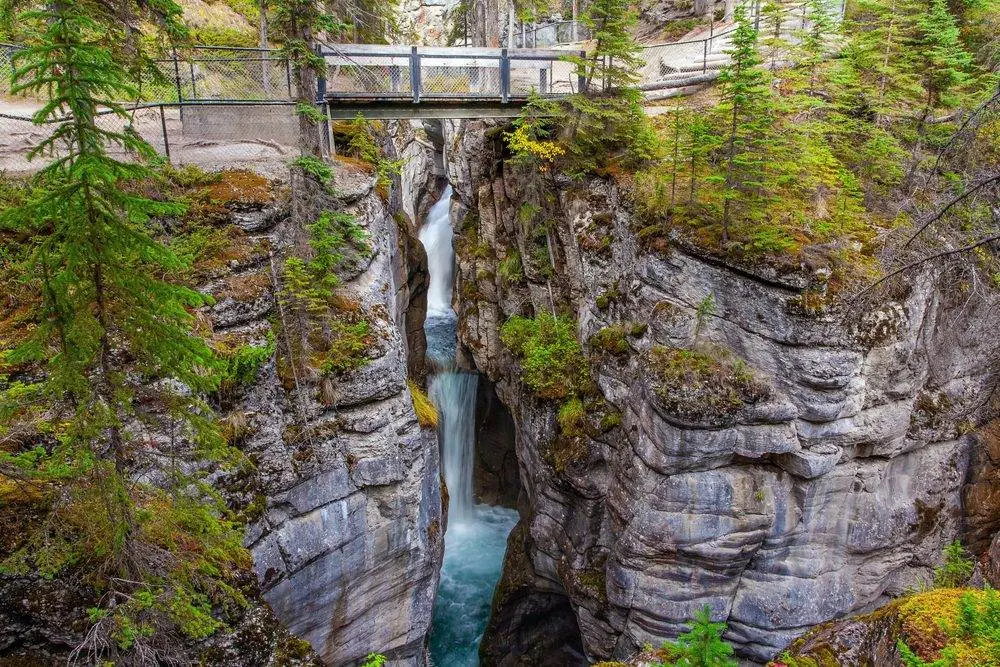 Closing Thoughts
Canada has lots of surprises; you need to visit the country to experience the adventure it offers. Maligne Canyon is one of the surprises of Jasper National Park, as it has the capability of being the highlight of your Canada trip. 
Many other exciting and unusual places are waiting to be explored in Jasper. For exploring Jasper, allow yourself the time of one whole day because all those beautiful places demand your time and attention.
If you are really into exploring Canada's national parks and wildlife, you can check out some beautiful places to experience Canadian Wildlife by clicking here!
This was an article on '10 Important Facts About Maligne Canyon. If you have something more to add, please feel free to share your thoughts with us!
If you are planning a visit here, the things we recommend that you visit on your trip to make it more memorable:-
Maligne canyon ice walk ( to watch the fascinating natural ice sculptures)
Maligne canyon wilderness kitchen
frozen canyon floor
shallow tropical sea
Maligne lake road
Canadian Rockies and maligne canyon trailhead
maligne canyon hike tours
So, what are you waiting for? Visit Maligne canyon today.