If you are planning to visit Canmore shortly and don't know how to go about it, this is your place to be. In this article, we expound just how, why, and when to visit Canmore! 
Where Is It Situated And How To Reach There? 
Located in just the heart of the Canadian Rockies, at the base of the seminal Three Sisters Mountain is the resort town of Canmore.
Within the Bow Valley in the Canadian Province of Alberta, Canmore is situated about 20 minutes from Banff and about an hour from its nearest big city Calgary.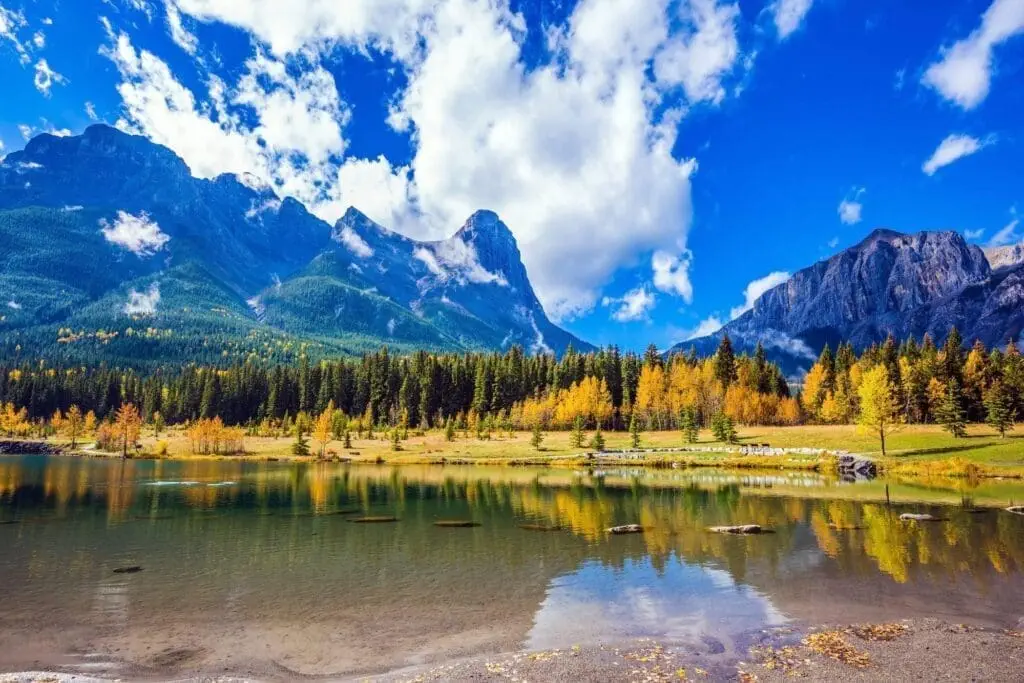 Along with offering an enjoyable small-town experience, Canmore has a lot to offer. With spectacular landscapes, rich biodiversity, countless outdoor sports, restaurants, bars, and markets, Canmore is a full-pack deal in the name of a town! 
The airport closest to Canmore is Calgary International Airport. From here, several airport shuttle providers go to Canmore. Alternatively, you can also take the Trans-Canada Highway (Route 1) West. 
When To Visit Canmore? 
Canmore has four seasons that are markedly different from each other, and that contributes to the natural beauty of the country.
In autumn, the fresh air is exceptionally welcoming, for you to enjoy the bright colors of fall foliage outdoors. During winter, glistening white snow coats the ground. This is when you can learn to ski on nearby ski hills or ice skate along frozen lakes and ponds.
Spring transpires as early as April, bringing the aroma of fresh growth with it. And during Summers, Canmore is a place of incredible beauty and endless outdoor activities. 
The best time to visit Canmore is June through August and December through March. If you love nature and enjoy outdoor time-camping or by the lakeside, visit Canmore when the weather is warm and friendly.
However, in case you happen to visit Canmore somewhere between April and June, you must keep watch out for ticks that inhabit the sunny slopes, especially where bighorn sheep are housed.
Thus, it is imperative to make sure you protect yourself by wearing long pants tucked into socks and long sleeves. 
Another thing you should keep in mind is that the climate in the mountains alters very rapidly and this pristine ecosystem is home to a wide range of wildlife. Ensure to keep an eye out for any potential threat wherever you travel within Canmore!
Here's What You MUST Do When You Visit Canmore 
Now, let's hop on to a curated list of things to do when you visit Canmore! 
I. Attractions and Sightseeing
1. Big Head Sculpture
 Situated on 8th Street, on the north-eastern side of the bridge over Policeman's Creek, you will find this stunning human head sculpt, half-buried, and engrossed in thought.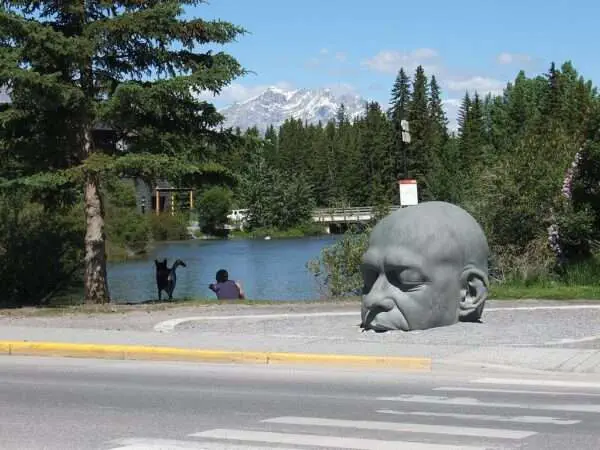 2. Three Sisters Mountain Range
Perhaps the best part about Canmore being located at the base of this iconic mountain range is that the stunning view it offers can be accessed from ANY part of the city! This mountain range gets its name owing to its three peaks- Faith, Charity, and Hope. 
II. Art Galleries
1. Carter-Ryan Gallery and Live Art Venue 
Here, they commemorate the work of an Aboriginal painter and sculptor, Jason Carter. Visit their official website to know more.
2. Fallen Leaf Gallery
This is one of Canmore's most vibrant galleries showcasing outstanding original Canadian art by some of Canada's best glass artists, and stone sculptors. This gallery holds unique antiques and folk art. Visit their official website to stay updated about their live-shows and demos. 
3. Canmore Art Guild
The Canmore Art Guild (CAG) works to promote creativity in the field of visual arts and to provide member artists with opportunities to demonstrate their artistic talents in the Bow Valley. To know more, visit their official website.
III. Hiking
1. Grotto Mountain Winter Hike
If you happen to visit Canmore in Winters, a local tour guide may take you to hiking tours across Canmore. And this is one of the most spectacular ones. These tours are 4-5 hours long and begin from Canmore.
On your way to the Grotto Mountains, you will come across icefalls and rock formations while hiking on snow-covered surfaces. 
2. Grassi Lakes Hike
A popular rock-climbing area, Upper Grassi Lake, is one of Canmore's most spectacular hiking trails. It is a 3.2km trail and is suitable for all-level hikers.
While only some parts of the trail are available for hiking in Winters, the lakes are turquoise blue during the summers and look stunning! 
3. Other popular hikes include
Benchlands Ridge Trail

Policeman's Creek Broadwalk

 Three Sisters Pathway
IV. Camping
1. Bow Valley Provincial Park
Just 30 km east of the town-site of Canmore, is the largest campground of the Bow Valley Provincial Park. The park was founded in 1959 in the arch of Bow River, at the confluence with Kananaskis River. 
Canmore also offers several day camps. You can check them out here.  
V. Parks
1. Peter Lougheed Provincial Park
Located about 137 km (85 mi) southwest of Calgary, in the front slopes of the Canadian Rockies, Peter Lougheed Provincial Park offers a variety of outdoor activities and spectacular mountain sceneries.
This park is primarily known for Equestrian riding, mountain biking/cycling, trail running, windsurfing, and ice fishing.  Visit their official website for more information. 
2. Quarry Lake Park
Quarry Lake Park is a collaborative project established by the Rocky Mountain Heritage Foundation and Canmore. The park is accessible by car, bicycle, or on foot from the town.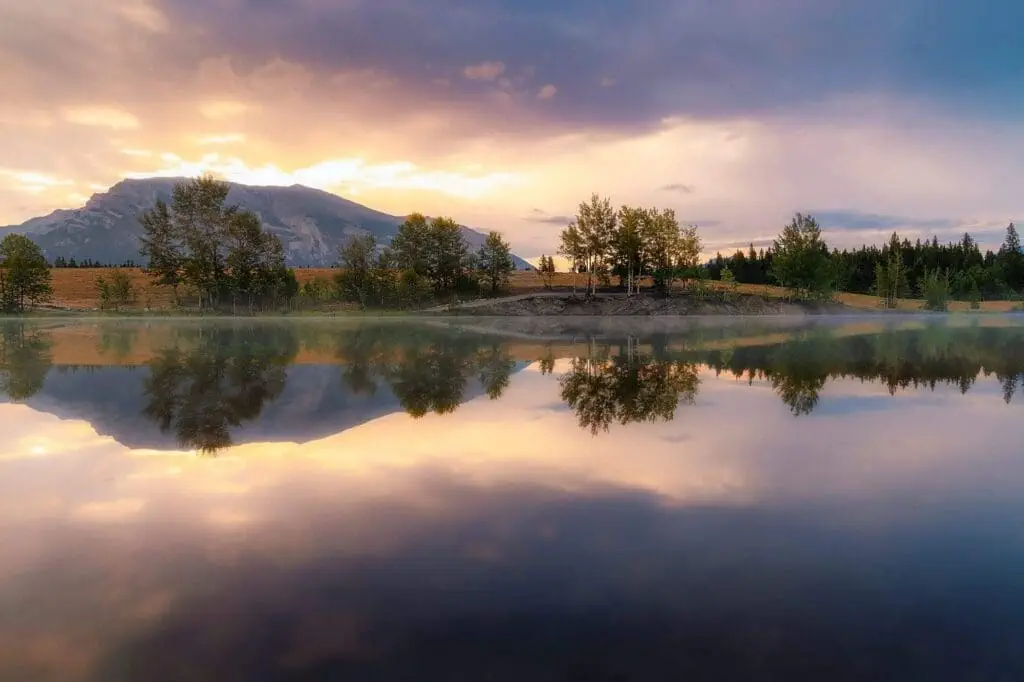 One of the most popular parks in Canmore, the area provides facilities such as picnic tables, seating benches, and a swimming area.  It also has a walking trail, sightseeing benches, pit toilets, and an off-leash dog park.
Designed around a reclaimed mining quarry, this recreational field was converted into a swimming lake fed by an underground mountain stream.
Quarry Lake Park offers views of Mount Rundle, Ha Ling Peak, and the Fairholme Range, a popular summer spot for both locals and visitors.
 Visit their official website to know more. 
Read more about these and other parks here. 
VI. Tours
1. Mystery Towns Clue Solving Adventures
Guided by applications, these Clue-Solving Adventures offer the fun of a scavenger hunt, the riddle-solving of an escape room, and an Amazing Race challenge as you explore the city in an entirely different way.
Again, given the pandemic, this is an excellent idea as these activities can be done while maintaining the desired social distance.
Once booked, these can be played anytime, any day. You can try their free demo here. Visit their official website to know more. 
2. Canmore Cave Tours
A great way to spend time in Canmore is to take a tour of the cave in Rat's Nest Cave. Rat's Nest Cave, near Canmore, is a wild, undeveloped cave. It lies underneath the Grotto Peak. To know more, visit the official website to know more and book tickets. 
3. Canmore Raft Tours
These tours offer gigantic views over the mountains, cool glacial waters, forests, valleys, and wildlife: all from the perspective of a river.
Canmore Raft Tours is great for all ages and suitable for first-time rafters, offering two family-friendly river floats that leave right from downtown Canmore. Check their prices and packages here. 
VII. Other places:
1. Canmore Civic Centre
This civic Located on 7th Avenue in the heart of Canmore, the Canmore Civic Centre, is a two-story building that houses the municipal offices of the city and the Canmore Museum and Geo-Science Centre.
2. Elevation Place
Elevation Place is the newest leisure center built in Canmore. The facility includes an impressive indoor climbing wall, fitness gym, library, art gallery, and plenty of community spaces to enjoy hanging out at! It also houses a vast swimming pool and steam room for relaxing. 
Traveling Within The Town
While visiting a new city/town, you may be worried about local travel. However, the best part about living in a small mountain city like Canmore is that it's so easy to leave your car behind and get around on foot, by bus or by bike!
Canmore has provided exceptional care and attention to the biking infrastructure and services to promote and encourage an enthusiastic and growing cycling culture.  
Lodging and Accommodation
Here are some accommodation options for you!
1. Basecamp Lodge
With a fireplace with wood burning, in the lobby lounge, a stunning cedar sauna, and free continental breakfast, Basecamp Lodge prides itself on its log cabin ambiance.
A beautiful place to stay when you visit Canmore Rooming choices include a range of different styles of King and Queen bedrooms; Deluxe, Double King / Queens, and Suite quarters. 
Address– 1002 Bow Valley Trail, Canmore, Alberta, Canada T1W1N6.
2. Blackstone Mountain Lodge
The Blackstone Mountain Lodge, situated just 20 minutes from Banff National Park in Canmore,  adds a touch of urban glitter to the untamed spirit of the Canadian Rockies.
The Blackstone Mountain Lodge features an outdoor heated swimming pool with two outdoor hot tubs, heated underground car park, meeting and banquet area along with free and accessible Wi-Fi.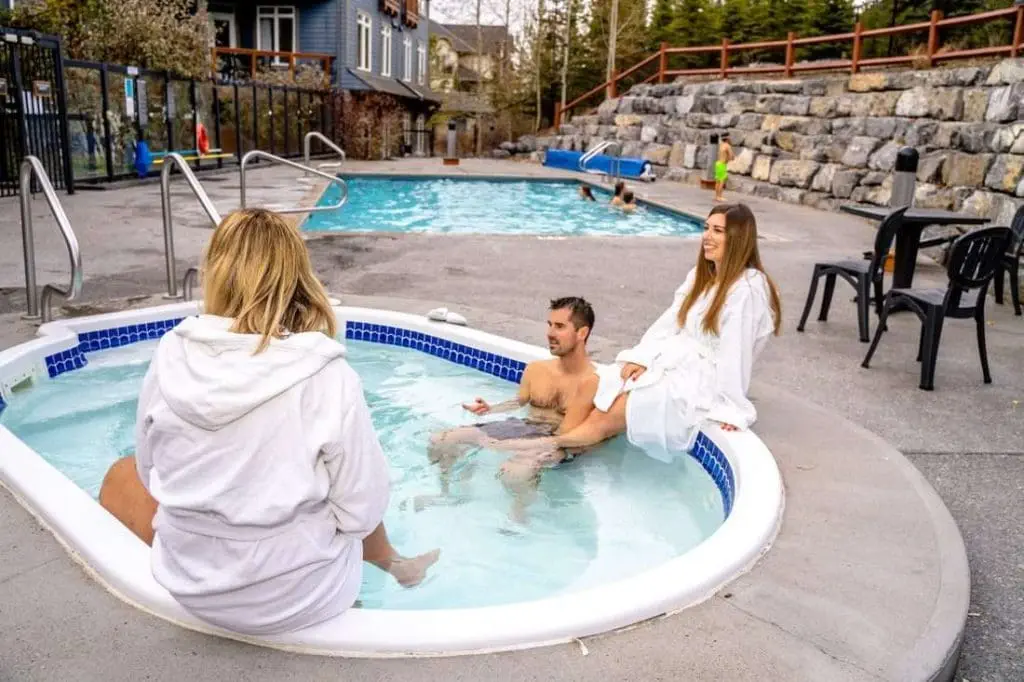 Address– 170 Kananaskis Way Canmore, Alberta, Canada T1W 0A8.
3. Falcon Crest Lodge
All suites and rooms at the newly refurbished Falcon Crest Lodge have been updated with new appliances, high-end Napoleon BBQ's, high-speed wireless internet, 48 "blue tooth LED Smart TVs and Netflix Ready (guests must have their own Netflix account). Further, they have implemented new safety and cleaning measures in response to the current pandemic. 
Address– 190 Kananaskis Way Canmore, Alberta, Canada T1W 3K5.
4. Holiday Inn
Holiday Inn Canmore is situated at the entrance to the popular Banff National Park. Here, children aged 12 and under can live and eat free of cost at the on-site cafeteria. There is also a public transit stop outside the hotel. 
Address– 1 Silvertip Trail Canmore, Alberta, Canada T1W 2Z7.
5. The Malcolm Hotel
Situated in the heart of the Canadian Rockies, The Malcolm Hotel provides luxury accommodations with contemporary and modern designs.
The mesmerizing location of Spring Creek offers quick and easy access to the charming downtown restaurants and shops, as well as to the Bow Valley and Banff area mountain attractions and amenities.
It accommodates  124 well-appointed guest rooms, 72 of which are Double Queen Rooms, 32 King Rooms, and 20 Spacious Suites.
Address: 321 Spring Creek Drive, Canmore, Alberta, T1W 0K3.
6. Rocky Mountain Ski Lodge
The Rocky Mountain Ski Lodge provides a wide variety of accommodation options from standard rooms to studio and condo apartments with fully stocked kitchens and gas fireplaces at reasonable prices.
Further, All rooms are fitted with fridges, wireless internet connectivity, and spectacular mountain views. Other amenities include a laundry room, sauna, jacuzzi, playground, and BBQ.
Address: 1711 Bow Valley Trail, Canmore, Alberta T1W 1TL.
7. Paintbox Lodge
Owned by World Cup Champion Thomas Grandi and Olympic Medalist Sara Renner, the Paintbox Lodge is an exclusive boutique hotel located right in the middle of downtown Canmore.
They offer cooking classes, complimentary breakfasts, and extremely comfortable and elegant suites to their customers. 
Address– 629 10th Street Canmore, Alberta, Canada T1W 2A2.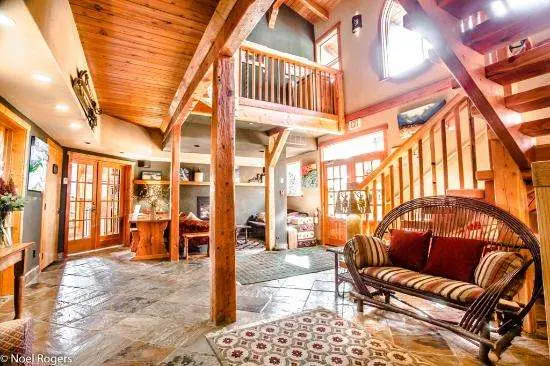 Food and Restaurants
Here are some of the food options for you to munch on!
1. Where the Buffalo Roam
The only Saloon located in the town of Canmore, Where the Buffalo Roam is a real delight for introverts and extroverts alike! 
Address– 626 Main Street Canmore, Alberta T1W 2V7.
2. Gaucho Brazilian Barbecue
Head over to Gaucho Brazilian Barbecue to taste the authentic Brazilian cuisine offered by them! 
Address– 629 Main Street, Canmore, Alberta.
3. The Wood Restaurant and Lounge
If you are looking fora place for casual dining, this is the place to be! 
Address– 838 Main Street Canmore, Alberta T1W 2B7.
4. The Rocky Mountain Bagel Co
They specialize in freshly made artisanal bagels, cream cheese, and roasted coffee. 
Address– 102 – 830 Main Street, Canmore, Alberta.
5. Drake Inn and Public House
Voted "Best Pub in the Canadian Rockies" by Skier Magazine, this pub is claimed to be the favorite of locals and visitors alike! 
Address– 909 Railway Avenue Canmore, Alberta T1W 1P3.
Additionally, you can also check out the food tours offered in Canmore here! 
Several packages and deals are offered by organizations in and around Canmore! A few of these include: 
Kananaskis Alpine Lakes Experience 

Tailormade Experiences 

Interactive Tour 

Ha Ling Alpine Hike 
You can learn more about these and choose one or/and any number of deals here.