There are nearly over 100 cascades and waterfalls in the Canadian city of Hamilton in the province of Ontario. This position contributes to the city's abundance of waterfalls because any stream or creek that empties into Lake Ontario will cross the Niagara Escarpment and produce a waterfall.
There is plenty of beautiful nature to be viewed, whether you are coming to trek a portion of the renowned Bruce Trail or you are coming for the waterfalls and views. However, the following are several impressive Waterfalls in Hamilton.
16 Amazing Waterfalls In Hamilton-
1) Webster Falls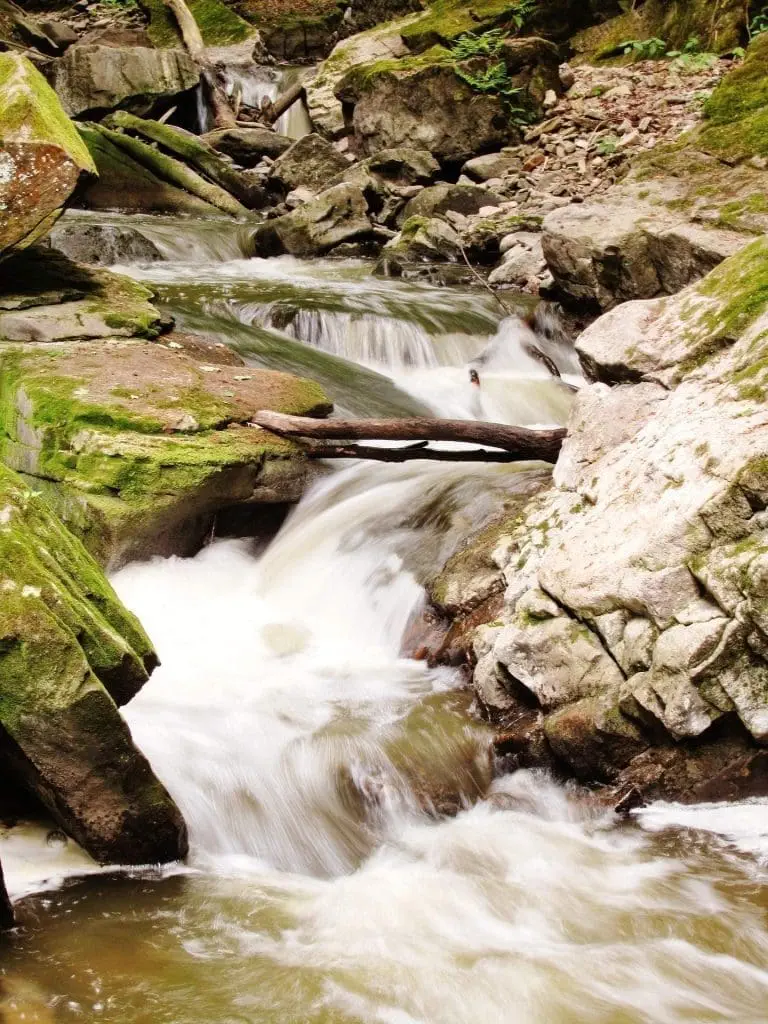 The largest and, understandably, the most well-known waterfall is Webster Falls, despite not quite reaching Tew Falls' height. The year-round flow of this waterfall.
One of the earliest industrial villages in Upper Canada can be found on this property, a component of the Spencer Gorge Conservation Area. Although the mill is no longer visible, two cobblestone bridges still stand and provide the ideal backdrop for the falls. Like Tew Falls, it can sometimes feel like a zoo here, but there are a lot of open green areas, making it an excellent place for picnics.
1.1. Hiking Trails at Webster Falls
Even while it is technically possible to trek to the base of Webster's Falls, doing so constitutes trespassing and is punishable by a hefty fine. The staircase that once led to the falls' base is no longer present. Additionally, there is no accessibility to the hiking trail that formerly connected Webster Falls' command to the escarpment's base.
1.2. Nearby Hiking Trails
It only takes a short drive to Tew Falls, a hiking trail leading to a fantastic view of Dundas Peak. Additionally, there are a few Bruce Trail side trails to discover.
2) Albion Falls
The Red Hill Creek cascades spectacularly over numerous strata of rocks, expanding its veil as it descends. One of the best waterfalls in Hamilton is situated south of King's Forest and is encircled by the Red Hill Valley Parkway, which later becomes the Lincoln M. Alexander Parkway.
In the summer, you may see pictures of visitors scaling the cliffs and waterfalls, but something had to be done after numerous accidents. They were forced to erect a barrier in 2017 and enforce severe penalties for jumping the fence. As a result, there are only two viewing areas from which Albion Falls may be seen.
2.1. Hiking Trails at Albion Falls
The Albion Falls region can be explored on a leisurely trek to enjoy the scenery. Park in the Oak-Knoll parking area at Buttermilk Falls, which is located on Mountain Brow Boulevard to the north of Limeridge Road E.
3) Tiffany Falls
This waterfall in Hamilton is my top pick of all of them. The fact that you arrive at the base rather than the summit makes it unique among others. You can approach it, and the wide valley allows you to see it from various perspectives.
Another noteworthy aspect of this location is the abundance of natural elements that support the survival of particular species of hemlock, maple, beech, red oak, and the Louisiana Waterthrush.
This location is a favourite for ice climbing in the winter. Since it does dry in the summer, the best sight is in the spring when the water flow is vigorous. The proximity to Dundas Valley Conservation Area makes this a great option to combine with Canterbury Falls and Sherman Falls.
3.1. Nearby Hiking Trails at Tiffany Falls
The neighbouring Dundas Valley offers Carolinian forest, 1,200 hectares of meadows, streams, and hiking routes to explore. Cross Wilson Street from Tiffany Falls and join the Bruce Trail for a leisurely half-hour hike, where you'll pass Sherman and Canterbury Falls.
Alternatively, you could enter Dundas and park at the main lot off Governor's Road. After approaching the Dundas Valley Trail Centre, cross the rail trail to the trailhead on the opposite side. You can join the Bruce Trail and other trails using the 3.4-kilometre Main Loop trail. It will be a hilly trek!
4) Borer's Falls
This falls, also known as Rock Chapel Falls, is smaller and a little tougher to see than the others but has the benefit of being less well-known and offering a tone of fantastic hiking opportunities. However, it is one of the amazing waterfalls in Hamilton.
A 49-foot waterfall called Borer's Falls empties into Borer's Creek, a stream that supplies water to Cootes Paradise's west pond. Green trees and lush greenery border it in the summer, and it has a great flow during the rainier months. Usually, it flows continuously, but it can slow down to a trickle during dry spells.
Like other waterfalls in Hamilton, it used to supply water to power a sawmill in Rock Chapel Village. The Borer family ran this mill. The creek's flow decreased, so it could no longer drive the mill after years of land removal.
On the east side of the ravine, near the Bruce Trail, is a lookout for the waterfall. It's a little challenging to see the falls as complete because you have to peer through some trees, but it offers them an ethereal feel. Viewing them in the winter or fall might be preferable for a better look. The Ray Lowes Side Trail, which links to the main Bruce Trail, is another way to reach the waterfall from the base of the escarpment.
5) Tew Falls
Given that it is the tallest waterfall in Hamilton, it is also one of the most well-liked. Watch the cascade 41 meters from the two observation platforms as it flows from Logie's Creek.
This location also denotes the beginning of the incline trek up Hamilton's famed Dundas Peak, which offers breathtaking valley vistas and is a must-see during the fall foliage change.
Whether or not a strong water flow typically affects how beautiful a waterfall is. That is why it is ideal for visiting after a shower or spring thaw. With all the icicles attached to the granite overhangs, winter is also a fantastic time to visit.
5.1. Nearby Hiking Trails at Tew Falls
Continue trekking towards Dundas Peak for a magnificent vista of the Dundas Valley after reaching the second viewing point at Tew Falls. Additionally, there are a few Bruce Trail side trails to discover.
6) Canterbury Falls
Even though it's one of the tiniest waterfalls on this list, you shouldn't miss it if you're visiting Dundas Valley Conservation Area. You can hear and watch the gradual trickling flowing down the stony face of the rock, which is heavily shaded by large trees.
Finding the falls is not too difficult. To get to a wooden bridge with a waterfall directly below it, follow the Canterbury Falls Side Trail and the Bruce Trail. Visitors can hike down to the bottom of Canterbury Falls, although caution is advised due to the escarpment's sheer sides. If you intend to do this, be sure you are wearing the appropriate footwear. East of Canterbury Falls is another waterfall; however, it can only be seen in the springtime because it gets dry up in the summer.
6.1. Hiking Trails at Canterbury Falls
The hiking paths in Canterbury have a lot to offer. Here are a few of Canterbury's two most famous hikes, though.
6.1.1. Bealey Spur
A well-known walk in Arthur's Pass that gently winds through the natural forest is called Bealey Spur. It is very flexible and frequently done as a day walk. If you run out of time or energy, you can stop and reverse around at any of the numerous lookouts located along the route. The route is well-kept and has a lot of foot traffic, but it is long enough that it is doubtful that you will see a lot of groups of people blocking the views.
6.1.2. Tarn Hut
Local trail Tarn Hut is tucked away in the Canterbury Foothills. It is a beautiful getaway into the backcountry and incredibly stunning in the winter. The tarn freezes over in the winter when the temperature drops dramatically. Bring a tent with you if you can because the hike up to the huts is becoming increasingly popular, and it can be packed on the weekends.
7) Smokey Hollow Falls
A variety knows Hamilton's waterfall's names. It has a strong water flow over its top and originates from Grindstone Creek. Waterdown Falls, Grindstone Cascade, and Great Falls are other names for this one.
The movement can be seen from a variety of perspectives. The wooden structure above is the simplest. You can descend using stairs as well. After climbing a few boulders, you'll be able to reach the waterfall's base.
The waterfall flows well throughout the year and is stunning when framed by fall foliage.
8) Devil's Punchbowl
Although water runs after rain and throughout the winter snow melt, The Devil's Punchbowl frequently dries up. Even though water usually only trickles when running, the sight of this narrow ribbon waterfall falling 37 meters before hitting anything is striking. It is a lovely spot to explore, especially from below, where spectacular granite formations may be seen.
Devil's Punchbowl is a ravine with a remarkable horseshoe-shaped cliff face created by glacial waters during the last ice age. You'll be able to observe the Niagara Escarpment's different coloured rock layers, which range from red shale to grey shale to limestone and shale dolomite when you're here. However, it is one of the amazing waterfalls in Hamilton.
The Devil's Punchbowl Side Trail provides access to both the Lower Punchbowl Falls and the falls' lower portion. The main parking area is near the vistas, and the edges are protected by rails. The overlook directly beneath the enormous crucifix offers a panoramic view of Hamilton.
9) Sherman Falls
This stunning curtain waterfall, which goes by the nicknames Angel Falls and Fairy Falls, descends over a height greater than its width and lowers over a vertical cliff while preserving some contact with the bedrock.
Sherman Falls should be included in any Dundas Valley Conservation Area trip because it is accessible via several hiking paths. This waterfall is unique since you approach it from the base and outflowing creek rather than above. All year long, this waterfall has a good flow.
9.1. Nearby Hiking Trails at Sherman Falls
Discover the 1,200 hectares of meadows, Carolinian forest, and several hiking paths in the Dundas Valley while you're already in the Dundas section of the Bruce Trail. Around these falls, there are 40 kilometres of trails to explore. Return to the intersection of Old Dundas Road and Lions Club Road to access the Bruce Trail from Old Dundas' north side for a fun and beautiful hike. Turning left on the route will take you to a path that ascends to Groundhog Hill, where you can get a birds-eye perspective over the Dundas Valley. You will reach the Monarch Trail after this.
10) Felker's Falls
You probably wouldn't realize there was a waterfall if you were passing by because it is surrounded by a neighbourhood and a sizable playground for children. Still, Felker's Falls is a treasure worth discovering. However, it is one of the amazing waterfalls in Hamilton.
This ribbon waterfall, which is high and visible from both sides of the gorge, is an excellent location for a quick stroll. As the land declines to the north, you may also obtain elevated views of the city and forest below from the paths. The waterfalls are suitably guarded by guard rails due to the sheer cliff edges and may be observed from one central location on either side. Join the locals who frequent this area to walk their dogs, bring their children outside to play, or go for a morning run.
10.1. Nearby Hiking Trails at Felker's Falls
The East Mountain Trail Loop, which includes Felker's Falls, takes tourists who want to see multiple waterfalls in a neat little circle to Albion Falls, Buttermilk Falls, and Glendale Falls. The Eramosa Karst Conservation Area is also close by. Despite the absence of waterfalls in this area, it is worth going to because of the intriguing environment, which contains small underground caves.
11) Hermitage Falls
This lovely cascade originates from Hermitage Creek and is tucked away within Dundas Valley Conservation Area. Despite being barely 4 meters tall, it is a fantastic place to start any trek in the park because it is so simple to include.
The Hermitage Gatehouse, one of the two remnants of a building once owned by Otto Ives and then by George Gordon Browne Leith, is just a short distance from Hermitage Cascade. Right behind the guardhouse are the falls.
11.1. Nearby Hiking Trails at Hermitage Cascade
Through meadows, the Carolinian forest, and over streams are well-marked pathways. It will be a hilly trek! The routes are multi-use, so watch out for horses and bicycles. On the Central Loop Trail in the Dundas Valley lies the Hermitage Gatehouse. The entire route may be covered on foot in around 90 minutes. The Main Loop, which includes a few small loops, will take you to the 10.5-kilometre Headwaters Trail if you turn left at the waterfall.
12) Buttermilk Falls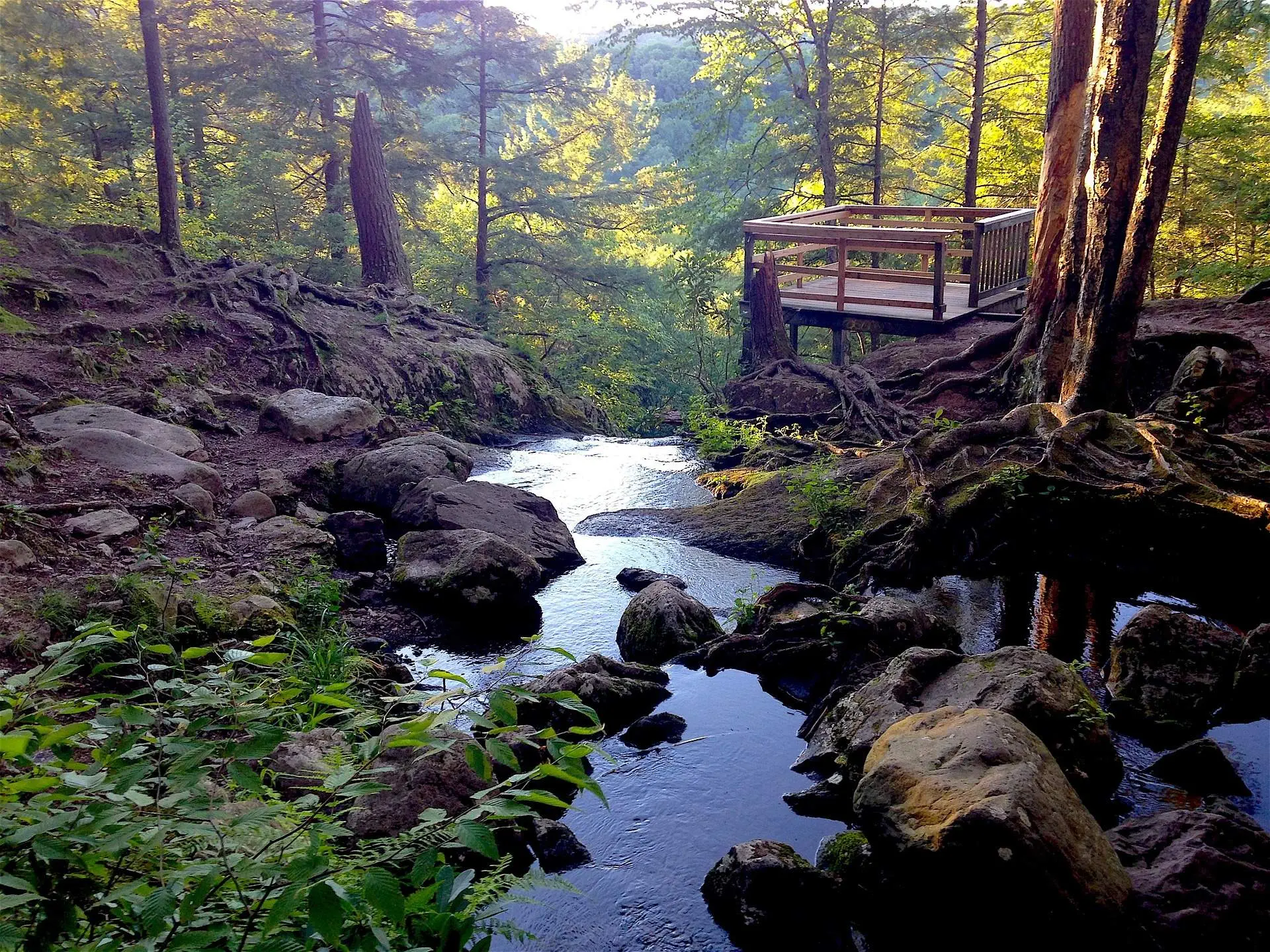 Buttermilk Falls, located beneath a bridge on Mountain Brow Blvd. close to Limeridge Rd. on the East Mountain, might be a hidden gem, but it's anything but. It would be more accurate to state that Albion Falls, located less than a minute away by car, overshadows it. The height of Buttermilk Falls is about 75 feet, and it is active virtually all year. The flow decreases to a mere trickle in the late summer, early fall, or during periods of very little rainfall. However, it is one of the amazing waterfalls in Hamilton.
The less famous Buttermilk Falls are close to Albion Falls. However, Buttermilk Falls may be viewed from the Bruce Trail, unlike Albion Falls, which cannot be reached below. Park in Oak Knoll Park and travel a short distance along the Bruce Trail side trail to get to Buttermilk Falls.
Alternately, Buttermilk Falls can be reached from Albion Falls in a short distance by foot, either through a paved trail that parallels the road or a side trail on the Bruce Trail that offers incredible views of the Red Hill Valley.
13) Dewitt Falls
Dewitt Falls is the most accessible waterfall, while not as well-known or stunning. You can park on the road shoulder just in front of the waterfall, situated on the east side of Dewitt Road, just south of the railroad tracks.
The levels of the exposed cliff are equally as magnificent, if not more so. Behind the waterfall, the coloured rock strata resemble those at Devil's Punchbowl nearby. Dewitt Falls also has a somewhat sulfurous odour, possibly from natural gas seeping through the rock fractures.
14) Grindstone Falls
A trail at Great Falls leads to Hidden Falls on the west side of the creek and begins close to the maintenance facility. The entire waterfall consists of a vertical drop part, a wavy cascade at the peak, and a cascade valley below. However, it is one of the amazing waterfalls in Hamilton. Its crest measures 5 feet in breadth and 26 feet in height.
14.1. Grindstone Falls Hiking
You may reach Grindstone Falls, a flowing waterfall with a 30-meter total plunge, by following a 20-minute walk.
The trail leads to the falls' base and is less than a kilometre long. The entire falls are hidden from view from the bottom. The falls are made up of three or four cascading portions. A trail leads to the top of the falls, although it is not particularly well-used and can be challenging to locate in some spots. You can trek this short, worthwhile trail on the same day as you explore Aubrey Falls and Pig Pen Chutes.
15) Chedoke falls
Visitors can frequently be seen wading and swimming in the waters of Chedoke Falls, which is commonly regarded as one of Hamilton's top ten waterfalls. Since the turn of the century, untreated wastewater has been regularly dumped into the river during rainstorms in the Chedoke Creek watershed. Incorrectly built sanitary sewer bridges from the residential areas it flows beneath have also afflicted the storm sewer supplying Chedoke Falls.
Nearly the entire length of the Chedoke Creek is covered in a network of concrete stormwater and overflow sewers; in fact, the Chedoke Falls themselves pass straight out of a storm sewer outfall, visible from the bottom of the falls. Princess Falls and Westcliffe Falls are two other falls in the Chedoke Creek basin.
16) Little Davis Falls
Little Davis Falls is situated on Davis Creek, a fork of Red Hill Creek that flows continuously throughout the year. It is 3 meters high and has a 5.5-meter-wide crest, though it has been observed to widen to an 8-meter-wide range. A Twin Curtain Falls is what it is. The Hamilton Waterfall Group was initially made aware of Little Davis Falls by Ray Love. However, it is one of the amazing waterfalls in Hamilton.
Downstream of Felker's Falls is Little Davis Creek but getting there from Felker's Falls is challenging. It is simpler to exit the Red Hill Valley Parkway at King St. East and go along King St. to Quigley Rd. Take Quigley Road to its end after turning right upon it. Go onto parks after leaving Quigley Road's terminus. Turn right, and you will find this fantastic little Davis falls.
Here are answers to a few more questions that you may have in mind –
1. What Is Hamilton's Tallest Waterfall?
With a height of 41 meters, Tews Falls is Hamilton's tallest waterfall. In comparison, the size of American Falls is 36.5 meters at its tallest point, while the Horseshoe Falls of Niagara Falls is 51 meters high. Tews Falls is more elevated than American Falls and is almost as high as Horseshoe Falls.
2. Are Hamilton's Two Waterfalls Accessible in A Single Day?
Since Borer's Falls is also close to Dundas, it is simple to visit both on the same day. Waterfalls at the eastern end of Stoney Creek and Hamilton are called Albion Falls, Felker's Falls, and the Devil's Punch Bowl. Between Albion Falls and Felker's Falls, one can trek. You must then travel to the Devil's Punchbowl.
Conclusion
If you enjoy nature and the outdoors, these are the finest waterfalls in Hamilton that you should see. The majority of these waterfalls need little to no hiking at all. Several waterfalls are located close to their parking lots, and one is just next to its parking lot. Extending your excursions through the nearby woodlands, you can easily include additional Hamilton waterfall hikes. However, the following are several impressive waterfalls in Hamilton you should consider!