Dundas Peak is located in Hamilton, Ontario. It is also referred to as 'Valley Town' because it sits at the bottom on the west of Lake Ontario, near the Niagara Escarpment.
Home to some of the most beautiful waterfalls, the demographics of Dundas Peak show that it has a population of 20,000, especially because Dundas can't expand into the protected green spaces in the Dundas Valley Conservation Area. Dundas Peak is one of Ontario's most spectacular natural spaces. It is full of Carolinian forests, meadows, clear streams, and rare plants. Because of its rich environment and location near Niagara Falls, Dundas Valley has been designated a World Biosphere Reserve.
In 2000, Dundas Peak was fused with the city of Hamilton, making it a part of Hamilton and no longer an individual town. While Dundas Peak residents didn't welcome this decision, it has helped bring Dundas into the spotlight and increased tourism.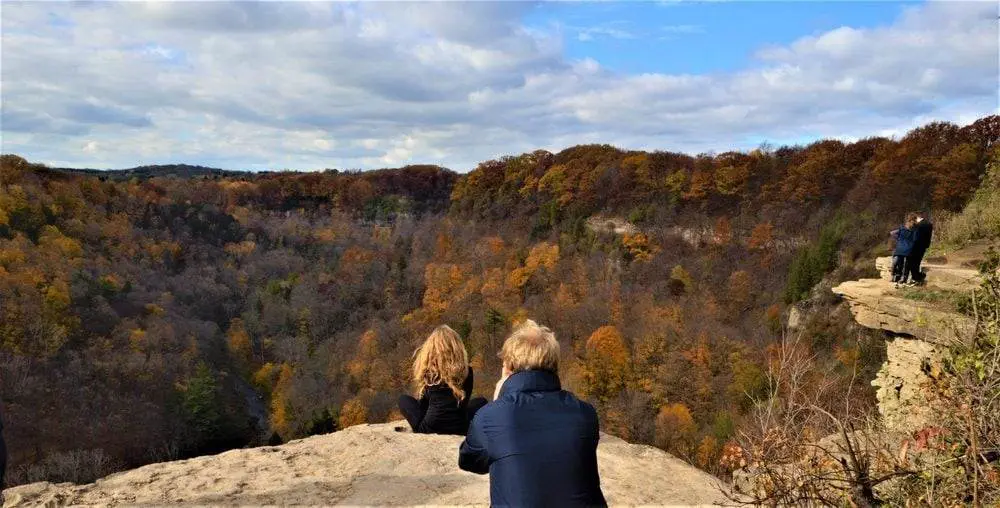 Dundas Peak's historic architecture made its way into many movies and TV shows like The Incredible Hulk. However, this may not be the most interesting fact about Dundas Peak. Ben Veldhuis, an international cactus grower, used to reside in Dundas Peak. You hear about internationally acclaimed cactus growers very rarely. It was Ben Veldhuis who inspired the Dundas Cactus Festival.
Now that we have peeked a bit into the history of Dundas Peak and what makes it such an interesting place to be, let's discuss a few things you can do while in Dundas Peak, Ontario.
1) 10 Exciting Things to do in Dundas Peak
While Dundas Peak has a lot to offer, most of its hotspots are linked to nature. Hiking trails, conservation areas, waterfalls – Dundas Peak is full of things to remind you of the beauty of nature. So, the next time you visit Dundas Peak, let this list be your ultimate guide to places to visit.
1.1) Dundas Valley Conservation Area
The Dundas Valley Conservation Area is 1200 hectares of spectacular forests and rock formations. It is full of hiking trails, with the Dundas Valley Trail Centre at the focal point. This center looks like a Victorian train station, with a train car on tracks. Another great spectacle to view here would be the ruins of the Hermitage.
While hiking Dundas Peak Valley Conservation Area, you will find scenic routes, easy hiking trails, and some wildlife, like deer. You'll find yourself gazing at the most beautiful fall colors in fall.
Dundas Valley Conservation Area has a lot of trails. Here are a few mentionable ones:
Main Loop Trails: Main Loop Hiking Trail is a 4.8km trail, considered a challenging one that takes around 90 minutes to complete. It's famous for birding, cross-country skiing, and hiking and is open throughout the year. It's also dog-friendly.
Headwaters Trail: The trail crosses the creek near Sulphur Springs Road and is full of meadows and deeply cut valleys.
Tiffany Falls Trail: This 0.8km trail takes no more than 15 minutes to complete and is great for an evening walk. It provides a great nature trip, allowing you to take in everything the waterfall capital offers. The trail is great for kids and dogs on leashes.
1.2) Webster Falls and Tews Falls
Tews Falls and Webster Falls have become popular tourist spots because of their amazing lookout. This area is also very easily accessible while hiking Dundas Peak.
The trail that connects Webster Falls, Tews Falls, and Dundas Peak can be found in Spencer Gorge Conservation Area. Since Dundas Peak isn't too far from these waterfalls, you can experience all three sites on the same day. The Spencer Gorge Conservation area makes the Niagara Falls Escarpment Ontario's most beautiful waterfalls and geological formations.
Webster Falls is a large waterfall close to hiking trails, beautiful green spaces, and amazing restaurants. It is one of the most famous waterfalls in the waterfall capital of Hamilton. It is a part of the Spencer Gorge Conservation area and has open grounds that are easy to navigate.
Tews falls is known as ribbon waterfall and is the tallest in Hamilton, towering at 41 metres. It marks the beginning of a hike towards Hamilton's Dundas Peak and is fed by Logie's Creek. It has views and colors that change with the seasons, and the scenic views of the valley are to die for!
These two waterfalls form a crucial part of Dundas Peak's tourism; even though tall and considered extremely dangerous during the rains and winters, tourists can't get enough of the beautiful view and choose to continue hiking until the peak.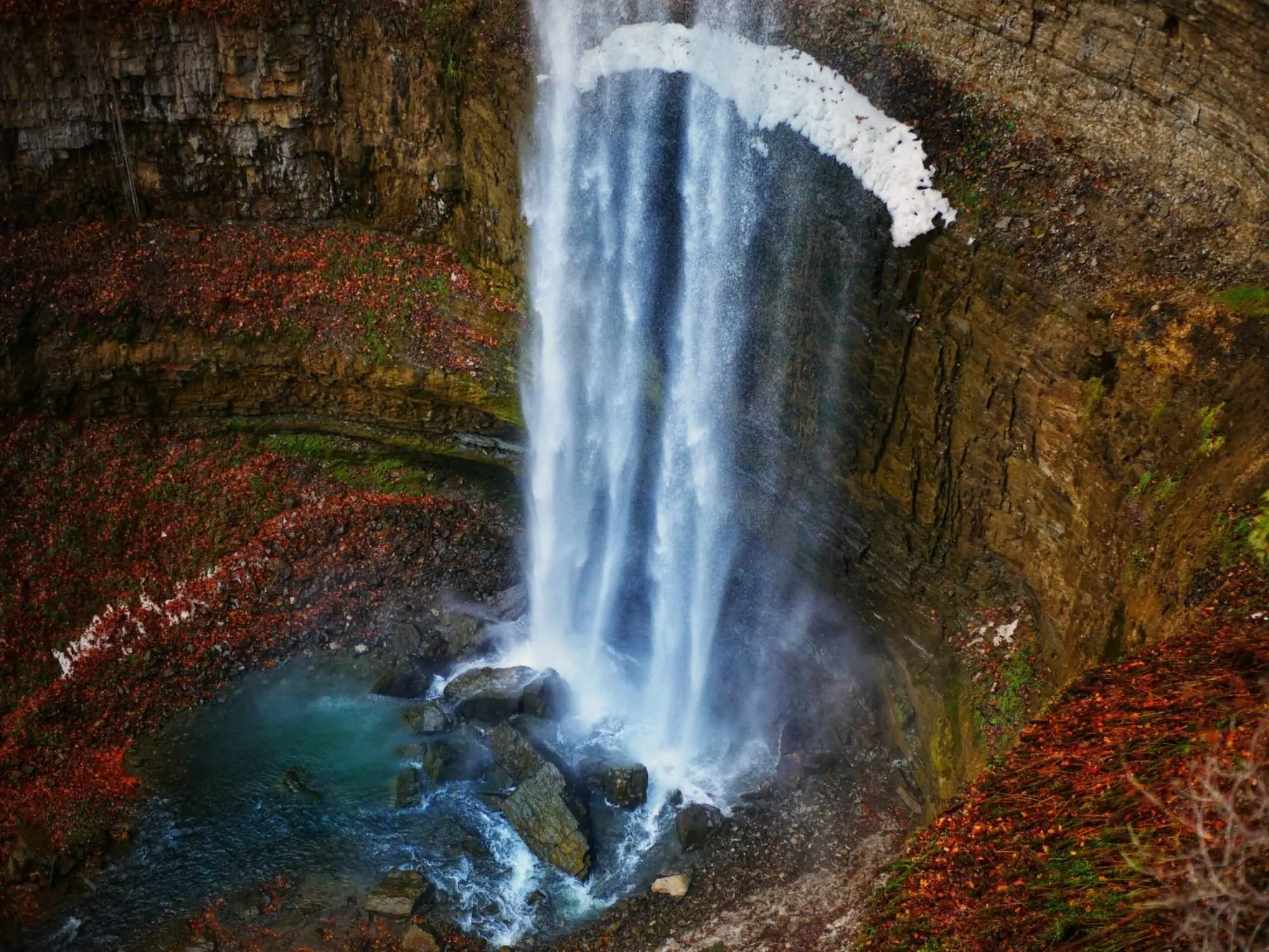 1.3) The Hamilton Rail Trail
The Hamilton Rail trail runs 32km, making it a long walk into Dundas and beyond. The trail extends between Brantford and Hamilton. It is relatively flat throughout, making it an easier trail than the others. It is a great biking trail, completely secluded from the traffic and roads.
Since we're already discussing hiking trails, check out this article to learn more about Hamilton and its beautiful hiking trails:15 Best Hamilton Hiking Trails.
1.4) Borer's Falls Conservation Area
Another natural area in Dundas Peak is Borer's Falls Conservation Area; it has a 4.5km trail. It once provided water to the Rock Chapel Village Sawmill, handled by the Borer family. This is why the Borer's Falls Conservation area is also called Rock Chapel Falls.
Borer's Falls is 15 metres high. A stone bridge on top of it dates to 1868, providing a splendid view of the falls. The trail to the falls is full of odd roots and rocky outcroppings. You'll have to peep through the trees to see these beautiful waterfalls. Amidst heavy vegetation, these waterfalls add special weight to the quality of the view.
Other places near this trail are Cootes Paradise Sanctuary, the Royal Botanical Garden, and the Berry Tract.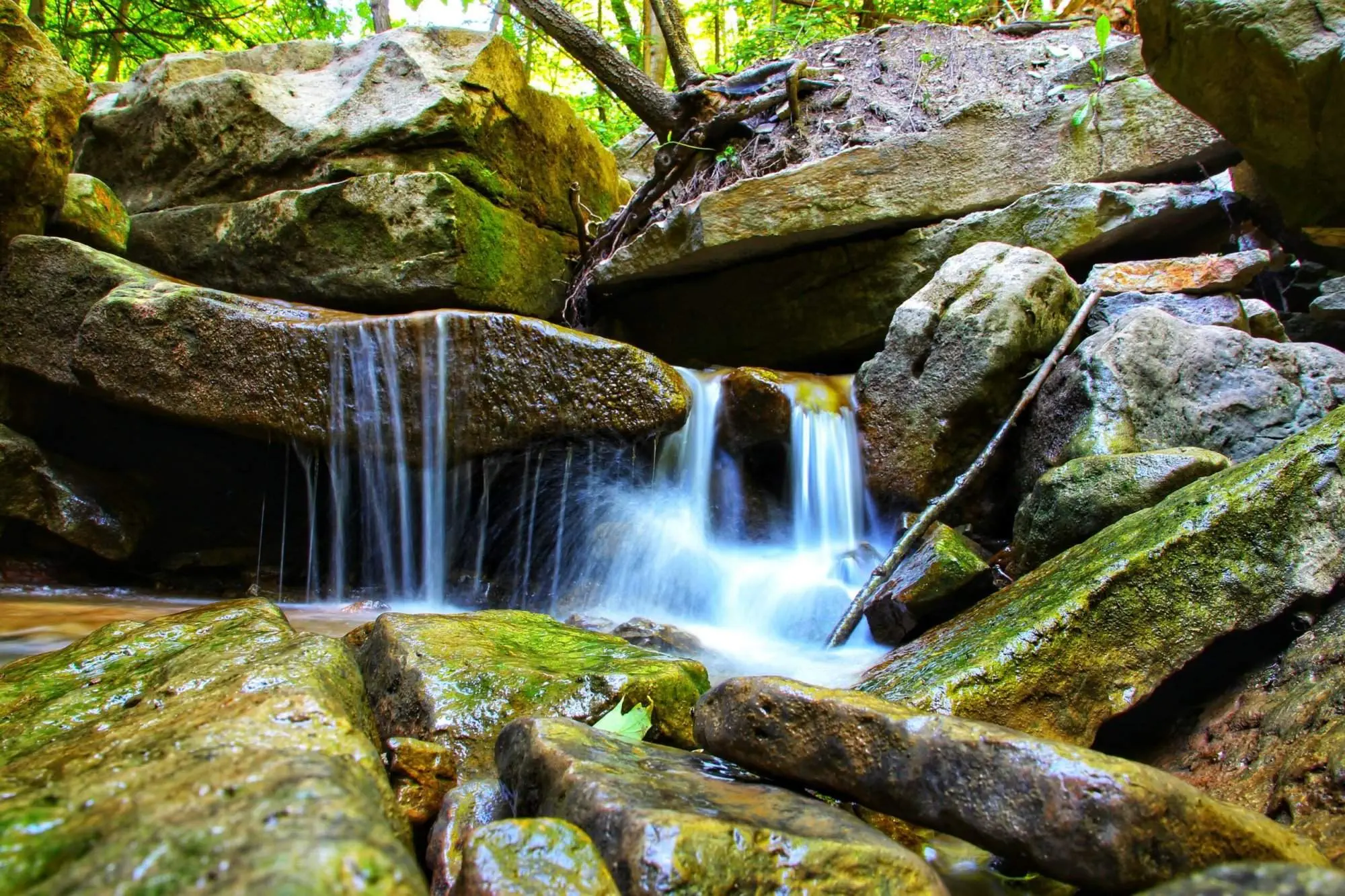 1.5) Dundas Driving Park
Dundas Driving Park is one of the major parks in Dundas for family gatherings. It has something for everyone; a huge tennis court for adults to play, modern playground equipment for children, and a great skate park for teens. It's a great place to go for a walk or to spend some time with your family.
The Dundas Driving Park has playgrounds, a spray pad, a wading pool, an ice and rollerblading rink, a pavilion, electrical outlets, and washrooms. It also has a tennis and lawn bowling club.
Dundas Driving Park is also home to many organizations and associations like Dundas Girls Softball League Program, Dundas Lawn Bowling Association Program, Dundas Tennis Club Program, Dundas Women's Softball Association Program, and Child and Family Centre Programs.
1.6) Art Galleries in Dundas
Dundas Peak is a hub for local artists who indulge themselves in classical music, modern music, and contemporary art. So, unsurprisingly, there are a lot of galleries in Dundas to broadcast this magnificent talent.
The Carnegie Gallery: The Carnegie Gallery is located in Downtown Dundas, right between other beautiful buildings. It hosts the work of regional artists and also hosts exhibitions and workshops. There's also a small gift shop featuring works by regional artists. The gallery promotes and encourages Canadian artists' production and works. It works to promote and provide an educational means for the community to contribute to the development of Dundas as an arts center. This forum of opportunity and exposure provides artists with a door to reach their full potential and helps the community access art exhibitions.
Dundas Valley School of Art: Dundas Valley School of Art always hosts workshops and programs in sculpture, pottery, photography, and more. It's an exciting environment to learn and develop your skill set. Dundas Valley School of art places a lot of emphasis on the power of art to change people's perspectives about the world. Connecting our senses to art and conversation helps us explore more about the world, and that's the motto of DVSA.
They allow the arts to play a major role in determining how we interact with our environment and what we learn from it. It is a thriving hub for artists of all ages and helps them learn and teach more about their artistic lifestyle. Dundas Valley School of Art supports its learners by offering on-site and online instructions. It develops and delivers programs to provide artistic experiences, provides professional and financial advice to those in need, and champions artists by providing them with opportunities for learning and creating a supportive community.
Dundas Studio Tour: The Dundas Studio Tour was founded in 1998 with a vision to tour locally for area talent. Since then, the tour has become very recognized across Ontario and showcases the best local arts and crafts. It occurs before Thanksgiving and allows you to tour local studios and view the amazing talent they hold. Since 1998, the Dundas Studio Tour has showcased some of the finest Southwestern Ontario crafts.
During these tours, you can meet artists, order special custom pieces, find perfect gifts, treat yourself and support local culture and restaurants. The tour runs in seven studio locations with 30 artists. This year will be their 25th anniversary, and their theme for the year is 'Renewal'.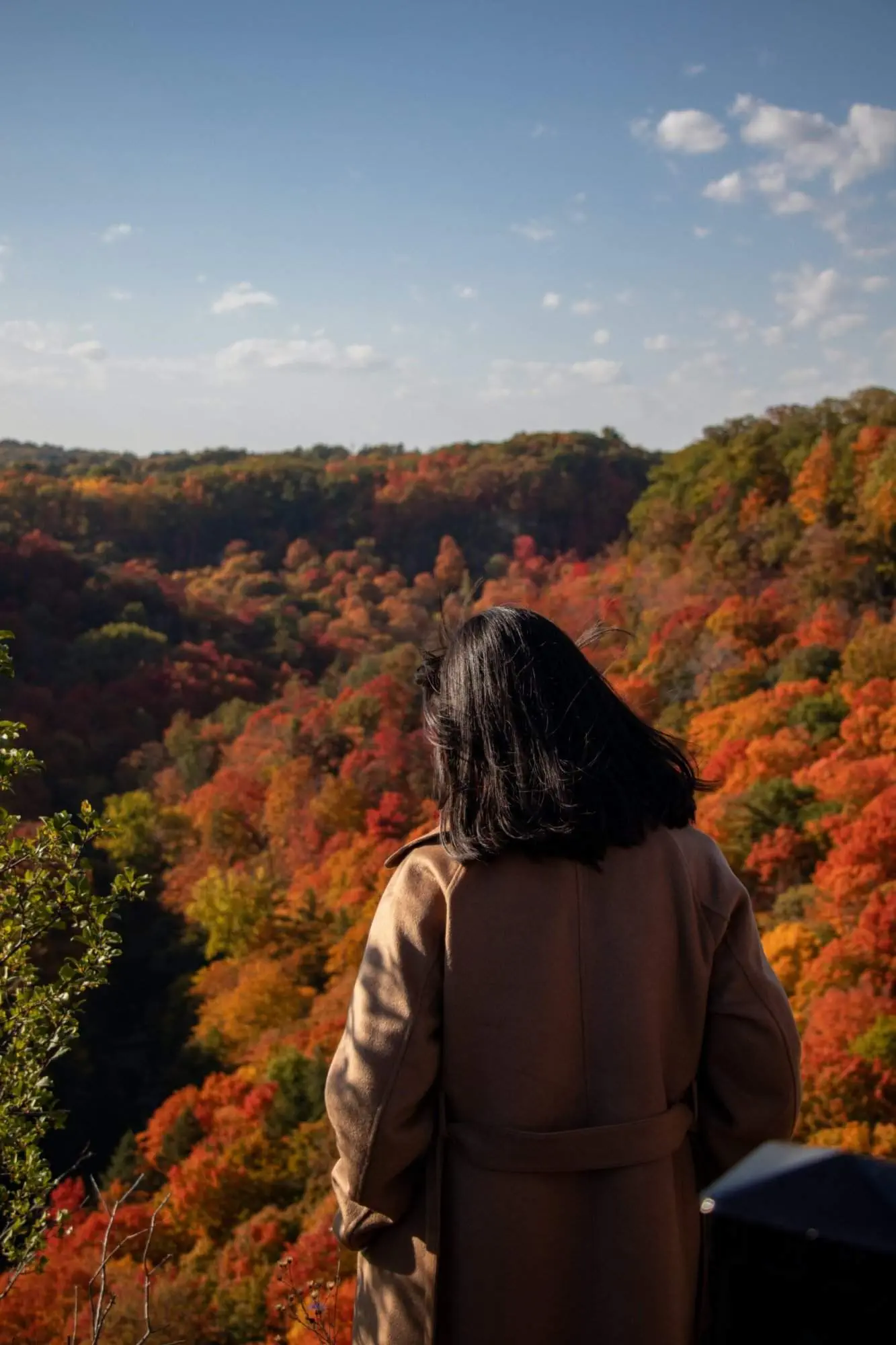 1.7) Places to Check Out in Downtown Dundas
Downtown Dundas Peak has a lot of boutiques and restaurants featuring international cuisine.
Beanermunky Chocolate: It is a small chocolate shop in Downtown Dundas. It has artisan chocolates, vegan chocolates, and gluten-free chocolates. Filled with a friendly and helpful staff, their chocolates also use high-quality ingredients. They have fork-dipped chocolates in small batches made using high-quality ingredients and natural fillings without additives or preservatives.
Every step of the process is done by hand, and the chocolates are available in three prominent flavors: Belgian Milk Chocolate, Belgian White Chocolate, and Belgian Dark Chocolate. Their website also serves an educational purpose by having blogs for beginners to learn about making chocolates.
The Keeping Room: The Keeping Room is a great spot to find kitchen utensils and accessories. If you are a person who loves to cook or bake, you will surely have visited Dundas Peak's The Keeping Room. This shop is full of every tool and gadget used by culinary artisans. It includes cookware and products and sessions on how to use them. If you're lucky, you'll even get a chance to meet a celebrity chef while you're there.
Horn of Plenty Urban Market: Horn of Plenty Urban Market is a great natural grocery store with healthy ingredients and food products available in bulk. Fresh produce, pantry items, baked goods, and a juice shop makes this spot a great place to refill your kitchen with stock. Since 1980, this market also serves natural supplements and body care products.
Picone Fine Food: Picone Fine Food has a lot of fresh produce, ranging from local items to imported ingredients. They also have an espresso bar and serve prepared lunches and dishes. Picone Fine Food has been in business for over 100 years and has produced some great in-house foods. They provide a warm ambience, a human connection, and personalized customer service, helping them leave a lasting impact on their clientele.
Barely Bent Used Books: This bookstore in Dundas has a wide variety of genres and books in excellent condition. They have various genres like literary award winners, sci-fi, fantasy, and horror. They don't purchase the books but operate on store trade credit and donations. They give higher credit for recent books and award winners. They constantly work to promote a community feel by donating books to charity and conducting a loyalty club for people to get discounts on their birthdays. They also help a lot of other book clubs. Barely Bent Used Books is the perfect spot for you in Dundas if you are a book lover.
Cabinet of Curiosities: Located in Hamilton, they have over 35 years of experience sourcing unique and significant materials. They have museum-quality collections, macabre, Victorian taxidermy, funeral memorabilia, medical study, tribal art, world treasures, quack medicine, and eclectic Victorian décor.
They also feature signature pieces from the Billy Jamieson collection, historical pieces from the Niagara Falls Museum, and FX pieces from Gord Smith's collection. Cabinet of Curiosities is a great spot to find antiquities, oddities, collectables, and rare items, ranging from props used in movies like Umbrella Academy, Reign, Orphan Black, Transylvania, Hannibal, Murdock Mysteries, Shadow Hunters, American Gods, Anne with an E, and Handmaids Tale.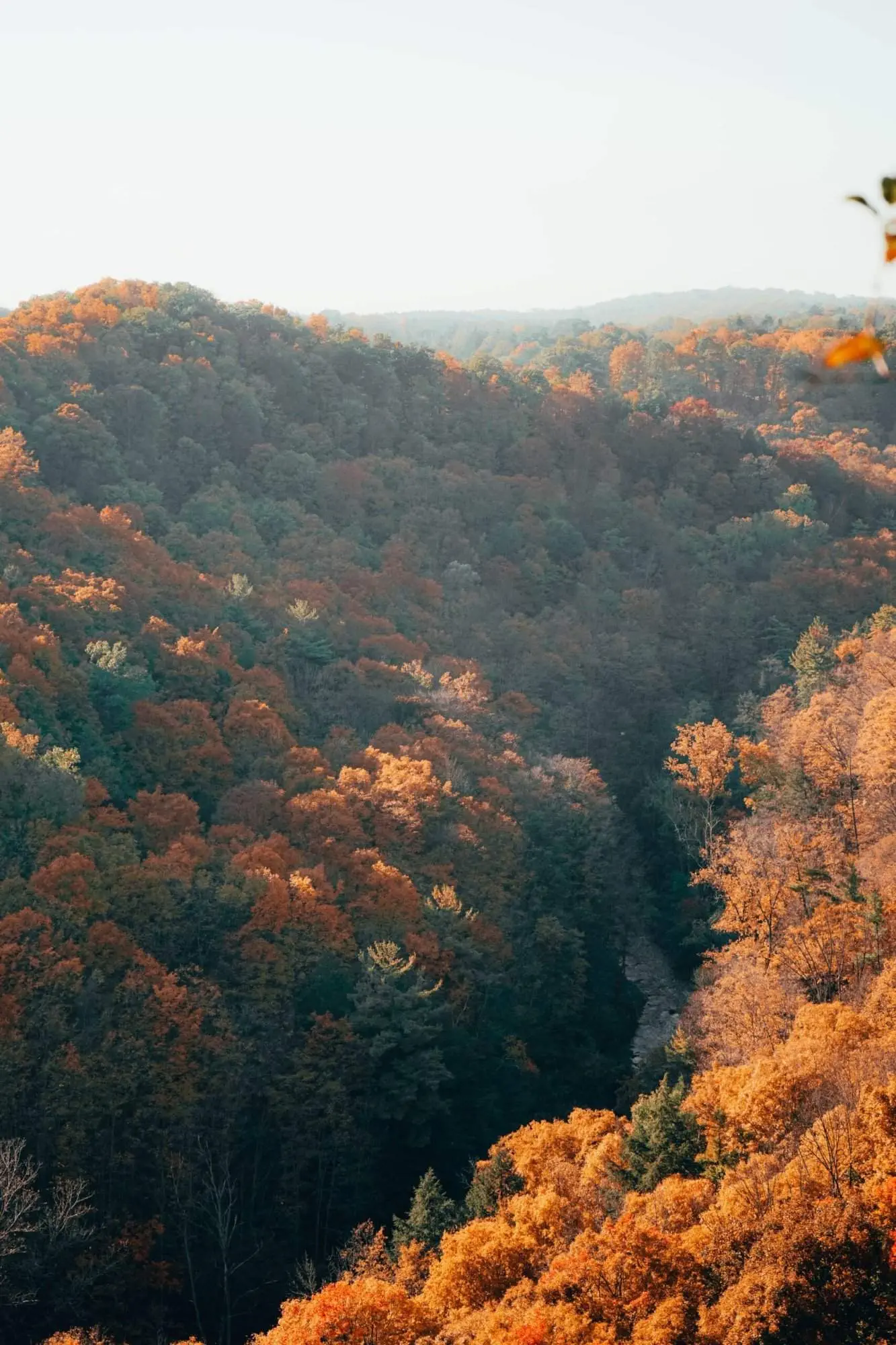 1.8) Festivals in Dundas Peak
Dundas is home to a lot of annual festivals. The town even closes the main King Street to vehicles so pedestrians can make the best of larger festivals. Attending a local, traditional festival in Dundas gives you a great chance to experience local culture and participate in what Dundas offers.
Dundas Cactus Festival: Conducted on the third weekend of August annually, Dundas Cactus Festival is one of the most important festivals of Dundas. Shops stay open till midnight, and stages are full of live music throughout the day. Food trucks featuring tasty treats line the streets, and there's also a carnival with rides and games.
The annual Dundas Cactus Festival parade has floats highlighting local organizations, marching bands, and businesses. The festival runs throughout the weekend. Dundas Cactus Festival is a great opportunity to discover local downtown shops, allowing local business to display their products.
Dundas Buskerfest: Dundas Buskerfest is held during the first weekend of June. It's the second-largest festival in Dundas. It features street performers who show their talent. The street is again closed to pedestrians and is full of performers. There are also vendors, crafters, artisans, and food trucks.
Dickens of a Christmas: Dundas celebrates Christmas during its Dickens of a Christmas event. It is held on Saturdays from 11 am to 3 pm and Sundays from 12 pm to 3 pm. A few things to look out for are Father Christmas, carolers, and stalls with hot apple cider and cookies. Many restaurants will also have 'Breakfasts with Santa', and the vibe and aura of Christmas fill the streets of Dundas.
Dundas Tree Lightning: This ceremony is a festive event and the beginning of the Dickens of a Christmas celebration. People surround the Christmas tree and sing carols. Children sit on Santa's lap, and there are a lot of candy canes. The official tree lighting starts when Santa comes riding on a fire truck. This is Canada's oldest tree-lighting ceremony.
1.9) Dundas Farmers Market
Dundas Farmers Market is a community market selling farm fresh produce, wine, preserves, and baked goods. It helps connect local farmers with the community and allows people to find organic fruits and veggies. It takes place on Thursdays from 3 pm to 7 pm, at Hatt Street and Miller's Lane.
The Dundas Farmers' Market was revamped in 2008 to create a place to restore the connection between farmers and consumers, and it is a non-profit grower and producer market. It's a place for local farmers to sell their produce and local and tourist shoppers to purchase locally grown foods.
1.10) Places to Eat in Dundas
Dundas has a lot of restaurants and cafes. There are many choices to select from, but here are a few most loved ones.
Bangkok Spoon Deluxe: This restaurant serves Thai food in the historical building of the old Deluxe 50s Diner. It is Dundas' first authentic Thai place that also caters to vegan and omnivore needs.
The Thirsty Cactus: The Thirsty Cactus has been around for ages and serves great Mexican food in outdoor and indoor settings. They serve fish tacos, burrito bowls, mac and cheese, and pulled pork, and they even have a specialized kids' menu.
Collins Brewhouse: This iconic pub has craft beer on tap, a spacious patio, and a great variety of cocktails. The Collins Hotel across the street is an important spot in Dundas Peak's history and is recognized as one of the first hotels in Ontario.
Little Asia: This vegetarian and vegan comfort food establishment serves Asian food that locals and tourists love.
India Village: India Village serves great spicy Indian food and caters to vegan needs.
B.Love Conscious Eatery: This vegan establishment in Dundas serves healthy meals and great desserts using organic, non-GMO, local ingredients.
Sensational Samosa: As the name suggests, this eatery is known for its delicious samosas and other meals.
Detour Coffee Roasters: Detour Coffee Roasters has a cosy coffee shop in Dundas and many other places across Canada. Detour Coffee Roasters initially served out of a tiny space and only sold packaged coffee beans. However, they have a charming cafe today that people love to check out when they visit Dundas Peak. They have fresh coffee, lunch, baked goods, and other beverages.
Shawn & Ed Brewing Co.: This craft brewery in Dundas has a patio, taproom, and bottle shop.
2) 10 Exciting Things to do in Dundas Peak – A Conclusion
This list of places to visit in Dundas Peak shows that Dundas Peak may be a smaller town with fewer people, but that doesn't stop it from offering some of the most beautiful waterfalls in Canada. With many conservation areas, an abundant amount of hiking trails, and a lot of places to eat and drink, Dundas Peak is a place that offers something for everyone.
If you like to hike, there are abundant trails for you to enjoy. If you love to cook, The Keeping Room can provide you with all you need. If you enjoy collecting antiquities, the Cabinet of Curiosities will satisfy all your curiosities and help boost your collection.
So, the next time you are in Dundas Peak, you know what to do!
Suggested Reads