Island lake conservation area is one of the most magnificent places to explore in Ontario Canada. Once known as Orangeville Reservoir Conservation Area. Ontario contributes the most beautiful places on earth, among which is the island lake conservation area tracked down at the headwaters of the Credit and Nottawasaga rivers in Orangeville a town in south-central Ontario, Canada. Island lake makes an incredible trip from Toronto, an hour and a half northwest of Toronto. This location is pure magic in the form of nature in Orangeville.
It covers 820 acres of lake, wetland, and forests. this place offers habitat to so many amphibians, deer, fox, osprey, flying squirrels, mammals, fish, and plants. but with the large lake, wetlands, and forest it also serves as home to many varieties of bird species from waterfowl to migratory birds. this area also plays a significant ecological part in saving the headwaters of the Credit River and Nottawasaga rivers.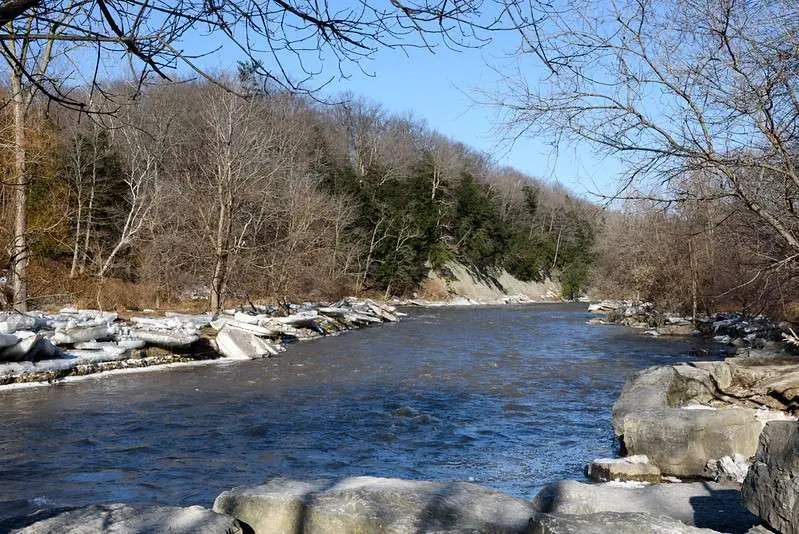 Island lake has so many activities to execute, it's a natural playground for you to admire nature. Then you can walk along the trails, boat in the lake, host a picnic in the forests, fish, skate, and explore the beautiful snow in the winter there's a lot to do. You can also rent boats, canoes, kayaks, snowshoes, and ice huts in the winter. You could get a kick out of all the activities in all four seasons. Island lake has its beauty in all four seasons.
If you're are a nature lover this place is for you. This island lake conservation area has everything from an incredible lake to several wooden trails.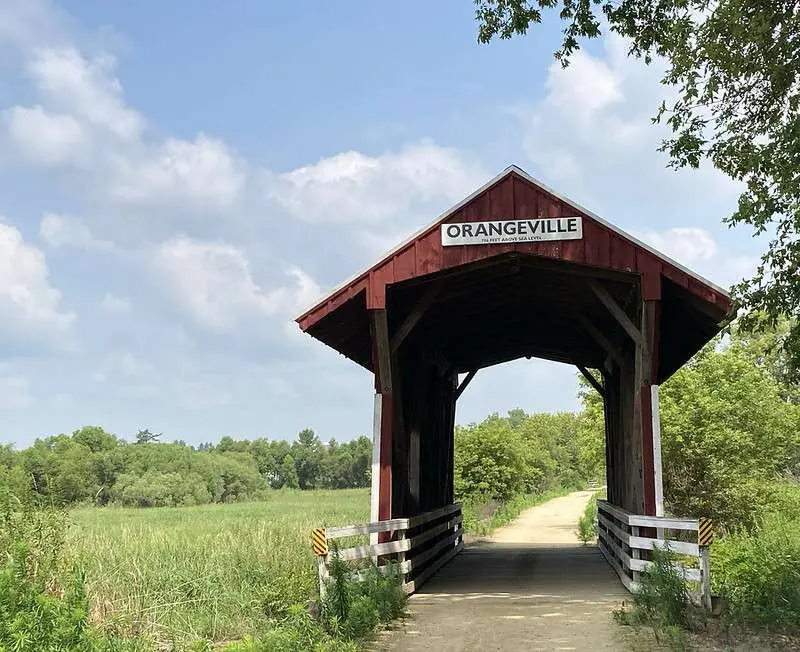 The northeast area of the lake is a wildlife sanctuary without any hiking trails. This is the secured area for many species of plants and animals, especially birds. For this reason being, you will be able to spot a wide variety of birds while hiking. You conceivably might be able to sight a wide variety of birds like a blue heron, a white egret, and numerous geese and ducks.
CREDIT VALLEY CONSERVATION
Credit Valley Conservation (CVC) is a community-based environmental association, committed to conserving, replenishing, and organizing the natural resources of the Credit River Watershed.
Founded by the provincial government in 1954, CVC is one of 36 Conservation Authorities in Ontario.
Before visiting the park, you must stay up to date with the Park Advisories
ADDRESS:-
Island Lake Conservation Area
673067 Hurontario St South
Orangeville, Ontario
PARKING LOTS AT ISLAND LAKE CONSERVATION AREA
The parking area is designed for people who actively arriving at the park. There's limited parking is available at both the north and south access points, including:
South Shore Parking Access: Trail entrance off Highway 10 across from 4thAvenue, Orangeville
Rotary Parking lot: 75 Second Avenue, Orangeville

Home Hardware parking lot: 60 4th Avenue Orangeville
North Shore Access:
673173 Hurontario Street North, Mono parking lot – 26 spaces
246306 Hockley Road, Mono parking lot (across the street from Mono Amaranth Public School) -12 spaces
PARK STORE AT ISLAND LAKE CONSERVATION AREA
Worms, fishing tackle, and snacks are available.
ACTIVITIES AT ISLAND LAKE CONSERVATION AREA
Island Lake is a natural playground; many visitors enjoy a lakeside walk, and family-sized and large gatherings, hiking is more popular here, then you can try canoeing, ice skating, ice fishing in winters, fat tire biking except motorized vehicles, you can walk your dogs but on a leash, oh and so many beautiful birds sighting on a walk, cross country skiing, snowshoeing and boat and ice hut rentals in the winter activities also include fishing which is from a boat or through the ice. Or try your luck for Largemouth Bass, Northern Pike, Perch, and Crappie in one of our fishing derbies.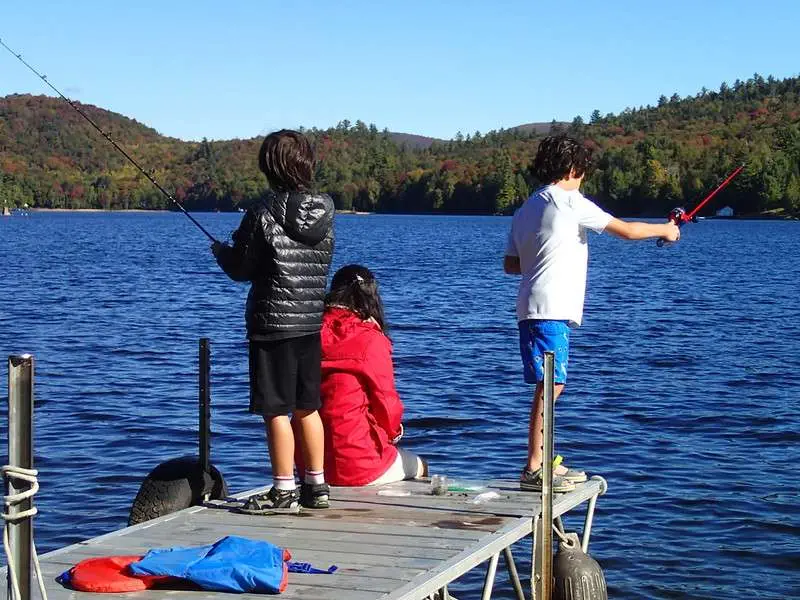 WEDDING AT ISLAND LAKE CONSERVATION AREA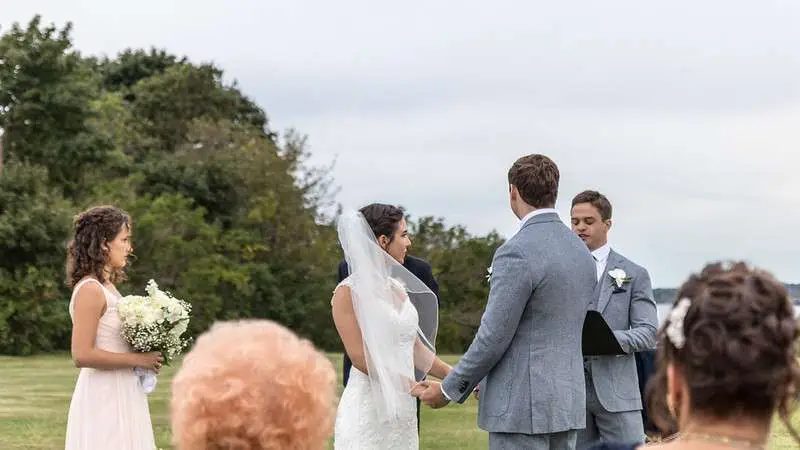 Plan your wedding at the most surreal natural venue where you might wanna add varieties of birds, plants, and beautiful and colorful flowers to your guest list. who doesn't want to get married to the side of the beautiful lake? And most importantly this place is so picturesque.
Meghan and Julia work for Credit Valley Conservation. Julia books wedding ceremonies and receptions at Belfountain and Terra Cotta Conservation Areas, and Meghan handle bookings at Island Lake Conservation Area. They also book wedding photography sessions at these parks.
TRAILS AT ISLAND LAKE CONSERVATION AREA
VICKI BARRON LAKESIDE TRAIL
During her time at the Credit Valley Conservation, she was passionate about cleaning up the Credit River to ensure safe and clean groundwater for all.
Vicki Barron Lakeside Trail covers 8.3km of the entire loop trail that surrounds the park's lake. This is one of the park's main bridges and is a great way to see much of the conservation area.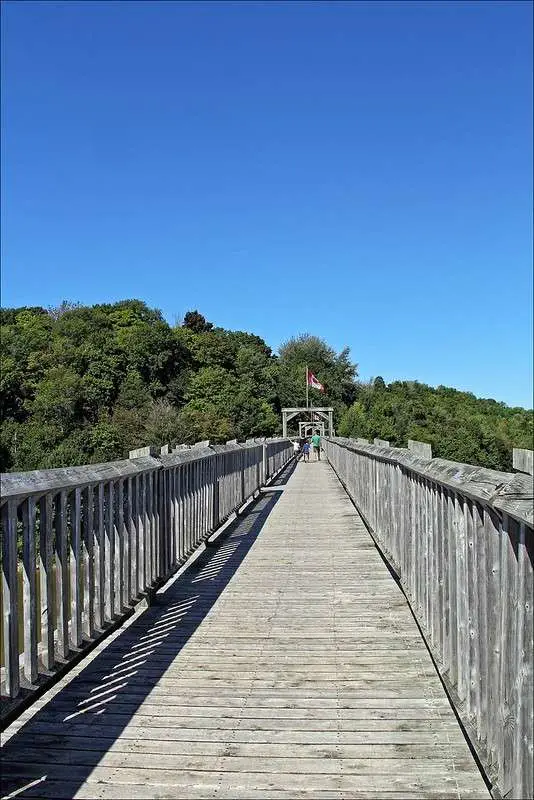 The way for hiking trails is between packed gravel and wooden boardwalks. So because of it, the hiking trail subsists convenience for walking, hiking, cross-country skiing, snowshoeing, cycling, wheelchair users, and strollers. There are also benches and places to rest no further than 800 meters apart.
There are three other parking lots to entrance the Vicki Barron Lakeside Trail. You have to only pay allowances at the main entrance. There is parking at the Home Hardware just a little further north on Highway 10 but this plants you on the busiest section of the trail. This entrance takes you in through the northwest corner of the park and the parking lot can get quite busy at times.
You can also park at the northern portion of Hurontario Street, across the lake from the main park area. This is the quietest parking lot that takes you to the quietest, yet most scenic portion of the bridges.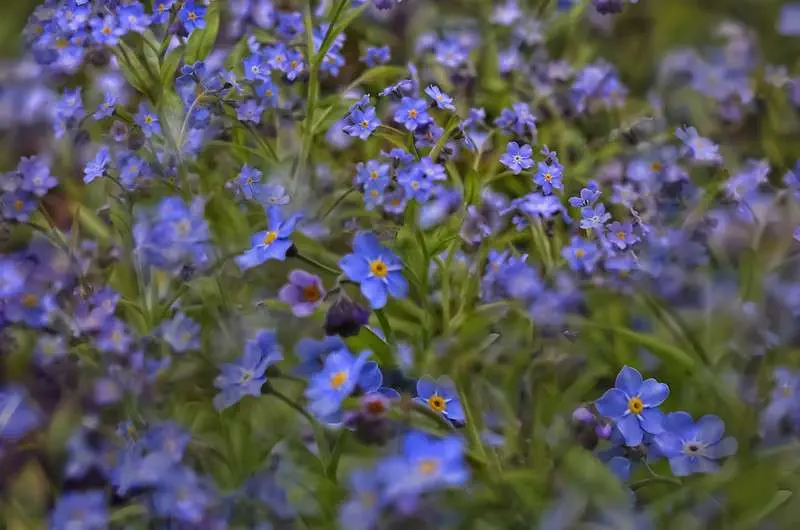 You could spot a resting place highlighted by the name scenic vistas. You could also find a pit toilet located here, this is the only washroom on the opposite side of the lake.
The main hiking trail at Island Lake Conservation Area is the Vicki Barron Lakeside Trail. It takes about two hours to hike around the entire Vicki Barron Lakeside Trail. There aren't too many elevation changes throughout the hike. This is by far the best Orangeville hiking trail to date, and it's right in town. There are also a few shorter trails named Island Lake Family Trail which is imprinted in yellow, Hockley Trail in purple, Sugar Bush Trail in red, and Memorial Forest Trail marred in green.
MORE TRAILS AT ISLAND LAKE CONSERVATION AREA
HOCKEY TRAIL and ISLAND LAKE FAMILY TRAIL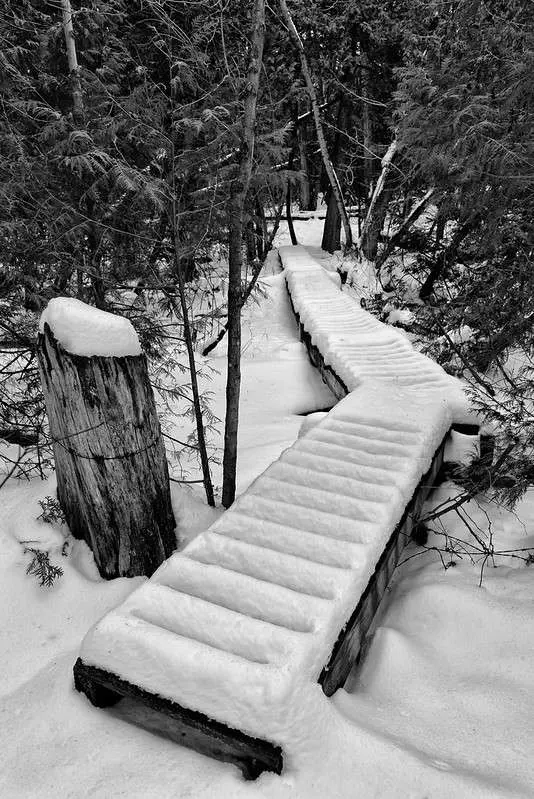 The route of the Hockley Trail connects to the Island Lake Family Trail in a circle of the Vicki Barron Lakeside Trail at the northwest corner of the park. this is of 2.2km trail long which would take about a half-hour for you to walk. It's a combination of extra-packed gravel trails and expansive boardwalks which makes the hiking more memorable and scenic.
SUGARBUSH TRAIL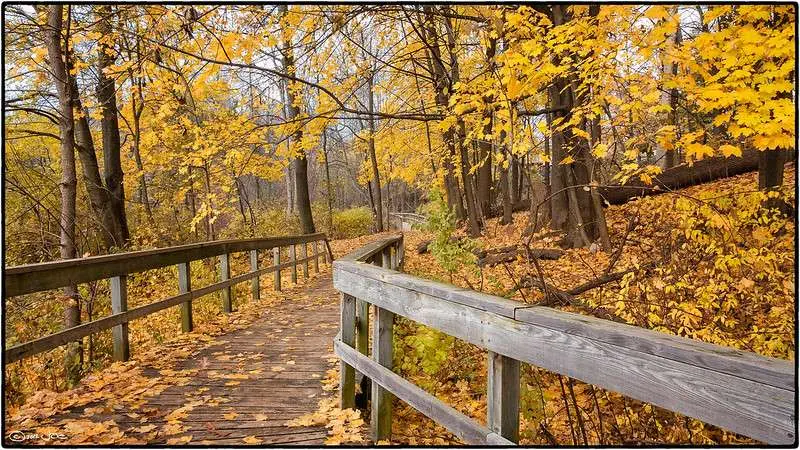 The sugar bush trail total covers an area of 1.2km. you could complete the hike in almost 20 minutes which consists of more rugged routes. While hiking Sugar Bush Trail through an old Sugar Bush forest you will witness lots of maple and tree canopy which will make you enjoy the cool breeze around the trees. This is a forest hike with more landscape. The annual Maple Syrup Festival also took place over here.
Check out Adventurous Realm: 7 Best Campgrounds on Vancouver Island
MEMORIAL FOREST TRAIL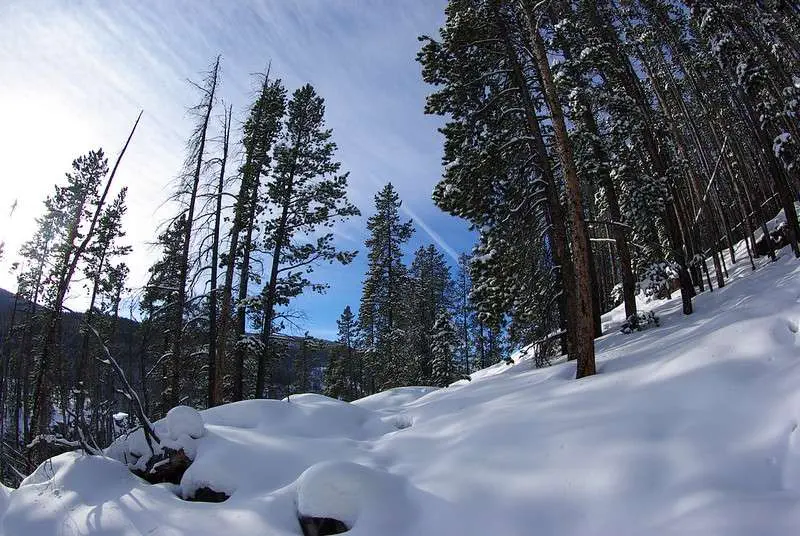 The Memorial Forest Trail is 1.6km in length and the whole hike would take you about 25minutes. The Memorial forest trail starts through the Dods and McNair Memorial Forest which is named after the Dods and McNair Funeral Home in Orangeville.
If you want you can also plant a tree over year in the memory of your loved ones if you came across the funeral home. It's a good trail through former meadows, and it's a great place to go cross-country skiing in the winter.
FESTIVAL AT ISLAND LAKE CONSERVATION AREA
MAPLE SYRUP FESTIVAL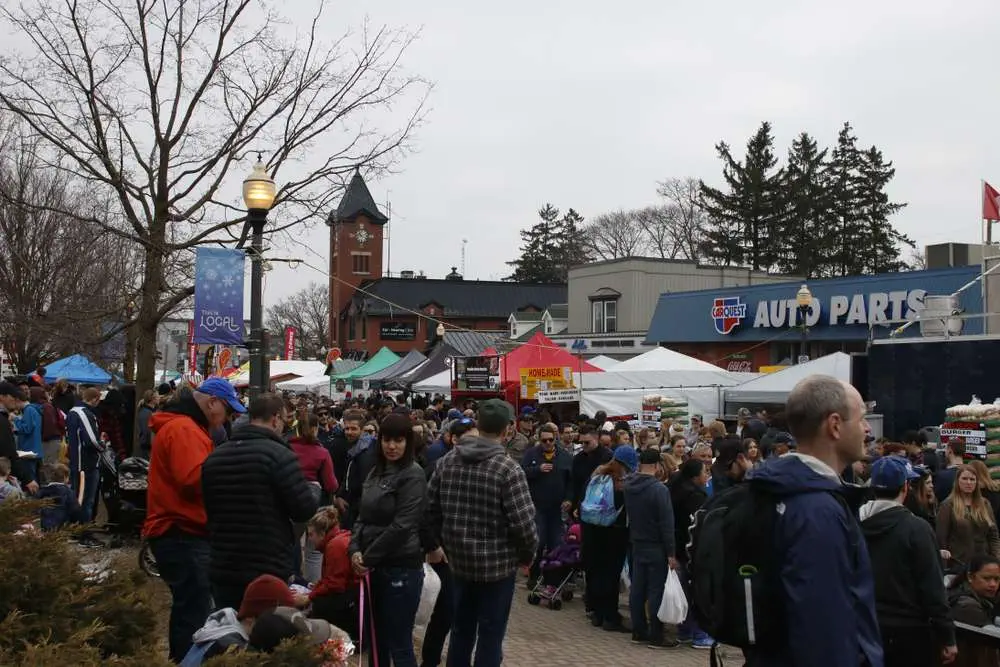 We all know how much maple is important for the whole country of Canada so there's an annual Maple Syrup Festival celebrated at the Island lake conservation area. The sugarbush maple syrup festival also takes place at many other Ontario conservation areas like the Kortright Centre for conservation, Bruce's Mills Conservation Area, and Terra cotta conservation area.
BEST NEARBY RESTAURANTS IN ORANGEVILLE
Orangeville may be a small community, but the variety of food here is as great as a globe. A remarkable collection of locally-owned diners, cafes, pubs, bakeries and food shops create a one-of-a-kind culinary occasion.
EXPLORE MORE NEARBY ATTRACTIONS
Time for more attractions around Ontario, Canada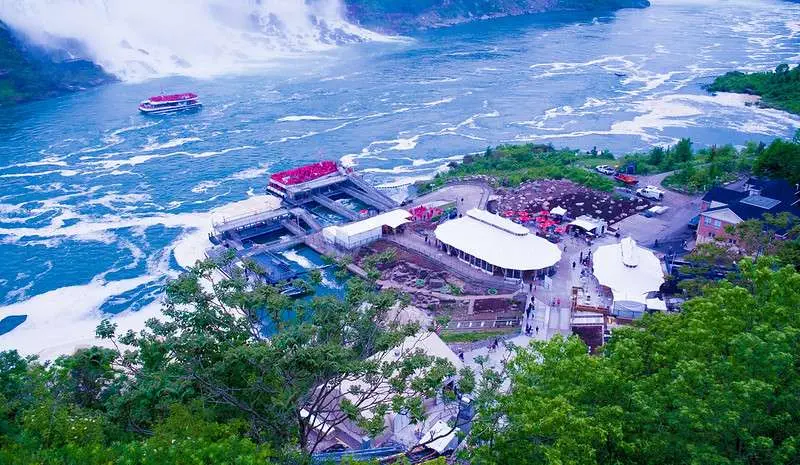 Niagara Falls is one of the most beautiful sceneries that you would site through your eyes. Niagara falls is everybody's dream to visit once in their life. It falls between the border of America and Canada. Though the best view is from the Canadian side.
The most beautiful thing to do here is to see this amazing natural phenomenon scenery – over 3,000 tons of water cascade over Niagara Falls every second. Parks are also available on both sides of the fall to take pictures or benches are also accessible to sit.
I recommend you to visit in the summer as in winter it gets very cold. You can also cross from one country to the other from the Rainbow Bridge but remember to bring your passport as there is a border control facility that checks people and vehicles that run over the bridge.
There are so many incredible outlooks to catch a glimpse of the falls so take a hike and just relish the views.
Experience the Colorful Falls at Night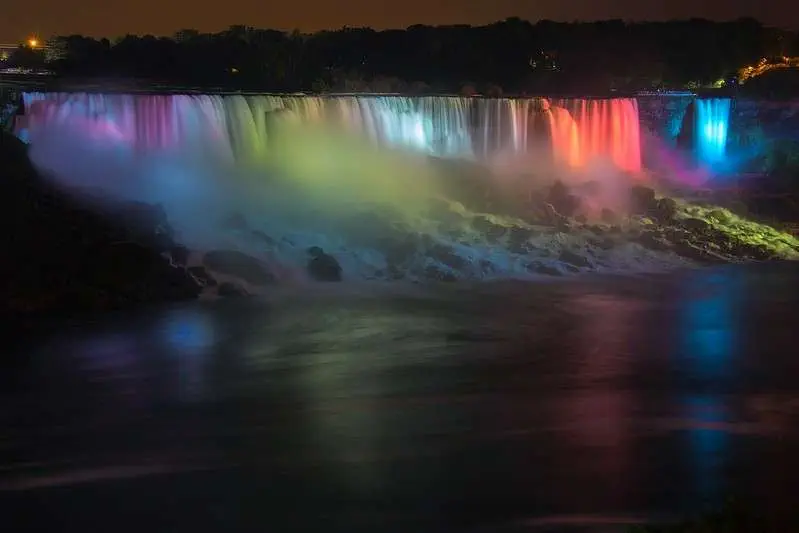 If you are planning on being in Niagara Falls at night and not just doing a day trip, you will not want to miss seeing the colorful falls at night.
Enjoy the Nightly Fireworks Display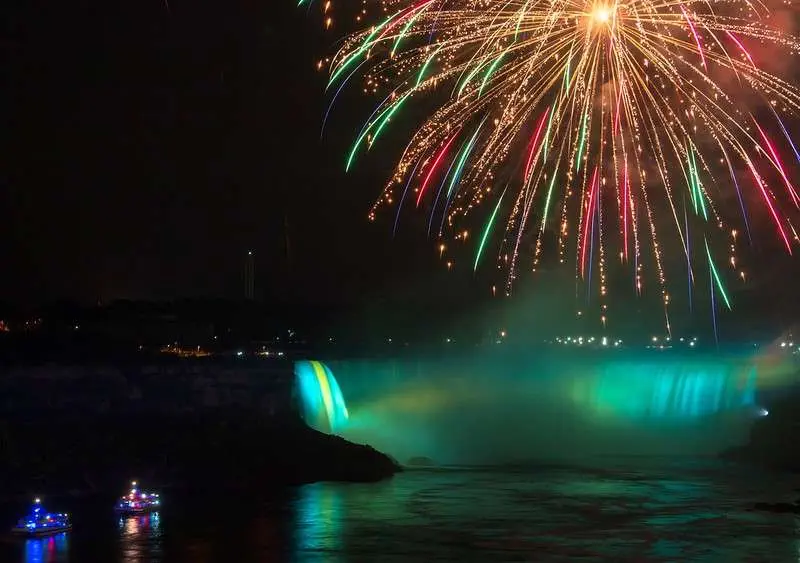 If you're visiting Niagara Falls in the summer make sure not to miss one of the nightly fireworks displays.
Go on a Cruise with Hornblower Cruises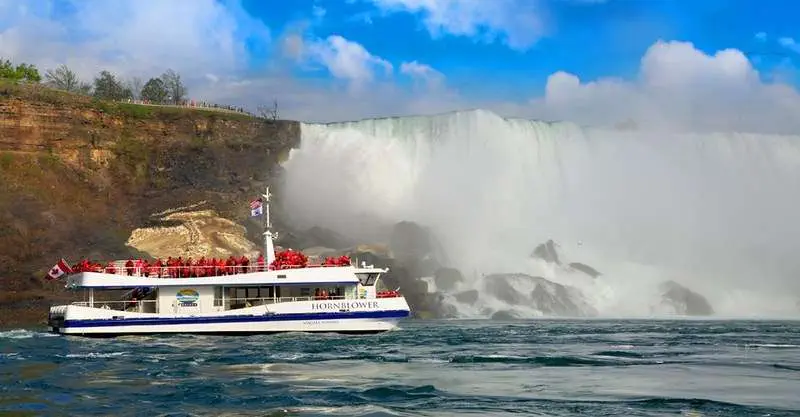 Just be in the moment and enjoy the cold misty breeze of Niagara Falls from the water.
There are a ton of activities to do in Niagara Falls, Ontario. With so many beautiful sceneries to see and things to do in Niagara Falls, it makes for an excellent tour.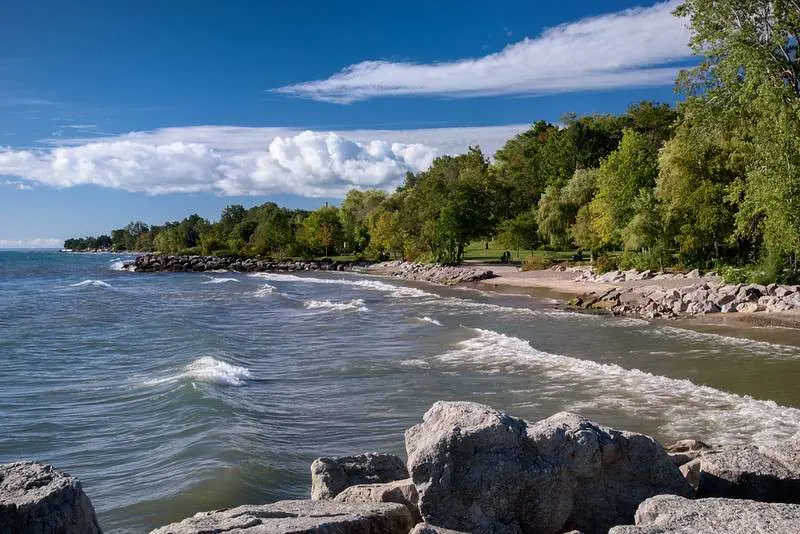 Lake Ontario is the 14th largest lake in the world by surface area. The smallest lake by the surface area of all the Great Lakes. lake Ontario provides water to about 9 million people. Although it is the smallest of the Great Lakes, more Canadians live in the Lake Ontario watershed than any other watershed in the country. A popular spot to visit is the extraordinary Niagara Falls, where over 135 million liters of water flow into the raging Niagara gorge every minute.
The Toronto Islands are comprised of 15 small islands in Lake Ontario, next to the mainland. These scenery and nature-dense islands are a shining example of the city of Toronto's values in spending time outdoors and appreciating all that this beautiful region has to offer. Just a short ferry ride from the city of Toronto and all connected by boardwalks and a walking bridge, the Toronto Islands are the perfect place to spend a day with the family, special others, or plan a solo trip.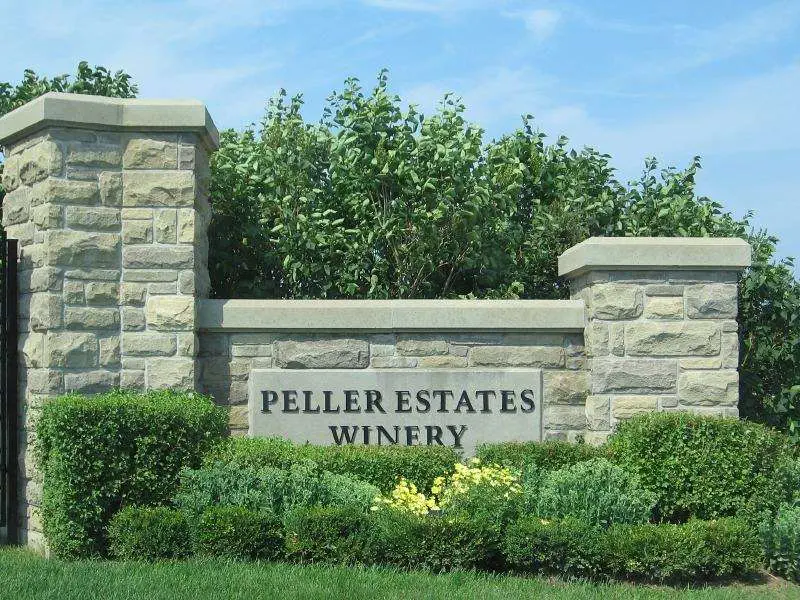 Peller Estates Winery has been crafting quality wines for Canadians for over 50 years. the perfect way to unwind is by tasting the area's signature Ice wines and savoring the local farm-to-table fare. A 15-min drive from Niagara Falls will take you to Canada's most renowned wine region, Niagara-on-the-Lake, where you can get a taste of the spectacular wines and exquisite culinary delights. Among the 37 wineries, Peller Estates is considered the best winery in Niagara-on-the-Lake.
If you are a wine enthusiast this place is for you to visit once to experience wine country uniquely at the ultimate wine lovers' playground.
RIPLEY'S AQUARIUM OF CANADA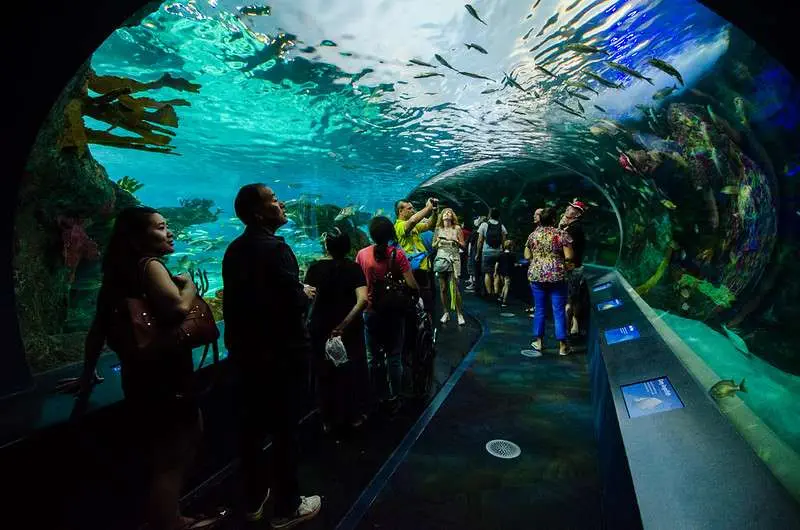 Ripley's Aquarium of Canada is owned by Ripley entertainment. A must-visit in Toronto, when you visit this you will be mesmerized by the world of 20000 beautiful aquatic animals. Ripley's is located beside the CN Tower and across a plaza from the Roger's Center. The Toronto Aquarium is divided into some sections. Once you depart through the passageway, you will come into the Discovery Centre overlook balcony. There you will see a tall tank with lots of fish swimming together.