There are many health benefits associated with spinach, making it a powerhouse of green. This food's vitamins, low carb, minerals, high fibre, vitamin C, calcium, folic acid, vitamin K, and iron make it one of the healthiest foods!
Make tasty yet healthy spinach salad with the recipes mentioned in this blog! There is evidence that it can improve eye health, prevent cancer and regulate blood pressure. There is a mild taste with a slight sweetness to it.
After going through these recipes, I bet you will wonder where spinach was all your life.
Spinach Salad Recipe
1. Spinach Salad With Goat Cheese, Red Onion, and Balsamic Dressing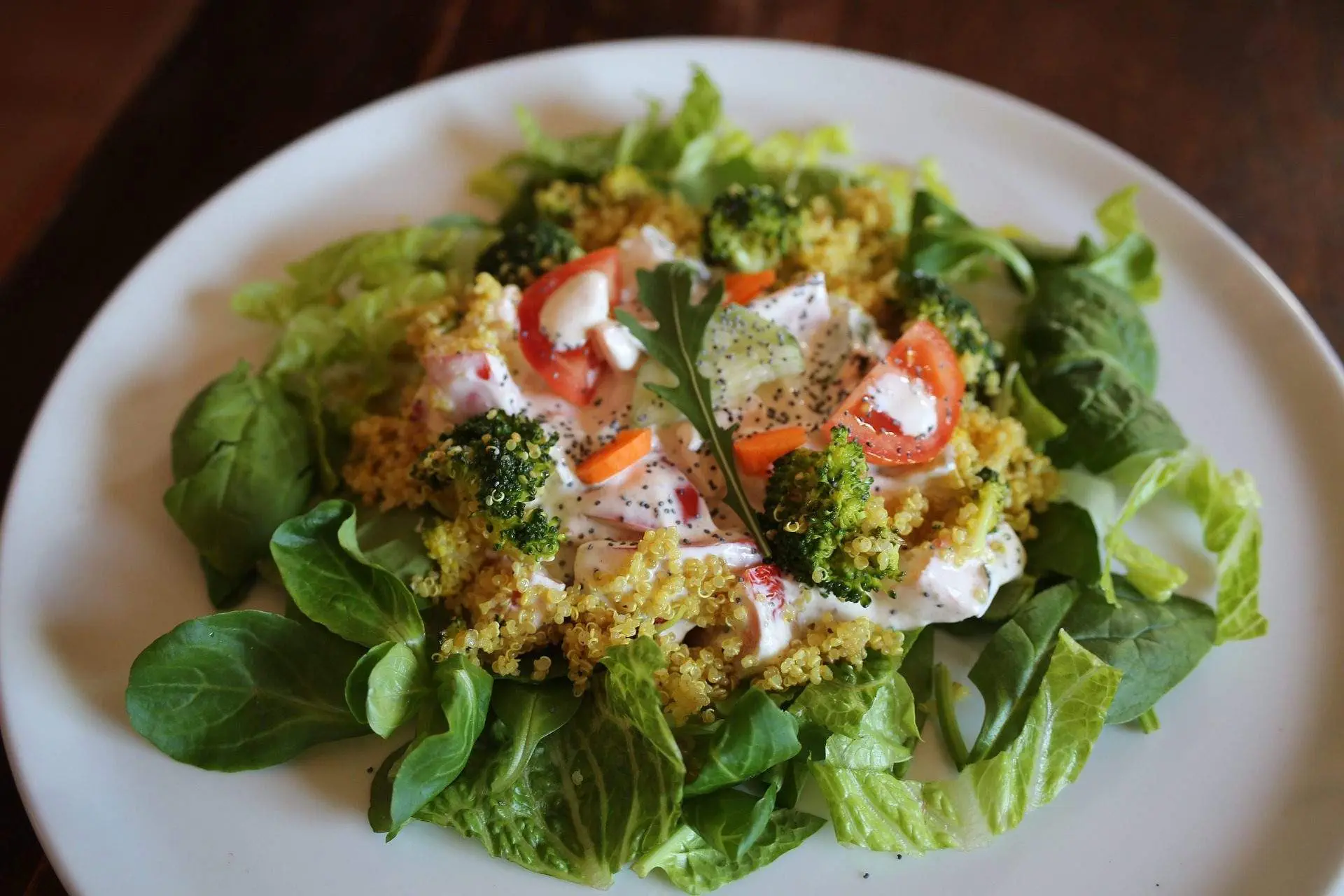 Say hello to the easiest yet most delicious recipes of all time. This spinach salad recipe contains rich ingredients and mouth-watering creamy balsamic dressing.
Let us quickly jump to the spinach salad recipe! You will wonder why you haven't been feeding yourself this way forever once you start making it and realize it's so simple. This recipe serves four people.
Ingredients
10 oz spinach
Goat cheese
¼ cup olive oil
½ cup red onion (sliced)
½ cup dried cranberries
1 teaspoon Dijon mustard
¼ cup full-fat Greek yoghurt
½ teaspoon salt and pepper
1 Avocado
Cucumbers
½ teaspoon garlic powder
¼ cup balsamic vinegar
1 teaspoon honey
½ cup walnuts
How to Make
Firstly, start by toasting the walnuts in a skillet at medium heat. Toss it gently in the skillet for 3-5 minutes until the walnuts turn brown. Then turn the stove off, and rest it in a cool place.
Now prepare the salad ingredients by taking a large bowl. Chop the red onions and cucumbers. Add spinach, chopped red onions, goat cheese, cucumbers, avocado, dried cranberries, and walnuts.
Make the yummy dressing recipe by adding all the ingredients to a bowl and whisking them together. Whisk it till the balsamic dressing is fully combined. If you find this difficult, then use a blender.
Finally, take a large bowl and add spinach and onions, cucumbers, cranberries, goat cheese, avocado, and walnuts.
To serve immediately, drizzle the prepared dressing over the salad. Toss it well so that the balsamic dressing is evenly spread.
Nutrition Serving
Calories: 448kcal
Carbohydrates: 28g
Protein: 10g
Fat: 34g
Saturated Fat: 7g
Polyunsaturated Fat: 15g
Cholesterol: 12mg
Sodium: 485mg
Fibre: 6g
Sugar: 16g
2. Strawberry Spinach Salad with Feta Cheese and Poppy Seed Dressing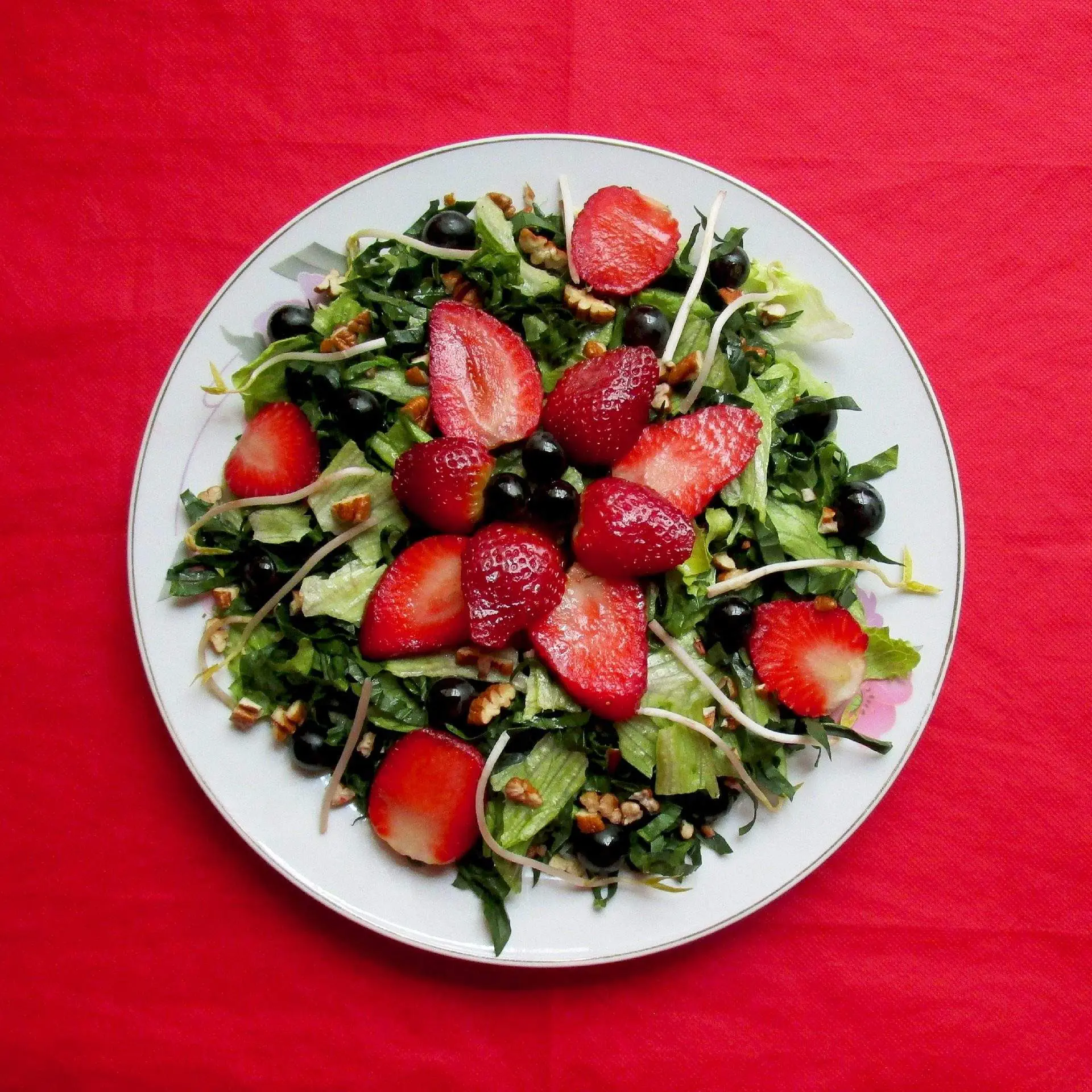 This colourful spinach salad recipe is best for hosting a dinner party. This main dish can be served to 6 people. I would give five stars to this delicious dish.
Ingredients
1-quart strawberries
3/4 cup feta cheese
1/2 red onion
10 ounces of baby spinach
3/4 cup pecans
1/2 teaspoon Dijon mustard
3 tablespoons olive oil
1/8 teaspoon black pepper
1 1/2 tablespoons poppy seeds
1/2 teaspoon kosher salt
1 1/2 tablespoons honey
1/4 cup balsamic vinegar
How to Make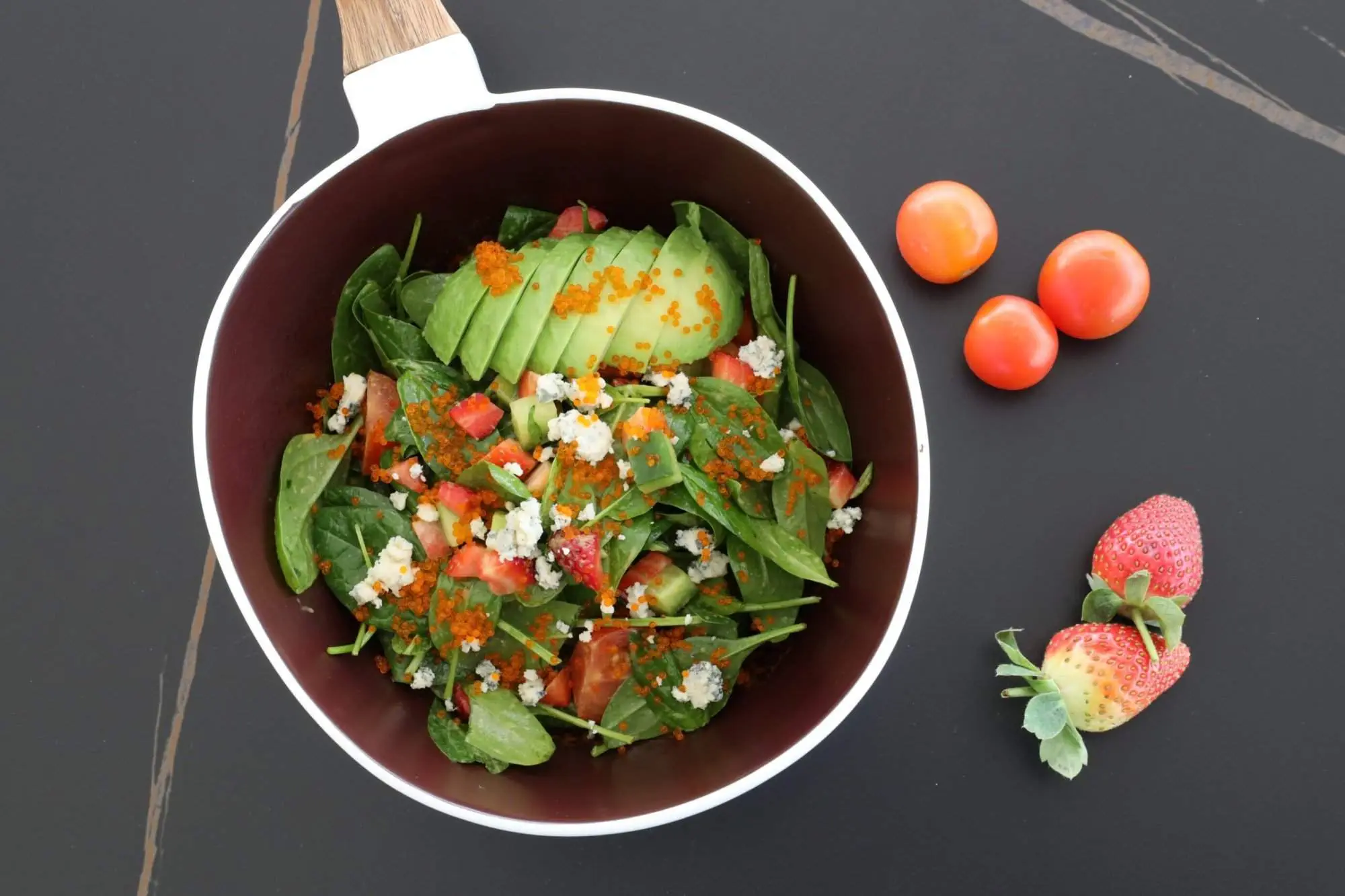 Begin making the recipe by toasting the pecans in a preheated oven of 350 degrees F. Take a baking sheet to bake the pecans in the oven for about 8 to 10 minutes.
The toasted pecans would break and give out a flavourful aroma. Remove them from the oven and chop the pecans roughly.
Take the thinly sliced red onions and transfer them to a bowl with water. It makes the onion soft. Then, add vinegar, honey, salt, pepper, oil, poppy seeds, and mustard. Whisk these dressing recipes nicely.
Now it's time to make the salad with these salad ingredients. In a bowl, add fresh baby spinach and fresh strawberries. Also, add the onions and the prepared dressing on top.
Gently sprinkle crumbled feta cheese and toasted pecans on top. Simply toss and serve immediately!
You can serve it with grilled chicken, crusty bread, or pasta.
Nutrition
Calories – 249kcal
Carbohydrates – 16g
Protein: 6g
Fat – 20g
Saturated fat – 5g
Cholesterol – 17mg
Fibre – 4g
Sugar – 10g
3. Spinach Salad with Chicken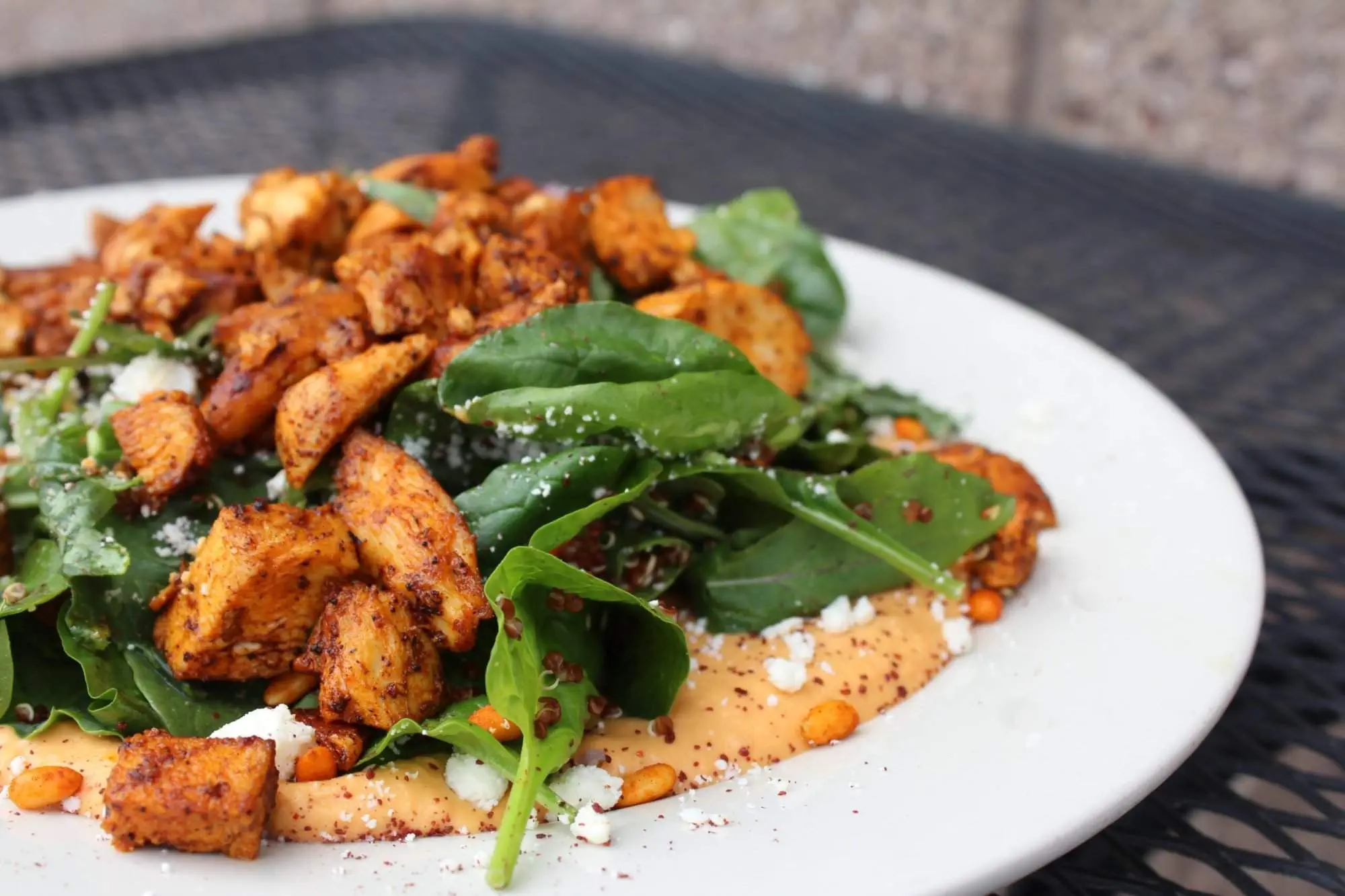 This recipe is a must-have in salad cuisine. Try this salad recipe; it will become your family favourite! This easy spinach salad recipe serves two people.
Ingredients
1 chicken breast
4 cups baby spinach
1/2 cup strawberries
1 tablespoon Dijon mustard
3 tablespoons feta cheese
1/2 cup blueberries
1/4 cup olive oil
1 teaspoon honey
3 tablespoons almonds
1 tablespoon balsamic vinegar
1 cup mandarin oranges
How to Make
Begin by washing the fruits. Slice the strawberries finely, peel the oranges and remove the stems from the spinach.
Slice the chicken breast and dab it on paper towels for it to dry. Next, gently massage the chicken breast on both sides with olive oil. Then rub it with salt, pepper, and other recipe developments.
Take a large grill pan and add 2 teaspoons of olive oil. Cook the chicken on low flame. Grill and cook until the chicken turns brown on both sides. Make sure you flip the chicken correctly.
You will know that the chicken breast is cooked when the juices run clear from the chicken. Remove the cooked chicken and place it in foil. Let it cool, and then chop the chicken as you prefer.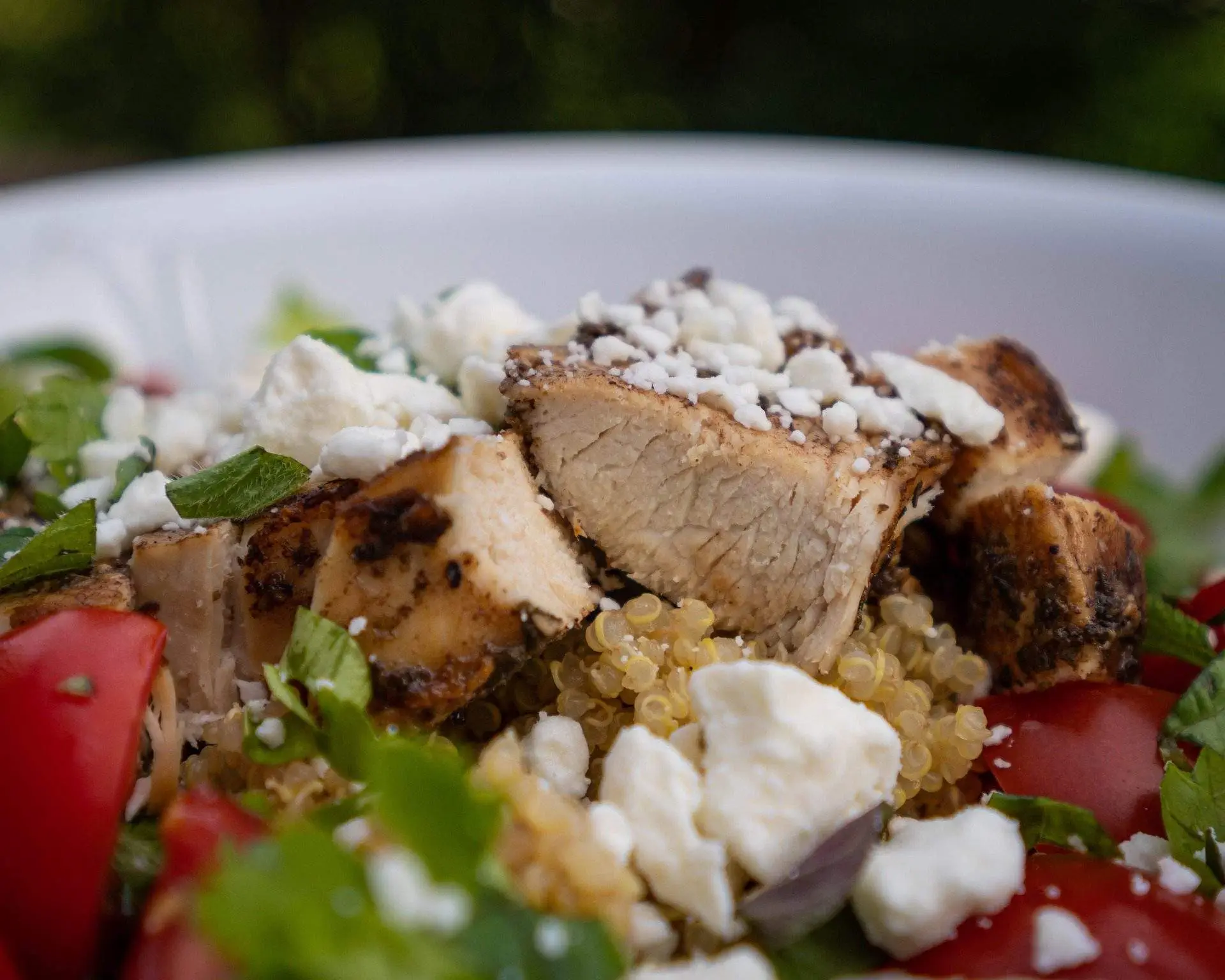 To make the salad dressing, take a small bowl or a mason jar and combine honey, balsamic vinegar, olive oil, and mustard. Then add salt and pepper according to your preference. Mix it until it becomes creamy.
Finally, assemble the salad by adding fresh spinach leaves and spinach salad ingredients in a large bowl. Drizzle some prepared dressing on top and toss it. Then add in the fruits; strawberries, oranges, and blueberries.
Don't forget the chopped chicken. Chop some almonds and add them to the salad. Toast the almonds before adding them to the salads for some extra crunch. Top it with some crumbled feta cheese, and enjoy!
If you wish to have this spinach salad the next day, store and refrigerate the salad and leftover dressing recipe in a separate container.
Nutrition
Calories: 606kcal
Carbohydrates: 47g
Protein: 21g
Fat: 43g
Saturated Fat: 7g
Polyunsaturated Fat: 6g
Monounsaturated Fat: 27g
Trans Fat: 0.01g
Cholesterol: 15mg
Sodium: 587mg
Potassium: 3016mg
Fibre: 16g
Sugar: 22g
Vitamin A: 44482IU
Vitamin C: 202mg
Calcium: 626mg
Iron: 14mg
4. Spinach Salad with Berry and Sunflower Seeds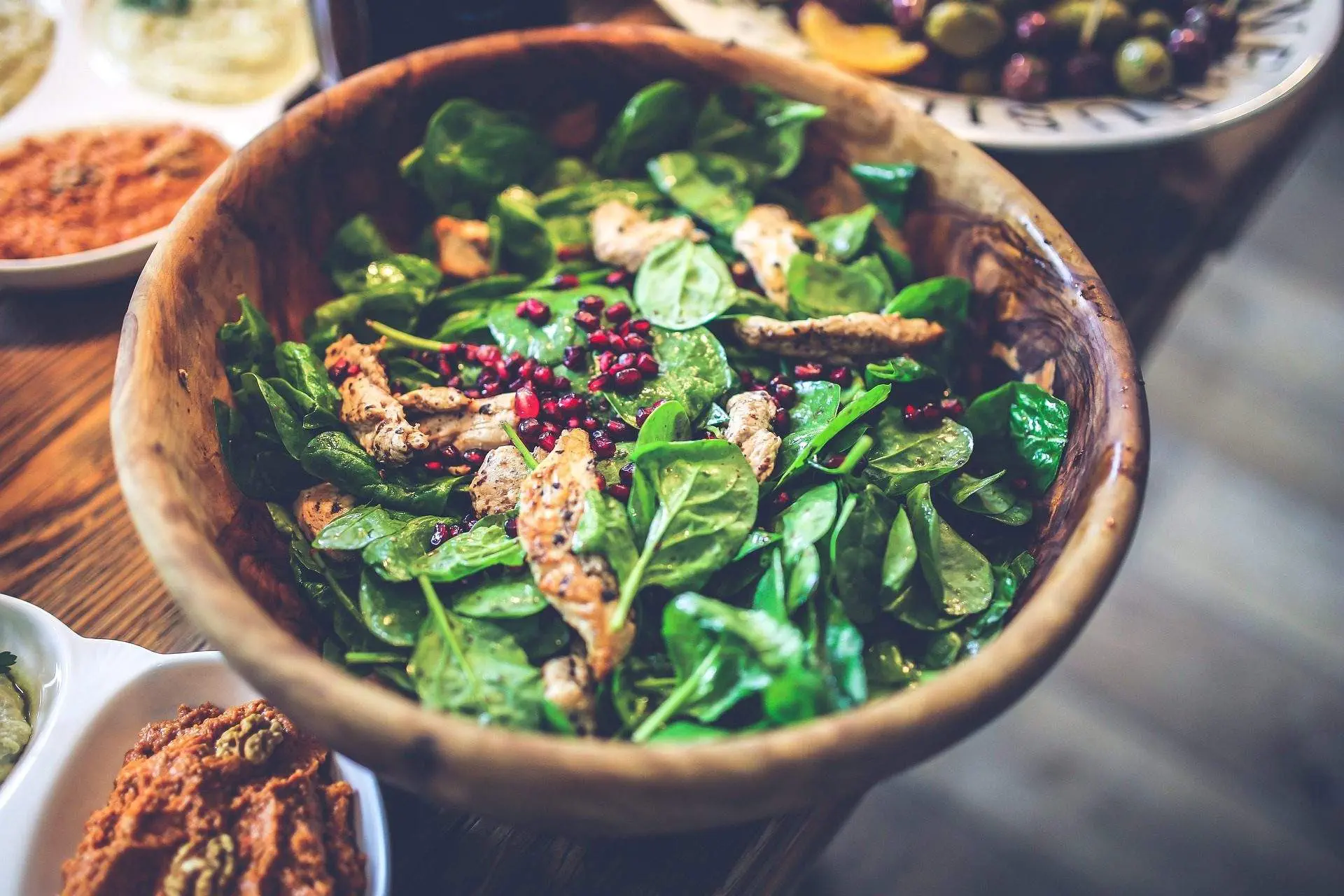 Every family loves this salad as it is one of the delicious spinach recipes. This salad is perfect for warmer weather when you want something light and fresh. To make the dish more filling, you could easily add some chicken.
Ingredients
4 ounces of baby spinach
1 teaspoon maple syrup
1 cup sunflower seeds
Cayenne
1 cup strawberry
1 cup blueberry
3 tablespoons olive oil
1 cup raspberry
Goat cheese
How to Make
Add sunflower seeds to a skillet and heat them on medium heat. Then pour maple syrup with a tiny bit of salt and cayenne pepper.
Stir the sunflower seeds continuously till they turn golden brown for about 5 minutes. Then let it cool on a plate.
In a bowl, combine these ingredients, berries, spinach, sunflower seeds, and goat cheese. Whisk them together until it gets emulsified.
Toss it all together and drizzle vinegar on top.
Give a gentle toss and serve it along with cut raspberries and blueberries. Store the extra dressing in an airtight container.
Nutrition
This recipe serves 3 people.
Saturated Fat: 5.7g
Trans Fat: 0g
Polyunsaturated Fat: 7.2g
Monounsaturated Fat: 12.5g
Cholesterol: 8.7mg
Sodium: 340.3mg
Total Carbohydrate: 9g
Dietary Fiber: 3g
Sugars: 3.7g
Protein: 7.5g
Vitamin A :31%
Vitamin C: 24%
Calcium: 7%
Iron: 15%
Vitamin D: 1%
Magnesium: 15%
Potassium: 8%
Zinc: 12%
Phosphorus: 20%
Thiamin (B1): 9%
Riboflavin (B2): 19%
Niacin (B3): 7%
Vitamin B6: 16%
Folic Acid (B9): 33%
Vitamin B12: 1%
Vitamin E: 7%
5. Tomato Spinach Salad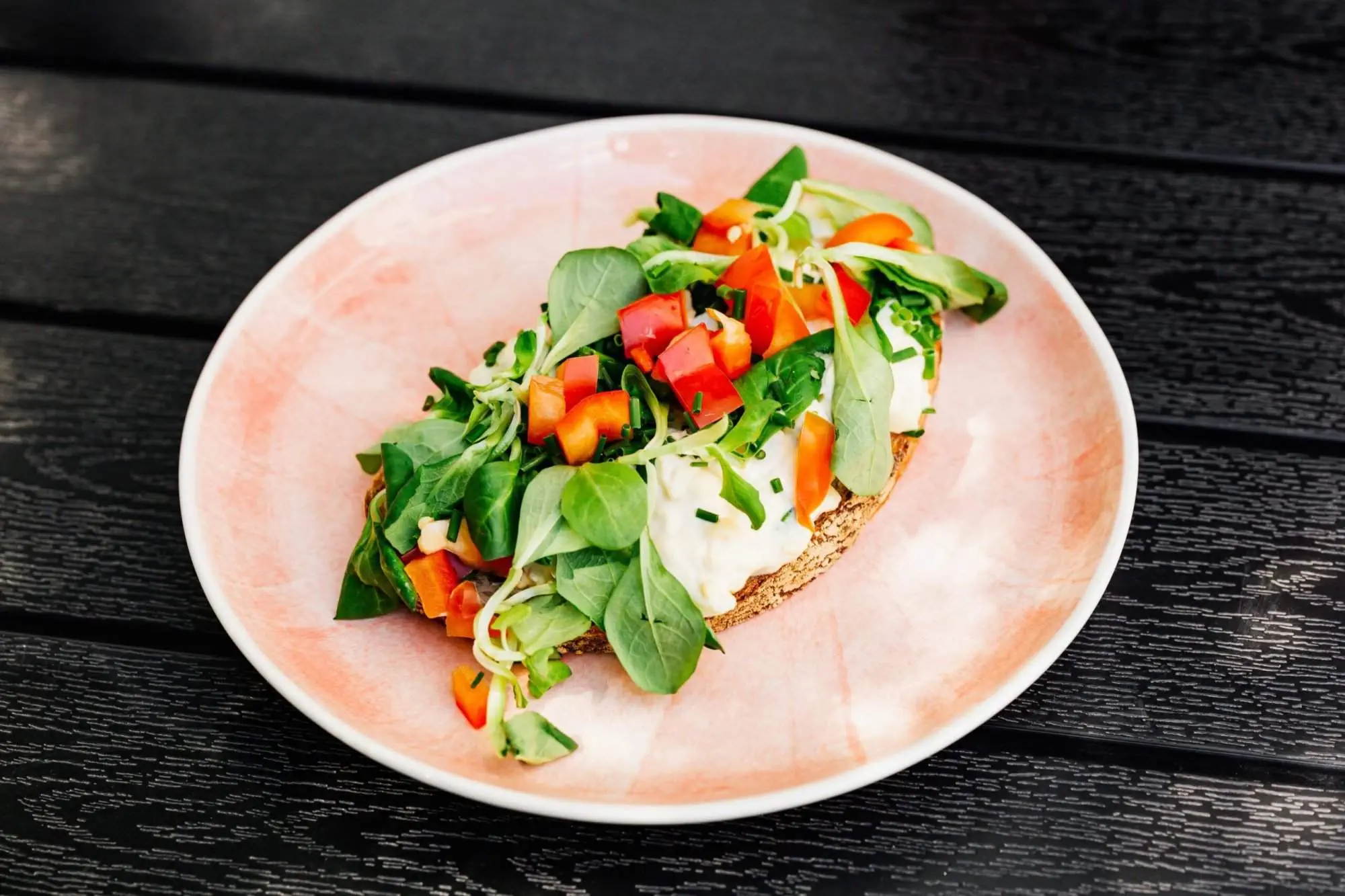 This is a super easy salad to make! I think spinach salads are the easiest to make since they are prepared with packaged salad greens. For a salad like this, there aren't many instructions to follow.
Ingredients
5 tomatoes
1 cup chickpeas
2 cups spinach
1 red onion
2 tablespoon olive oil
1 teaspoon lemon juice
2 tablespoons balsamic vinegar
Olives
How to Make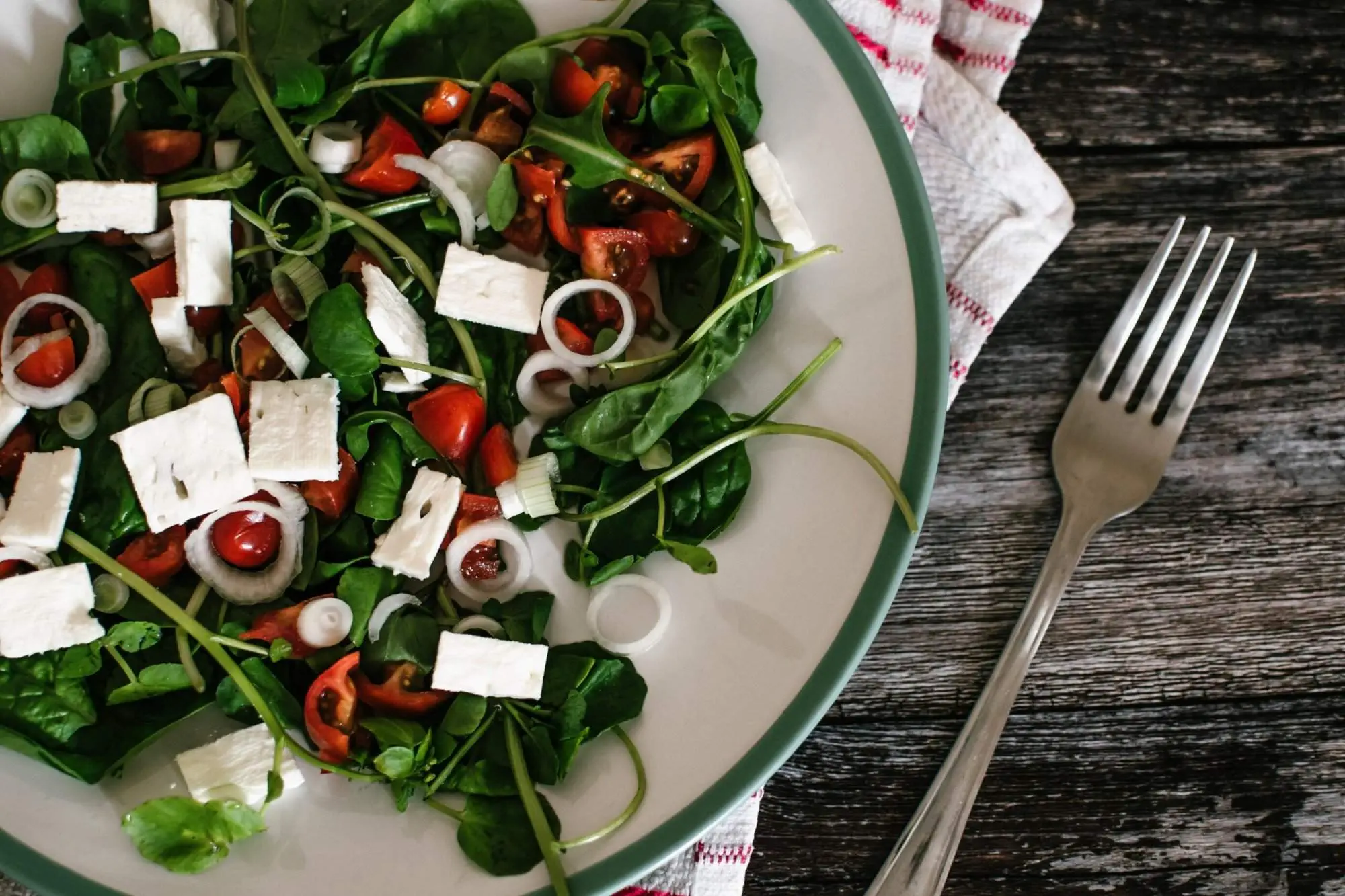 To begin, chop the tomatoes and onions finely. Take a handful of olives and chop them too. In a bowl, combine the spinach salad ingredients by adding tomatoes, chickpeas, olives, and onion.
Mix oil and balsamic vinegar to make the salad dressing or the vinaigrette. You can also use a blender to combine them.
To serve, place the prepared salad recipe in a large plate or bowl and drizzle the dressing. Season the salad with salt and pepper. Finally, give a gentle toss to mix them up.
Add crumbled feta cheese or goat cheese to this spinach salad recipe.
Nutrition
Energy – 178 kJ (43cal)
Protein – 1.2g
Total Fat – 3.2g
Saturated0.5g
Carbohydrate Total – 3.2g
Sugars – 1.4g
Dietary Fiber. – 1.2g
Sodium16.9mg
Calcium – 30.5mg
Magnesium 10.1mg
Potassium – 232.7mg
Iron – 1mg
Phosphorus – 16.3mg
Vitamin A4 – 69.5μg
Vitamin C – 15.7mg
Vitamin E – 1mg
Vitamin K – 44.9μg
6. Spinach Salad With Roasted Pumpkin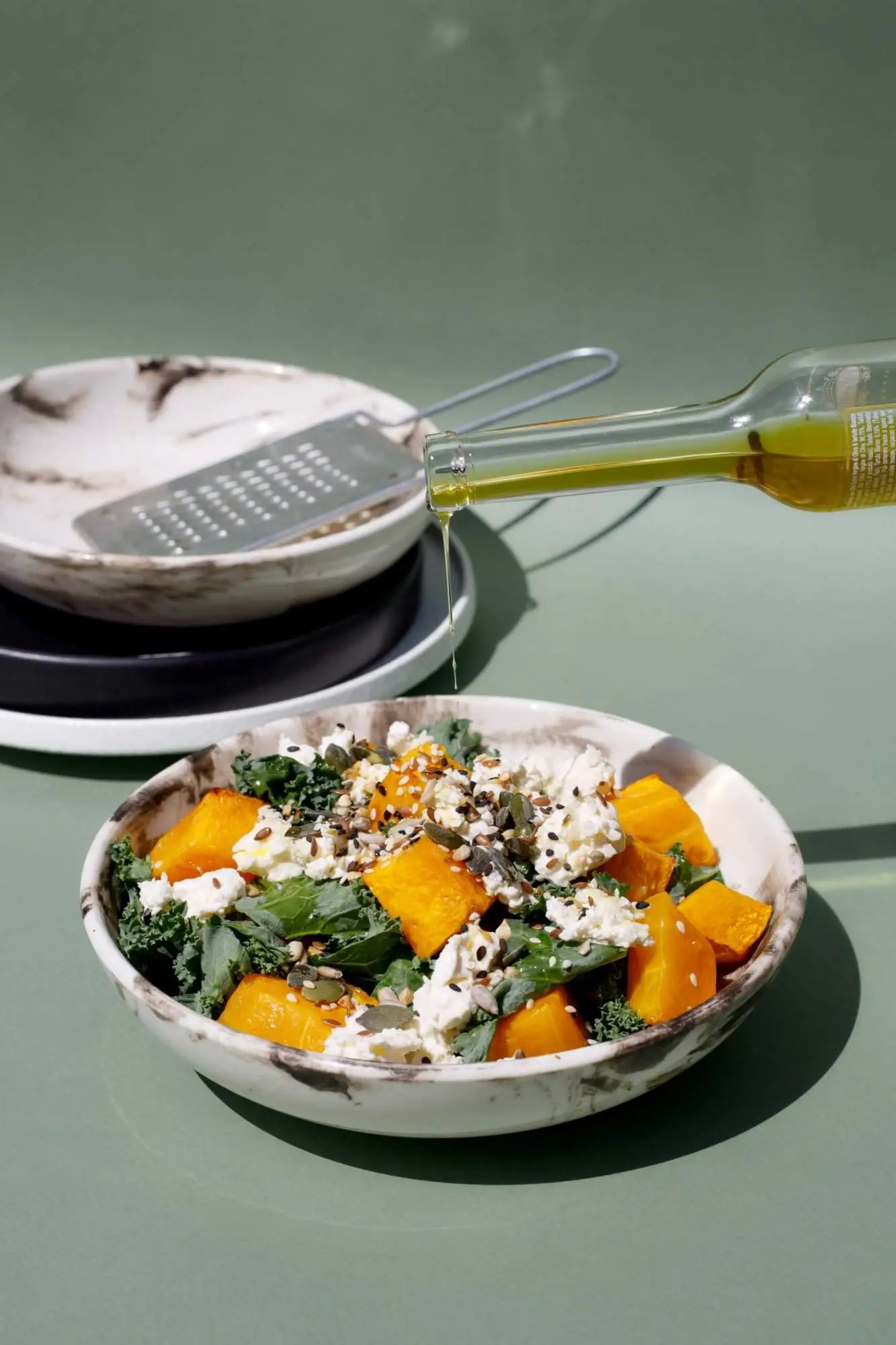 It is a delicious spinach salad recipe for the holidays! You can make it ahead of time, serve it as a meal, and be healthy and dairy-free to keep your guests happy on the weekend. This spinach salad recipe serves four people.
Ingredients
500gms Pumpkin
1 tablespoon olive oil
5 oz spinach
1 tablespoon honey
1/4 cups pine nuts
2 tablespoons balsamic vinegar
Feta cheese
How to Make
To make this scrumptious spinach salad recipe, make the roasted pumpkin. To do this, preheat the oven to 220C/430F. Take a baking tray, and add the pumpkin with olive oil, salt, and pepper. Bake it for 20 minutes.
Then remove the pumpkin from the oven and flip it to the other side. Bake it again for 10 minutes, till it turns golden brown. Make sure that the pumpkin does not get mushy while baking. You can choose any pumpkin or use sweet potatoes instead.
Now make the toasted pine nuts by using a skillet. Heat the skillet on medium heat and toast the pine nuts until golden brown. Remove them after it turns golden. Then chop the toasted pine nuts. You can also use toasted walnuts instead of pine nuts.
To make the dressing, use a mason jar. Mix honey, balsamic vinegar, and olive oil together. Season it with salt and pepper accordingly. Shake the jar well to combine the dressing ingredients.
If you don't have time to make your own balsamic vinegar, you can use plenty of store-bought balsamic dressings, balsamic glazes, and creamy roasted sesame dressing recipes instead.
Chop the spinach into smaller pieces and put it in a bowl. Then drizzle it with some dressing. Please give it a toss, so the vinaigrette is mixed with the spinach.
Use Greek feta cheese or goat cheese for this spinach salad recipe. Add the roasted pumpkin, feta cheese, and toasted pine nuts to the bowl. Make sure to toss the salad gently. Then serve it on another plate with more feta and toasted pine nuts.
Salads made with roast pumpkin taste best the same day they are prepared. Just before serving, add the dressing to the bowl and store it in the refrigerator. You can refrigerate any leftovers for about one to two days.
For this spinach salad recipe, you can make the toasted pine nuts, salad dressing, and roasted pumpkin ahead of time.
Nutrition
Calories: 249kcal
Carbohydrates: 13g
Protein: 5g
Fat: 21g
Saturated Fat: 4g
Cholesterol: 12mg
Sodium: 171mg
Potassium: 568mg
Fibre: 2g
Sugar: 8g
Vitamin A: 10914IU
Vitamin C: 16mg
Calcium: 113mg
Iron: 2mg
Well, here are the 6 best recipes for spinach salad. I am pretty sure you will love them once you try them out.