Do you ever feel like going to a calm place and just soaking in nature? Maybe disconnecting from the crowded cities and feeling deeply connected to nature for being calm can be refreshing for a change. If that is what you are looking for this vacation, Rondeau Provincial Park is one of the few places you can check out.
Keep reading for knowing more about it.
Rondeau Provincial Park is one of the most incredible tourist spots situated in Ontario, Canada. This natural tourist point goes down a long way in history and is remarkably the oldest provincial park. This spot was established in September 1894. This site is Canada's second-oldest province and is located in the south of Ontario, managed by Ontario Parks.
It broadens into Lake Erie. Rondeau provincial park is home to cottages and has numerous sandy beaches, situated in the Rondeau peninsula. It could serve as a perfect holiday spot to spend your summers in the soothing vibes of the sandy beaches at Rondeau bay. Its natural beauty is something you wouldn't want to miss witnessing.
For updated information about the park, you may visit the official website of rondeau provincial park to find more details. To knowing more about the tourist spots and things to explore at this holiday destination, keep reading the following.
7 things to do at the Rondeau provincial park
So coming to the part that makes this destination with its mesmerizing natural beauty, the perfect spot to give you a change in your holidays that you can go to with your family and friends.
As described above this provincial park is rich and serves as a perfect escape from the crowded cities, of course, it has very exciting activities to pursue during your vacation and quench the thirst of all the adventure seekers at one destination.
This park remains open all year round including different activities for all seasons. From winter activities to summer activities, and to serve just as a place to take a walk and explore during spring, this tourist site in Canada has got you covered.
1. Fishing
This park has many huge locations for fishing. Due to its great natural habitat, it supports a variety of fish. You can go fishing from the shore on the bayside. What better activity than to spend your summer calmly on a bayside?
2. Park store
This place meets all your basic needs. It has lots of restaurants and snack areas. It has ice cream shops, slushies, and hot dog spots the perfect food spot for your picnic in the province.
If you ever feel like grabbing a snack after spending some time at the park, this is the location you want to keep in mind to meet your cravings for food.
3. Dog beach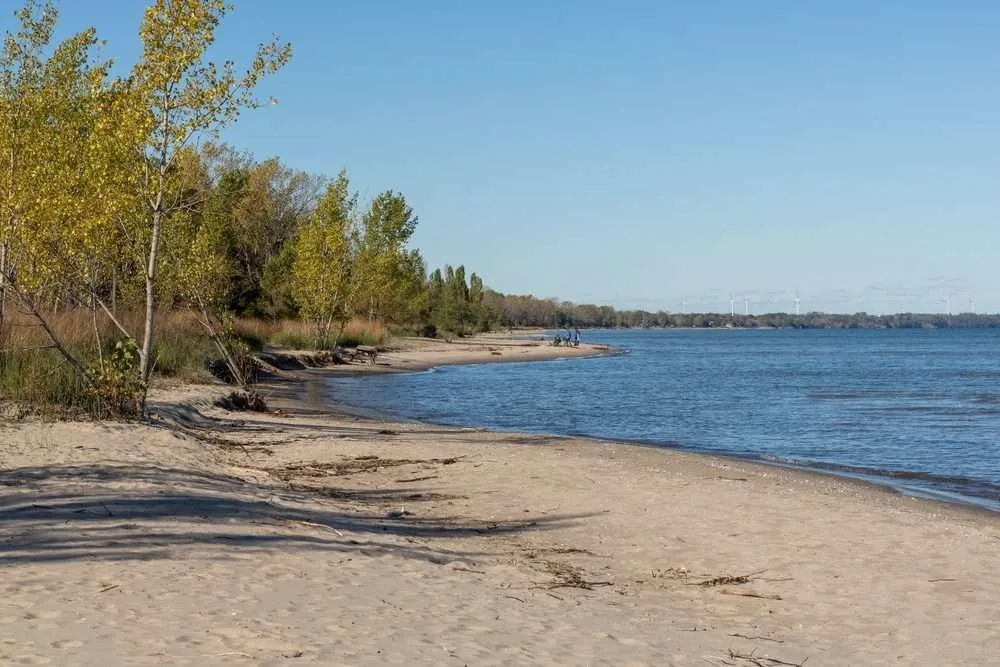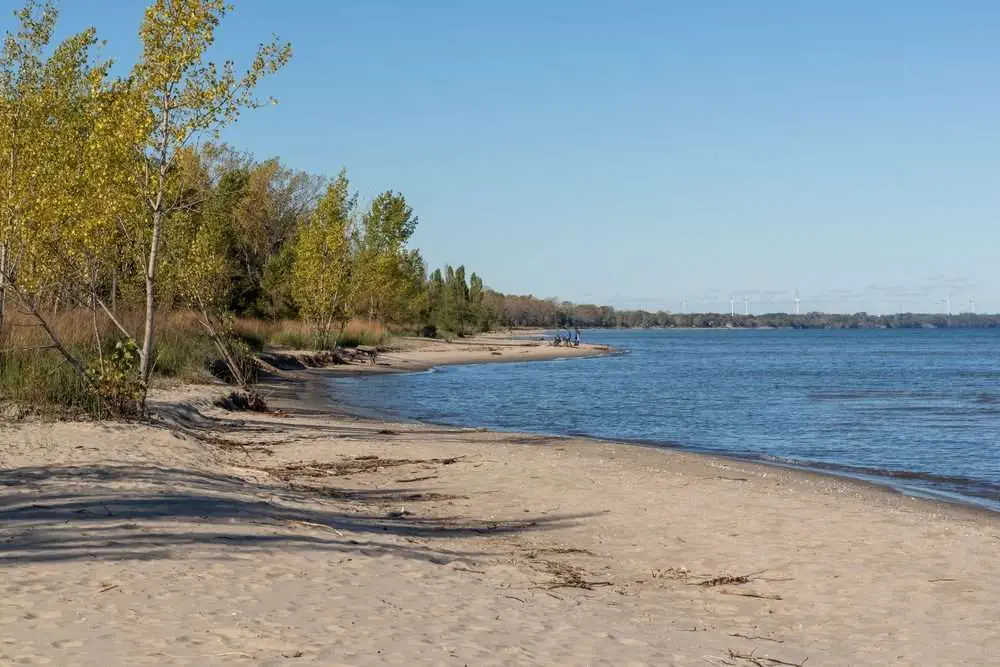 The dog beach at the Mono Cliffs Provincial Park is a great place for dogs to have fun and enjoy the water. It's a great spot for dogs to socialize with other dogs and for their owners to spend some quality time with their pets.
The beach access point is the perfect place to take your dog for a swim and to let them play in the sand. It's an ideal location for a summer day trip to the lakes in this Canadian peninsula.
A dog beach is a great place to take your dog for some exercise and to have some fun in the sun. Whether your dog is a seasoned swimmer or just learning to splash around, they are sure to have a great time at the dog beach.
4. Campsites
The park has 2 camping areas with electric and non-electric RV hookups. It has tents sites with nearby comfort zones for easy availability. One camping area is towards the north end and has around 50 electric and 30 non-electric hookups, other is towards the south end with around 95 electric and 80 non-electric hookups.
This camping area is a great spot that provides fire pits, a playing area, picnic shelters, boat launches, and laundry facilities at easy availability.
This could be a great winter activity as not everyone seeks an adventure during winter. You can spend a cozy winter night near a campfire gazing at the stars in the clear sky.
This park allows you to car camp in the northern end where you can navigate through the lanes of the main campground or park your car at one spot and build your tents. Don't forget to bring your picnic snacks and some tasty meals to eat in these beautiful natural sites.
5. Distinct Trails
This park has 7 distinct trails where you can do hiking, biking, cycling, and running. you can enjoy any of these activities surrounded by the natural beauty of Canada.
A new trail that is Warbler's way was created recently to celebrate the historic park's 125th anniversary in 2019. It is a great site for watching many birds migrating during the migration period. this place is designated for bird
Each trail in the province gives you a different view to enjoy from rondeau provincial park extending from the northern end to the southern end.
The 7 distinct trails are Black Oak Trail, Harrison Trail, Warbler's Way, Spicebush Trail, Tulip Tree Trail, Southpoint Trail, and Southpoint Trail. All these trails situated at great heights give you a fantastic view of the Flora and Fauna surrounding the Ontario parks.
Let's talk about the 7 distinct trails in Rondeau Provincial Park that you can explore and enjoy the view.
a) Black Oak Trail (1.4 km trail)
This trail passes through a narrow strip of pine groves. The trail is surrounded by wildflowers like woodland sunflowers and wood lilies.
This is the place you should look out for if you are in the mood for bird-watching, as this is the perfect location where you can find a good site for watching the birds during the peak migration period.
b) Harrison trail (8 km)
This trail is an old gravel roadway that takes you down through the Carolinian forest in the core of the park and exits to the lighthouse area at the end of the peninsula. It is a good location for taking a stroll down at night with a calm environment,far better than the rest, in the natural surrounding.
c)  Warbler's Way (0.5 km)
This trail is a great point for plant watchers who are looking for rare plants like black walnut and many more. This is a home for reptiles and you can find many man-made piles on this trail.
This trail also serves as a good spot for bird-watching. If you want to enjoy bird watching, make sure you go during the peak migration period.
d) Spicebush trail (1.5 km)
It is a great spot for wildflower viewing. Make sure you look for flowers like Solomon's seal, mayapples, and many more. These are just a few names mentioned here, I am sure you would find many more wildflowers that you wouldn't find otherwise.
If flora hunting is your thing make sure to add this to your list when you visit Rondeau Provincial Park.
e) Tulip tree Trail
This is an amazing site for taking nature walks surrounded by beautiful trees. It gives you a fantastic view for looking for floras and faunas.
Other nature walk points in the park are the Southpoint trail and marsh trail. make sure to stay within the trail and not to hike over the floras, this might harm them
If you are seeking to go to the trails, do not forget to carry water bottles to stay hydrated, insect repellent, and maybe a pair of binoculars to enjoy your viewing of nature.
6. Cross-country skiing and ice fishing
This is a recreational activity which you can enjoy during winter. Skiing amid a snowy area surrounded by trees and breathing fresh air is exactly what you would like in the winter holiday.
In addition, sitting by a lake ice fishing during winter with your favourite winter snack is also something you can pursue as a recreational activity in this park.
7. Boating
Last but not the least, you would not be able to miss the scentful odour of the freshwater lake. So do not forget to add boating to your to-do list in this park.
Boating is an activity that is a must-do in this park as you will be able to view the vibrant colours of Ontario from the midst of a lake. Feel the coolness and enjoy the soothing vibe surrounding you whilst boating.
You might even witness some of the rare birds flying if you go for a boat visit this park and go for a boat ride in the right season.
The additional information you should know about Rondeau province
It obtained its name from the French word "ronde eau" which means round water. So as the name suggests, the province is shaped in a round form that covers a major portion of the harbour in the peninsula.
It is home to a variety of habitats and supports a different fauna group that typically belongs to the south region. You can find rare species and trees that are otherwise difficult to spot.
This province is a home stop for birds during migration. This place is recognized as an important homage for birds as it supports the wildlife requirements for various fauna and also serves as a settlement for endangered species
It is the largest area for the growth of the Carolinian forest. Its woods provides shelter for many endangered species. So if learning about rare species and observing them more closely is what you are seeking for this summer, you might be lucky enough to spot a few of the rare species in this destination.
The natural habitat of this location includes marsh, numerous beaches, oaks, Carolinian woods, and dunes. It is considered o be one of the world's largest and most important natural destinations.
The sandspit in this peninsula was formed around 12 thousand years ago and the peninsula continues to evolve.
There has been a predominant overpopulation of white deer which you will only find there such a huge number. However, it has become a growing concern to bring the population under control as their growing population has a direct impact on the forest vegetation.
The park is a landmark for a campground with around 300 campsites having approximately 1 million visitors each year.
It is a world-renowned destination for bird-watching.
The peninsula features an 11 km long sandy beach where you can enjoy the natural surrounding around you
Closing Thoughts
These are just a few attractive tourist spots that we have listed for you. There are more places to explore at this park that you might find fascinating.
You can always go for a short trip in this park and enjoy a mini picnic by bringing your favorite meals, snacks, and drinks just to sit by a lake and enjoy the natural beauty of Rondeau Provincial Park.
For more fantastic places you can visit the nearby tourist destination in Ontario as well like Toronto Botanical garden, Niagara Park, Sleeping Giant Provincial Park, and many more.
Word of advice: to learn more about cottage community, private cottages, locations regarding long sand beach or harbour sheltered please visit the southwestern Ontario visitor centre.
So what is stopping you from going to Rondeau Park on a holiday? Do not forget to add these places to your list and let us know how you feel about these places in the comments.
Suggested Reads: 
10 Alluring Reasons to Visit Sleeping Giant Provincial Park
As an Amazon Associate, Icy Canada earns from qualifying purchases.
[amazon_auto_links id="81298"]
The Icy Canada team strives to create content that matters. It's why our content is written by travel writers, authority experts, well-known authors, and niche experts. Our content is also periodically reviewed by expert authors for accuracy and trustworthiness.
As an Amazon Associate, Icy Canada earns from qualifying purchases. [amazon_auto_links id="81298"]